City 1 Arsenal 0
December 18th 2011 47,303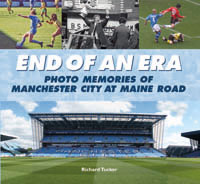 Now available from Amazon ( click on image for link)
WH Smith and the City shop
Back on top after an hour or so in second place City fully deserved all three points in a cracker of a match that was end to end with first class football from both sides. It was a shame we only had the one goal by Silva after good work by Balotelli. The atmosphere was great with a good contingent from Arsenal who added to the atmos by booing Nasri every time he touched the ball!
After the defeat last Monday at Chelsea we expected City to come back to top form and it was really necessary against an Arsenal team that was on form. It is rare to have such a pulsating game that had such good counter attacking by both sides so you hardly had a chance to breathe. The City defence had to be on top form and Joe Hart had a great game making several excellent saves. Kompany and kolo Toure had their work cut out trying to stop on form Van Persie ( will he be the next Arsenal player to don sky blue I wonder!)In midfield Gareth Barry had an excellent game. He is one of the unsung heroes - but he delivered in quantity and quality today.
A word too about the referee Phil Dowd who had a tough game to referee. He did well with hardly a moment to relax. In all it was a real Christmas cracker of a game - thrills, spills and not a Santa in sight.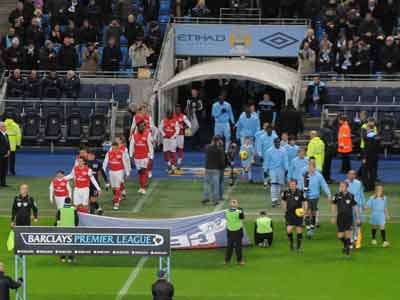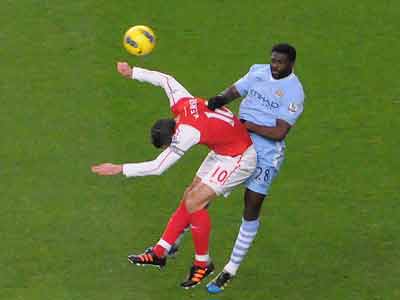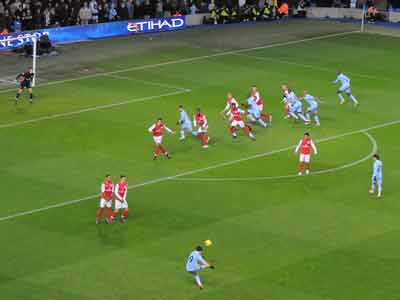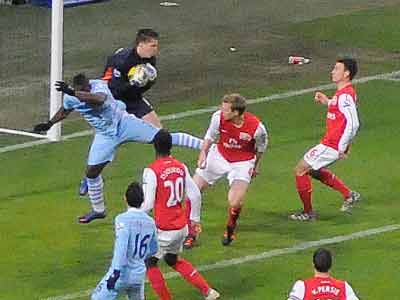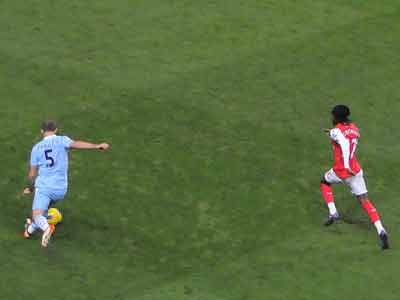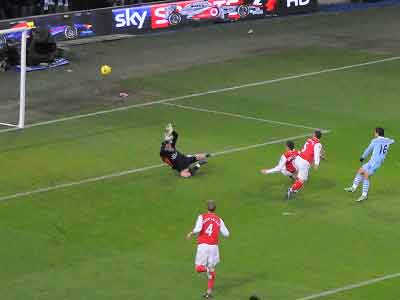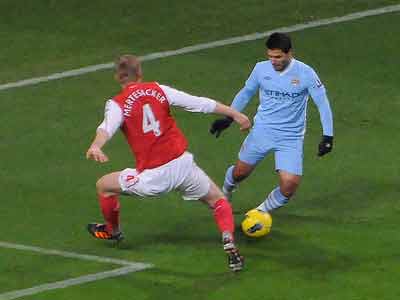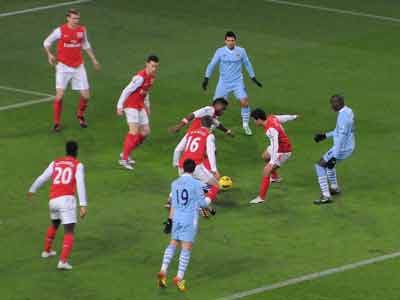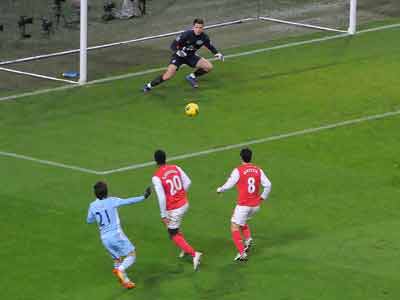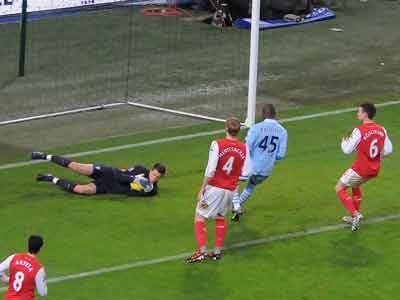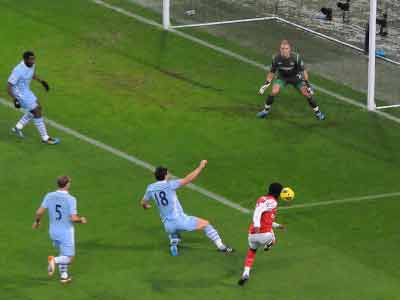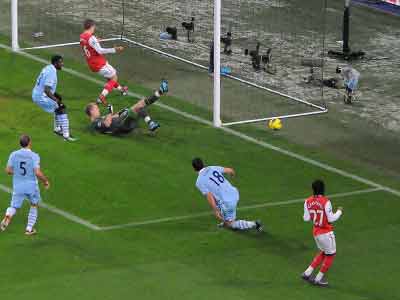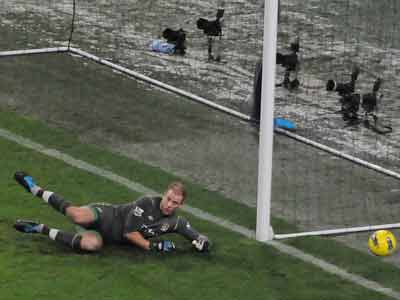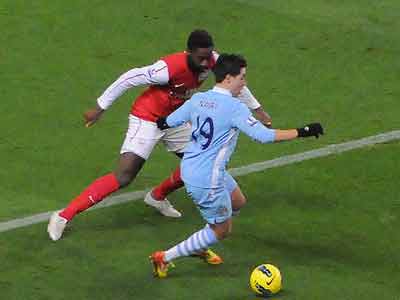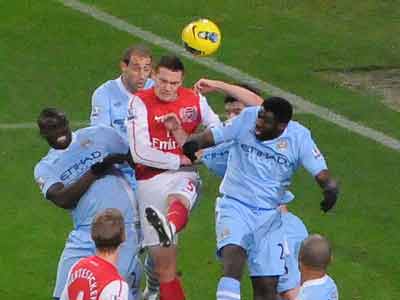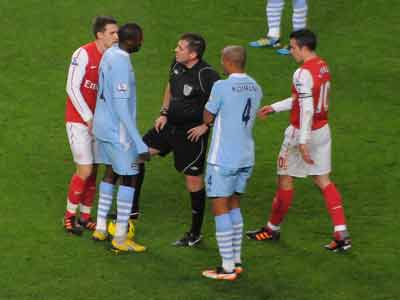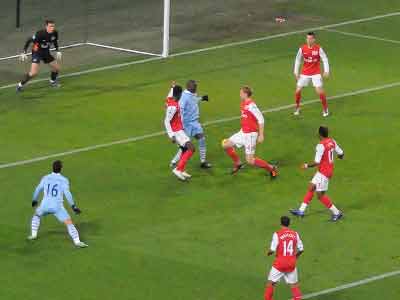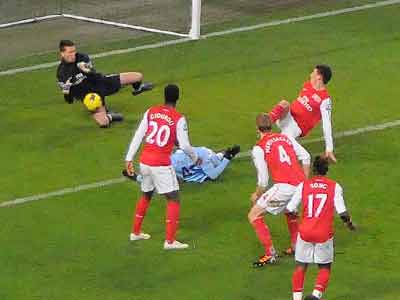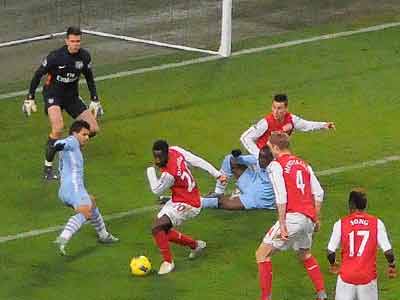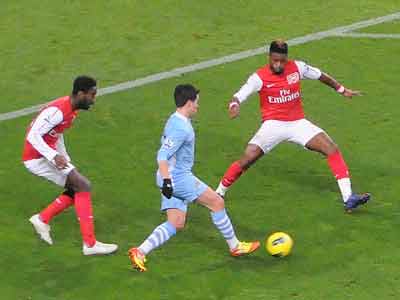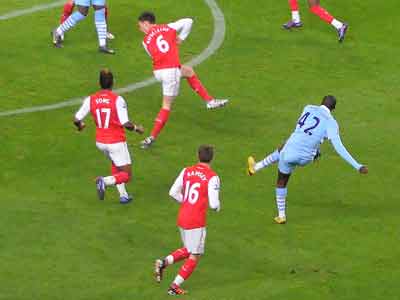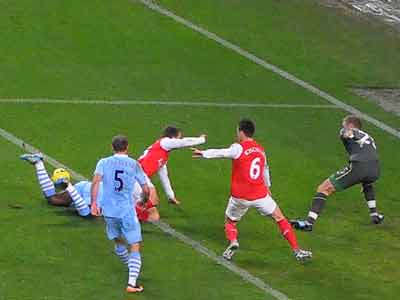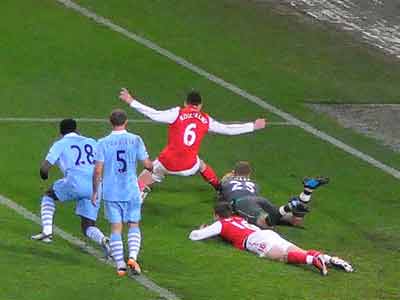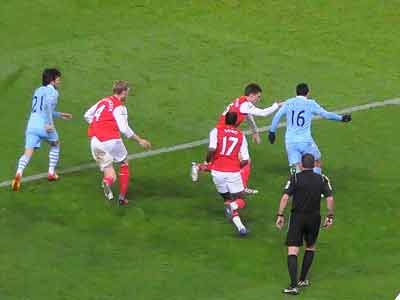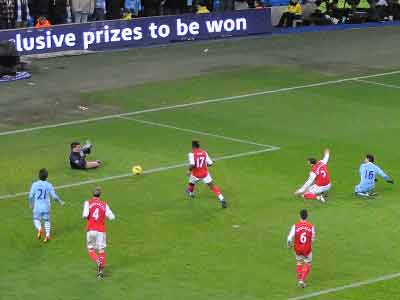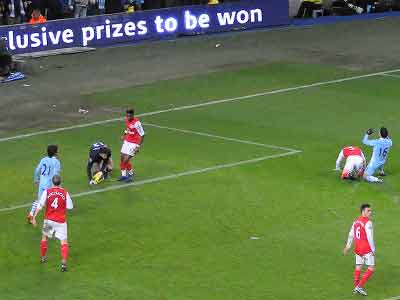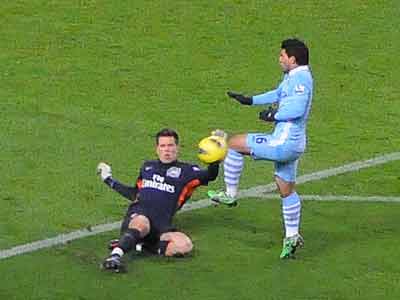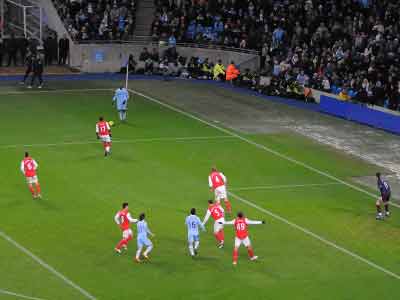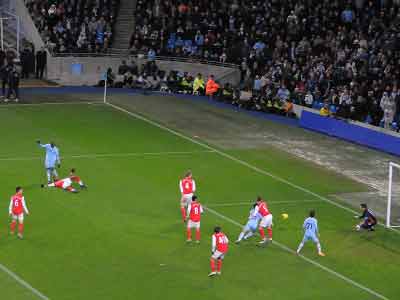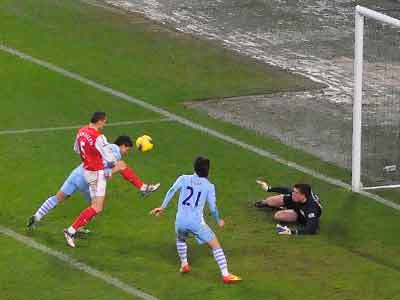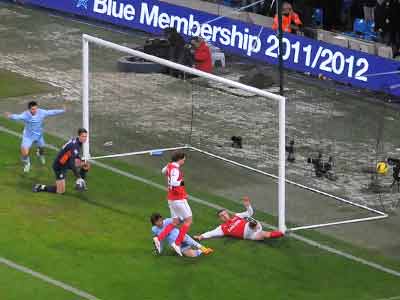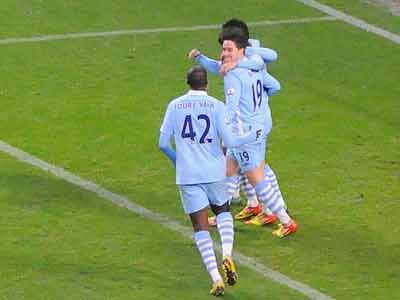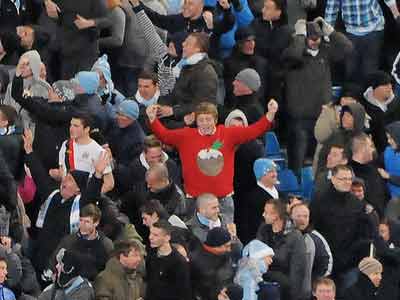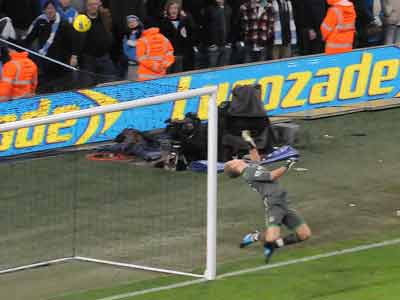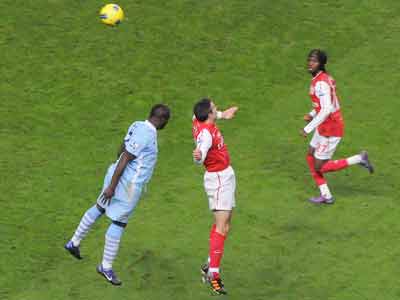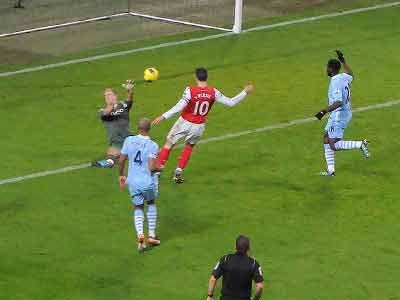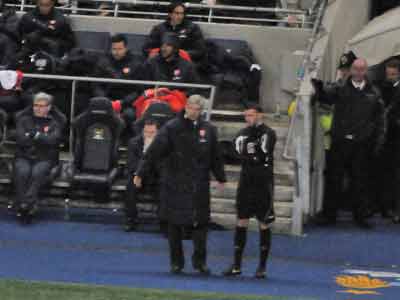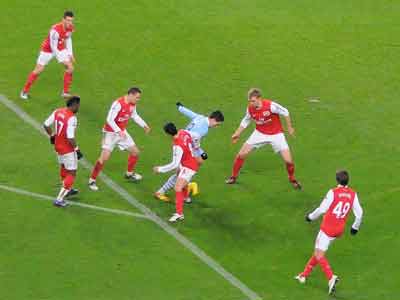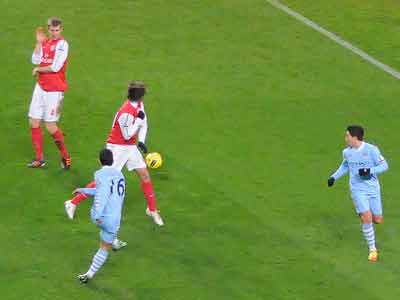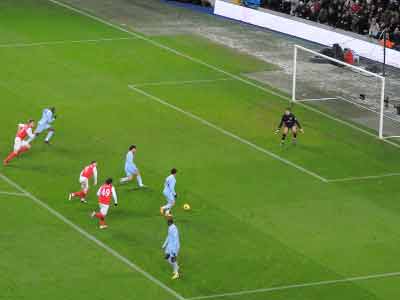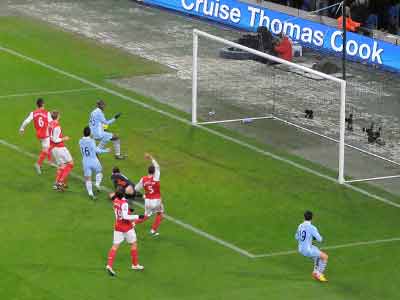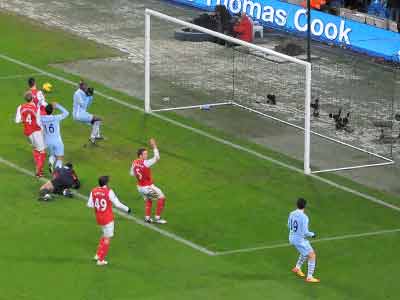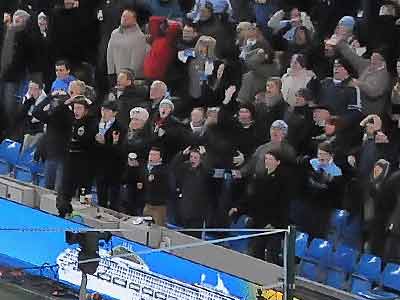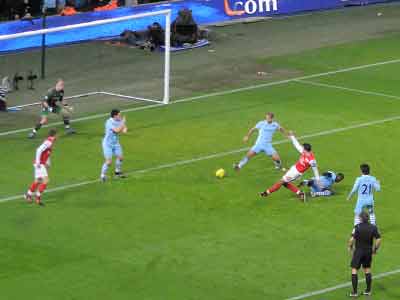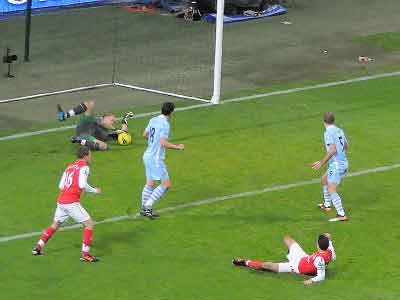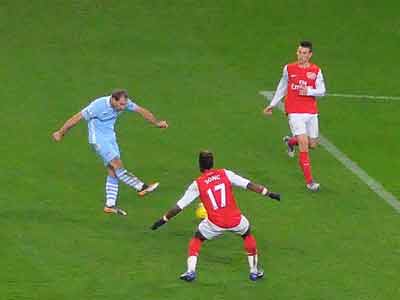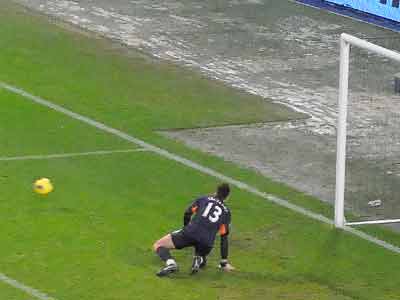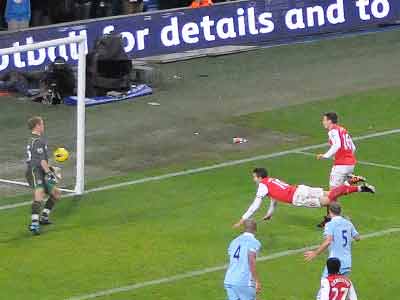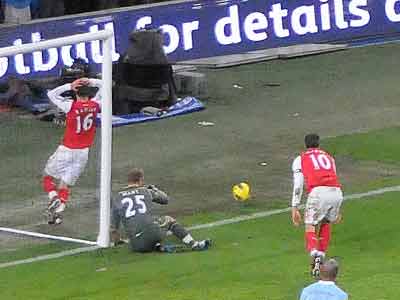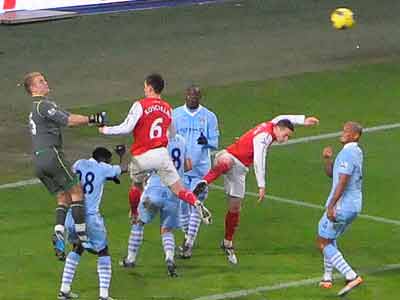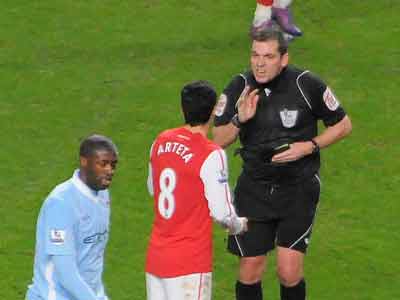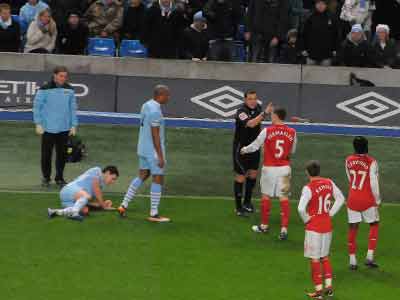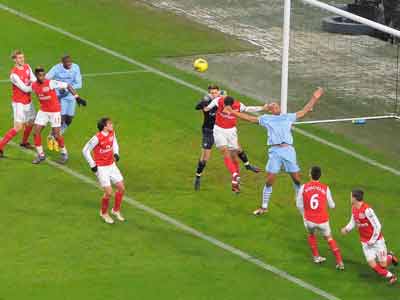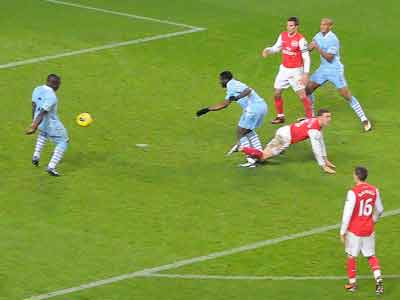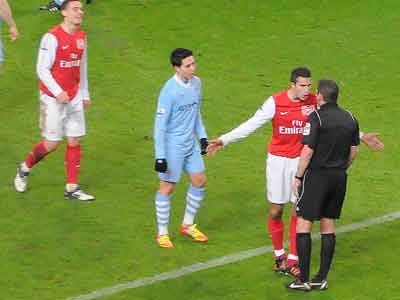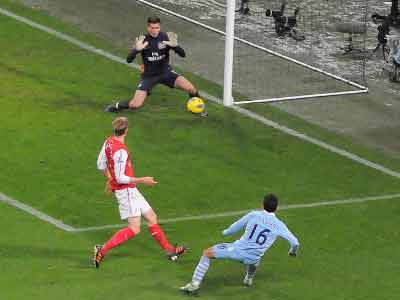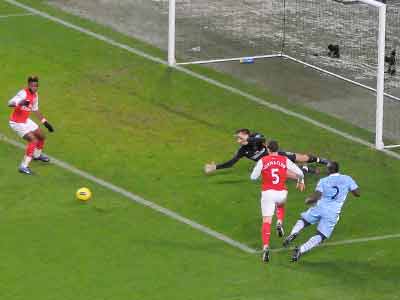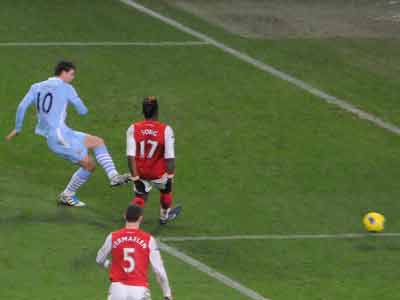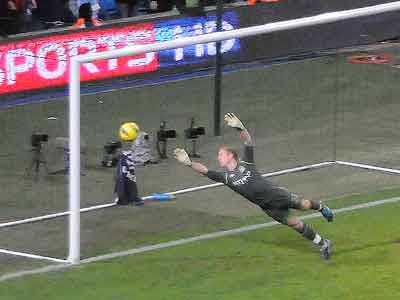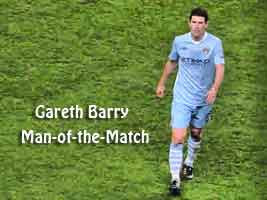 City made several changes - Zabaleta coming in a left back for the suspended Clichy and kolo Toure replaced Lescott and in came Nasri against his old club
Kolo Toure has an early battle with Van Persie
After 6 minutes a free kick taken by Nasri is saved by the Arsenal keeper under pressure from Richards
On 9 minutes a great ball from Barry found Zabaleta and his cross was taken well by Aguero who alas shot over the bar - a bad miss
Aguero tries to beat Mertesacker
Arsenal clear a City attack
A shot by David Silva is saved by Szczesny on 11 minutes
Arsenal had a great chance after 17 minutes when Gervinho broke through but Joe Hart made a good save
He had to be on the ball following the corner which went to the edge of the area to Ramsey who shot
It was City's turn to be under pressure as they clear the corner
Nasri who was having a good game no doubt would not be getting many xmas cards from Arsenal supporters
Kompany clears from Van Persie
Referee Phil Dowd who had a good game has a word with Yaya Toure and Mertesacker - no doubt about the order of carols!
A bit of wonderful skill by Balotelli gives him a chance from close range........but......
.....his effort is blocked by the Arsenal keeper and the ball is eventually cleared
Nasri continued to torment the Arsenal fans
A shot from Yaya Toure is blocked
On 34 minutes a great last ditch tackle by Kolo Toure saves the day for City when it looked like Arsenal would score
Five minutes before half time Aguero has a run across the edge of the penalty area but his finishing shot.......
i.....is saved by the keeper alas and another chance goes missing
Szczesny just manages to beat Aguero to the ball and we reach half time without a goal
Just 7 minutes into the second half and we had out reward. Balotelli chased a long pass by Nasri to the touchline - came inside and shot.......
.... the ball was pushed out by the keeper and Aguero headed it towards goal and there was David Silva on hand to place it in the net to give City a much needed lead
Christmas had come early for this festive supporter!
A real team effort goal with 4 players playing their part
There was the usual Poznan celebration in the South Stand
Gervinho admires the grace of Richards and Van Persie they leap for the ball!
Hart makes a good save from Walcott who did little else all game
Balotelli does his bit in defence clearing a corner
Van Persie has the ball in the net but the goal is disallowed for offside and is that Mr Wenger discussing that with the 4th official - surely not!
Nasri tries to breakthrough on his own but is outnumbered!
Another effort by Aguero comes to nothing - just past the far post.
On 62 minutes City had a great chance when Nasri presented Balotelli with a gift wrapped chance but he missed it -
.... and both players and supporters could not believe what they had just seen!
Joe Hart makes a good save from Van Persie
The Arsenal goal had a narrow escape after 66 minutes when a great effort from Zabaleta hit the post and bounced clear
A minute later and it was City's turn for a narrow escape when a cross from Walcott found Van Persie whose header was brilliantly saved by Hart but the flag had already gone up for offside
Phil Dowd gives Arteta a yellow card for a foul on Yaya Toure
This time its a telling off for Vermaelen for a foul on Barry
Arsenal manage to clear a City corner
City have a spot of luck when a deflection hits Richards on the arm and the ref does not give a penalty.
Many would have! Van Persie has a word or so about it!
Aguero has a shot saved- again!
Richards wasted a great run when his final pass went astray
Dzeko on for Nasri in the final five minutes just shot wide
Joe Hart dives but the ball just went wide from this shot from Vermaelen in the final minute
Team
Hart 8: Richards 8, Kompany 7.5,K.Toure 7.5, Zabaleta 7.5: Barry 8.5, Yaya Toure 7(de Jong) Nasri 7.5 (Dzeko) Silva 8, Aguero 7.5, Balotelli 7.5 (Milner 6)