City 5 Norwich 1
December 3rd 2011 47,201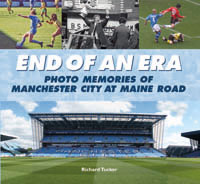 Now available from Amazon ( click on image for link)
WH Smith and the City shop
This was so easy it was almost embarrassing. If Aguero hadn't missed a couple of good opportunities City might have declared at half time. We needed lots of patience in the early stages as Norwich defended in depth giving little away and Joe Hart had little to do apart from a lone raid that might have given the visitors a surprise lead. As it was Aguero gave us a bit of magic that broke the deadlock. I didn't feel we used the width of the pitch as much as we should in order to penetrate the dour Norwich defence. Our fullbacks needed more support when attacking. The extra width would I am sure given us more options in the last third.
We dominated the midfield with Barry and Yaya Toure covering a lot of ground. Nasri had a better game than normal and while Silva didn't have a bad game some of his final passes were just a few millimeters out!
I didn't think the pairing of Kompany and Toure in the centre of defence worked. Whether it was to give Lescott a rest before Wednesday I don't know but against a better attack we might well have given more than the single goal away. Any way we are still top with 38 points ( relegation safe I think!) and our goal difference is almost double that of United. So after Europe it's Chelsea and Arsenal.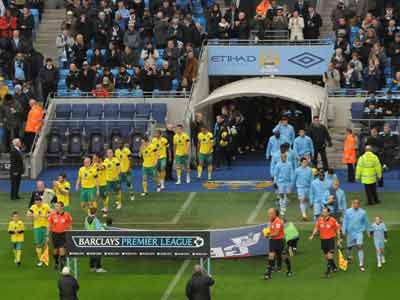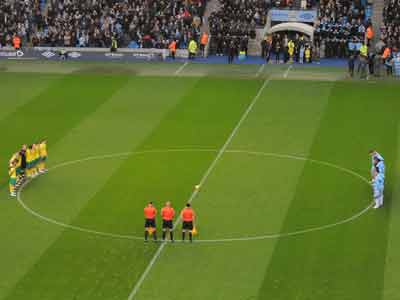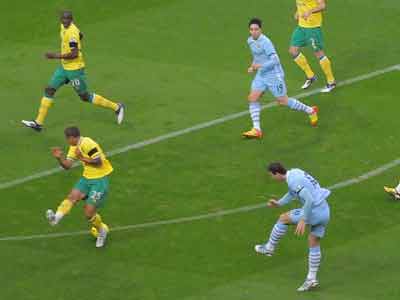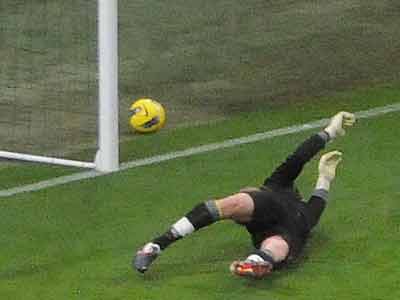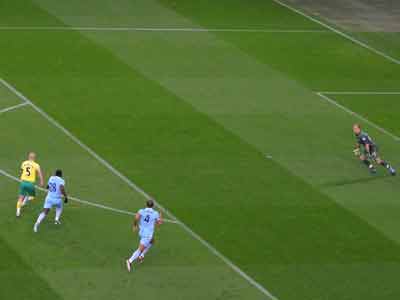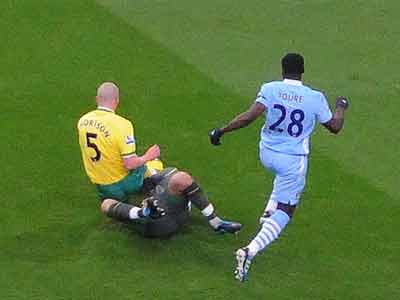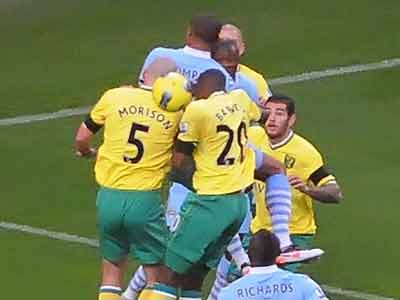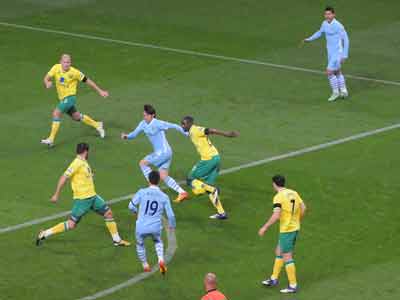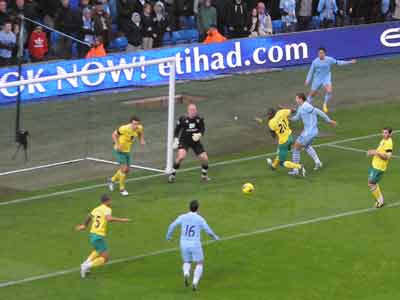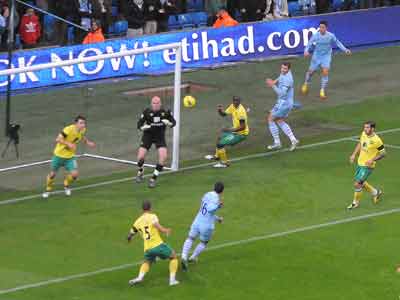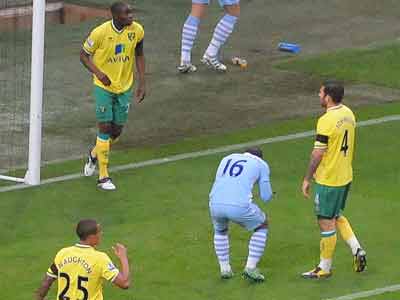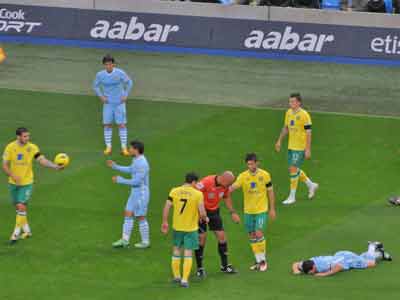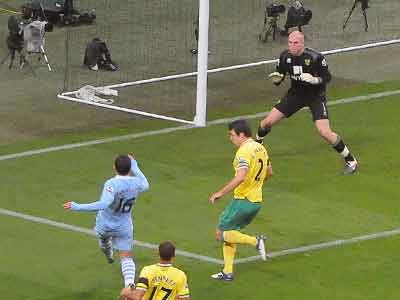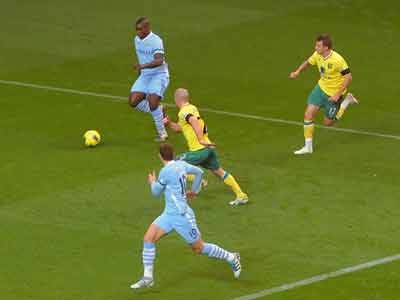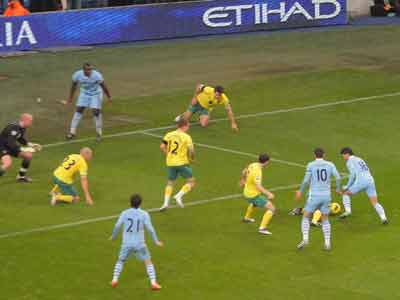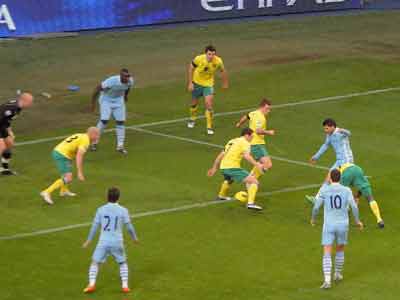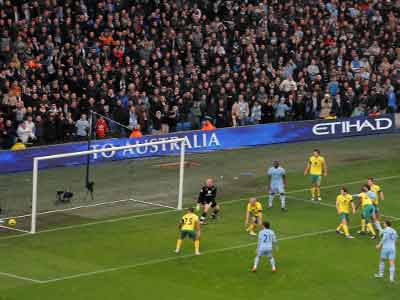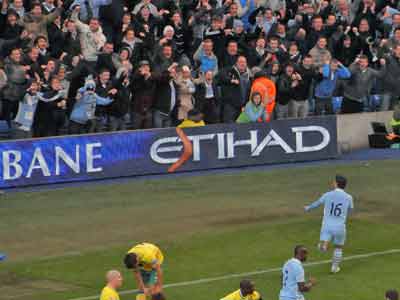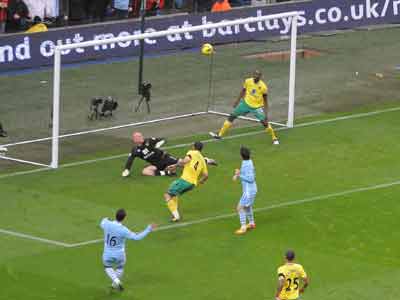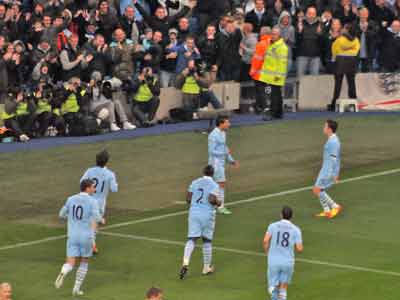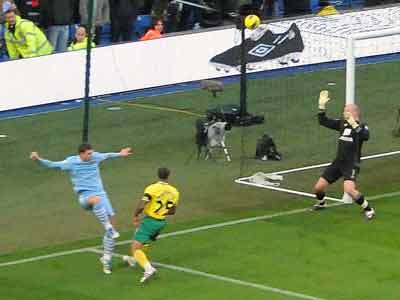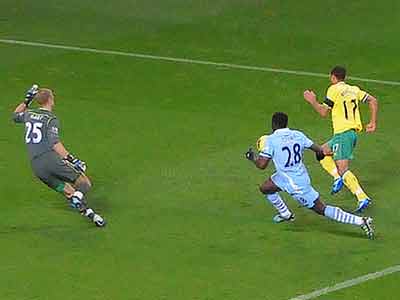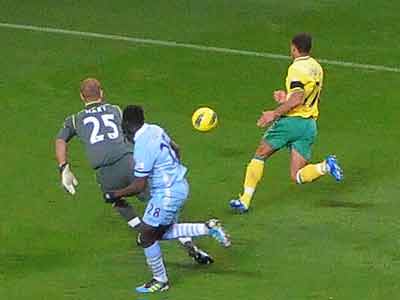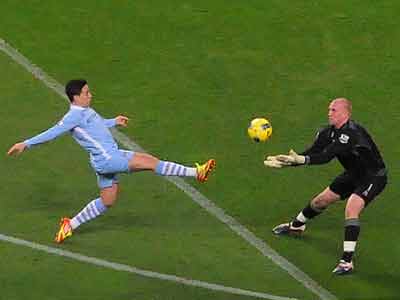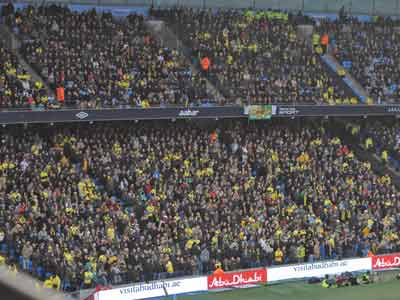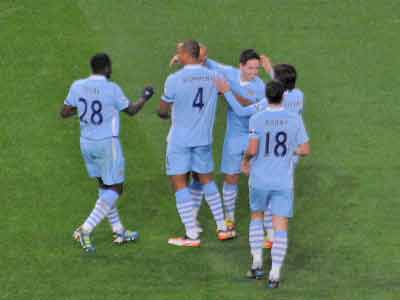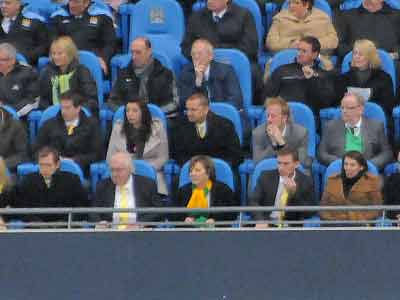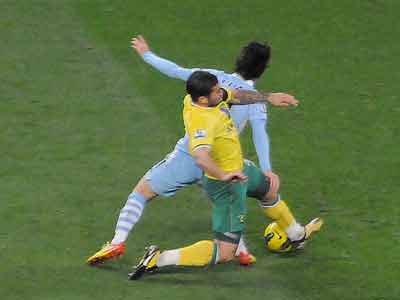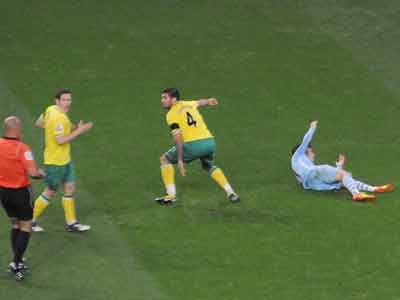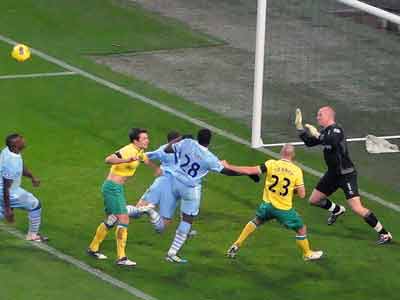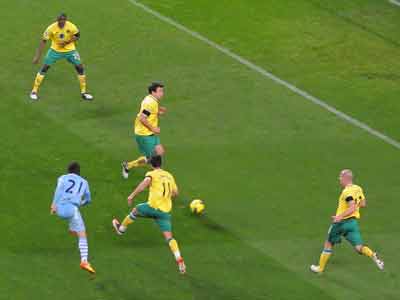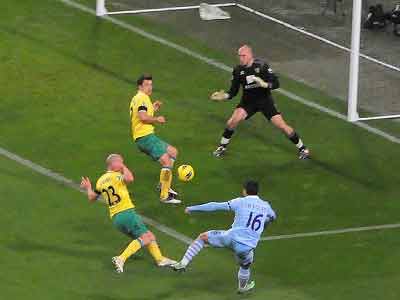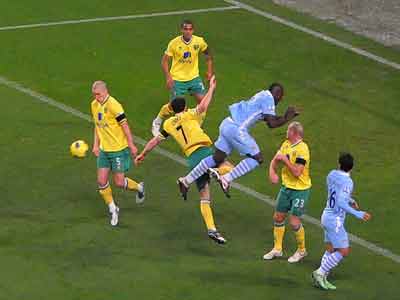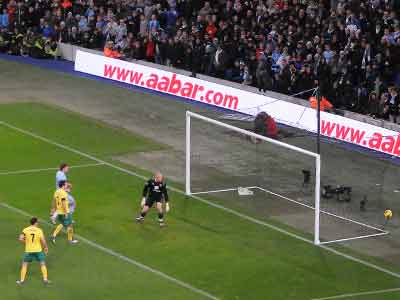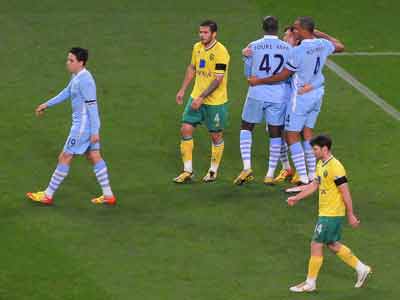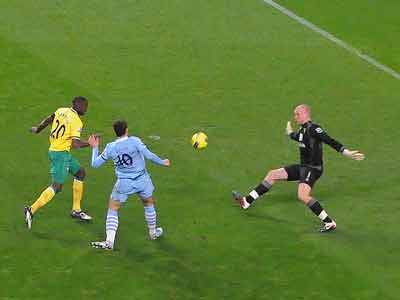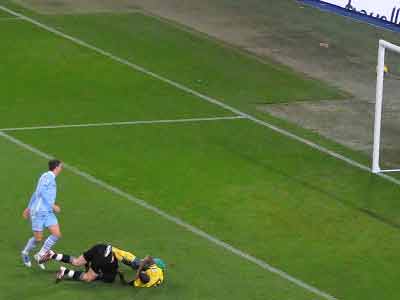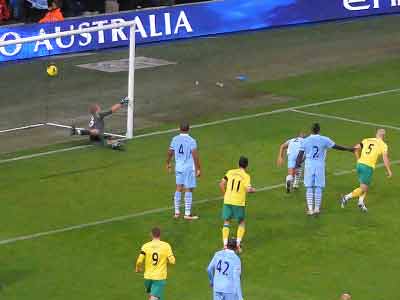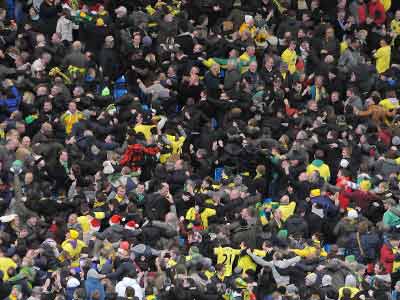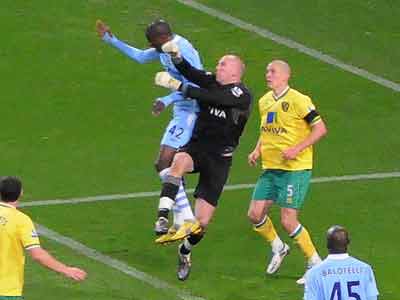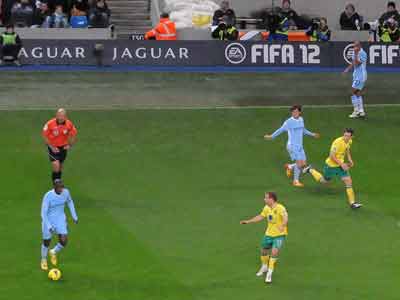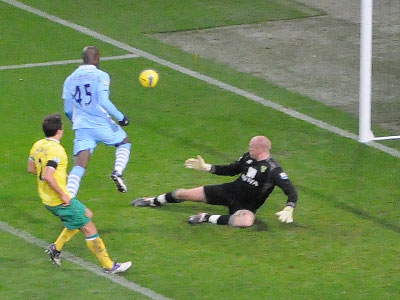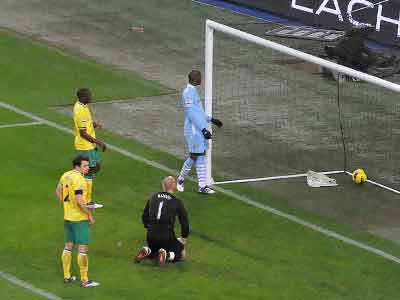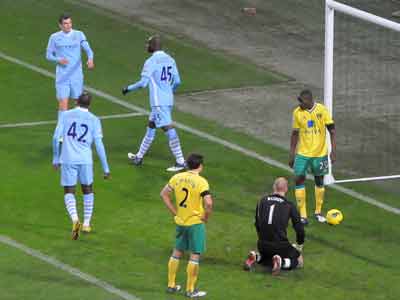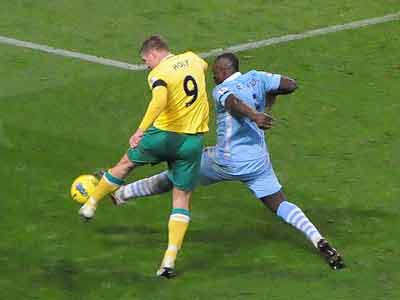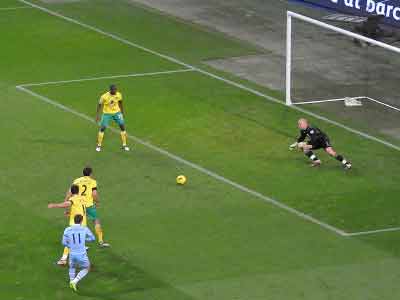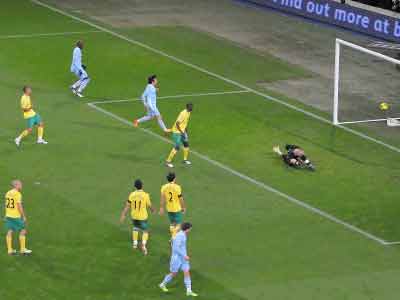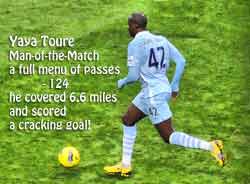 Surprise selection was Kolo Toure in place of Lescott. Dzeko returned to lead the attack with Aguero. Johnson and Balotelli were on the bench.
A minutes applause took place in memory of Gary Speed
After just two minutes an effort by Dzeko goes just wide of the post
Some confusion between Kompany and Toure let in Morison but he lost control and Hart managed to thwart the Norwich striker
There's a ball in there somewhere!
Keeper Ruddy saves from Nasri
City were having 80% of the play but chances were few and far between until the 15th minutes when a run down the right by Nasri..........
...led to a cross to Aguero who shot over the bar
Referee Howard Webb checks on the fouled Barry while Aguero asks for his ball back!
As the thirty minute mark approaches City pile on the pressure .....
..then an attack down the right wing by Richards finds Aguero surrounded by Norwich defenders....
He brilliantly keeps possession and toe-pokes the ball past the defenders into the far corner to give City the lead
It was a brilliant individual goal and now we could hope for a more open game
A few minutes later and Aguero should have made it two but his shot went well over the bar following a cross from Nasri
Dzeko tries his luck from a narrow angle
All eleven Norwich players defending - a sight we saw quite often in the first half.
Early in the second half a long ball caught the City defence napping and Bennett was forced wide and his final effort went well wide
Ruddy saves from the oncoming Nasri
There was a large number of supporters from Norfolk
Five minutes into the second half a free kick for a foul on Dzeko from 30 yards out was taken by Nasri and the ball bounced awkwardly near Ruddy who misjudged it and it was a gift goal for City
The City players congratulate lucky Nasri
Oh dear this wasn't on the menu for Delia Smith and now she had plenty of food for thought!
Silva is brought down by Johnson who protests his innocence
Norwich defend yet another City corner
Silva gets in a shot which is blocked by Ruddy.......
...and he has to save the follow-up by Aguero
Norwich manage to clear the corner
On 67 minutes following a short corner Yaya Toure placed a great effort past Ruddy.........
.....and into the bottom corner to make it three nil to City .......
After 75 minutes Dzeko just beats Ruddy to the ball but his shot goes wide of the post
Five minutes later and Norwich got a consolation goal. City switched off at a corner and Morison scored with a header giving their supporters a chance to try out their version of the Poznan.
Ruddy clears from Yaya Toure at a corner
Yaya Toure was involved again with three minutes to go. He fed Johnson ( on for Nasri) and he passed to.......
......Mario Balotelli ( on for Aguero) who scored with his shoulder from a foot away after the ball had spun upwards off Ruddy who had half blocked his first effort
Yet another cheeky effort from Balotelli and 4-1
A left foot shot by Holt ( on for Bennett) is saved by Hart
In extra time Adam Johnson finished Norwich off with a good left foot shot into the far corner
Team
Hart 6.5: Richards 7.5, K. Toure 6.5, Kompany 7, Clichy 7.5: Barry 7.5, Nasri 8
(Johnson 7) Silva 7.5, Yaya Toure 8.5, Aguero 7.5 ( Balotelli 7) Dzeko 7 (De Jong)