City 4 Aston Villa 0
December 27th 2010 46,716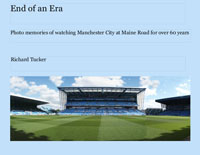 My book 'End of an Era' containing photo memories of days at Maine Road is now available from Blurb.com.
There are over 300 images on 200 pages.
Click on the image for details

Well the truth is now out - the evidence is there - Mario can smile - and you can view the evidence further down the page! We did not need the services of CSI Eastlands !
This was a magic performance by City- the memories of the Everton clash were banished as boring boring City plunged a dismal Villa into the perils of relegation.
Despite Aston Villa being easy opponents the score did not flatter City. When the team was announced with the absence of Tevez, Barry and Milner we wondered how we would do but a hat- trick by Balotelli and City's first headed goal of the season by Lescott put City on top of the Premiership for a few hours! Masterminded in midfield by the wonderful efforts of David Silva ably assisted by Yaya Toure City dominated the game and it could have been six nil. Kompany in defence did well and the return of de Jong added stability to the defence. Joe Hart made some good saves but he needs to improve his distribution. A continuation of this form and there is even a chance of a top three place!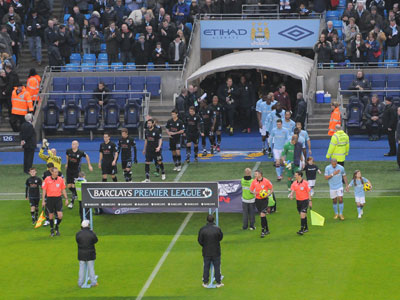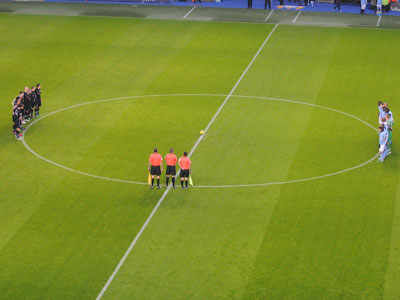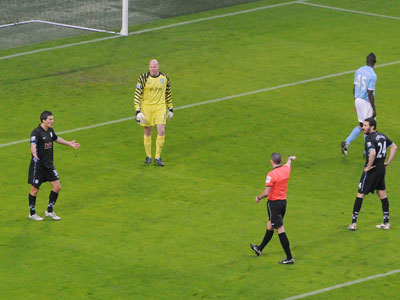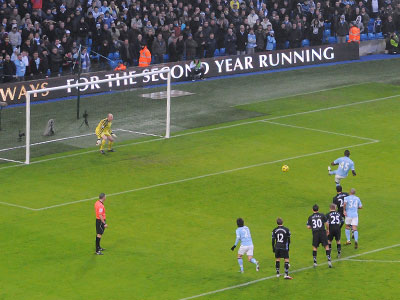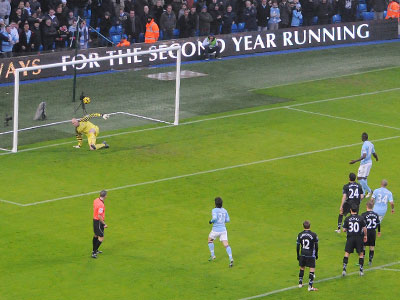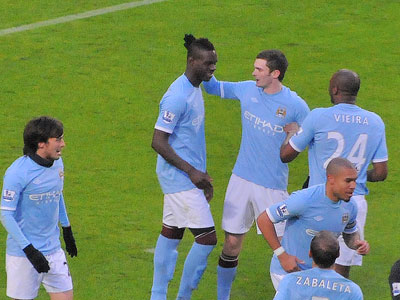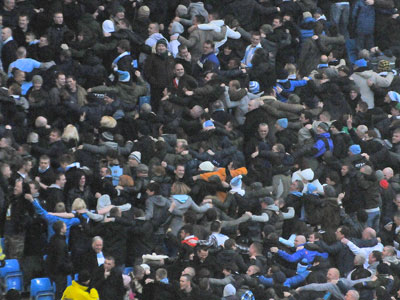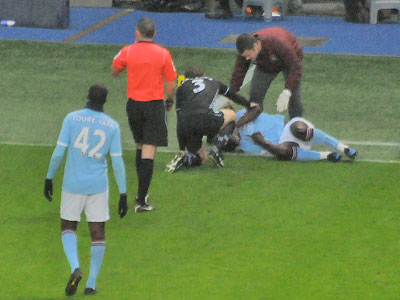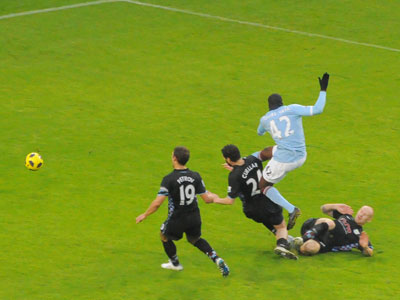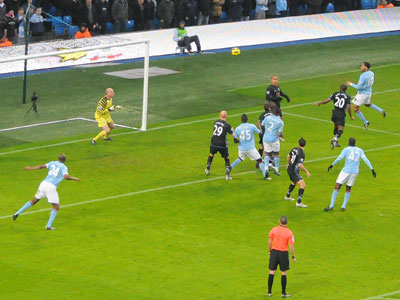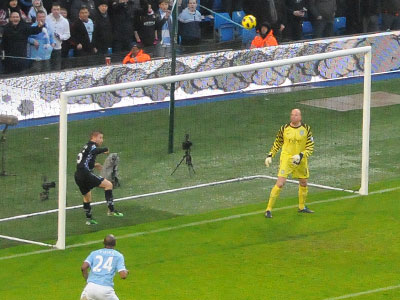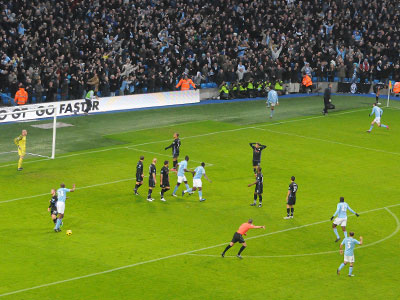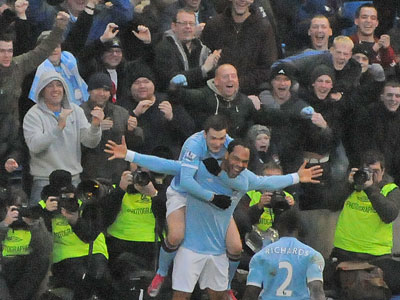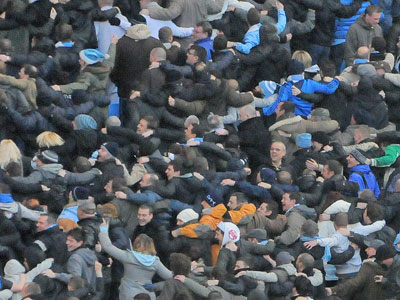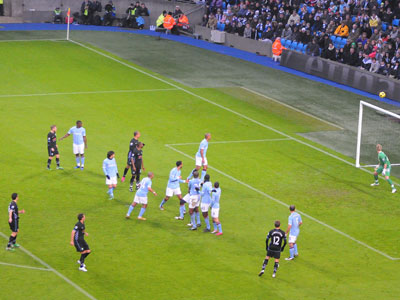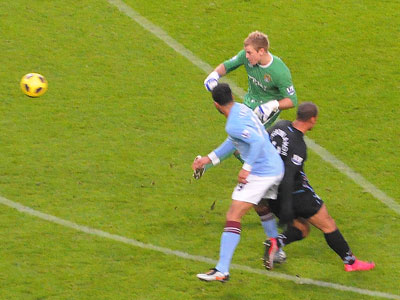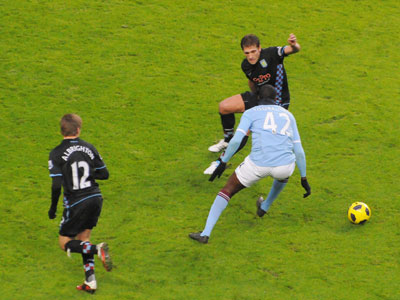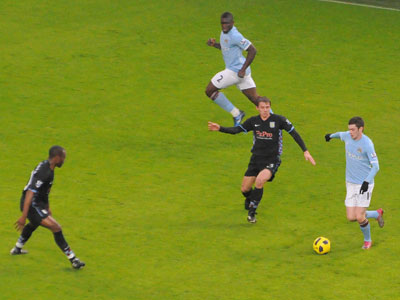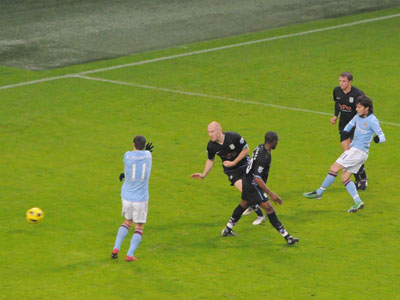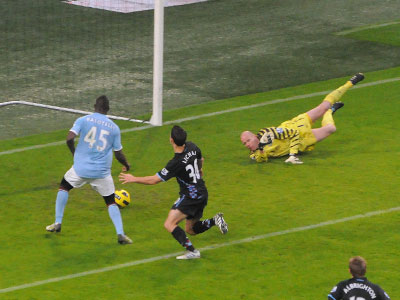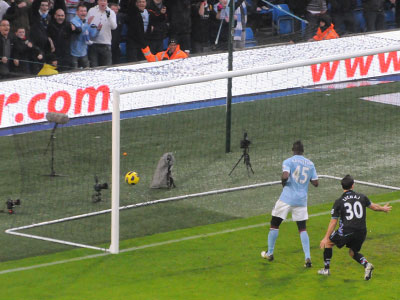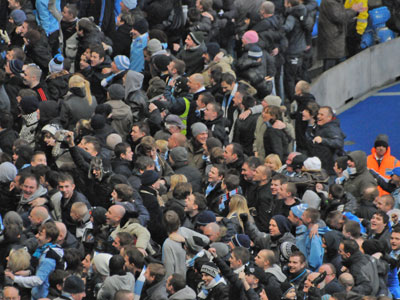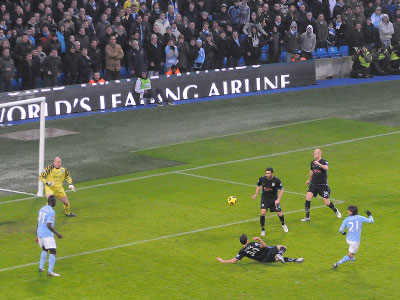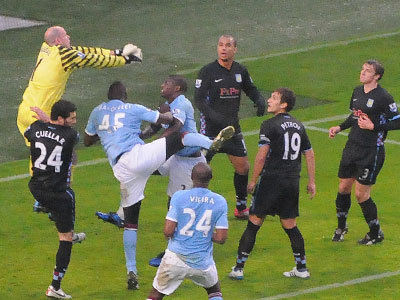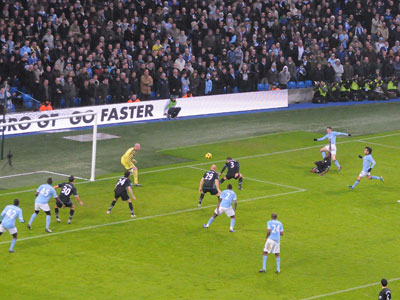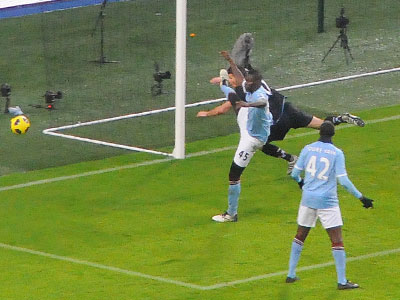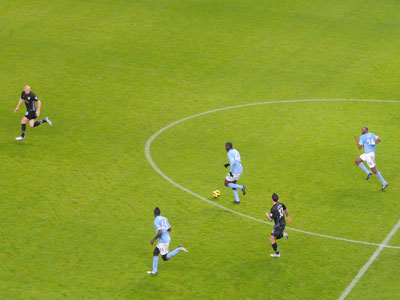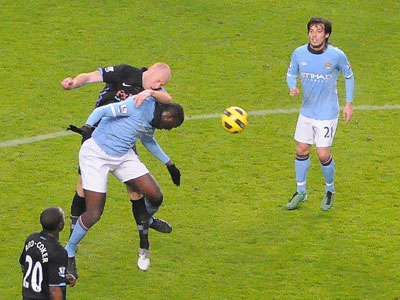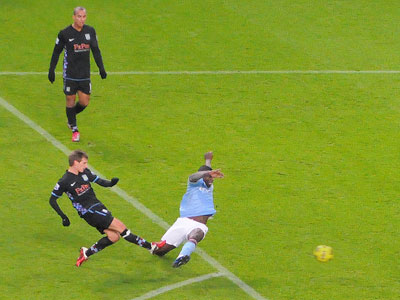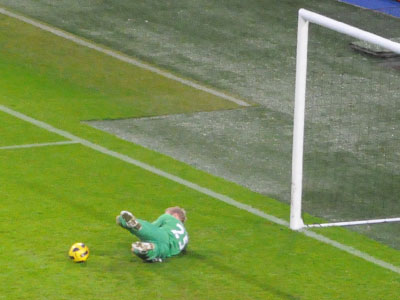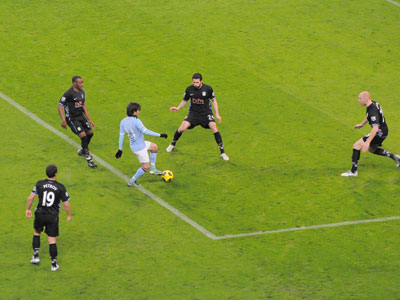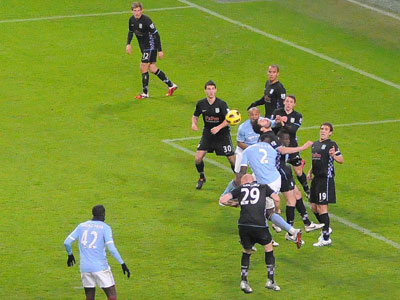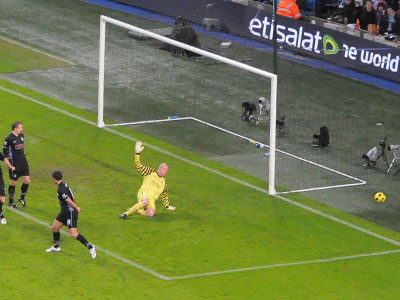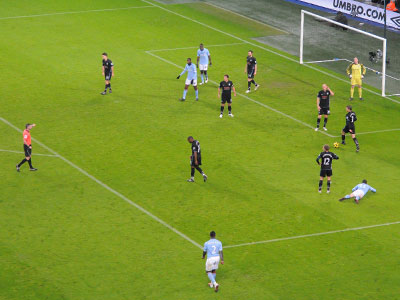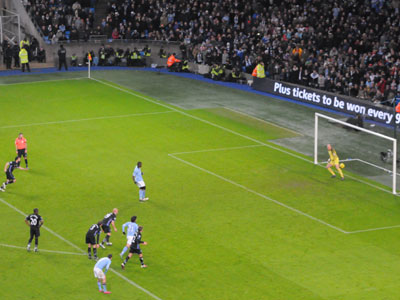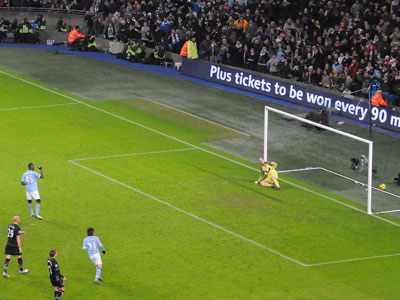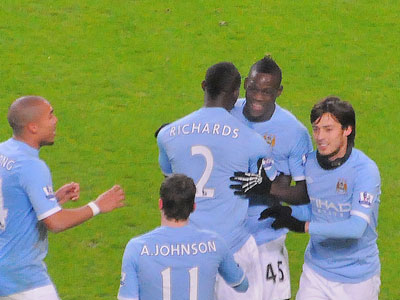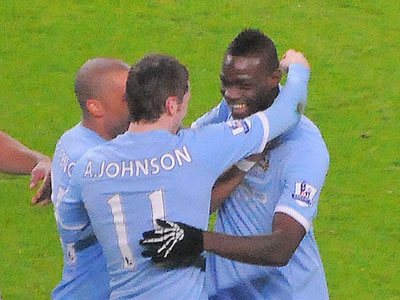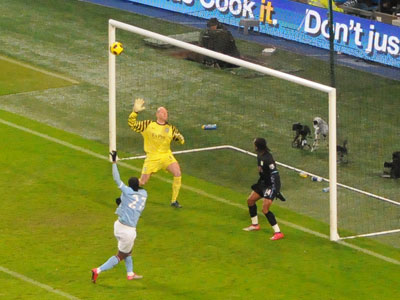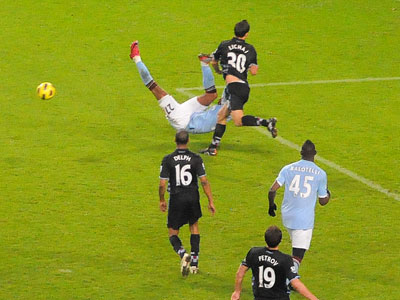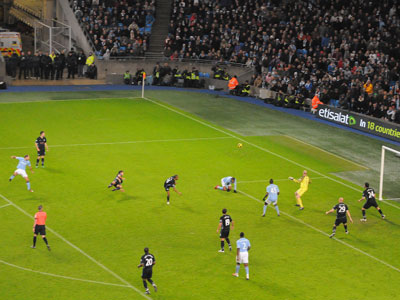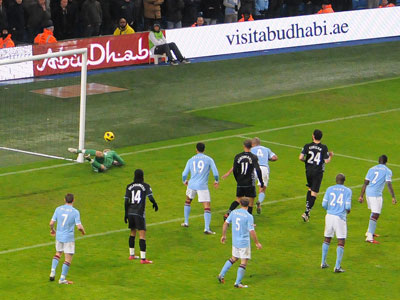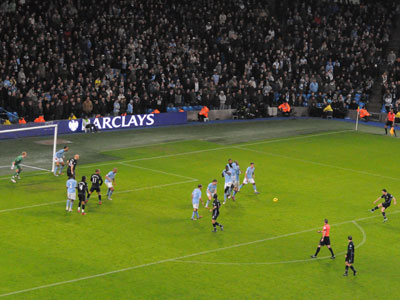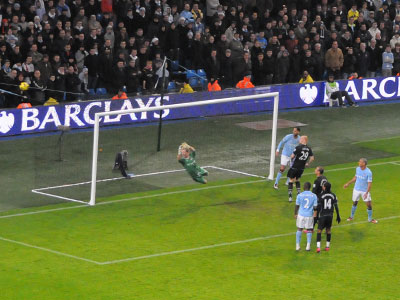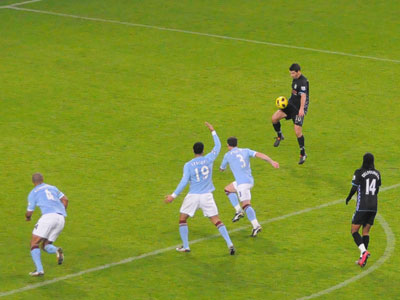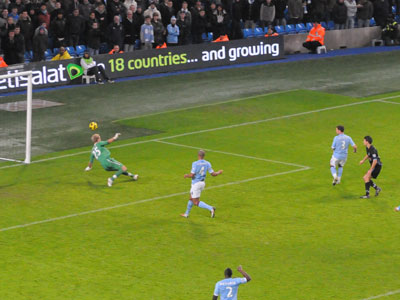 There were several changes with Tevez, Milner, Barry, Boateng and Kolarov being rested.
There was a minutes applause for those who had departed during the past year particularly Malcolm Allison
After just 8 minutes City went ahead. A clumsy tackle by Lichaj on Balotelli ended with the referee pointing to the spot.....
Mario sent Friedel the wrong way with a confident effort ........
There was just a hint of a smile ( better later) from Mario and the City supporters went into Poznan mode to celebrate
There was a worry when Richards went down injured after a clash with Warnock but he was Ok after treatment.
A shot by Yaya Toure was blocked and shortly afterwards....
...... from the corner a header from Lescott was headed clear by Bannan from behind the line .....
........and fortunately the assistant referee spotted that the ball had crossed the line and a goal was awarded.
City supporters once again went into Poznan mode
On 14 minutes Villa had a free kick in a dangerous position but the kick went sailing over the bar
Hart clears under pressure
After 25 minutes City began a 33 pass movement....
...that ended with Freidel only pushing out Silva's shot to Mario Balotelli who had only to roll the ball into the net.
City were three up - at home - after just 27 minutes !! No wonder other sections of the ground went into Poznan mode!
A shot by Silva is blocked by Lichaj
Freidel was kept busy from the corner - here punching clear
minutes later and a dangerous cross by Johnson is missed by everybody
A break-away by City should have ended with a goal but a poor pass ended the move
Collins gives Toure the elbow!
Hart saves from Albrighton just before half time
David Silva continued to be City's danger man in the second half
Silva's pass to Johnson ends with Villa managing to clear
A strong shot by Viera cannons off Friedel's chest for a corner
A minute later and Johnson is tripped by Albrighton and the referee once more points to the spot
..and once again Mario Balotelli sends the keeper the wrong way and coolly places the ball into the net for his hat-trick
and now the moment you have been waiting for - A SMILE FROM SUPER MARIO !!!
Love those gloves!
After coming on for Toure - Jo misses a sitter from close range blasting the ball over the bar
He then tries an overhead kick but fails to connect
Zabaleta has a go but his shot goes over the bar
Villa tried a bit of a come back but Hart did well to save from Delph
A free kick by Downing goes wide
City appeal for offside but Hart saves a last minute effort by Lichaj
Hart 7: Richards 7, Kompany 8, Lescott 7, Zabaleta 7: Johnson 7, Toure 7.5 ( Jo 6) , Viera 7, De Jong 7.5 ( Bridge) Silva 8.5 ( Milner 6.5) Balotelli 8