City 1 Everton 1
August 21st 2017 att.49,108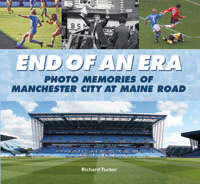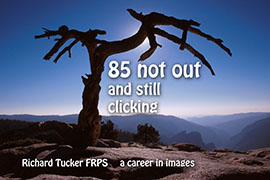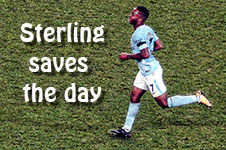 A late goal by Sterling saved City as it looked like Everton were going to take all three points. Having gone down to ten men when Walker got a second yellow card just before half time City fought well but alas their finishing was not of the best. We might have guessed who was going to score for Everton and an error by Sane lead to Rooney scoring his 200th Premier League goal. As he had previously scored his 50th and 150th Premier goals against City the writing was on the wall. However City should have taken the lead in the first half Silva having hit the post and Aguero shooting over. The referee did not help matters giving a second yellow card to Walker on his home debut. It was a strange decision to say the least.
Even with ten men City had the bulk of the possession and many more shots than the visitors but that means nothing if you don't put the ball into the net. Sane needs to learn how to throw the ball in properly and he cannot defend. Later in the game we saw Bernardo Silva for the first time and he certainly looks good. Our other major home debutante was Ederson Moraes in goal. I thought he might have done better with Rooney's shot but otherwise he punched out well and did try his long goal kick routine once.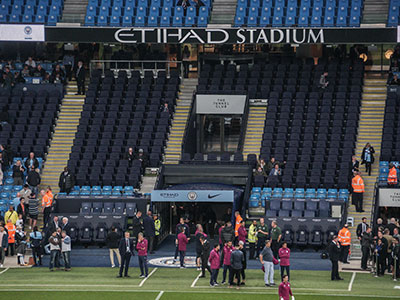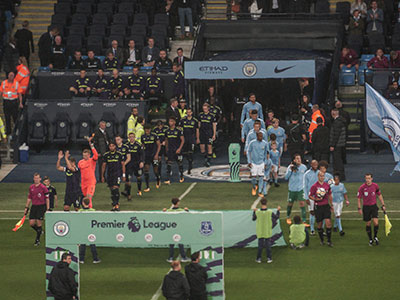 We had our first view of the tunnel club. I wonder where they moved all the fans who used to sit in the area!
City made just one change from the Brighton game -Sane coming in for Danilo

The start of season effect was a bit over the top and filled the stadium with smoke for too long.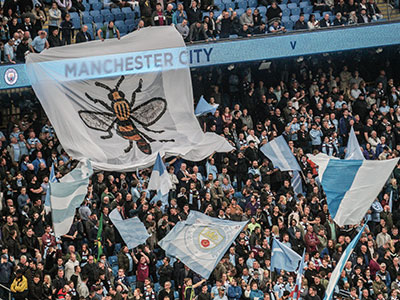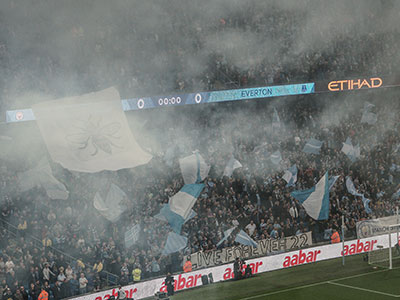 before and after in the South Stand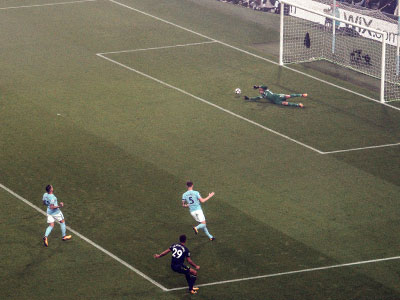 an early shot by Calvert-Lewin goes wide
Everton had strong support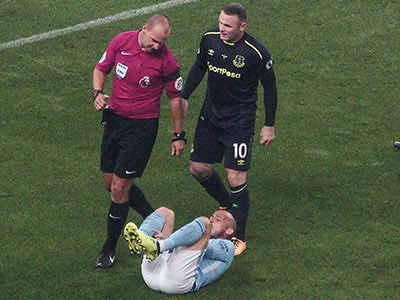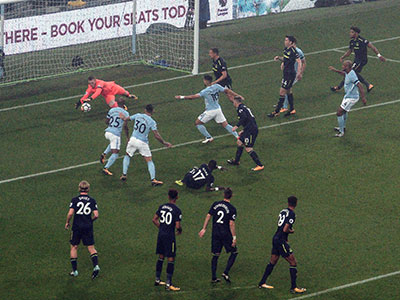 Rooney has a word with the ref after Silva is brought down
The free kick by De Bruyne is saved by Pickford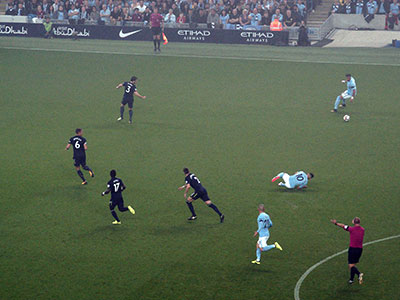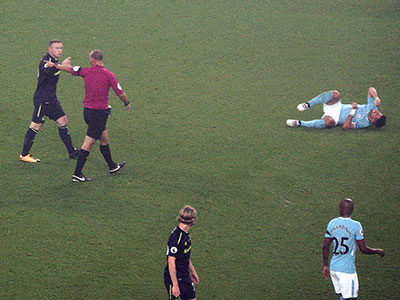 Aguero is fouled by Schneiderlin but the ref waves play on
Yes that's Rooney with his finger up at the ref!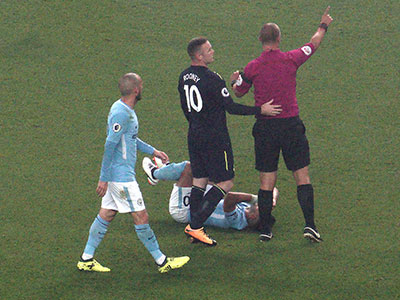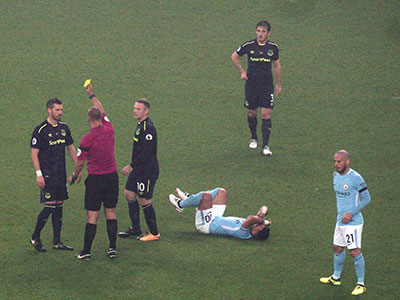 Oh Rooney now has his hand on the ref!
Schneiderlin gets his yellow card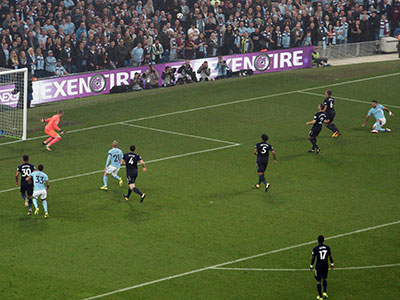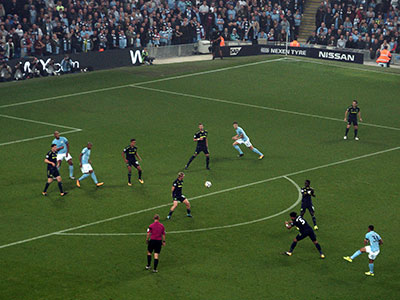 9 minutes gone and Aguero shoots well over the bar
12 minutes and Jesus shoots over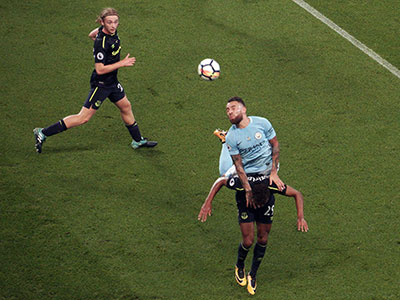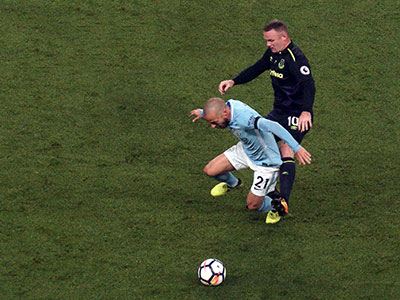 Silva is tackled from behind by Rooney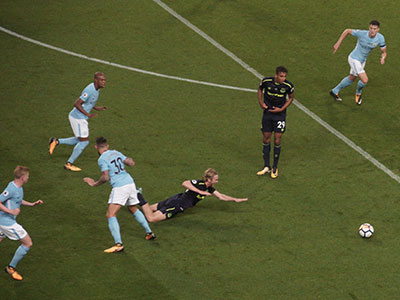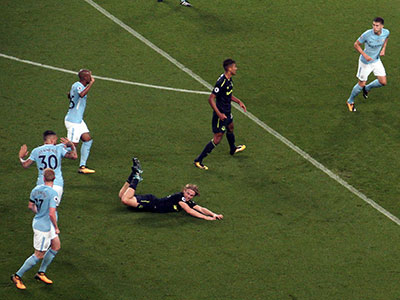 So whose been watching Tom Daley! Tom Davies does a beautiful dive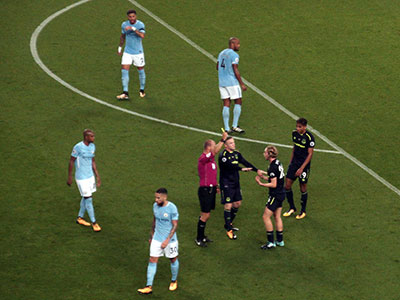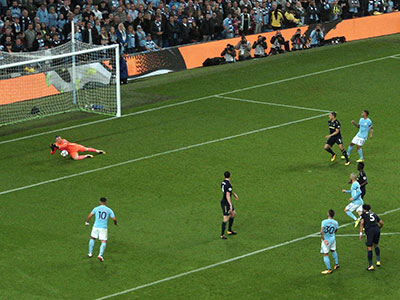 Davies gets a yellow card for his effort
Otamendi has a shot saved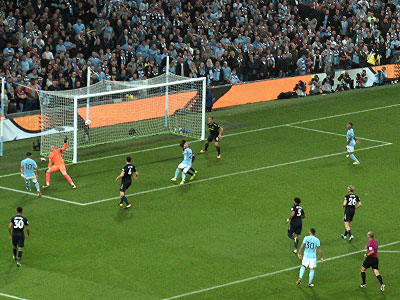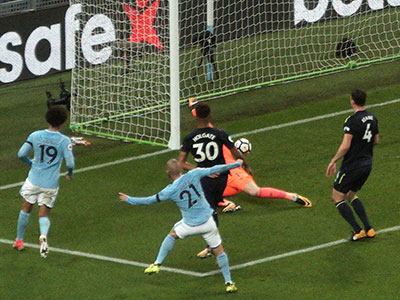 The ball comes out and Pickford has to save from Aguero
Shortly after Silva hits the post from close range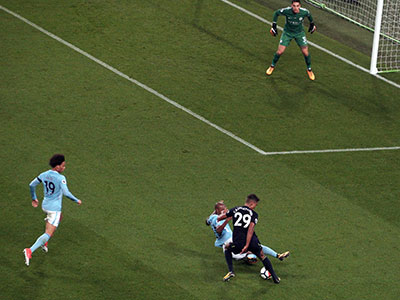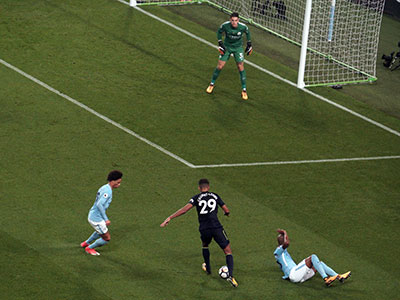 A minute later at the other end Sane gives the ball way to Calvert-Lewin who beats Kompany and centres.....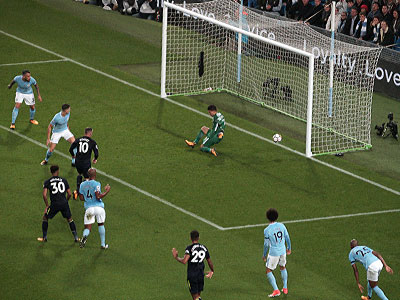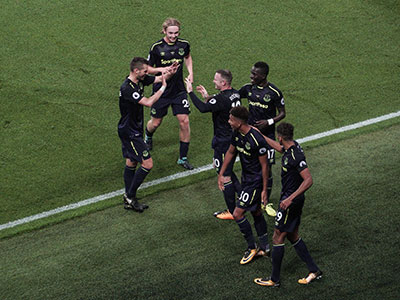 ...to Rooney who shoots through the legs of Ederson and Everton celebrate as they go ahead - disaster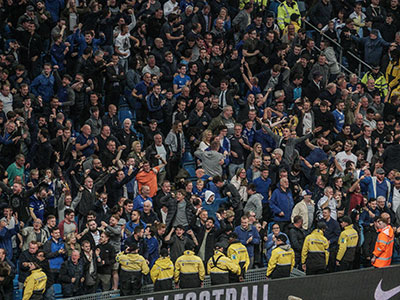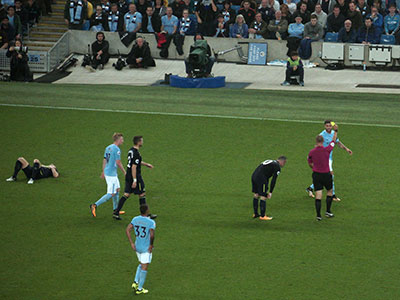 The Everton fans who had been quiet now have a chance to cheer
Walker fouls Baines and gets a yellow card on 42 minutes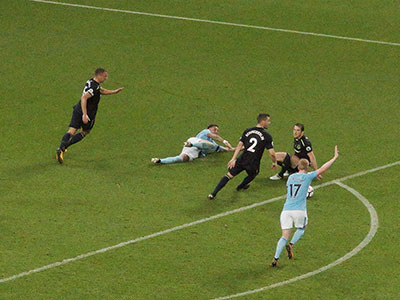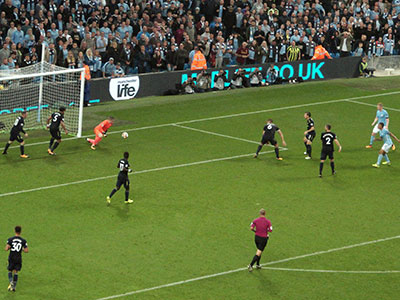 Jesus is brought down but no penalty and a minute later he has a shot saved by Pickford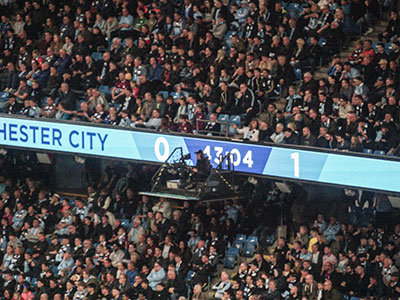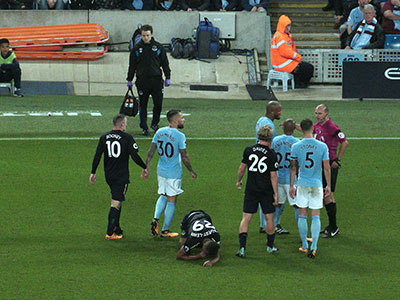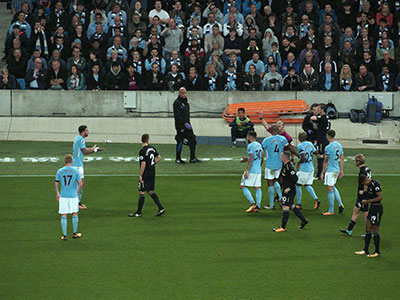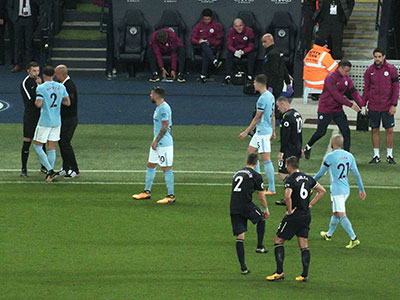 First time I have noticed a camera here on the North Stand
Just before half time Calvert-Lewin shows his acting ability and goes down -what next ......
It ends up with Walker getting a second yellow and he then gets a red card and City are down to ten men - disaster squared before half time!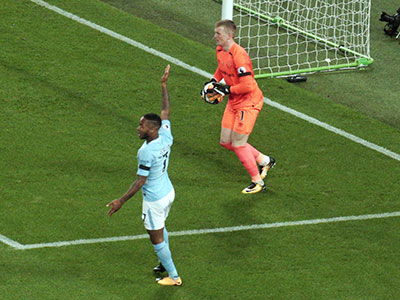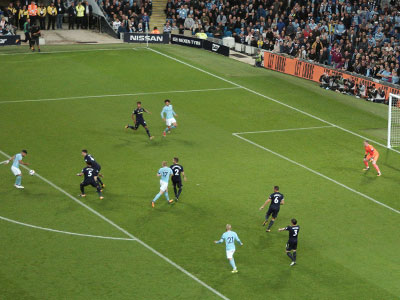 City appeal for a back pass but nothing given!
An Aguero shot is blocked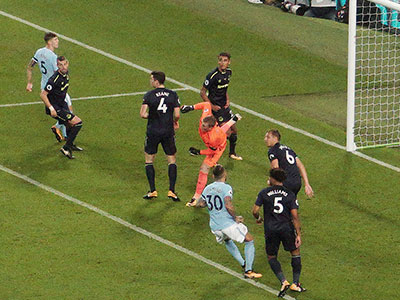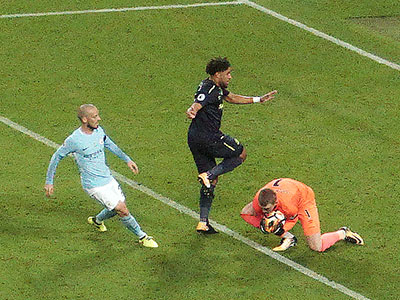 Despite being down to ten men City give Pickford plenty to do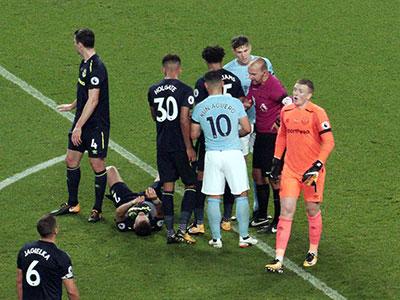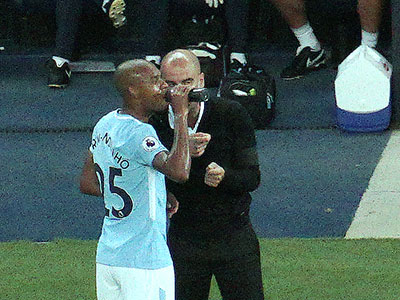 Everton have a player injured at a free kick
While he is being treated Pep has a word with Fernandinho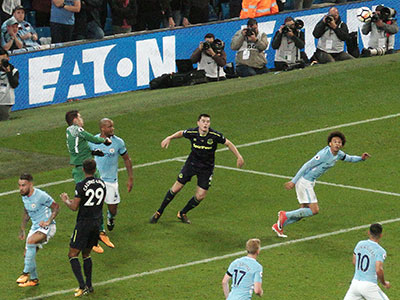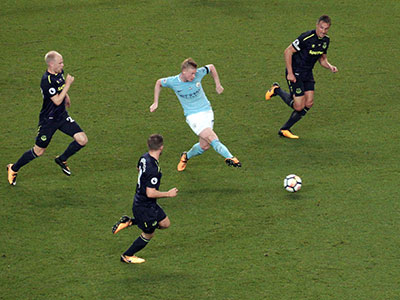 Ederson punches well clear
Kevin tries the perfect pass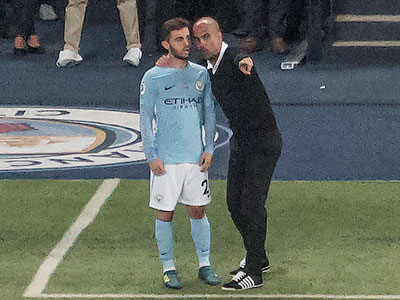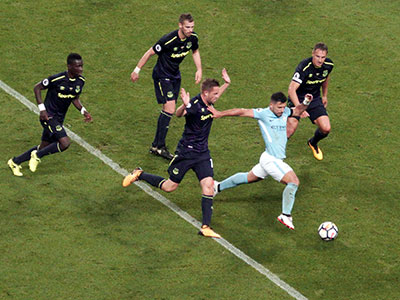 Bernardo Silva gets instructions before making his home debut
Aguero is marked by only 4 Everton players!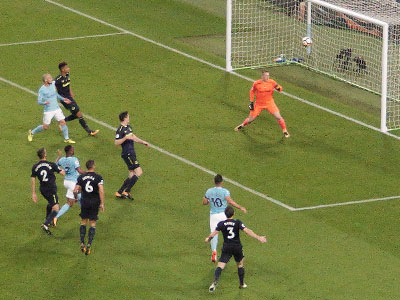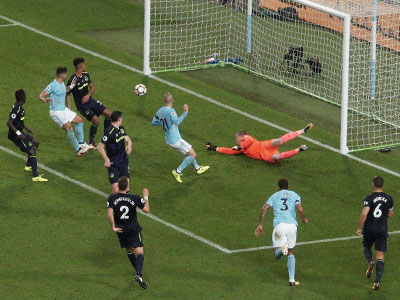 Sterling shoots over the bar
Pickford saves from Danilo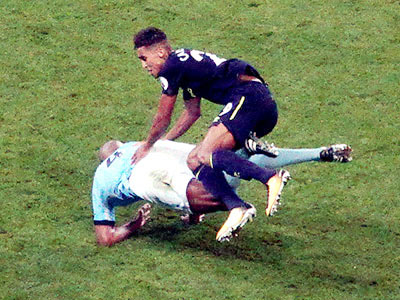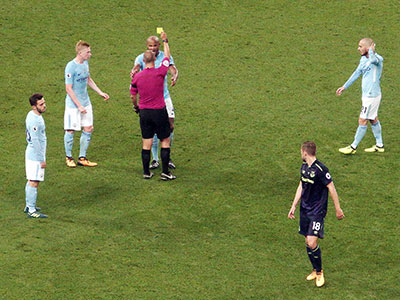 78 minutes on the clock and Kompany gets booked for a foul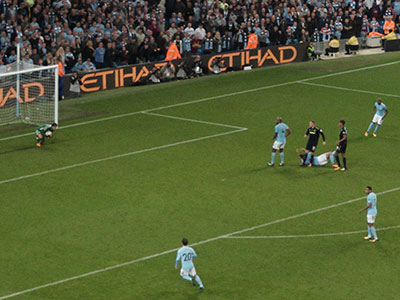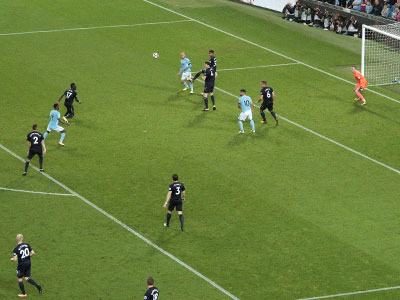 Rooney shoots straight at Ederson
Following a free kick Holgate's header fell to Sterling.....

...who cracked the ball past Pickford to score and give City a point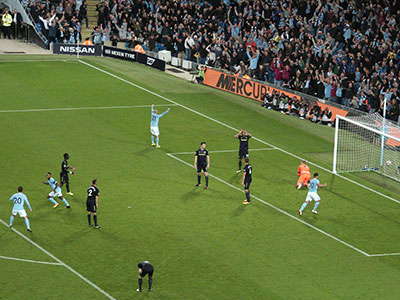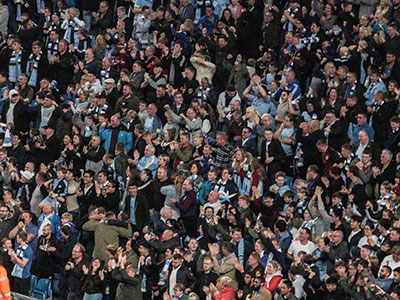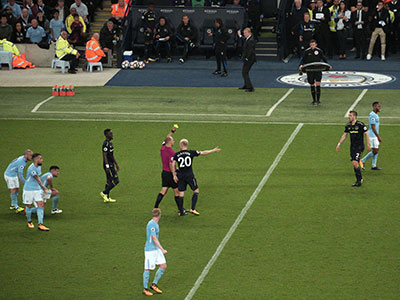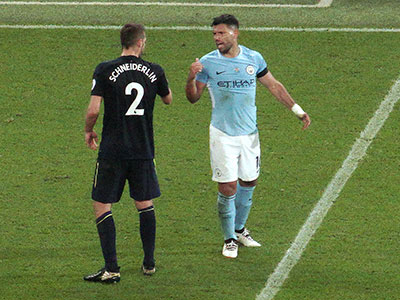 It was an excellent goal and well deserved by the ten men
2 minutes before time Schneiderlin got a second yellow and was sent off .
So it was ten and against ten for the last few minutes but City could not get a winner
team
Ederson 6.5: Kompany 7, Stones 6.5 (Danilo), Otamendi 7: Walker 6, Fernandinho 6, Sane 5.5 (Bernardo): Silva 6.5, De Bruyne 6.5: Jesus 5.5 (Sterling 7.5), Aguero 6