City 0 Stoke City 1
August 30th 2014 45,622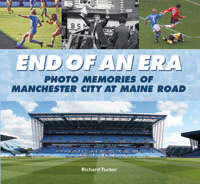 Now available from Amazon ( click on image for link)
WH Smith and the City shop
Unbelievable!- After the second half display against Liverpool we were expecting a convincing win against a Stoke side that had never scored against City at the Etihad - but alas we were in for a shock. Stoke parked the bus in front of their goal and City lacked the creativity and inventiveness to break through the packed Stoke defence. We were much too complacent and very lethargic at times. City made very few good chances but were unlucky not to get a penalty late in the game. City generally attacked at a set pace and many of the moves were either blocked or let down with a faulty final pass.
This was Stokes first victory over City at the Etihad and their goal came from a breakaway following a City corner. Diouf picked up the ball in his own half and sped towards the City goal beating and outpacing Fernandinho before shooting between Hart's legs. I thought Hart should have done better. He had hardly anything to do all game! Shortly after Diouf had another chance from which he should have scored. Let's hope this was just one of those days!!!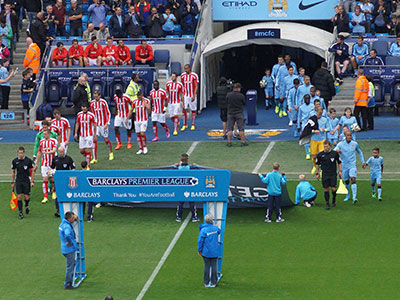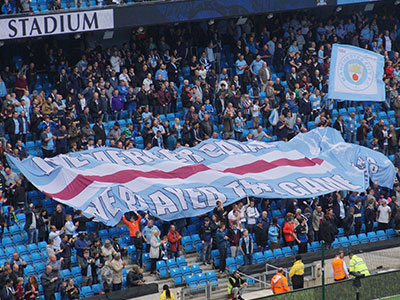 City made three changes - Sagna making his debut - Aguero in for Dzeko and Kolarov replaced Clichy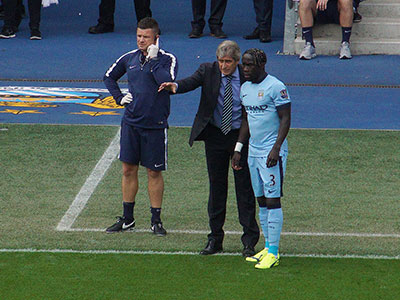 Not as many Stoke supporters as normal
Pellegrini has a word with Sagna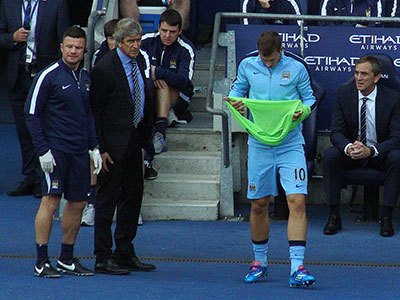 Panic stations as Aguero goes down injured and Dzeko gets ready to come on ..but fortunately Aguero was OK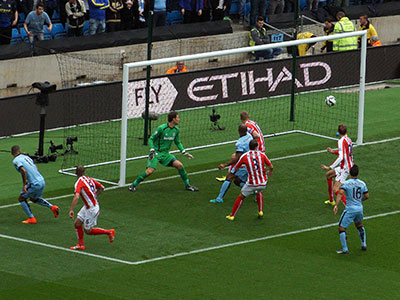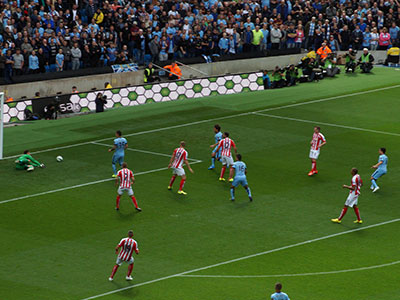 City gain an early corner but no luck
On ten minutes Nasri has a shot which is saved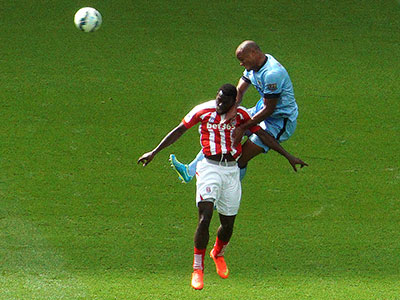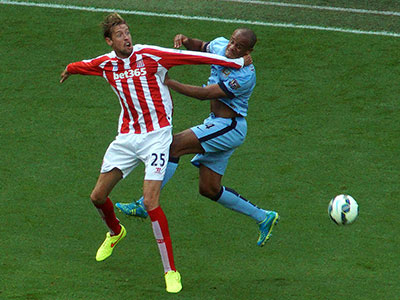 Kompany clashes with Crouch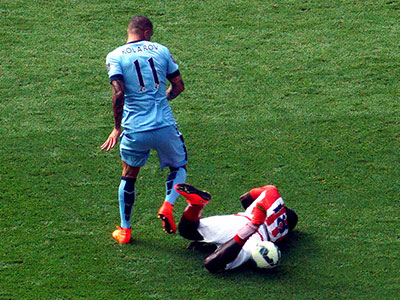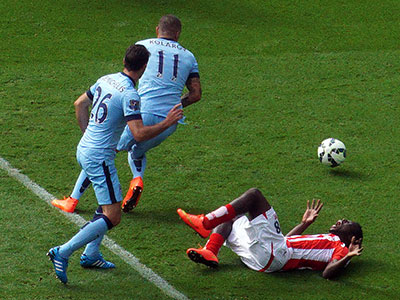 Diouf goes down after a tackle by Kolarov - Stoke claim a penalty - not given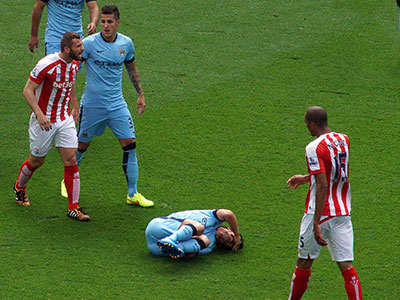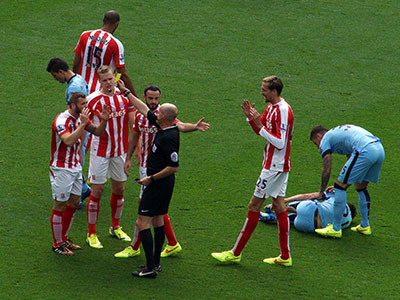 Silva is fouled and Bardsley gets a yellow card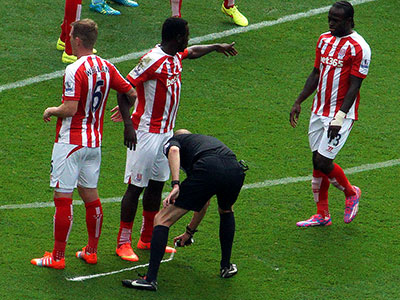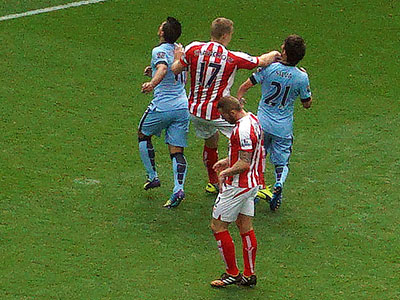 out comes the foam but the free kick is wasted
Shawcross challenges Aguero....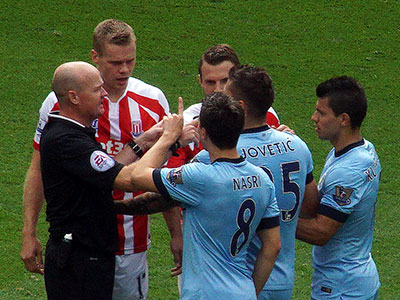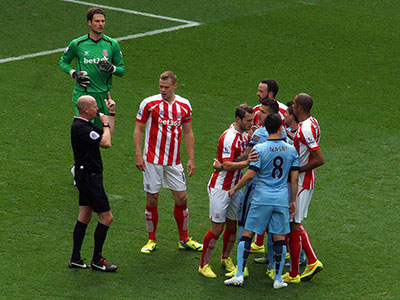 ...and there is a handbags at dawn confrontation which is settled pretty quickly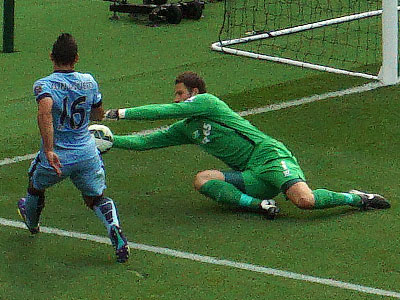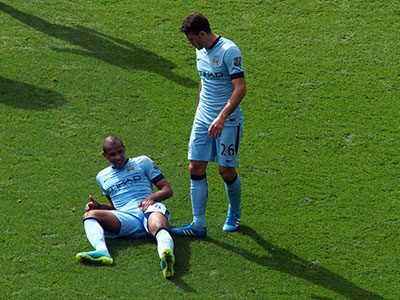 Begovic saves from the onrushing Aguero
Fernando goes down inured on 32 minutes and five minutes later is subbed by Fernandinho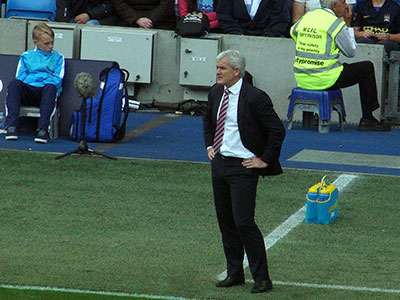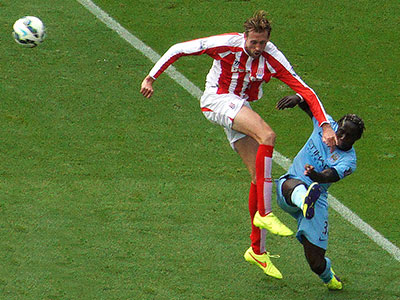 Mark Hughes checks on his defence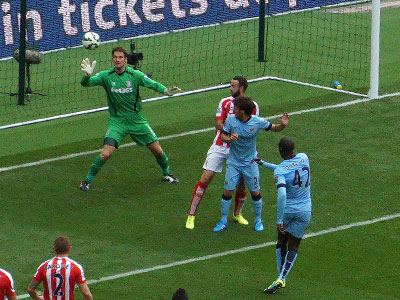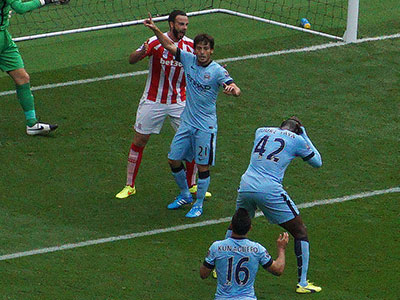 Just before half time Toure hits the bar with a good chance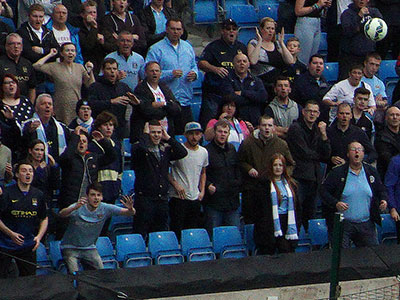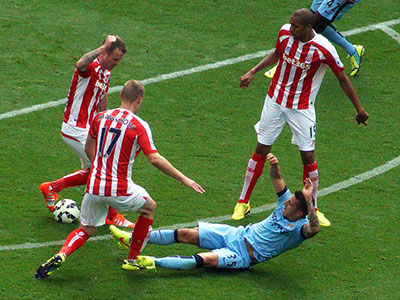 The City fans are frustrated too!
Half time comes with no goals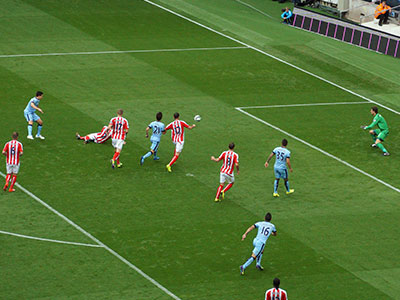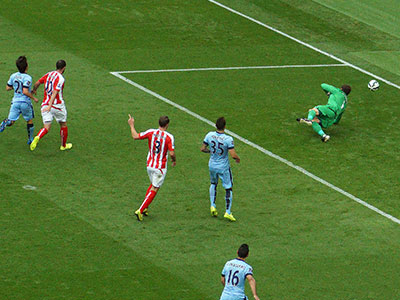 on 51 minutes Nasri has a shot which is deflected wide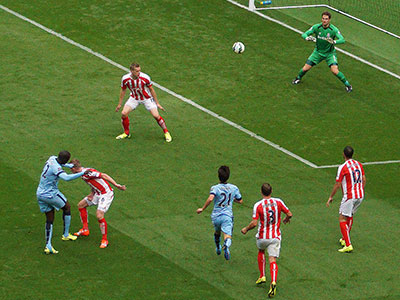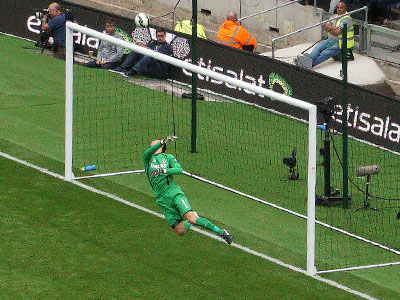 On 58 minutes Yaya Toure has a shot well saved by Begovic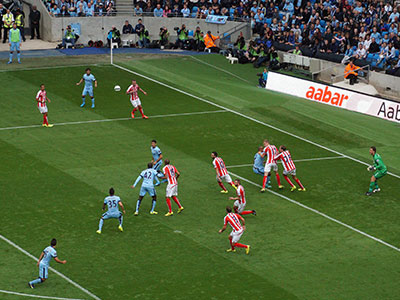 from the corner Stoke clear and Diouf breaks away chased by City defenders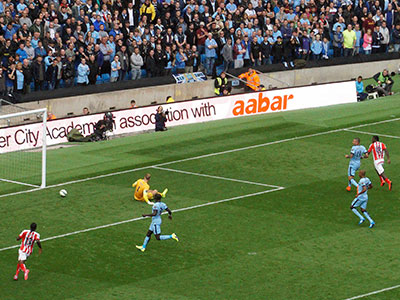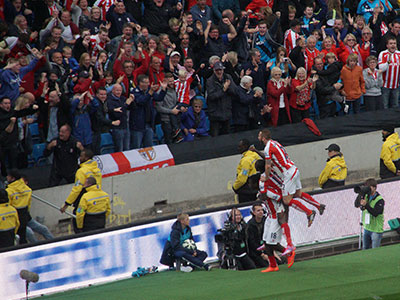 He shoots through the legs of Hart and scores much to the delight of the visiting fans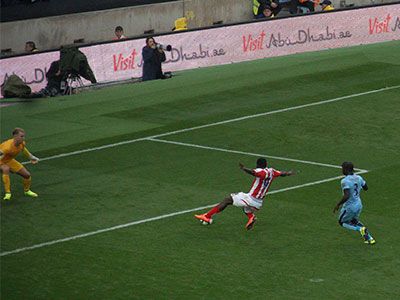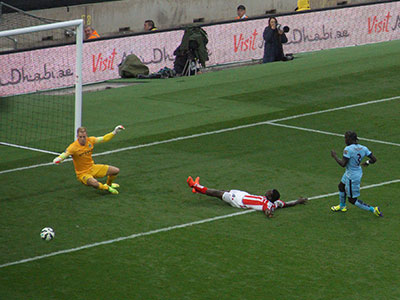 minutes later and Diouf has another great chance but he fails to make contact with the cross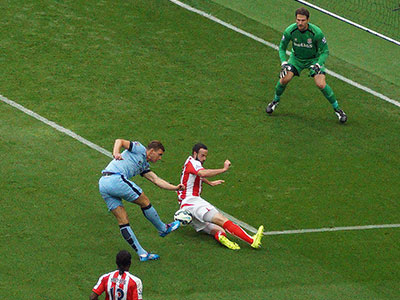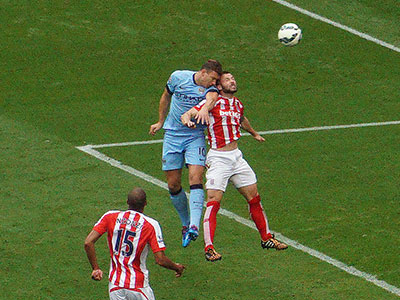 Dzeko - on for Jovetic- has a shot blocked and then from the corner he heads over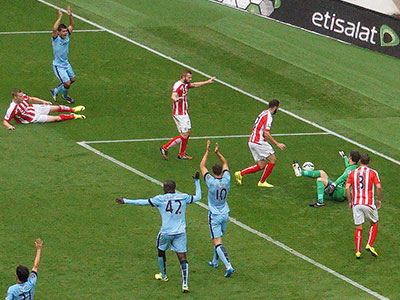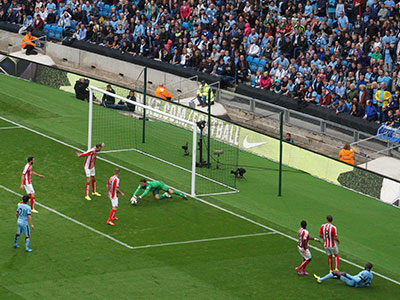 On 70 minutes City claim for a handball -not given!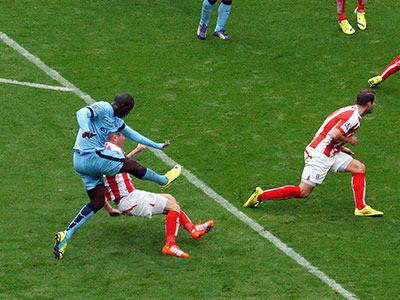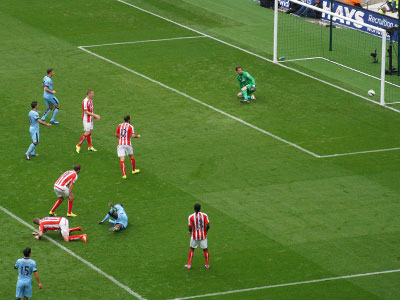 Yaya Toure has a good shot deflected wide with the keeper stranded - all City now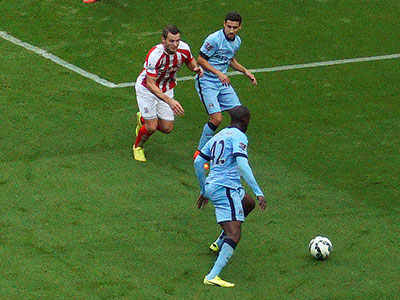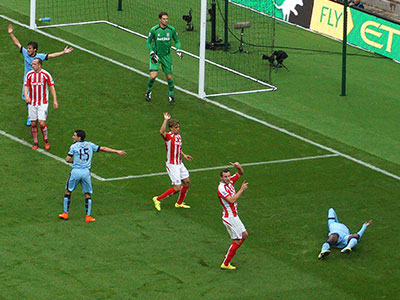 On 86 minutes Yaya Toure dashes down the wing and is brought down for a penalty but......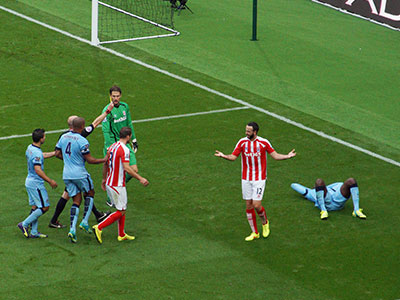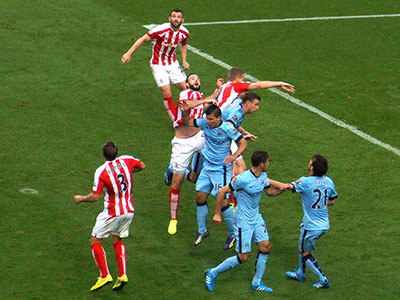 ... he gets a yellow card for 'diving' and Stoke manage to hold out for their first win at the Etihad
Team
Hart 6: Sagna 6, Kompany 6, Demichelis 6, Kolarov 6, Nasri 6 (Navas ), Fernando 6 ( Fernandinho 5.5) Toure 6, Silva 6 , Jovetic 6 ( Dzeko) Aguero 5.5