August
City 3 Liverpool 1
August 25th 2014 45,471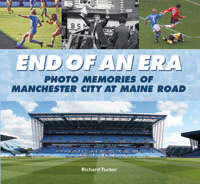 Now available from Amazon ( click on image for link)
WH Smith and the City shop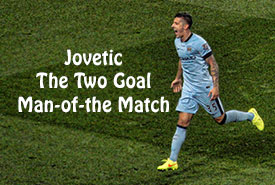 City's winning start to the season continued with a convincing victory over Liverpool. The visitors had the best of the first 30 minutes and were quicker to the ball and the City defence did well to protect Joe Hart from having to save the day. A goal just before half time by the new born Stevan Jovetic He was helped by Nasri and Silva and it was perfect timing. His second goal early in the second half was the climax of a 19 pass move with Nasri providing the final pass. Jovetic had a good pre-season and his form is continuing - a good sign especially with Negredo off injured for a while. With just over 20 minutes left Dzeko had to go off injured and on came Aguero to great applause from City fans. He has been on the field for less than thirty seconds before he latched onto a great pass from Navas and cracked the ball into the net to make it three nil and match over! Liverpool got a late goal but City dominated play and deserved their win. Clichy did really well at left back - his spell at right back in pre-season must have helped. Fernando did well in front of the back four but I thought Toure held onto the ball too much and rarely got forward. Not impressed with the new advertising running along tier two and the offer of digitizing flags is a joke as the height of the advertising is so small you would never see any detail on the digital flags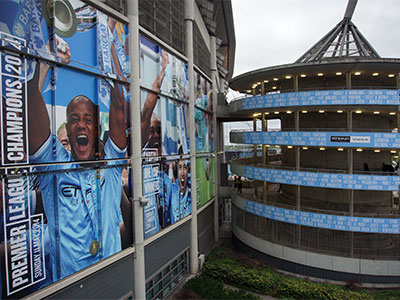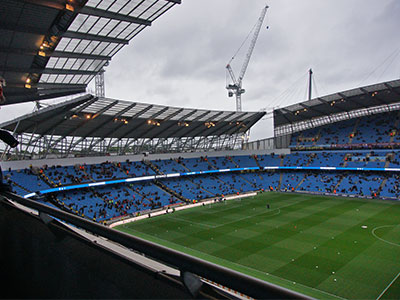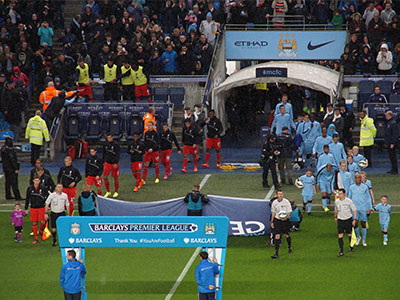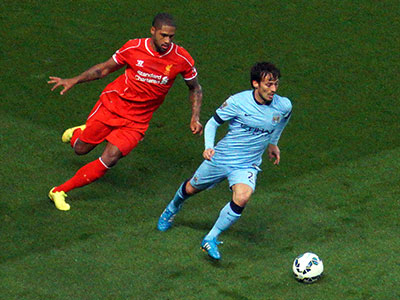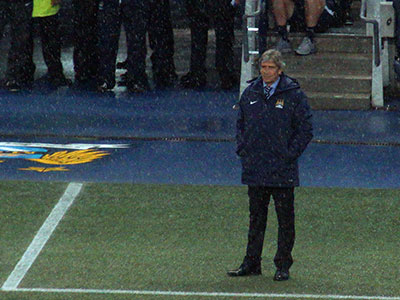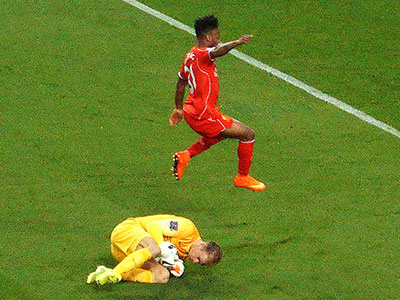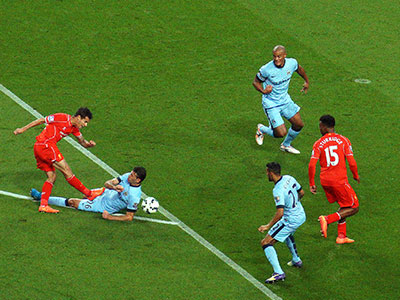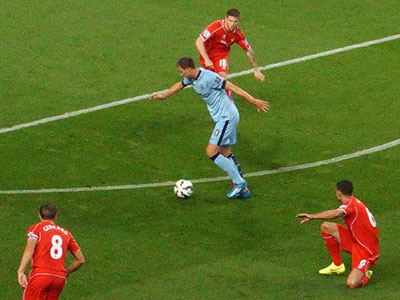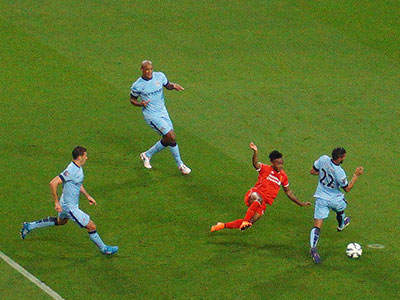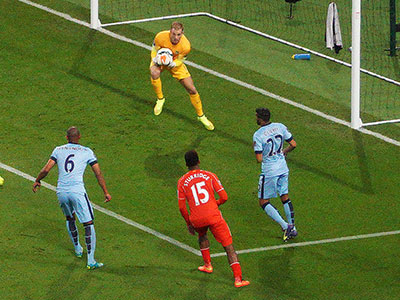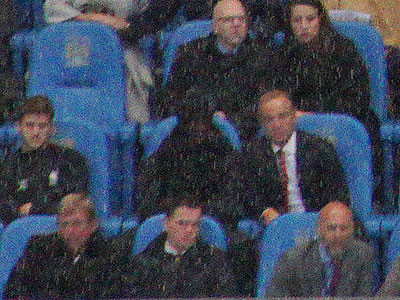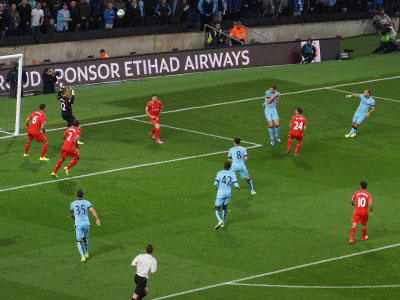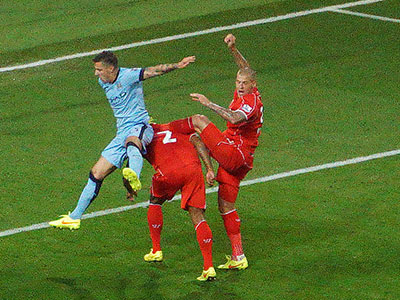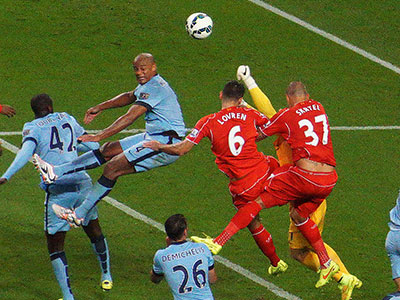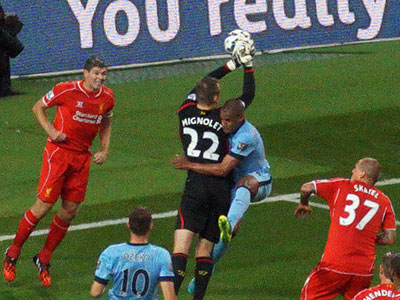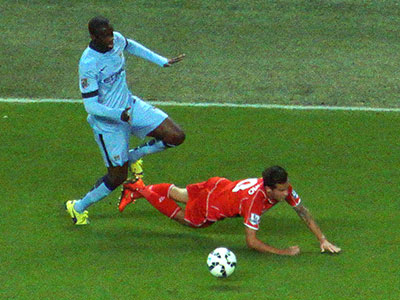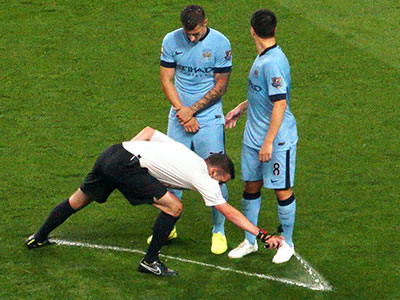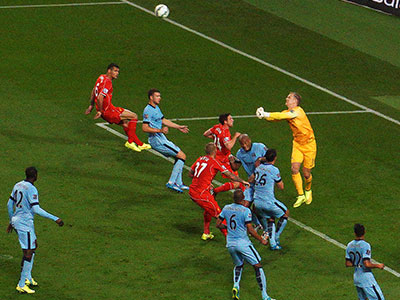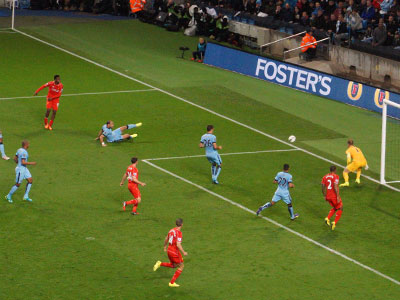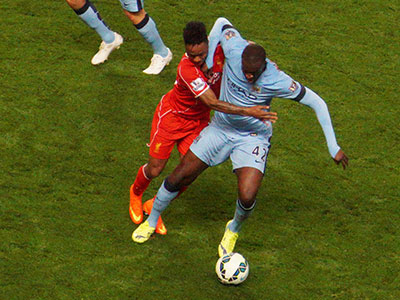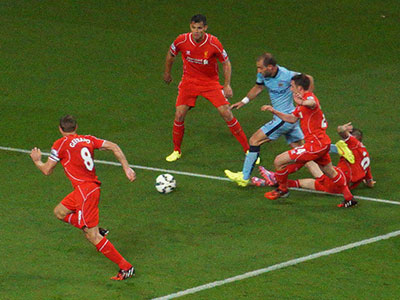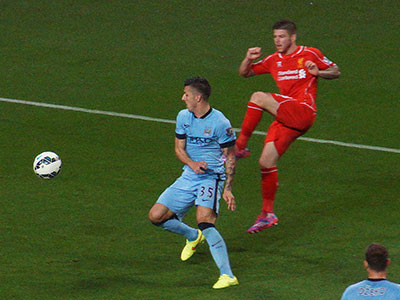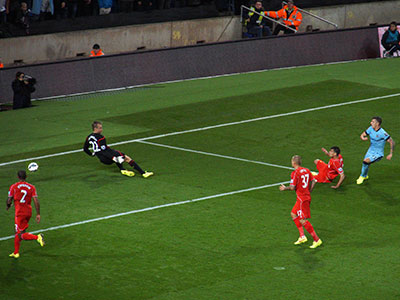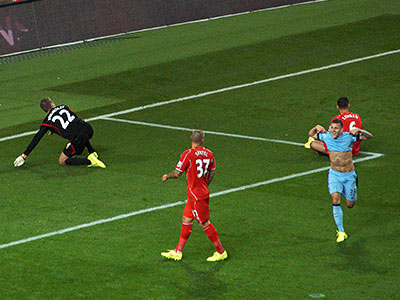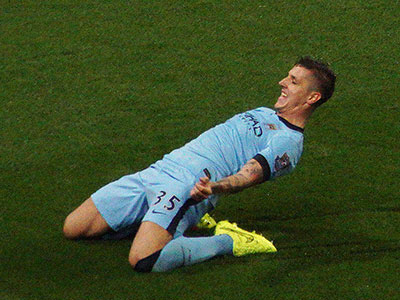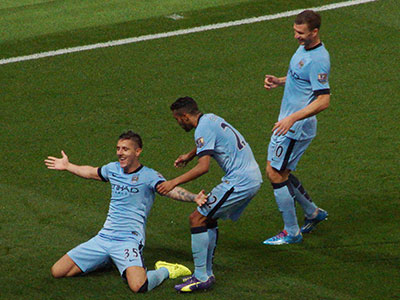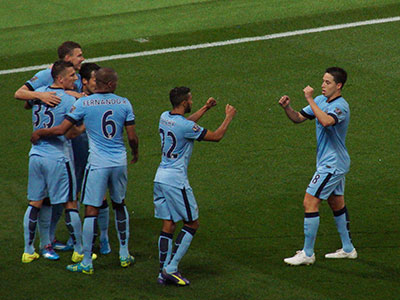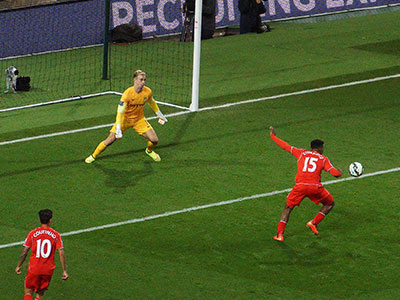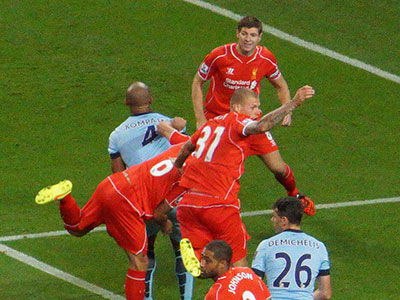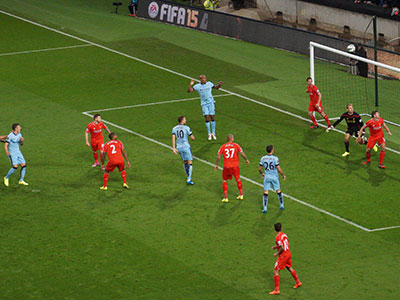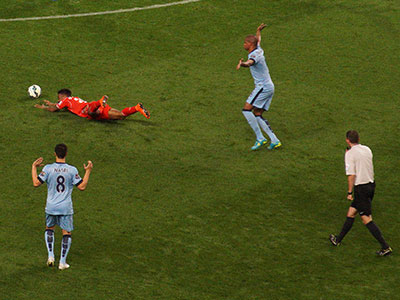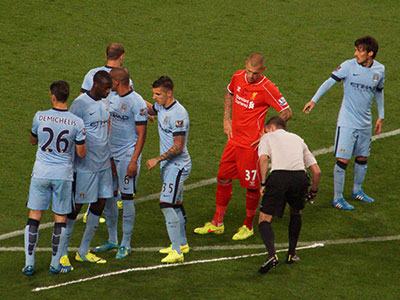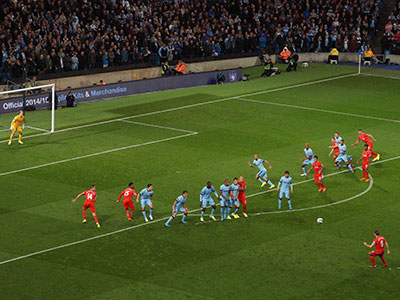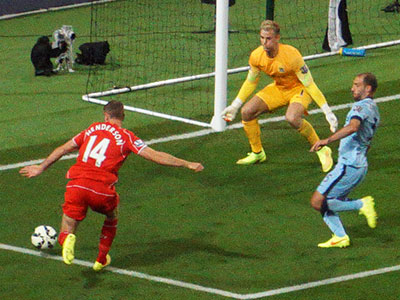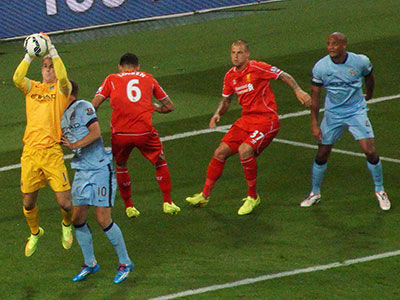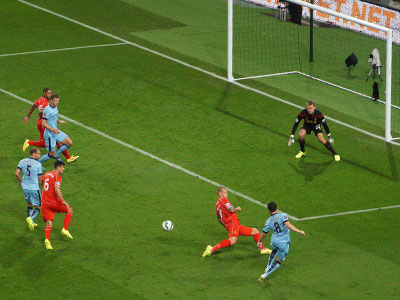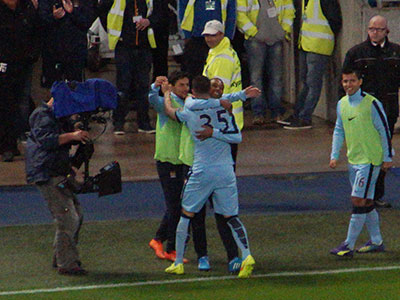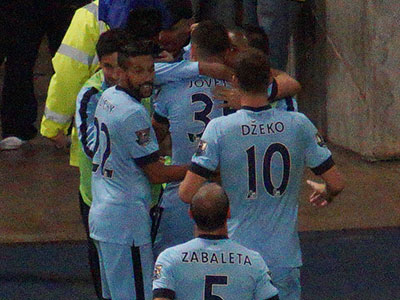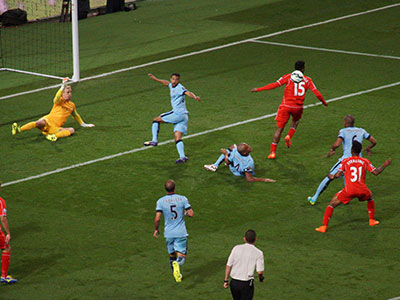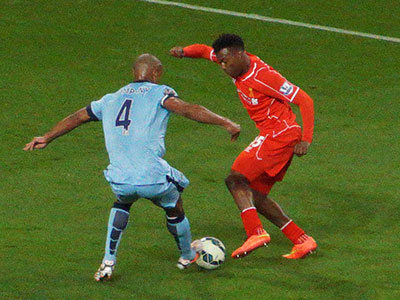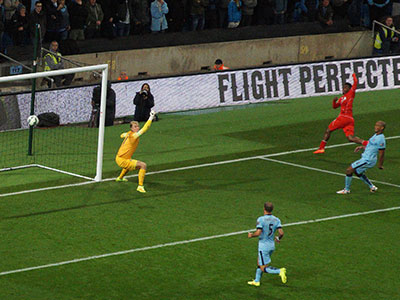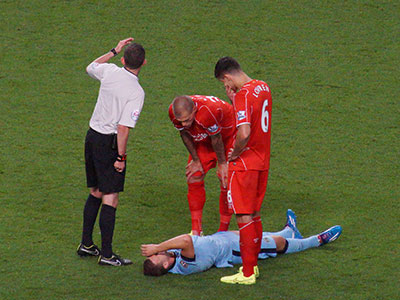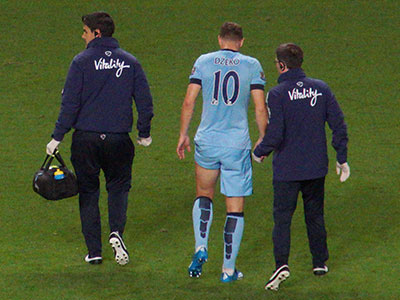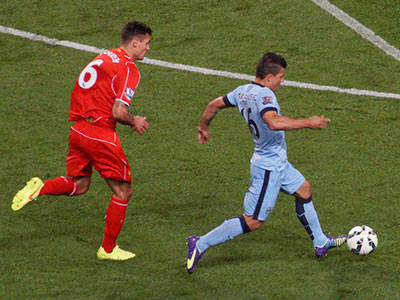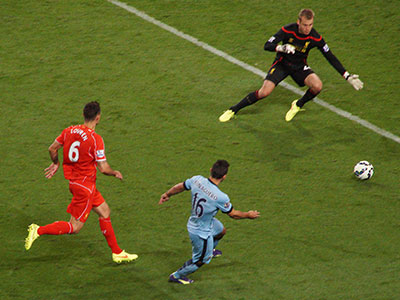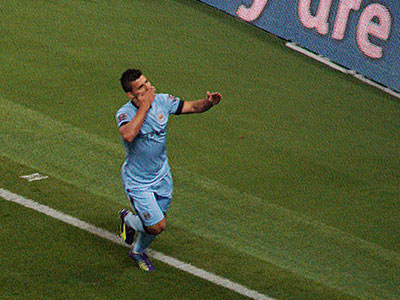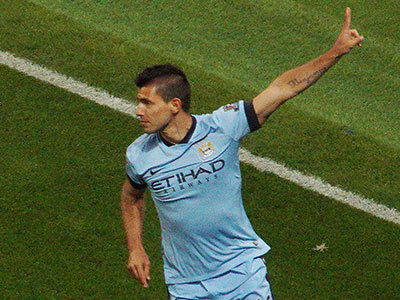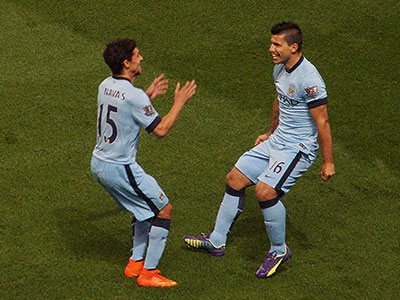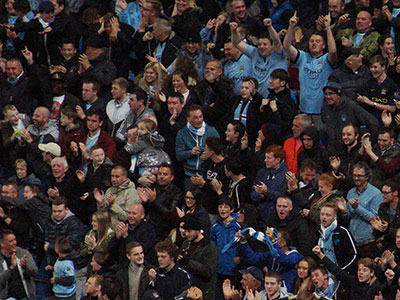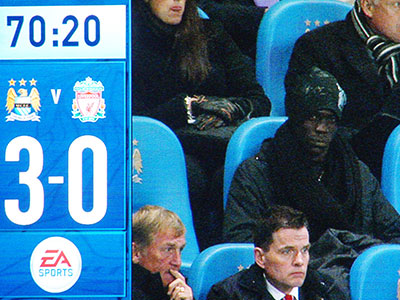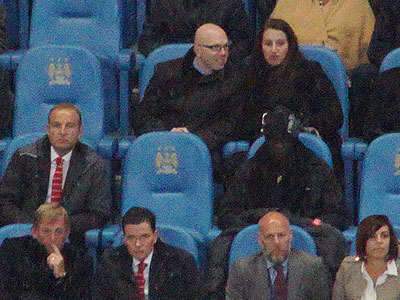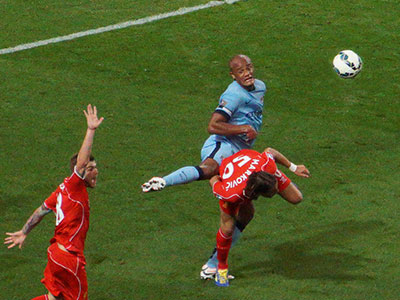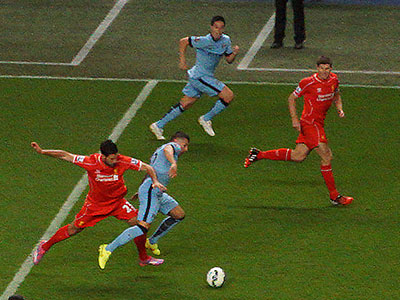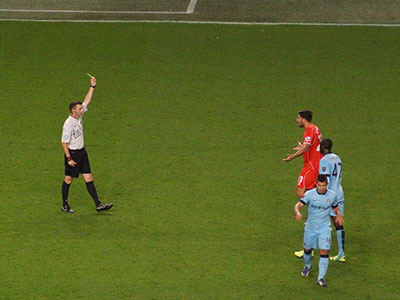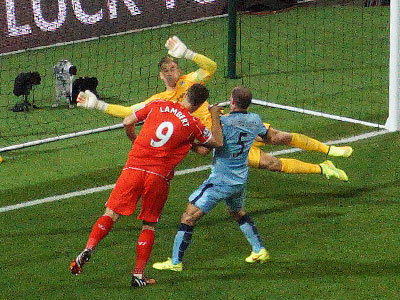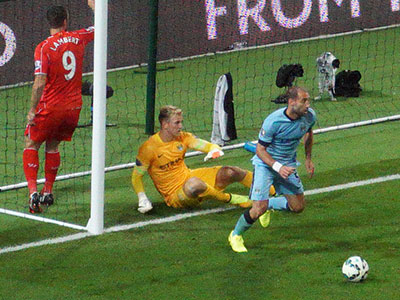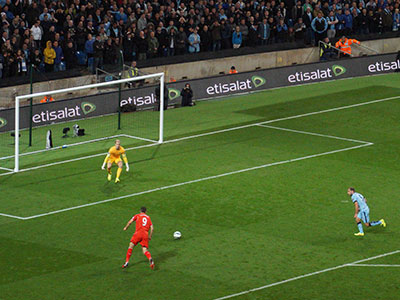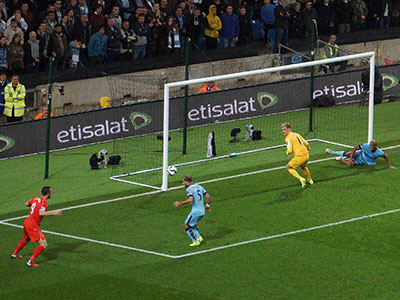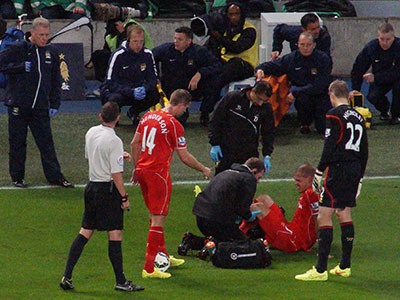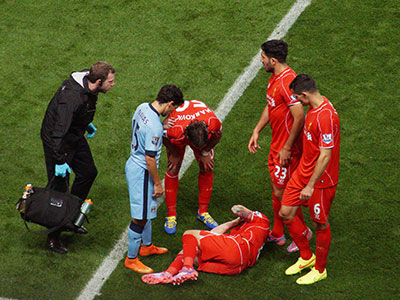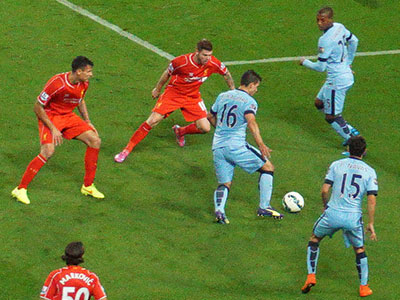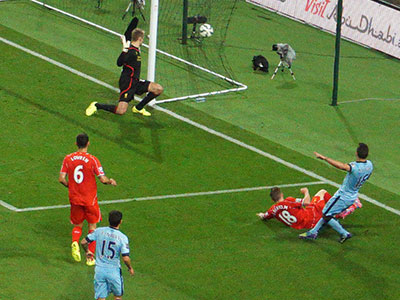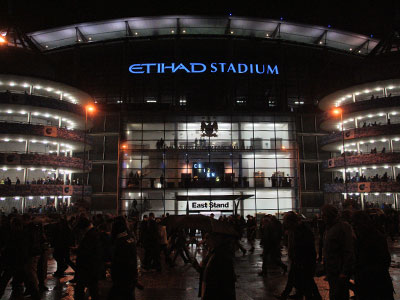 A new look to the outside and work continues on the extension to the South Stand
as expected a lot of support from Liverpool
City made one change from the last game Zabaleta replacing Kolarov
our manager watches the early play
David Silva in action early on
Sterling leaps over Joe Hart who collects a through ball
Coutinho has an effort blocked
on 7 minutes Dzeko has a shot but it goes wide
Mario Balotelli watches through the rain
Hart catches a free kick taken by Gerrard
Zabaleta has a chance but the ball goes into outer space!
Joe Hart punches a corner clear
Mignolet is fouled as he tries to catch the ball
Yaya Toure got a yellow card for this foul on Cortinho
The spray is used for the first time at the Etihad on 29 minutes - for the history book Garry James
Hart punches the free kick clear
Hart saves from Sturridge
Toure in a tussle with Sterling
On 40 minutes Jovetic beats Moreno and lashes the ball past the keeper to give City the lead
I think he liked that one
...and so did his team mates and at half time it was one nil to City
After 48 minutes Sturridge did get the ball into the net but the offside flag was up!
Liverpool defend a corner
a Jovetic header just goes over the bar
Fernando fouls Sterling and out comes the foam
From the free kick Liverpool get a corner when Zabaleta clears the danger
Hart catches the ball and a great move ends with Nasri crossing......
....to Jovetic who makes no mistake to give City a two goal lead - great stuff!
Jovetic rushes over to the City subs before he is joined by his colleagues
Liverpool try to come back at City but the blues defence stands firm
Sturridge fails to score from a narrow angle
Dzeko suddenly goes down injured
So on 68 minutes Dzeko goes off to be replaced by Aguero who immediately takes a pass from Navas
.....and shoots past Mignolet to make it three nil - amazing -on the field for just seconds
What a start to the season for him
The players and supporters celebrate
Mario does not seem too happy about the score!
Can brings down Jovetic......
...and gets a yellow card
Hart makes a good save from Lambert but the ball goes into the net off Zabaleta
It's a consolation goal for Liverpool who have a great chance shortly after as City fall asleep
Then Moreno is injured -its not Liverpool's day
Just on time Aguero burst through
but his shot hits the side netting and City supporters depart the Etihad very happy with the result
team -
Hart 7, Zabaleta 7.5, Kompany 7.5, Demichelis 7, Clichy 7.5: Toure 6.5, Fernando 7 , Silva 7(Navas) , Jovetic 8.5 (Fernandinho), Nasri 7, Dzeko 7 (Aguero)