August 2013
City 4 Newcastle U 0
August 19th 2013 46,842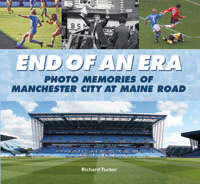 Now available from Amazon ( click on image for link)
WH Smith and the City shop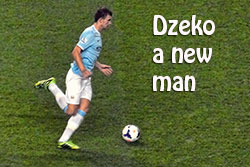 A great start to the new season and top of the league! Under new management and with several new signings to see there was a great feeling of expectation among the City supporters. We were not to be disappointed. Almost from the first whistle we went at Newcastle and might have been two up in the first few minutes. However it did not take too long for us to go ahead and Dzeko provided the cross which David Silva headed home via a diverted defensive block. A neat pass from Dzeko again sent Aguero dashing past a defender and with an excellent finish put City two up in no time. Just before half time a stupid act by Taylor had the Newcastle defender on his way to the dressing room and the visitors were down to ten men. A great free kick by Yaya Toure put paid to Newcastle's hopes and finally substitute Nasri made the most of a defensive mistake to score the 4th goal. Joe Hart had little to do in goal and barely touched it in the second half but an injury to Kompany was worrying. New signing Fernandinho and yaya Toure bossed the midfield and Silva was back to his creative best. Down the right flank Navas was fast got through a lot of work and his crosses will cause lots of problems for defence's this season. Nice to see Aguero back in action again but the biggest shock was the performance of Dzeko who worked his socks off provided passes for two of the goals and was unlucky not to be on the score sheet. We only saw ten minutes of Negredo so it's a bit too early to say much yet.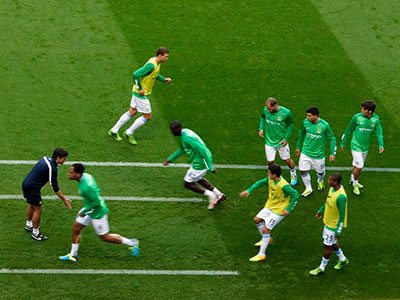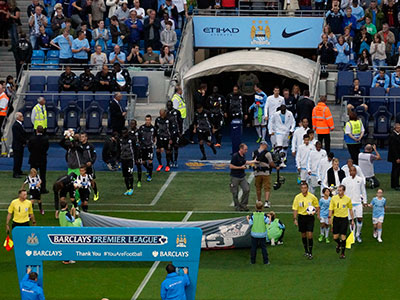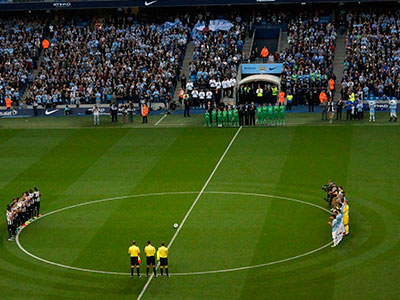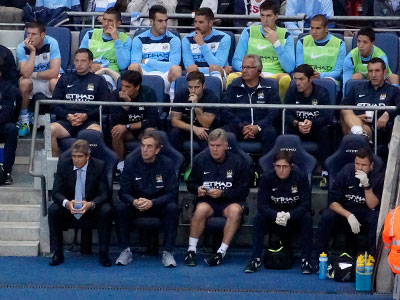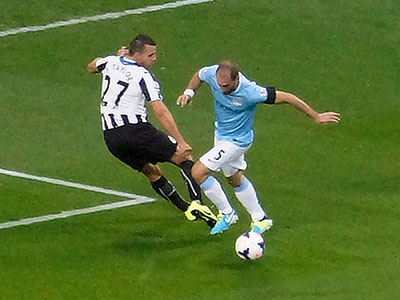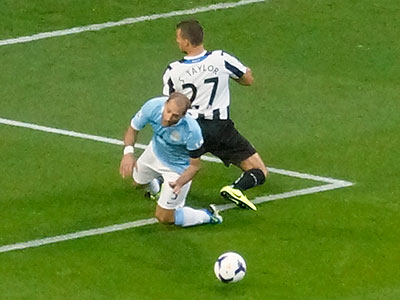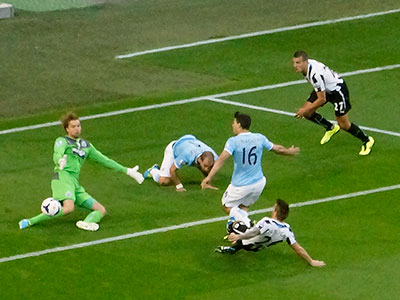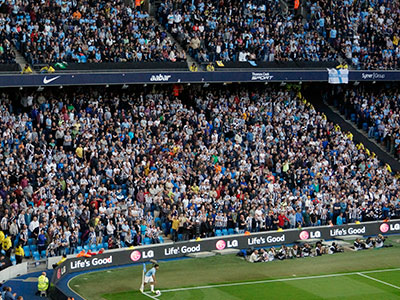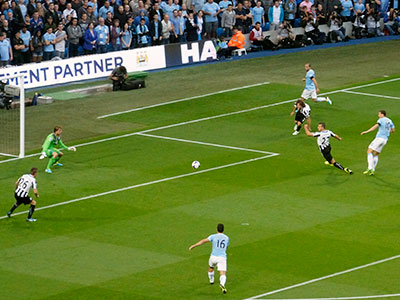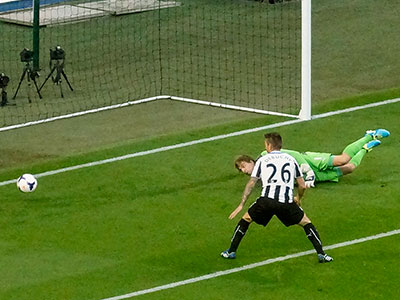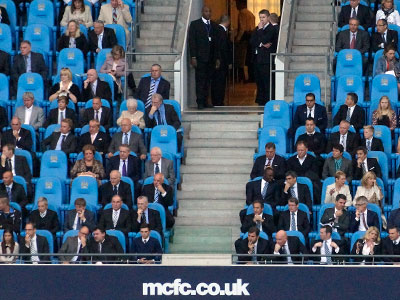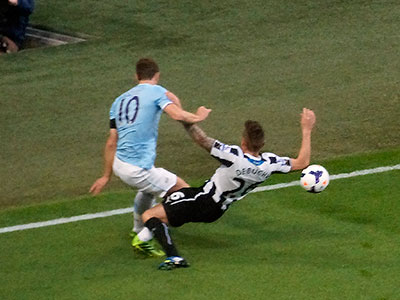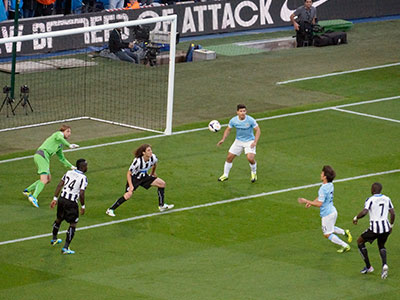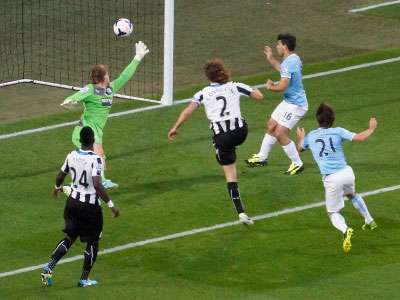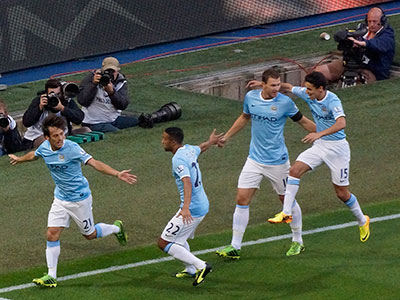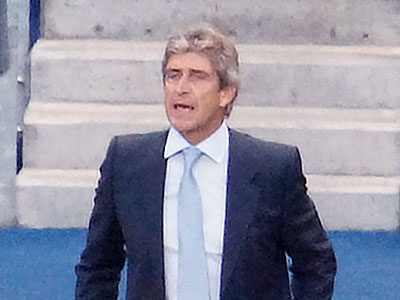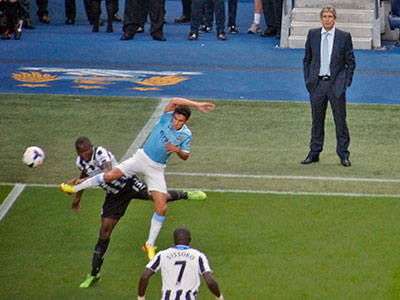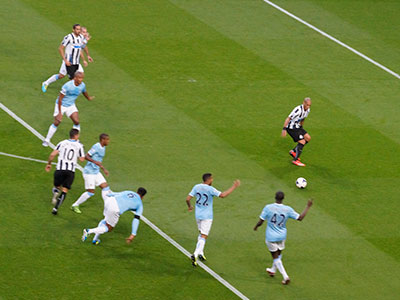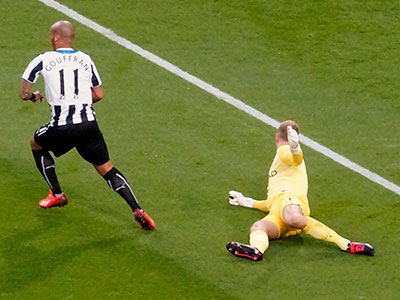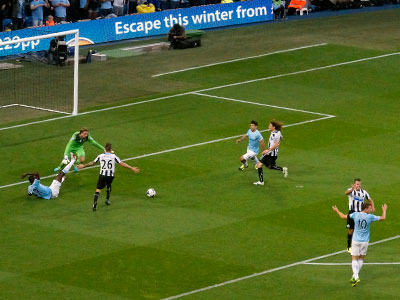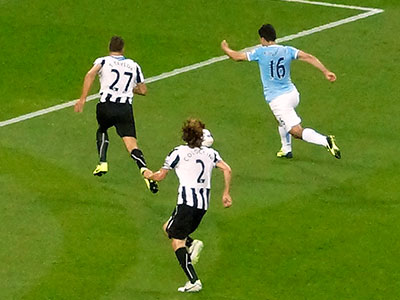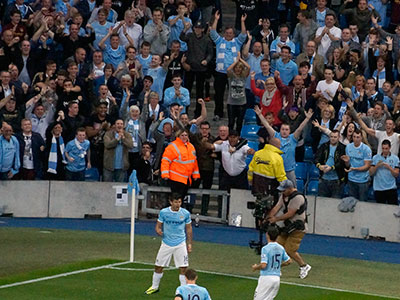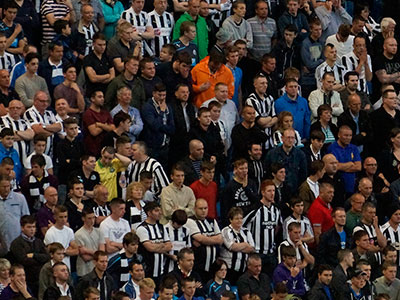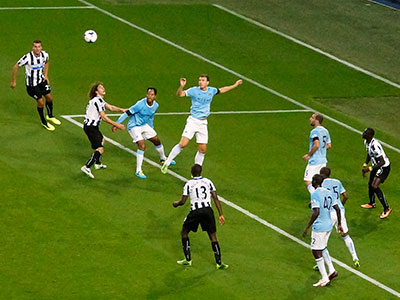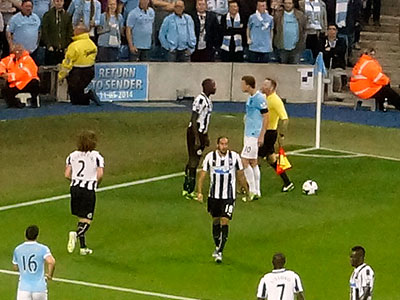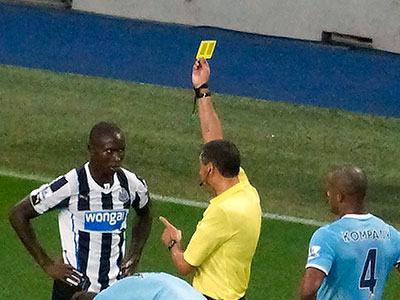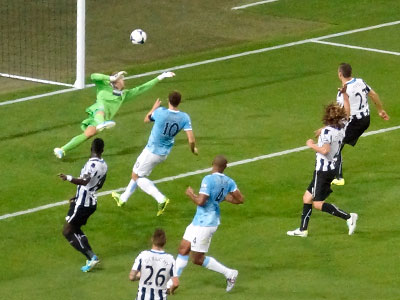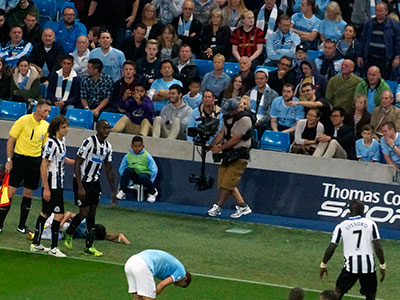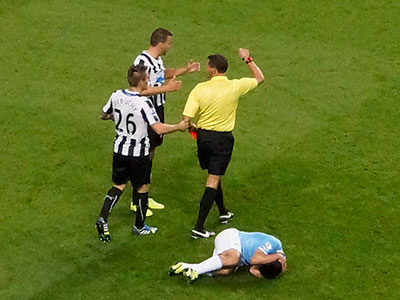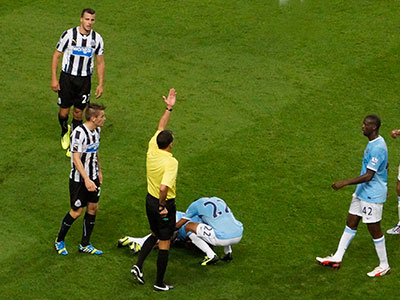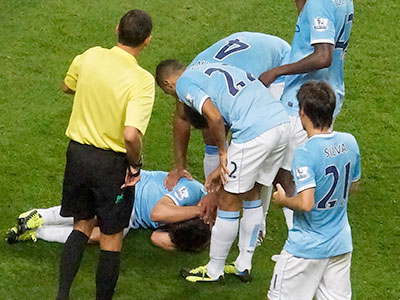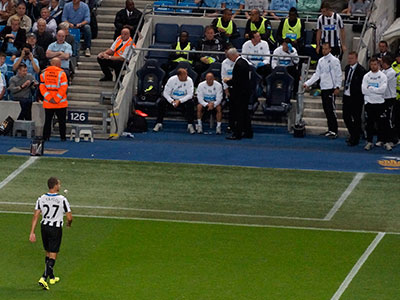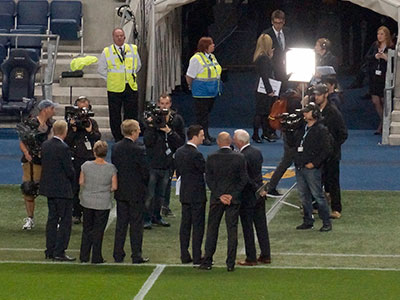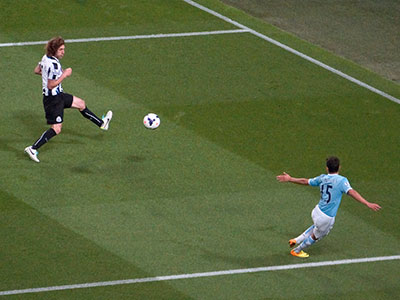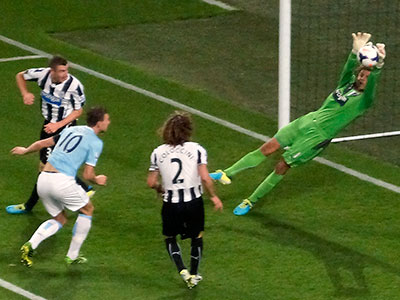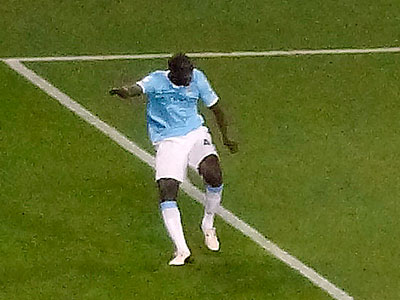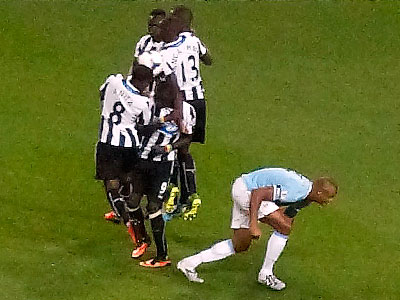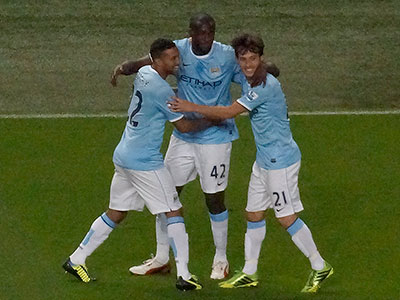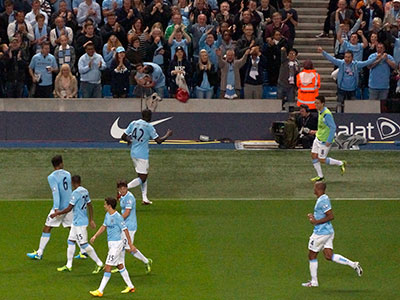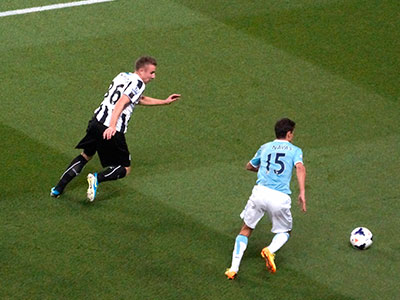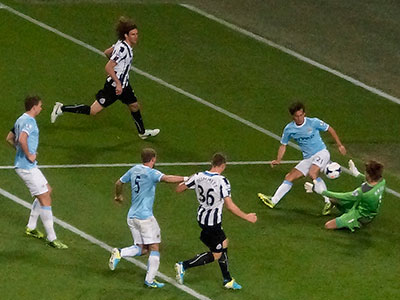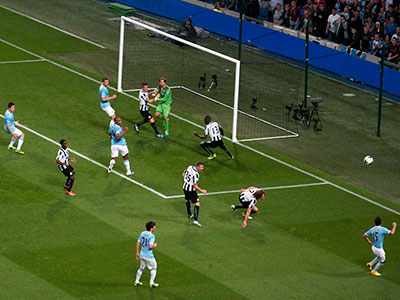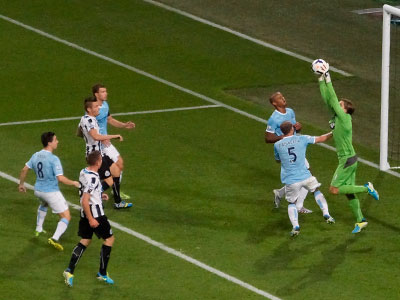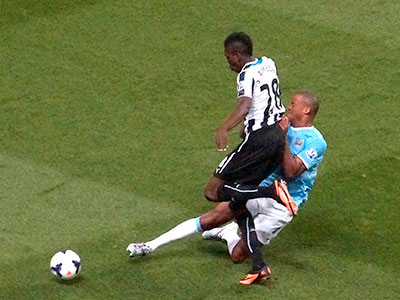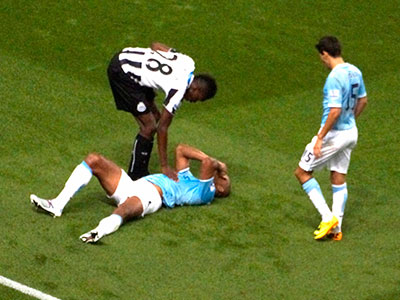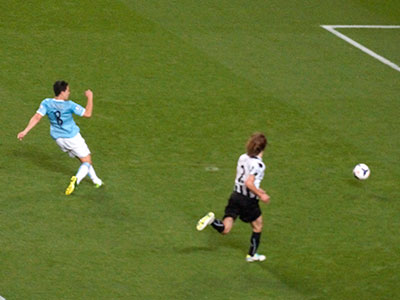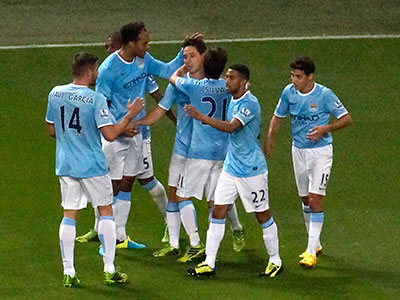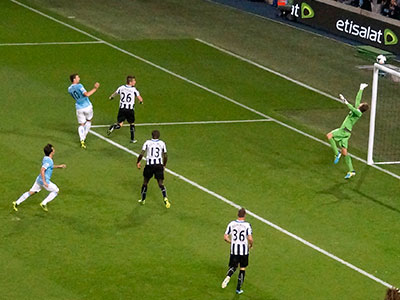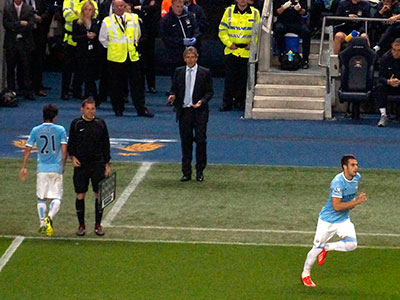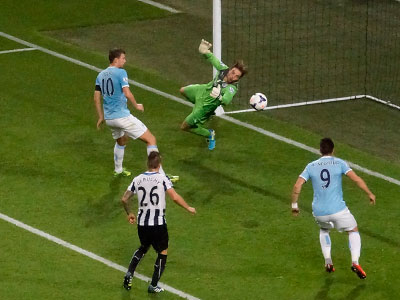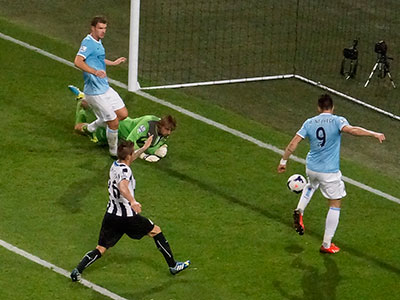 In tribute to the last Bert Trautmann the City players wore keepers jerseys while warming up
We had new signings Fernandinho and Navas in the team. Aguero and Dzeko were up front
There was a minutes applause or Bert Trautmann who had passed away recently -
more here
The City bench included new signing Negredo but no Jovetic, Richards or Barry
In the early minutes Zabaleta had penalty appeal turned down when he was tackled by Taylor
..Newcastle managed to clear the danger eventually
Newcastle had their usual good support but they rarely had much to cheer about
On 3 minutes Dzeko has an effort well saved by Krul
The only visiting manager i could spot was Sam Allardyce
On six minutes Dzeko crossed under pressure.....
....and when the ball was deflected by a defender Silva was on hand to head the ball.....
...past Krul to score City's first goal of the new season and it got us off to a great start
After the first few minutes sat on the bench new manager Manual Pellegrini was soon on the touchline
A rare moment in the game when Newcastle were in our penalty area and they did score but Gouffran was a mile offside!
Yaya Toure has a penalty appeal turned down
On 21 minutes Aguero took a pass from Dzeko....
....and shot perfectly past the diving Krul to give City a two goal lead
Whilst the City fans were joyous at Aguero's effort the Newcastle fans were pretty down
Following his injury and no pre-season work it was a sublime effort and will give him plenty of confidence
Dzeko in action again -this time in defence clearing the visitors only corner
On the half hour there was a handbags at dawn issue between Dzeko and Yanga-Mbiwa near the corner flag
In the end peace was declared and both got yellow cards for their trouble
Navas is pushed off the pitch
Aguero had a good chance but was robbed by Taylor
Just before half time Taylor swipes at Aguero with his arm..
It was a stupid and un-necessary challenge and he gets a red card
As if Newcastle aren't in enough trouble already and they have to face City already two up for the remaining 45 minutes with ten men
At half time Trautmann's family members are interviewed
At the start of the second half a cross from Navas is just about saved by Krul under pressure
On 49 minutes Aguero is brought down just outside the box and Yaya Toure takes the free kick which just flies over the heads of the wall..... ( can you spot the ball)
... and past the keeper into the top corner to make it three nil
The City players celebrate
Yet another run and cross by Navas and Krul manages to save from Silva
Navas in action gain but Krul saves the day fro Newcastle who but for him could be 5 or 6 down
On 70 minutes Kompany is injured and is substituted by Garcia though the announcer said Milner !!!!??
After 74 minutes Nasri ( on for Aguero) took advantage of a mix-up in the Newcastle defence and scored with a well placed shot to make it 4-0
Negredo comes on a sub for Silva after 80 minutes
Negredo did get the ball in the net but was deemed offside. Pity it would have been nice to finish 5-0
Team
Hart 7: Zabaleta 7, Kompany 7 (Garcia) Lescott 7, Clichy 7: Yaya Toure 7.5, Fernandinho 7, Silva 8 (Negredo ), Navas 8, Aguero 7.5 (Nasri 7) Dzeko 9