City 4 Swansea City 0
August 15th 2011 46,802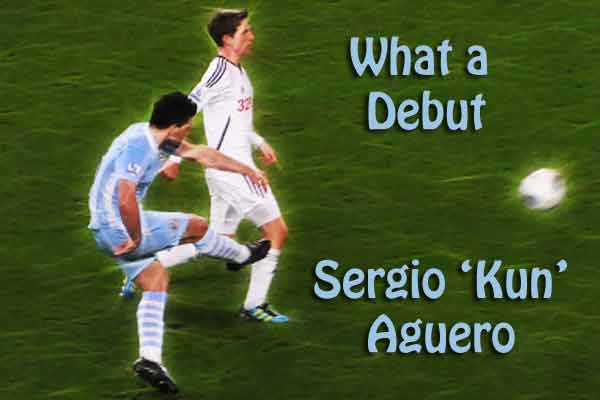 What a debut! Two goals and an assist in 31 minutes by Sergio Aguero on his debut will be remembered by all who stayed to the start of time added. It was a really stunning debut and I am sure his second goal from almost 30 yards out will be a strong candidate for 'goal of the season'. Let us not forget the all round effort of David Silva who once again showed us so much skill and he might have had two other goals in the first half when he hit the post and had another good effort well saved by Vom who saved Swansea on several occasions. Dzeko too had a good game although he did miss a good chance at the end of the first half. He looked a different player from last season.
Swansea started well and for the first twenty minutes or so they dominated, playing some nice football with City hardly putting a move together. They failed however to make chances in the area and Joe Hart had little to do. Gradually City got on top and once City scored it was only a matter of how many. I thought Clichy was very comfortable on his debut at left back and Kompany and Lescott were rarely in major trouble. There was little for the referee to deal with and full marks to Swansea for conceding very few free kicks and there were no cards in sight. All in all a first rate start to the season for City and the only problem for Mancini is who to leave out of the team when all the transfers have been completed.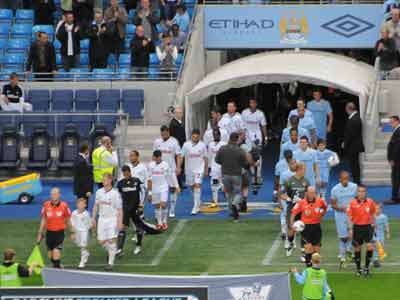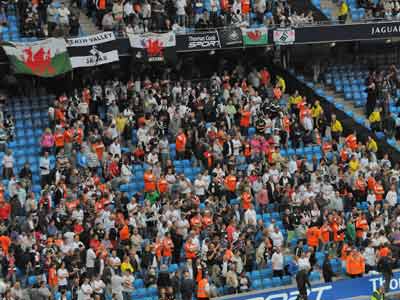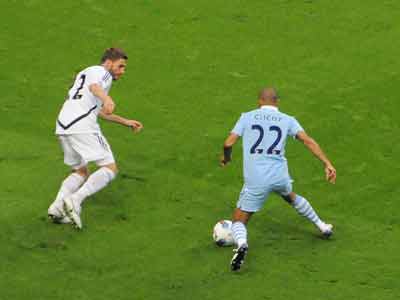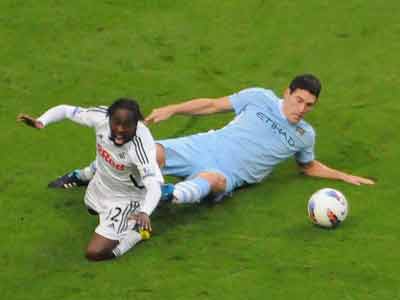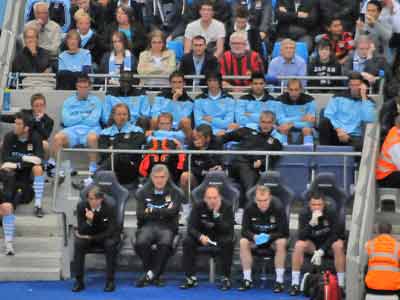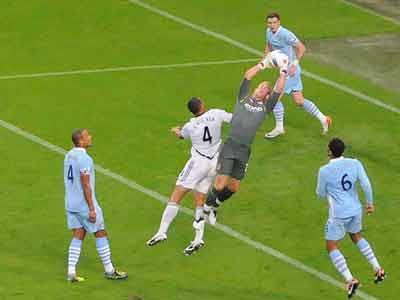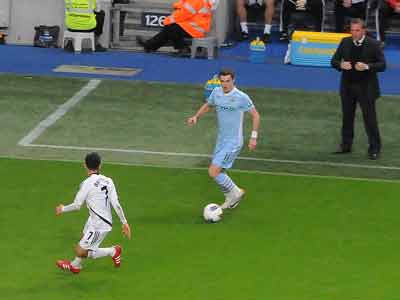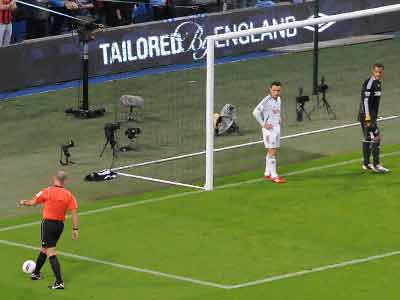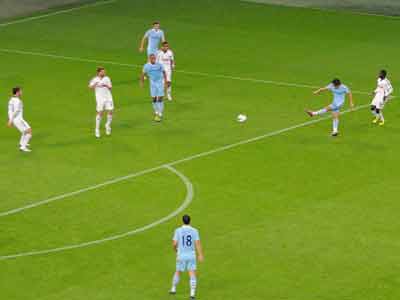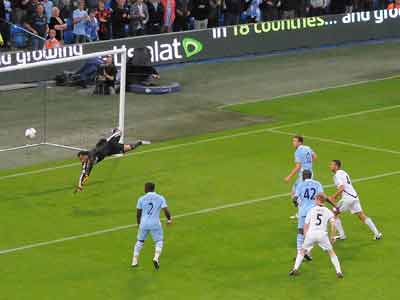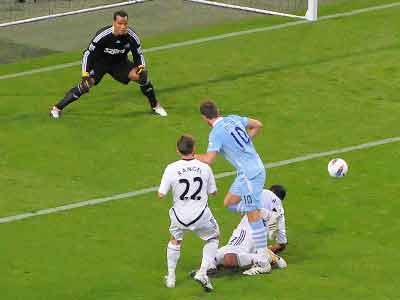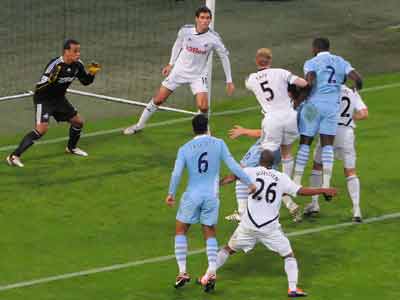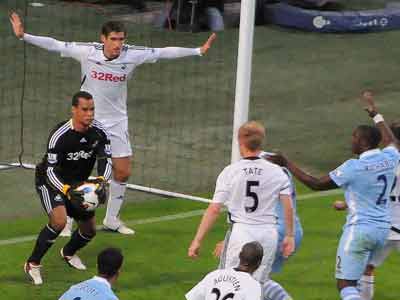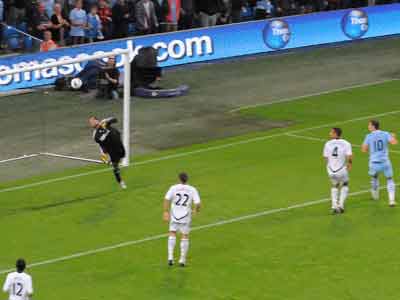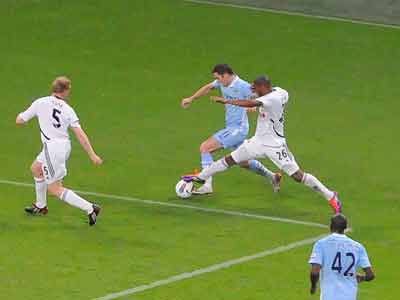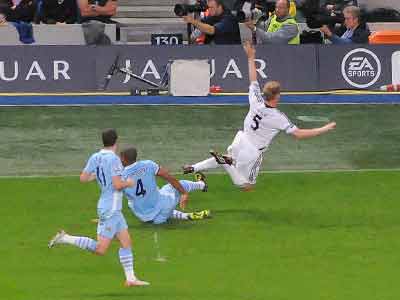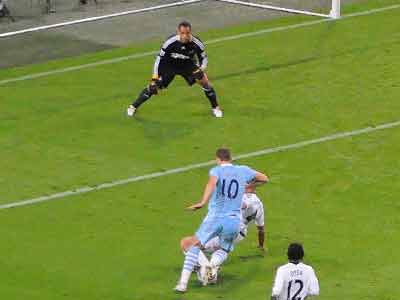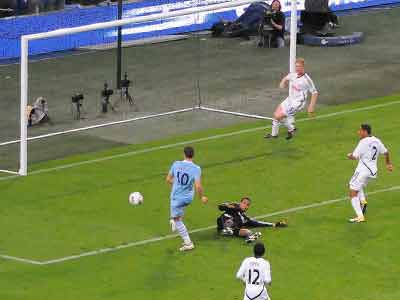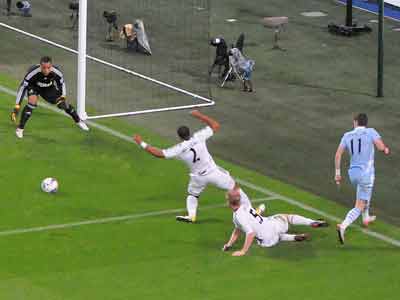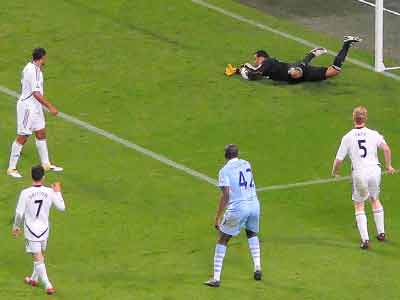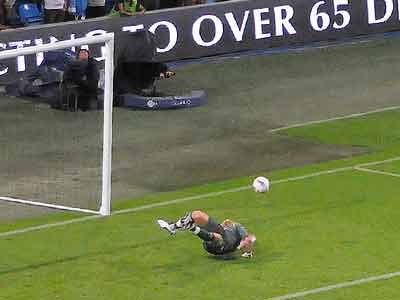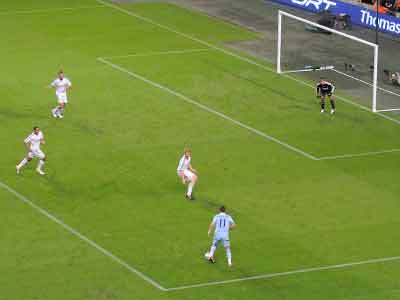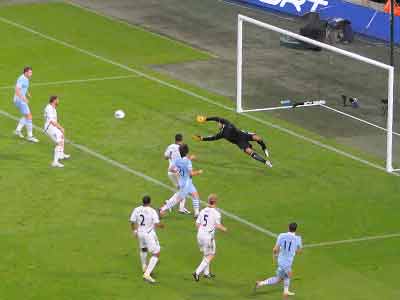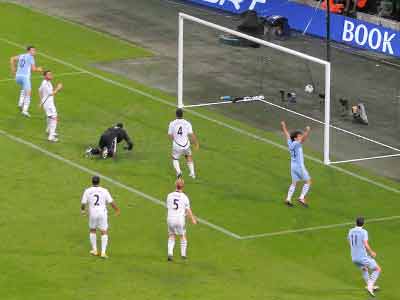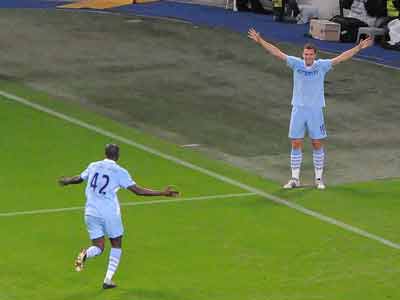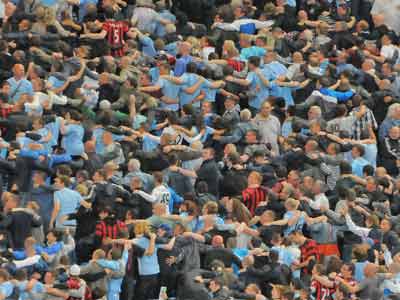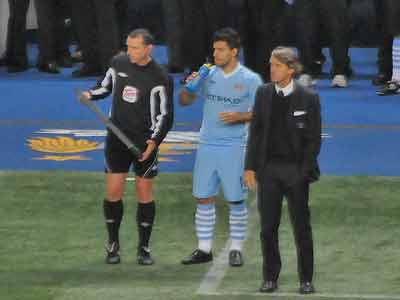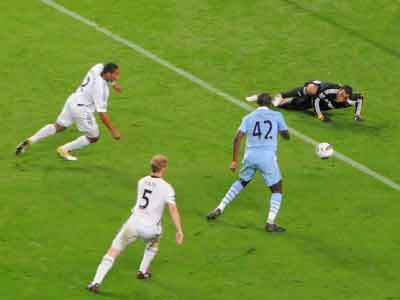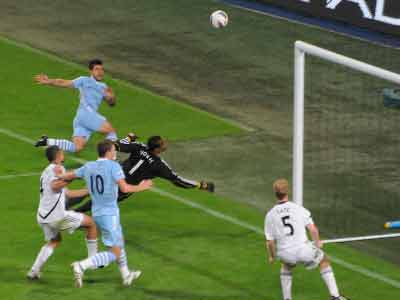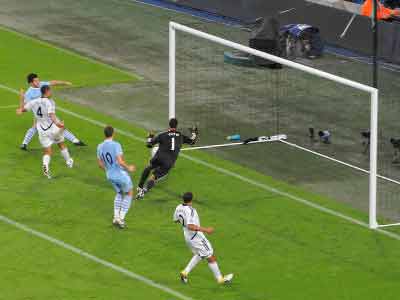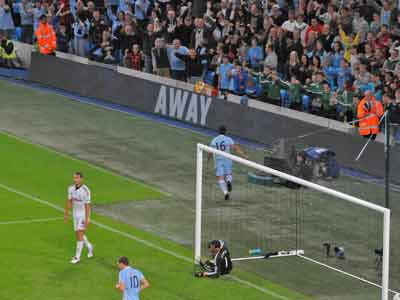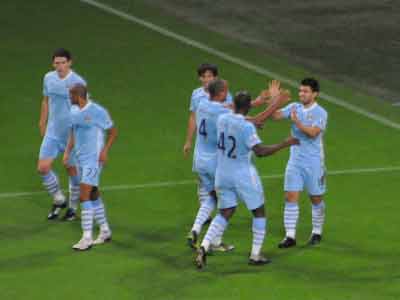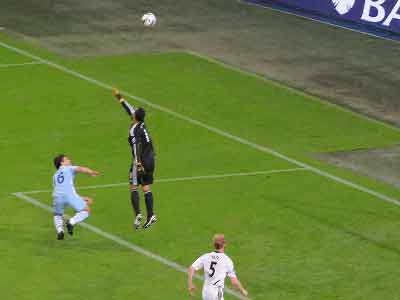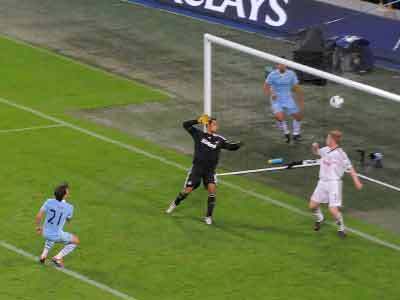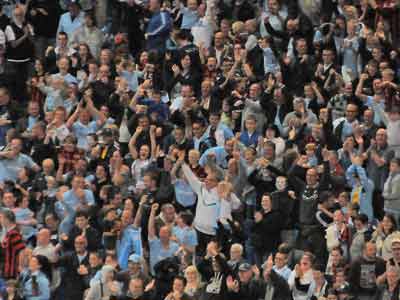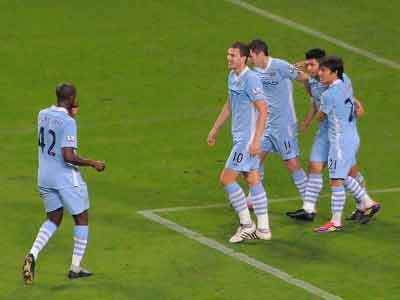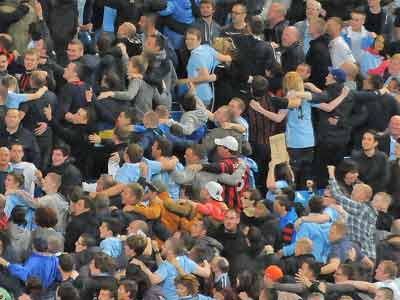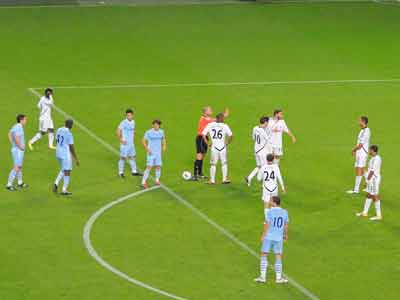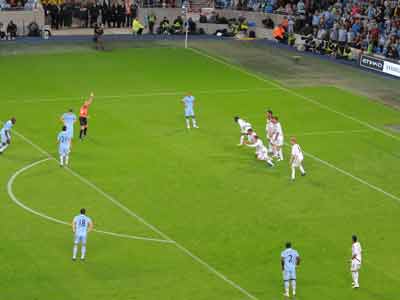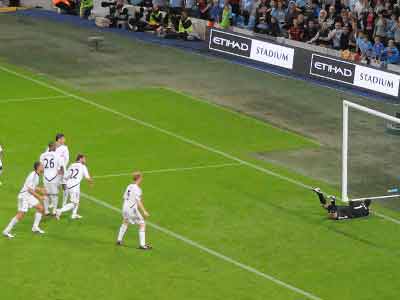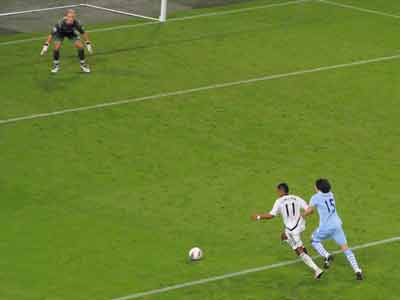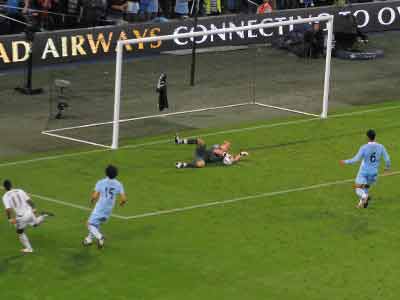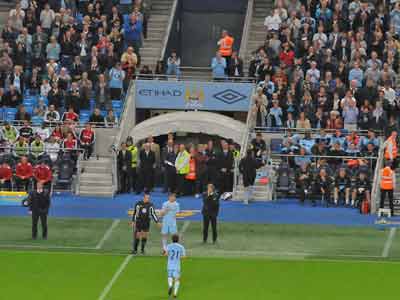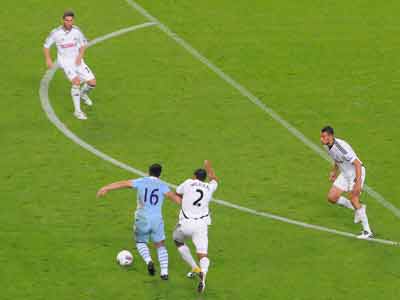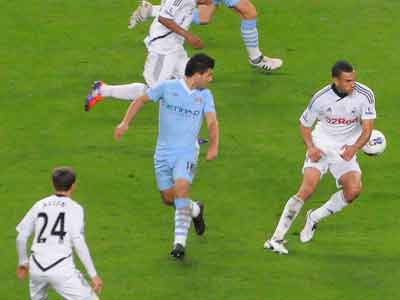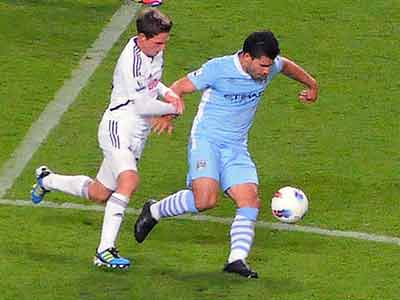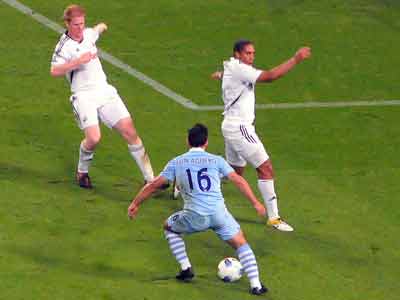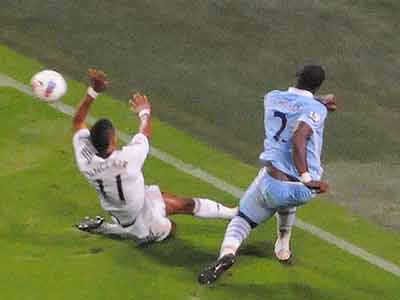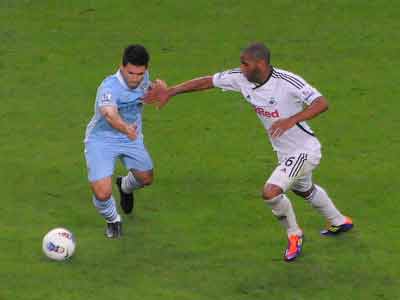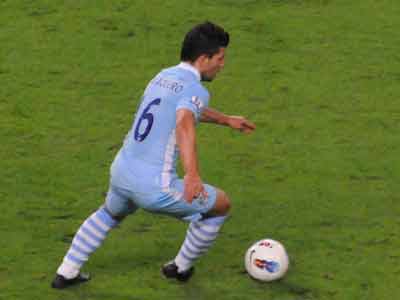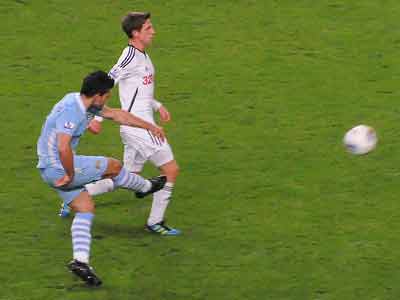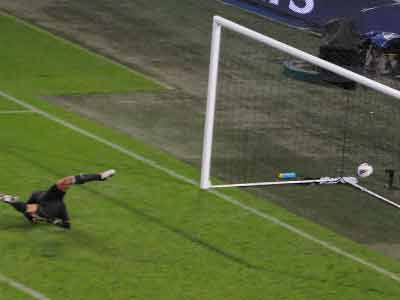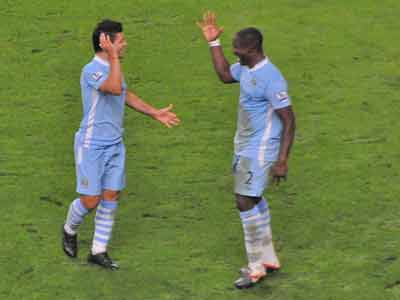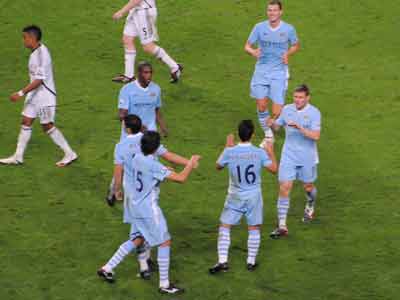 Despite the Monday evening kick-off there was very good support by Swansea fans.
Clichy made his debut and Johnson was preferred to Balotelli. Aguero was on the bench. No sign of Tevez
All eyes were on Clichy to see how he fared compared to Kolarov
Barry makes a last ditch tackle
A rater expensive bench - Milner, Balotelli, Kolarov. Savic, Aguero, Zabaleta, Taylor
Hart makes a good catch under pressure from Caulker
Adam Johnson was soon to show his skill on the wing
Referee Mike Dean has to show his ball skills when he had to retrieve the ball for a corner!
On 23 minutes following a short corner Silva had a good shot well saved by Vorm
Swansea manage to clear from Dzeko
Richards has a header at a corner....
On 29 minutes an effort by Silva hits the bar
Adam Johnson makes a dash down the wing
Alan Tate makes a spectacular dive on being tackled by Kompany
Just on half time Dzeko had a good chance when he was one on one with the keeper but Vorm managed to save.
Johnson made a good run down the wing but there was nobody available for his cross
Vorm saves a cross from Clichy
Joe Hart saves from Dobbie after 52 minutes. A rare shot by the visitors
On 56 minutes fed by Silva, Johnson put in a shot.......
....... which Vorm palmed out into the path of Dzeko who had the easy task of scoring the first goal for City
Edin Dzeko was delighted and at last we saw a Poznan celebration
Almost immediately Aguero came on for De Jong who appeared to have an injury
By now Vorm was constantly in action
After 67 minutes a cross by Richards went through to a waiting Aguero who scored with ease to make it 2-0
Aguero causing problems for Swansea
It was a simple but well taken goal and now City were in complete control
A couple of minutes later City went three up. Aguero showed great agility to get the ball back from the goal line to Silva who hit it first time into the net Great stuff!
The City faithful were now overjoyed and it was a great start to the season
After a Poznan lacking first half we had more to celebrate in the second half
It was unusual to see a back pass and City were awarded an indirect free kick just inside the area
In the end the shot by Yaya Toure was saved by Vorm
Sinclair had a chance for Swansea after 80 minutes but Hart saved well
Silva was subbed after 81 minutes and he got a good ovation
All eyes were now on Aguero........
.......who showed lots of skill and a high work rate.
Aguero has two defenders in trouble
Richards made several good runs down the wing
As extra time started we had the moment of the match. Taking the ball from Toure he just ran a few yards.....
.... let fly a ferocious shot which swerved and beat Vorm in the Swansea goal.
It was the perfect end to a perfect debut.
team
Hart 7.5: Richards 7.5, Kompany 7.5, Lescott 7, Clichy 7.5: De Jong 7.5( Aguero 9.5), Barry 7: Johnson 7.5 (Savic), Yaya Toure 8, Silva 8.5 ( Milner) Dzeko 8