City 2 West Ham United 1
April 27th 2013 47,189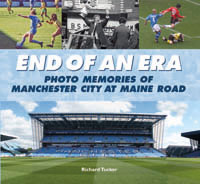 Now available from Amazon ( click on image for link)
WH Smith and the City shop
Not the most memorable of games but a useful three points to keep the following pack at bay and a step nearer to second place. The City goals were excellent -the first by Aguero was the result of great team inter passing and the second was a wonderful individual strike by Yaya Toure.
After the poor 6 minutes at Spurs a week earlier when three goals were conceded the defence were on better form and the selection of Lescott to deal with the height and power of Carroll who showed good form for West Ham was an excellent one.
It was good to see David Silva back from injury and he gave us that extra bit of creativity that was needed. Aguero and Tevez worked well together and Nasri once again showed better form.
The injury to Joe Hart was rather worrying especially as we had used all three substitutes and I wondered who would have gone into goal had he been forced to go off - Zabaleta perhaps!!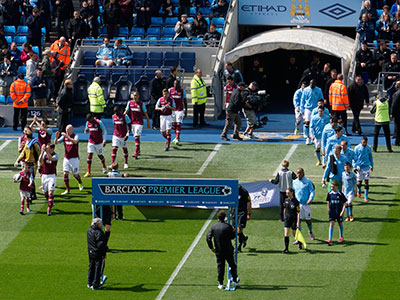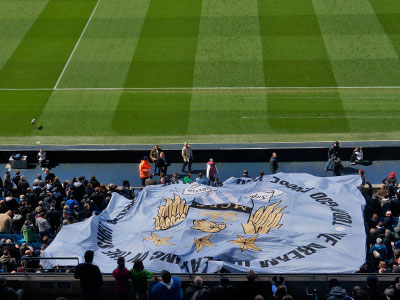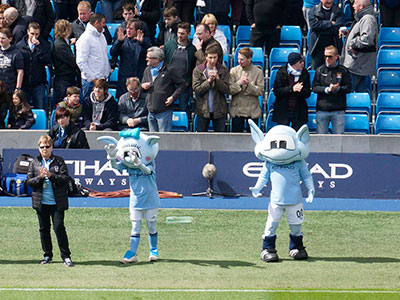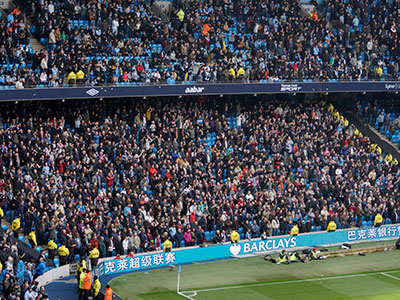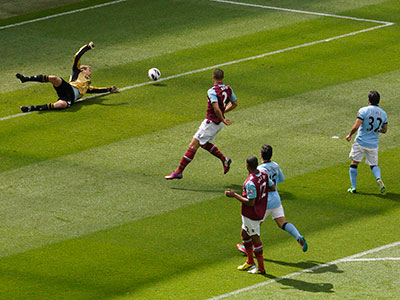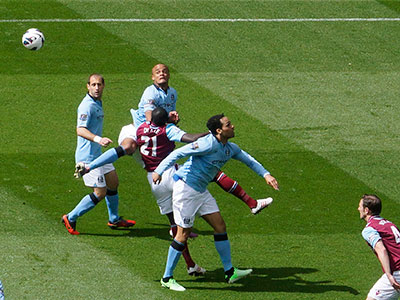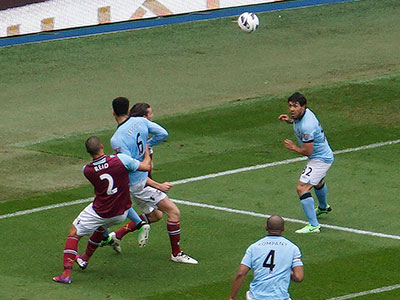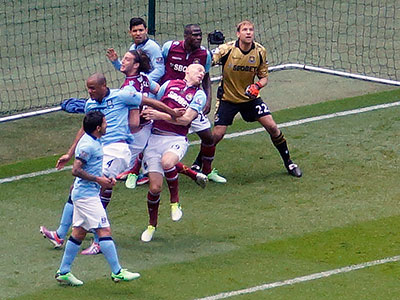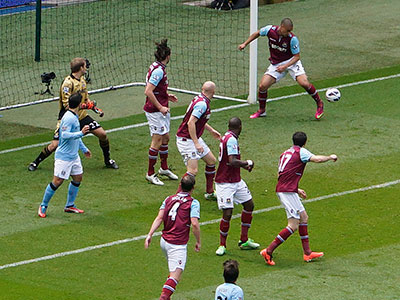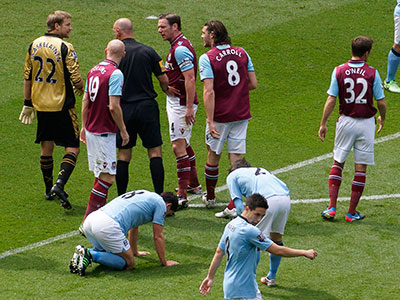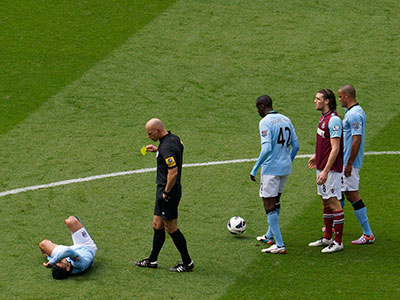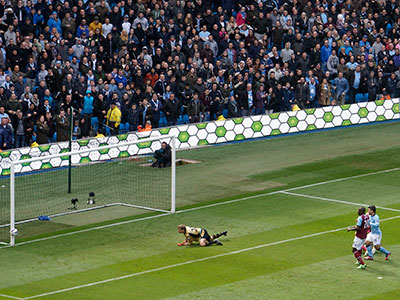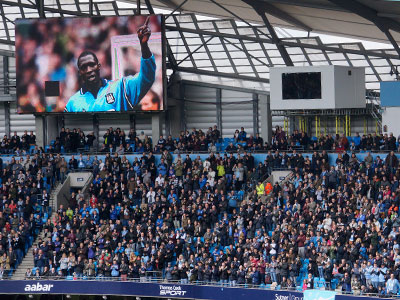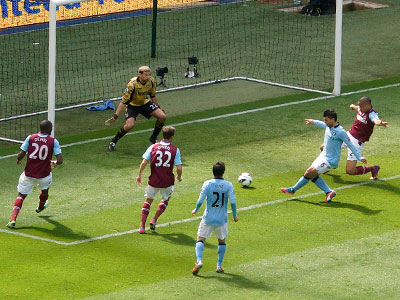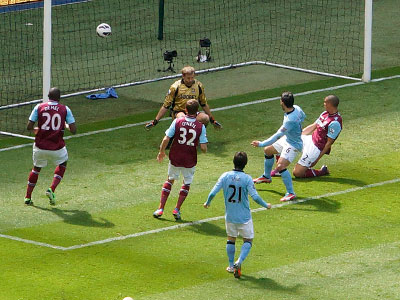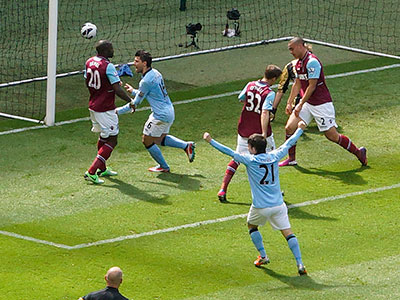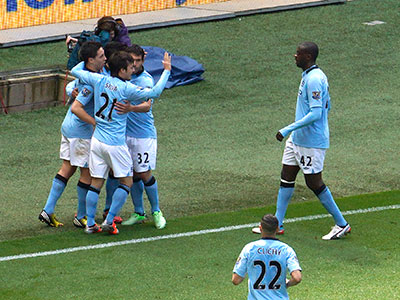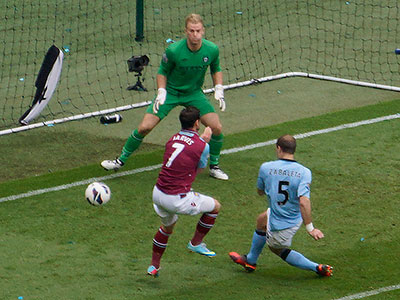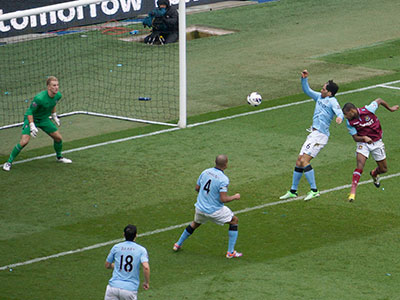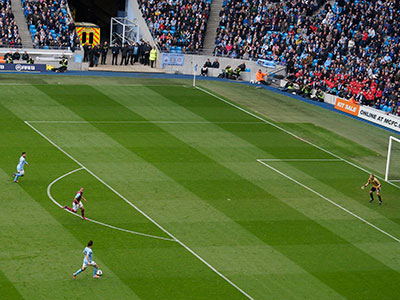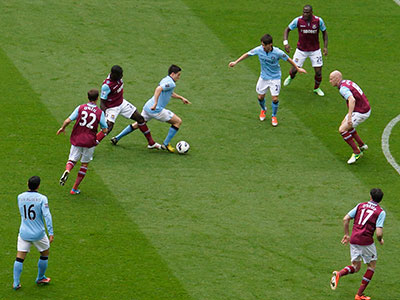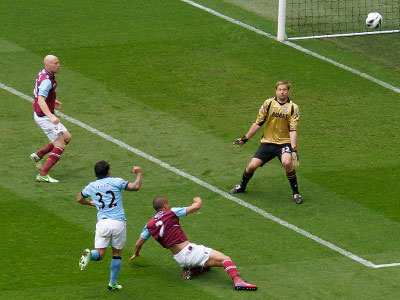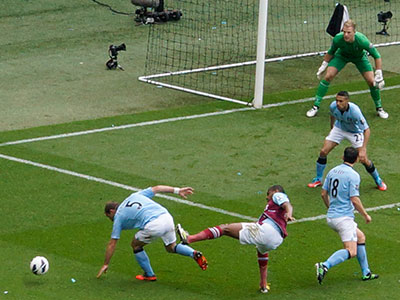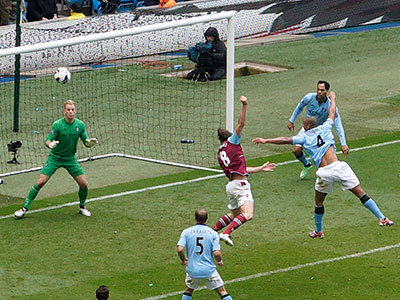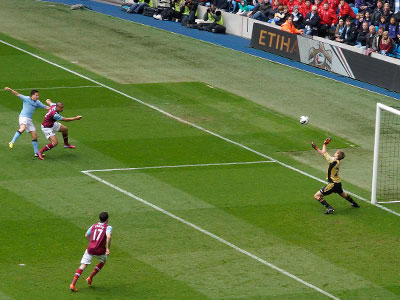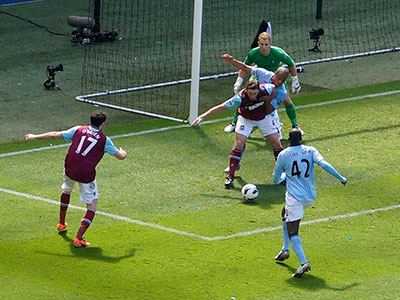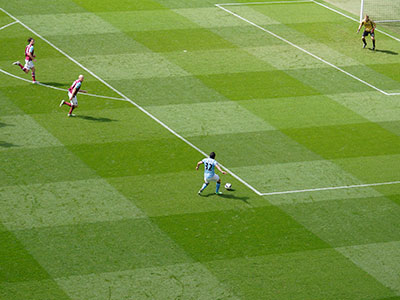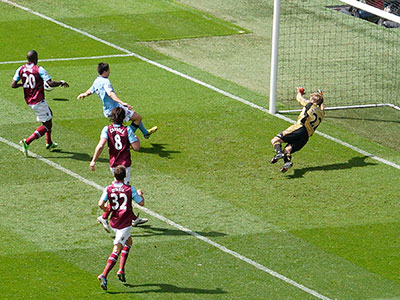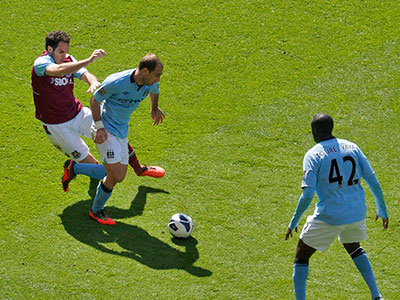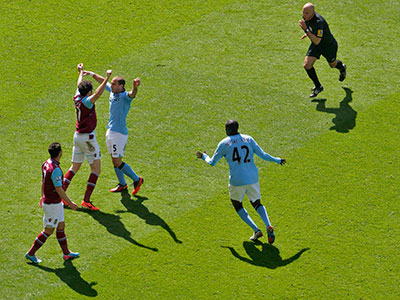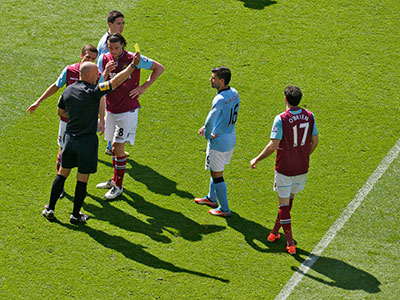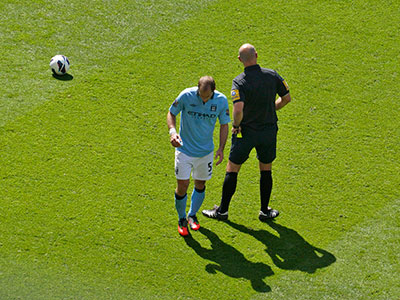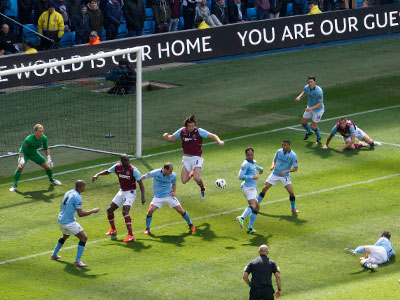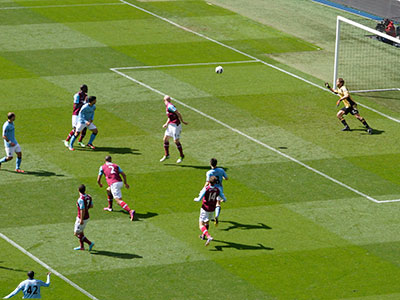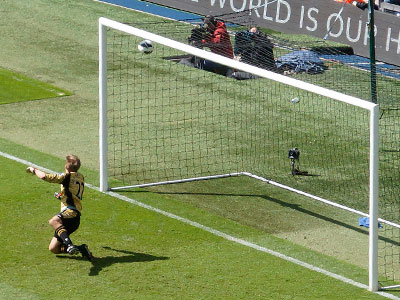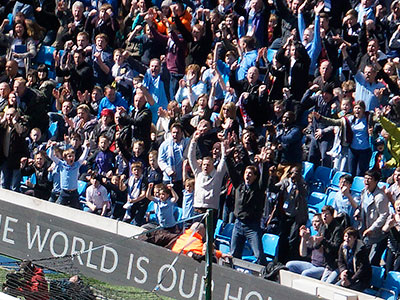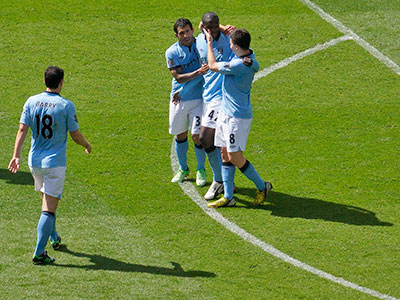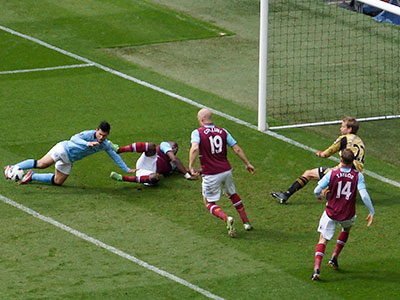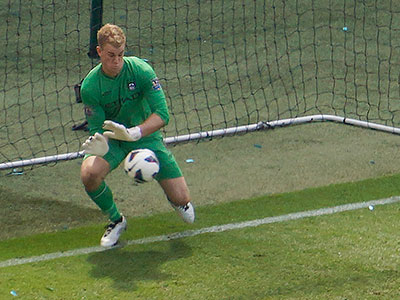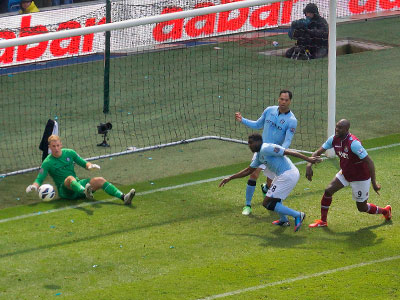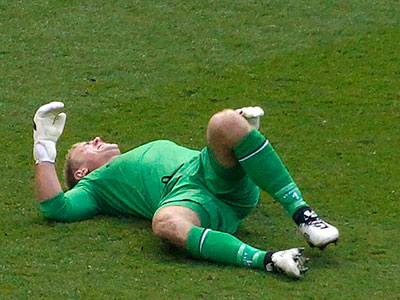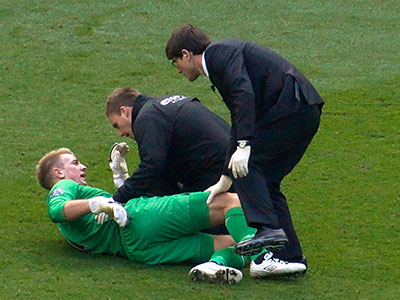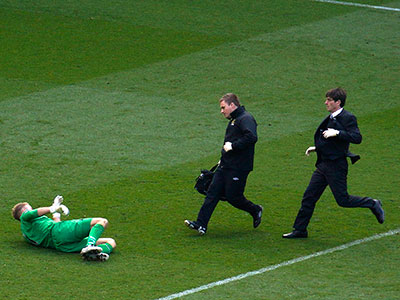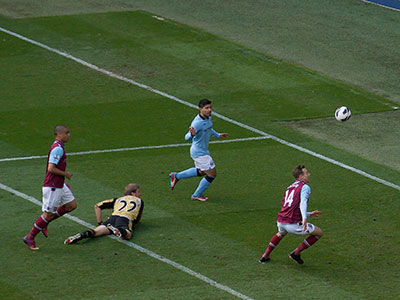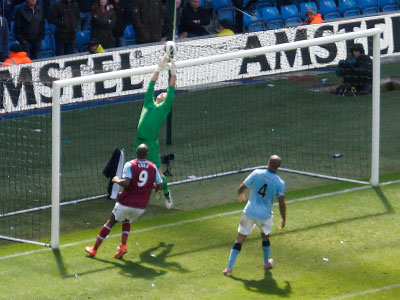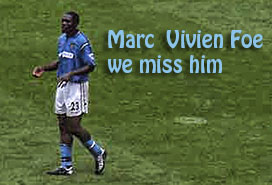 Silva returned and Aguero started - Lescott was preferred to Nastasic.
West Ham brought quite a good number of supporters despite the early kick-off
Moonbeam and Moonchester welcomed a spot of sunshine as the flag went round the ground
City almost scored in the first 8 seconds but the flag had gone up for offside
Lescott was in early action against Diame
The West Ham goal is under early pressure as City force several corners
On 17 minutes a David Silva shot goes just wide of the post
Nasri is brought down ...
Carroll is booked for a foul on Aguero
On 23 minutes the whole stadium applaud in memory of Marc Vivien Foe who also played for West Ham
Aguero was unlucky when his shot hit the post with the keeper beaten
Then on 28 minutes some great inter passing in the penalty area gave Aguero the chance to slot home from close range to give City a well earned lead
It was his 16th goal of the season and well deserved and we lead at half time
At the start of the second half City were forced to defend as West Ham tried for an equalizer
City did manage some counter attacks but failed to finish well when they really should have made the game safe
City continued to attack but their efforts were blocked by last ditch defending
Zabaleta and Kompany in action defending to keep the slate clean
Jaaskelainen saves from Nasri after 60 minutes
City have to mark tight in the box
Tevez breaks away and crosses and Nasri rushes in and he must score ---
no he misses the ball and another chance goes begging
On 77 minutes O'Brien tackles Zabaleta from behind and we almost had a major problem as referee Webb dashes in to prevent biting and scratching!
Both players got yellow cards
After City had to defend a fee kick at one end on 79 minutes we had a wonder goal by Yaya Toure whose shot from the edge of the area.....
......whizzed into the far top corner with the keeper having no chance and it looked like the result was sealed
It was his 10th of the season and one of his finest
City continued to attack but here Aguero fails to hit the target
On 87 minutes Hart saves from Carroll and it looks as though the ball had crossed the line but if you look carefully you can see its shadow - it was in the air - the camera can deceive!
In making the save Hart was seen stretched out while play was at the other end - but help was soon at hand as trainer and doctor ran onto the pitch
He was soon on his feet again and we could all relax a bit.

However in the family stand there was another attraction
In extra time Aguero just shoots wide and Hart has to save from Jarvis but as I left my seat to go in the final seconds West Ham scored - missed it!! first miss of the season for me!
Team
Hart 6.5: Zabaleta 7.5, Kompany 7, Lescott 7.5, Clichy 6.5: Yaya Toure 8 Barry 7,
Nasri 7 ( K.Toure) Silva 7.5 (Milner), Aguero 7, Tevez 7 (Garcia)