City 1 Wigan Athletic 0
April 17th 2013 47,106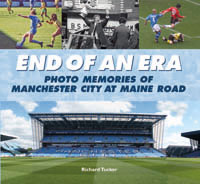 Now available from Amazon ( click on image for link)
WH Smith and the City shop
After their exploits at United and in the Semi-Final a tired City were not at their best in the game against Wigan and it must have been one of their worst home performances of the season. They were saved by a wonderful piece of magic by Carlos Tevez who scored a terrific goal late in the game.
Wigan played well and at least deserved a point as they often out passed City and but for a good save by Hart and a block on the line by Lescott they would have taken the lead much earlier in the match.
Apart from the Tevez magic moment there was little for City supporters to shout about. Some of the passing was woeful but I don't know how much the gusty wind had to do with it as often passes from both sides were well off target. Aguero went off at half time and with a vital game against Spurs coming up I hope its not the previous injury returning. We badly miss Silva and we rarely troubled the Wigan keeper. The much changed defence just about coped with the Wigan attack and I suppose we must be grateful for the three points as United only drew at West Ham.
Let's hope City are better when it comes to the Cup Final against Wigan.
Good to see Richards back from injury.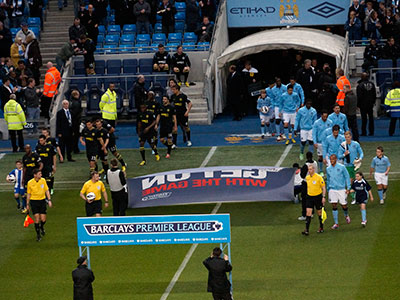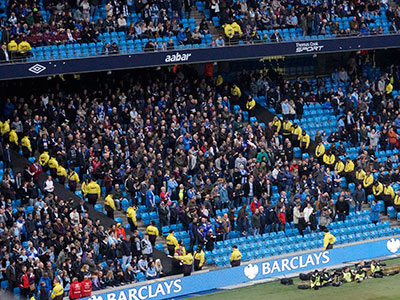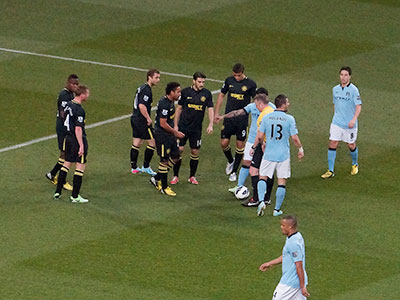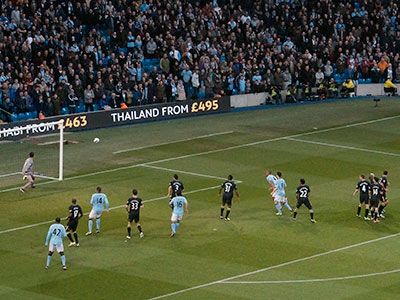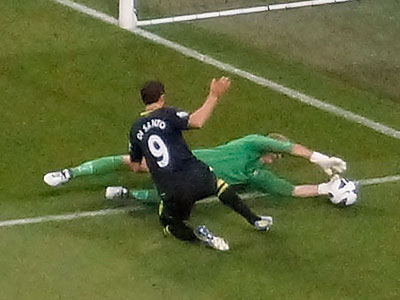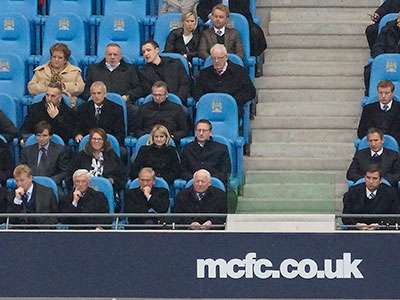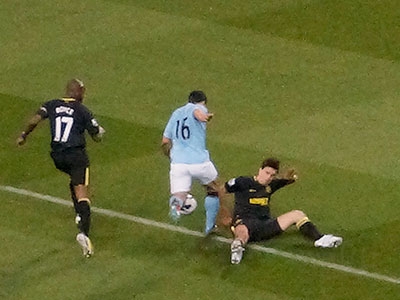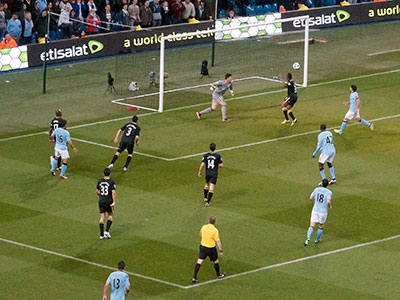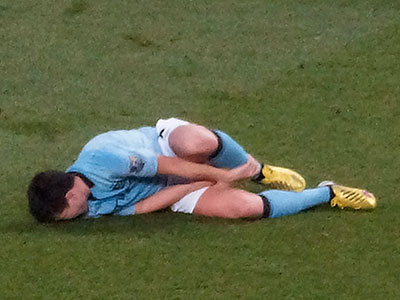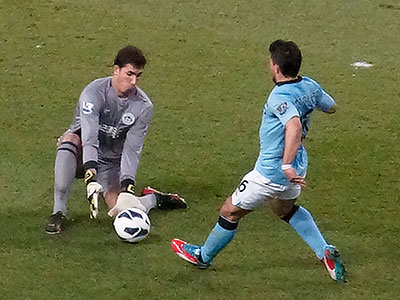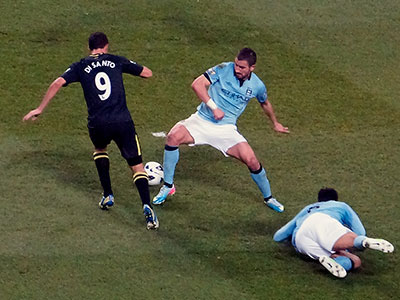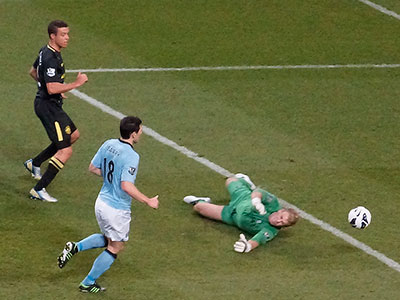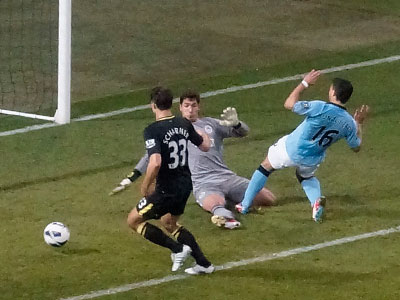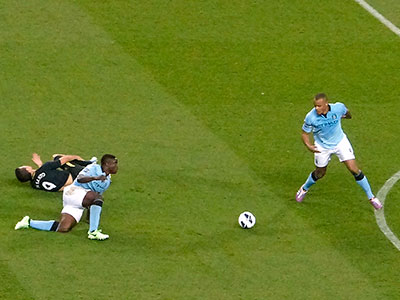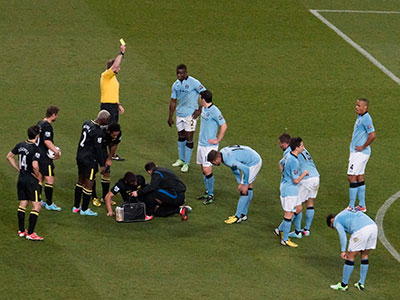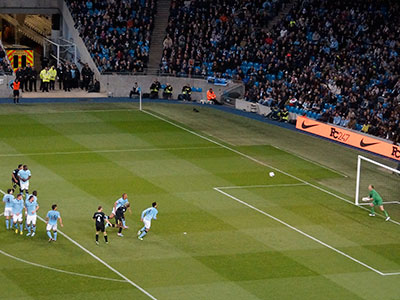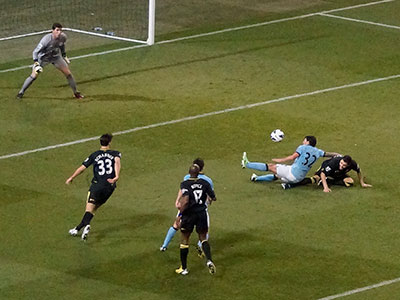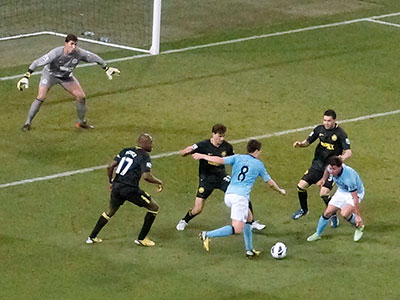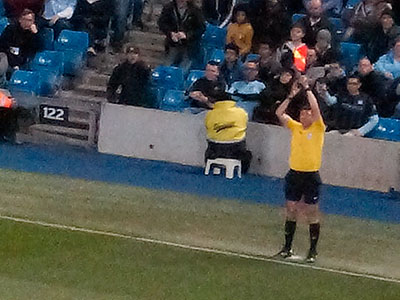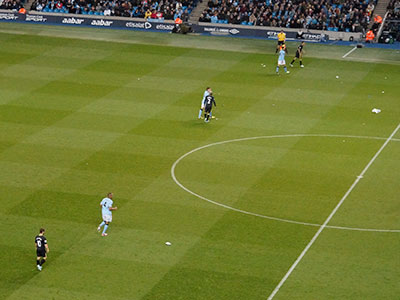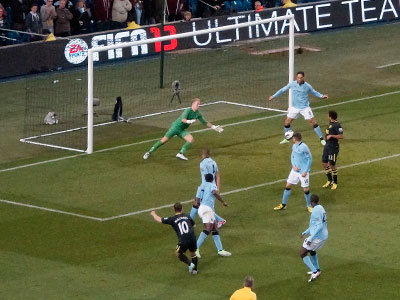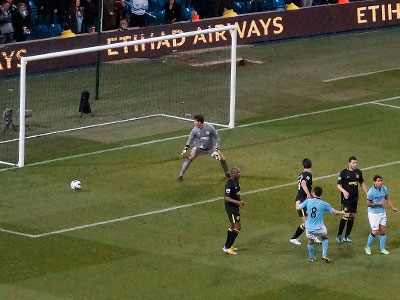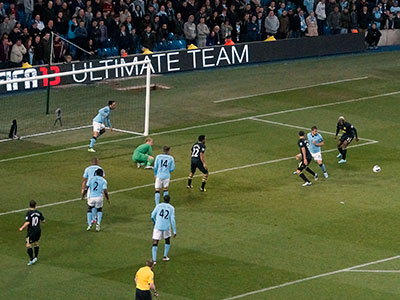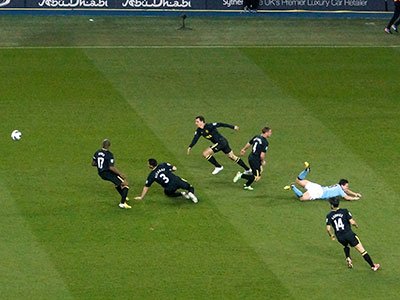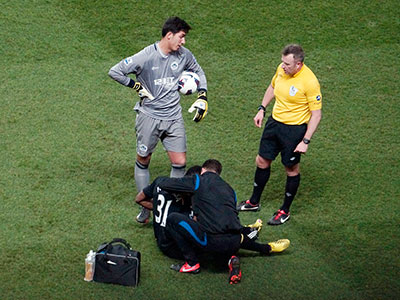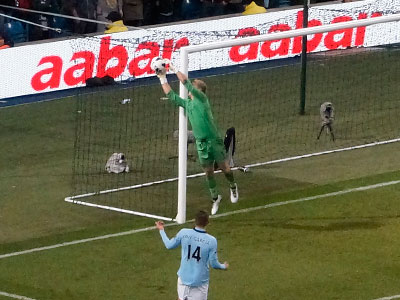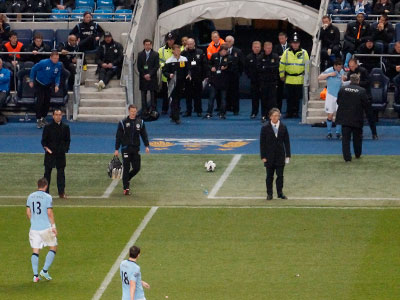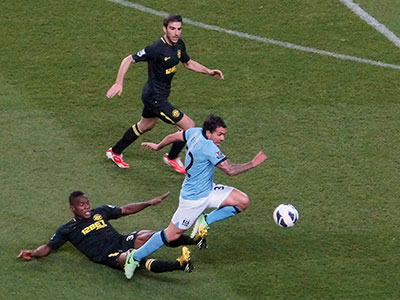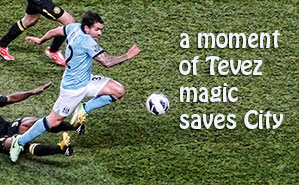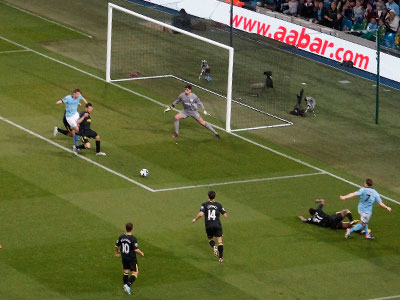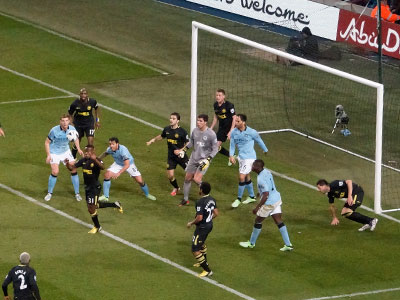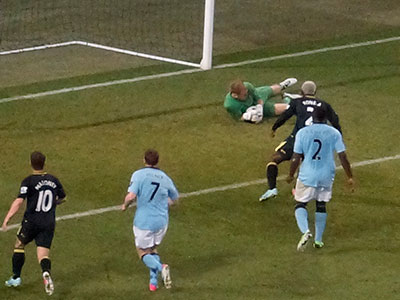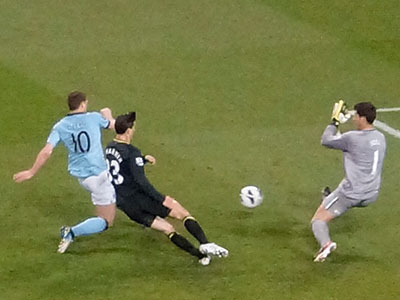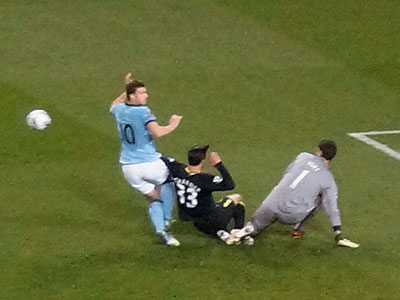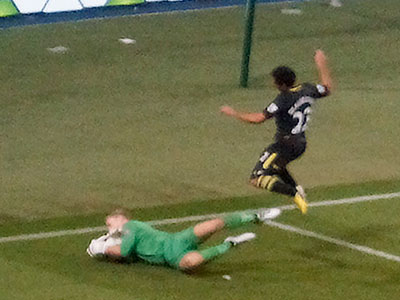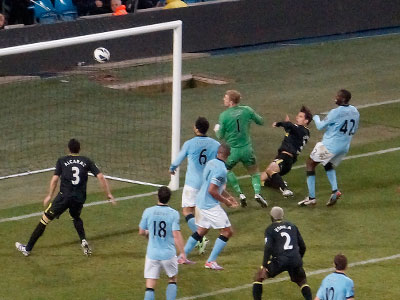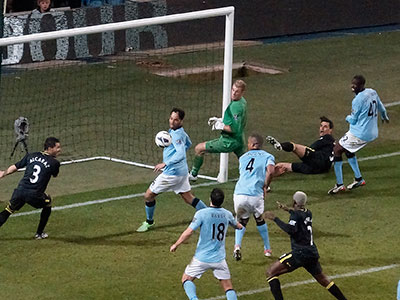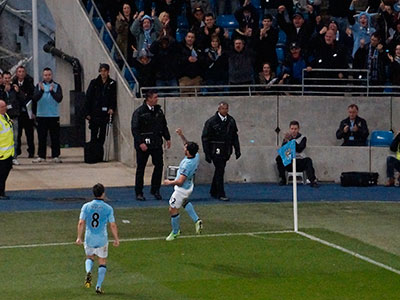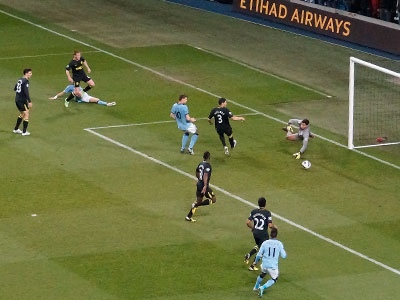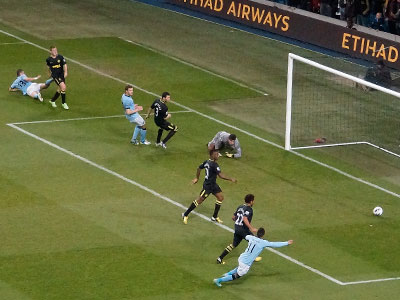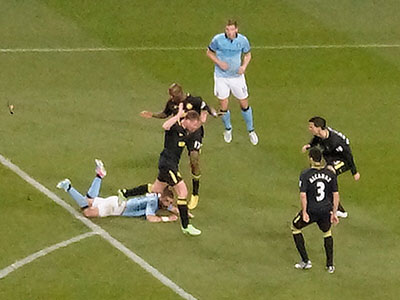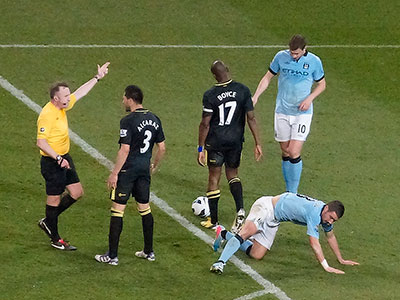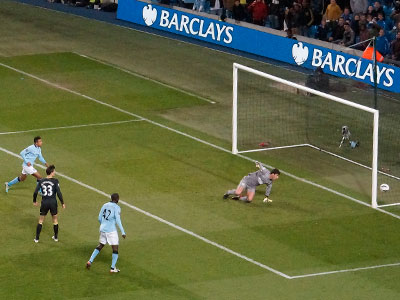 City made several changes bringing in Richards, Lescott and Kolarov into defence. Zabaleta deserves his rest Tevez and Aguero led the attack.
Wigan had only a small number of supporters at the game- barely a pier full!
An early free kick for a foul on Richards but Kolarov's free kick goes wide
Joe Hart was in action early saving at the feet of Di Santo
The Wigan Chairman has much to be proud about. I hope his teams avoid relegation
After 21minutes Aguero tries to break through but his final effort goes wide
Oh dear the hidden sniper has got Nasri!
Robles just beats Aguero to the ball
37 minutes on the clock and Joe Hart saves well from Di Santo
Aguero just fails to meet a cross from the right wing
Richards fouls Di Santo.........
....and gets a yellow card but the free kick by Maloney is saved by Joe Hart
Just before half time it looked as though City were about to score......
...but all the time the linesman had his flag held high for offside!
City switched tactics in the second half -
going to a back three
Three minutes into the second half and a Maloney shot which looked like beating Hart was blocked by Lescott
It was a lucky escape and good positioning by the City defender
Nasri practices an extremely low dive
Figueroa gets some treatment after a foul by Tevez who got booked
Hart takes a cross from Maloney
I think Mancini would be the more worried manager
Milner on for Garcia has a good run down the right but his centre fails to give City an opening
Figueroa heads clear from a City corner
Dzeko on for Aguero at half time has a shot but...........
... the keeper saves and the chance has gone
City manage to clear another Wigan attack with just 9 minutes to go
Then just on 82 minutes a great shot by Tevez gives City the lead and three precious points
The City players are quite pleased with that effort I guess !!
At last City played with more gusto and we almost had a second from a cross from the left
At the end of time added a foul by Mccarthy on Kolarov gives City a free kick right on the edge pf the area.....
...but the kick taken by Tevez goes wide of the post and the game ends one nil to City -
That was close!!!!!
team
Hart 7, Richards 6 ( Sinclair) , Kompany 7, Lescott 7, Kolarov 6: Yaya Toure 6, Barry 6.5, Nasri 6, Garcia 6 ( Milner 7) Aguero 6 (Dzeko 6) Tevez 7