City 5 Sunderland 0
April 3rd 2011 44,197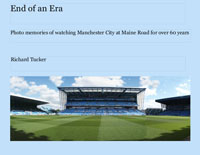 My book 'End of an Era' containing photo memories of days at Maine Road is now available from Blurb.com.
There are over 300 images on 200 pages.
Click on the image for details

A great team display by City who made Sunderland look quite poor. It was just the result we needed after Saturdays results and we now move into third place above Chelsea. I hope this five goal win finally puts paid to the boring boring City theme! Even Bibatelli - sorry Balotelli - played his part and deserved to be among the goal scorers with his efforts during the game - and he behaved himself as well. It would be a shame to pick out any one player as the star as they all played well and you could see by their attitude how much they really enjoyed this win. Kompany and Lescott were excellent at the heart of the defence and Boyata his first start at home since his unlucky red card against Arsenal last October played well and looked at home at right back. Will Milner and Barry get a game I wonder and Dzeko could be on the bench a bit longer too. It will be interesting to see what team we put out in the Semi-Final. Still we have Liverpool to deal with first .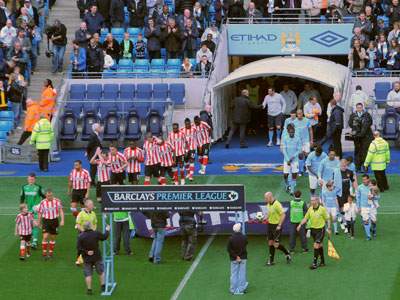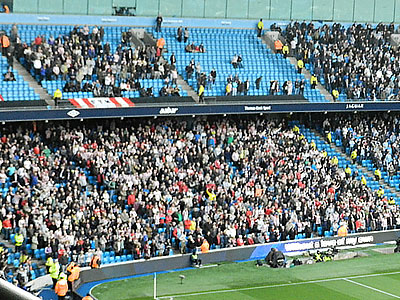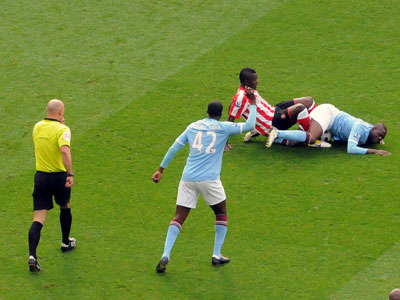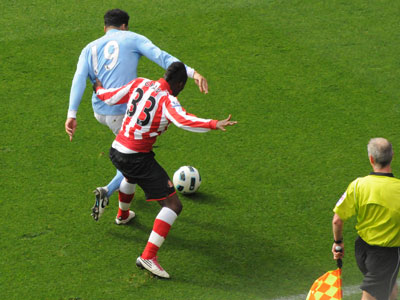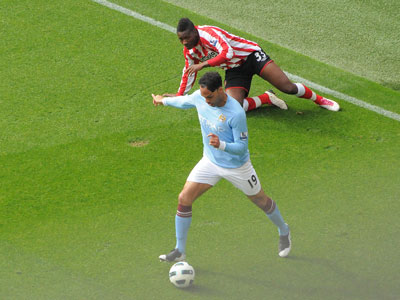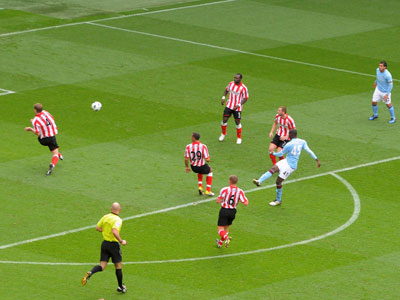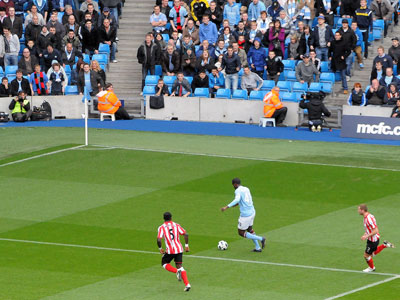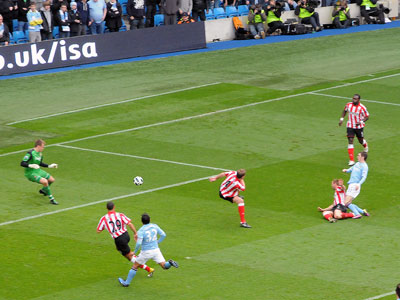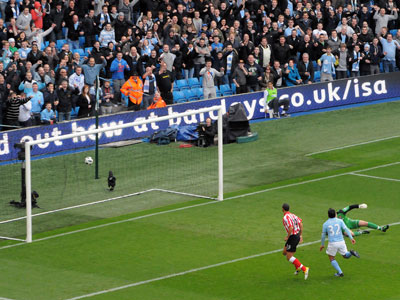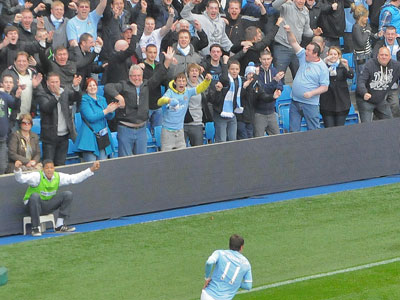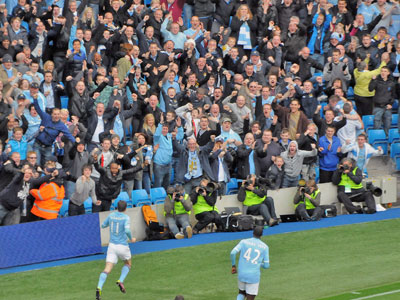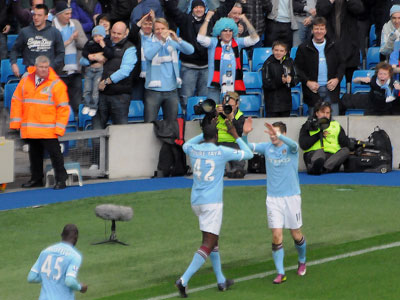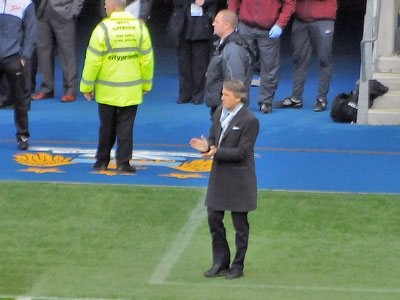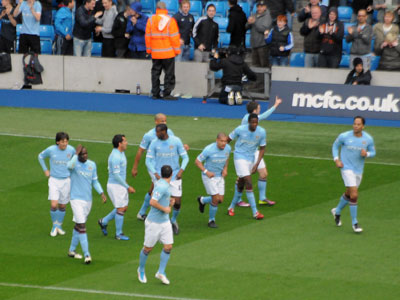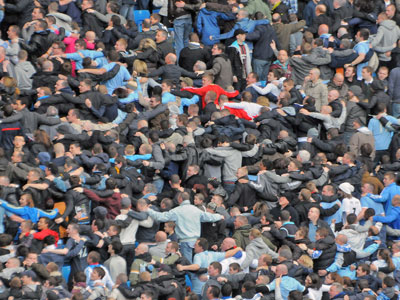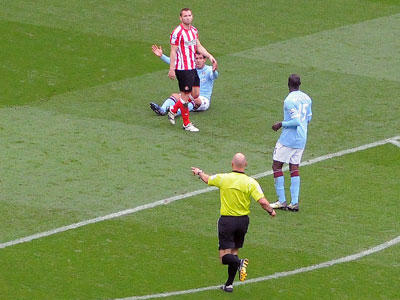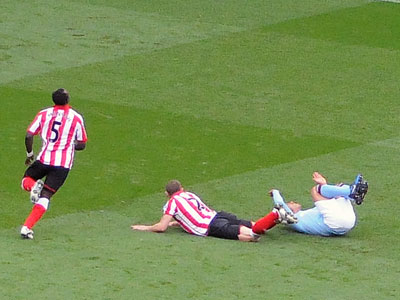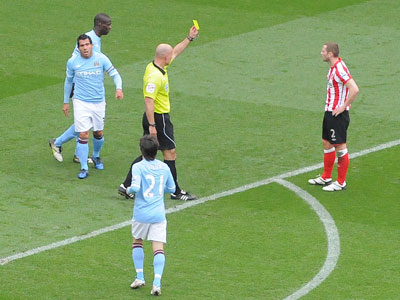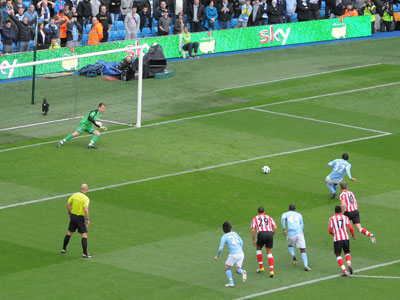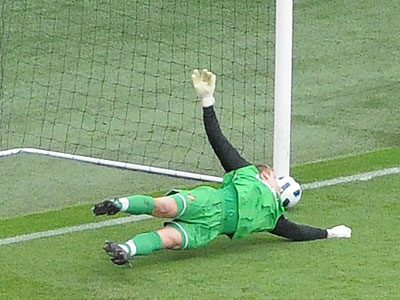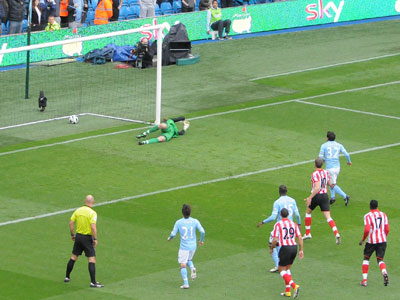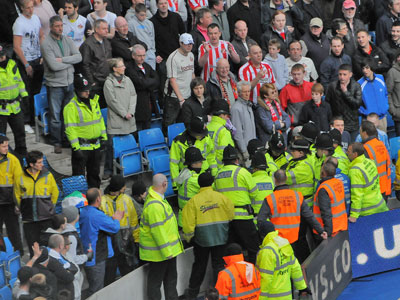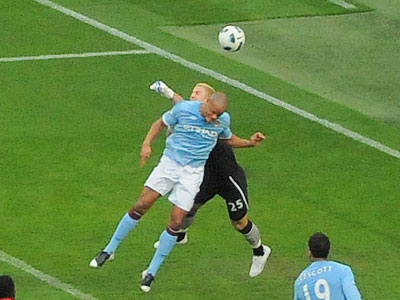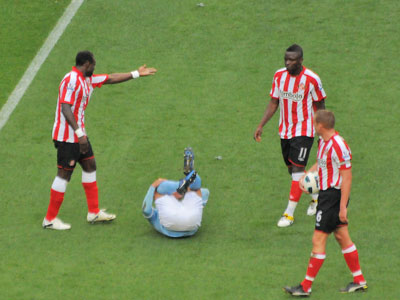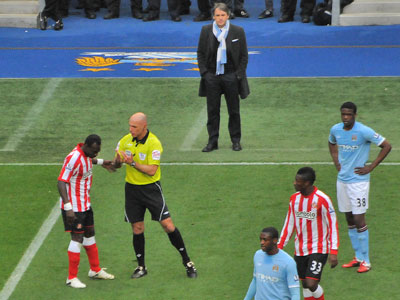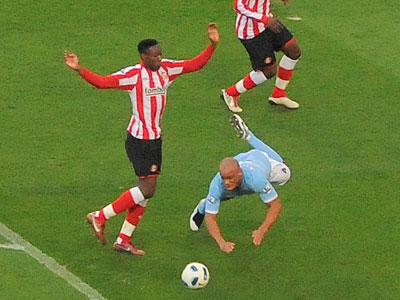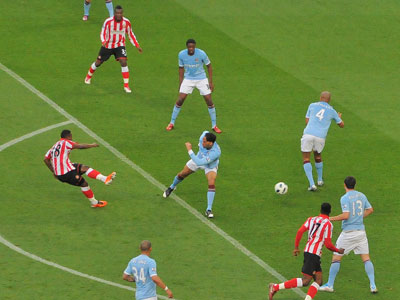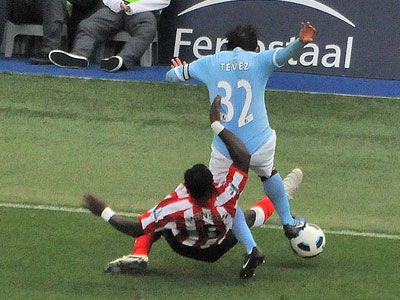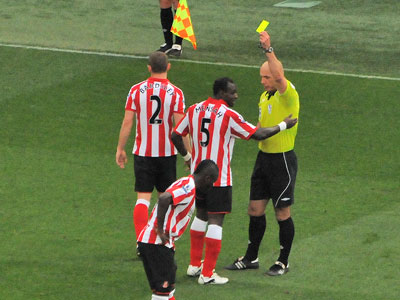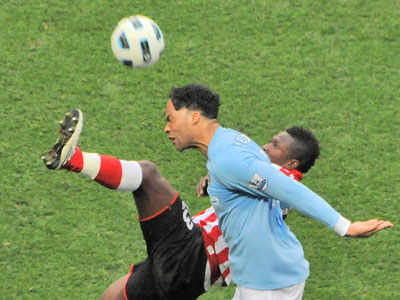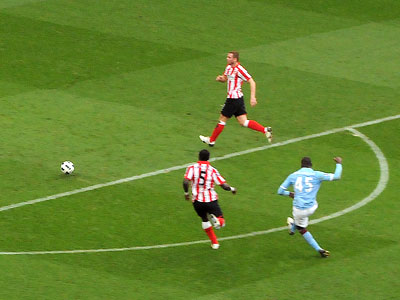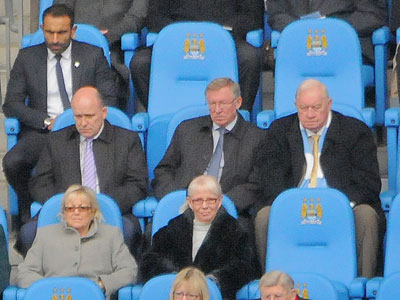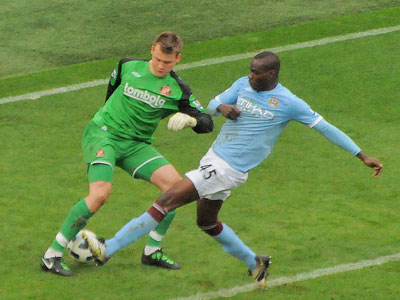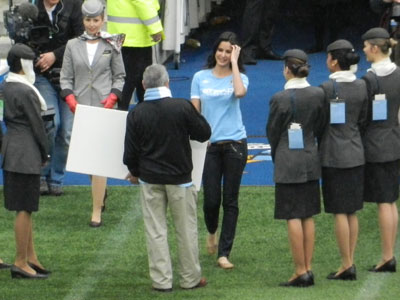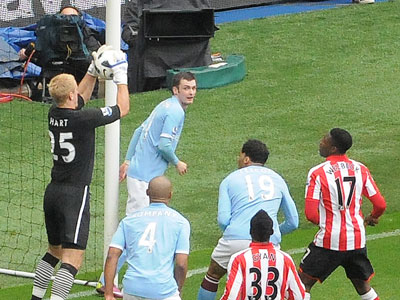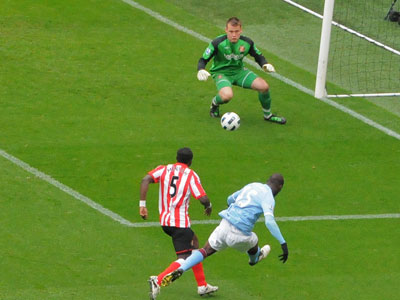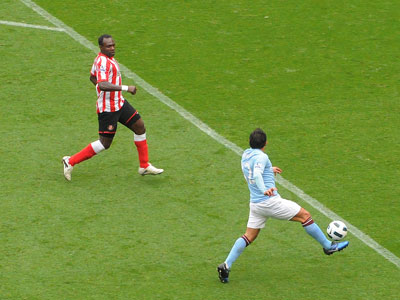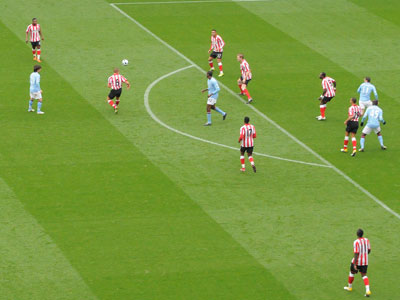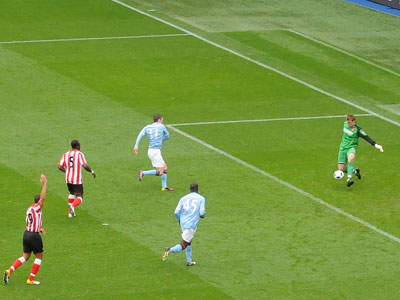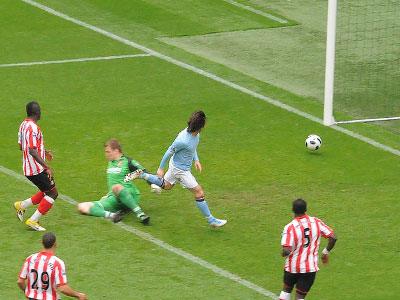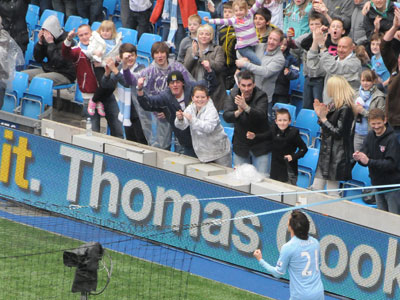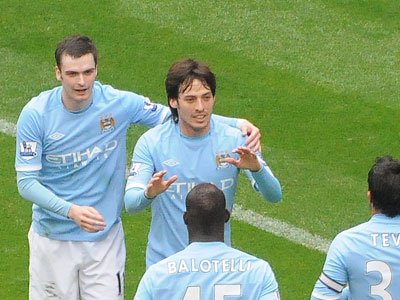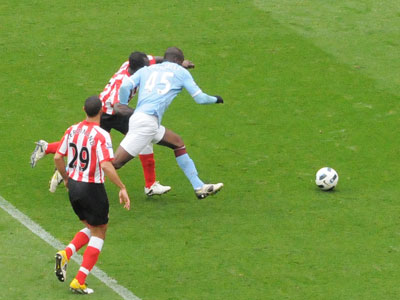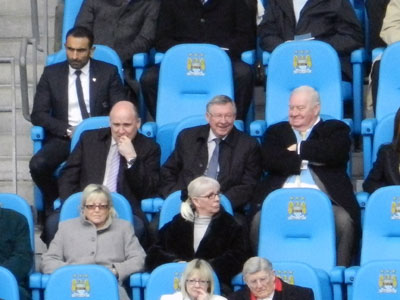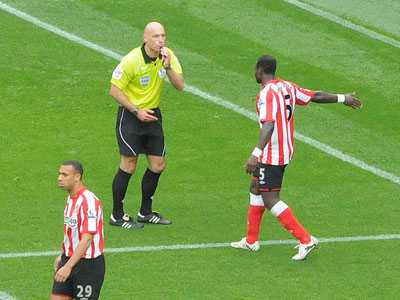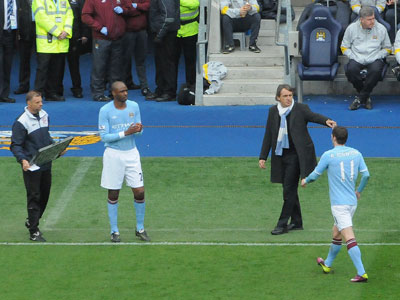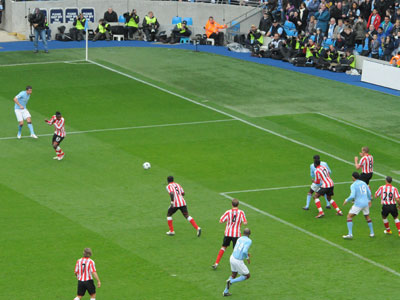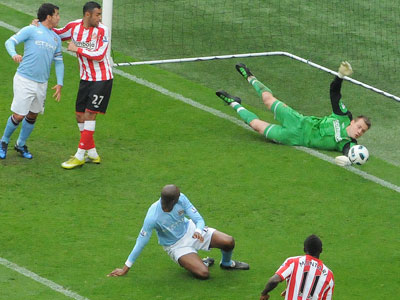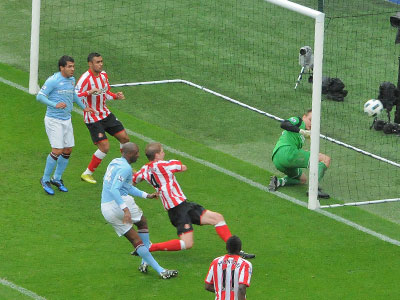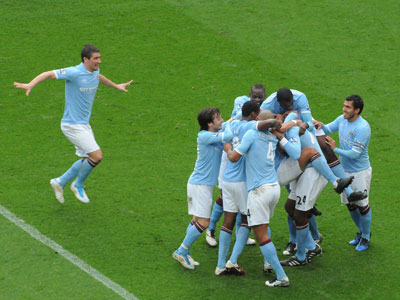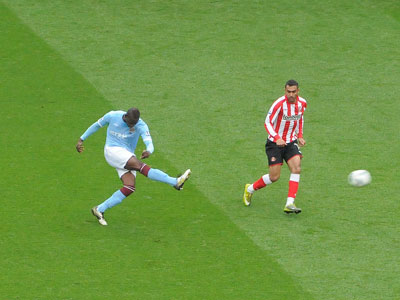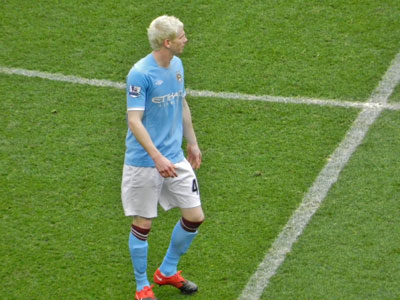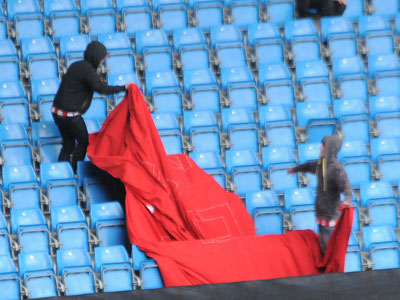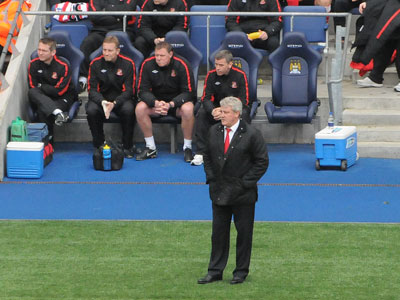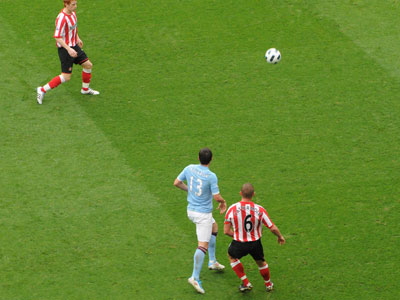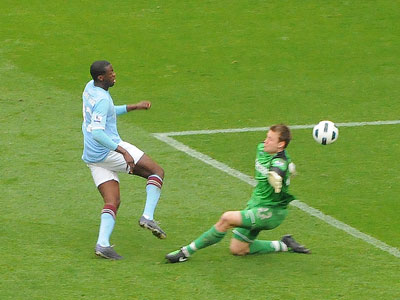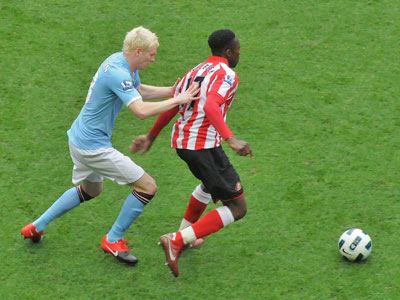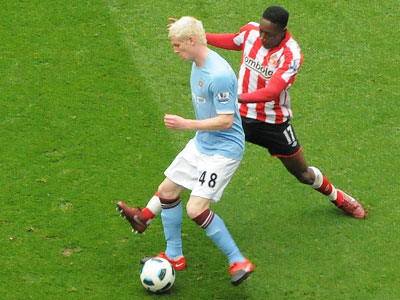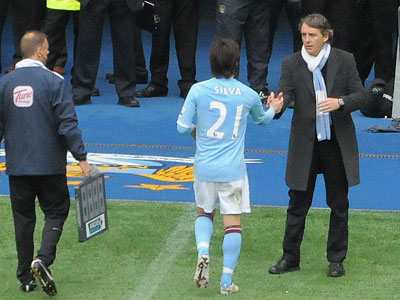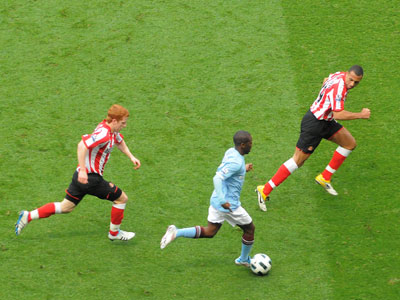 Boyata came in for the injured Richards and Boateng.. City played an attacking side with both Tevez (complete with daughters) and Balotelli played.
Sunderland had good support as usual
Our Chairman Khaldoon Al Mubarak was in attendance
Balotelli earned an early free kick which was wasted by Kolarov
Lescott renewed his duel with Gyan. They were opponents in the recent England Ghana international.. Here Lescott gets the better of the Sunderland player
A Balotelli shot is blocked by a defender
After just 9 minutes a great interchange of passes between Johnson and Yaya Toure.......
....gave Adam Johnson the chance to shoot as he cut in and he beat the keeper with a great low shot to give City the lead
City had looked to be on fire early on so this was a fine boost to their confidence and to the supporters
The scorer and provider exchange high fives and Roberto Mancini applauds the effort
The whole team celebrate and the Poznan celebration starts in the stand
A few minutes later and Tevez almost breaks through only to be floored by Bardsley and referee Webb gives a penalty
We wondered what color card it would be and it turned out to be a yellow. Red would have been harsh. Up came Tevez to take the penalty.....
...... and the ball just crept past the diving keeper hit the post and went in . Phew! City 2 nil and looking good
There was a tiny spot of bother with a Sunderland fan and he was taken away by police
There was a lack of communication between Hart and Kompany when they both went for the same ball.
Mensah fouls Tevez and invites a chat from Mr Webb
Kompany dives to head clear
Sunderland did have the odd shot but Joe Hart was rarely troubled
Mensah fouls Tevez once more and this time his name goes in the referees notebook
Lescott bravely heads clear under pressure from Gyan
Balotelli has another good effort saved by the Sunderland keeper
Ah we have a spy in the stand - checking up on us!
Only a good bit of skill and a bit of luck by Mignolet prevented Balotelli from notching a goal
Kompany clears with his head yet again! Half time comes with City in a comfortable two goal lead
At half time a star from the Indian cinema presented a cheque to a supporter. Bollywood strikes again!
Hart had a bit of work to do early in the second half
Ah - the spy is smiling - a rare moment - lets hope we put paid to that on April 16th!
City almost got a third after 52 minutes. Johnson was put through and the keeper made a great save but the flag had gone up for offside. It must have been touch and go as Johnson was running through as the ball was being played to him
A minute later and the Sunderland keeper was in action again having to save from Balotelli who had forced his way through
Balotelli did have a small part in City's third goal. A Tevez run down the right and cross was hit by Balotelli and blocked by Turner but the ball ran to David Silva who had the easy task of passing the ball into the net.
So after 62 minutes City were three nil in the lead and Silva got a goal he richly deserved for all his efforts over the past few weeks.
The City supporters were eager to let the visiting supporters know the score
A few minutes later City were awarded a disputed corner and at the same time City brought on Viera for Adam Johnson
Kolarov took the corner and when it was cleared back to him he re-crossed the ball and Viera with his first touch of the ball hit the ball towards goal.......
Mignolet dived sideways and appeared to drag the ball back from over the line and Viera hit the rebound over the bar. Fortunately for City the linesman was still level with the goal line following the corner and flagged for a goal
Kolarov looks as though he is going to join the group ... will he make it ...... yes he did!
Yet another Balotelli effort -saved by the keeper
With 20 minutes to go there was a debut for Ryan McGivern who came on for Boyata
Sunderland supporters put away their flag and Steve Bruce is not too pleased either
After 72 minutes things got worse for Sunderland. Cattermole under pressure from Kolarov tried to pass to another defender but Yaya Toure slipped in and put the ball past the keeper for number five.
It was celebration time once more for City supporters. The last time we scored five in a league game was against
Birmingham
this time last year
With injuries to fullbacks Richards and Boateng I expect manager Mancini wanted to see Ryan McGivern in action in the Premiership
The manager gave a warm thank you to David Silva when he came off towards the end. Then we had a few short bursts from SWP
So five goals and a clean sheet is good news for supporters. It was a fine display from everybody. Plenty of good football and creative ideas. The march towards a Champions League position continues.
Team
Hart 7: Boyata 7 ( McGivern) Kompany 8, Lescott 7.5 Kolarov 7.5; Yaya Toure 7.5, De Jong 7.5, Silva 8 (Wright-Phillips) Johnson 8 ( Viera 7), Balotelli 7.5, Tevez 7.5