Australia v South Africa
ICC World Cup Old Trafford July 2019
A good days play with South Africa just beating Australia by ten runs and England will now play Australia in the Semi-Final. Not as many six's as the last game but plenty of action. All pics taken with the Sony A6400 and the 18-135 lens.
Most images were taken at the 135mm focal length and heavily cropped from 50% to 100 %. Exposures varied with shutter speeds 1/640 and 1/800 and apertures f5.6 to f8 at 200 iso or 400 iso later when the floodlights came on.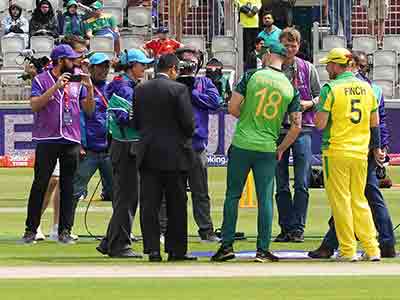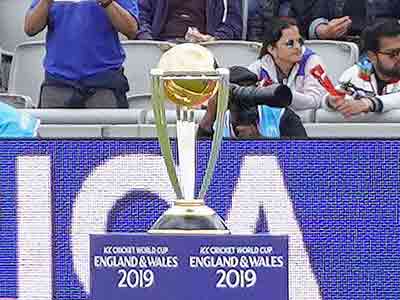 The captains are out for the toss
This is what they are playing for - 200% crop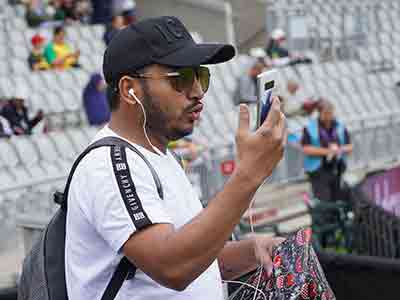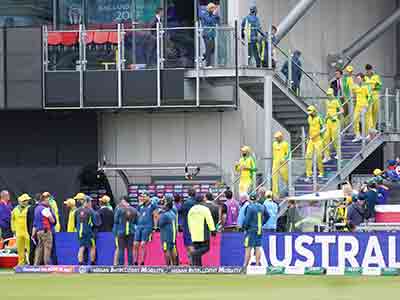 Having a chat to his phone as the Australians come out to field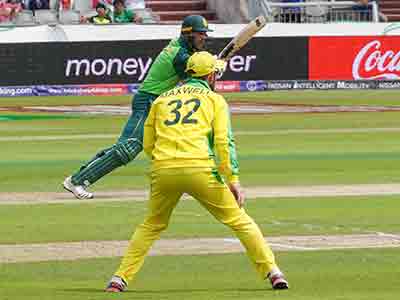 Markram hits Behrendorff for 4 - SA 21 for 0
de Kock drives Starc for three runs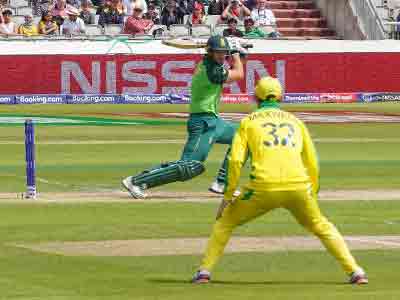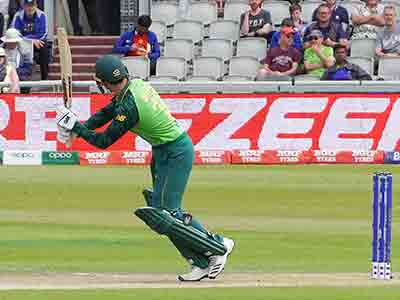 Markram cuts Behrendorff for 4
de Kock hits the boundary off Starc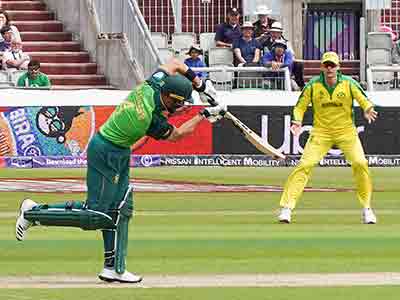 Markram drives Lyon for 4
The drones back - 325% crop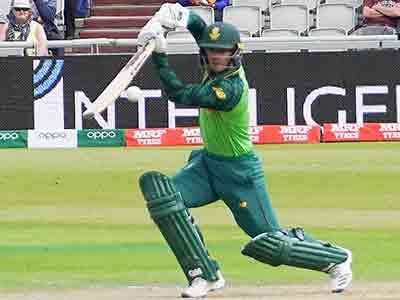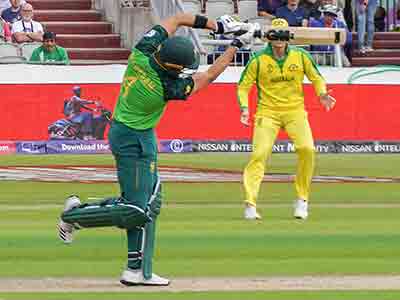 de Kock drives Cummins for 4
The Aussie fans did not like that!!.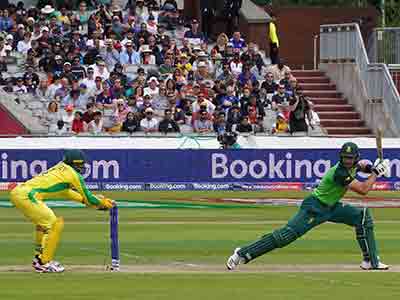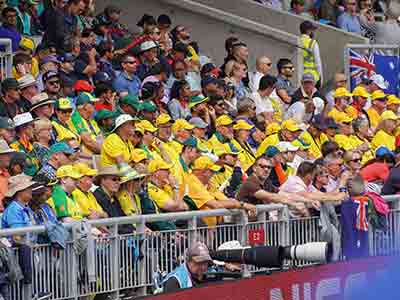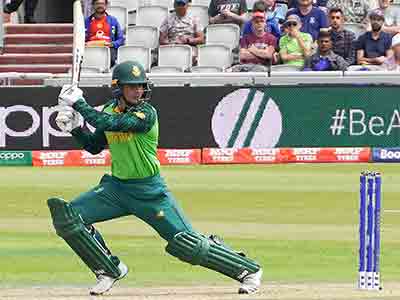 de Kock hits Cummins for 4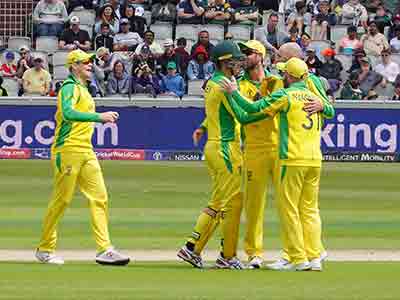 Markram is out stumped by Carey off Lyon for 34 with the score at 79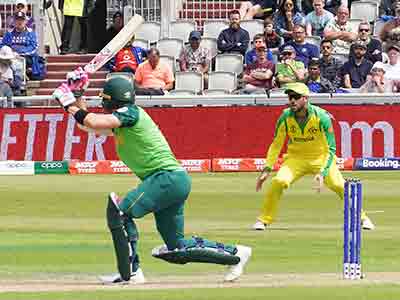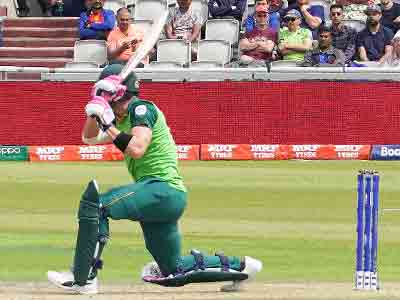 de Kock hits Starc for 2 fours and brings up the 100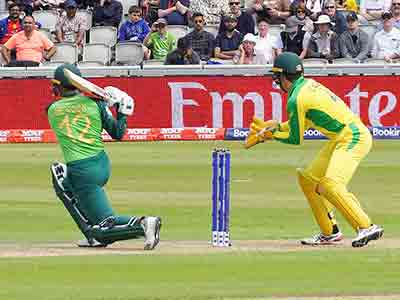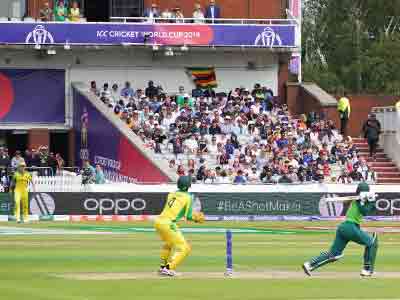 de Kock gets his 50 with a 4 off Smith. He hit 7 4's
de Kock drives Lyon........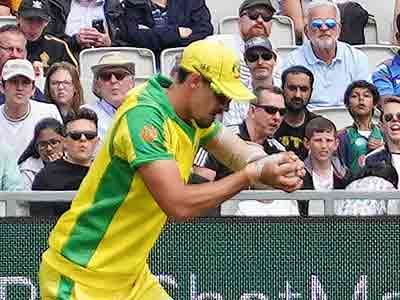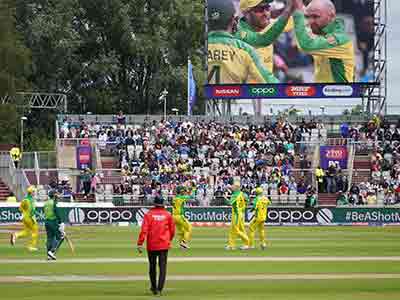 .......but is caught in the deep by Starc (200% crop) for 52 with the score at 114 for 2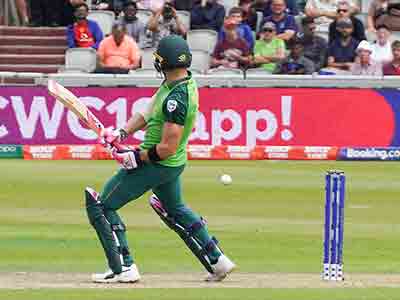 du Plessis drives Lyon for 4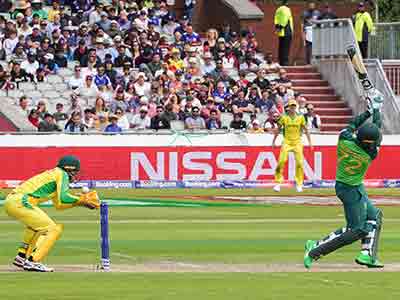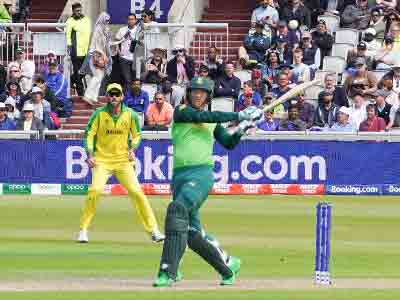 Dussen should have been stumped by Carey
Dussen pulls Stoinis for 4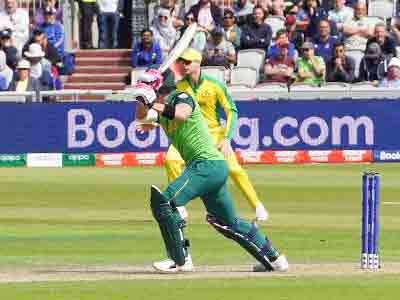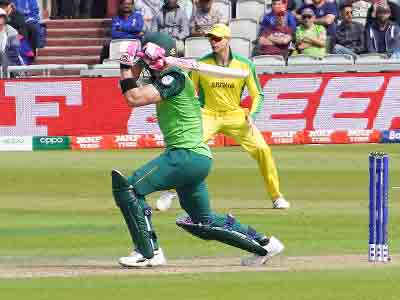 du Plessis drives Starc for 4
du Plessis reaches 50 off 54 balls with the score 172 for 2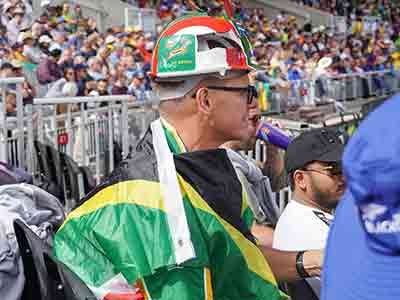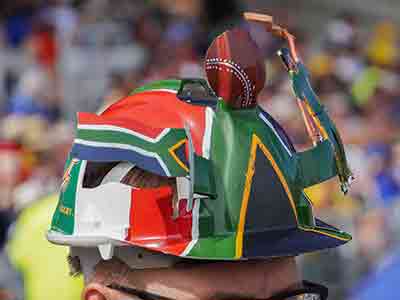 Good protection from a six but not on sale at John Lewis!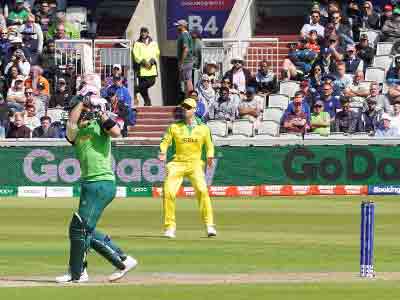 du Plessis pulls for a boundary but Behrendorff manages to keep it to just 2 runs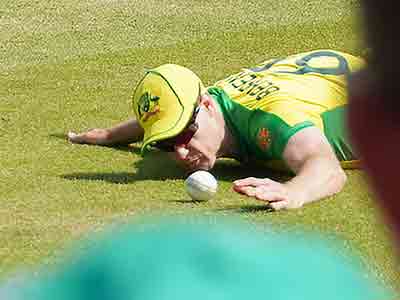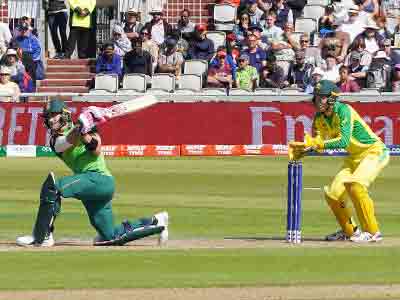 du Plessis hits two 6.s off Cummins and Lyon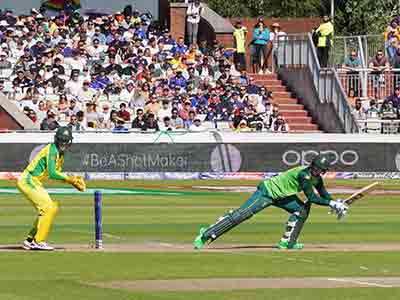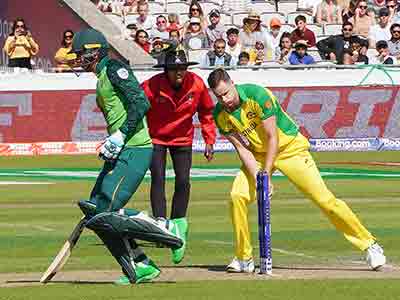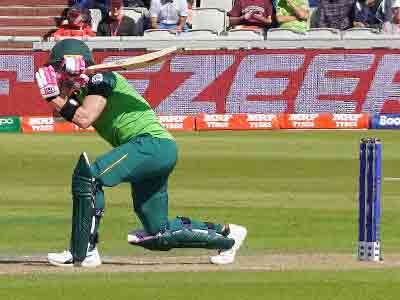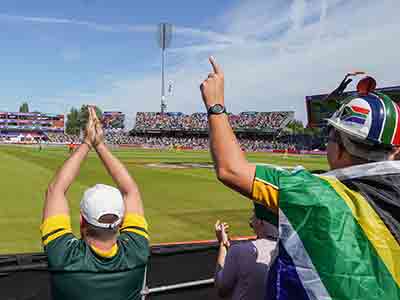 du Plessis reaches 100 off 93 balls and the South African fans celebrate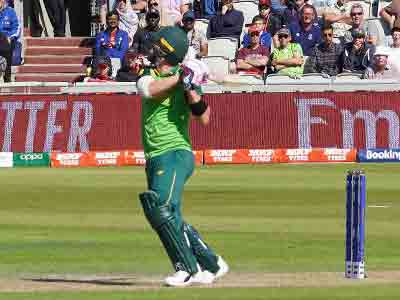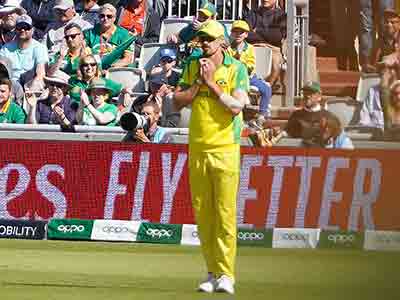 du Plessis is out caught by Starc on the boundary off the bowling of Behrendorff for 100 - 265 for 3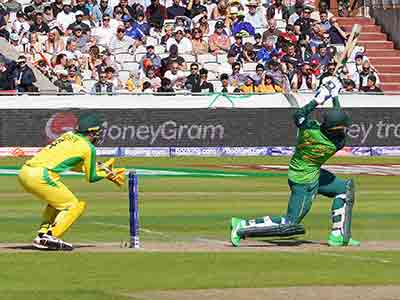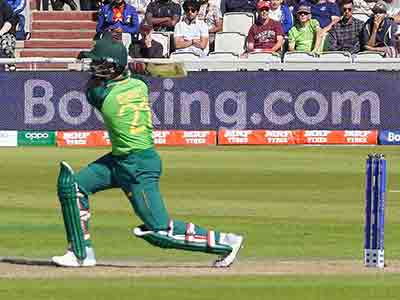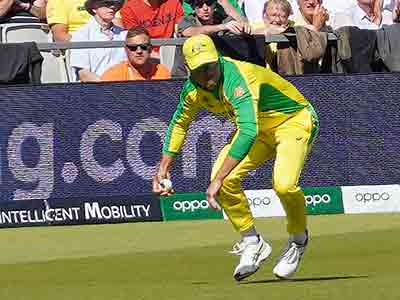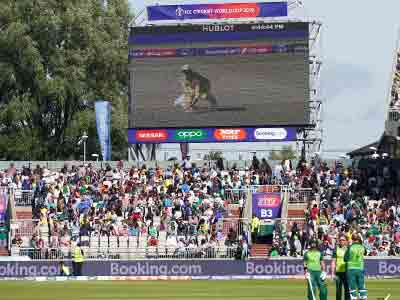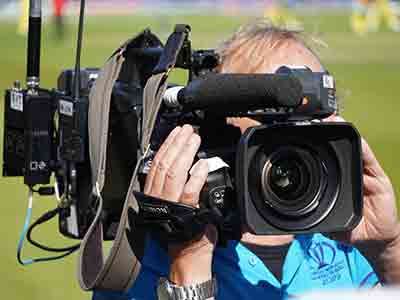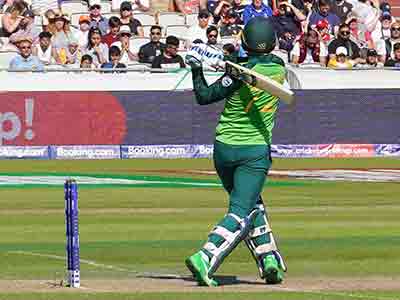 Dussen hits Maxwell for 6
Duminy hits out at Starc.......
...but is caught by Stoinis and replays show it was a fair catch. He made 14 and the score 295 for 4
He's pointing it in the wrong direction!
Dussen thumps a six off Cummins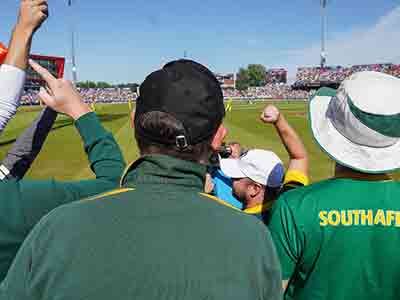 The fans in the stand and the South African supporters in front of me liked that!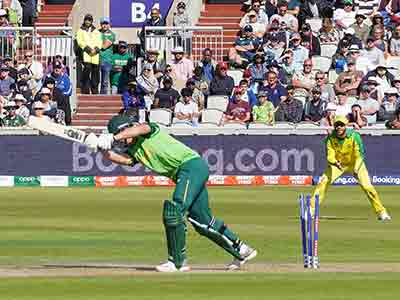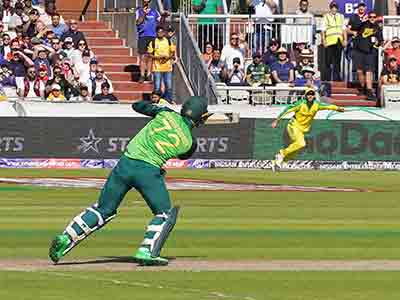 Pretorius is bowled by Starc for 2 - 317 for 5
Dussen is caught by Maxwell off Cummins for 95 to end the South African innings on 325 for off 50 overs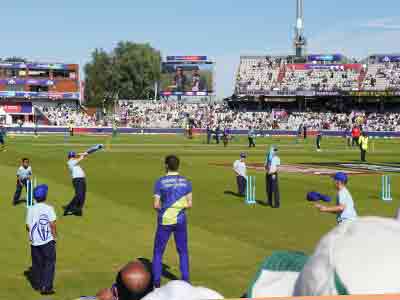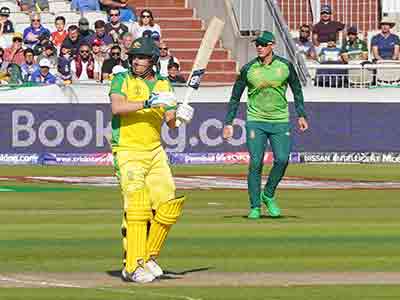 Even more chances of being hit by a ball at the interval!
Finch has an early escape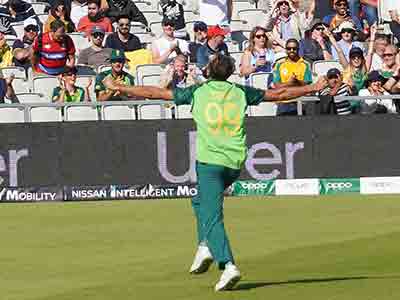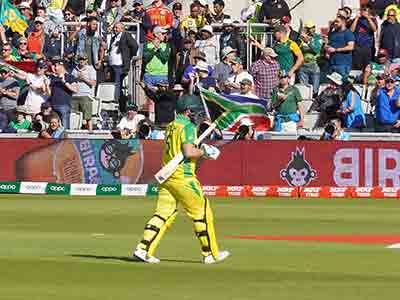 a few balls later Tahir celebrates as Finch is caught by Markram for just 3 with the score at 5 for 1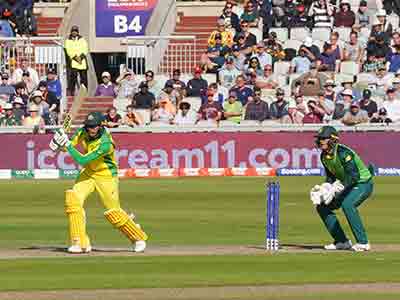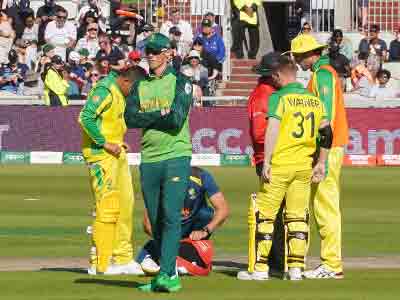 Khawaja hits 4 off Tahir then shortly afterwards has to go off injured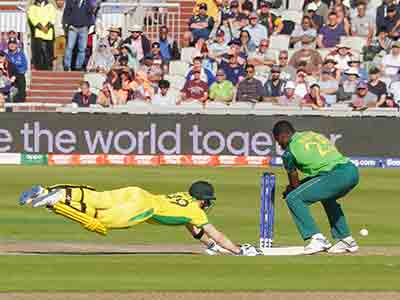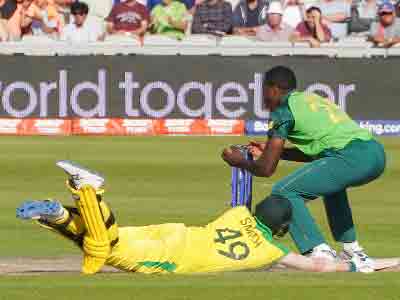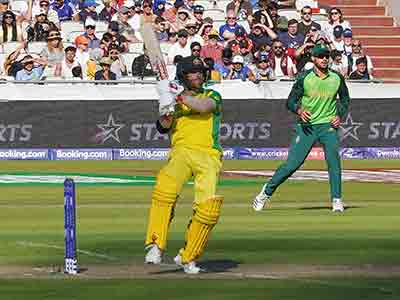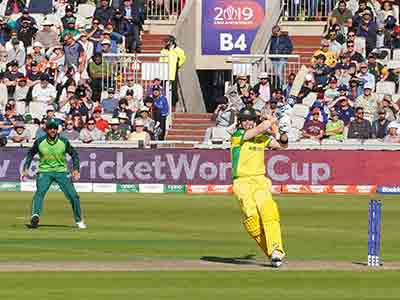 Smith pulls Pretorius for 4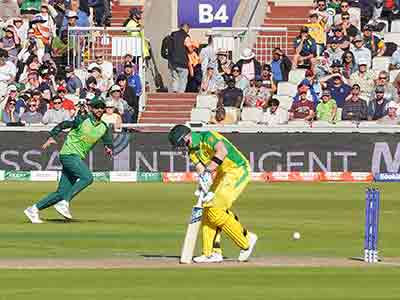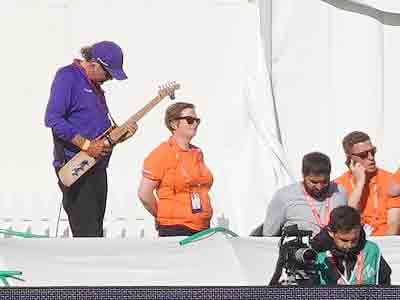 Smith is out lbw to Pretorius for 7 - 33 for 2
A tune in celebration - 180% crop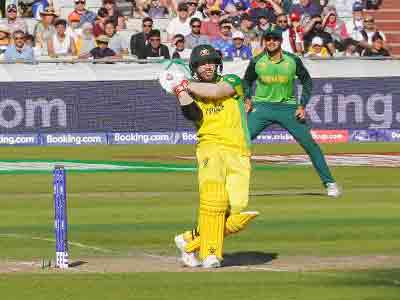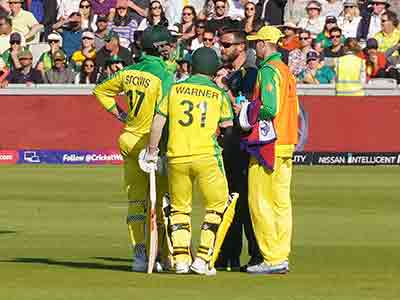 Warner pulls Rabada for 4
This time it's Warner who has the problem

The crowd enjoy themselves during the break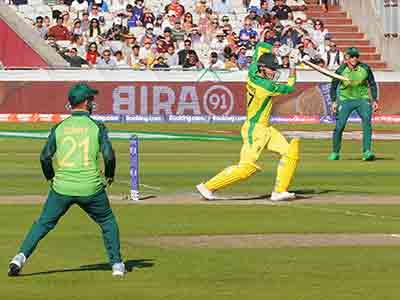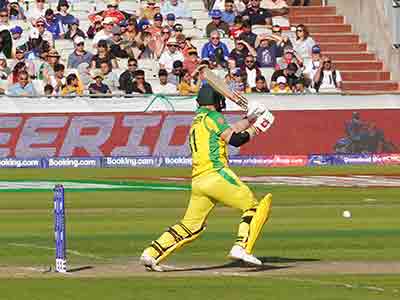 Stoinis drives a 4 off Rabada
Warner drives Morris for 4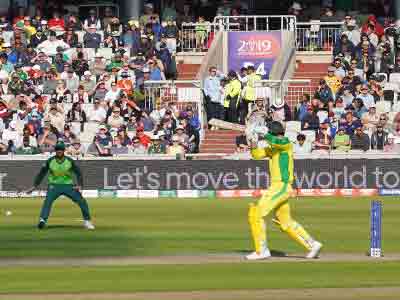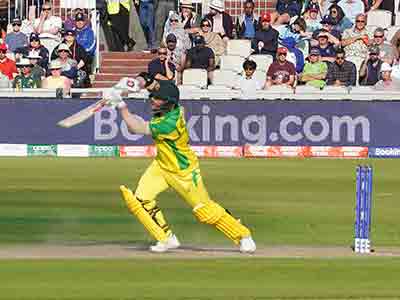 Stoinis hits a 4 off Pretorius
Warner drives Pretorius for 4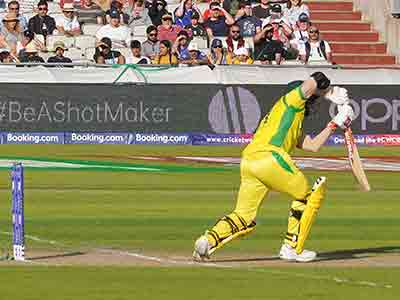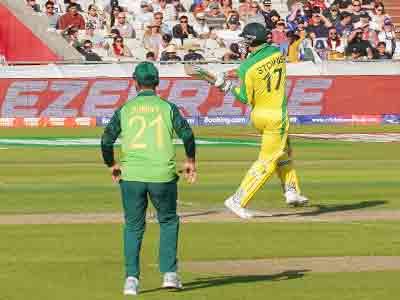 Warner reaches his 50 off 58 balls
Stoinis pulls Morris to the boundary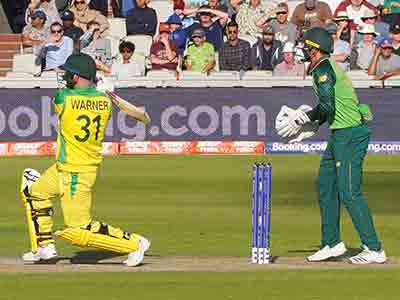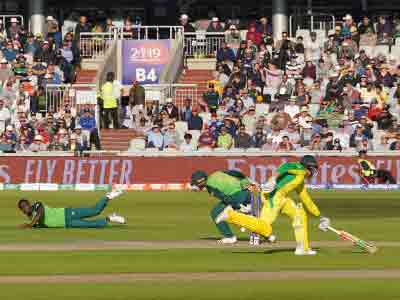 Has Stoinis made it......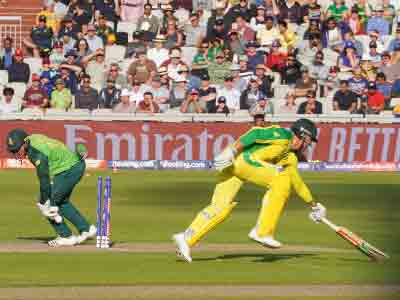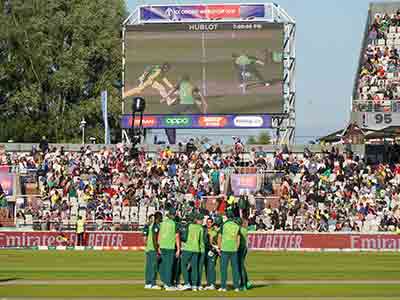 Replays showed he was just out for 22 - 95 for 3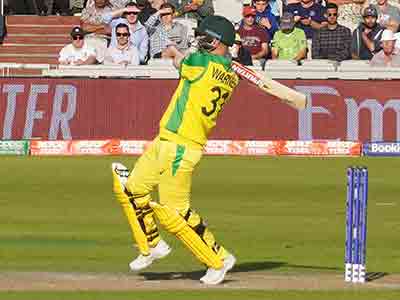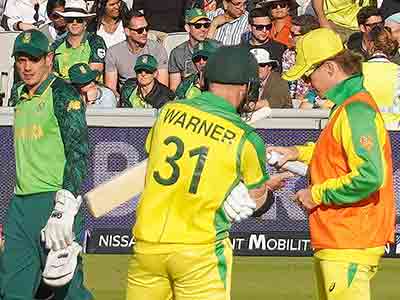 Warner pulls Phehlukwayo for 4
more spray for Warner - 125% crop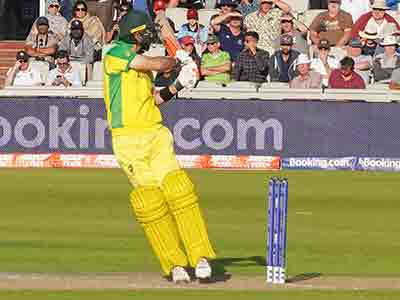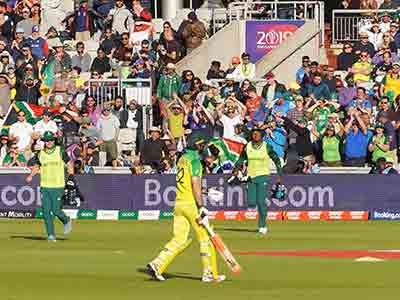 Maxwell is caught by Kock off Rabada for 12 with the score at 119 for 4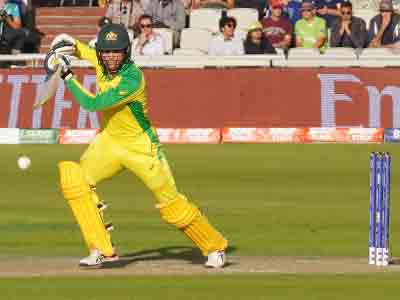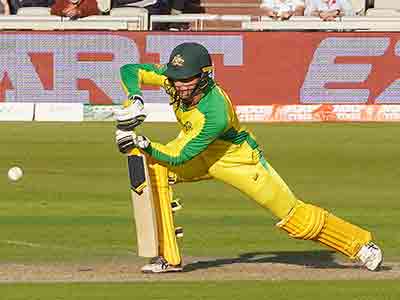 A rare pic - Carey blocks!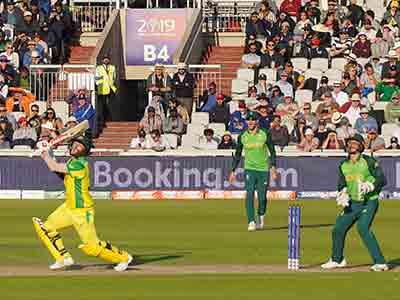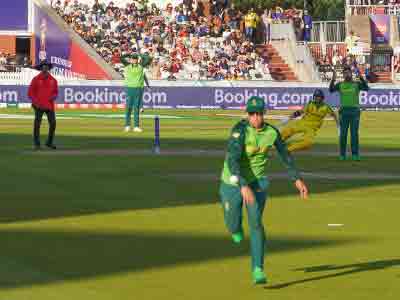 Warner skies and it's a chase for the fielder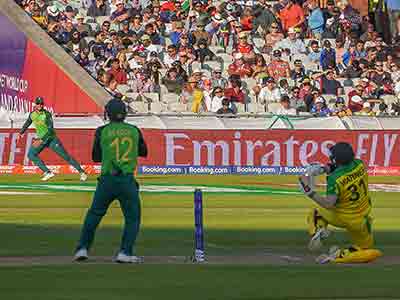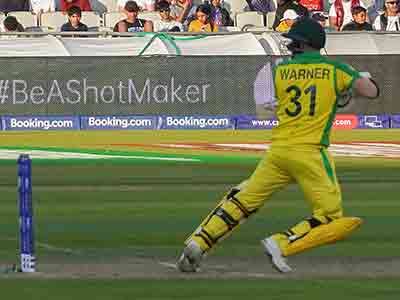 . Warner hits Duminy for 4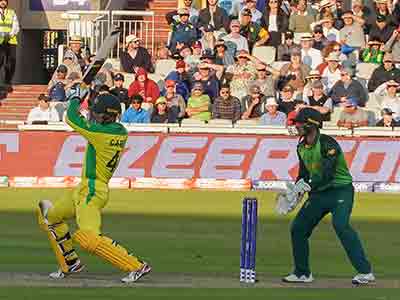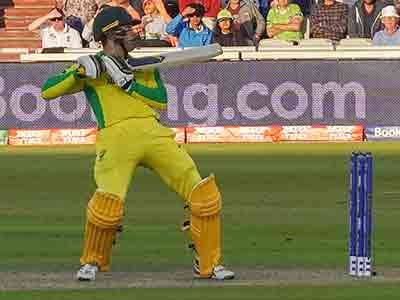 Warner gets his 100 off 100 balls
Carey reaches 50 off 47 balls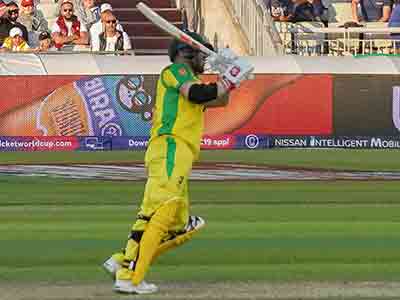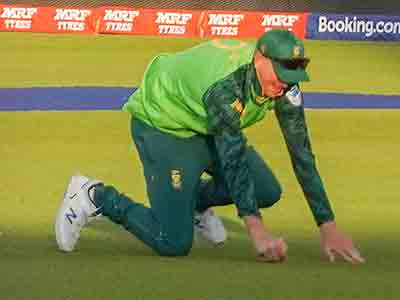 Warner is out caught by Morris off Pretorius for 122 with the score at 227 for 5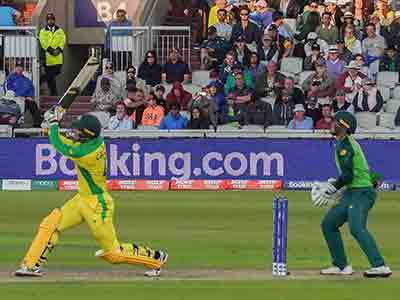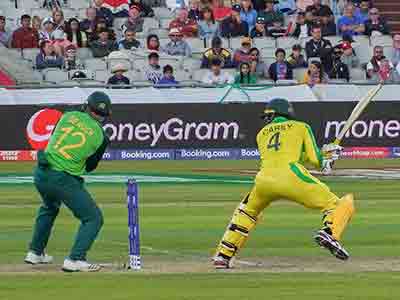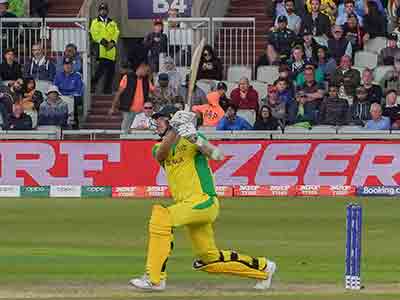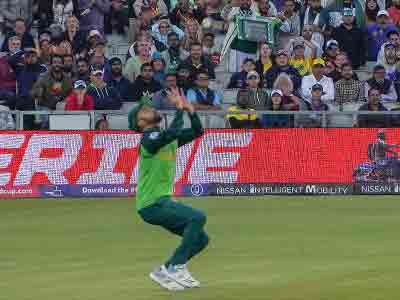 Cummins is out caught by Duminy off Phehlukwayo for 9 - 272 for 6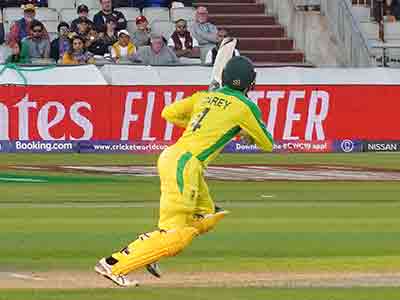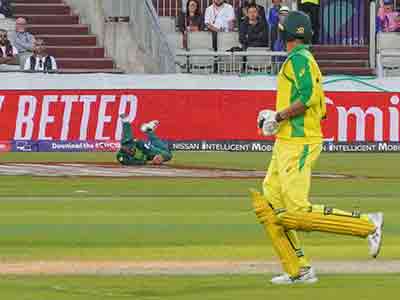 Shortly after Carey is caught by Markram off Morris for 85 with the score at 275 for 7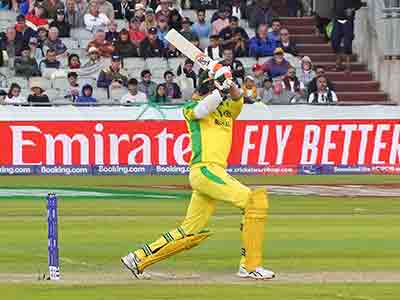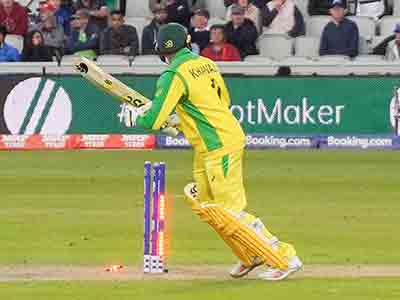 Khawaja comes back only to be bowled out by Rabada for 18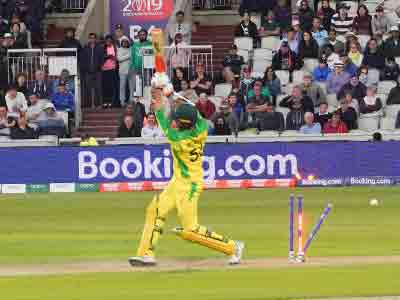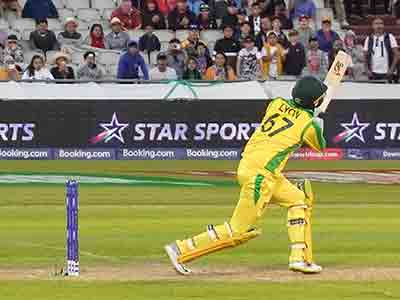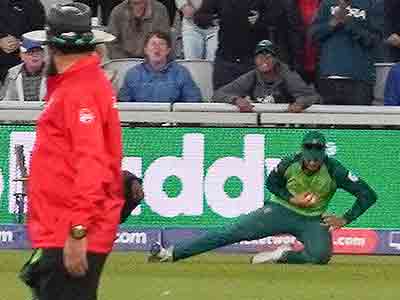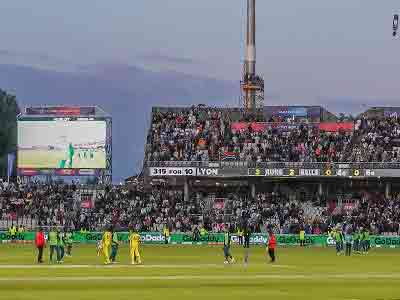 Starc hits a 6 off Morris
Starc is bowled by Rabada for 16 - 306 for 9
in the final over Lyon tries for a six off Phehlukwayo.........
...but is caught by Markram for 3 and Australia are all out for 315 and South Africa win by 10 runs