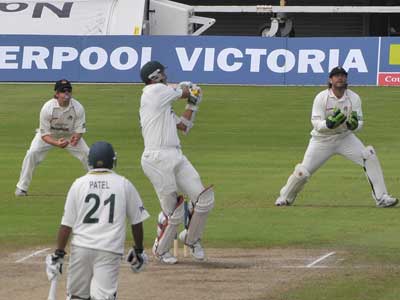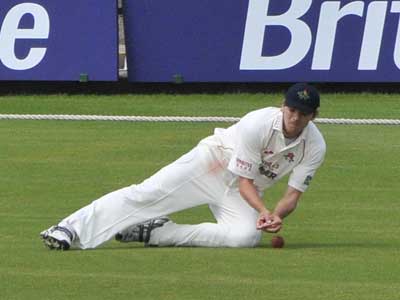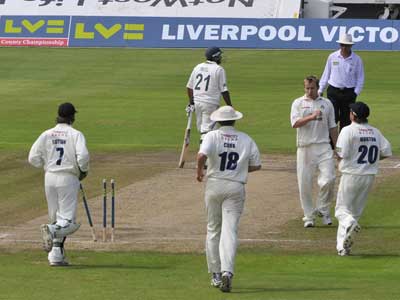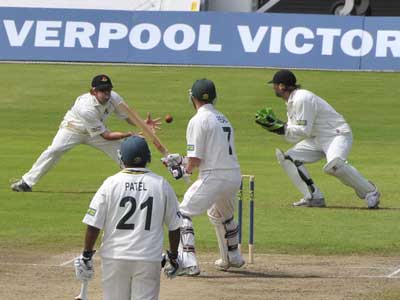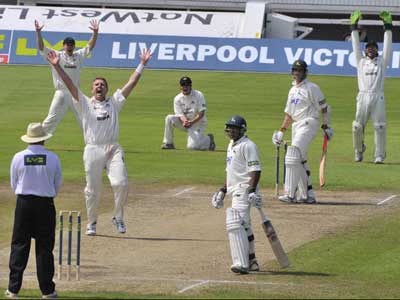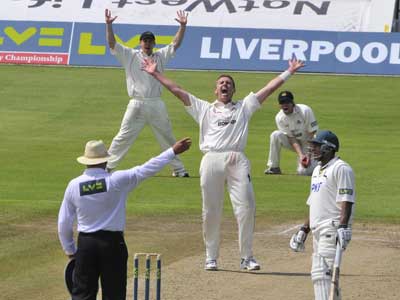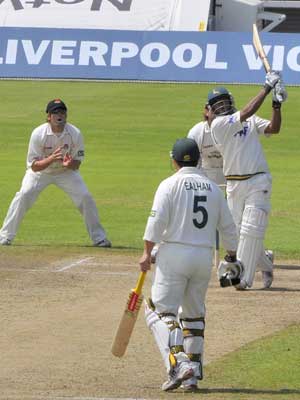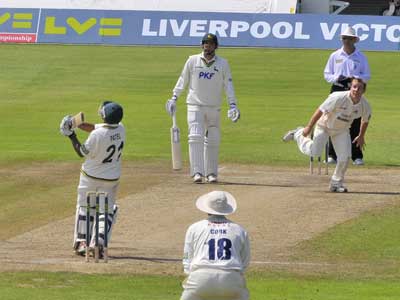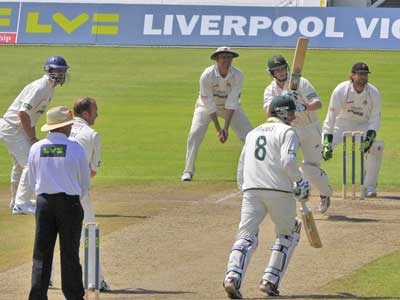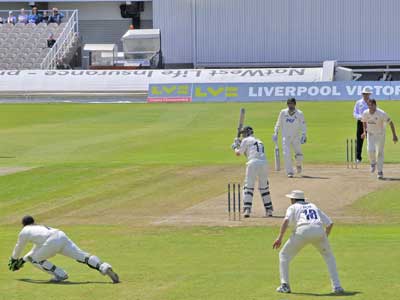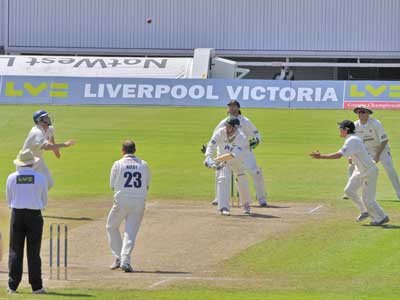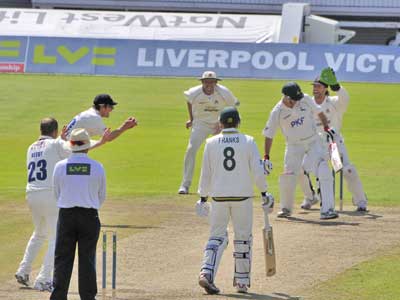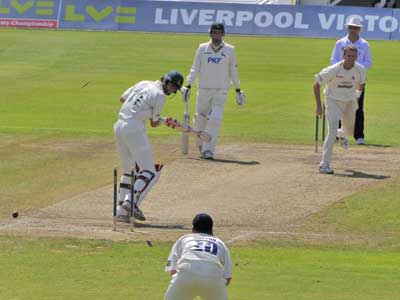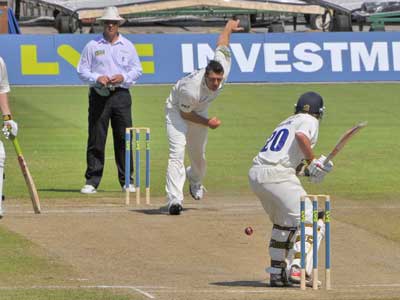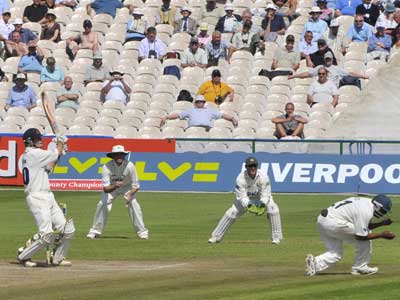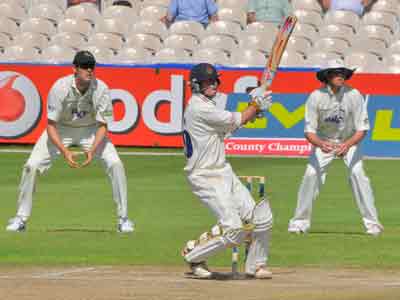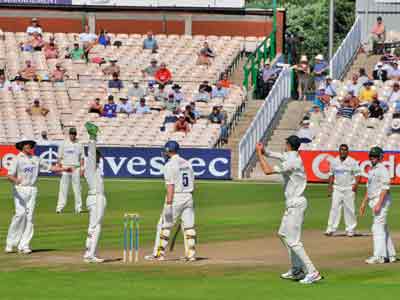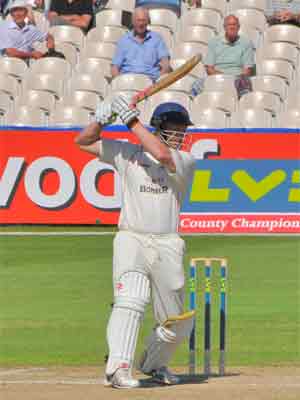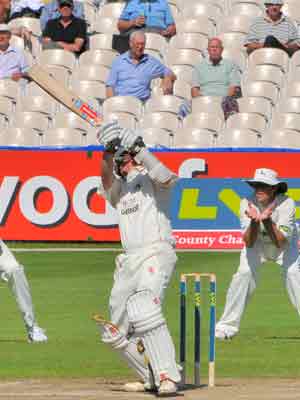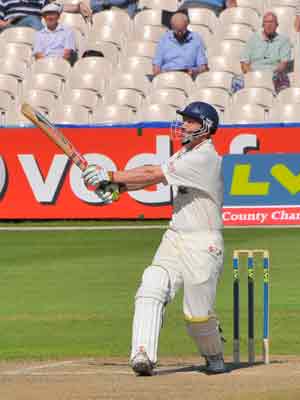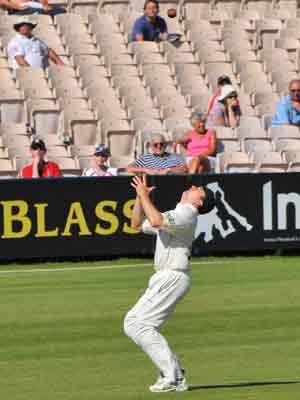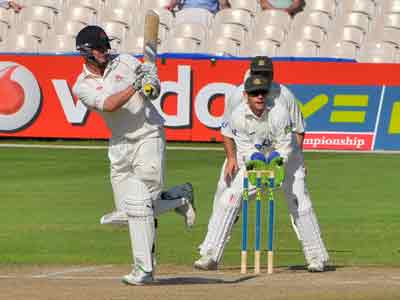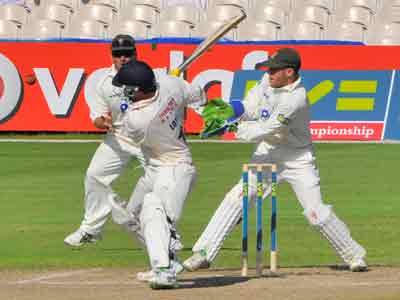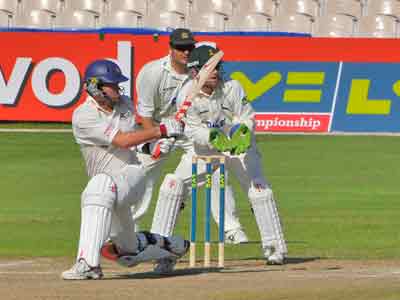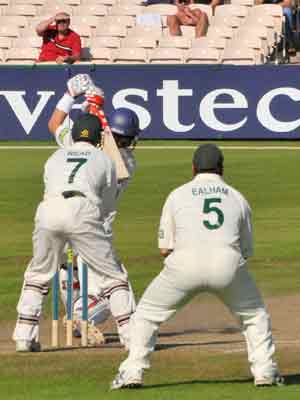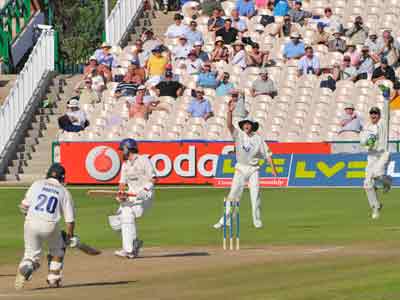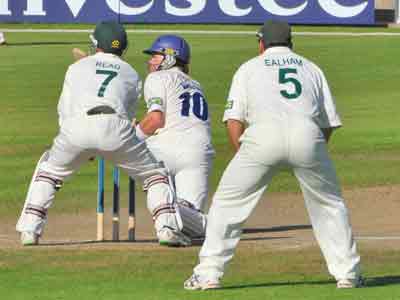 Lancashire v Nottinghamshire LC County Championship
Day 3 June 8th 2008
Lancashire had scored 384 in the first innings and Notts were 142 for 2 at the start of play on the 3rd day
Sutton dives to stop a deflection by Wagh off Cork
Patel pulls Mahmood for 4
Wagh had a lucky escape when he mishit Cork and Newby dropped the catch
Lancashire got their third wicket when Croft bowled Wagh with his score on 93. Notts were 211 for 3.
With only one run added Notts lost another wicket. Reed is milliseconds away from being caught by Horton off Cork for 0
Just 4 runs later and we had the appeal of the day when Corky hit Swann on the pads and the result - out. Notts 216 for 5
Patel hits a four off Keedy
Patel hits a six off Keedy
Notts lost their 7th wicket with the score on 234 when Patel mis-hit Croft and was caught by Sutcliffe. Patel made 39
Voges back after retiring hurt earlier hits Keedy for 4 to reach his 50.
A cry of 'catch it 'with this ball from Keedy but the ball came off the pad so not out
Sutton dives to catch Voges off Newby for 55. Notts 250 for 8
Keedy has Pattinson caught by Horton 12 with the score at 299
Shreck is the last wicket to go bowled by Cork for 0.
Notts total was 304 - 80 behind Lancashire
Horton pulls Shreck for 4
Horton pulls Shreck for 4 just before tea
Big appeal against Sutcliffe off the bowling of Patel but not out
Sutcliffe hits a 4 off Ealham off the back foot
Horton cuts Ealham to bring up the 50
At 52 Sutcliffe was caught in the deep off Ealham for 17
Loye hits Swann to mid wicket for 4
Loye is caught by Ealham off Swann for 24 with the score on 87
Vincent gets off the mark with a couple of runs off Swann
Vincent pulls Swann to leg
Horton brings up his 50 hitting Franks to leg
lbw appeal against Vincent is turned down
Lancashire finished the day 146 for 4 - 226 ahead. The match ended in a draw.
Vincent is caught by the substitute (fletcher) for 19 off the bowling of Patel. Lancs 118 for 3