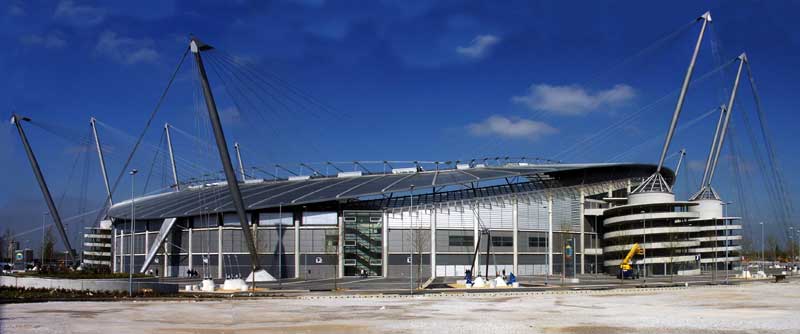 As I forecast a few weeks ago Marc-Vivien Foe who played for Cameroon in the World Cup has finally signed for City on a years loan deal. The former West Ham player will add much needed holding power in midfield behind the attacking genius of Benarbia and Berkovic. He is 27 and was part of the Lyon side that won the French League last season. He scored a couple of late goals for them but was booked a few times and sent off once. Last season he played 18 times for Lyon and 25 times the previous season.
I recently visited the new Stadium in Manchester that will be City's new home in 14 months time. Work was still going on in preparation for the forthcoming Commonwealth Games. I do fear there will be car parking problems in the future compared to the existing situation at Maine Road. There does not appear to be side street parking as there is in Moss Side. A Metro Link is going to be essential.
Quite a busy summer for City supporters with almost 'daily signings'!. City's record signing of Nicholas Anelka looks like going ahead with Alioune Toure going to the Paris club in part ex with a few bob extra! That leaves Mettomo at Maine Road - good - he did well last season. In the next few days -end of May - Vuoso below - should have been signed from Independiente in Argentina for a few million. I don't think we shall be short of strikers! His team finished in bottom place in their league but Vuoso- pic below-did score several goals including a few penalties. He is fast and young and quite skillful so we will await his debut with interest.
The other major signing Distin will strengthen the defence and I hope Foe comes after the World Cup.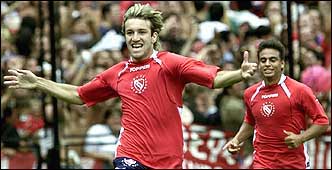 With all the new players I expect there will be plenty of support at the pre-season games in Denmark on the 24th and 26th July
Preston on the 30th July - Bury on the 31st and Hamburg on Aug. 3rd.
There are also games at Rochdale ( Aug. 5th ) and Tranmere ( Aug. 6th )
More info at the further down the page
It was very sad to hear about the death of Roy Paul , one of the finest players ever to don the sky blue of City. He was an inspirational captain and hard tackling attacking wing half who always made his presence felt. I could not find any City programmes with him in but did find one from a game between Wales and Scotland back in 1954.- above. Note that Roy Clarke also played for Wales. There were some great players in that game - Willie Waddle and Young from Rangers for Wales there was John Charles ,Trevor Ford and Barnes. Note the cost of a train journey from Paddington to Cardiff
I used to keep a log of all games I watched and on the left is an extract from Roy Paul's first season - 1950-51. City had been relegated the previous season and City signed Paul from Swansea Town in the July for £25,000. He only missed one game that first season and City were promoted again finishing in second place.
In those days I also paid the occasional visit to the recently opened Old Trafford. Note that Ivor Broadis who was soon to sign for City scored a hat trick against them for Sunderland.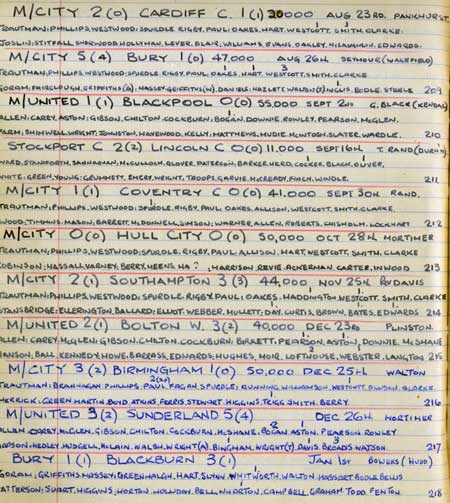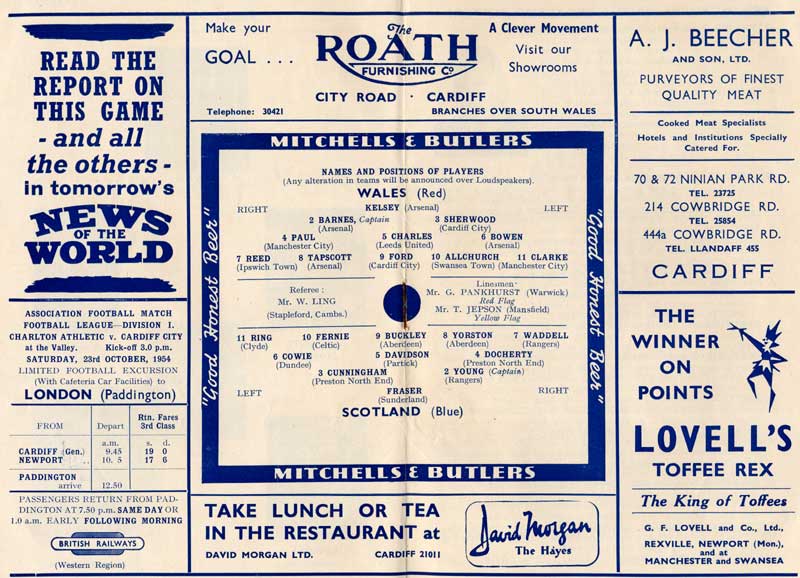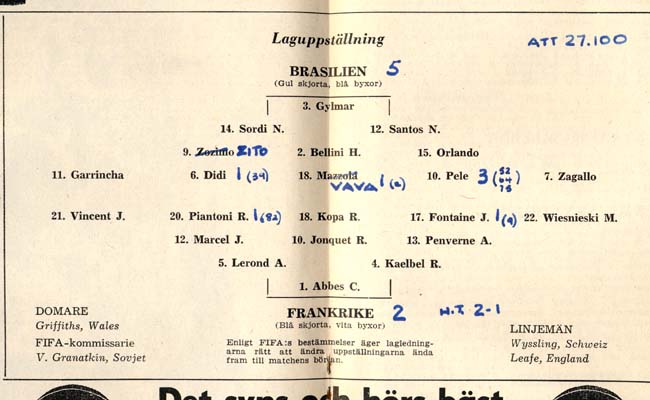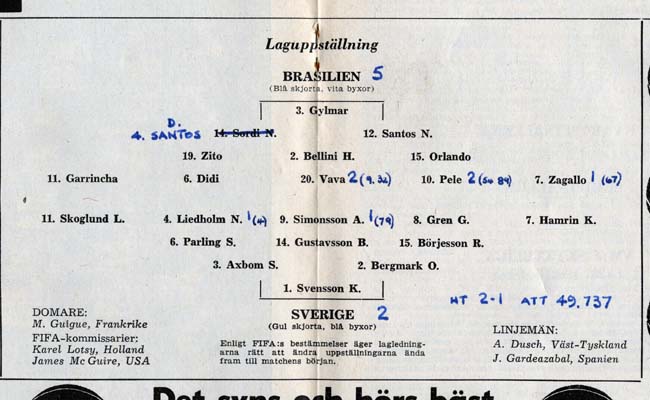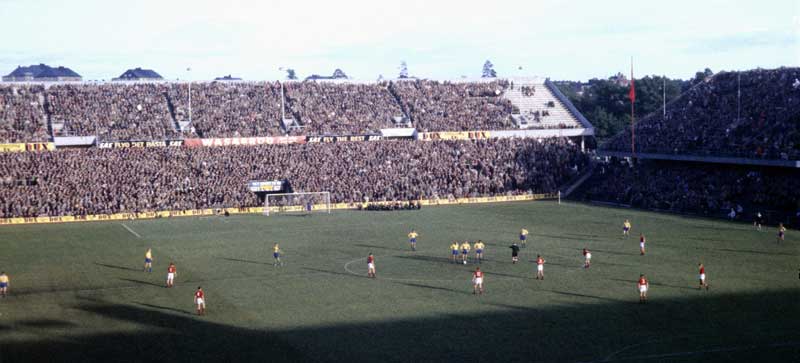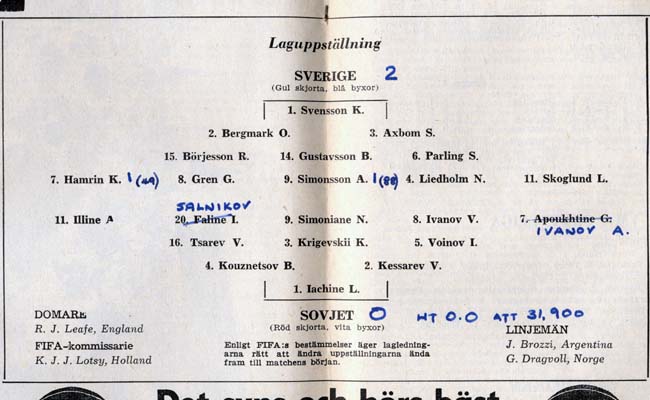 The World Cup is upon us once again and recently I found a picture I shot in 1958 when I went to Stockholm to watch several games. Below is the start of the game between Sweden and Russia.
Sweden won 2-0 and players who would have shines in today's Premiership were Hamrin and Skoglund two fast wingers and Liedholm. For the Russians the star was Lev Yachine the keeper from Moscow Dynamo. This was the quarter final
On the right are the teams for the semi-final Brazil against France. There were many players of the highest caliber. All the Brazilians were world class -Pele scoring a hat-trick.
On the French side there was Fontaine, Raymond Kopa and Piantoni - world class forwards. This game contained football of the highest skill and goals too.
Below is the team sheet for the final with Brazil once more scoring five goals the youngster Pele (just 17 ) again on the goal trail with two more.
more on onther side -best international side
Well City supporters once the world cup has gone and Dunne, Sun Jihai,Jensen, Mettomo, Wanchope and Foe have all returned safely to these shores will be turning their attention to next season and what sort of lineup we can expect. Well here goes...
for home games I can see City playing 1-3-5-2
Schmeichel : Dunne, Distin, Jensen : Wright-Phillips,Berkovic, Foe,Benarbia,Horlock or Tiatto : Anelka,Wanchope or Huckerby or Vuoso. On the bench - Nash, Howey, Mettomo, Macken , Sun Jihai, or perhaps even three strikers leaving 4 in midfield.
For away games perhaps 1-4-4-2
Schmeichel : Dunne,Distin,Howey, Jensen: Wright-Phillips, Foe,Berkovic or Benarbia, Horlock: Anelka and Huckerby or Vuoso.
Obviously a lot depends on the form of individual players but now the squad looks much stronger and capable of a comfortable season back in the Premiership. Having a range of different strikers and depth in defence and midfield it will be achieving the right balance. What of Edghill, Wiekens,Haaland, Goater, Negouai and Ritchie ,just to mention a few ! I think some will be transferred once manager Kevin Keegan has time to look at his new signings. The other one factor in team selection will be the number of non EU players in the squad. In the Premier League you can only have three in the match squad. I guess there is going to be some shuffling of birth certificates! This may play havoc with my team selections!
First impressions of the World Cup.........
BBC coverage much better than ITV - refereeing so far has been excellent - far better than in UK - Jenson's tackle lead to Denmark's winning goal against Uruguay. Foe adequate ( he made 50 successful passes according to Opta) for Cameroon against Eire. Dunne and Mettomo didn't play.
Sunday-June 2nd
BBC 3 ITV 0 - I keep on checking the TV size control in case there are some hidden subtitles translating Gazza. Terrible display by England against Sweden. Apart from the Campbell header from a Beckham corner England hardly made any chances - where on earth has this long ball game come from - poor old Owen hardly had a look-in. Heskey looked well out of place on the left and there was a distinct lack of creativity in midfield. Sweden, after a poor first half , could have won the game but for some good saves from Seaman. At least at 1-1 we are not out of it yet - roll on Argentina . Made a note to send throat lozenges to Gary Linacre.
Monday - June 3rd
BBC 4 ITV 0
The first dubious refereeing display in the Brazil-Turkey game.The Korean official looked out of his depth and gave Brazil a penalty when the foul was committed yards outside the box. The referees assistant should take some of the blame as he appeared not to communicate this fact to the referee. The assistant was also nearest when we had the first blatant example of cheating. Brazil's Rivaldo when hit on the knee by a ball stupidly kicked at him by Unsal, held his face and went into a grotesque display of agony! I just hope FIFA suspends him to set a standard. Brazil looked pretty good on the whole.
Tuesday- June 4th
Wanchope against Sun Jihai in the game between Costa Rica and China. Sun got fouled three times in the first 20 minutes and had to be substituted after 25 minutes. A poor first half was followed by an attacking display by Costa Rica. It was good to see Wanchope back in action and he played a small part in Costa Rica's first goal by Gomez before being substituted in the 80th minute.
South Korea were really good against Poland and deserved their two goal win. Their supporters were enthusiastic in the extreme, just like the North Stand at Maine Road! They should qualify along with Portugal in group D.
Refereeing was again of a high standard, though there was never a smile from referee Ruiz !
Wednesday - June 5th
A few shocks today - USA beating Portugal 3-2 after being 3-0 ahead. Ireland drew with Germany a last minute Robbie Keane goal giving them a well earned 1-1 draw. Rivaldo was fined a paltry £4500 for his offense on Monday. FIFA should have suspended him for a game. I wonder how much Blatter had to do with this criminal decision.
BBC still well ahead - no sign of Gazza today -perhaps ITV got the message.The BBC discussion, free from those dreadful advertising breaks, has a more natural feel to it whereas the ITV one feels stilted. One can almost feel an unseen producer feeding in the questions!
Thursday - June 6th
Surprise winners over France, Senegal, drew 1-1 with Denmark. I was hoping Jensen would get another outing but he stayed on the subs bench. The referee in this game from Guatemala lost control at times and we had the handbags out on a few occasions. Cameroon had a tight 1-0 win over Saudi Arabia who played much better than the debacle against Germany. Foe, who I expect to sign for City after the World Cup had a great run during the game and he will add a great deal to City's midfield.
An exciting nil nil match between France and Uruguay was well refereed by Rizo of Mexico. Henry got sent off
The Annelka saga has finished so City now have 6 strikers in the squad and I wonder whether Keegan will be tempted into a bid for Matt Holland who has played so well for Ireland. The Foe saga which I thought had been sorted already now has reached the position that his French club have said he is going on a one years loan to City but officially City have denied this. Perhaps Keegan is hedging his bets to see what happens in the World Cup and has other options in mind - Holland for instance
As I mentioned at the top of the page Vuoso has finally passed his medical and completed the transfer to City. If he shows just a little of the skills of Villa or Ossie Ardillas I will be happy. I last bumped into Ossie Ardillas on a visit to film studios in Los Angeles some years ago. His son had a go on the 'ET green screen setup'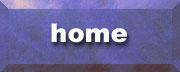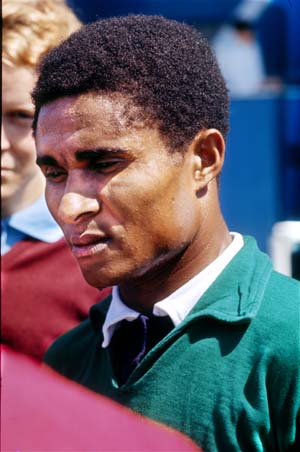 In 1966 I watched a few games at Old Trafford and Goodison Park. At OT Portugal beat Hungary 3-1 and Bulgaria 3-0 and in Liverpool Hungary beat Brazil 3-1 in a magnificent game - Bene and Farkas scoring great goals. Brazil, missing Pele, were outplayed in the second half.
Portugal trained in South Manchester and I took the picture on the left of Eusabio at one of the sessions.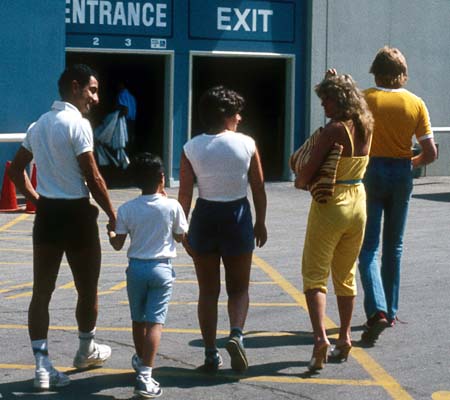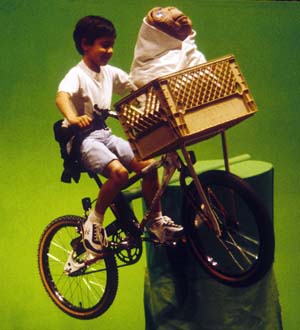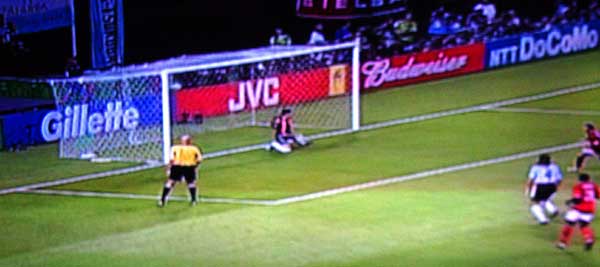 Friday - June 7th
Above is the moment we have waited four years for - a Beckham penalty gives England a 1-0 win over Argentina. A brilliant team display throughout. England might have scored at least two more. The defence came under the cosh in the last 15 minutes but came through it well. England fans were definitely 'sobre la luna' - over the moon. Veron reproduced his United form and was substituted - he looked 'enfermo como loro' - sick as a parrot!. Italian referee Collina was in top form.As was referee Ortube of Bolivia in the match between Sweden and Nigeria. Nigeria lost 1-2 and are now out of the world cup. England should beat them comfortably next week. In the other game Spain won 3-1
Saturday- June 8th
Another major surprise as Italy were beaten 2-1 by Croatia. Referee Poll had a difficult second half and was let down by a linesman whose flag led to 2 disallowed Italian goals - the first offside one being a diabolic decision. The Italians had most of the play and Croatia had only five minutes of magic when they scored twice. Earlier South Africa beat Slovenia in a poor game. Brazil were comfortable winners against China. Sun Jihai did not play -still injured.
Sunday - June 9th
Main interest for City supporters was the Costa Rica Turkey game and the form of Paulo Wanchope. Costa Rica should have won but threw away several good chances . Turkey took the lead and only a late equalizer by Costa Rica kept them in the hunt for qualification. Paulo Wanchope played well and worked hard without having the same chances as his team mates. He did have a hand in the equalizer. The African Linesman made three bad offside decisions which made me wonder if he had done it before. Mexico beat Ecuador 2-1 in a poor game.Japan had a surprising but deserving 1-0 win over Russia, their enthusiasm and speed overwhelming the pedestrian Russians.


Monday - June 10th
No great surprises today. Portugal returned to form to beat a poor Poland 4-0. Tunisia and Belgium drew 1-1 in a poor game and USA also drew 1-1 with hosts South Korea who missed a penalty.


Tuesday June 11th
Niclas Jensen played his part in Denmark's win over World Cup Holders France 2-0. He played the full 90 minutes as part of the strong back four of Denmark that knocked France out of the World Cup. Without a suspended Henry and with Zidane visibly still suffering from his injury France never looked like saving the game. An exciting game between Uruguay and Senegal ended three a piece after Senegal went into a 3-0 lead. Their first goal came as a result of a blatant dive by one of their forwards. Replays showed the keeper had no contact with the forward. What action will FIFA take now I ask as Senegal clearly took an advantage of this latest example of cheating. Ireland secured their place in the last 16 with a 3-0 easy win over Saudi Arabia and will now play Spain in the next round. Richard Dunne has not yet played in any of the games. Perhaps McCarthy is saving him for the next stage! Playing at the same time Germany beat Cameroon 2-0 . This game was noticeable for a world cup record- two red cards and 16 yellows! I don't know how Foe got on but now the Cameroons are out perhaps he will be able to sort out the details of any transfer to City. ITV coverage not so good. I checked out the amount of discussion and ads before the Ireland match and the 8 minutes of talk was matched by 8 minutes of ads with just over a minutes of preview from VT. I understand the Premier fixtures are out tomorrow. Watch this space!
Wednesday June 12th
If England supporters thought the Nigeria game was going to be an easy then they were in for a shock as the much changed African side had the best of the first 20 minutes and the only effort of note in the first half was a Scholes special which was magnificently saved by the young Nigerian keeper. Even Beckham's passing was below par. Star man was Rio Ferdinand who was excellent. A feeble game in hot conditions ended goalless and England went through to the next round to face Denmark in an evening match rather than Senegal in a morning game. Sweden drew with Argentina who like France are now out of the World Cup. Sweden took the lead through a free kick but Argentina's penalty should have been disallowed and retaken as Vespo who scored from the rebound off the keeper clearly entered the penalty area well before the kick was taken. Referees have appeared to abandon the law that prevents anyone but the keeper and the kicker from being inside the penalty area or nearer than ten yards from the ball at the moment the ball is kicked.
In the other games Paraguay beat Slovenia 3-1 to narrowly qualify over South Africa who lost 2-3 to Spain, now one of the favorites. No Premiership fixtures yet.
Thursday June 13th
Paulo Wanchope was back to his best form with a good goal against Brazil and a near miss early in the second half. Pity his defenders were not equal to the task of stopping Brazil score who led 3-1 at the interval. Gomez scored a brilliant header for Costa Rica to make it 3-2. Shortly afterwards Rivaldo made it 4-2 and a minute later Brazil scored again to make it 5-2..Wanchope hit the post late in the game but it was all too late. Turkey had beaten China 3-0 and Costa Rica were out of the World Cup. Italy managed to stay in the Cup thanks to a late equalizer against an excellent Mexican side and the failure of Croatia to beat Equador. One more day of round one before crunch time this weekend for Ireland and England.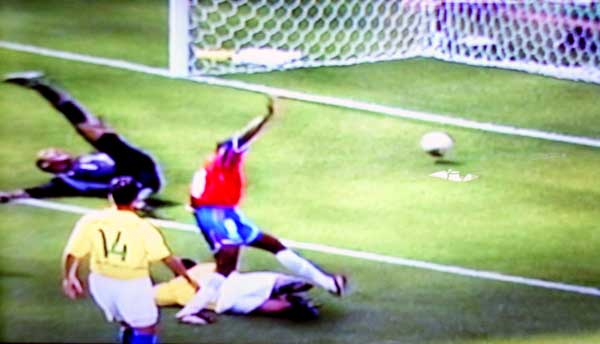 Paulo Wanchope scores against Brazil in the first half to make it 3-1 for Brazil.
With Paulo back to form he will be facing Rio Ferdinand ( unless he is transferred !) as City will play Leeds United on August 17th in the first game on next season - early fixtures below
City back in the Premier League 2003 - early Fixtures
August 17th Leeds United away
August 24th Newcastle United Home
August 28th Aston Villa away
September 10th Arsenal away
September 14th Blackburn Rovers Home
September 21st West Ham United away
September 28th Liverpool Home
other important dates
Man United Home Nov 9th
Away Feb 8th

Friday June 14th
The final qualifying games were played today with wins for Japan and Belgium . Japan had a comfortable win over Tunisia 2-0 and Belgium knocked out Russia out of the World Cup by winning 3-2 in a better game. In the evening games the Koreans had a goal disallowed after a 'Nat Lofthouse type foul' on the keeper. The Portuguese were down to ten men after Pinto was sent off for an awful jump tackle with studs showing after 25 minutes.A second Portugal player - Beto was sent off for a second yellow card after 65 minutes and a few minutes later Korea took the lead through good skill from Park. As Poland were beating the USA 3-0, Portugal needed to attack at all costs otherwise they would be out of the cup. An exciting end with misses at both ends finished with South Korea winning 1-0 and qualifying with the USA ( who lost 3-1 ) whilst Portugal and Poland go out. Portugal must be kicking themselves. Refereeing is still of a high standard with poor decisions being rare. Sunday is another D-day -England versus Denmark . It's going to be tough but I understand the Danes have some key players doubtful.
Saturday June 15th
Germany and Paraguay was the first game in the knockout section and first impression was of a poor crowd. The stadium in Korea was only half full and the ticket chaos goes on. Buck passing is rife at the moment with everybody blaming everybody else.
I had not noticed before how long the Paraguayan shorts were. They came down to the knees! In the game itself there was little continuity with only one good save from Oliver Kahn (celebrating his 33 rd birthday) one of the few highlights of the first 45 minutes. Generally a poor first half with plenty of whistle and little football. The second half started with a couple of chances for both sides before settling into a similar pattern as the first. Just when it looked as though we were going to have extra time and penalties a great goal by Neuville direct from a cross by Schneider won it for Germany who move into the last eight. A game best forgotten.
England were unchanged for the clash with Denmark for whom Niclas Jensen played at left back. Alas it was his mistake that gave England's third goal. The early strike followed a Beckham corner. Sorenson made a mess of a header from Ferdinand at the far post and put it over the line for an own goal. Owen scored the second from close range after a flick from Butt and Heskey scored a third following the Jensen error though Sorenson should have saved the shot. Mills got booked early in the second half for a stupid reaction after he was fouled. When will he learn? The second half was an anticlimax with England 3-0 up. The Danes had more of the play but rarely looked like scoring. England were a bit sloppy at times in the second half but generally were the better side and 'looked up for the game' whereas the Danes were very nervous. Now we are likely to meet Brazil in the quarter final next Friday.
Sunday June 16th
The Swedes took an early lead against Senegal through a header from Larsson of Celtic. Senegal had a goal disallowed on a narrow offside decision and a penalty appeal turned down but a good goal by Camara after 36 minutes after sustained pressure brought about a well earned equaliser. Sweden had to defend strongly to stay level and after 90 minutes the score remained 1-1 to give us the first bout of extra time. With 13 minutes gone of the first half of extra time Senegal scored the golden goal through Camara who beat a couple of defenders and the keeper from the edge of the penalty area.
In the later game after early Irish pressure Morientes gave Spain the lead with a good glancing header after 8 minutes. A series of tight offsides against the Spanish forwards preventing Spain from adding to their lead though Robbie Keane did have a difficult chance near half time. After 65 minutes Ian Harte missed a penalty after Duff was brought down. It was a poor penalty by the Leeds player. I can remember the time forwards avoided the trailing foot. Now if it's anywhere near or in the box over they go with a few extra rolls as well for good measure. Not that on this occasion there was any doubt about the penalty awarded by referee Fisk of Sweden who was on the ball to keep up the high standard of refereeing - well above the Premiership standard. With one minute to go there was a sensation . Hierro grabbed Quinn's shirt in the area at a free kick and the referee bravely awarded a second penalty which Dunne stuck away to equalise. 34 year old Real Madrid defender Hierro who is rated top defender in the Opta ratings must have had a brainstorm or did he think he could get away with it. Spain now without their two best forwards - both substituted, faced the golden goal extra time. The first half of extra time was dominated by Ireland. As the minutes ticked away the tension became unbearable as first Irelend then Spain had half chances but we ended up 1-1 and a penalty shoot out. Robbie Keane scored the first, followed by Hierro to make it 1-1. Matt Holland shot over the bar and Baraja scored to put Spain 2-1 up. Connelly ,number 13 had his shot saved and Juanfran then missed - 1-2. Kilbane had his shot saved and then Valeron missed too still 1-2. Finnan scored to make it 2-2 and Manietta scored with the final penalty and Spain go though 3-2 on penalties. Lucky old Spain.
Monday June 17th
Mexico put early pressure on the USA in the first game of the day but they had a shock when McBride scored an excellent goal after 8 minutes. At half time the USA were still ahead and the fancied Mexico were getting nowhere. They pressed again in the early stages of the second period but after 65 minutes a great cross from Stewart was finished by a brilliant header from young Donovan to put the States two up. Ferdandez got booked for a blatant dive in the penalty area by the referee from Portugal and later the Mexicans were reduced to ten men when Marquez was sent off for a second bookable foul. Mexico had really lost the plot and never played as well as they had done in previous games. The USA now play Germany in the quarter final .
One annoying 'feature' of this world cup is the way they show the teams in player squad numerical order rather in team formation which would be of greater interest to the viewer and it would not be the greatest technical feat in the world for the BBC graphics department to superimpose the team in formation over the top of the incoming video feed from the Far East. Perhaps there are contractual reasons why they can't do it.
The battle between Englands next opponents - Belgium and Brazil was pretty even in the early stages. Belgium were certainly playing above expectations and had a goal by Wilmots unluckily disallowed for pushing. Later the Belgium keeper made a great save at the feet of Ronaldo.At half time it was goalless. Belgium continued to impress and Wilmot has two good efforts saved Then after 67 minutes a brilliant goal by Rivaldo which had a slight deflection gave Brazil an undeserved lead. Could the deflated Belgians fight back. With only a minute or so to go Ronaldo scored from a breakaway to clinch it for Brazil who will now play England in the quarter final.
This is the lineup from the programme of the game in the qualifying stage of the 1958 World Cup. Against a strong Brazilian side (just before Pele's debut) England held Brazil in Gothenborg to a goalless draw in a superb tactical display put together by Bill Nicholson and Walter Winterbothom the England manager. Incidentally Walter, who died recently was in many respects very similar to Sven Erikkson. He was quietly spoken, tactically aware and a gentleman.
Note that Don Howe (West Brom) was at right back with Billy Wright (Wolves) at centre half. Bobby Robson (West Brom) and Johnny Haynes ( Fulham) were the inside forwards.
Tuesday June 18th
The day when the host nations try to make that extra step towards the last 8 . The early game between Japan and Turkey did not reach great heights and an early goal by Davala - unmarked at a corner - gave Turkey the lead which they held to half time .Japan had a fair amount of the play but in the pouring rain could not give the Turkish keeper a great deal to worry about. Their final pass invariably went astray. In the end Turkey held onto their one goal lead and co host Japan went out of the World Cup. Turkey now play Senegal in Osaka with the winners playing the winner of the England - Brazil game.
The stadium in Daejeon in Korea where South Korea took on the might of Italy to reach the last 8 of the World Cup.
You may have wondered why all the kids coming out with the players are wearing Watford's colours -yellow and red. No its not cos they are all fans of Elton John . It so happens Toshiba are sponsors of Watford and are one of the co-sponsors of the World Cup.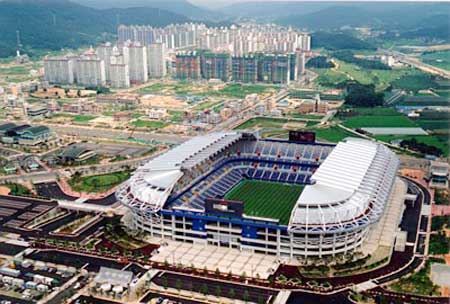 In the first few minutes of the game Panucci grabbed a Korean forwards shirt at a corner and referee Moreno awarded a penalty which Buffon brilliantly saved at the foot of the post from Ahn. It should have been retaken as there were the 'usual suspects' in the area at the time of the kick! Italy took the lead through Vieri from a corner after 18 minutes. Could the massive Korean support help their side recover from this early blow. The stadium was a mass of red with constant drumming and cheering. Clever play by Ahn made another half chance for Korea after 36 minutes and this was quickly followed by a Totti effort that was well saved by Lee Woon-Jae. At half time it was still 1-0 for Italy. In the second half , the Italians were content to sit back and let the Koreans come on to them. The Italians were limited to the odd breakaway and with just a minute or so to go Seol Ki-Hyeon equalized with his left foot after an Italian defender's mistake. Good job there was not a roof on the stadium because the noise from the crowd would have blown it off. 1-1 at the final whistle and extra time. What an effort by South Korea. After 11 min of extra time Maldini gave away a free kick at the edge of the area. The Korean player guessing that the Italian players would jump at the free kick kept it low. It went underneath the Italian wall and Buffon had to make a great save. A minute later Totti was sent off for diving! It was his second yellow card. The referee was quite right and the Italians have only themselves to blame. With 20 minutes of extra time gone there were escapes at both ends - a miss by the Koreans and a brilliant save by the Korean keeper after a defensive blunder. Then after 25 minutes and 55 seconds a wonderful header by Ahn Jung Hwan who missed the penalty, beat Buffon to score the golden goal to send Korea into the last 8 to play Spain and I would not bet against them beating Spain and perhaps Germany to get into the final!How wonderful for the host country. I personally had first hand experience of the Korean side in 1956 when I officiated at two of their Asian Cup games - against China and Israel and I realized then they were always to be a hard side to beat. Their enthusiasm ,skill, speed and general work rate is second to none. Now they have someone to organize them in Dutch coach Hiddink it will take a good side to beat them - England in the Final?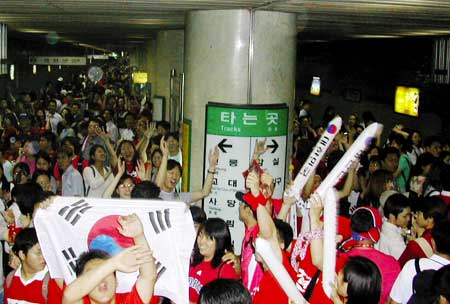 This has just come in from Korea showing fans celebrating in the tube in Seoul. I am indebted to David Smith working for the BBC for the pictures. His normal tube journey from the Broadcasting centre to his hotel was slightly busier than usual!
The fans are more subdued watching the Japan Turkey game
Friday June 21st
Well todays the day. England versus Brazil and my season ticket for Maine Road arrived! Is that a good omen.The winners likely to be the winners of the World Cup. Big game for the referee Rizo from Mexico who has already dished out three red cards. Brazil are in blue - not City blue I hasten to add and England in white. After an early England corner the game settled down to midfield exchanges. After 13 minutes a free kick by Carlos was deflected for a corner to put England under pressure. Ronaldo had a shot easily saved by Seaman after 19 minutes and Brazil were having more of the play. Then after 22 minutes OWEN scored after a breakaway. An error by Lucia let in Owen who made no mistake. The original pass came from Heskey . Brazil were beginning get rattled and gave away several free kicks in midfield. Heskey is playing well and is difficult to shift off the ball. The odd Brazilian attack is well defended but after 42 minutes Seaman is injured catching the ball in a group of players. He required several minutes of treatment giving four minutes of extra time in the first half. Alas In the extra time Scholes lost it in midfield and Ronaldinho went through the defence passed to Rivaldo who side footed with his left foot past Seaman to make it 1-1.
We learnt that once again the attendance was several thousand below the maximum. After 49 minutes there was a tragic error by Seaman A free kick ,some way from goal taken by Ronaldinho sailed towards the England goal. With everybody expecting a centre to the waiting players Seaman completely misjudged it and it went in over his head. Was he still suffering from his injury? 2-1 to Brazil. After 56 minutes Dyer came on for Sinclair. After 57 minutes the referee sent Ronaldinho off for stamping on Mill's foot. Amazing! Mind you this is the same referee that sent off Henry of France. Brazil are now down to ten men. I must say it was a harsh decision. Surely yellow would have been sufficient. After 70 minutes Ronaldo was substituted by Edilson and fter 80 minutes Sheringham and Vassel came on for Cole and Owen. Time was running out and England though a man in hand were not making much progress. Balls banged forward were more in hope than anything positive and there was little to lift England supporters. A minute to go and a Beckham corner came to naught. Four minutes extra time. Could England equalize? I am afraid not. The England midfield failed to give support to the two up front with both Butt and Scholes having poor games for once, their creative skills well below par. Well England are out and barring a miracle Brazil will go on to win the World Cup.
The second game between USA and Germany wasa bit of an anti-climax after the events of earlier. Oliver Kahn had to make a couple of good saves in the opening 20 minutes but after 38 minutes Germany took the lead through a good header from Ballack following a free kick by Zeige on the right wing. Shortly afterwards Klose hit the post. USA were unlucky early in the second half when a hand ball on the line by a German defender was missed by Scottish referee Dallas. USA continued to press but just could not beat Kahn. So lucky Germany go through to the Semi's.

Saturday June 22nd
The first half of the quarter-final between Spain and South Korea ended goalless, Spain certainly having the better of the half with Korean keeper Lee Woon Jae being the busiest of the keepers. After 26 minutes a header from Morientes was well saved by the keeper who needed the post to help him complete the catch. Hierro narrowly headed over just before half time at a corner. At the start of the second half the Spaniards had a goal disallowed and severe pressure was put on the Korean goal. The Koreans defended well but rarely troubled Spain. So we went into extra time with the Koreans putting on more forwards to take the game to Spain. Hong missed a good chance for Korea and the Spaniards looked to be unlucky earlier when a cross which was headed into the net was deemed to have crossed the line - doubtful. As the game wore on both teams were tiring and it looked as though penalties were going to decide the result.It ended 0-0 after 120 minutes. Now it was penalties and it quick succession it was 3-3 with Hwang Sung Hong, Park Ji-Sung and Seol Ki-Hyeon scoring for Korea and Hierro, Baraja and Xavi netting for Spain. Ahn Jung-Hwan made it 4-3 and it was now the turn of youngster Joaquin. He had his shot saved by the keeper though the keeper moved well before the kick was taken. So what's new! Hong Hyung- Bo wacked the ball into the net and it was 5-3 for Korea and a sensational win for the host nation. They fully deserved it for their attacking approach to the game and never say die spirit. Their manager has done a wonderful job .
On the left in the stadium in Gwangui where South Korea won through to the last 4 in the World Cup. They now play Germany next Tuesday and they really have a good chance to reach the final. Their fitness and character are second to none and Germany will be worried.
In the second game between Turkey and Senegal it was 0-0 at full time after chances were missed at both ends. It was an open entertaining game which the Turks won with a 'golden goal' in extra time by Mansiz.
Tuesday June 25th
Korea against Germany in Seoul ( Stadium on the right) in the first of the 2002 World Cup Finals - who would have thought it a few months ago. First blood went to Korea after 8 minutes when a break by the Koreans left Kahn to make a great save and 8 minutes later another break was saved by Kahn. Germany were probably having a greater percentage of the play but the speed of the Korean breaks were giving Germany problems.Just before half time Germany pressurized the Korean goal but at the interval it was still goalless. After 72 minutes a Korean breakaway should have ended in a score but Ballack brought down the Korean forward on the edge of the box earning himself a yellow card. The resultant free kick was blocked. A minute later the Germans broke and Ballack scored after the keeper had saved his first shot. What irony - if Germany get through to the final, Ballack will be suspended! 1-0 to Germany. Korea did their best to equalize but after 4 minutes of extra time Germany survived and they go (without Ballack) through to their 7th World Cup Final, even though this must be the worst German side for years.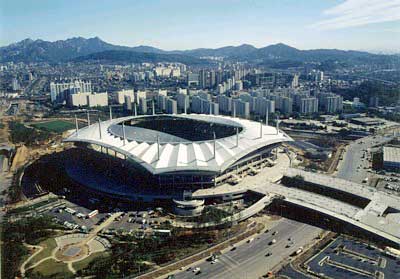 Wednesday June 26th
In the first 20 minutes of the second semifinal there were near escapes at both ends with both keepers making good saves. Turkey were certainly not going to be outplayed by Brazil and gave as good as they got. On 23 minutes Ronaldo had a good chance which the keeper blocked and it appeared Brazil were raising the tempo a little. At half time it was still 0-0.
The deadlock was broken with a brilliant goal by Ronaldo after 49 minutes. He toe-ended the ball from the edge of the box to give Brazil the lead after beating a few defenders. Brazil continued to make chances but spurned them all. Ronaldo was substituted after 68 minutes presumably to give him more rest before the Final on Sunday. The Brazilians continued to torture the Turkish defence with raid after raid. The danger was there still if the Turks managed to equalize. However at the final whistle Brazil had held onto their lead and now play Germany in the Final. For once there were no contentious decisions though the television coverage left a lot to be desired. The TV director once again missed some of the action.
Saturday June 29th
Plenty of goals in this match for the third and fourth places taking place in Daegu ( on right) and a sensational start with a goal in 10 seconds by Sukur after a defensive error. Korea were soon level when Lee Eul-Yung scored from a free kick after 9 minutes. However Mansiz scored two before half time to give the Turks a 3-1 lead. Alas there was abysmal coverage by ITV with a failure to replay all the goals at half time - filled with ads and a competition. How Des Lynham can stick it out is amazing - must be the money!
The Koreans piled on the pressure early in the second half but Rustu was rarely troubled. The Koreans were unable to raise their game though they had the Turkish goal under siege at times. As the minutes ticked away how the Koreans must have regretted that early error by the central defender that gave the Turks that bonus lead.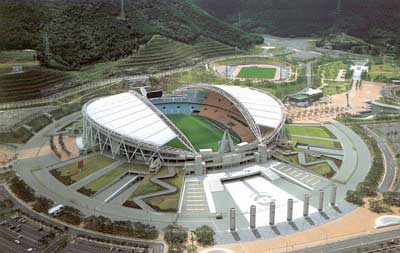 In extra time Song pulled one back for Korea from long range with the aid of a deflection to make it 3-2 for Turkey and the bronze medal. The Turks deserved to win this open enjoyable game but full marks to the effervescent Koreans for their unstinted effort throughout the tournament. As for the Turks they are going to make life difficult for England who are in their group in the up and coming European championships. The ITV again failed to deliver in their aftermatch piece. They once again failed to show all the goals, giving up the available time to showing us some of their commentators attempting to play football and a preview of tomorrow's final. In their favor they did show a small piece covering world cup players who will be playing in the Premiership next season ( including Foe ). However this sort of thing would be best shown in a world cup roundup programme after it finishes. Anyway I for one will NOT be watching ITV tomorrow and because of the disgraceful conduct of Carlton and Grenada TV in refusing to pay up after the demise of ITV digital I will rarely be watching ITV at all.
Sunday June 30th
World Cup Final day - Germany v Brazil - the three R's versus Kahn. Within the first ten minutes two players had received yellow cards from Italian referee Collina - both a bit harsh I thought . Words would have been sufficient. Germany were certainly not defending all the time and gave the Brazilian defence plenty to think about. After 18 minutes a break by the Brazilians let in Ronaldo who missed from close range as Kahn spread himself. Twelve minutes later Ronaldo had a half chance but Oliver Kahn once again frustrated him. Just before half time Kleberson beat Kahn after a good move but hit the bar and then with almost the last kick of the half a Carlos pass ended with a great save by his feet by Kahn off Ronaldo . No score at half time. Two minutes into the second half Neuville hit the post with a terrific free kick It looked as though Marcos just got a hand to it to save Brazil. After 67 minutes Kahn who had been magnificent, made a blunder. A shot from Rivaldo was not held by the German keeper and Ronaldo, following up, scored his 7th goal in 7 games to be favourite for the golden boot. One nil to Brazil.
Seventy nine minutes and a brilliant stepover by Rivaldo let in Ronaldo who made it safe for Brazil. He has now equaled Pele's record for World Cup goals. Two nil with nine minutes to go. They thought it was all over at one nil - it is now! Marcos saved well from substitute Bierhoff a few minutes later but Germany were not having much luck in front of goal. It ended two nil with Brazil the winners of the 2002 World Cup. The best side in the tournament won thank goodness. I have seen much better football in previous world cups but this one had so much added interest with the emergence of teams from Asia and Africa and of course the inclusion of so many players from the Premiership and Nationwide leagues in so many competing countries.