The best International team ever will always be a source of discussion but here is my choice
I was fortunate to visit Stockholm in 1958 to see the World Cup, and saw Sweden beat Russia 2-0 and Brazil wallop France 5-2 ( Pele scoring a hat -trick ) before the final in which Sweden were well beaten by the Brazilians by 5-2 - Pele and Vava scoring two each with left winger Zagallo the fifth..Leidholm and Simonsson replying for the Sweden. I shall not forget the trip over in a hurry for more than football reasons - the ferry from Harwich to Gothenburg went through some really rough weather in the North Sea and never have I been so glad to get back to terra firma.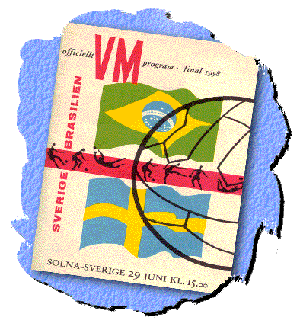 Brazil's form in the semi and final was tremendous and the forward line of Garrincha, Didi, Vava, Pele and Zagallo would have taken some stopping - even today. England to their credit had taken Brazil to a nil nil draw in an earlier round. Though I only watched the game on TV ( England were based in Gothenburg ) I can remember Colin McDonald of Burnley making several wonderful saves. Bobby Robson and Don Howe played in this match while Billy Wright marshalled the defence against the weakened Brazil side without Pele and Garrincha.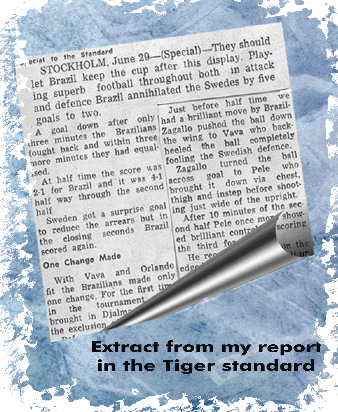 The Brazil side was as follows -
Gylmar:
D. Santos, N. Santos
Zito, Bellini, Orlando
Garrincha, Didi, Vava, Pele, Zagallo
Pele was only 17 years old at the time

I was writing for the Hong Kong Tiger Standard at the time