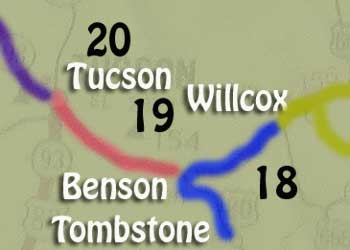 After starting the day in Willcox I spent a short time in the Cochise Stronghold area looking for Cochise but never found him! Then it was a drive to Benson and a motel before moving onto Tombstone.
Tombstone was founded in 1877 by a prospector called Ed Schieffelin who found silver in the area. It soon became a 'boom town' said to be too tough to die. By 1880 the population has risen from 100 to 3000 and in the 1890's it reached 15,000.
There is plenty going on in tourist Tombstone now and I spent a happy hour or so recording some fun gun antics at one of the shows in the town but didn't have time for a ride in a stage coach!















Part 1