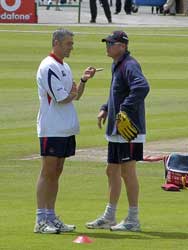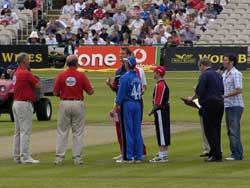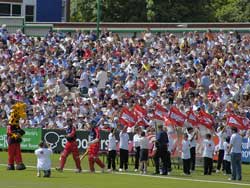 A packed Old Trafford - over 11,000 - witnessed another home victory in the twenty 20 cup competition. Lancashire need just one more win to take them into the quarter finals. It was the first time I had watched this brand of cricket and it was non stop action from first ball to last so its no wonder it has become so popular. If it creates more interest in the game from non cricket lovers then it will have succeeded. From overheard conversations there were quite a few people there completely new to the game. For the technically minded a Sigma 18-200mm zoom was used on a Nikon d70 set at 640 iso. Click on an image for a bigger pic.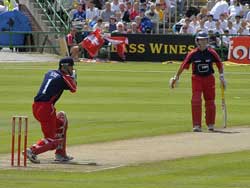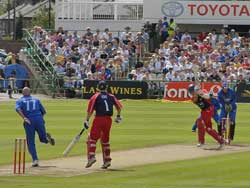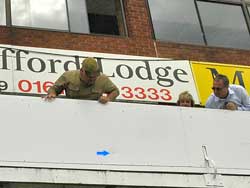 Lancashire v Durham Twenty 20 Cup July 3rd Old Trafford
Manager Mike Watkinson makes a point
Skipper Chilton wins the toss for Lancashire who decide to bat first
The Lancashire openers enter the arena
Law out for 0 - about to be stumped by Mustard.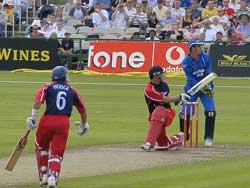 Loye reaches his 50 in 29 balls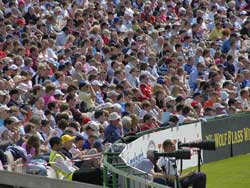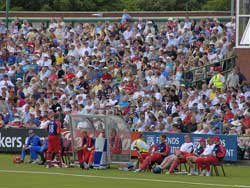 The crowd enjoying the Lancs batting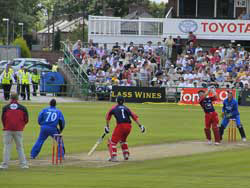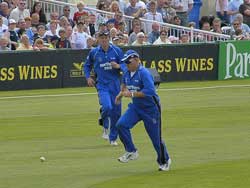 Loye mishits Breese and skies the ball but he is dropped in the deep by Killeen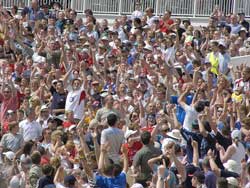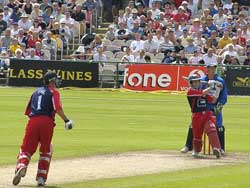 Hodge pulls a six off Breese into the stand
Spot the ball from the six hit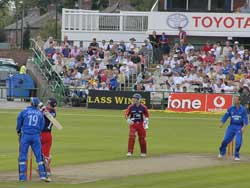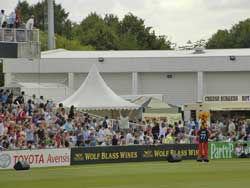 Yet another six from Mal Loye
landed on the Metrolink so is probably en route south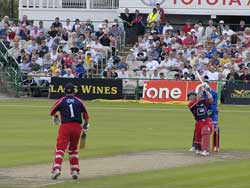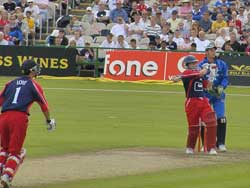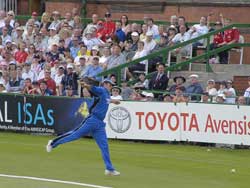 Hodge hits a huge hit for six off Breese putting the Red Rose Suite in danger as the ball went over my head and hit the metalwork - arrowed. Lancashire were now past the 150 mark for the loss of only one wicket after only 14 overs.
Hodge again hits a six this time just over the fielder Gary Pratt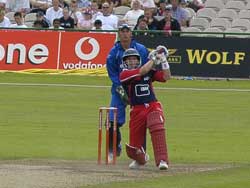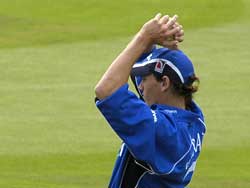 Hodge is out caught on the boundary by Pratt off Breese for 68. Lancs 2 for 169 off 16 overs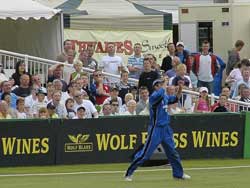 Muchall catches Cork for 9 on the boundary soon after.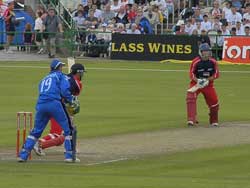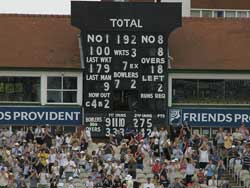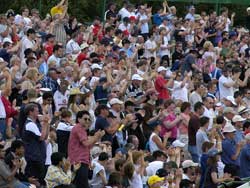 Mal Loye hits an easy single to reach his century off 53 balls in the 19th over. He hit 5 x 6's and 10 x 4's.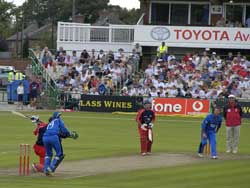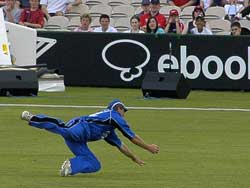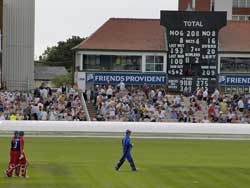 Loye gets brilliantly caught in the deep by Benkenstein for 100
End of the Lancashire innings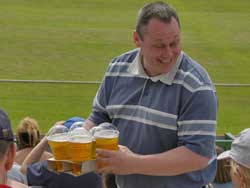 A short break for refreshment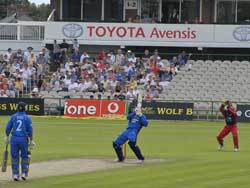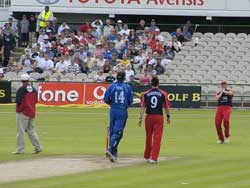 Peng misses a short ball from Cork
Peng is caught by Chapple off Anderson for a quick 20 off 14 balls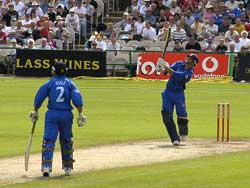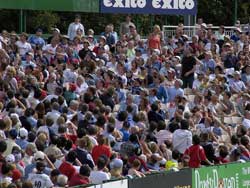 Astle hits a six off Chapple over the stand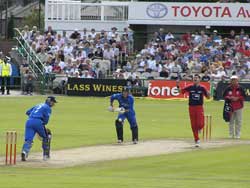 Anderson almost gets Astle out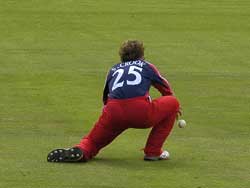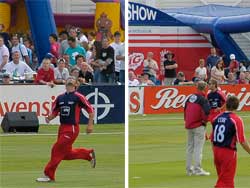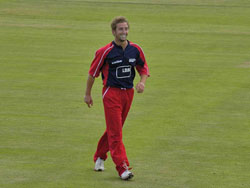 Steven Crook having hit two six's at the end of the Lancashire innings proceeded to drop a couple of catches in the deep and he took the mild barracking from the stands in good part. As one wag shouted ..
" I'll not ask for your autograph -you'll probably drop the pen!"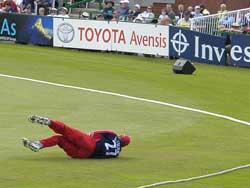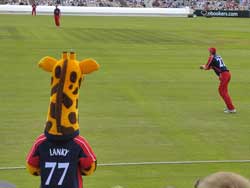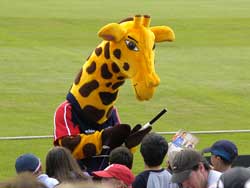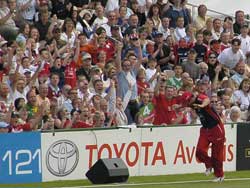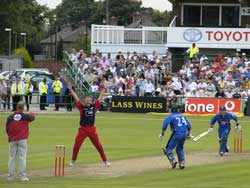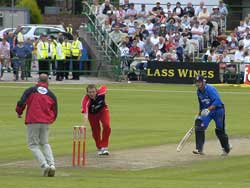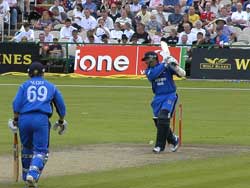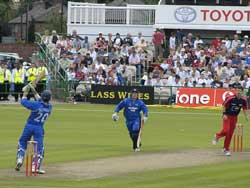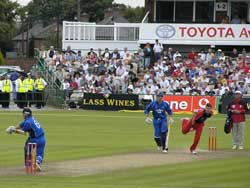 The other Crook in the Lancashire side, Andrew made up for his namesake's errors by a brilliant diving stop and a catch to get rid of Astle for 55. Lanky celebrated by signing bat
To the delight of the crowd Loye catches Benkenstein on the boundary
Cork runs out Muchall for 45
Breese is bowled by Cork for 9
Despite a last ditch effort by Plunkett and Scott, Durham ran out of overs and ended 37 runs short at 171 for 7 wickets