City v Sunderland 4-2
August 23rd 2000 att 34,410
After the dreadful 4 nil defeat at Charlton in their first game of the new season City came back with a wonderful display of attacking football. A hat-trick by new boy Paulo Wanchope and one from Alfie Haaland gave City their first points of the season. Two up at half time many City supporters had to pinch themselves to check it was not just a dream ! They were brought back to earth with a bump when a typical Quinn header - now that brought back some memories - and a cracking goal by Phillips changed the dream into a possible nightmare. However the new City team were not going to be content with a point and two late goals by Wanchope brought great jubilation to the terraces -the blue ones. The attendance of 34,410 was the highest for several years.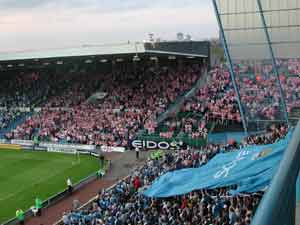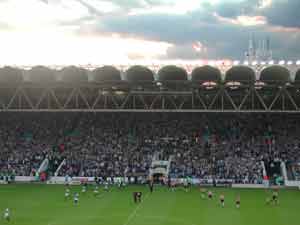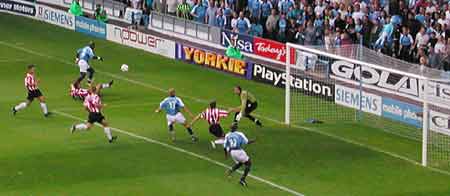 George Weah crosses for Wanchope to control and score easily to put City one up after 3 minutes. On the right Wanchope runs to the Kippax to celebrate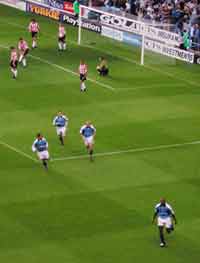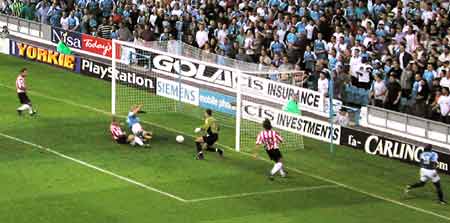 A ball out of defence by Prior to Weah who ran into space and passed to Paulo Wanchope who ran to the line and put a killer ball across for Alfie Haaland to slide home to make it two nil after 23 minutes.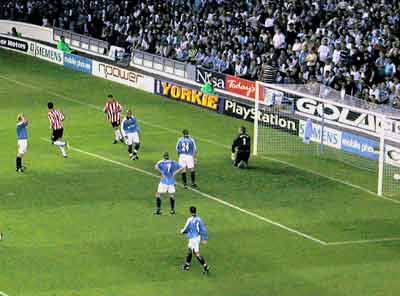 After being outplayed in the first half Sunderland the visitors decided that enough was enough and a deep cross from the right found Quinn unmarked and he easily headed past Weaver to make it 2-1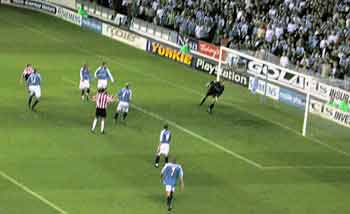 It was soon to be 2-2 when Wiekens' partial clearance went to a Sunderland player who returned it to the middle where Phillips had time to control the ball and smash it into the roof of the net . City defenders were slow to see the danger and failed to close him down. The dream of the first half was rapidly turning into a nightmare as Sunderland smelt victory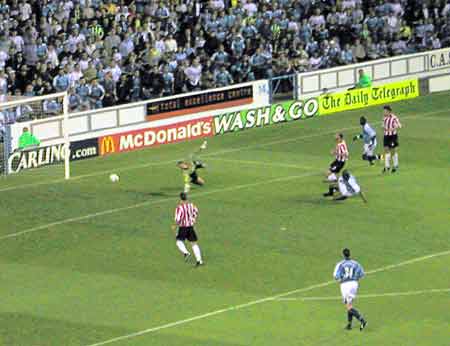 City were not finished though. A long hopeful ball from Edghill found Wanchope and an interchange with Weah gave Wanchope a half chance he took gleefully to make it 3-2- (on the left)
Shortly afterwards Wanchope again interchanged with Haagland this time to complete his hat-trick and gave City a 4-2 lead.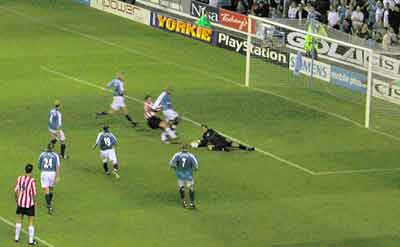 Weaver did not have much to do but here he saves at the feet of Hutchinson. This episode ended with Edghill and Hutchinson having a handbags at ten feet battle. David Elleray gave them both fifty lines , which was I suppose better than yellow or red cards!
Weaver, Edghill, Tiatto, Prior, Howey, Horlock, Wiekens, Haaland, Wanchope, Weah, Kennedy
City v Coventry City 1-2
August 26th 2000 att 34,140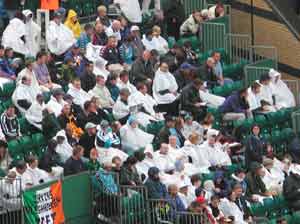 No, not a Ku Klux Klan outing but a rainy day at Maine Road meant a wetting for the open stand at the old scoreboard corner. I don't remember City giving me white raincoats when I used to stand in the old Kippax on wet days!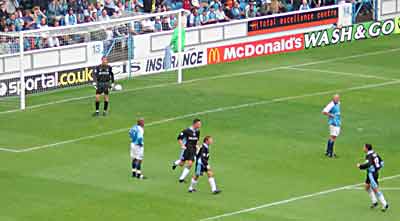 Richard Edghills worst nightmare after 23 minutes when his attempted header back to Weaver sailed into the City goal to give Coventry an undeserved lead
George Weah's silver boots could not do the trick this time as his shot is brilliantly saved by Hedman.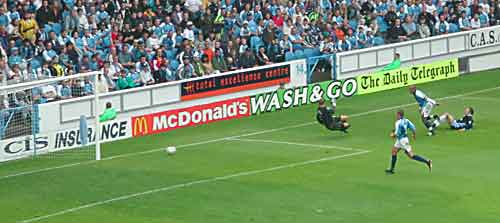 Almost on half time Coventry went two up when Bellamy broke away down the right beat the covering Edghill and shot between Weavers legs from a narrow angle.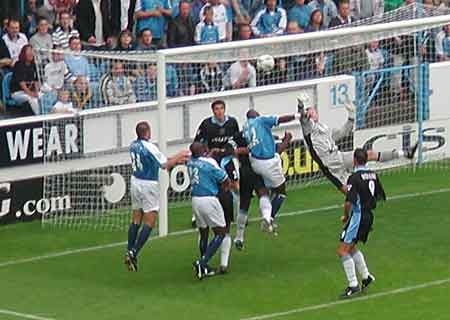 Edghill had been replaced by Grant for the second half, Haaland dropping back Coventry packed their midfield and City found it hard to make progress, here Hedman again clearing from underneath his bar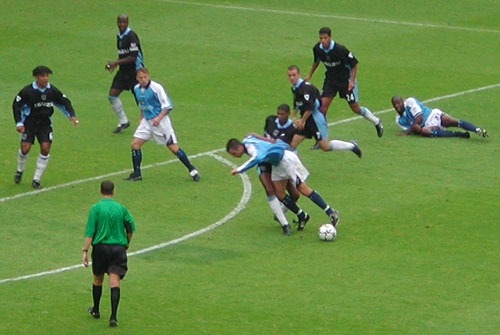 Here Horlock is trying to force a way through watched by Weah and Dickov -who replaced an ineffective Kennedy.
At last City got some reward for their efforts with a goal by Kevin Horlock on the left of the picture. Hedman had saved from Wanchope and the ball ended up with Horlock scoring from close range. Coventry hung on to get all three points. With away games at Liverpool and Leeds to come shortly , more defensive signings and a creative midfielder to give Weah and Wanchope more options is rapidly becoming a priority for Joe Royle.
City v Middlesborough 1-1
Sept 17th 2000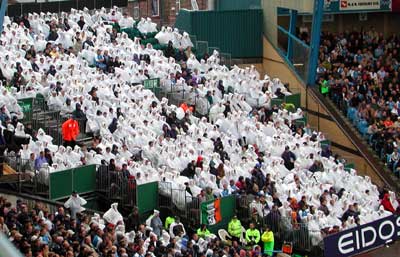 The weather once more brought out the 'Ku Klux Klan' gang to the Middlesborough home game the first half of which must rank with one of the poorest ever seen in the Premiership. It was on Sky of course. serves 'em right !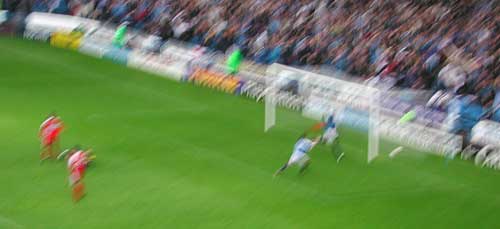 Ten minutes into the second half and a corner taken on the right by Campbell was headed past Weaver by Gianluca Festa. Festa had a free header as Wanchope was too slow/lazy to mark the defender. It also looks as though Job held back Haaland despite the full view of referee Lodge.
One nil to Middlesborough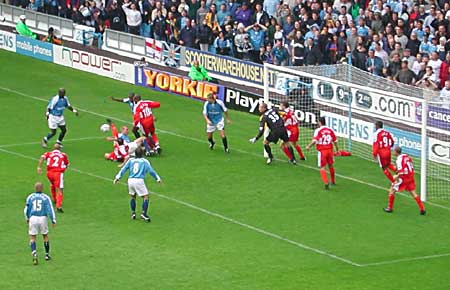 Shortly afterwards Bishop came on for Horlock to try and improve the passing and Middlesborough goal came under lots of pressure.
A long free kick by Haaland found Tiatto whose precise lob caught the Middlesborough defence napping and Paulo Wanchope stole in to beat Walsh.
Sorry the picture is blurred. I was panning the camera following the action and pressed the button a fraction too soon ! ooops !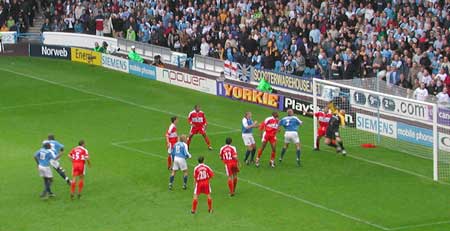 City piled on the pressure - a good save by Walsh from Wanchope - but Middlesborough held out and yet another two home points went a begging!
City v Gillingham 1-1
Sept 20th 2000 att.17,408
Worthington Cup
Paulo Wanchope practices his long jump technique jumping over Gillingham keeper Bartram in an early City attack
Below a corner on the right was won by Hope and Weavers eventual save was hammered into the City net by Paul Smith the Gillingham skipper. One nil to Gillingham -not quite what the watching 17,400 were expecting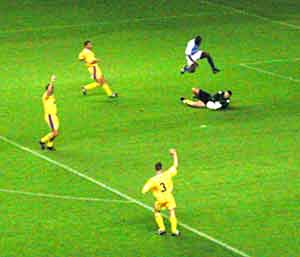 With only 7 minutes to go City equalized. Kennedy's great ball inside the full back to Haaland and resultant cross put Gillingham in trouble and the half clearance was snapped up by George Weah seen above just about to hammer the ball home.
Not the best of displays by City but at least they go to the second leg on level terms.
City v Newcastle United 0-1
Sept 30th 2000 att. 34,497

A packed Maine Road saw the return of Tommy Wright for the injured Weaver in goal and what a return ! Save after save made him man of the match .
This was his first from a header from Shearer.
... and yet another from Garry Speed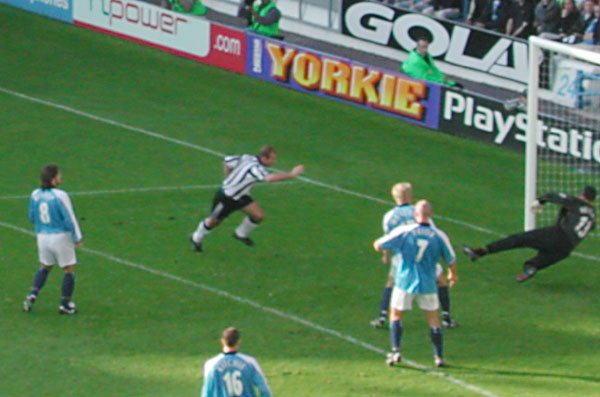 With 16 minutes to go Newcastle's two subs, new signing Lua-Lua and Solano made progress on the right and a cross from Peruvian Solano found an unmarked Shearer whose header from close range gave Tommy Wright no chance.
A listless City had little to offer. Wanchope had a couple of half chances and Kennedy missed a good chance but a lack of creativity in midfield is going to cost City dear. Haaland is wasted at right back and we badly need a good FAST attacking fullback on the right.
Other than the form of Wright there was little to lift the supporters.
City v Bradford City 2-0
Oct 14th 2000 att. 34,229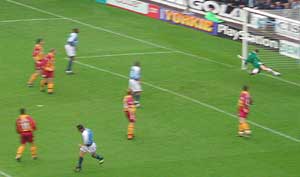 Weaver had barely a save to make as City easily beat Bradford two nil.
On the left Dickov wheels away after hitting a volley past the Bradford keeper for the first.
Below a Haaland freekick just outside the area is deflected into the corner for the second.

Season summary at bottom of page
season post-mortem 2000 - 2001
I was just about to start on the summary when the news came through about Joe Royles sacking from Maine Road and within days came news of Kevin Keegans decision to become the next manager of City. After the disappointments of this season at least we can look forward to more attacking football by City next season. So what went wrong. Twelve home defeats tells the story. A lack of confidence, fitness , creativity and poor buys and questionable team selection were factors in a depressing season. Ok so the football was generally better than the first division and City had their fair share of bad luck but you have to make your luck and on too many occasions City were pedestrian and lacked passion. They lacked a dominating and inspiring captain.
The passing and running off the ball was well below the standard expected in the Premier league.
Some of the individual performances were well below par. We had high hopes of Weaver in goal but his weight appeared to increase as the quality of his distribution and judgment decreased. Little effort appeared to be made to improve his distribution. No doubt a factor in the sacking of Stepney.
Charvet rarely played with any interest in the game and he always looked as though he was playing in a suit ! Pryor showed a lack of pace and made too many errors. Haaland started with great gusto but fell away badly. Whitely tried hard with plenty of effort but rarely showed any creativity or finishing power in the final third. Wiekens was just average and not upto Premiership standard. Horlock missed half the season through injury. Kennedy rarely reached his potential against the better defenders and he missed a dozen or so games through injury. Shaun Wright-Phillips showed lots of enthusiasm and effort and may improve under Keegan as will Dunfield who showed some neat touches in his debut against Chelsea. Dunne and Howey played pretty well in defence though I wish they were a little more mobile. Granville was about average and often linked quite well with Tiatto who once again was City's most reliable player. Danny T's enthusiasm, speed and never-say-die attitude made him City's best player on many occasions but it also got him into trouble - he was sent off twice and collected nine cautions. One yellow card more than Wanchope who kept up his reputation for being the most booked and most caught offside forward in the Premiership. One wonders what efforts were made to get him out of these bad habits. Wanchope is certainly an enigma. He needs the right players around him to get the best out of him and it will be interesting to see if Keegan keeps him. Goater as expected was not the prolific goal scorer we had hoped for in the Premiership. He tried hard but often lacked support and Royle never quite achieved the right blend of attacking players to create enough chances to cause the opposition problems except on a couple of occasions.
Though Paul Dickov was full of energy when he played (he was out with injury for a while) he never was able to really trouble opposing defenders. The signing of Huckerby brought a bit of speed into the attack but after a short run of games he too was sidelined. The loan spells of Kanchelskis and Ostenstad from Rangers and Blackburn to bring some life to the forward line failed to save City. One of the few midfielders with passing ability, Bishop, had few chances to shine and City let him go on a free transfer after Christmas. How City needed a younger Bishop. Grant had limited chances to show his passing abilities so it became painfully obvious to all but the management that the need for a midfield creative general was crucial to the retention of Premiership status.
Why then if City were to lose 16 million by being relegated would it not have been a good idea to have spent say ten to twelve million on a class midfielder before Christmas to ensure staying in the Premier League.
I am sure these and other interesting questions will be put to the board at the annual AGM later in the year.
Weaver, Edghill, Tiatto, Prior, Howey, Horlock, Wiekens, Haaland, Wanchope, Weah, Kennedy
Weaver, Haaland, Ritchie, Prior, Howey, Horlock, Wiekens, Whitley, Wanchope, Weah, Kennedy,
Weaver, Crooks, Ritchie, Prior, Haaland, Wright-Phillips, Bishop, Whitley, Wanchope, Weah, Kennedy
Wright, Haaland, Tiatto, Prior, Ritchie, Horlock, Wiekens, Whitley, Wanchope, Weah, Dickov
Weaver, Haaland, Ritchie, Prior, Howey, Tiatto, Wiekens, Whitley, Wanchope, Dickov, Kennedy