Manchester City v Everton 5-0
December 9th 2000 att 34,516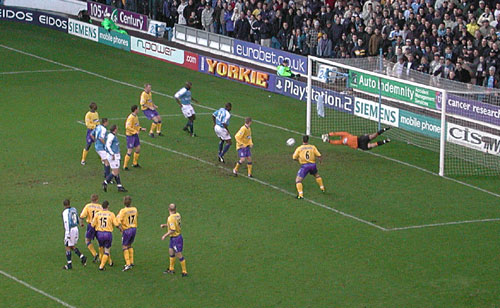 Hardly a quarter of an hour had gone and with City in good form, Horlock hit a free kick which Gerrard could only parry (above). Paulo Wanchope prodded the loose ball for number one. A much better balanced City were proving more than a match for a poor Everton.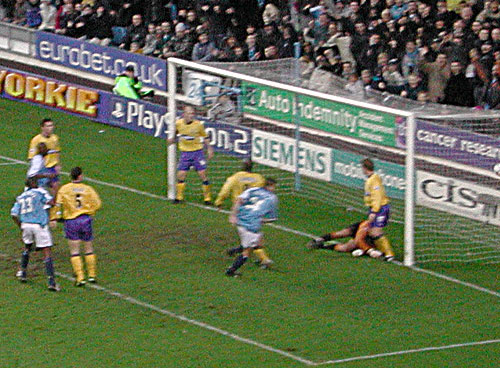 After 22 minutes Horlocks left wing corner was headed home by Howey whose partnership with Dunne looked very promising and may give Joe Royle his best option to bolster the leaking defence.
The best back four at the moment looks like Charvet, Howie, Dunne and Tiatto and I hope Royle gives Goater and Wanchope a chance to forge a good relationship up front.
Wright -Phillips looks to be the `find`of the season and has settled in well to the pace of the top league

A long clearance by Nicky Weaver was nodded on by Wanchope and Goater raced away to slot the ball past Gerrard to make it 3 nil after 41 minutes . Glory be! -3-0 and before half time.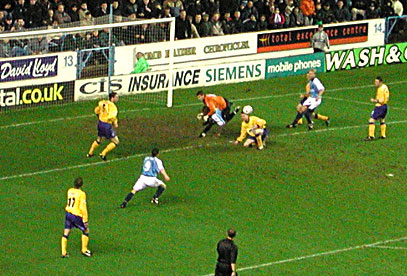 Within ten minutes of the start of the second half City were four up. With the Everton defenders at sixes and sevens a Gerrard parry (above) was lashed home by Dickov.
The strong contingent of Everton supporters must have been stunned and I'm sure a few City supports must have pinched themselves in case it was all a dream !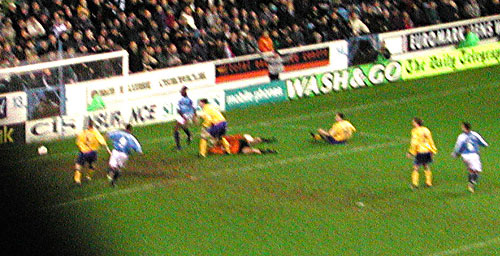 With still twenty minutes to go a move down the right ended with a strong low cross from Charvet - who had a better game - being sliced into his own goal by Naysmith - on the ground by the edge of the goal box.


With a 5-0 scoreline City could afford to relax a bit and Everton tried hard to give their disconsolate supporters some consolation but Nicky Weaver made some good saves with his feet - two above. However earlier, Weaver's habit of going walkies gave City supporters cause for concern and no doubt Joe Royle will be having a quiet word. Any way he kept a clean sheet for once.

Manchester City v Ipswich Town 1-1 abandoned
Worthington Cup
December 12th 2000
rain stopped play !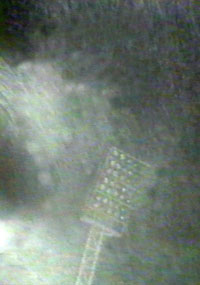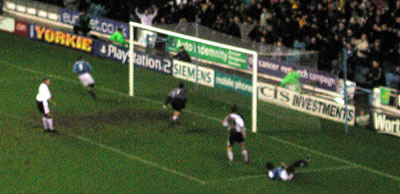 A monster of a storm just before the scheduled kickoff really put paid to this Worthington Cup quarter final. Though the kickoff was delayed slightly to allow some of the surface water to drain away it was obvious it was only a matter of time before the referee called it off. For the record Marcus Stewart opened the scoring with a free header after a minute or so. The City defenders were still practicing their back stroke ! After 20 minutes Dickov equalized (above) and referee Graham Poll took the opportunity to take both teams off for 15 minutes - presumably to let some of the crowd dry off before officially calling the game off. He said it was to avoid serious injury - drowning perhaps!
Manchester City v Ipswich Town 1-2 after extra time
Worthington Cup
December 19th 2000 att. 31,252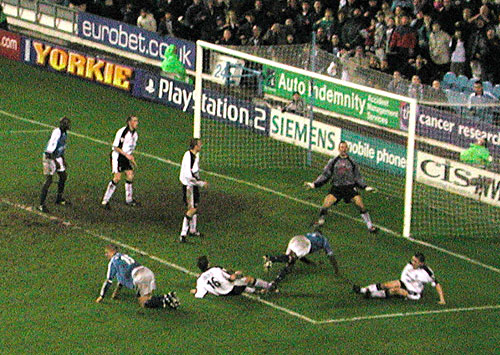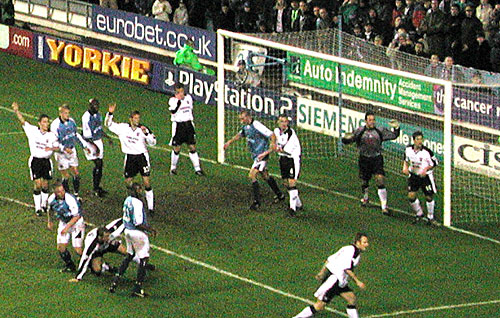 The monsoon had slightly relented for this second Worthington Cup visit by Ipswich Town and free entry to those that had defied the elements the previous week and lower entrance fees raised the attendance to over 30,000 for this exciting tie. City had the better of the first half Goater giving them a 1-0 half time lead. Ipswich equalised though an error by Weaver and then in extra time Venus broke through to give Ipswich a lucky win.
Both Wanchope and Goater hit the post and missed good chances but it was not to be City's day.
Andy Morrison made a welcome return from long term injury and played really well.
Manchester City v Derby County 0-0
December 26th 2000 att. 34,321
A goalless draw on a cold Boxing Day did little to warm the 34000 City supporters. who saw City miss three good chances in the first ten minutes. Poom and the Derby goal seemed to have a charmed life. Below is just one of the Derby keepers saves. As the game went on City lost control and confidence and in the second half it was City's turn to thank lady luck as County missed several open goals.
Another goalscorer and goalmaker are rapidly becoming important as City slip towards the bottom three.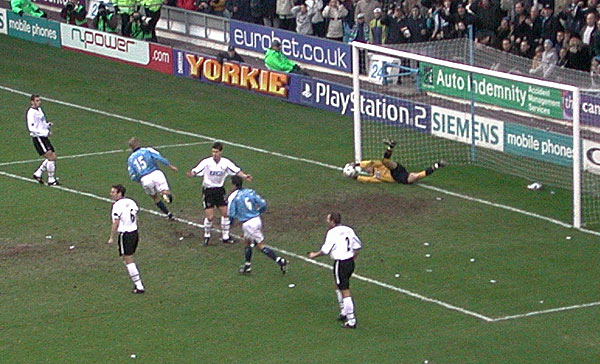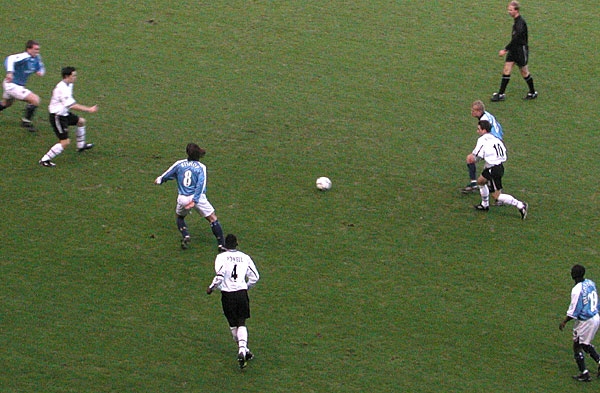 There was a welcome for ex City start Kinkladze ( no 10 middle right ) on his first return to Maine Road after his transfer to Derby from Ajax. He was however given little scope to show his skills and he was substituted in the second half.
Manchester City v Charlton Athletic 1-4
December 30th 2000 att. 33,280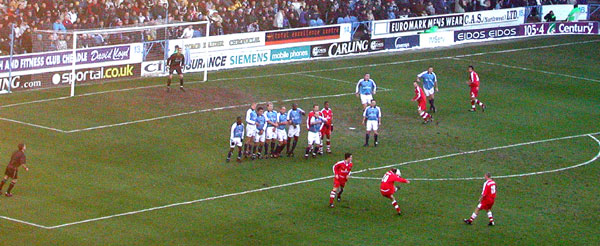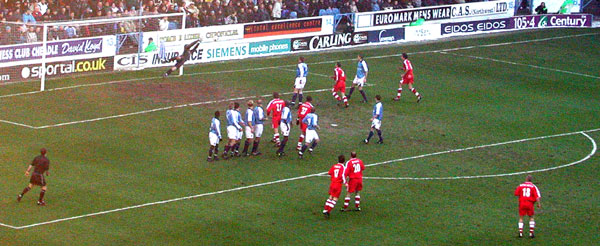 Nicky Weaver's only moment of glory in this abject performance by City as he saves from this free kick taken by Jenson in the 12th minute. Weavers confidence is ebbing away rapidly. He never dominates the box, his kicking is poor, his handling and judgment is becoming suspect and unless there is rapid improvement Tommy Wright will once more be given a chance.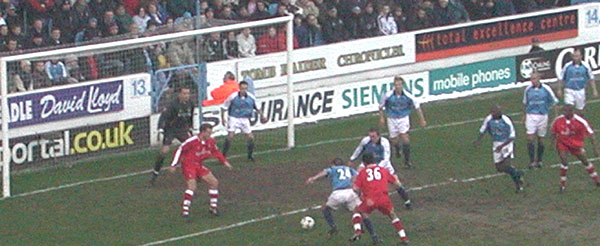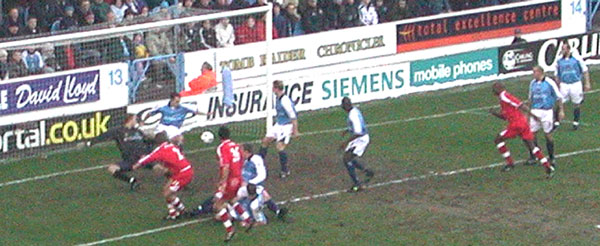 A right wing corner was not cleared by Howie and Johanssen nipped in to give Charlton the lead. City were rarely troubling Charlton who with a string of away defeats were looking the better side.Worse was to follow, With 37 minutes on the clock Weaver made a terrible decision. He tried to pass to Bishop who was closely marked by Kishishev who nipped past Bishop , ran unchallenged to the penalty area and squared the ball for Johanssen to score his second goal (below). The City defenders were woefully slow in rectifying Weavers error.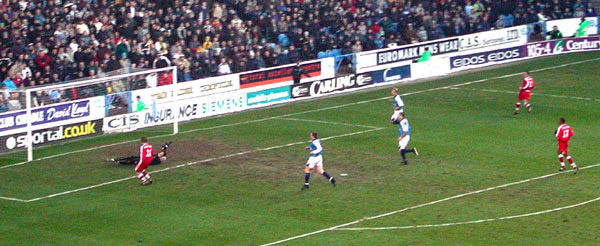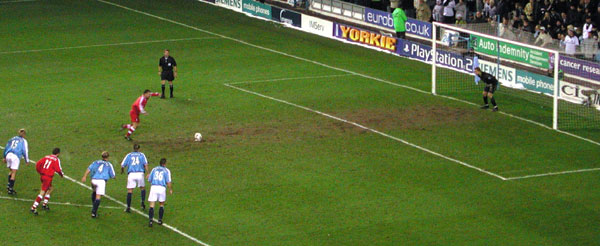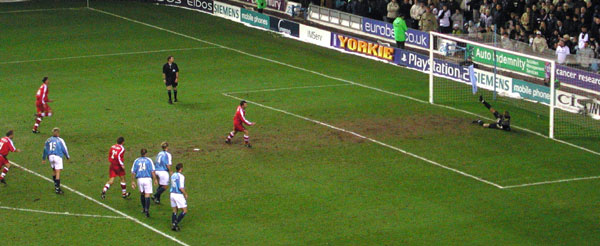 In the final minutes Charlton scored a fourth by reason of a rebound off Dunne from some 50 yards out!. Weaver was just outside his goal box and surely all he had to do was back- peddle a few strides and he could have caught it easily. Jenson claimed this 'Pantomime' goal.
In extra time Huckerby was bought down in the area and he scored a penalty on his debut to give City a little consolation. They are now in the bottom three and with a tough New Years game at Coventry in the immediate future the relegation battle has started in earnest.After the early optimism unless there are some creative signings the team is not good enough for the Premiership
Shortly before half time Darren Huckerby City's new signing from Leeds made his debut. He replaced Charvet who has been disappointing. The second half was no better with few chances been made. With ten minutes to go Howey brought down Robinson in the area and despite his protestations a penalty was given. and Stuart duly scored with ease- below
Weaver, Charvet, Tiatto, Dunne, Howey, Horlock, Haaland, Whitley, Wanchope, Goater, Wright-Phillips sub Dickov
Weaver, Haaland, Tiatto, Prior, Huckerby, Horlock, Wiekens, Whitley, Wanchope, Goater, Wright-Phillips
Weaver, Charvet, Tiatto, Dunne, Howey, Horlock, Bishop, Haaland, Wanchope, Goater, Wright-Phillips
Weaver, Charvet, Tiatto, Dunne, Howey, Horlock, Wiekens, Haaland, Dickov, Goater, Wright-Phillips
subs Bishop, Huckerby