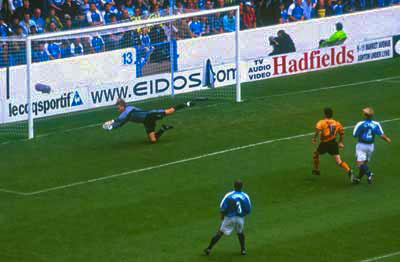 Nicky Weaver saves from Dean who was transferred to Coventry shortly after this game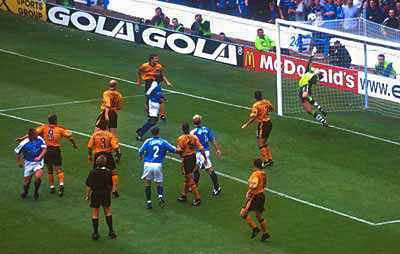 Morrison's header following a corner is saved in spectacular style by Stowell, the Wolves keeper .
City v Sheffield United 6-0
August 21st 1999 att. 30,110
Kevin Horlock scores from the spot for a penalty awarded for a handball.
.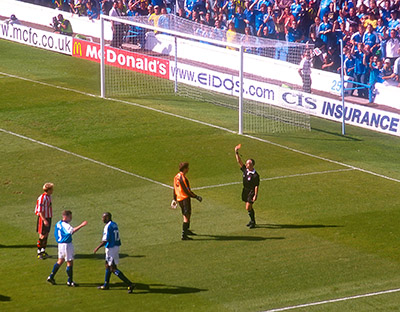 To make matters worse for Sheffield United Simon Tracy gets his marching orders.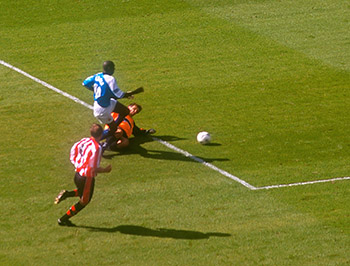 Deputy keeper Davison goes to retrieve the ball from the net after Horlock scores his second penalty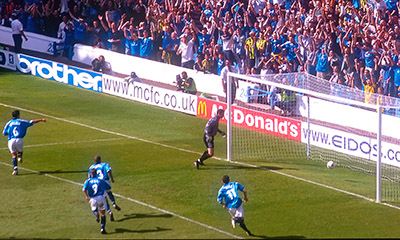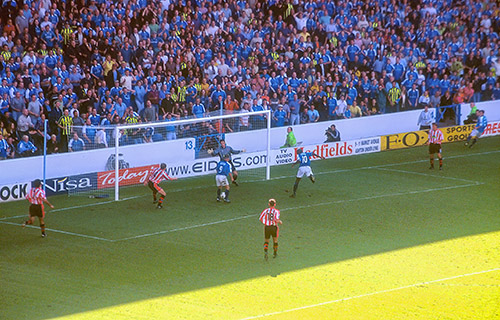 Goater scores with a downward header from a volley pass from Terry Cooke to make it 4-0
Gareth Taylor makes it 6-0 following a centre from Kennedy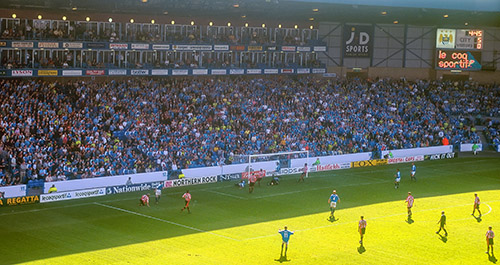 Shaun Goater is brought down by Simon Tracy just outside the box but referee Richards gives a penalty
Manchester City v Leeds United 2-5
FA Cup 4th round
January 9th 2000 att 29,240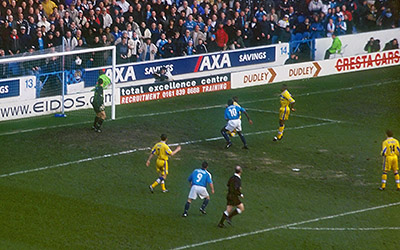 Goater gives City a surprise lead from a header. Martin watches the ball hit the back of the net.
Television replays showed Goater to be offside when the ball was played to him by Horlock following a Leeds clearance.
A fierce low sun and a deflection following a header defeated the capless Weaver to equalize for Leeds United. Bakke the scorer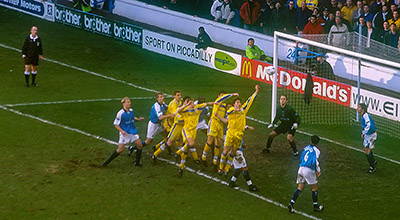 A free kick near the corner flag to Leeds and it looks more like a rugby union lineout. Alan Smith scores for Leeds in the melee that followed to make it 2-2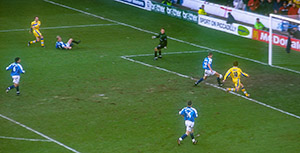 Kewell is about to score for Leeds from a centre from Wilcox who has beaten Wiekens and gives Leeds a 3-2 lead.


Manchester City v Charlton Athletic 1-1
March19th 2000 att 32,139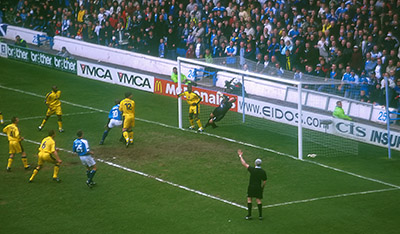 Charlton keeper Kiely claws away a header from Jamie Pollock following a free kick near the corner flag by Kennedy.
Charlton were Division 1 leaders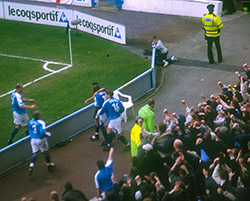 Shaun Goater scores with a mishit volley from a pass from Ian Bishop( above left ) whilst Keily has to retrieve the ball from the net ( above right ).
The City players go the Kippax stand to celebrate with the fans.
Later Charlton equalised with a wicked deflection
Manchester City v Crewe Alexandra 4-0
8th April 2000 att 32,441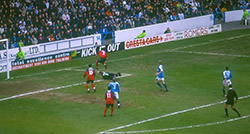 Crewe's David Wright jinks his way through the City defence only to find Nicky Weaver bravely saving at his feet. One of the few chances Crewe managed to achieve.
Jason Kearton who had a blinder saves from Jeff Whitely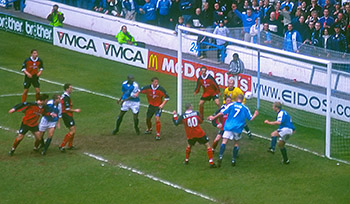 Spencer Prior scores his first goal for City following his transfer from Derby County.
The goal came from a corner taken by Kennedy and headed on by Jobson for Prior to start City's scoring spree.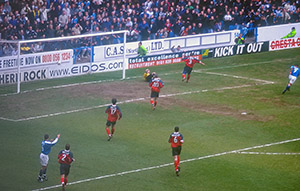 Paul Dickov wheels away after scoring from a cross from Horlock to make it 2-0.
City scored two further goals in the last few minutes
Manchester City v Birmingham City 1-0
April 28th 2000 att.32,000
A free kick taken by Horlock deep on the right is forced home by Robert Taylor with the Birmingham defenders helpless.
I hope this is the last home goal City will score in division 1.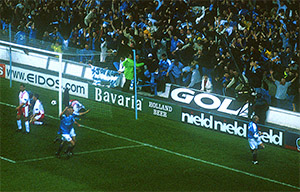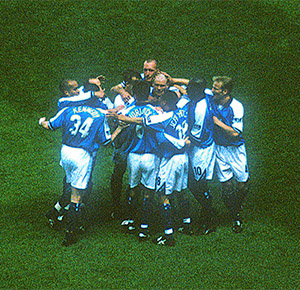 With the ball in the back of the net the city players go into a huddle to celebrate a goal which proved to be decisive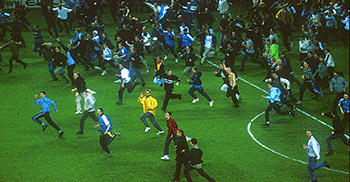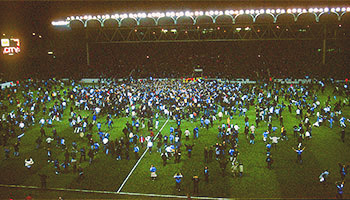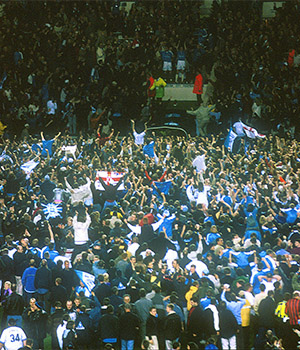 Despite several tannoy announcements asking spectators to keep off the playing area there was an immediate invasion to celebrate the end of the season at home and what was proved the following Sunday promotion to the Premier league.
Manchester City v Wolves 0-1
August 8th 1999 att. 31,755
My
END OF TERM
report on the players is as follows with marks out of 100
Weaver 95/100 - very few mistakes all season - learning all the time
Edghill 60/100 - quite a few last ditch tackles, but caught too often in possession and passing leaves a lot to be desired.
Jobson 75/100 - despite his age has defended well. Lack of pace on the turn may hamper premier place.
Morrison 80/100 -played well and consistently before his injury
Pryor 80/100 - one of City's best signings for some years . His experience will be invaluable next season
Granville 70/100 -played quite well in patches and linked well with Kennedy
Wiekens 70/100 - played better infront of the centrebacks where his lack of pace on the turn is less noticeable.
Tiatto 80/100 - his form in the second part of the season after coming back from injury was excellent.
Pollock 65/100 - played with passion but not enough guile and passing not good enough
Whitely(Jeff) 75/100 - works very hard but lacks the killer touch going forward in the opposition box
Horlock 65/100 - mixed season. not consistent enough- can play well when he wants to
Bishop 70/100 - passed really well ,pity he's not ten years younger
Kennedy 75/100 - put in many dangerous crosses when fed well. Often out of the game for long periods.
Dickov 70/100 - 100 % tryer - better in small patches
Goater 75/100 - top scorer in the division but also missed quite a few may not score as many in the top flight
Taylor (Robert) 50/100 injury and lack of fitness hampered his chances. Showed skilful touches at times.
Next season will be covered in City 2000-2001
It will be interesting to see Joe Royles tactics next season. I don't think Edghill's passing skills are upto the new modern standard of wing backs and other weak areas are in midfield where more creative expertise is needed and up front where Goater is going to need another faster younger goalscorer to help him.
City's remarkable return to the Premier League had the feeling of yet another miracle, having amazing good luck with the ball hitting the post so often in the match against Blackburn.
How many of the existing squad will turn out in City's first game next season is anyone's guess and how many new players will be signed will keep supporters interested for the next few months.My guess is that the following will be in a squad of 15 - Weaver, Edghill, Granville, Prior, Morrison, Bishop, Whitley, Horlock, Tiatto, Goater and Kennedy.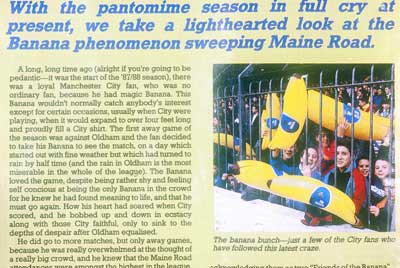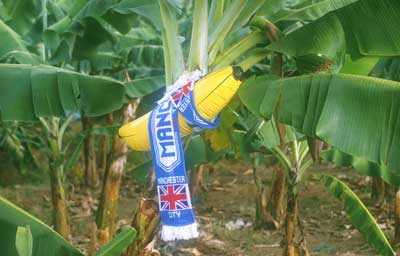 Whilst working on a job in St Lucia a few years ago I could not resist planting my own big banana and scarf among the banana leaves.
Perhaps it will return with City's return to the Premier League!
Weaver, Edghill, Granville, Wiekens, Morrison, Horlock, Cooke, Whitley, Dickov, Goater, Kennedy
Weaver, Edghill, Tiatto, Wiekens, Morrison, Horlock, Cooke, Whitley, Dickov, Goater, Kennedy sub Taylor
Weaver, Edghill, Granville, Wiekens, Jobson, Horlock, Grant, Bishop, Dickov, Goater, Kennedy
Weaver, Edghill, Tiatto, Wiekens. Jobson, Pollock, Bishop, Whitley, Taylor, Goater, Kennedy
Weaver, Edghill, Tiatto, Prior, Jobson, Horlock, Wiekens, Whitley, Dickov, Goater, Kennedy
Weaver, Edghill, Tiatto, Prior, Jobson, Horlock, Wiekens, Whitley, Taylor, Goater, Kennedy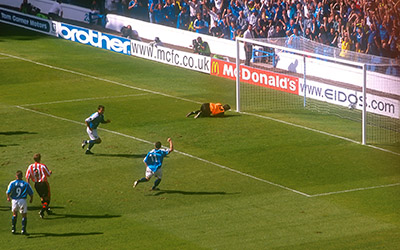 Kennedy makes it three