City 1 Chelsea 0
September 25th 2010 47,203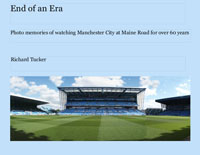 My book 'End of an Era' containing photo memories of days at Maine Road is now available from Blurb.com.
There are over 300 images on 200 pages.
Click on the image for details

This terrific team victory for City over league leaders Chelsea was probably not good viewing for neutral supporters as there were few saves by the keepers and little open play. It was a tactical battle won by City on the day. The magnificent ( no exaggeration) City midfield bullied Chelsea into submission and often Chelsea were unable to repeat the football that had eased them into top place so far this season. Even young Boyata who had to play at right back was splendid and as for the rest of them they played out of their skins. My only criticism was that when we centered in the air there was little chance of winning the ball with only Tevez up front. We needed more attacks down the wing by the fullbacks but they had their hands full defending so their excursions into the opposition final third were rare. Kompany and de Jong were almost impossible to beat and Barry had a great game. Silva showed many glimpses of his skill and did well defensively too. When we can have Adebayor, Johnson and Boateng coming on as subs and Kolarov and Balotelli to come back from injury this must be the strongest squad ever for City. Oh and there is SWP, Bridge and Lescott too!! If we can keep up this effort then a top four position is a distinct possibility.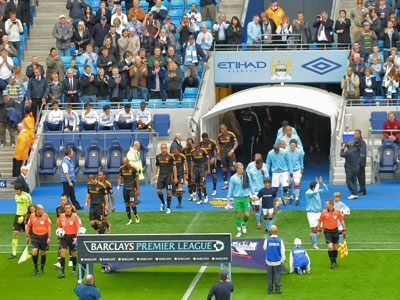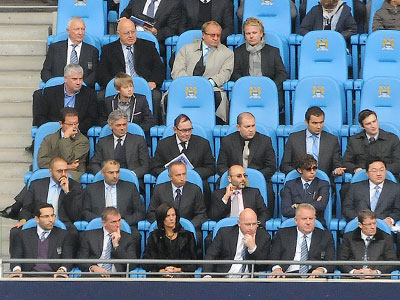 City still suffering from injuries had Boyata at right back and Zabaleta at left back. Silva was preferred to Johnson on the right.
Our Chairman was in his usual place and there was also a thoughtful England manager in attendance as was Francis Lee and Mike Summerbee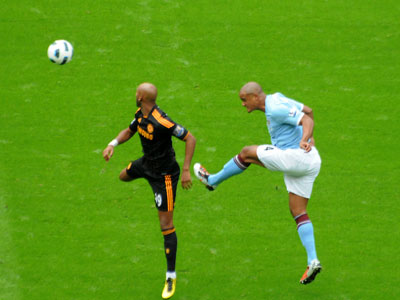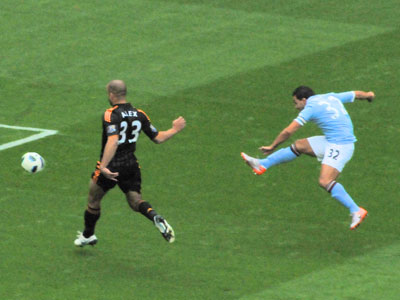 Kompany clears from Anelka
After 6 minutes a shot by Tevez goes just wide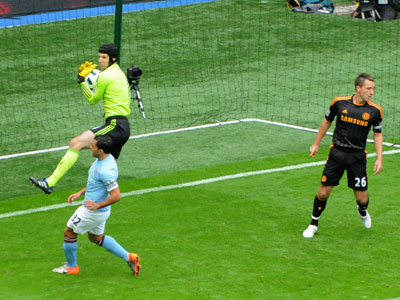 A cross by Silva is caught by Cech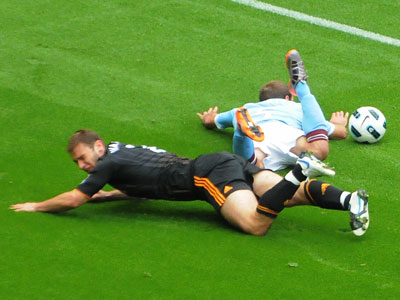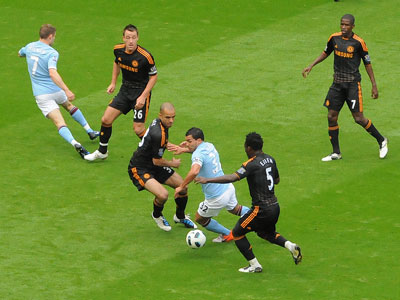 A foul by Ivanovic on Zabaleta ends with a free kick which is cleared
Carlos Tevez was soon causing problems for the Chelsea defence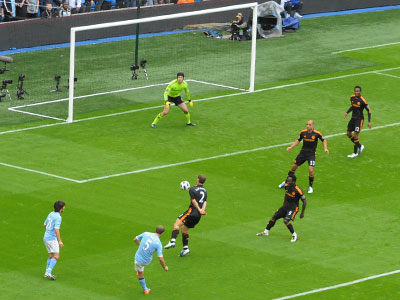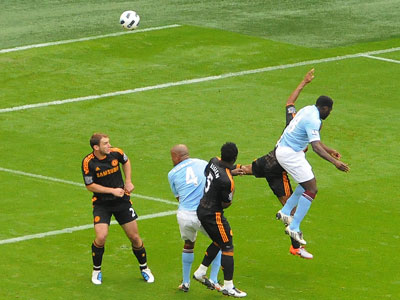 A Zabaleta shot is saved by Cech
A Toure header at a Milner corner.......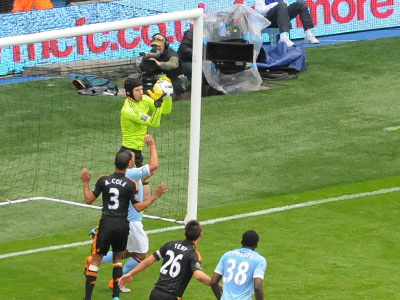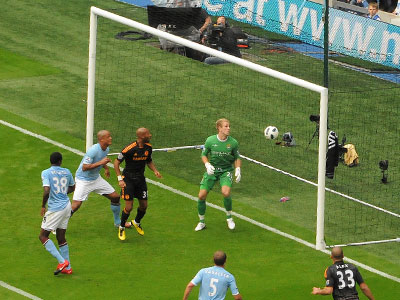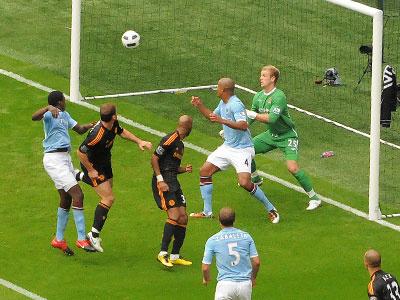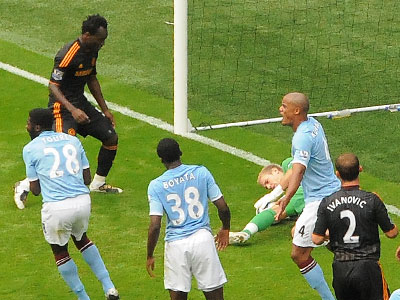 The City goal had a narrow escape after 27 minutes when a header by Ivanovic hit the post
When the ball came out Hart saved a further effort by Ivanovic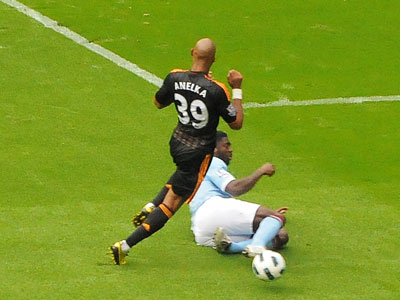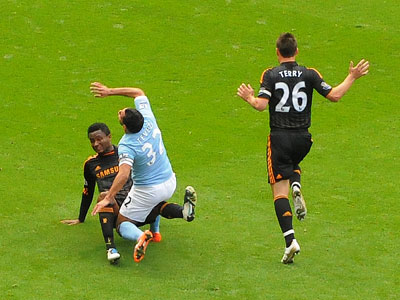 A great late tackle on Anelka by Kolo Toure
Mikel fouls Tevez and concedes a free kick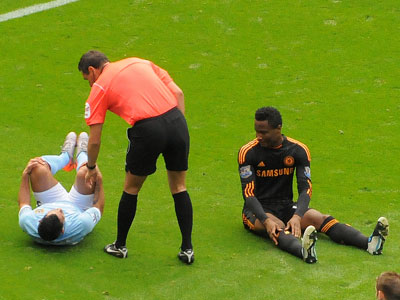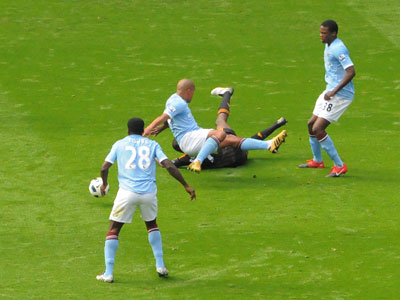 The referee checks on the injury!
Nigel de Jong was taking no prisoners in mid-field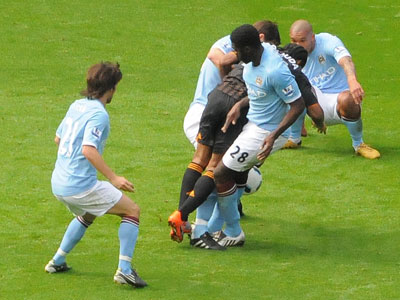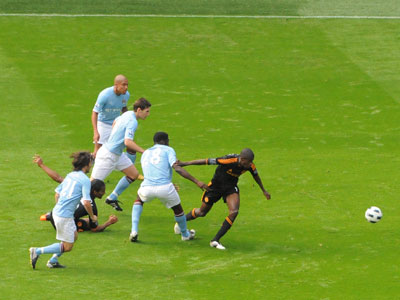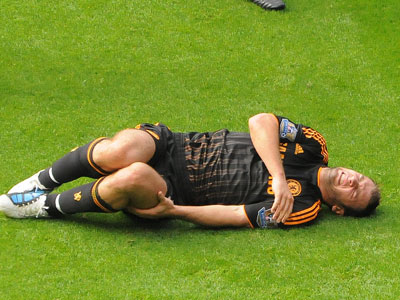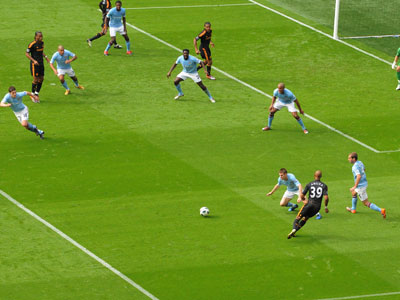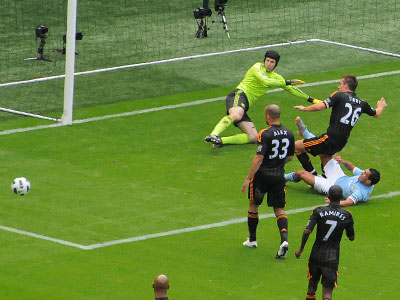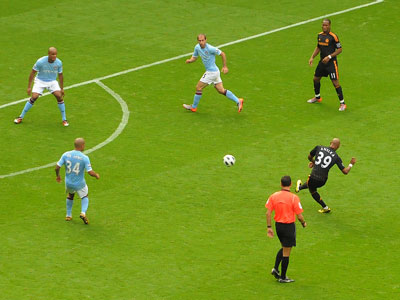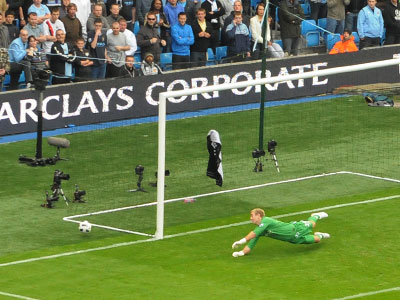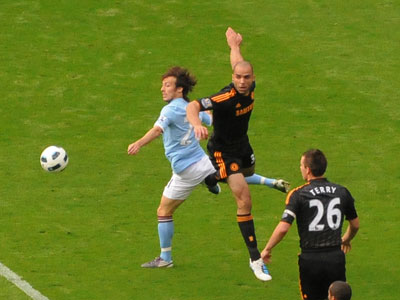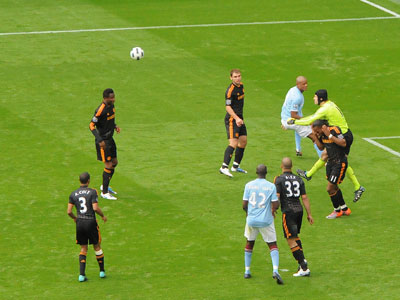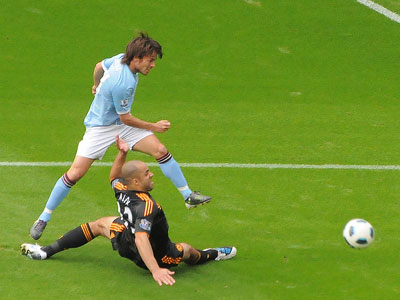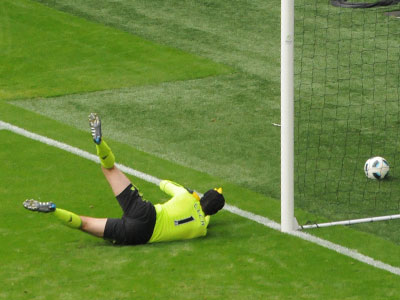 The City defence were quick to the ball and Chelsea were finding it difficult to get into shooting positions
Poor Ivanovic is downed by Zabaleta who gets a yellow card
The typically organized City defence
A shot from Milner after 40 minutes causes some problems in the Chelsea defence but the ball is cleared and half time comes with the game goalless
Soon after the interval Anelka had a shot from distance and it was just touched by Joe Hart for a corner. Might have been going just wide
David Silva was having quite good game and now looked more settled in the team
Cech saves from a free kick taken by Milner
In the 54th minute David Silva had a good shot from a narrow angle well saved by Cech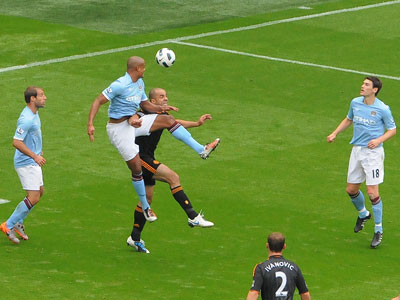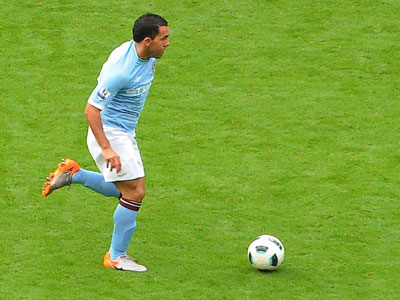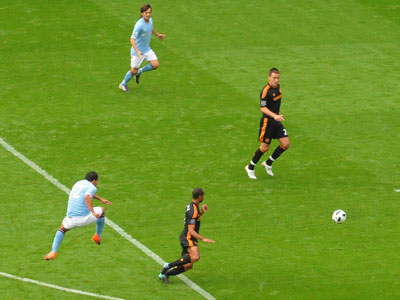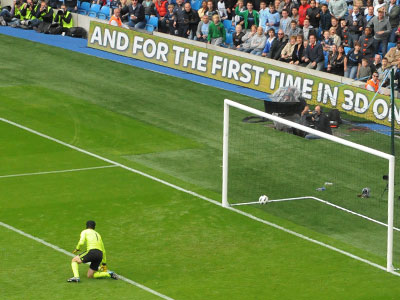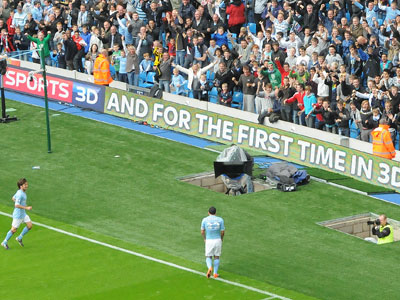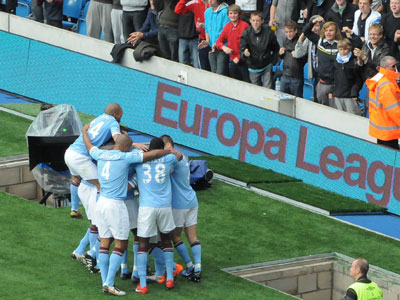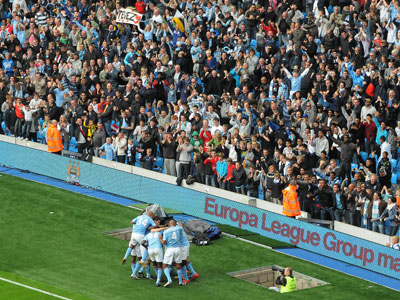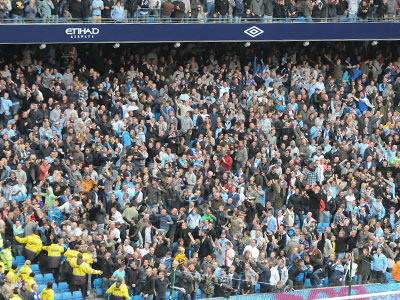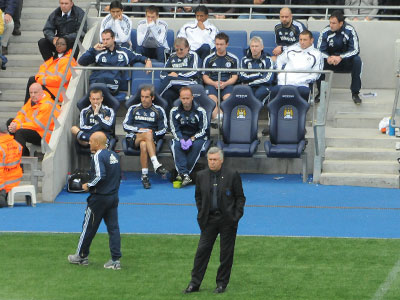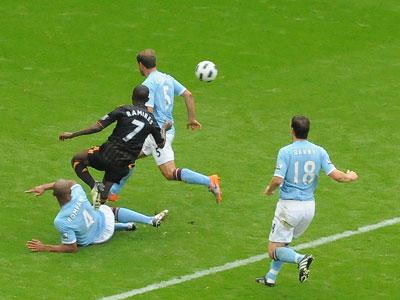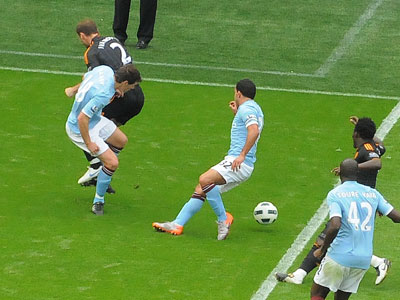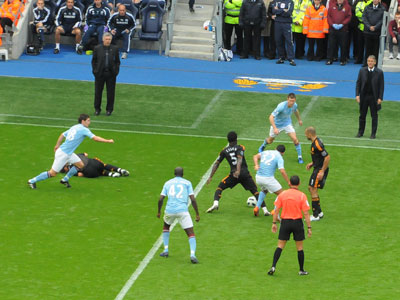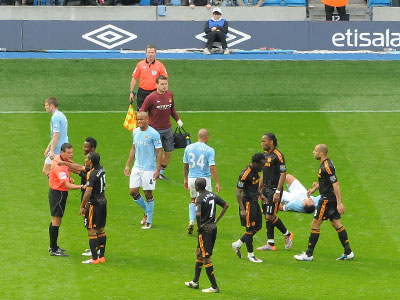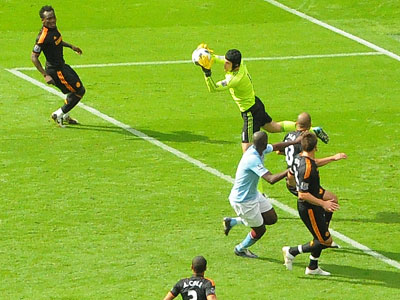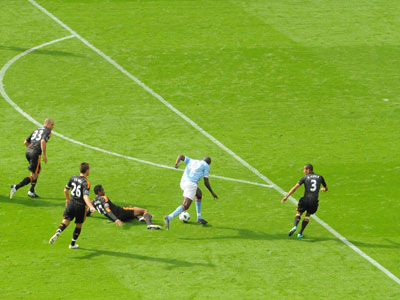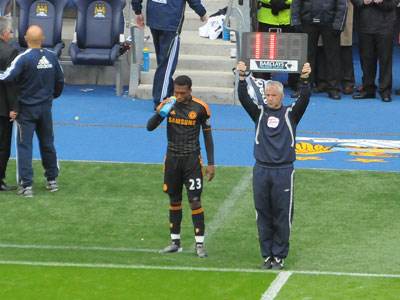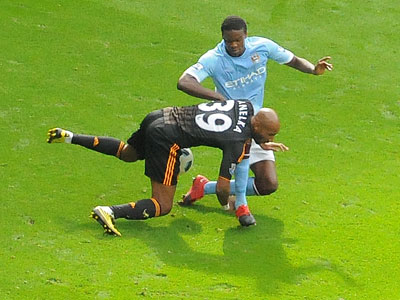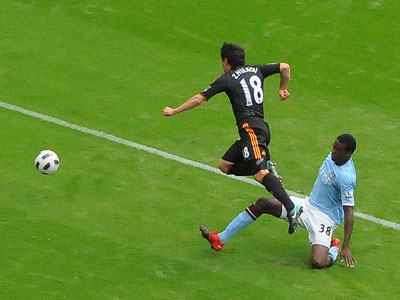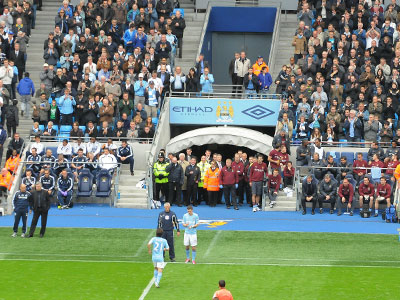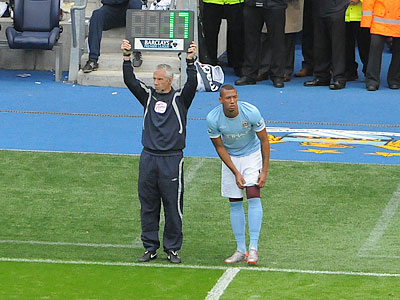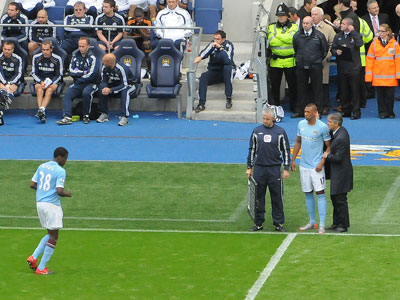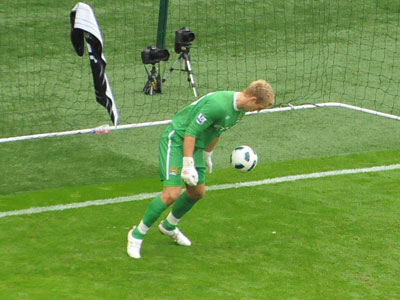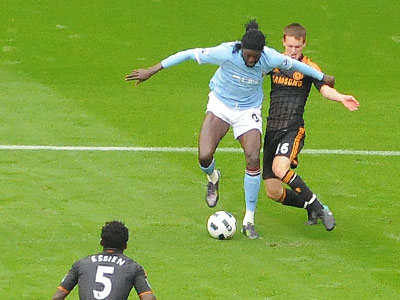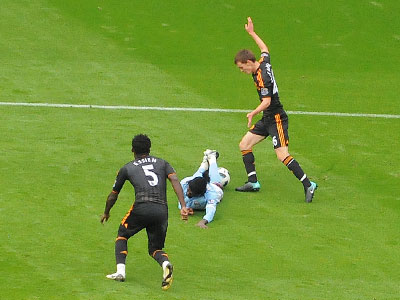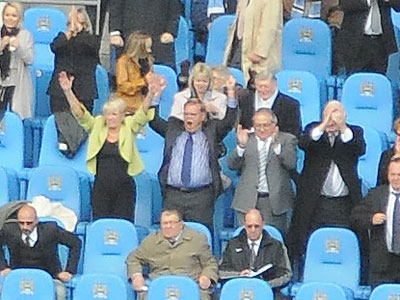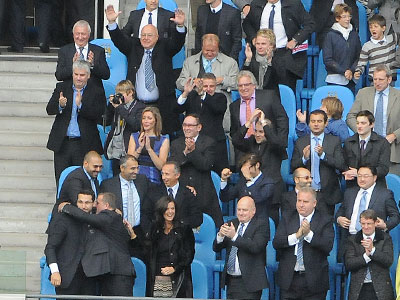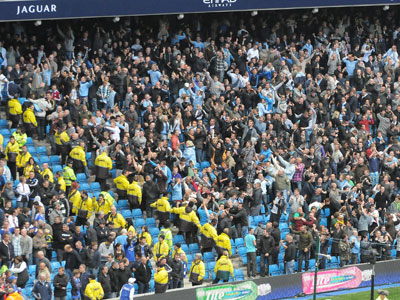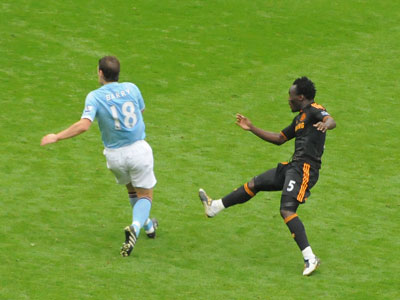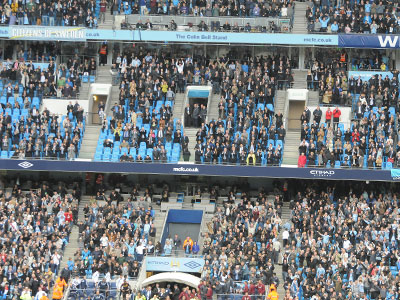 Yet another great clearance by Kompany
On 58 minutes Tevez got the ball from Yaya Toure just inside the City half. he ran at the Chelsea defenders....
....by the time Cole decided to challenge Carlos let fly from just outside the box and although it looked like he scuffed the shot it flew in the goal off the far post!
The Stadium ( all except the visiting supporters) erupted and Tevez gave a message to his mum via the TV camera and then accepted the congratulations of his team mates. A captains goal to cap a captains display!
While the City faithful in the family stand celebrated, the South Stand asked the visiting supporters what the score was!
The Chelsea Manager was not looking all that pleased about the situation
Another great tackle by Kompany
A great 'old fashioned' shoulder charge by Gareth Barry on Ivanovic wins the ball
Mikel got booked for a foul on Tevez but Cech saved the free kick
After 66 minutes Yaya Toure had a solo run but eventually lost the ball when outnumbered
Surprise substitution for Chelsea was ex City Sturridge for Drogba. I don't think the booing for Sturridge was deserved.
Young Boyata who had a good game makes a tackle on Anelka
But he got booked for this tackle on Zhirkov
After 78 minutes Silva got a big ovation when he was substituted by Adam Johnson
With only a few minutes to go we had a brief glimpse of Jerome Boateng making his debut when he came on for Boyata
Chelsea were having to settle for long range shots and this effort by Essien was saved by Hart with a little difficulty
As the final whistle neared Adebayor who had come on for Tevez late on hoped for a free kick when he was tackled by a 17 year old Chelsea sub Josh McEachran making his first league appearance
On the final whistle there was a sense of relief at the result of this difficult game against a strong Chelsea team.
Actor Warren Clarke celebrates the City win
Gary Cooke gives the Chairman a hug!
Team
Hart 7: Boyata 8 ( Boateng), K. Toure 8, Kompany 9, Zabaleta 8: de Jong 8.5, Barry 8.5,
Y. Toure 8, Silva 8 ( Johnson) Milner 8, Tevez 8.5 (Adebayor)