City 1 Blackburn 1
September 11th 2010 44,246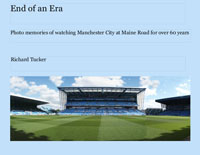 My book 'End of an Era' containing photo memories of days at Maine Road is now available from Blurb.com.
There are over 300 images on 200 pages.
Click on the image for details

I knew this was not going to be easy and so it turned out with Blackburn managing to get a point thanks to an act of rank bad judgment by Joe Hart and poor finishing by City . City had umpteen efforts on goal and although there was some good keeping by Robinson the bottom line is - no matter who you play if you don't score goals you don't win. Scoring first against a defensive minded team is vital and City failed in that regard. Hart had hardly a shot to save all game and with Blackburn flooding their last third with players it was always going to be difficult to score. Milner did not have a good game at all - his passing was very poor at times. Ya Ya Toure was below par too so a less than 100% Tevez had little support. Adam Johnson once again proved our best attacking player and Silva showed some nice touches when he came on very late on. We certainly missed our injured fullbacks and having both Adebayor and Balotelli out of action did not help. Referee Clattenburg had a poor game overall failing to penalize the visitors on many occasions. Not a game to remember!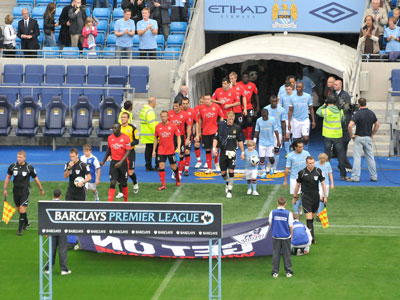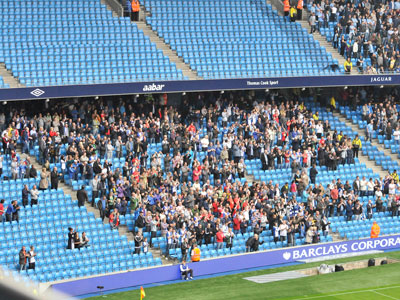 There was no Barry and de Jong but at least Tevez was passed fit to play. Viera was a surprise choice but no sign of Boateng yet.
Once again there was poor support by Blackburn supporters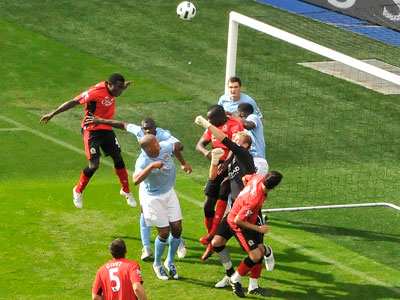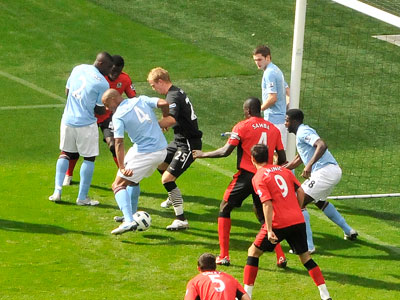 Blackburn forced an early corner which Hart was forced to punch clear
The ball was not properly cleared......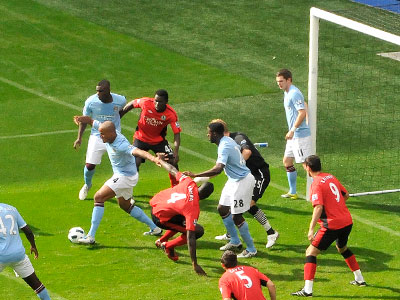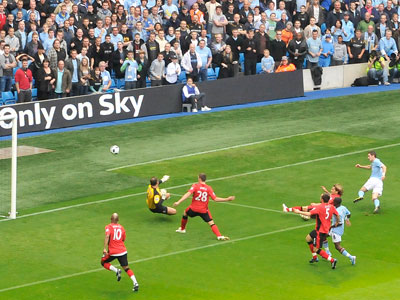 .....eventually Kompany got the ball clear
A minute later at the other end Johnson forced a save from Robinson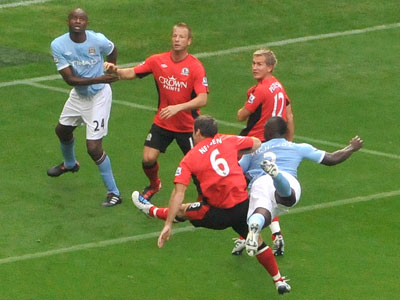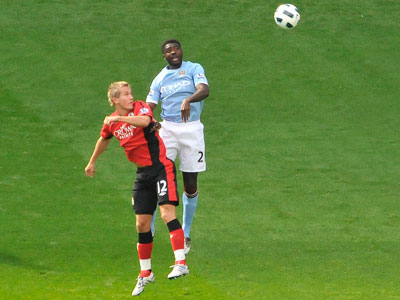 Kolo Toure and Pedersen in a heading duel
Richards and Nelson clash at a corner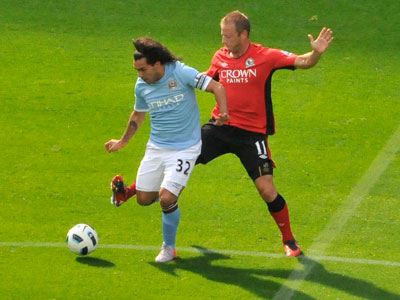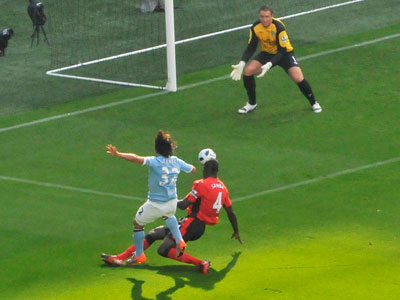 Tevez closely marked by Grella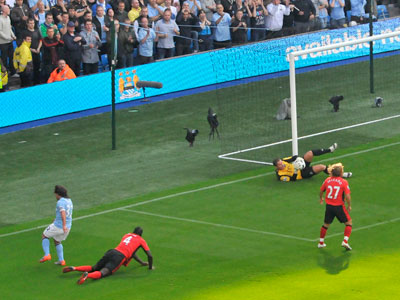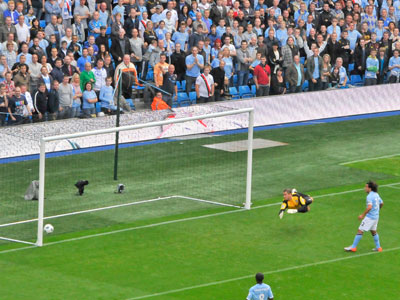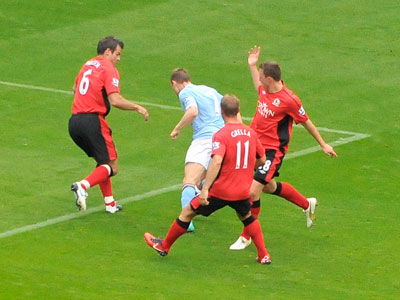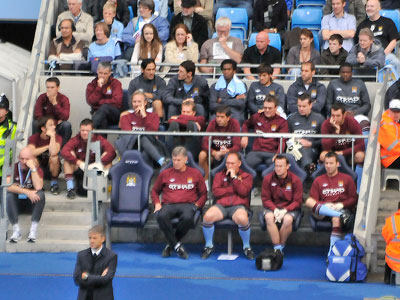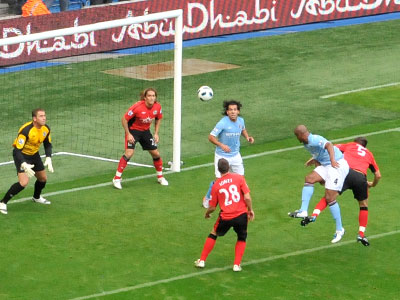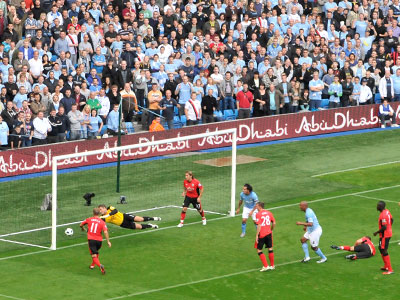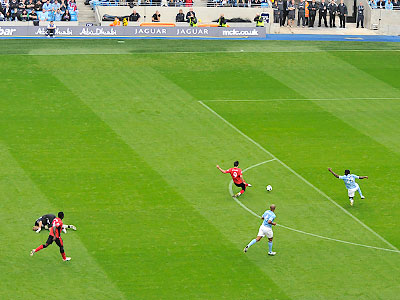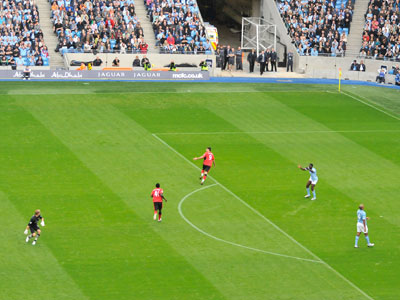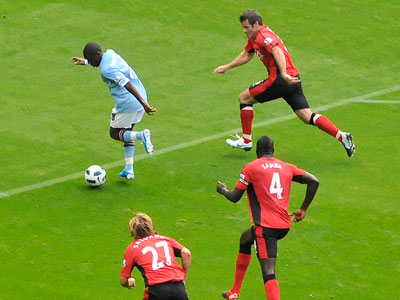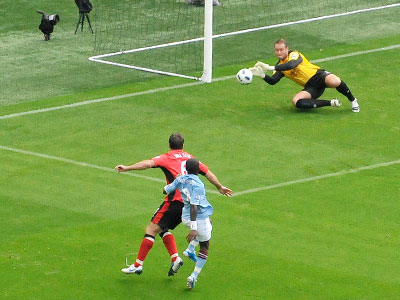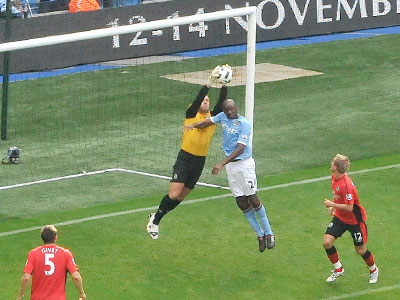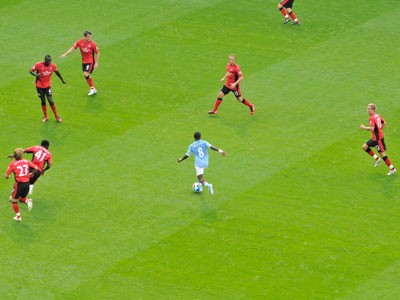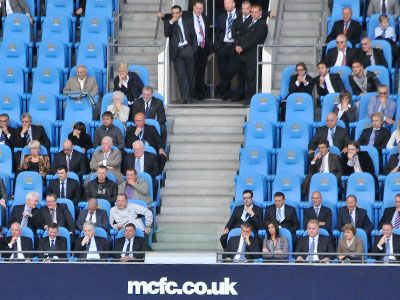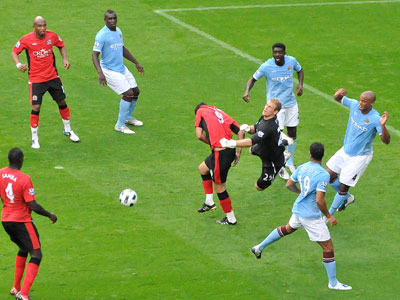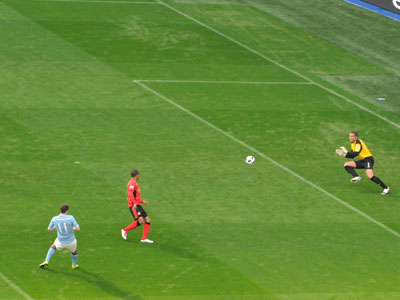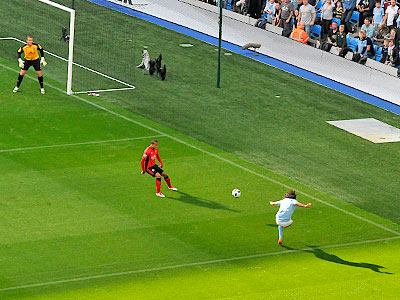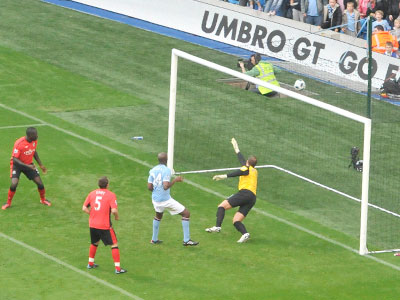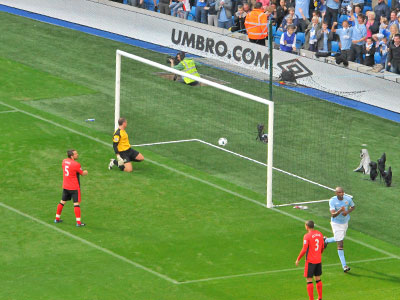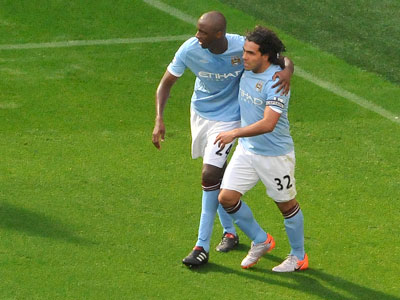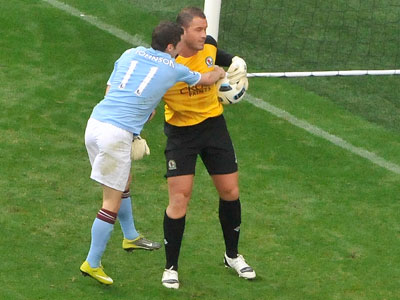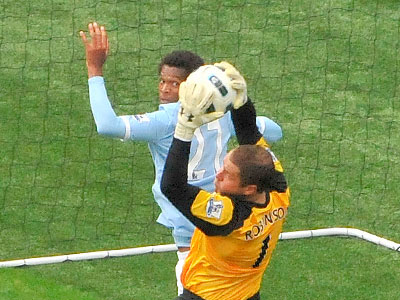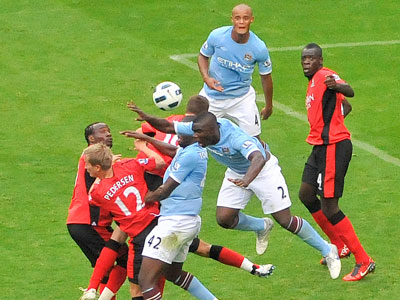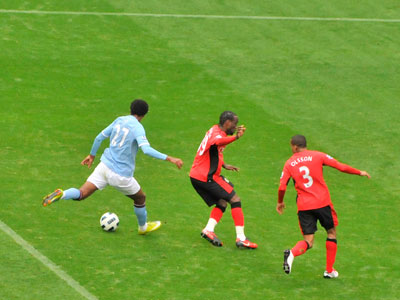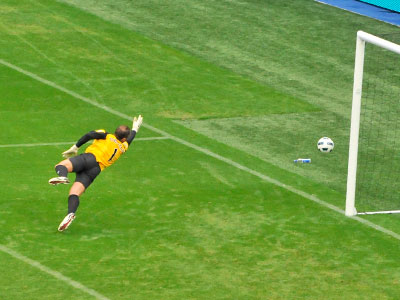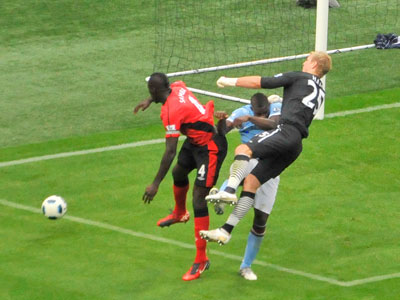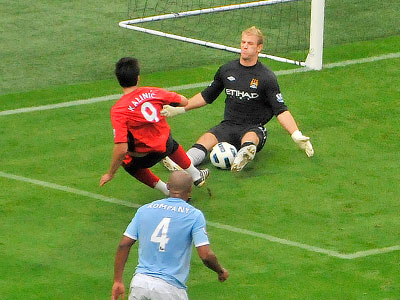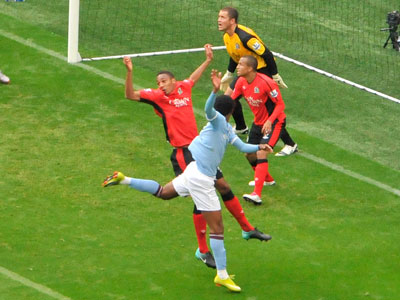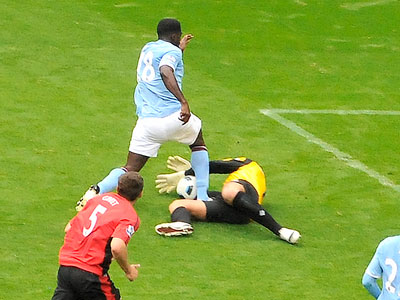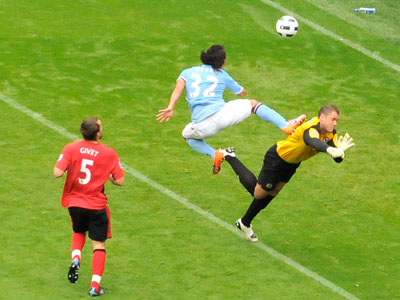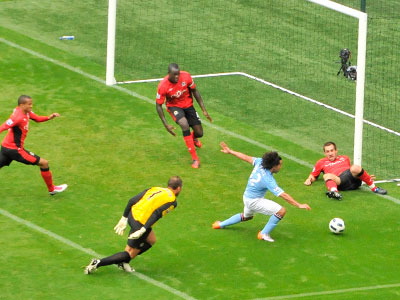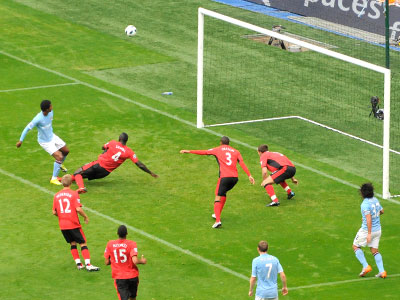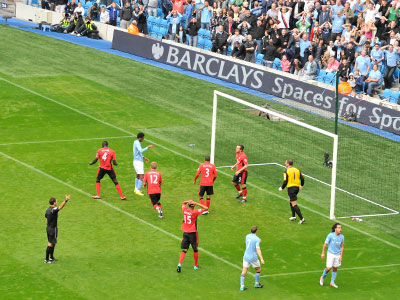 ...... but his effort is saved by Robinson
Tevez tries a shot.......
On 14 minutes a shot by Adam Johnson goes just wide
Milner surrounded by defenders fails to break through
The manager and bench look glumly on as City fail to score
A City corner is eventually cleared by Blackburn
On 24 minutes disaster struck. A long clarence by a Blackburn defender was left by Kolo Toure for Hart who was left stranded miles up field and Kalinic had the easiest task to score for Blackburn Rovers.
SWP breaks through but his final effort is saved by Robinson
Viera challenges Robinson
When SWP has the ball there are 7 Blackburn players watching him!
As usual Blackburn manager spent the first half in the directors box
Hart clears a Blackburn attack and half time comes with City a goal down.
After 54 minutes Robinson had to make a save from Adam Johnson
However just moments later Tevez burst down the right wing....
...... and he put the ball across to a waiting Viera who crashed the ball in the net from close range. 1-1
Viera thanks Carlos Tevez for the pass
Is Adam Johnson thanking Robinson for not saving! No just trying to get the ball back!
Robinson catches under pressure from Jo ( on for SWP after 57 mins)
A flurry of bodies at a City corner
Hart misses a cross that goes for a goal kick
Joe Hart makes a good point blank save from Kalinic
The Blackburn goal manages to stay intact despite heavy City pressure looking for a winner
Robinson saves at the feet of Kolo Toure
With little time left Silva fed Tevez who beat Robinson to the ball.....
...... the ball ran loose and when Tevez got to the ball under heavy pressure from defenders.....
.... he crossed to Jo and his shot was blocked by Samba to save the day for Blackburn!
team
Hart 5: Richards 5.5, K Toure 6, Kompany 7, Lescott 5: Wright-Phillips 6 ( Jo 5 ), Viera 6 (Barry 7), Y Toure 6 Milner 6, Johnson 8 ( Silva 7), Tevez 7