September 2009
Manchester City 2 Fulham 1 September 23rd 2009
Carling Cup round 3 att 24,507

A match to forget! A depressingly small crowd saw City move into the last 16 of the Carling Cup. The first half was very low key -almost a practice game at Carrington! City seemed to be suffering from the result of the derby game . We badly needed a Adebayor to hold the ball up up front and though Tevez worked hard he needs someone like Adebayor to play off. I hope Santa Cruz will soon be available. I think both SWP and Ireland need a rest. At least we are now scoring from corners. Up until this season it was very rare for us to score from a dead ball situation. The defence is looking better now and Lescott looks to be forming a good partnership with Toure. Craig Bellamy is on fire and his two goals against United were terrific. In this game he was a bit off target but he still was very dangerous and gave the well organized Fulham defence plenty to do. Though Fulham had a few reserves playing they were not a pushover and deserved better support. Even once or twice City supporters gave them a cheer!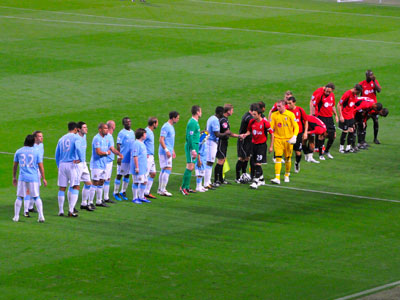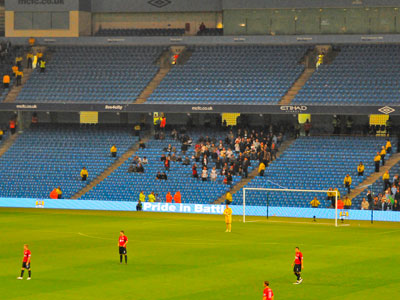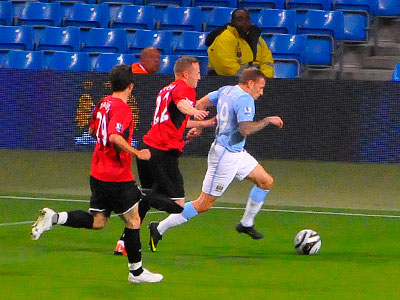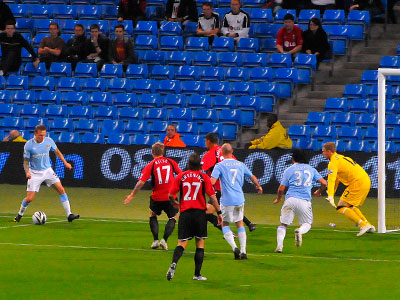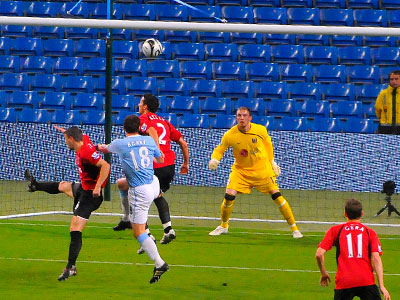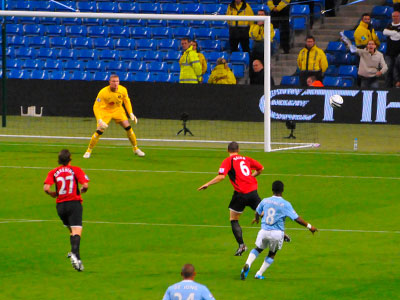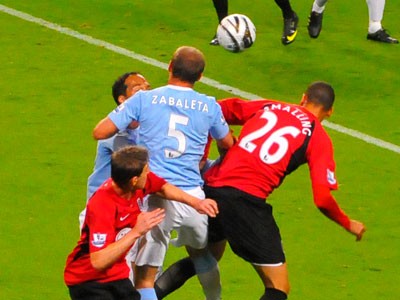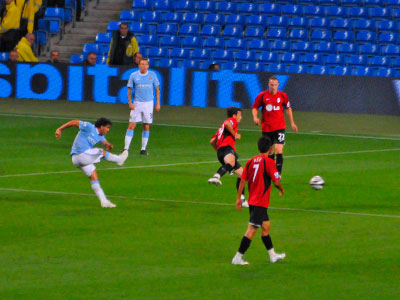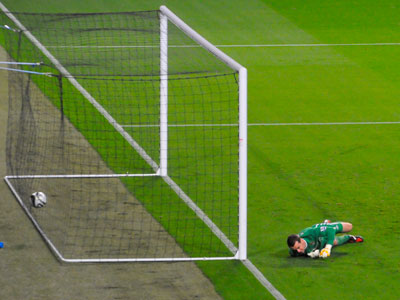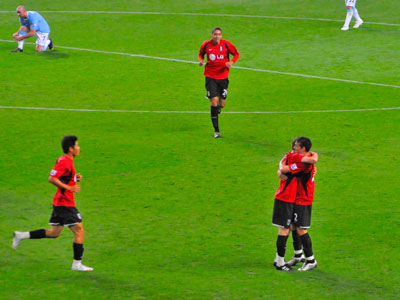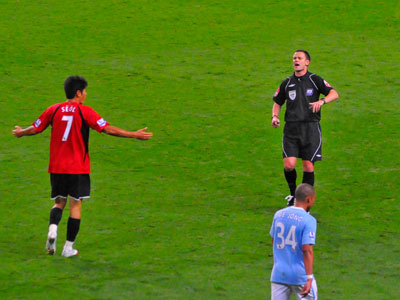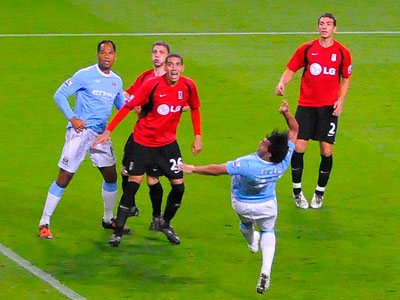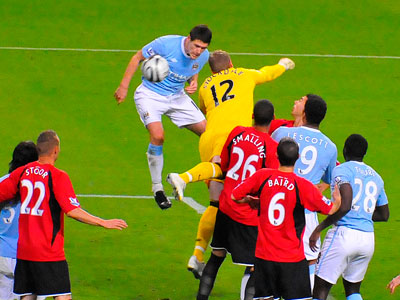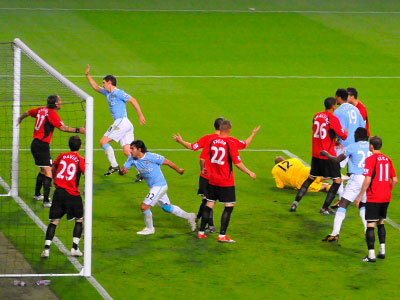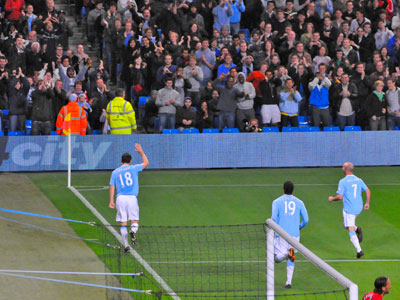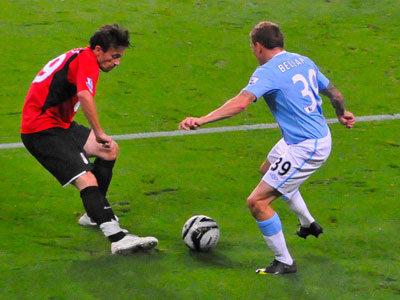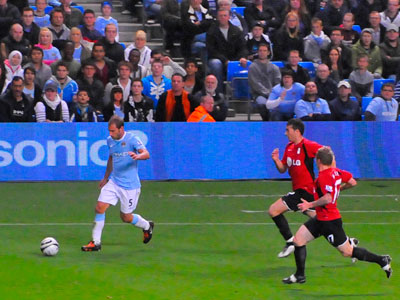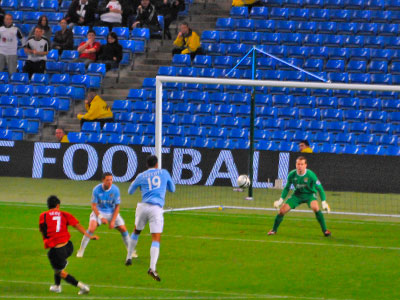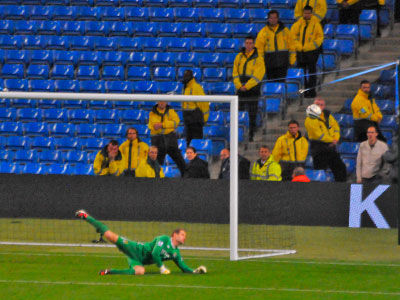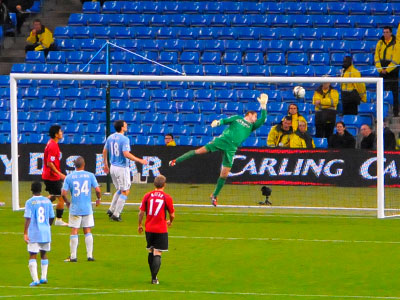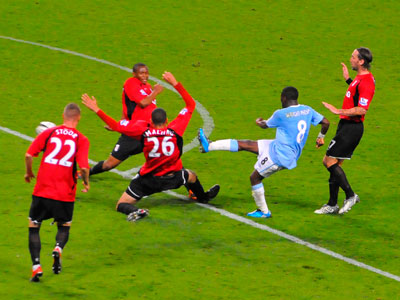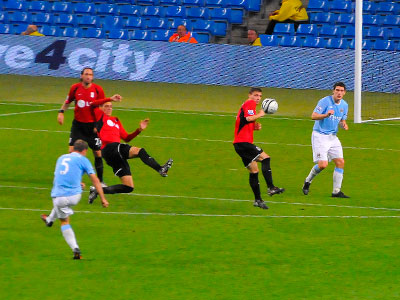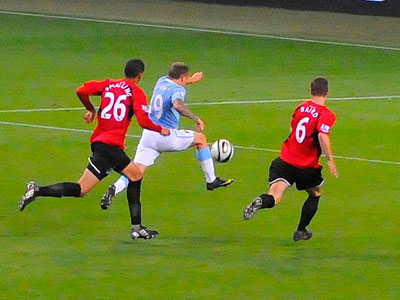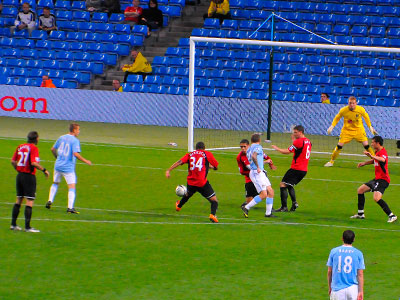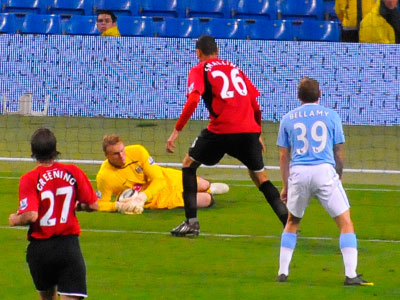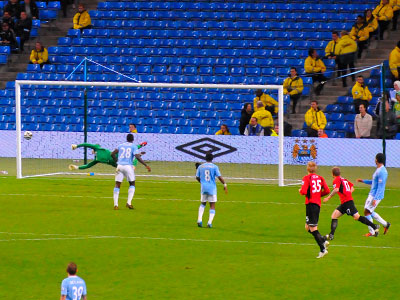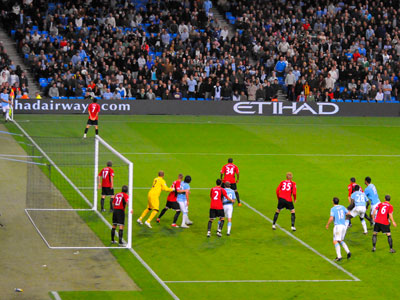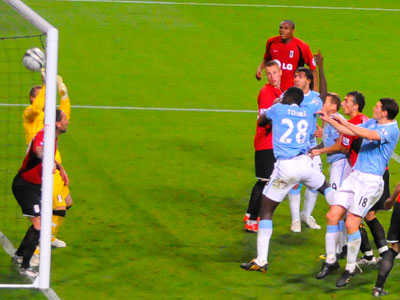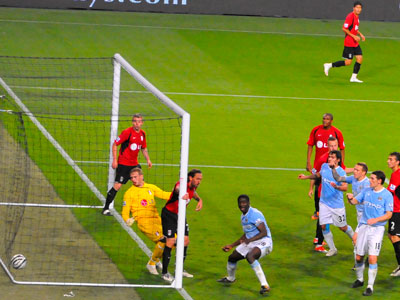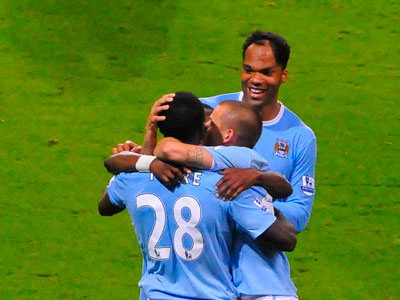 City made one change - Zabaleta coming in for Richards. It was a strong side out for the Carling Cup
Less than 100 came to support Fulham. There must have been some sale on at Harrods!
Craig Bellamy was soon in action giving the Fulham defence plenty to think about.
A shot from Wright-Phillips goes wide
Kelly and Baird manage to hold off the challenge of Barry
Zabaleta heads clear a rare Fulham attack
All eyes on the ball as Fulham clear
Seol Ki-Kyeon pleads innocence after he fouls Zabaleta
After 34 minutes Fulham took a shock lead when Gera hit a long shot first time past Given. It was their first effort of the game and completely against the run of play
City appealed for handball after this pass was blocked
Just before half time Stockdale saves from SWP
Stockdale punches clear from a Bellamy corner
A minute later and Bellamy forces another corner which he takes and this time Stockdale misses his punch leaving Barry to head home
So early in the second half City are level and there was a more positive attitude from the home players.
Star forward was Craig Bellamy who was City's chief dangerman
Zabaleta dashes down the right wing
As the clock ticked towards extra time Given had to make a good save from Ki-Kyeon
Given is glad to see this effort go wide
SWP has an effort blocked
Now we are into extra time and Zabaleta shoots wide
Bellamy on the attack yet again!
Stockdale saves from Tevez
A good move from City ends with Weiss shooting over
Riise just shoots wide of the far post
With penalties looming Petrov takes a corner
...... which Kolo Toure heads from close range into the back of the net
..............and City are able to celebrate a 2-1 win
Team
Given 7: Zabaleta 7: Toure 7.5, Lescott 7, Bridge 6.5: Wright-Phillips 6,
Ireland 6 ( Petrov 6.5) de Jong 7 ( Weiss 6.5) Barry 7, Bellamy 8, Tevez 7