Manchester City 4 Arsenal 2 September 12th 2009
Barclays Premier League att 47,339

An amazing game. This was City's first major test and they came through quite well. Arsenal controlled the game for long periods but rarely troubled Given. City were dangerous on the break and considering they were without both Tevez and Robinho gave the Arsenal defence plenty to think about. City have won their last 5 games and if you include the last game of last season it must be many many years since City won 5 first or premier games on the trot -probably 1986! We did concede our first goal of the season - black mark defence! It's only United next week so lets make it a real record! Though Adebayor will get all the headlines for both right and wrong reasons but hardest worker for City was Nigel de Jong who bossed the area in front of our back four. Biggest worry was the poor form of Ireland who was really off his game. Barry was probably a bit tired following his England efforts but Bellamy was bang on form and will be a great deputy for Robinho who will be out injured for several weeks -like Tevez.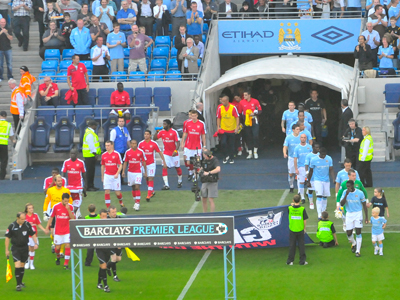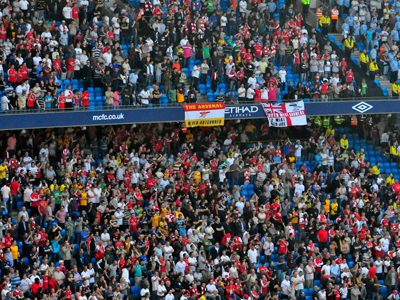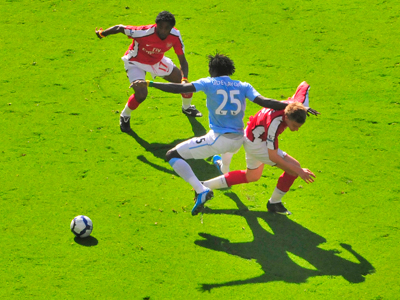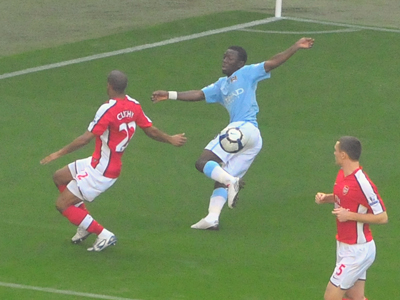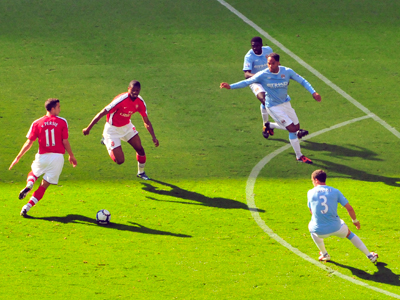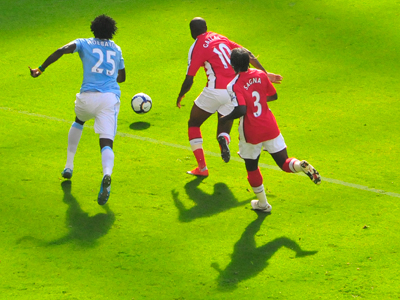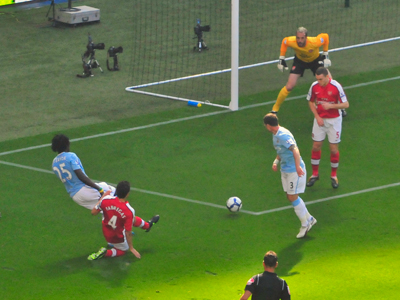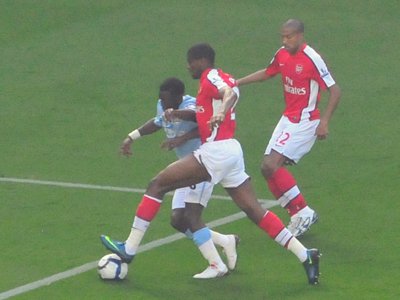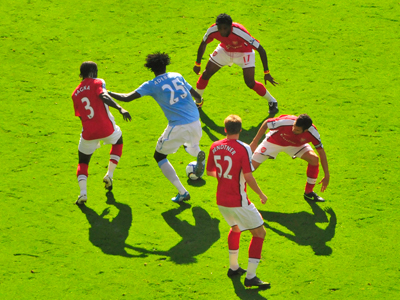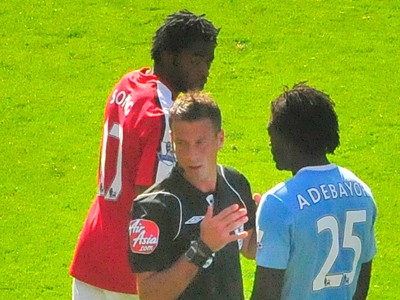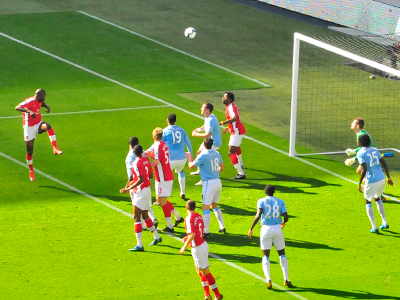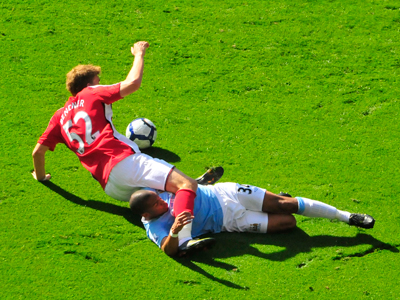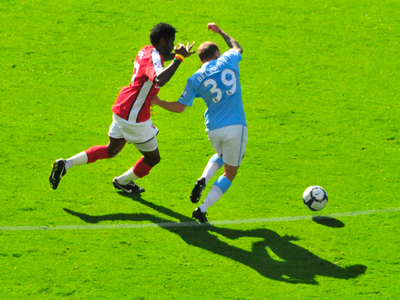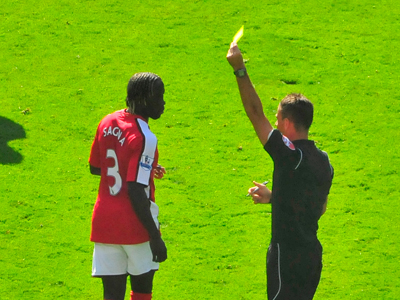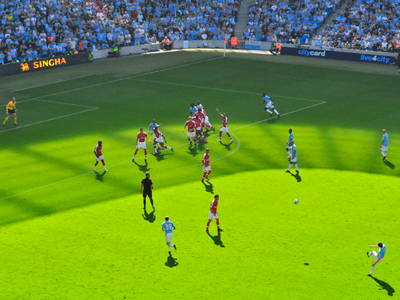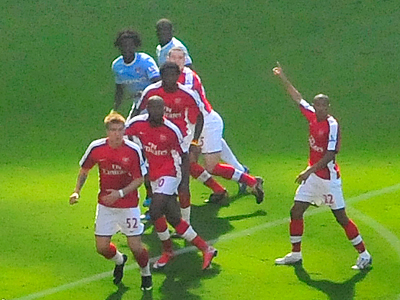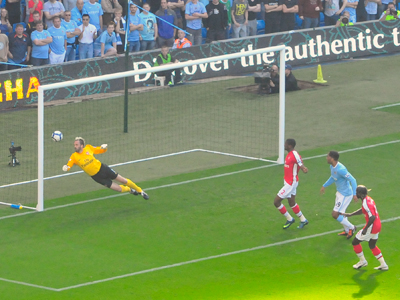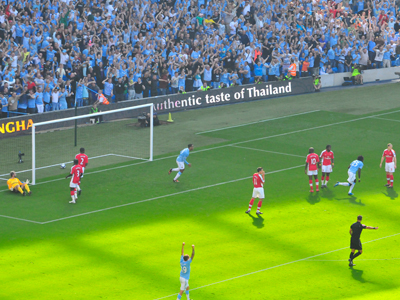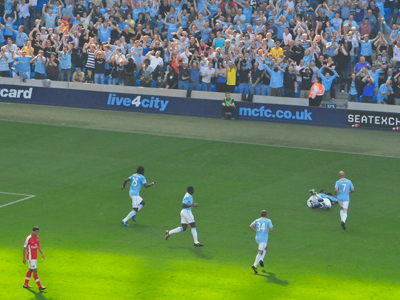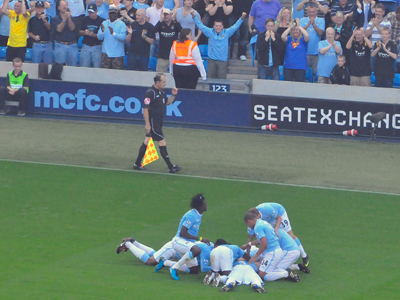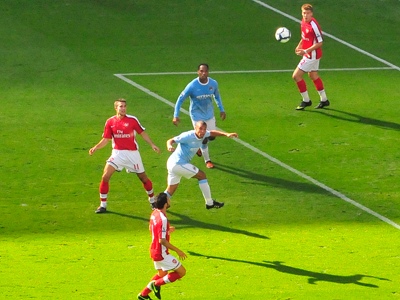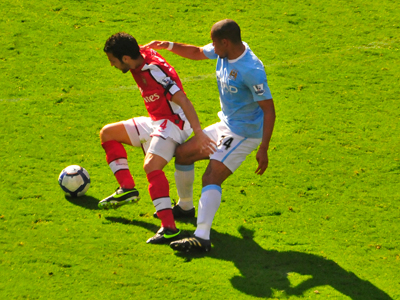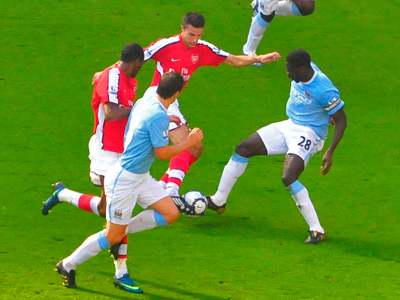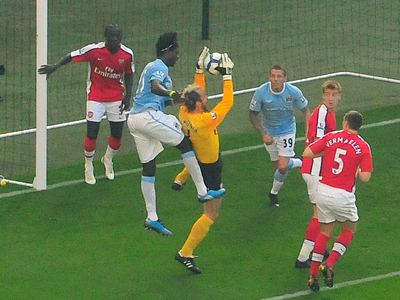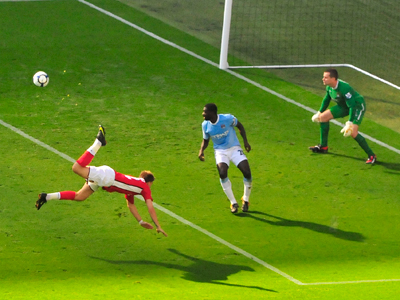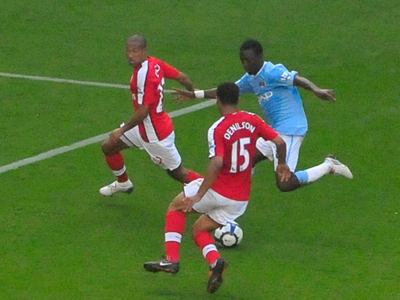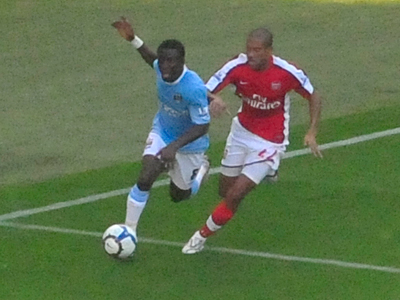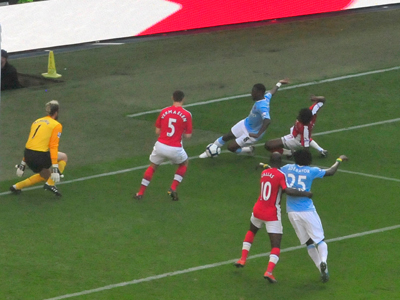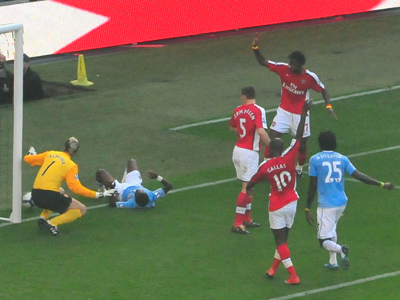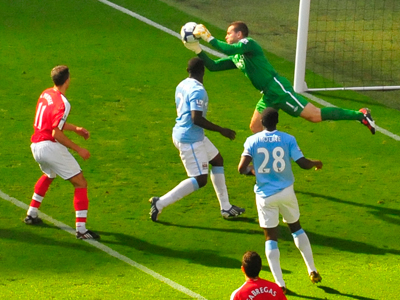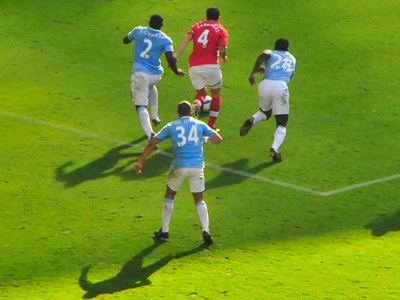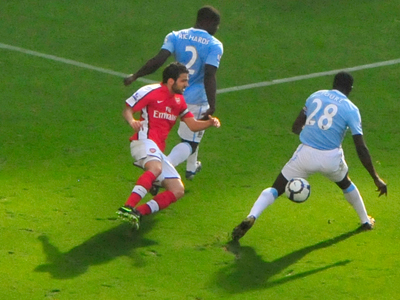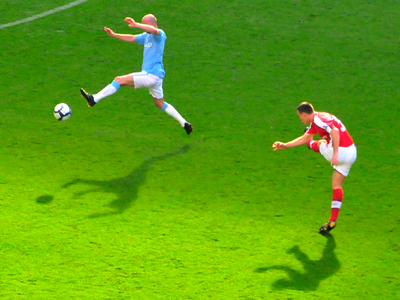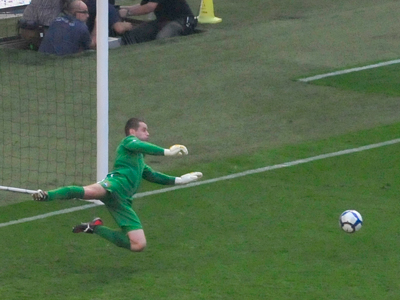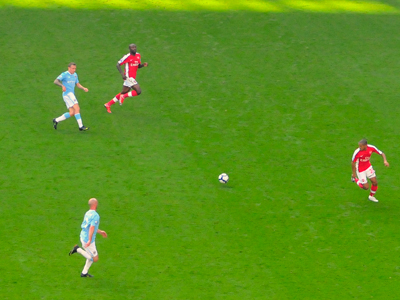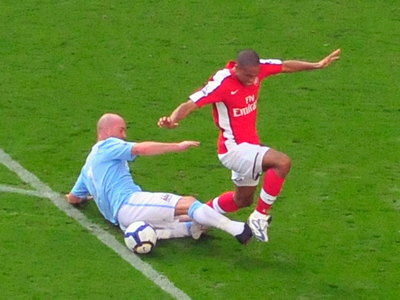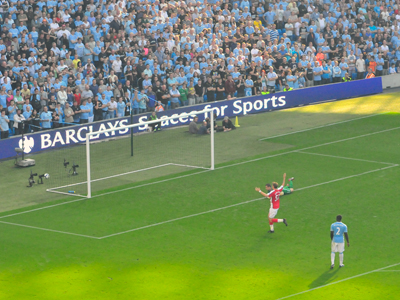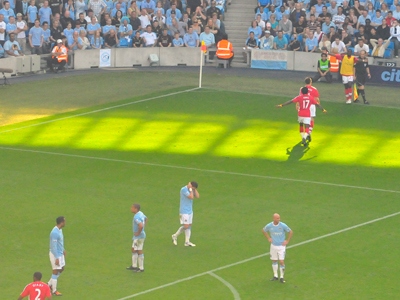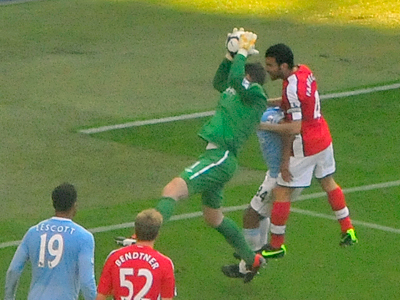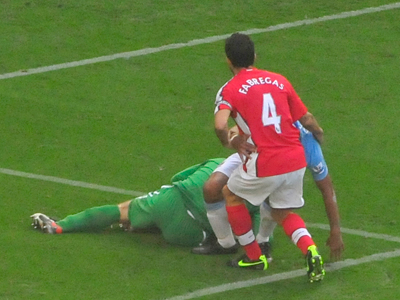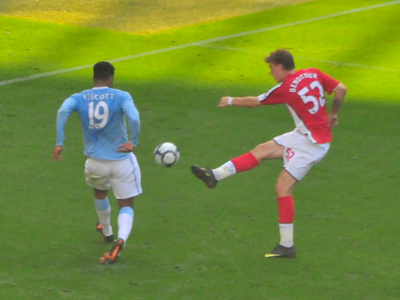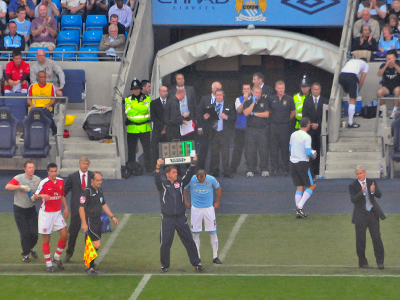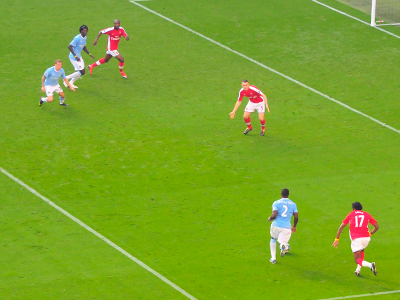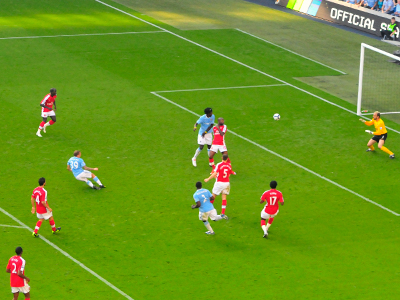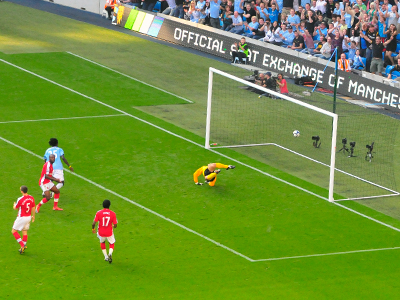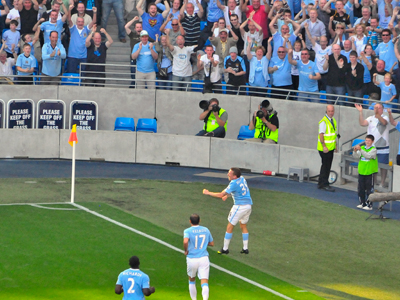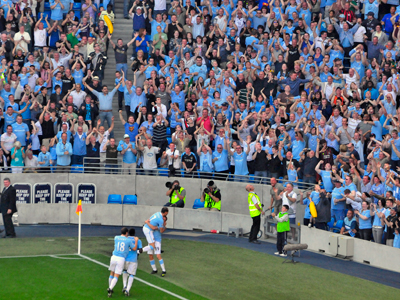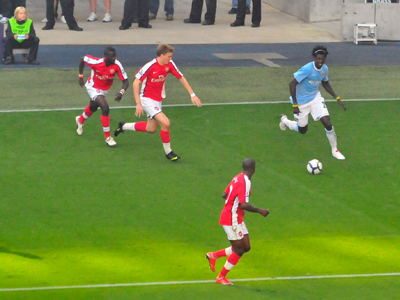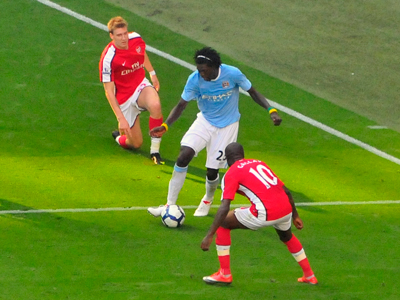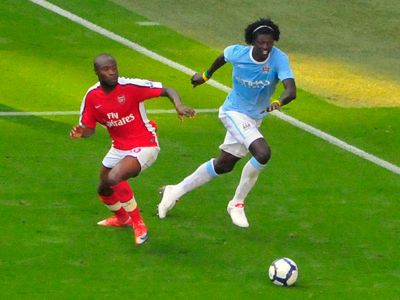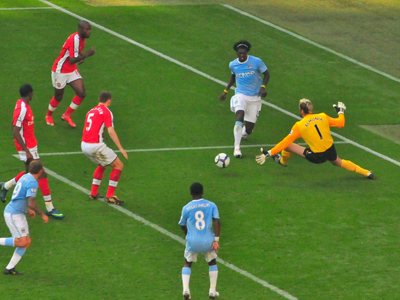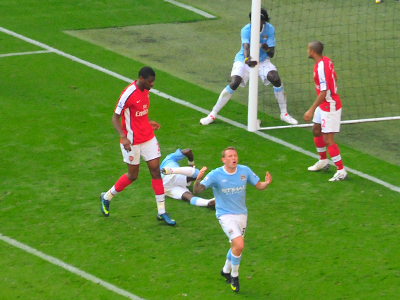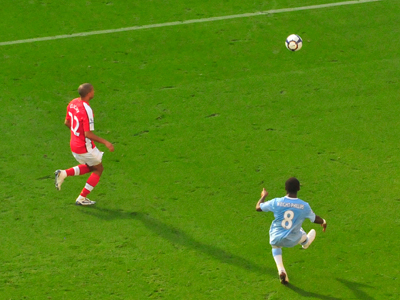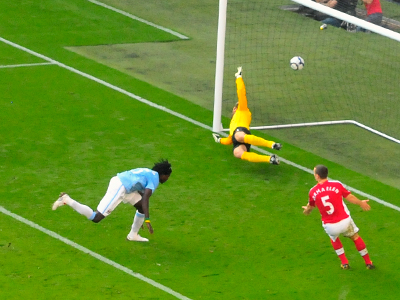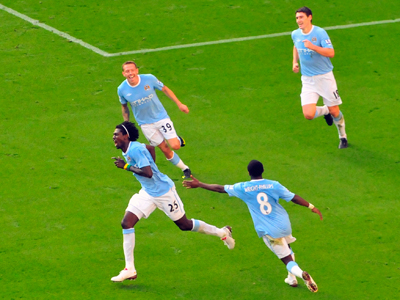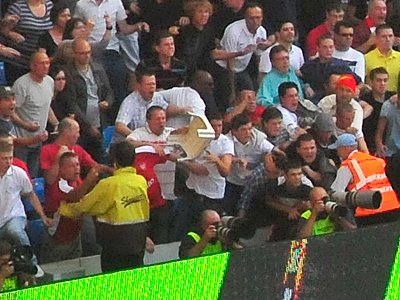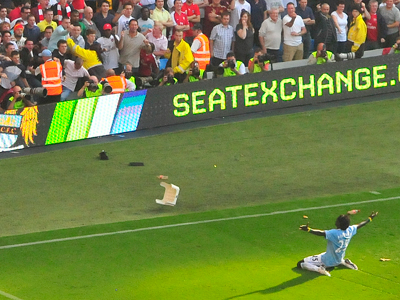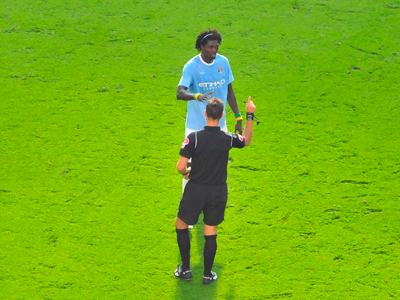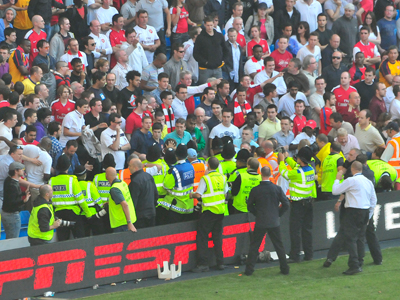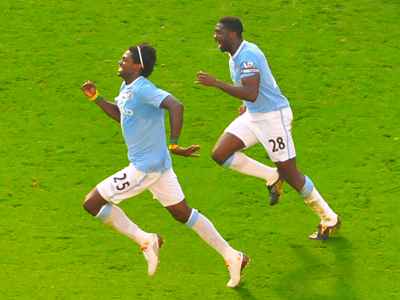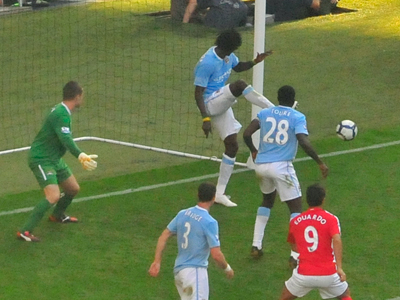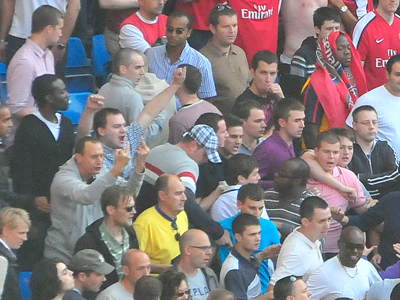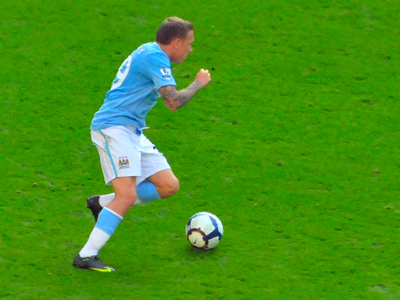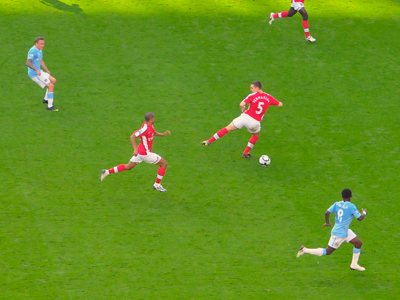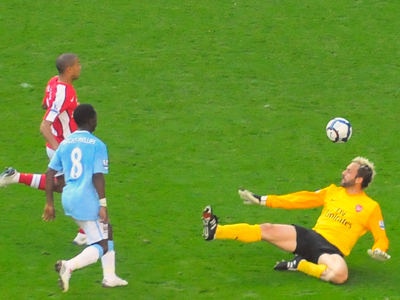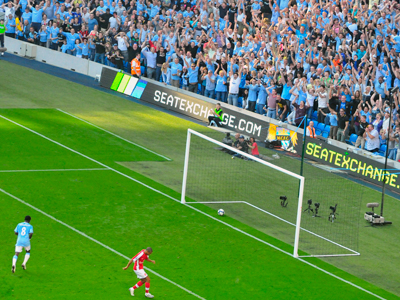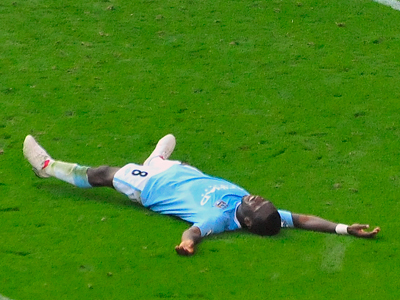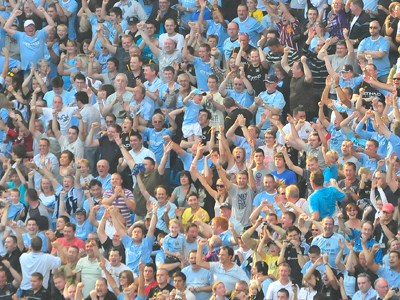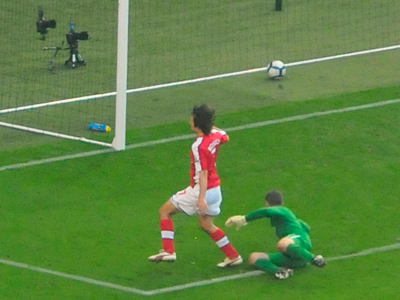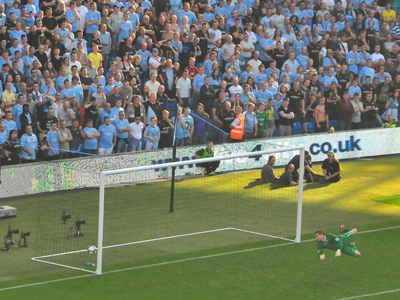 City were led out by their new skipper Toure. Both Tevez and Robinho were out injured- de Jong and Bellamy coming in. Lescott made his home debut
Arsenal brought plenty of support so the stadium was full to bursting - it was the highest yet attendance at COMS
Adebayor was soon in action
SWP had several runs down the wing but the Arsenal defence was equal to the task
Arsenal had plenty of the early play and the City defence was kept busy
Adebayor breaks away down the left.......
..but he is penalized for a foul on Fabregas
SWP again fails to break through down the right wing
Adebayor is surrounded by four Arsenal players!
The referee comes between Adebayor and Song
An unmarked Gallas heads over from a corner. A good chance for Arsenal
Now don't bite I am Nigel !
Sagna is about to foul Bellamy and gets a yellow card for his trouble.
Barry took the free kick and at the rear of the pack next to Adebayor is Micah Richards......
.........who leaps higher than the others and heads the ball onto the post and into the goal via Almunia's head! The time - 19 minutes and City are one up.
Let the celebrations begin!
Nigel de Jong in action - heading clear and keeping tight on the opposition
Kolo Toure blocks a run of Van Persie
A cross by Bendtner is caught by Given
Almunia catches a corner from Barry under pressure from Adebayor
Bendtner tries some acrobatics to no avail
SWP was trying hard down the right wing and once when he did manage to beat his marker.....
....and get to a dangerous position but failed to make the most of it and at half time it was still City 1-0
Fabregas has his run stopped by the joint efforts of Richards and Toure
Arsenal started to dominate the game and even Vermaelen had a shot from long range but Given managed to push it to safety
On 60 minutes City should have added to their score. Bellamy passed to Ireland who was caught in two minds whether to pass or shoot and ended with nothing!
It was no surprise when Arsenal equalized - Van Persie scoring with a good shot after turning Lescott. The City defence looked a little dejected after conceding their first goal of the season
Fabregas clashes with Given who is injured in the duel
Van Persie returns after 'his so called clash with Adebayor' and Ireland is replaced by Petrov
Against the run of play City took the lead after 73 minutes. Richards took a pass from SWP and passed to a waiting Craig Bellamy who cracked the ball first time past the keeper to give City the lead
The stadium erupted. It had been a quick break from defence and Arsenal were caught out.
Bellamy was having an excellent game and deserved his goal
We then had an extraordinary run by Adebayor .....
.......who beat several Arsenal defenders near the goal line before setting up a chance....
....for Wright-Phillips who missed a wonderful opportunity
A good decision by the referee when SWP was fouled led to the next goal. SWP crossed and there was the unmarked Adebayor to head past Almunia to make it 3-1. Incredible!
However Adebayor let his heart rule his brain and he ran like a man possessed to the Arsenal end - why didn't skipper Toure stop him?
That did not please the Arsenal supporters one little bit and they threw objects onto the ground including a plastic chair.
Adebayor was rightly booked for his stupid action and the police had to be brought in to help the stewards
Shortly afterwards Adebayor cleared the ball off the line at a corner while the Arsenal supporters were still not happy at the events.
There was even more to come. Clichy was dispossessed by Bellamy and within seconds we were on the attack once more. Craig Bellamy split the defence with pass to SWP....
...... who just clipped the ball over Almunia and it was 4-1. Unbelievable.
While SWP is flat out waiting for his colleagues the City supporters went mad
City then seemed to relax and Arsenal came back with a goal by Rosicky and a late shot by van Persie that hits the post.
Team:
Given 7: Richards 8, Toure 7.5, Lescott 6.5, Bridge 7: Wright -Phillips 8, Ireland 5 ( Petrov 7) de Jong 8.5, Barry 7, Bellamy 8, Adebayor 8