September 2007-2008
This was a stunning game full of some magnificent football by City - best I have seen for years by a City side and capped by the most perfect free-kick goal you could ever wish to see. The scorer - well it was Man -of-the-Match Elano who capped a terrific display of skill by beating Given from over 30 yards . Newcastle United played their part in an open game and actually took the lead. However the visitors rarely troubled Joe Hart in the City goal but Given in the visitors goal had to make several good saves to keep his side in the game. All the City team played their part and while Richards had some dodgy moments in the first half he came thundering back in the second . Stephen ireland is getting back to his normal self after his problems and Petrov is proving dynamic on the left wing. Mpenza worked his socks off up front and was rewarded with a goal while Johnson and Hamann played their parts in this great footballing display which kept City up in the top four. A decent crowd too for once - helped by a full complement of Newcastle supporters.
The only change for City was in goal where Joe Hart was given his chance to show what he could do
Martin Petrov was soon on the attack
Elano too was soon to show his skills
Hart had the odd catch but otherwise not too busy at this stage
I think this game really showed why Sven has preferred him to Bianchi up front. Emile worked his guts out - holding up play and using the ball well and in one early attack was brought down by Butt..........
........but The free kick on this occasion did not work out and eventually came to nothing
Elano almost scored after 11 minutes when he cracked the ball from the edge of the area only to see Given dive across and make a great save.
Given continued to do well for Newcastle while Sam Allardyce must have been concerned as he sat in the stand
Milner was doing well for the visitors and seemed to be their most dangerous player
Richards made a questionable late tackle on Milner
Newcastle went ahead after 29 minutes when a long ball from defence caught Richards asleep on duty and Martens took advantage to put the ball past the advancing Hart to score
Hart gave us a scare when he miscontrolled an awkward pass back and the ball almost went over the line before he cleared
Another run from Petrov ends with a good save from Given
After 37 minutes Corluka slipped the ball to Elano who again found Ireland down the right and the latter dashed down the wing and crossed.......
...........for Martin Petrov to come running in on the blind side and score from close range at the far post. A brilliant move and goal to equalize
Elano beats a group of Newcastle defenders and passes to Ireland who attempts to cross.
The City supporters were seeing something special today
Mpenza put in lots of hard work and never gave their defence a moment of rest
Hart who was having a pretty easy time catches a cross
Micah Richards clashes with Milner
Dunne heads clear under pressure
Just before half time City had a lucky escape when an effort by Milner ended with Dunne heading off the line . Half time and one all
Immediately after the restart a loose ball was picked up by Martin Petrov who outran the Newcastle defender and crossed from the goal line........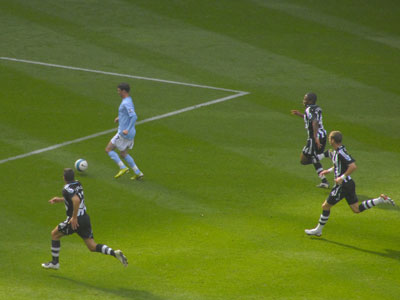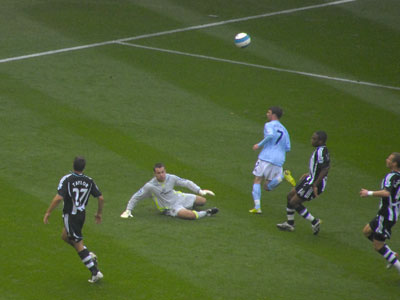 After 40 minutes Elano put a brilliant through ball to Ireland who ended up one on one with the keeper. His shot hit Given on the chest and rebounded to safety
........... for Mpenza to head across the keeper and into the net to put City ahead.
Mpenza showed his City shirt to the crowd before going over and accepting their enthusiastic support and congratulations.
Big Sam is out to egg on his players
Given makes yet another save
Given on his return to the Newcastle team has more work to do under pressure from Johnson
Onuoha who had come on for the injured Corluka tangles with N'Zogbia
Geremi has a shot which goes wide
One of Hart's few saves as he tips this shot over the bar
Mpenza jumping with Rozehnal
Richards went on a quick counter attack
A tangle of bodies at a corner
...and only a last ditch tackle by Beye stopped him
With just 3 minutes to go Petrov came inside and was blocked by Nicky Butt. A free kick was given........
.... Elano ( out of shot) took the kick from 30 yards out and as you can see from the close-up the ball just flew like a missile into the top corner. No keeper could have saved it. The perfect free kick.
Absolute bliss!!! City ahead 3-1 with the goal of the season! What a player. I was fortunate to see Pele and company play for Brazil and I cannot remember seeing such a wonderful free kick.
While the City supporters were ecstatic the newcastle supporters were much more subdued.
It was nice to see our Chairman stand to applaud Elano off the field when was subbed with a minute to go
There was four minutes of extra time and Hart and company made sure the score was going to stay at 3-1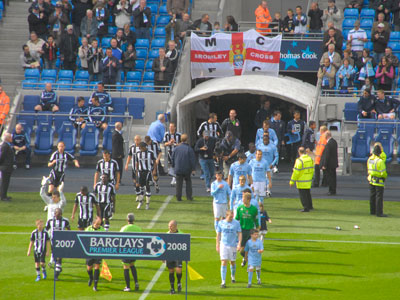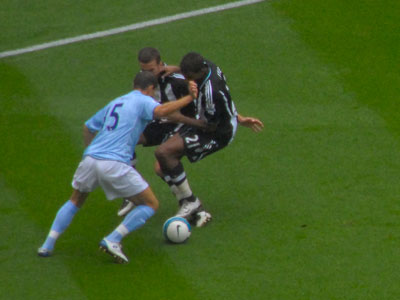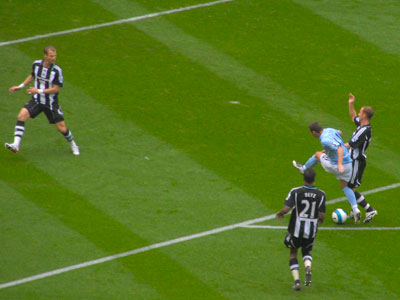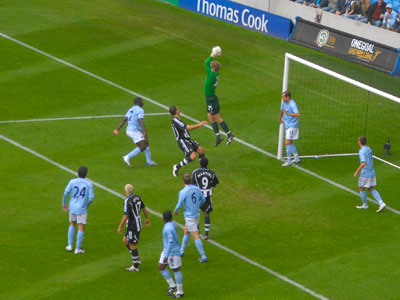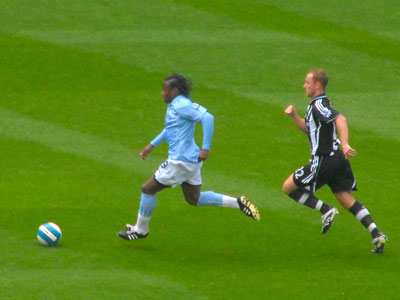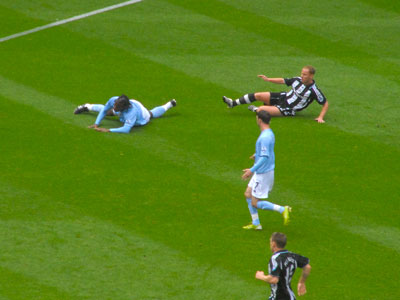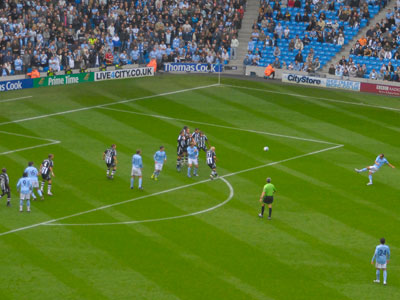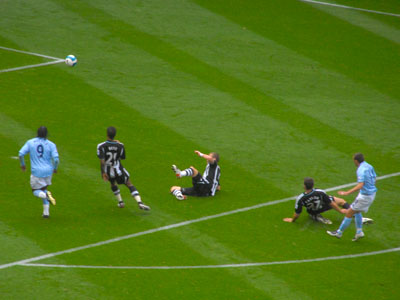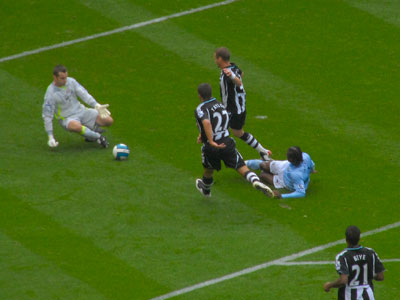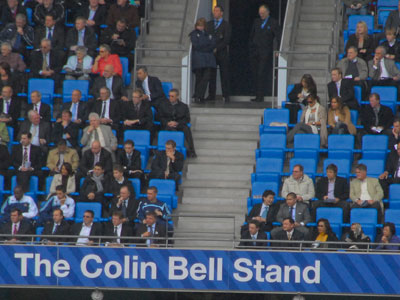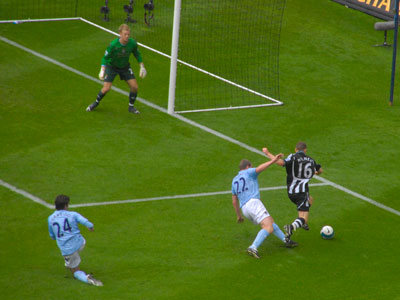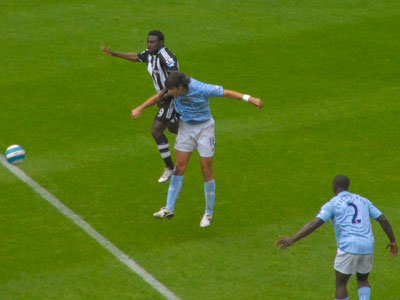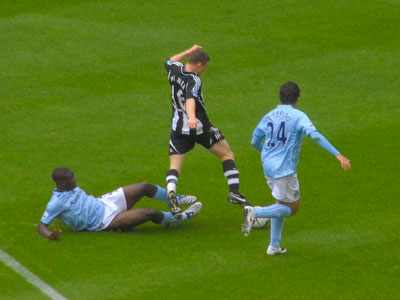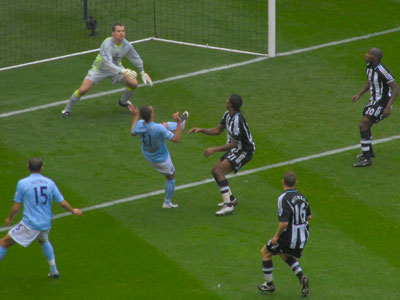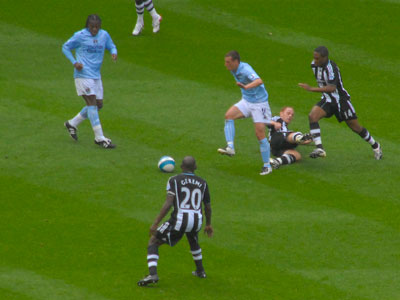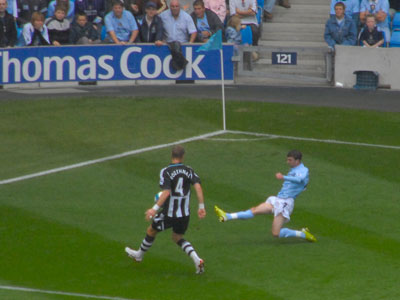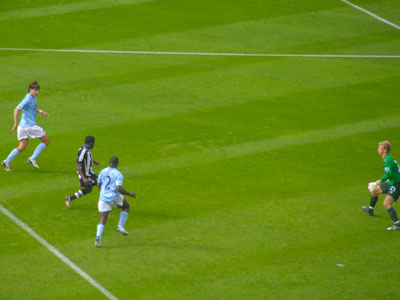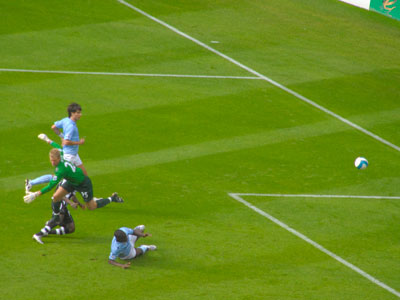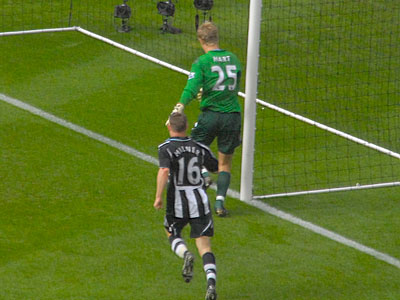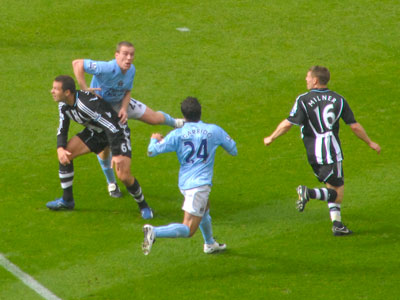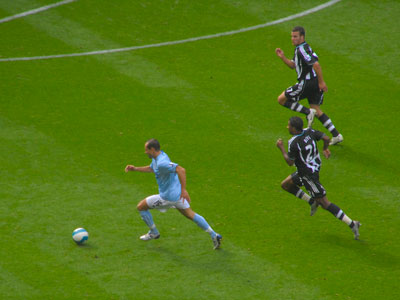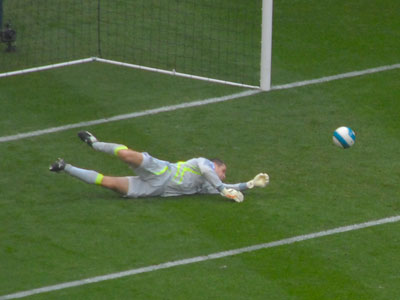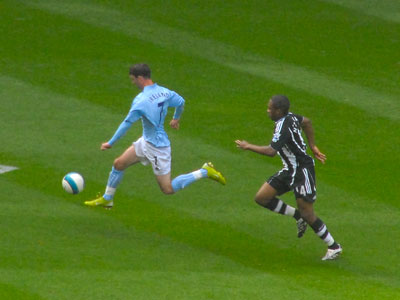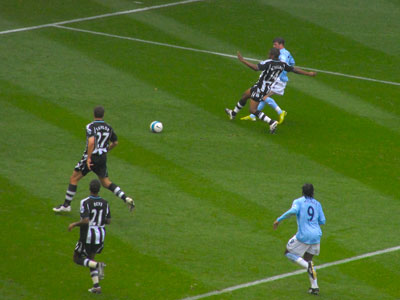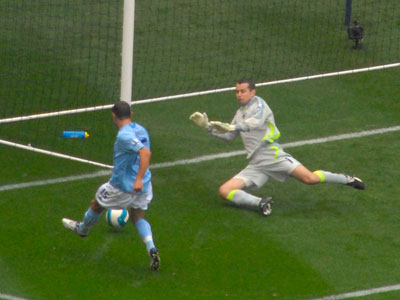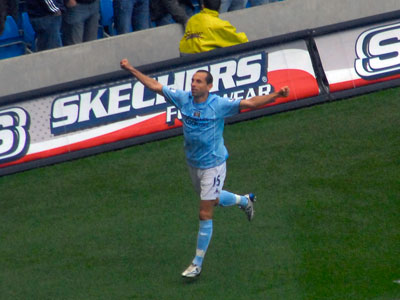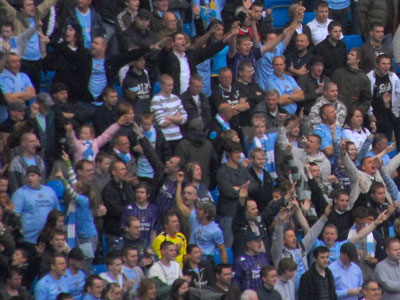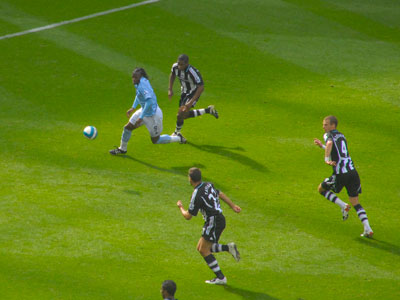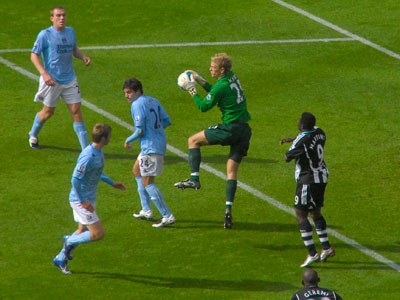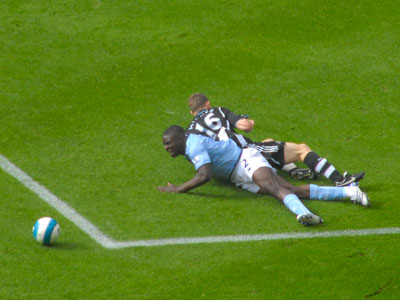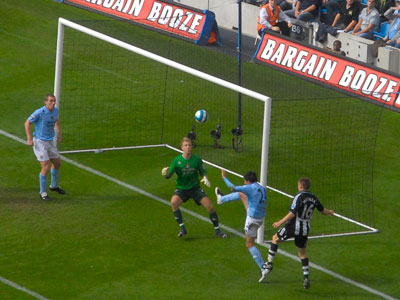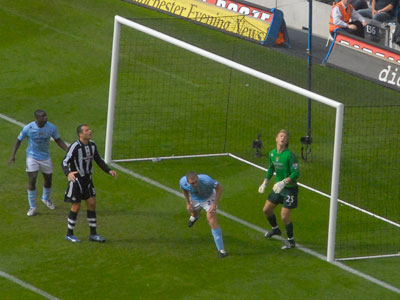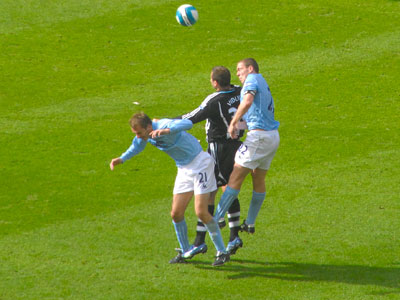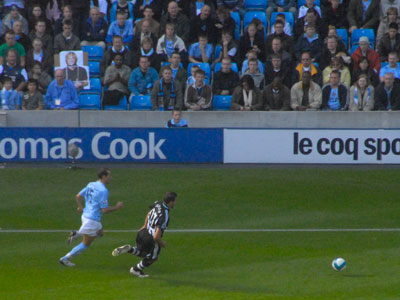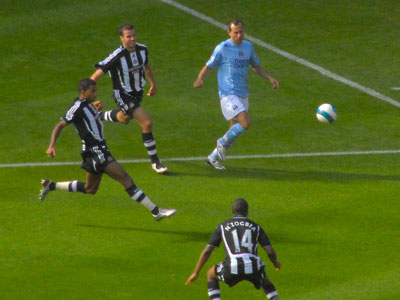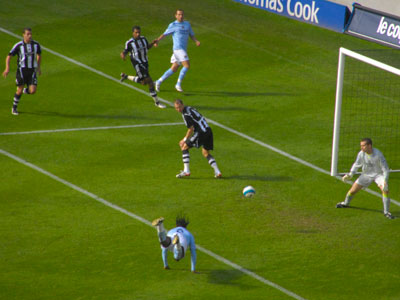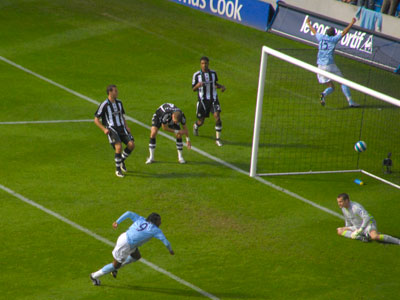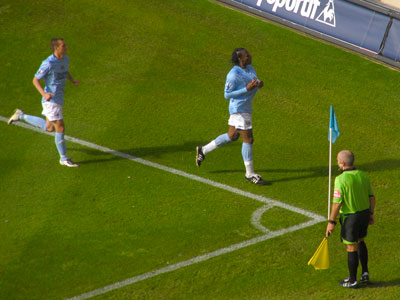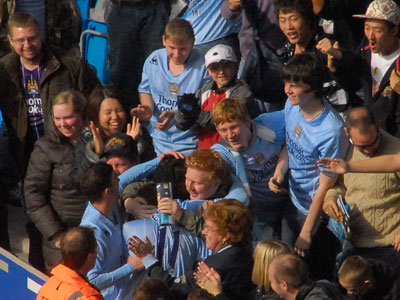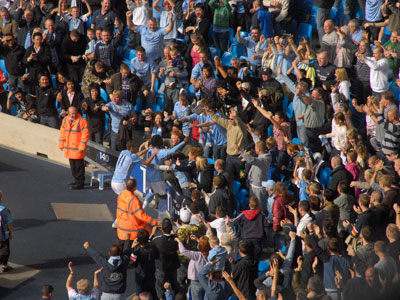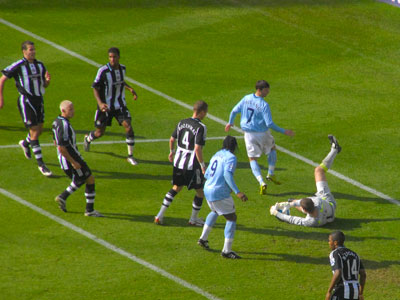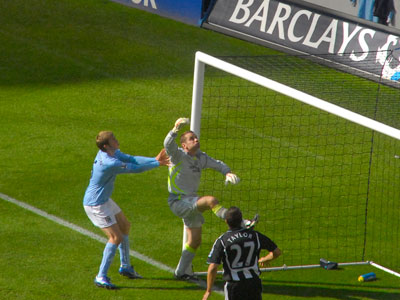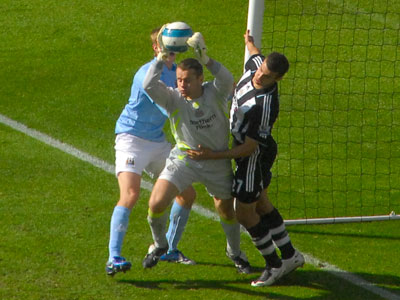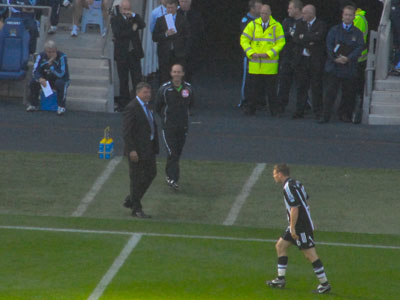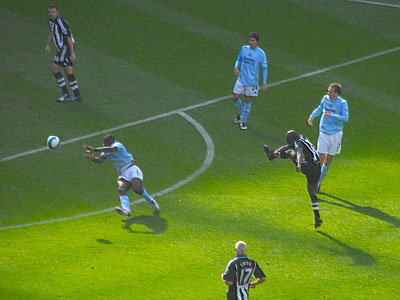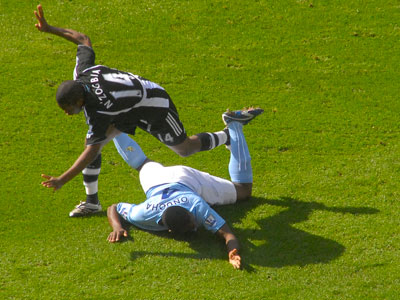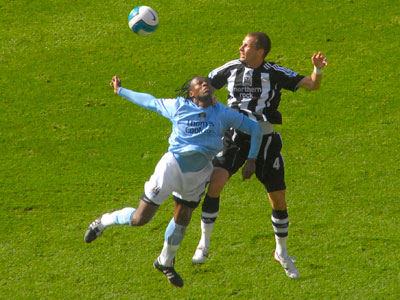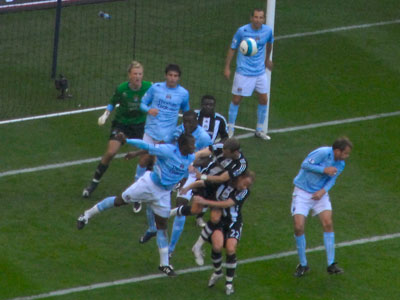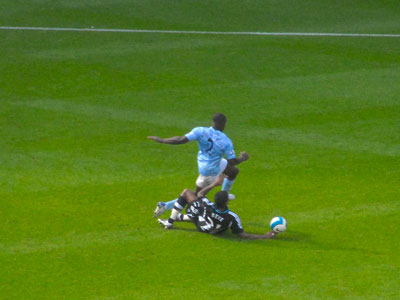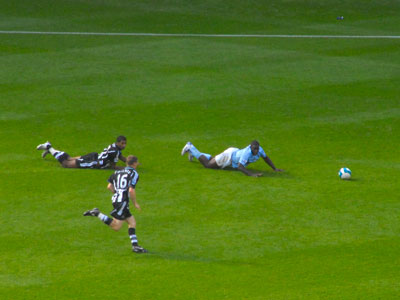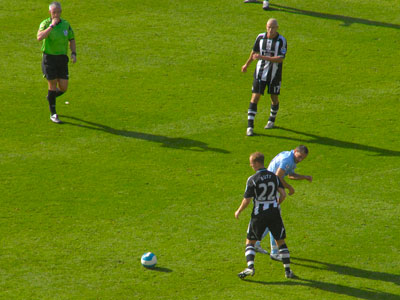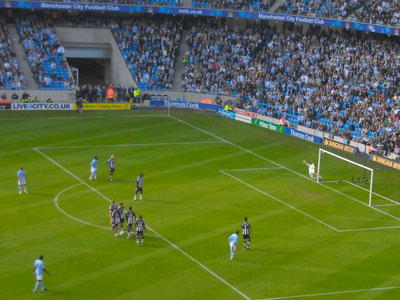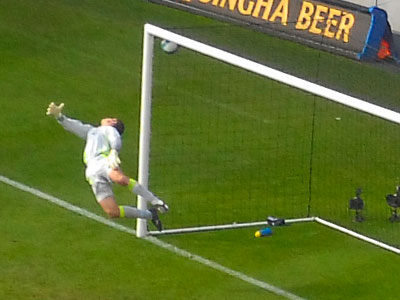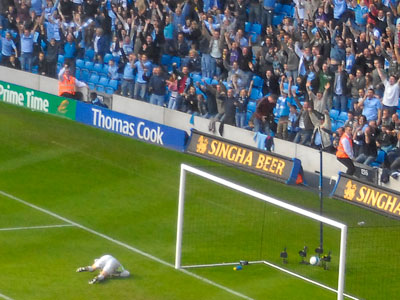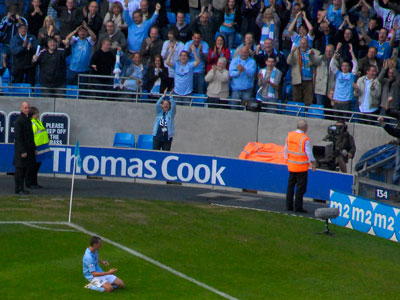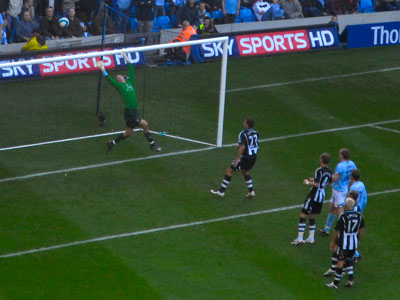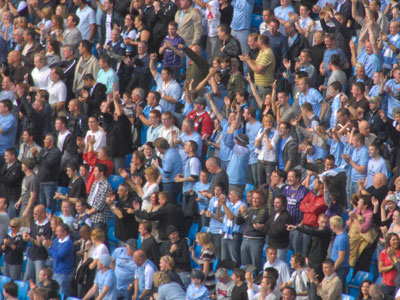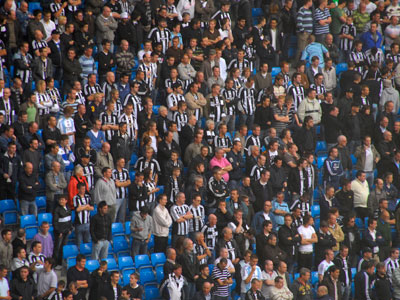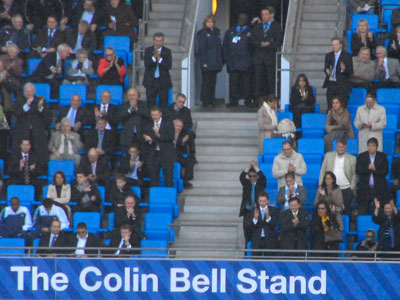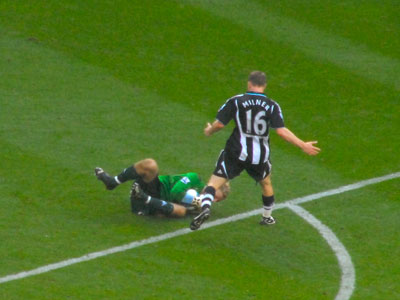 Team
Hart 6.5: Corluka 6.5 (Onuoha 7) Dunne 7.5 , Richards 7, Garrido 7: Ireland 7, Hamann 7, Johnson 7 (Ball), Petrov 8: Elano 9 (Geovanni), Mpenza 8

Manchester City 3 Newcastle United 1
September 29th 2007 Premiership att. 40,606