City 1 Aston Villa 0
Sept 16th 2007 Premiership att. 38,363
If you had suggested to me a few months ago that by winning this game City would be moving into second place in the Premiership I would have doubted your judgment but a lot of baht has crossed into Eastlands since then. Two away defeats since the win over United had dented City's positive start to the season but this narrow win over improving Villa has once again put City up in the top group and with a run of home games to come City should remain there for a while. After Stephen Ireland's GrannyGate episode it was no surprise to see him left out of the squad. I am amazed how on earth he thought he could have thought he could get away with such a story.
Kasper Schmeichel's luck continues as he once again kept a clean sheet. He should thank poor Villa finishing and a good defence despite the absence of a suspended Dunne. Kasper's vulnerability to crosses is worrying and though he is a good shot stopper his place must be in jeopardy with Isaksson back to fitness.
The crowd was disappointing - due to Live TV coverage and Villa failing to take up their full allowance. This was the first time a City line-up had contained players that had never played for City at Maine Road!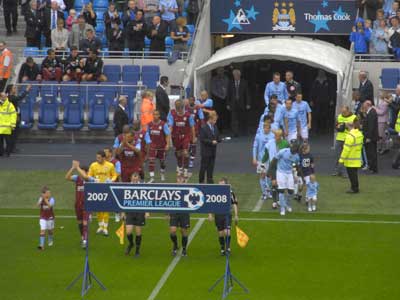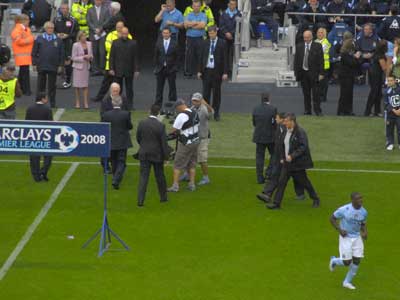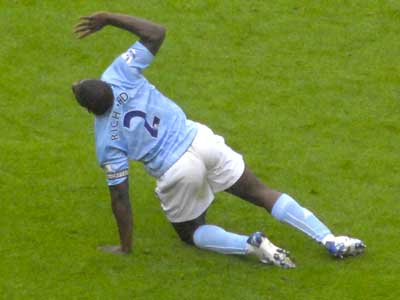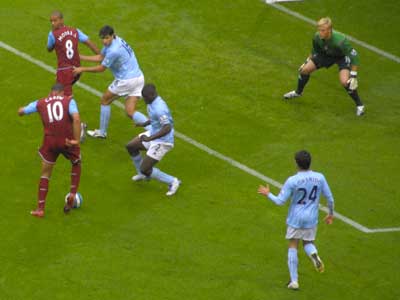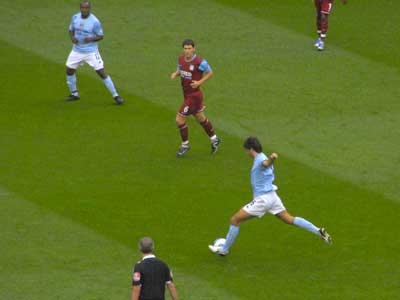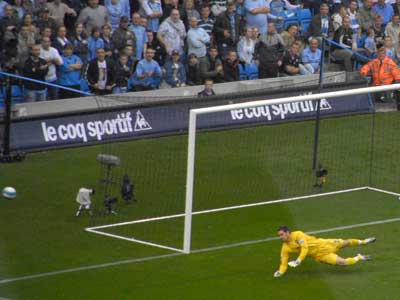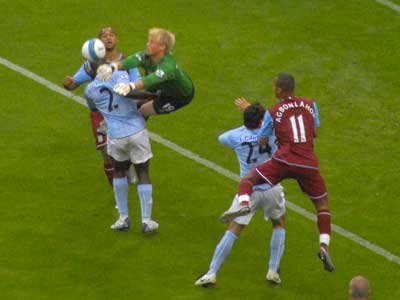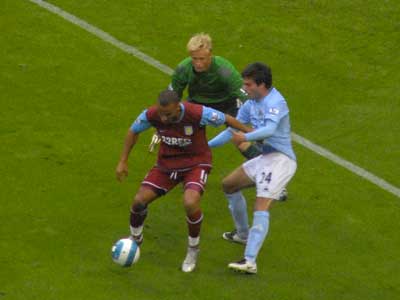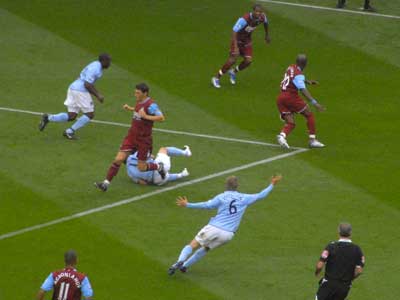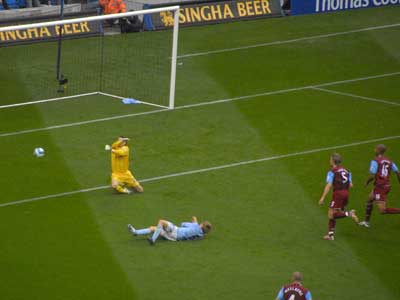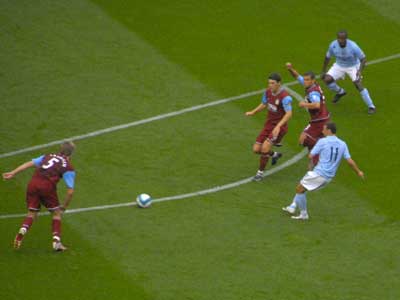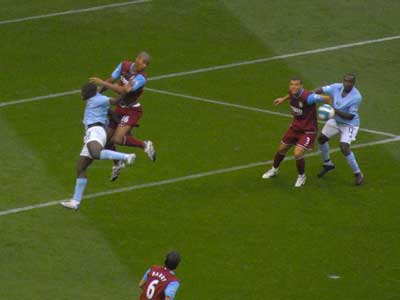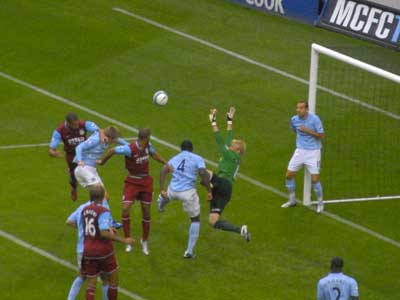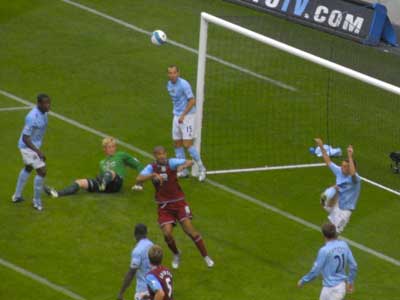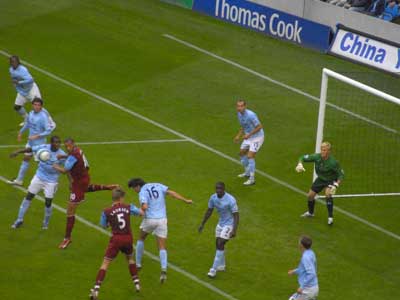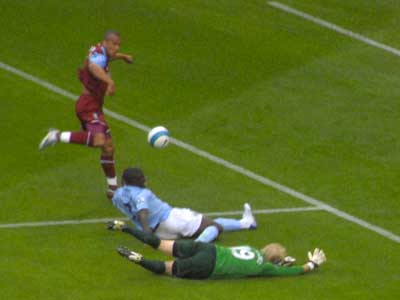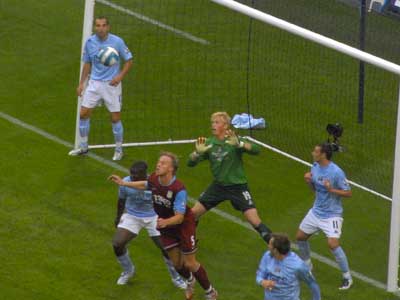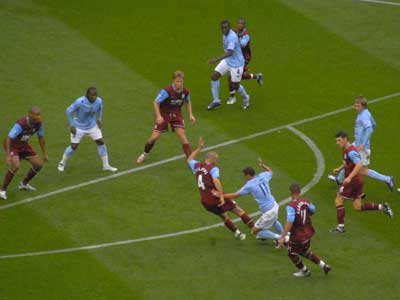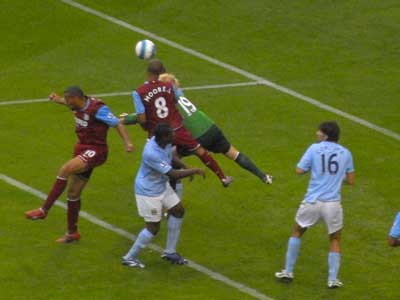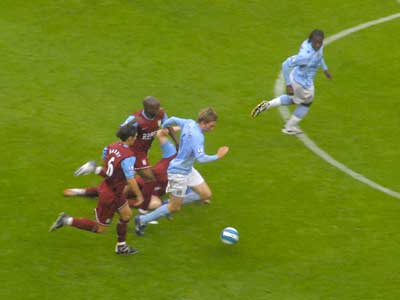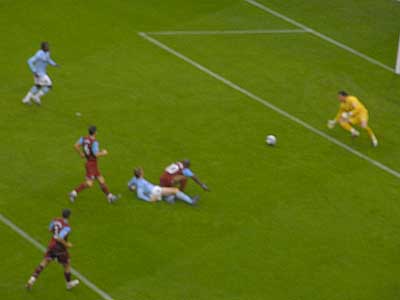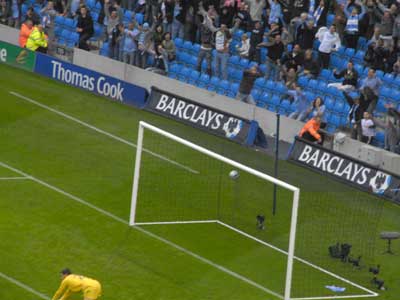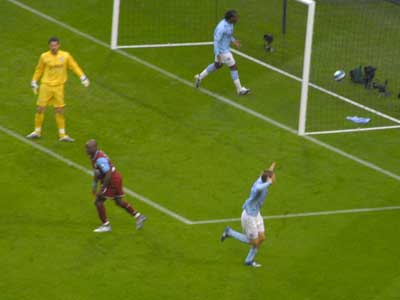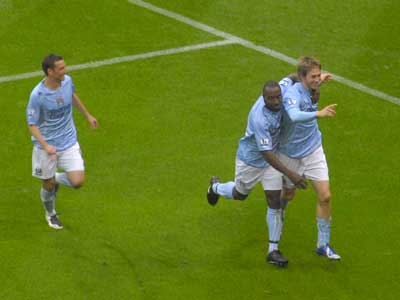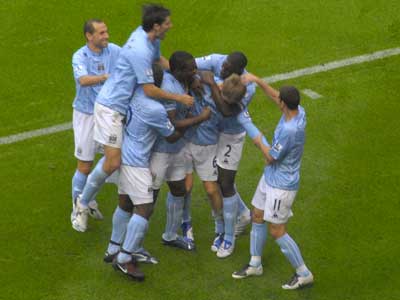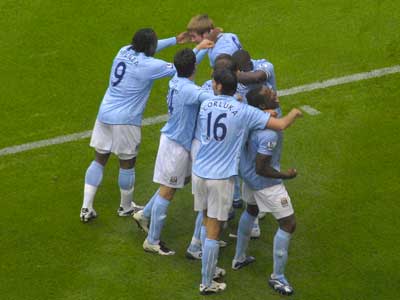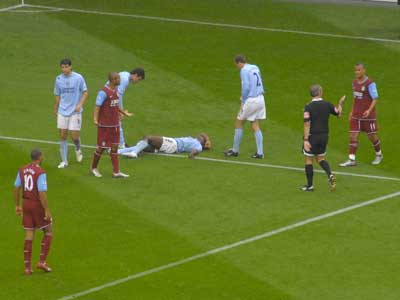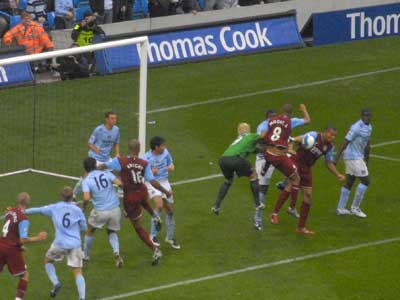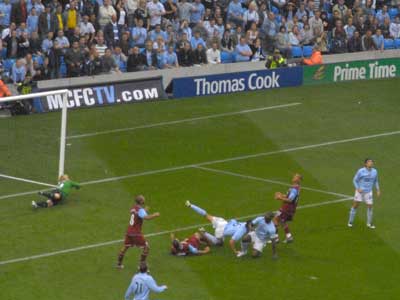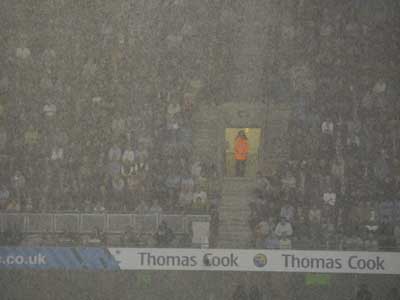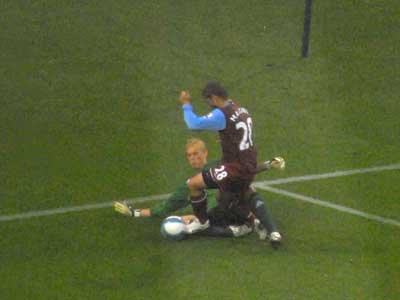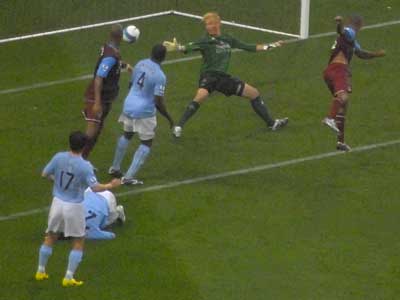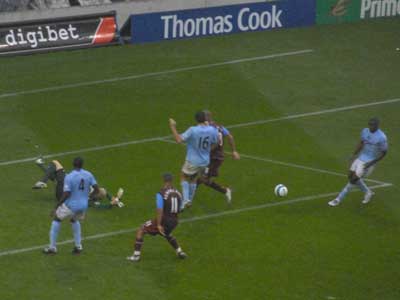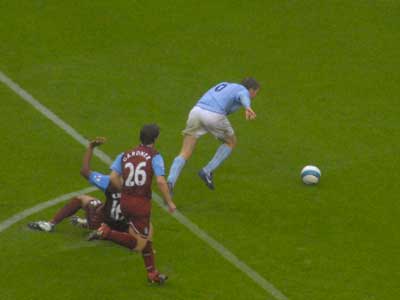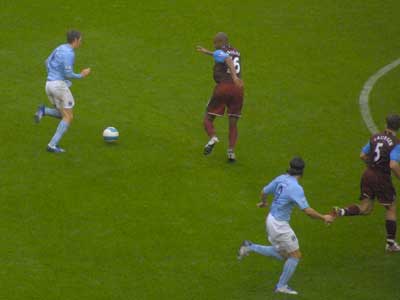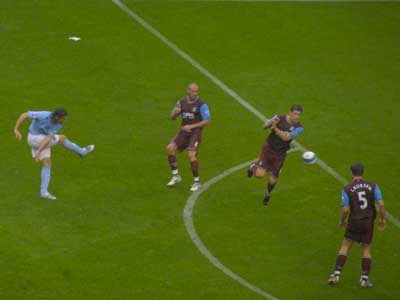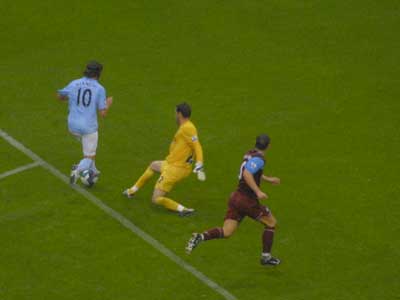 Micah Richards was captain in the absence of the suspended Dunne whose place was taken by Onuoha. Vassell came in for Ireland and Mpenza was preferred to Bianchi up front.
Before the game presentations were made to Richards as Barclays Player of the Month and to Sven as Barclays Manager of the Month
We had a worrying moment early on when Richards appeared to hurt himself but he was soon back in action to counter some early Villa pressure from Carew whose shot hit Moore before rebounding to the keeper.
After about ten minutes Corluka who had moved to the centre of defence took the ball forward and with the Villa defence holding off he let fly with a shot from some distance which went just wide with Carson trying to cover
Shortly after Richards narrowly missed connecting at a corner
A vastly improved Hamann worked hard in front of the back four
Kasper Schmeichel hurls himself through a crowd of players to punch clear a deep cross from the left . However his punch fails to clear the danger and Agonlahor got control but eventually Mellberg shot wide
Johnson shouts for a free kick as Elano falls
A free kick taken by Petrov after 16 minutes is glanced just wide by Vassell
After 19 minutes City had their best chance. Elano exchanged passes with Michael Johnson but the latter's effort was well saved by Scott Carson
Villa clear a City corner but it looks like Vassell's shirt is being tugged
Another dangerous Villa corner and the City keeper is flapping again!.......
......... and Elano has to clear off the line with Kasper S helpless on the floor
Vedran Corluka heads clear
Elano who had a hand in many of City's attacks.
The City defence was kept very busy repelling Villa attacks
The City defence on guard again at a corner
Elano is well marked as he tries to work his way through the Villa defence.
Schmeichel hurls himself to clear a Villa attack and half time came at 0-0
Three minutes after the restart Johnson and Elano exchanged passes and the young Johnson ran for goal leaving Villa defenders in his wake.........
....... as Carson advanced he slipped the ball past the Villa keeper and hit the back of the net to give City the lead
Congratulations came thick and fast
A heavy rain storm hit the stadium to make things difficult
Micah Richards takes a short nap as City defenders check the damage
Kasper has to go flying in to thwart another Villa attack
Villa manage to miss another chance
Maloney on for Carew after 66 minutes loses out to Kasper Schmeichel
City defence is kept under pressure as Villa try to equalize
City defending once again
Michael Johnson is on a run again.........
......and is tripped just outside the area but he keeps going but his effort is blocked by two Villa defenders.
He did well to keep his feet but was off balance when he shot
Bianchi had two final chances for City. His first was saved by Carson and the second was blocked on the line by Mellberg after he had beaten the Villa keeper. City just about deserved their win in a fairly open game and now move into second place in the Premiership. As several of the teams around them have a game in hand this is only a temporary step in the right direction, but the signs are good as the new players begin to find their feet in the league.
TEAM
Schmeichel 7: Onuoha 7, Corluka 7, Richards 7, Garrido 7: Vassell 6.5 (Sun 6.5), Hamann 7.5, Johnson 8: Elano 8 (Ball), Petrov 7: Mpenza 6.5 (Bianchi 6.5)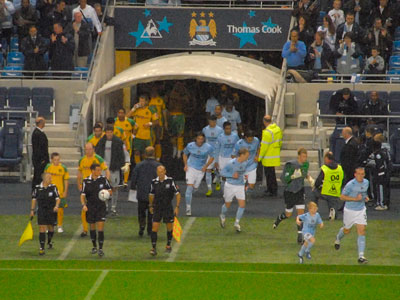 City 1 Norwich 0
Sept 25th 2007 Carling Cup Round 3 att. 20,938
Well City are through to the 4th round for the first time for 4 years but this was not a good performance. It was a poor game and hardly a cup tie - almost like a pre-season friendly at times with little action and passion. City made ten changes and it was almost a reserve side that faced the Championship side. I would have expected that all of these players would have wanted to prove themselves to the manager and their supporters. Sven took a chance to put some young players on the bench.There were some positives from the game. Joe Hart looked confident in everything he did, not that he had to do much. His decision making and punching looked better than Kasper S so he may be in on Saturday. Ireland will be lucky to keep his place on Saturday as he gave the ball away too often. The defence was OK and sufficient for the day against a weakened Norwich side. With his increase in confidence Samaras may get the vote for the bench soon. Geovanni looked the only one to conjure up a chance near the box and I felt City dropped to the visitors level rather than play at a higher cuptie tempo. Still we won - just . Shame about the crowd - the stadium only half full .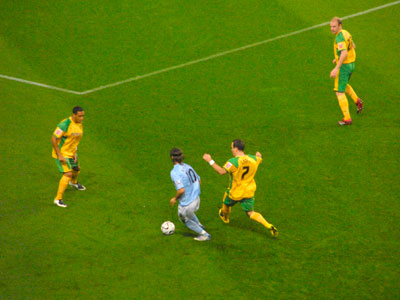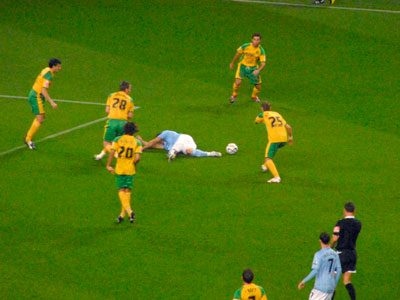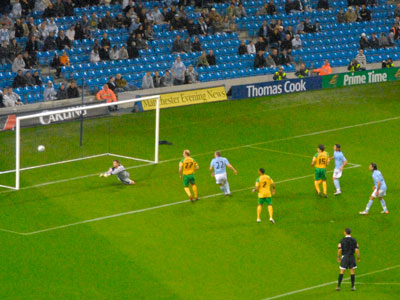 An early free kick after 7 minutes when Geovanni was brought down was taken by Ball and forced Marshall into an early save.
City rested most of their first team with only Dunne and Ireland of the regular first choice playing. A start was given to Bianchi (above right) of whom much had been expected. In the Norwich side was ex City player Lee Croft - but no Darren Huckerby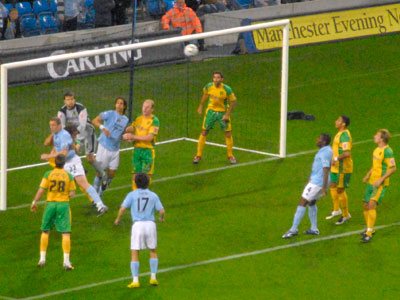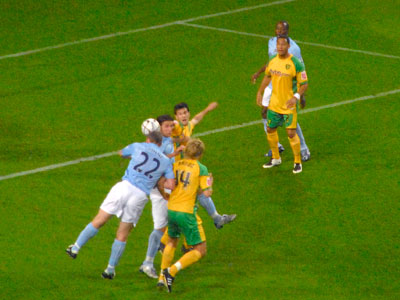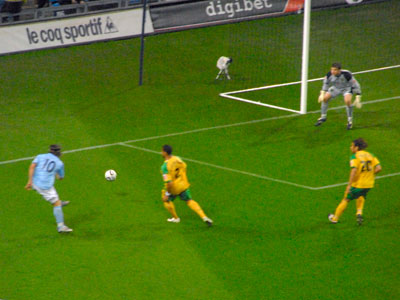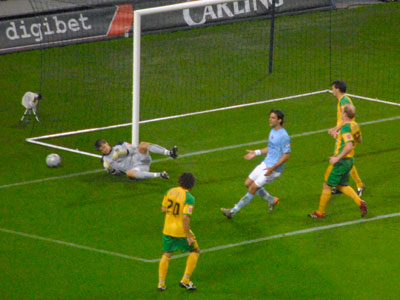 City continued to attack and forced several corners but no real chances came from them
After 15 minutes Geovanni set up Bianchi but his shot from a narrow angle hit the side netting.He would have been better off shooting across the keeper with the possibility of a deflection and Samaras was waiting.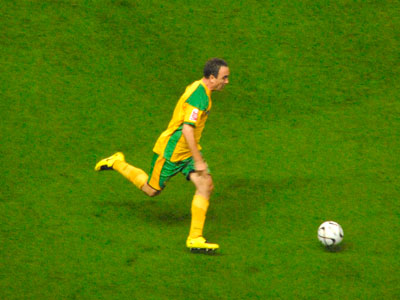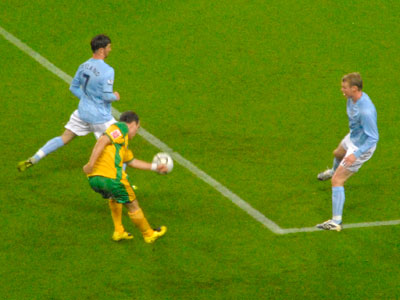 Lee Croft huffed and puffed down the right flank but rarely caused the City defence too many problems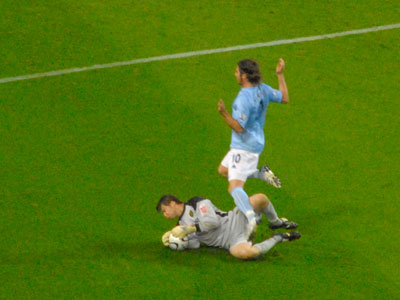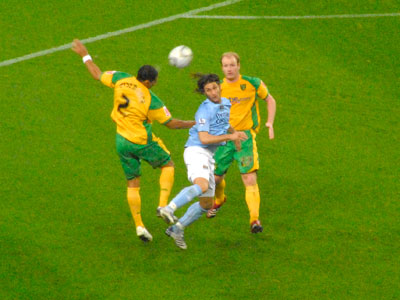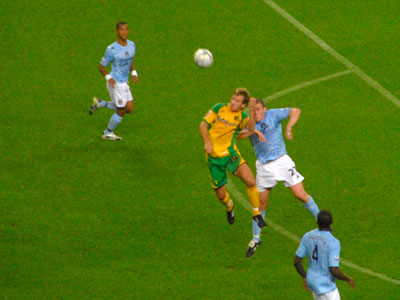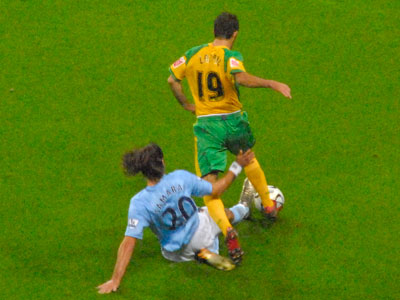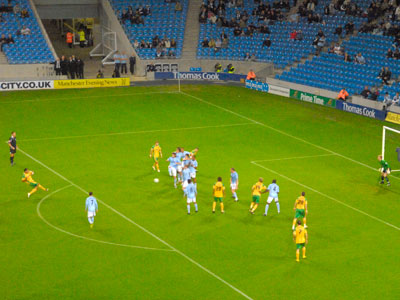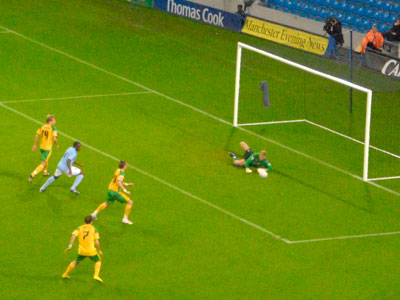 Over the last few weeks I wondered why Mpenza had been preferred to Bianchi up front for City. On this evenings showing it was easy to see why. Though younger than Mpenza Rolando Bianchi is lacking that cutting edge you need in the Premiership.
Dunne was as solid as ever in the heart of the City defence
Even Samaras came back to tackle. A vast improvement in work rate.
Joe Hart's best moment came after 26 minutes when he saved well from a free-kick taken by Otsemobur.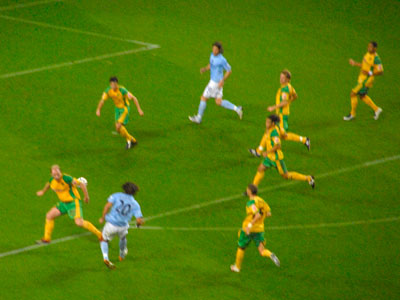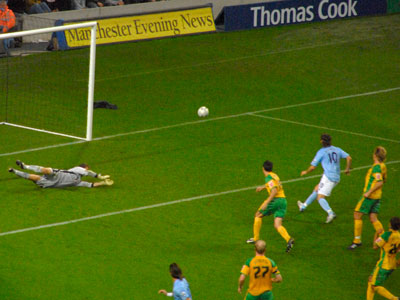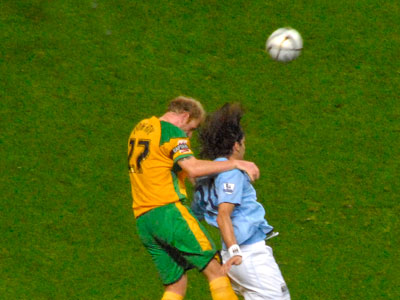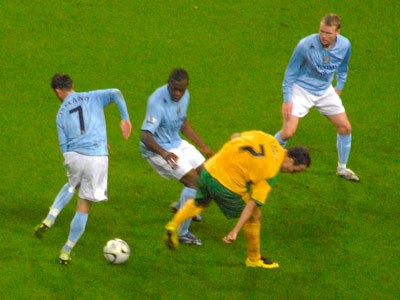 A good long pass by Logan gave Samaras a half chance at the edge of the area but his shot was saved by Marshall
Ireland and company execute a new dance routine in search of the ball
Doherty gains a little height to head clear from Samaras.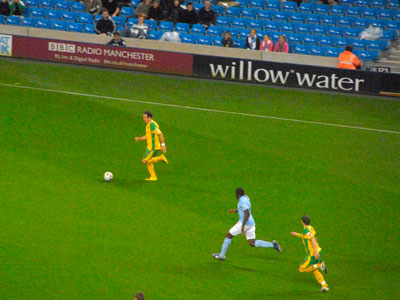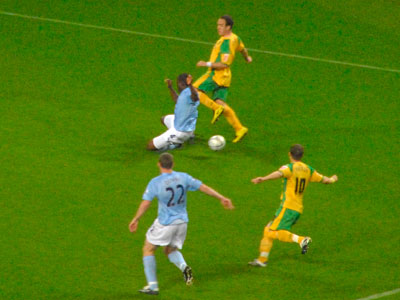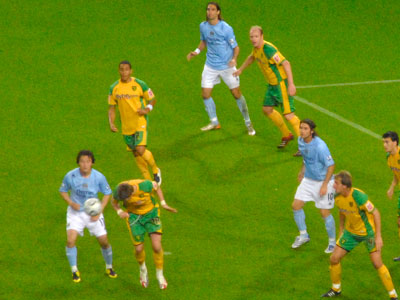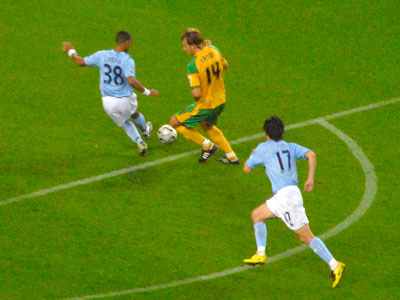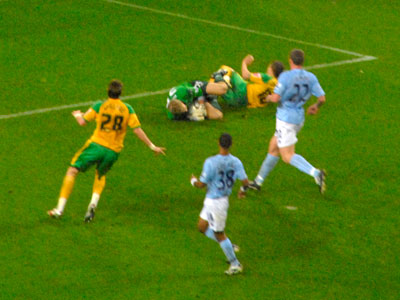 Nine minutes after the restart we had a scare as Lee Croft broke down the right flank and looked miles offside - perhaps the linesman was having a nap like the rest of us! Fortunately help was at hand and Neddy Onuoha made a great tackle to save the day.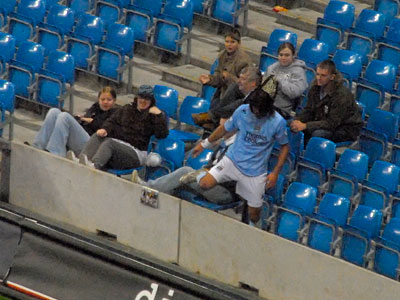 Joe Hart made a good decision to come and claim the ball to relieve pressure on the City goal
On one run Samaras finished up in one of the seats - still he had plenty of empty one to choose from!
Jihai Sun ( lower left) was not having one of his better days. I have seen him play much better.
Young Shaleum Logan (number 38) looked very confident and his speed was often an asset in defence.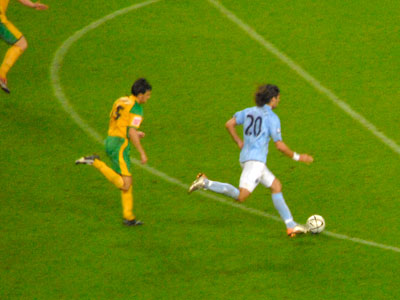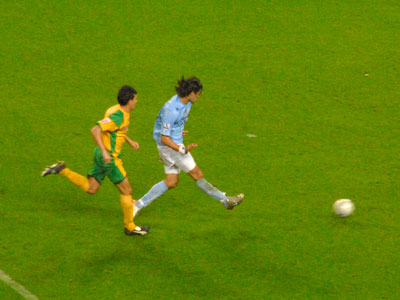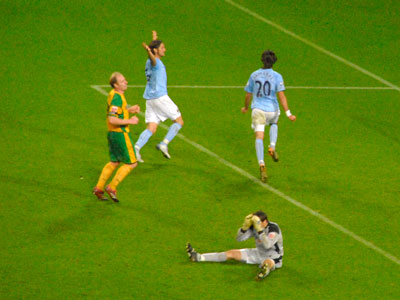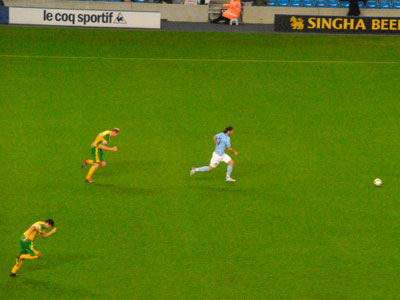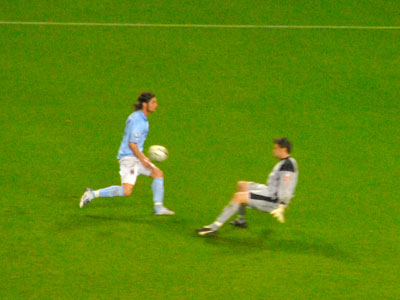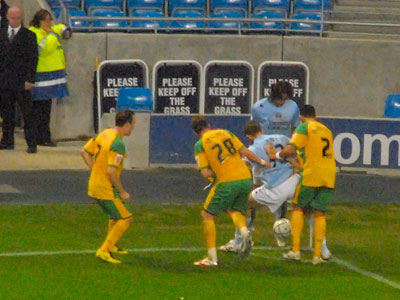 12 minutes previously Kelvin Etuhu made his debut and he was soon in action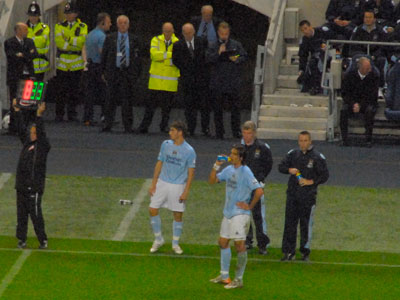 After 80 minutes Academy graduate Chet Evans came on for a tiring Geovanni to make his debut
In the very last minute with extra time beckoning Etuhu placed a great through ball to Samaras who shot past Marshall to give City the lead
Samaras danced with delight as Marshall sat dejected.
As a desperate Norwich attack broke down City had a breakaway and Bianchi left defenders in his wake as he bore down on goal
When faced with Marshall Bianchi failed to beat the keeper and the score stayed at 1 nil
City played out the final seconds in the corner to earn a place in the next round
Team
Hart 7: Logan 6.5, Dunne 7, Onuoha 7, Ball 6.5: Sun 5, Fernandes 5 ( Etuhu 6.5) Ireland 6, Geovanni 7.5 ( Evans 6.5), Samaras 7.5: Bianchi 5