Newcastle United v City 4-3
October 24th att. 52,316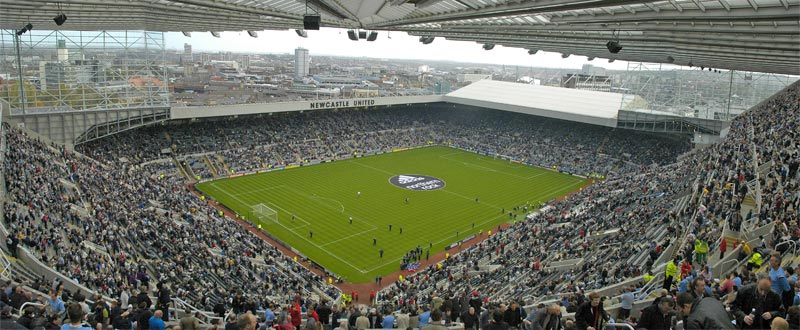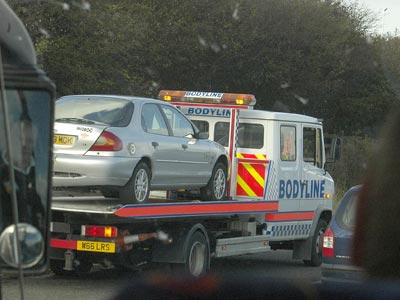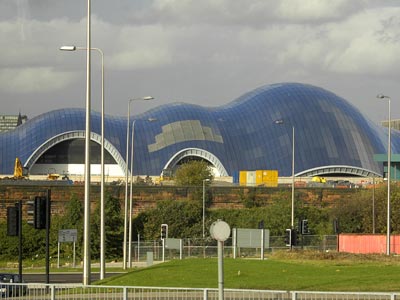 Having managed to climb the 14 flights of stairs without any extra oxygen the view from the top is quite spectacular. Quite a change from 1969 when most of the spectators were City supporters and we were all in the open and standing. The crowd today was a new record for the stadium I understand. However the PA system was hopeless - even worse than some days at Maine Road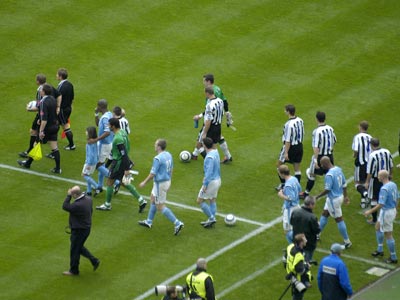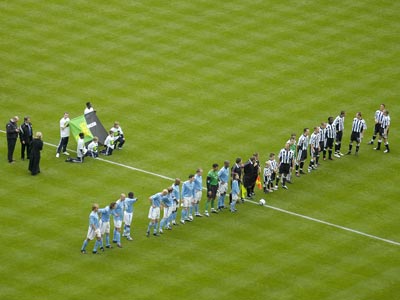 Traveling by coach this time the City contingent had a police escort from Washington which took us past the inevitable A1 accident and through the crowded Newcastle traffic to the ground.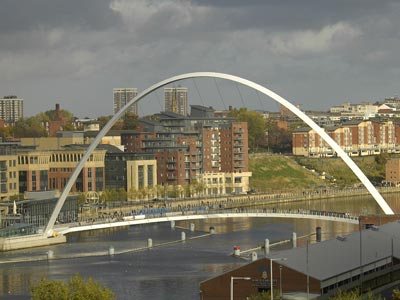 City made just one change from the win over Chelsea. McManaman came in for the unlucky Jihai Sun who is out for the rest of the season.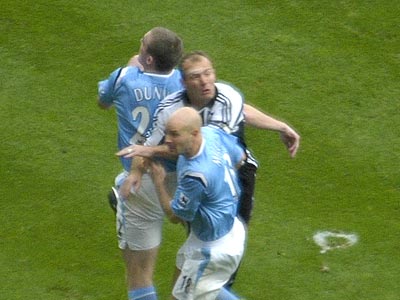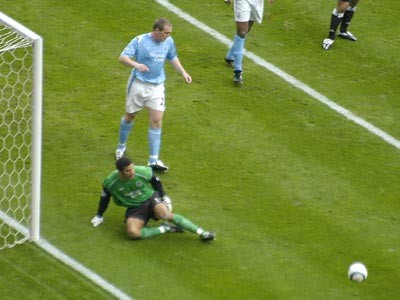 Shearer looks to be in pain in this clash with Richard Dunne and Danny Mills
David James makes a good early save from Robert.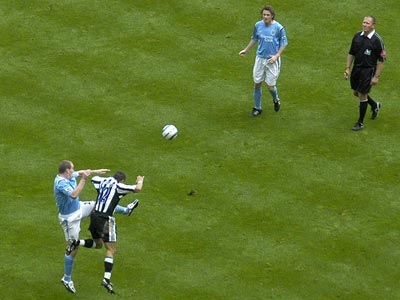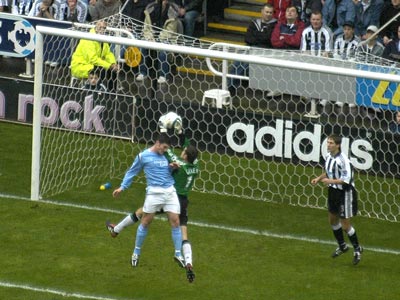 Dunne clears from Robert with McManaman and the referee watching the exchange. Newcastle settled down quickly and the City defence had to be strong to withstand the early pressure
A cross from Sibierski gives Given something to do under pressure from Macken.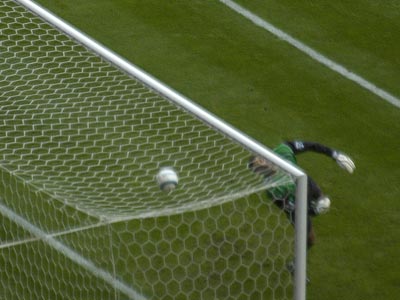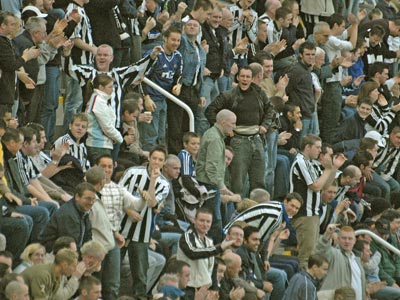 A good cross from Janos and a header from Bellamy drops just over the bar on the top netting. Many Newcastle supporters at the far end thought it was a goal and in answer to the jibes of the City supporters the Newcastle supporters point out how much it missed by - I think that's what they were implying!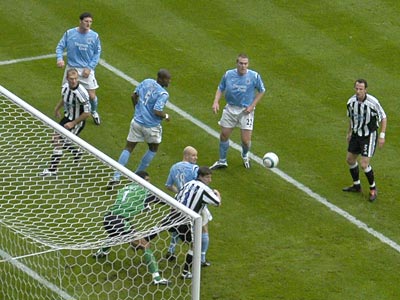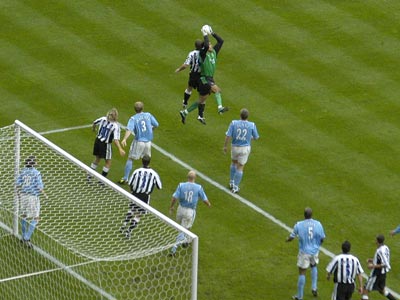 Newcastle continued to pressurize the City defence but James and his colleagues -now much more organized were equal to the task.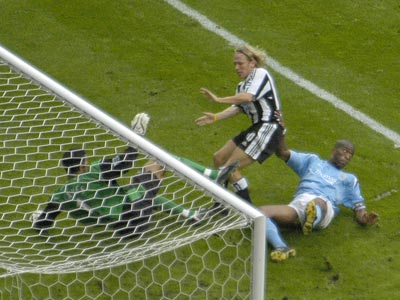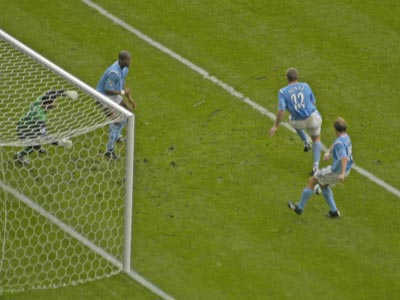 Another narrow escape for City as a Robert cross is first blocked by Distin (above left) and when Bowyer drives in the rebound Bosvelt saves City from going one down (above right) .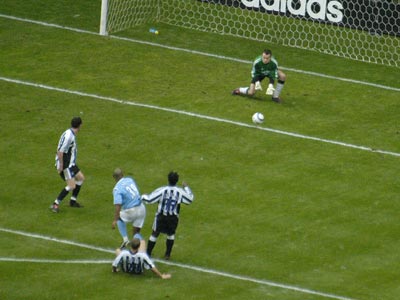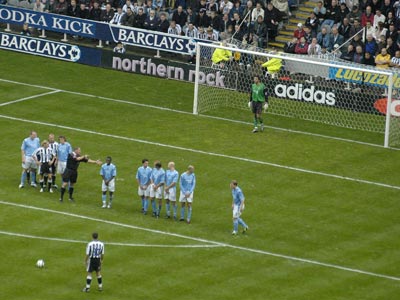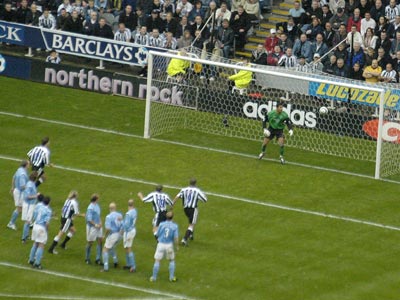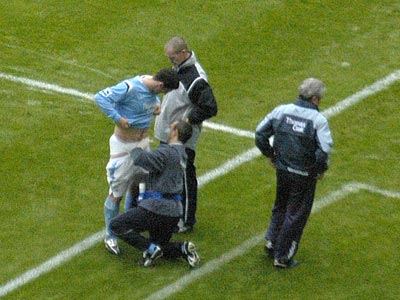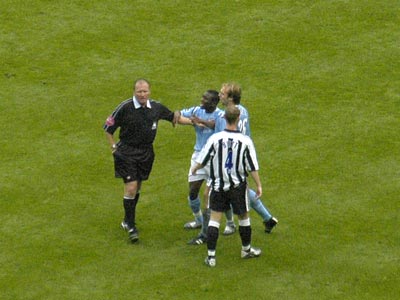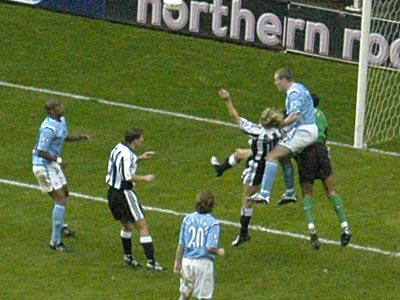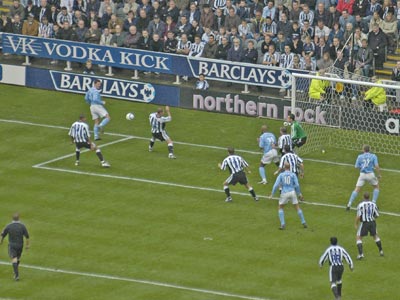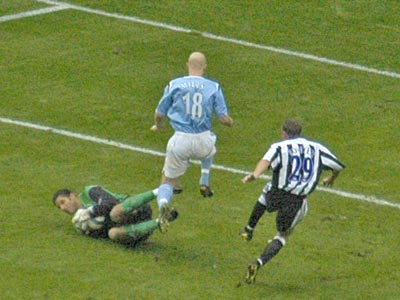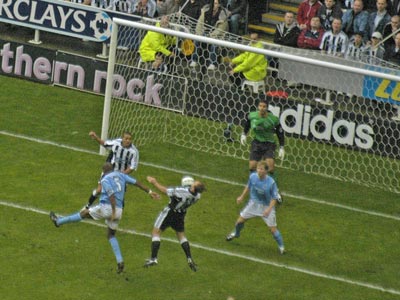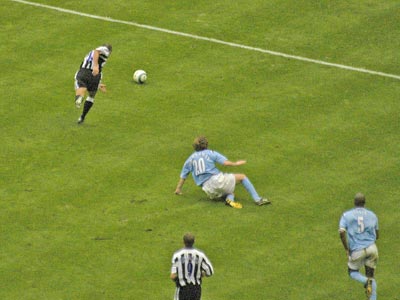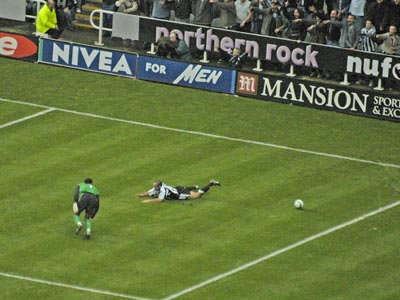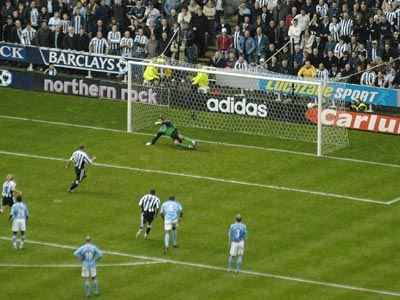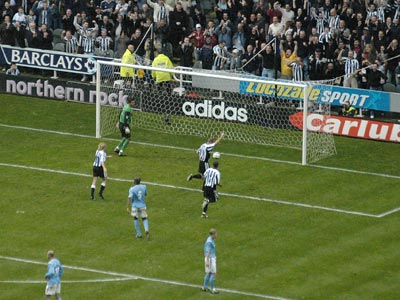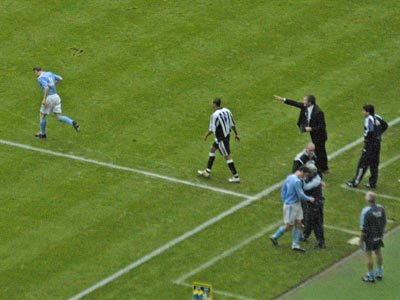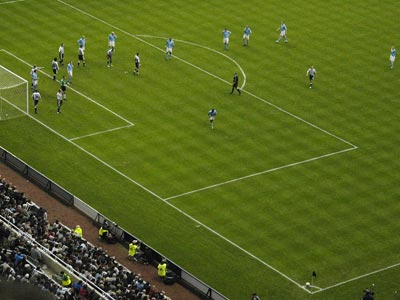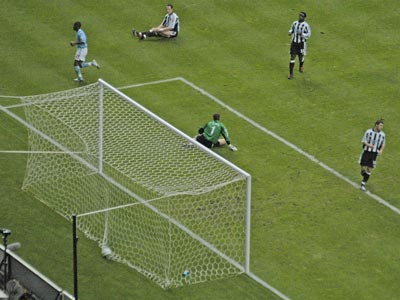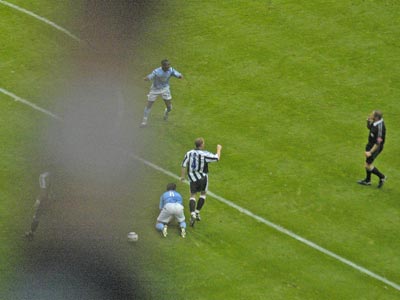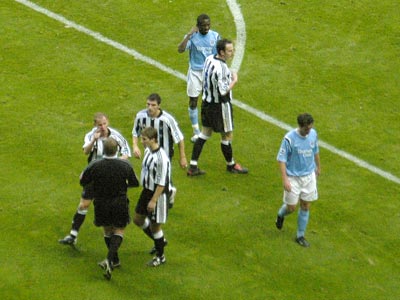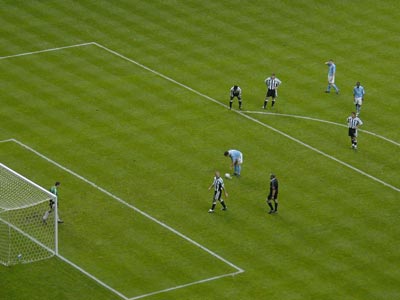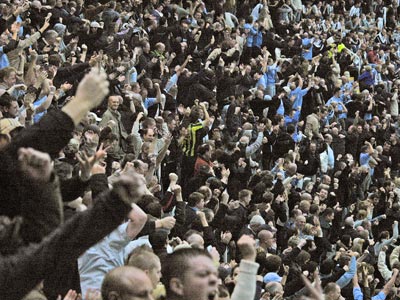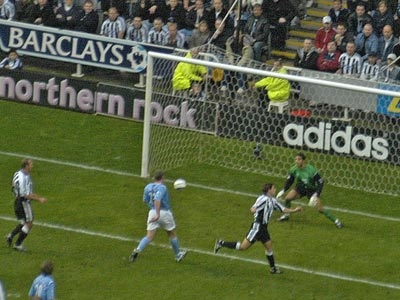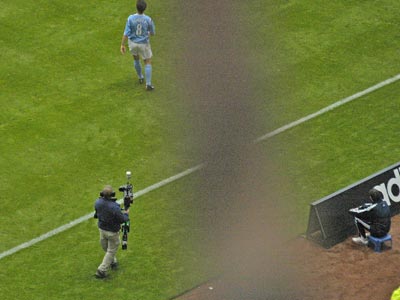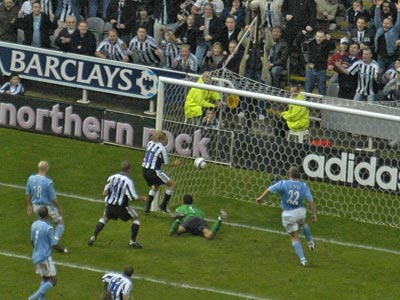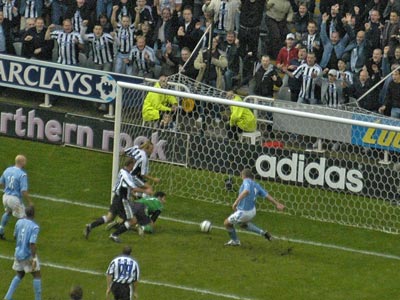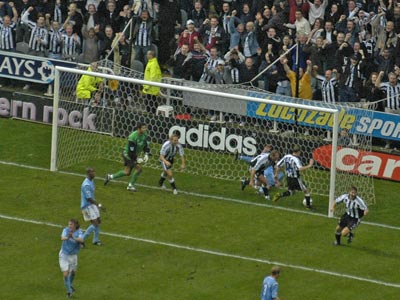 Just two minutes later Newcastle went ahead 3-2 in bizarre circumstances. A dubious foul on Jenas lead to a Robert curler that was backheaded by Elliott onto a post ,then along the line before rolling in Richard Dunne really should have cleared. Disaster indeed for City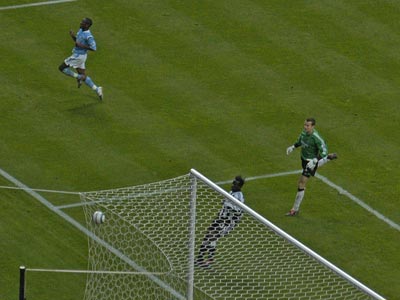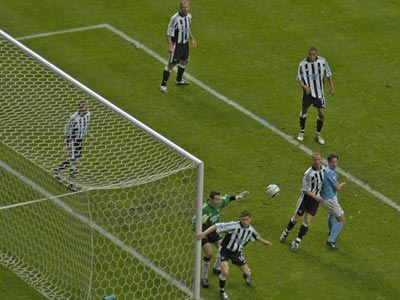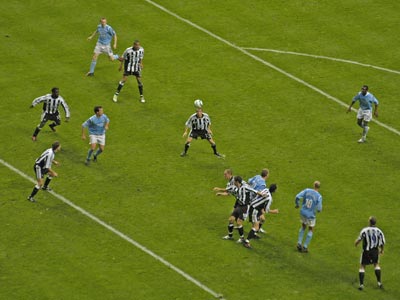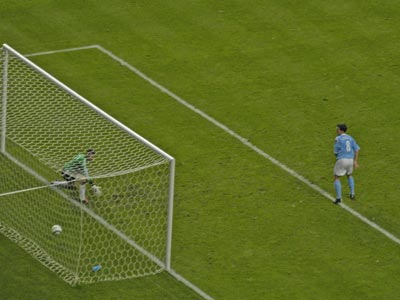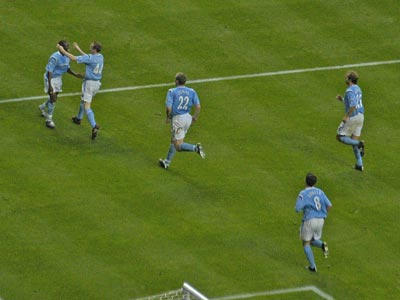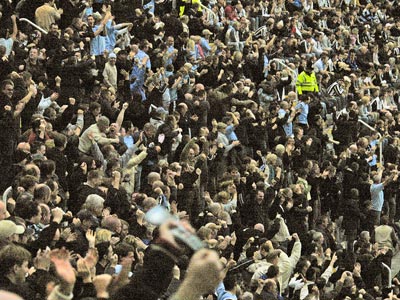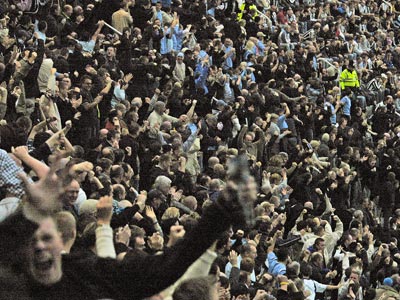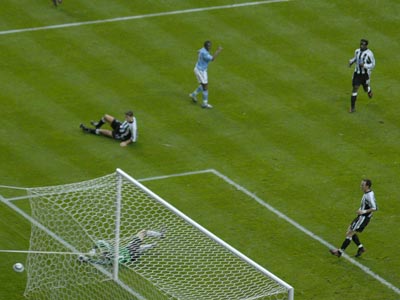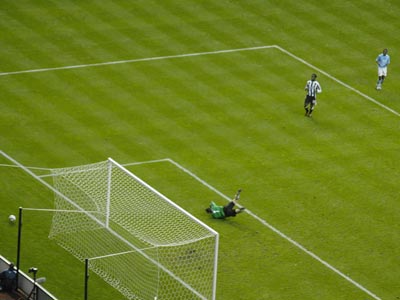 With a minute to go Willo Flood failed to deal with Bernard on the left wing and the left wing backs cross was met by Bellamy who flicked the ball past Distin and James. Oh dear 4-3 to Newcastle with no time to get an equalizer. A tremendous second half followed a forgettable first. City fought back well to get it to 3-3 but the defence which had been so good recently seemed to loose concentration at times.The winning goal was actually Fowlers error in waiting for the ball in the centre circle rather than going to it thus giving possession to the home side in their buildup to the cross by Bernard. For the neutral (not that there were many there) the game would have been a cracker to watch. I suspect Newcastle fans were mightingly relieved whereas City supporters would feel just a little hard done by and I think we deserved a point from this one.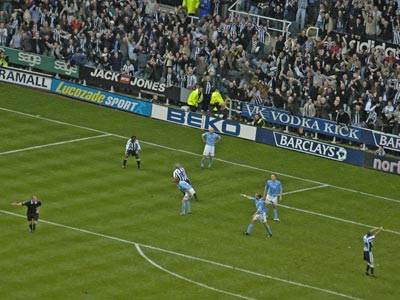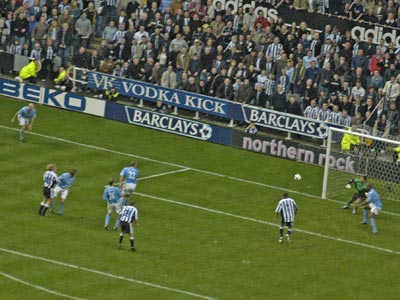 It was some 35 years since I last visited St James Park Newcastle and on that special occasion it was also 4-3 but for City on that end of season day in 1969 when City won the first division championship. The one thing I do remember about that particular day was the drive up the A1 which was a mass of cars and coaches brandishing the sky blue of City. Having missed the Chelsea game through another commitment I was looking forward to a good defensive display against a strong on form Newcastle under Graham Souness. Ah but supporting City is not straightforward as we all know.
A couple of Newcastle's changes since my last visit the arch on the right being the Gateshead Millennium Bridge.
City managed few clear cut chances in the first half and with Anelka strangely quiet his only effort (above right) a scuffed shot being just before half time. On the restart he did not appear being replaced by Fowler.
Four minutes into the second half Newcastle went ahead. When Bosvelt fouled Butt at the edge of the area it was a ready made opportunity for a blockbuster from Robert and so it was. James hardly budged as the ball flew like a bullet into the top corner over the wall.
I wonder what,s going on here. Having a tattoo removed?
Referee Dunn about to caution Bosvelt after a second foul in a short time
Though City were having more of the play Newcastle continued to make the better chances and James was constantly in action
Bellamy and Shearer continue to keep the City defence busy. Shearer bringing the ball down but Thatcher cleared.
After 50 minutes a mistake by McManaman let in Carr who had no one to beat save the keeper.
James brought Carr down and had the foul not been committed so wide of goal I am sure James would have been sent off. However it was bad enough that it was a penalty and Shearer who had scored one in mid week in Europe to the keepers right put it past James in the opposite direction
As Shearer celebrated and with City two down Macken was substituted by Flood. City had now lost both their strikers. The omens for a come back were not good.
When City got their first corner after half time nobody went to take it! They had obviously forgotten that Anelka had gone off. Were they discussing the price of eggs at half time. Perhaps they were hoping the steadycam cameraman would take it. Now that would be a news item.
After 64 minutes there was a spot of magic by Shawn Wright-Phillips. A strong long pass from Mills was beautifully controlled by SWP and he swept in on goal and fired past Given to give City a lifeline.
Three minutes later Fowler burst into the box and Nicky Butt brought him down and got booked for showing dissent.
With regular penalty taker Anelka off the field it was upto Robbie Fowler to forget about the loud boos from the home supporters and do a professional job. How well he did it too - calmly sidefooting past Given, the keeper going the wrong way. 2-2. Amazing.
The City faithful were delirious with joy. From 2-0 down we were back on level terms and whilst the home supporters sat in their seats transfixed with horror the visitors were ecstatic.
Moments later SWP burst through again from a good pass by Mills and despite getting past Given the angle was too tight and his shot went over.
City now looked likely to score and the Newcastle goal came under pressure.
After 77 minutes Distin took a long throw which was headed clear by a defender (top left) but straight to SWP who cracked in a beauty through a crowd of players (top right) and past Shay Given (above left) and it was 3-3. From these images Robbie Fowler looks suspiciously in an offside position and near to the keepers line of vision but nowadays it is rarely penalized.
As you might have guessed the City supporters went mad and my thoughts went back 35 years to that game when we won 4-3. Would it happen again?
City went close to scoring soon after. SWP hit the side netting and Willo Flood burst through with a good run but his final shot just went past the post
Team
James 6: Mills 7, Dunne 6, Distin 6, Thatcher 6: Wright-Phillips 8, Bosvelt 6, Sibierski 5, McManaman 5, Macken 6 (Flood6) , Anelka 5 ( Fowler 6):

This was a dismal evening for City fans. A pathetic performance against Arsenal reserves was scant reward for the brave 21,700 odd who turned up on this windy night for the third round of the Carling Cup. With the match being live on Sky and the knowledge that Wenger would be turning out a reserve side one would have thought that ticket prices would have been lower. As it was the price of entrance would have bought a reasonable amount of shopping even at Waitrose. Now there's food for thought. Perhaps the officials had negative thoughts - expecting we would be knocked out so maximizing the financial benefits of high prices for the match.
As the teams came out it is interesting to note the disciplined way the Arsenal team came out in strict line while the City teams made a rather shambolic entrance- rather like their display
City gave debuts to Nedum Onuoha ( top of the pic) and No.31 Jonathan D'Laryea. Anelka, Macken, James, Dunne were either rested or injured so the City team were weakened.
City started briskly enough with Willo Flood gaining a free kick down the right flank but his kick was easily cleared by Van Persie
The Arsenal keeper foils Fowler
Most of City attacks depending on the speed and skill of Shaun Wright-Phillips here surrounded by Arsenal defenders
Arsenal defending a corner
I am afraid some of the Arsenal youngsters have caught some bad habits and several times they went down as though poleaxed and they appeared to be in agony only to recover in quick time.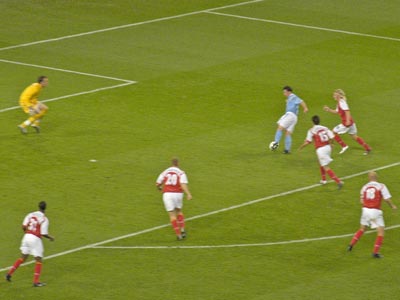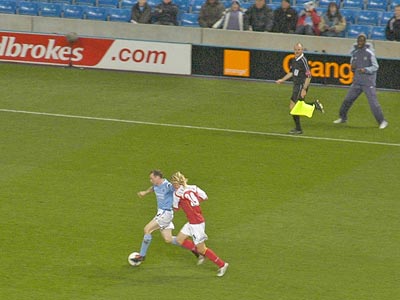 City's best chance came after 30 minutes but Robbie Fowler missed when clear inside the area following a nod on from Sibierski at a free kick. From the pic his body position seems all wrong.
Willo Flood made some good runs here drifting past Larsson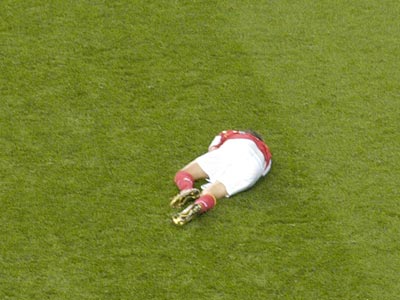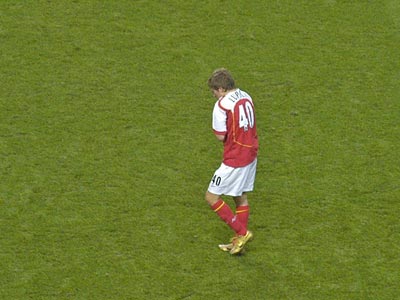 Oh dear 17 year old Arturo Lupoli is down and nobody is taking any notice. Perhaps some nice person in the crowd should have thrown him a teddy!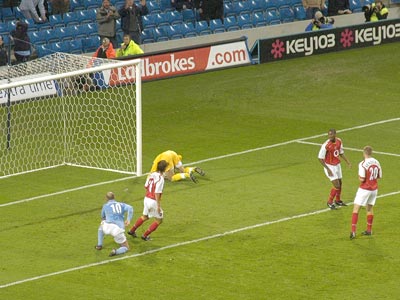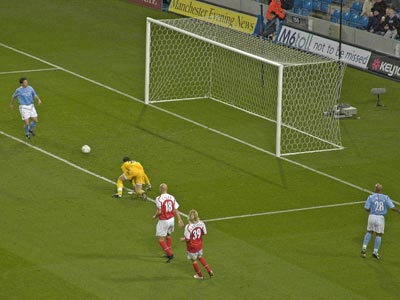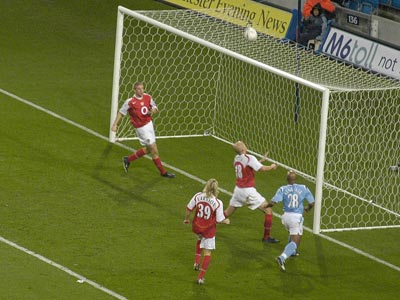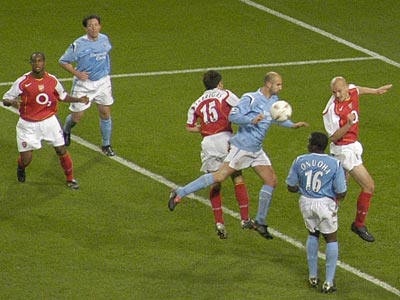 Sibierski and young Spanish star Fabregas clash at a corner.
Though Manuel Almunia was kept busy he didn't have any difficult saves to make . It was surprising to see him ahead of Taylor who made such a good impression against City few seasons ago.
This header from Sibierski was well saved at the post by Almunia and it was the only action in a dull poor first half.
Fowler missed another sitter early in the second half. Fortunately for him the referees assistant had the flag up for offside.
With the keeper on walkabout a possible chance is cleared by the Arsenal defence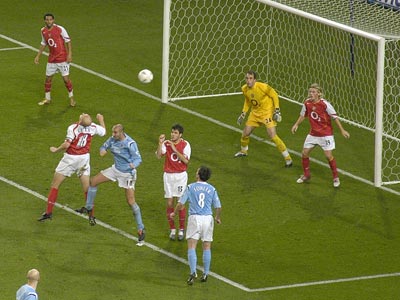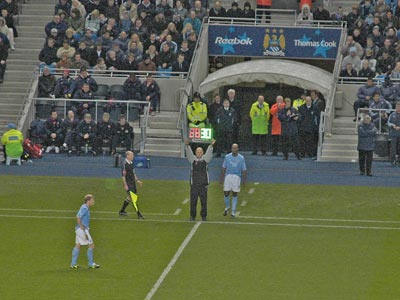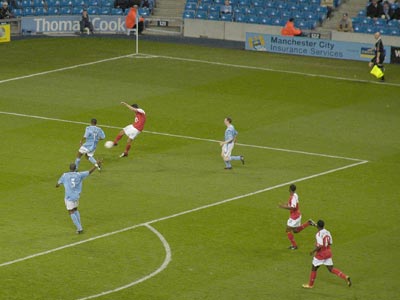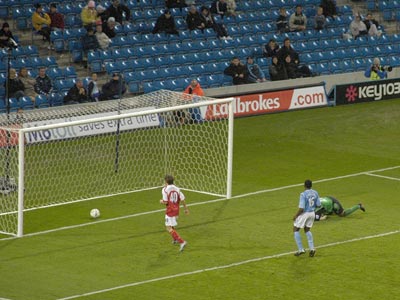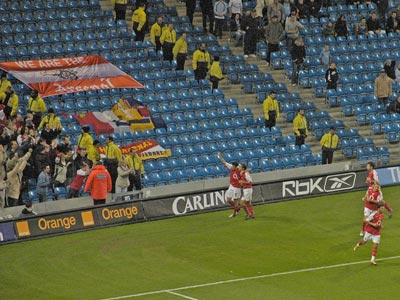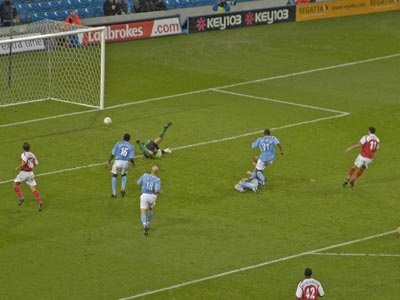 After 78 minutes Arsenal scored. The only decent passing movement of the game ended with van Persie scoring from near the penalty spot.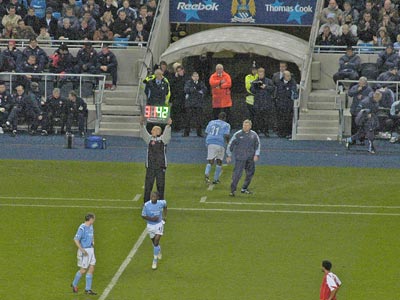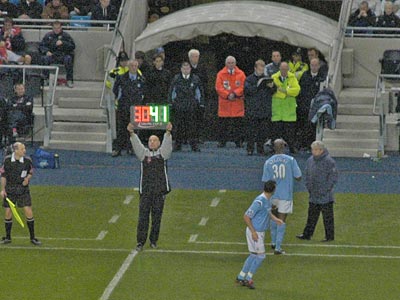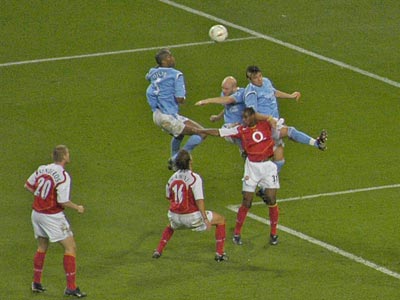 A bit late in the day but City put in an effort to score but it was all over when in the 90th minute Daniel Karbassiyoon scored a second for Arsenal put through with a ball inside Mills by Fabregas. Note the rather relaxed attitude of the City keeper. Not the best I think. At that point I decided it was time to leave so I missed the free-kick goal by Fowler.
This was a pretty poor display by City and it will require some morale lifting by the staff to prepare for Darren Huckerby and Norwich next Monday. I am sure Darren will want to show his former employers they were wrong to let him go. I bet there will be many thinking how disastrous it was to let Wanchope go as the injury list gets bigger. Our staff looks pretty poor compared with the talent at Wengers disposal at Arsenal.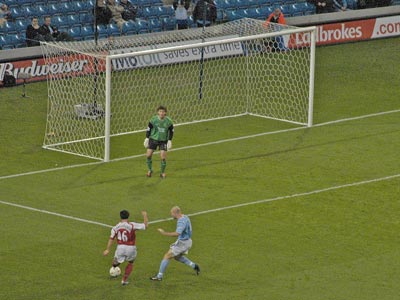 After 70 minutes Sinclair was at last substituted by Negouai. Sinclair had a terrible game, being tried on the left,on the right and even centre forward at times. How this player ever turned out for England is a mystery on this form.
Another City attempted attack comes to naught.
A long ball out to van Persie ( who looked miles offside) gave the young Dutch forward to shoot but his shot was pushed out by Waterreus to Lupoli who had the east task of scoring only to find the goal disallowed though there was no flag from the linesman.
A minute later on came Bradley Wright-Phillips for D'Laryea - a little late really
Then after 83 minutes off went sub Negouai and on came Jordan
Team:
Waterreus 6: Mills 5, Onuoha 7 Distin 6, Thatcher 6: Flood 7, D'Laryea 5, Sibierski 5, Sinclair 4: Wright-Phillips 7, Fowler 5:
City 1 Arsenal 2
Carling Cup R3
October 27th Att. 21,708