City v Norwich City 1-1
November 1st att. 42,803
The visit of bottom of the league Norwich City gave City the chance to improve their goal difference and to give the team more confidence prior to next weeks derby game at PLC. Some chance! After a fair first half in which City mainly dominated an equalizing goal ten seconds into the second half - missed by many - knocked the stuffing out of City and with City's midfield - with the exception of Flood - giving a good impression of a Sunday morning Age Concern side Norwich were able to get away with a point despite a good penalty shout. The injuries to Barton and Jihai Sun are costing City dear. We badly need an injection of cash in January to bolster the squad.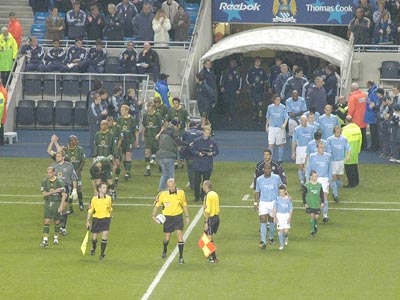 Just before half time City took the lead against the run of play. A run by SWP down the right and good cross led to Sibierski's goal. A poor first half ended with some reward on this cold afternoon.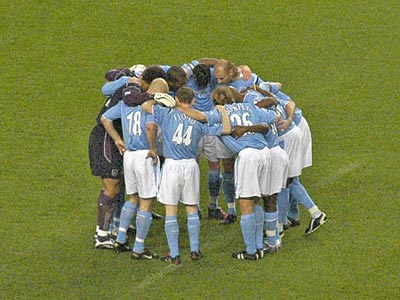 Despite the 'attraction' of the game being live on Sky there was a good crowd and Norwich brought a fair number of supporters despite the long journey from Norfolk. The City squad had a bare bones look to it and gave full debuts to Flood and Jordan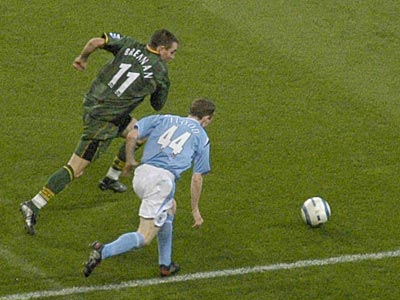 Sibierski clears following a free kick given for a foul by Jordan
The first of many dashes down the wing by young City star Willo Flood who is rapidly becoming a City favorite.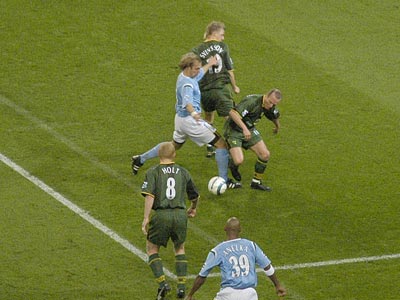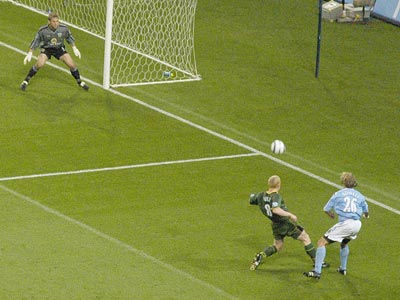 Bosvelt played well first half and was always prominent but alas his second half performance was not so good as he gets tired after 60 minutes or so and there was no Barton to replace him.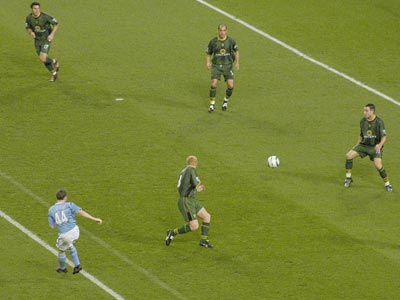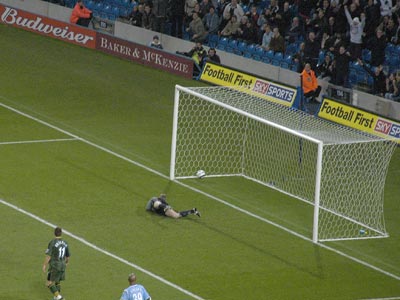 After ten minutes City took the lead. A long cross by Shaun Wright-Phillips - put through by Sibierski- was met first time on the volley by Willo Flood. His surprise shot caught Green napping and he let the ball go over his outstretched hands.Almost an identical error to that which cost David James 's England place in the game against Austria.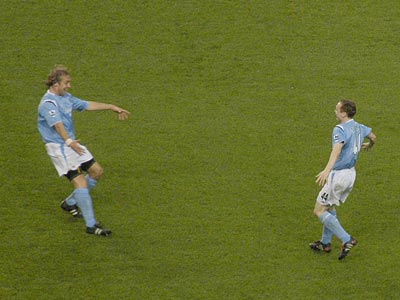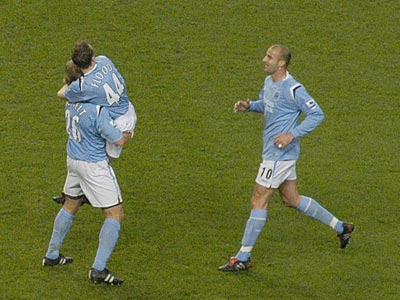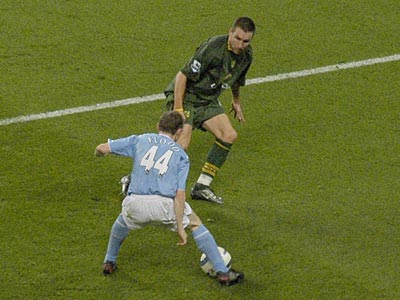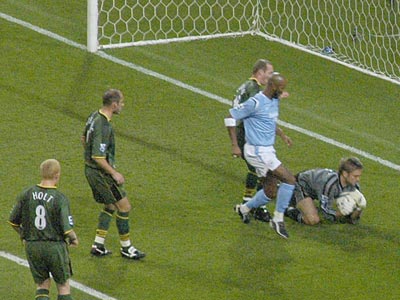 Would the 'Flood Gates' open we wondered as Willo caused problems to the Norwich defence.
After his earlier clanger young Green was anxious to make no more errors from this Flood centre.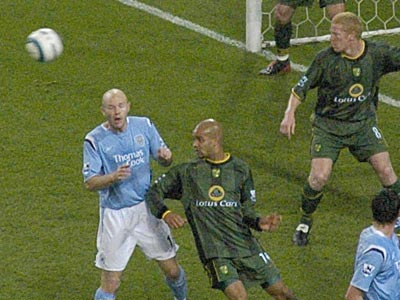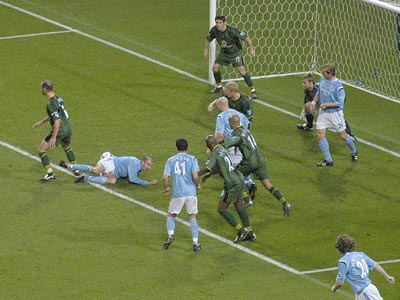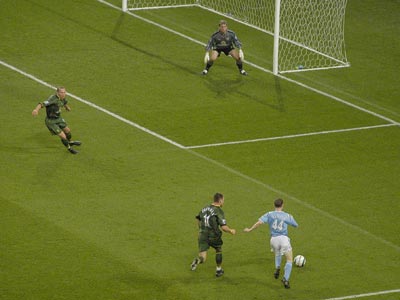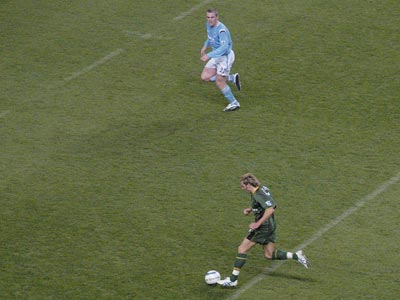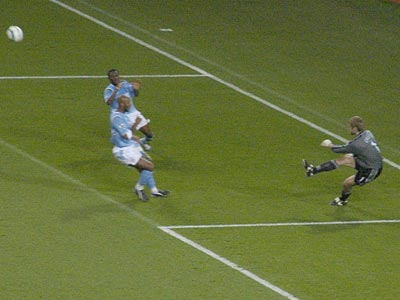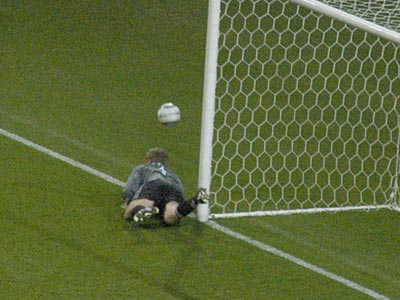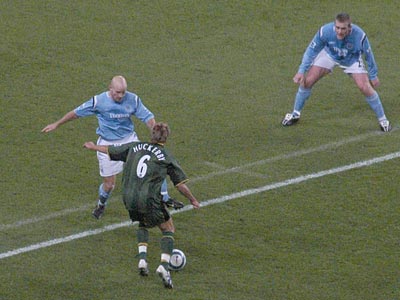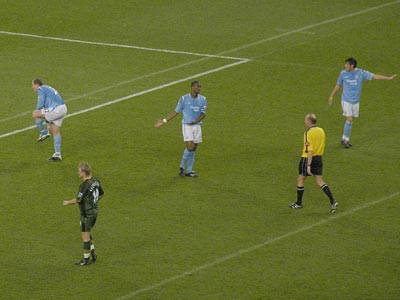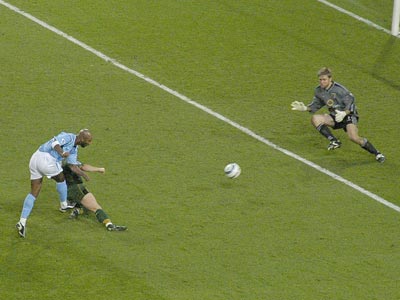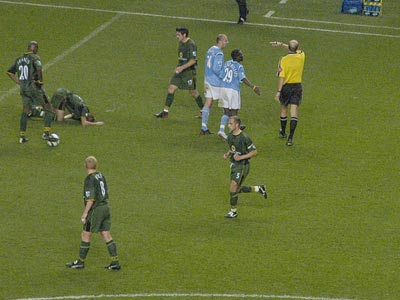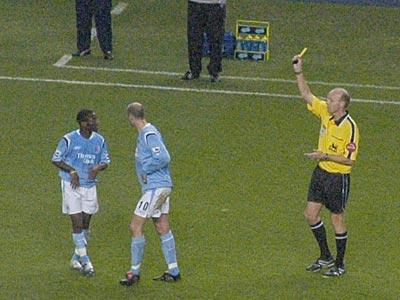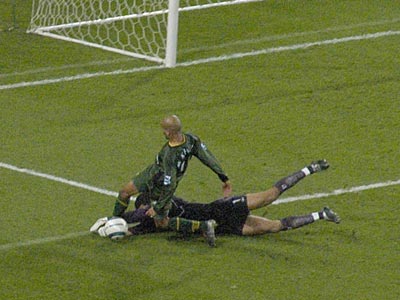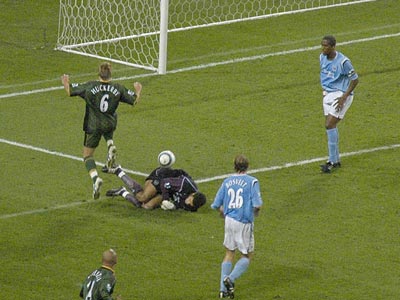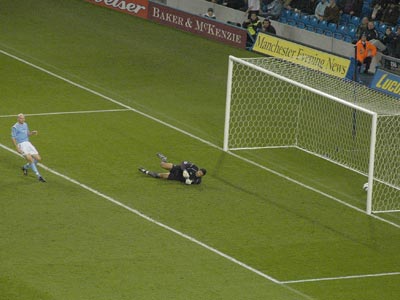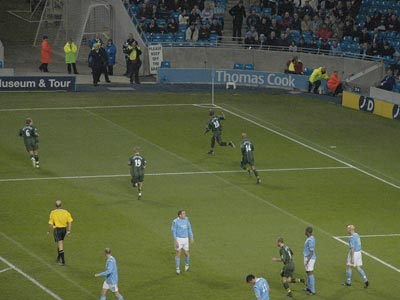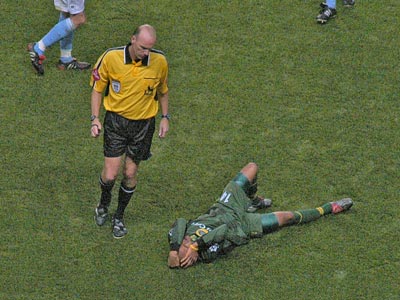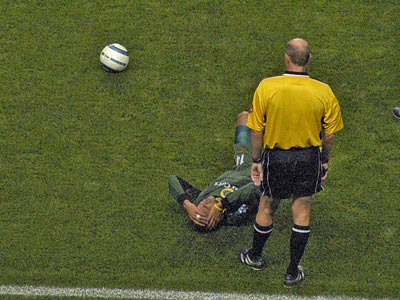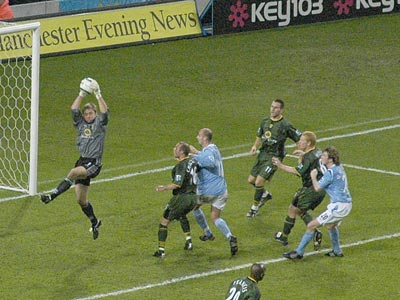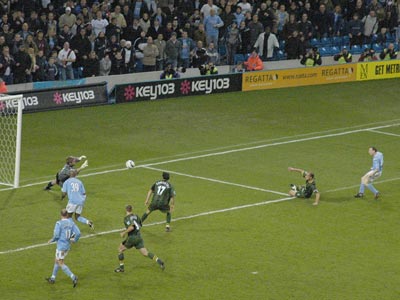 James makes a catch from a corner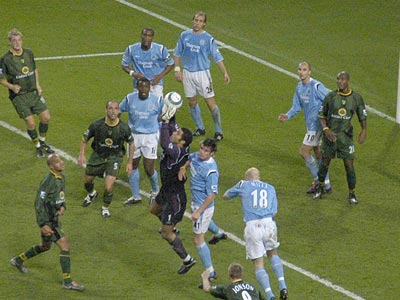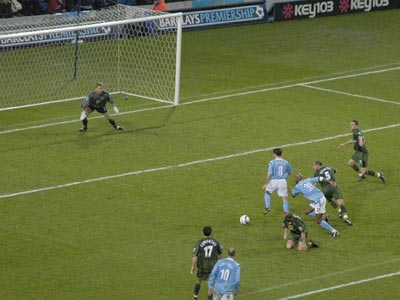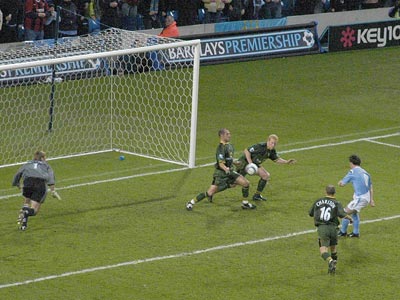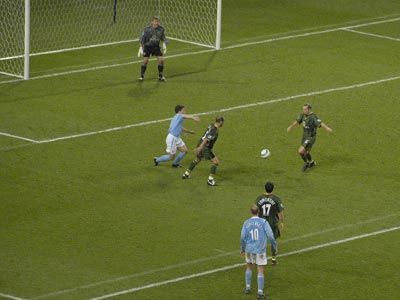 19 year old Willo Flood had scored on his full Cup debut and now he had made it a double with notching another on his full league debut. Bosvelt looks pretty happy about it all.
City kept the Norwich defence busy but failed to make good clear-cut chances
On the whole Darren Huckerby, once a favorite at Maine Road was pretty quiet and didn't have many of his runs at goal
Another Willo Flood run wins a corner as City had yet another 'Run of Flood'! Some of his first touches were excellent.
Jordan blocks a shot by Charlton
Green manages to clear as Anelka and SWP attempt to put him off.
Dunne lost a boot during play. Distin pleads to the referee asking for a show horn
Green makes a great save from Anelka put through by SWP
Despite protestations of his innocence Sibierski gets booked for a late tackle on Jonson . I wondered how long it would be before Mr 'yellow card ' Bennett showed his hand. The game had been a little like a vicarage tea party so far.
A double save by David James after a slip by Bosvelt in midfield. First he saved at the feet of McKenzie and then had to follow-up moments later with a second save - all in first half extra time.
On the half hour a surprise volley from Shaun Wright-Phillips following a throw-in nearly caught Green napping.
Huckerby drives at the City goal with Danny Mills in close attendance.
A ghastly mistake by Mills within seconds of the restart let in Francis who easily scored as City were caught cold. I guess quite a few supporters were too, returning to their seats to find the score 1-1.
A mid air clash with Distin left McKenzie the worse for wear as referee Bennett checks from all angles for forensic evidence. Obviously a big fan of CSI Miami.
Green catches a centre from Anelka
The Norwich goal had a narrow escape when Willo Flood -who else- hit the inside of the post from a narrow angle and the rebound was put out for a corner. Green might have just pushed it onto the post. SWP made the chance.
The extraordinary penalty episode with 8 minutes to go. Top left - Fowler wins ball and the ball runs to Anelka (top right) whose shot is blocked and it runs to Fowler again who shoots (above left) and his shot is blocked on the line with a hand (above right). The ball eventually goes for a corner but it should have been a penalty.
The lack of pace in midfield especially after the break let Norwich have too much of the play and a bit of bad luck at times cost us the two extra points. Perhaps its our turn to get the run of the ball next Sunday. One can only hope.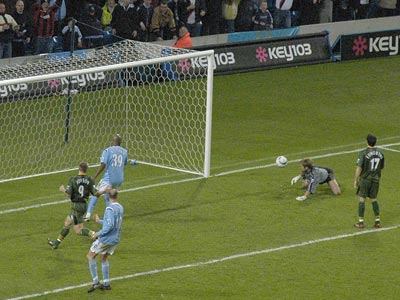 team
James 6: Mills 5, Dunne 6 ( Onuoha 6), Distin 6, Jordan 6: Flood 8, Bosvelt 6, Sibierski 6, McManaman 5 (Fowler 6): Wright-Phillips 8, Anelka 7:
City v Blackburn 1-1
November 13th att. 45,503
After the heroic 'backs to the wall' display against United last week I suppose we were expecting another bravado display against bottom of the league Blackburn but knowing City , the 'The Dickov Factor' and the fact it was the 13th we ended up with a dismal game doomed to be last on 'Match of the Day' at about 1-0 in the morning - way past my bedtime. It was awful with very few positive things to come out of it. The continued City injury list grows and it is not a good idea to have all this extra pressure put on the youngsters. The experienced players must start to earn their keep. The magnificent support that fills the City of Manchester Stadium will start to wane if the home form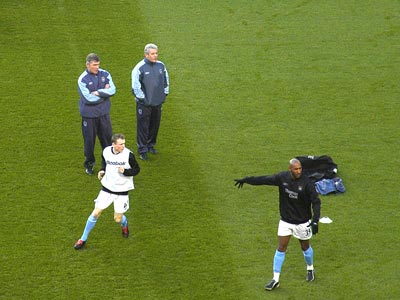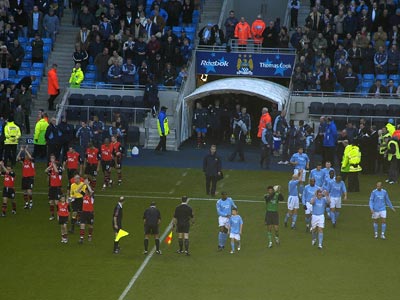 KK and Faz overlook the pre-match warm-up and wonder what the next hour or so has in store.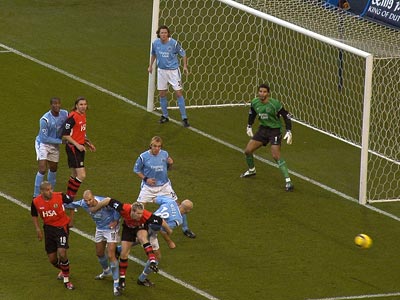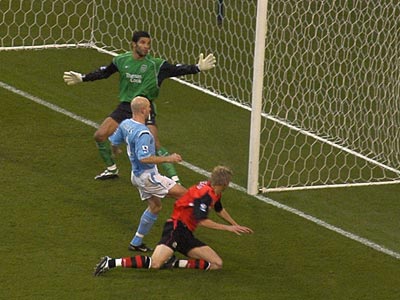 Blackburn had the best of the early exchanges and the City defence were kept busy with the visitors forcing several corners. This season we are dealing with these a lot better.
The City goal has a narrow escape as a Blackburn effort goes wide.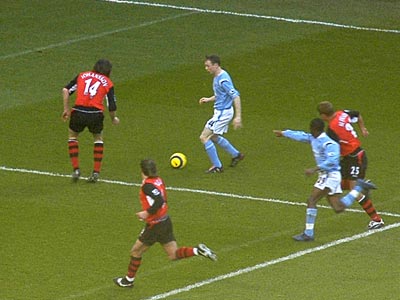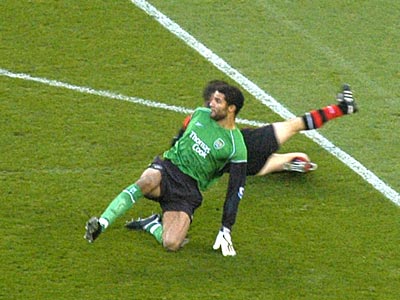 Willo Flood showed some early form but fell away later when he was moved to the left to let SWP move out there.
A mistimed back pass nearly let in Paul Dickov but a last second clearance by David James saved the day.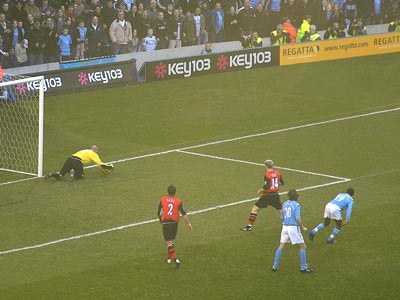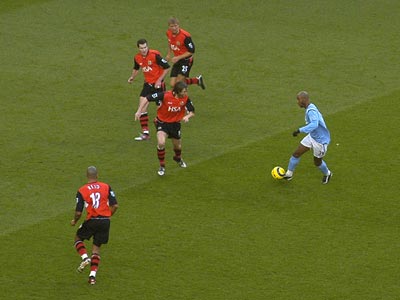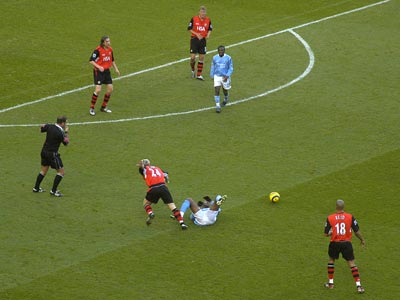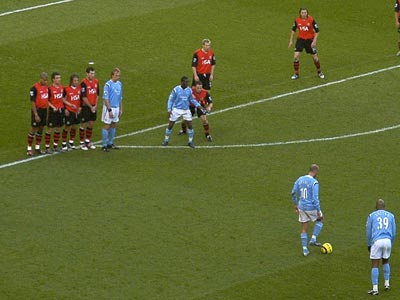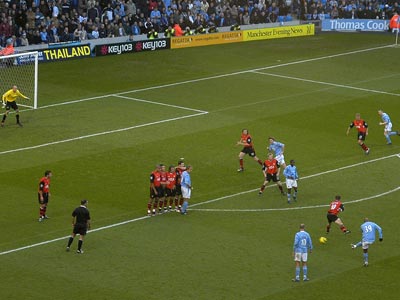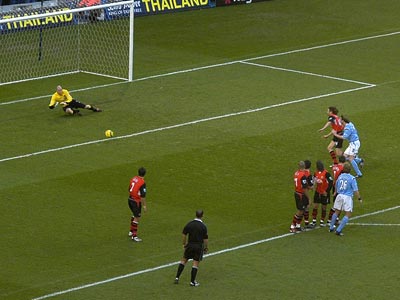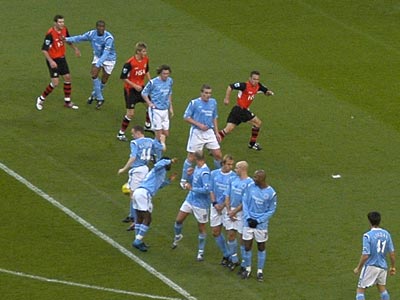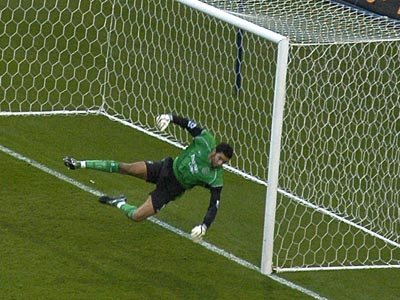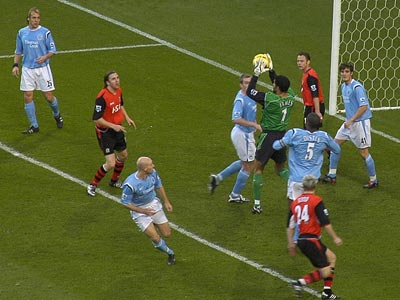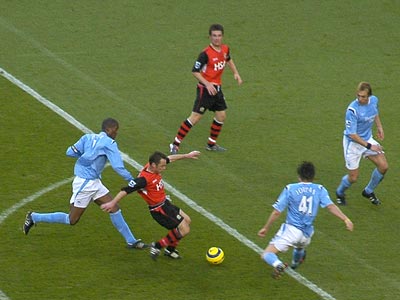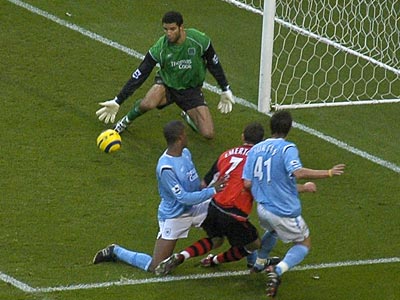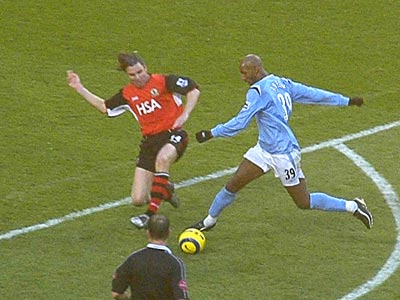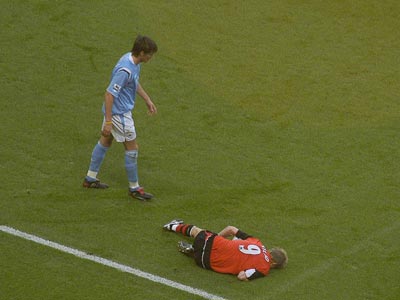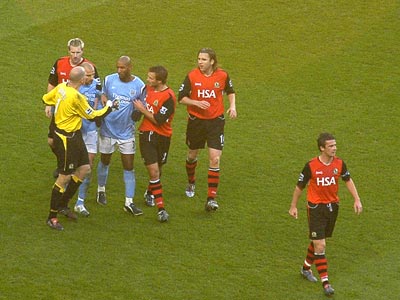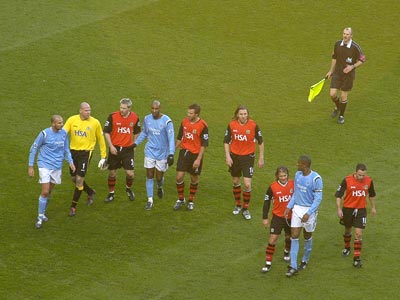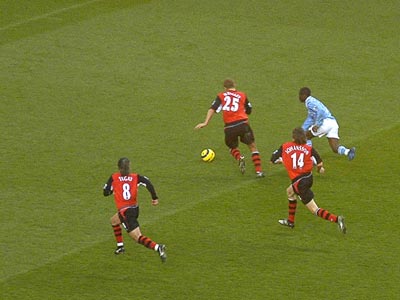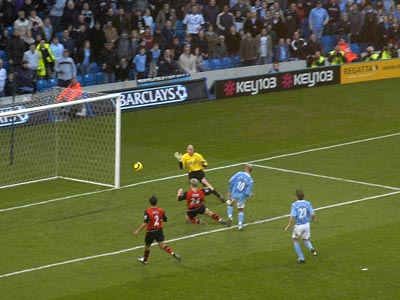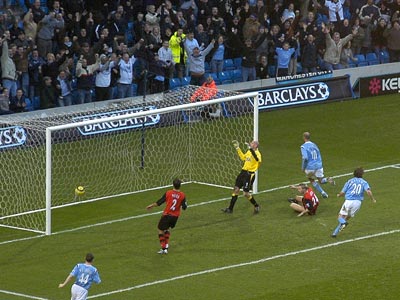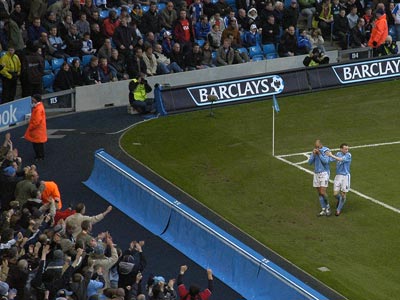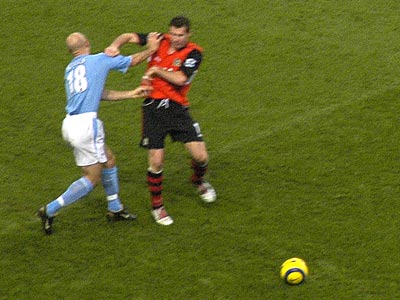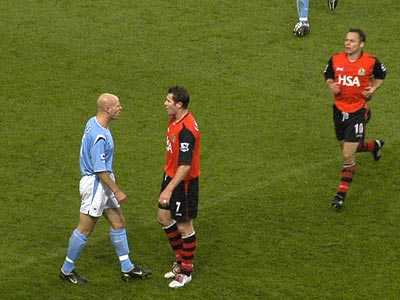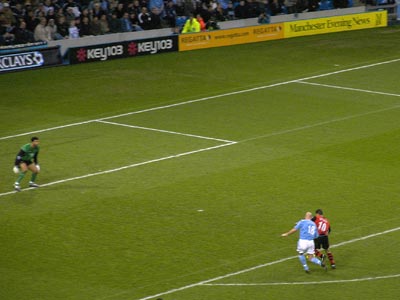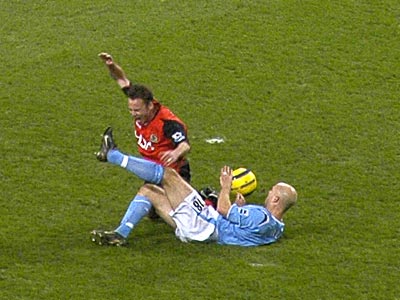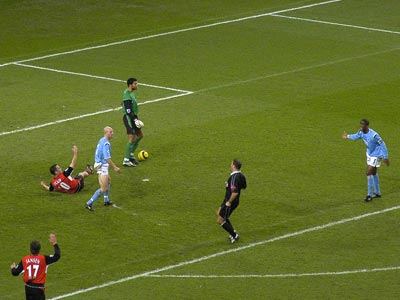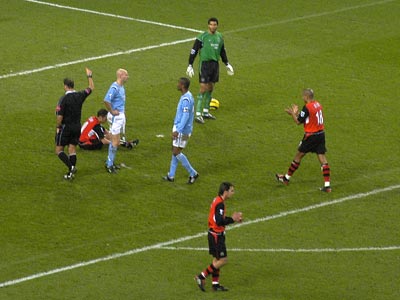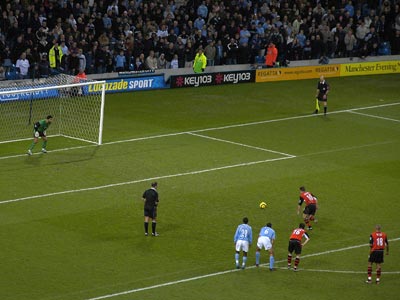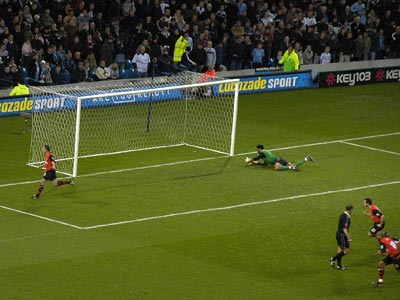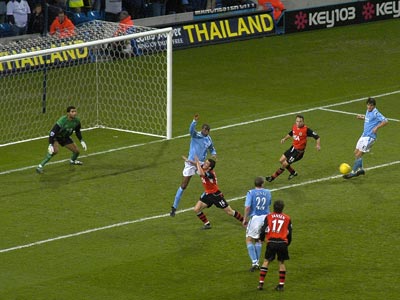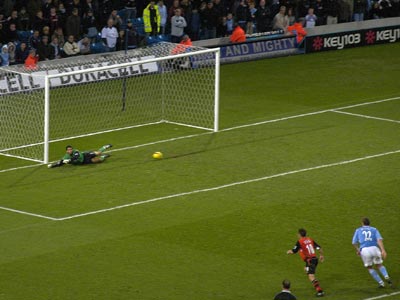 City were unchanged from their no score draw at PLC the previous Sunday so the youngsters had a further chance to show their skill.
Brad Friedel had difficulty in dealing with this shot from Willo Flood.
Virtually a lone striker Anelka was close marked and City rarely got into the visitors penalty area.
Freidel managed to save this free kick from Anelka after the City forward had been fouled just outside the penalty area.
The City defence continued to earn their keep defending well at a free kick then James had to dive to cover another Blackburn effort We were beginning to wonder who was the home side especially as the home crowd were quiet.
Neither keeper were called upon to make really good saves but both were kept busy. On the whole the standard of entertainment was low with very few examples of good passing and movement.
Ex-City favorite Paul Dickov was always a danger and you ignore him at your peril.
David James saving from Emerton
Anelka battles with Johansson
Young Jordan was the first City player to be booked for a bad foul on Stead
This led to some confrontations between players
A private argument between Brett Emerton and Danny Mills ended with a talking too by the referee. Not a handbag in sight.
Disaster struck after 78 minutes. A free kick for City in midfield was wasted by Reyna -on as sub for Flood ten minutes earlier. Dickov was put through and he was brought down by last man Mills. Mills was sent off and Dickov scored from the penalty.
Down to ten men City were happy to survive the last ten minutes or so and James saved well from Thompson in the final minutes. This was a game easily forgotten. Little evidence of skill or thrills to lift the large crowd.
Team
James 6: Mills 5, Dunne 5, Distin 5, Jordan 5: Flood 4 (Reyna 5), Bosvelt 6: Sibierski 6, McManaman 5: Wright-Phillips 5 Anelka 6
City v Aston Villa 2-0
November 27th att. 44,530
City pounced while Villa ponced. A great City TEAM performance with an extra pre-Christmas cracker of a goal by SWP - who else. After the great away victory at Pompey City made it two on the trot - the first since April 2003 - and leaped into the top half of the table. If this is the way we play when Bert Trautmann visits then we should have him every match!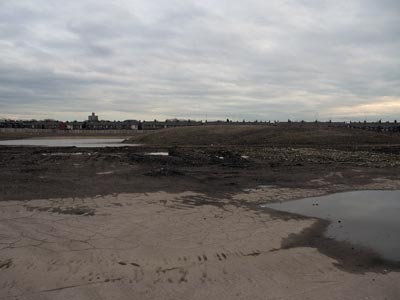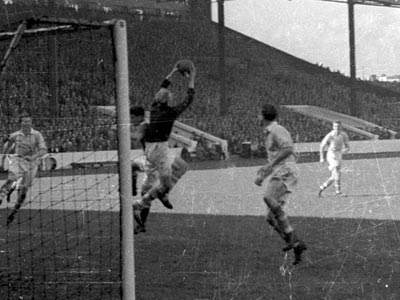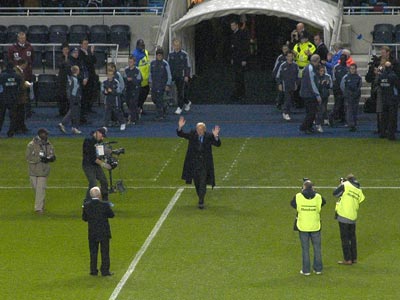 Bert Trautmann then and now. City's most favorite player of all time 82 year old Bert Trautmann winner of an honorary OBE who I was fortunate to see on many occasions, was a welcome honored guest at today's game. I shot the pic on the left in the fifties. He still looks pretty fit today.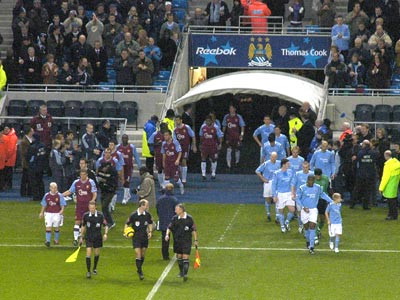 Maine Road today. A pile of earth and puddles is all that is left of our great ground. Memories still linger on.
Visit City Past.
I shall be adding more pics there in the next few weeks.
Led by Old Mother Riley the two teams took the pitch with City making a couple of changes from the Pompey game - Mills returning to full back and Macken was in for the injured Anelka.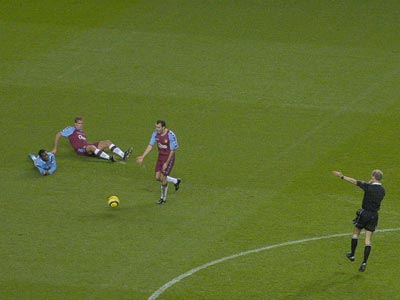 Young Stephen Jordan goes from strength to strength. His contribution to the team is proving more than useful. It would not surprise me if he keeps his place when Thatcher recovers from injury.
The first of the many fouls against SWP and Old Mother Riley swings into action.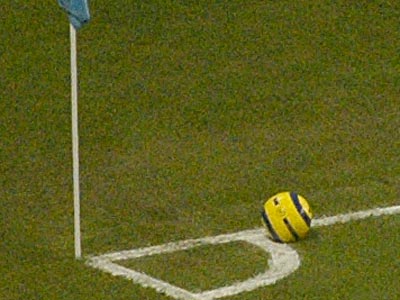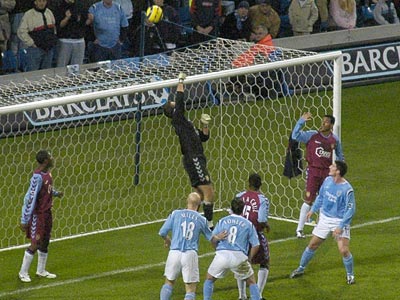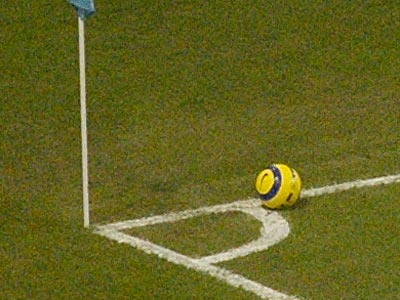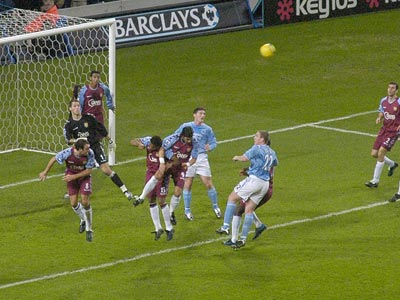 Much to the annoyance of the nearby Villa fans Jordan places the ball just on the outside of the circle
.
The resultant corner is tipped over By Sorenson for another corner
Much to the fury of the visiting fans he does it again.
This time the ball is headed clear by the Villa defence.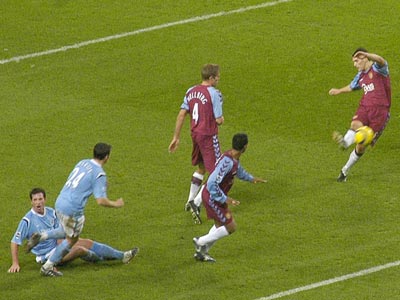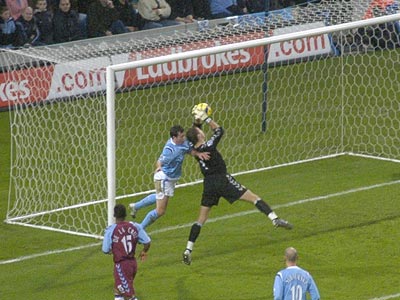 While a hardworking Robbie Fowler shouts for a free-kick Barry delicately side foots the ball to safety
Easily the busiest of the keepers Sorensen catches well under pressure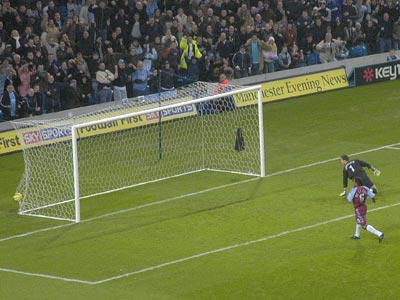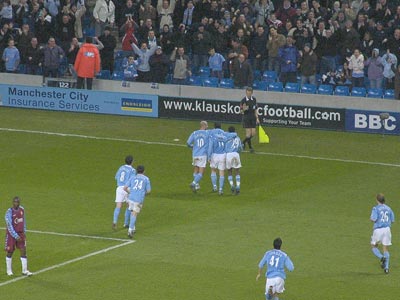 After 28 minutes City took the lead. Fowler did well just outside the area and his pass reached Macken who beat Mellberg well and finished with a low shot.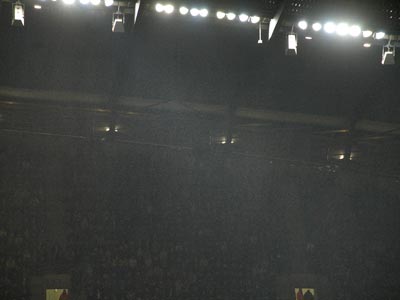 As the rain swept the stadium City continued to press and Sibierski had a good shot well saved by Sorensen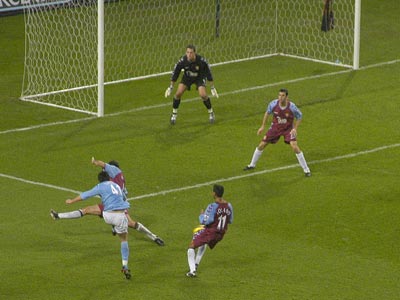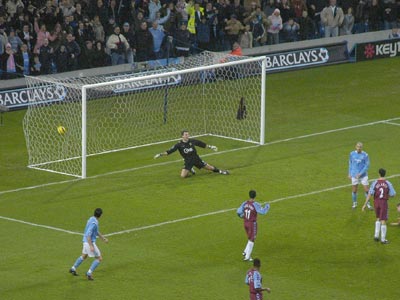 After 38 minutes came Shaun Wright-Phillips' goal. An attack down the left by Barton and Jordan and started by SWP in his own half appeared to breakdown when the ball was cleared from Jordans shot (above left). However the ball ran to SWP well outside the area who cracked it in with his LEFT foot past a shell shocked Sorensen. Two nil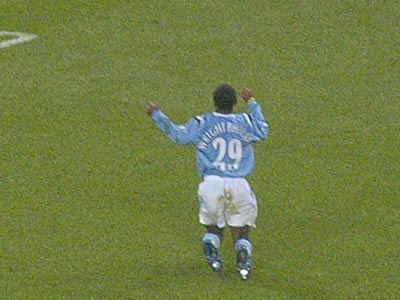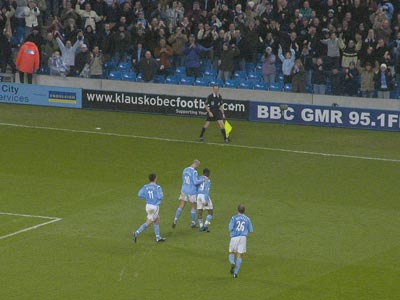 How this lad has matured is amazing. Also baffling is why the England manager cannot find a regular place in the international lineup for Shaun Wright-Phillips.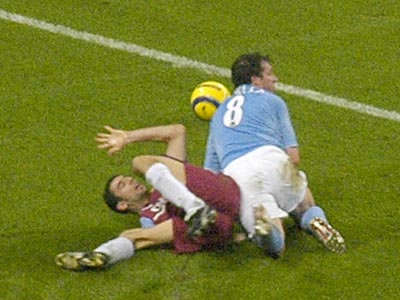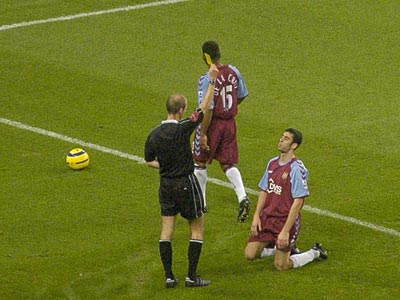 Just before half time Fowler was brought down at the edge of the area by Delaney who got a yellow card for his trouble. Somebody forgot the prayer mat.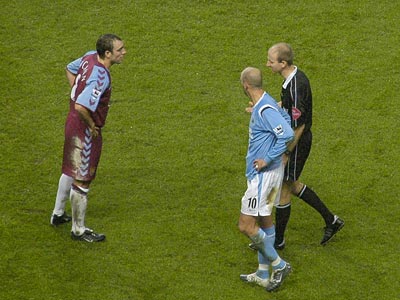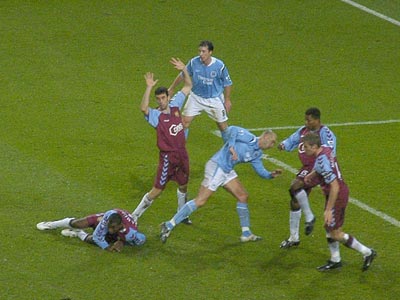 Gavin McCann is given some words of wisdom by 'Old Mother Riley'.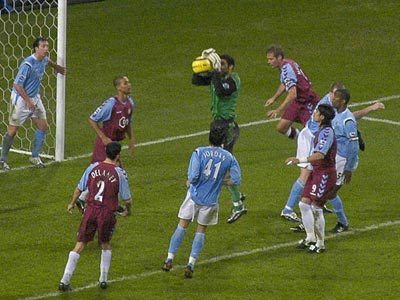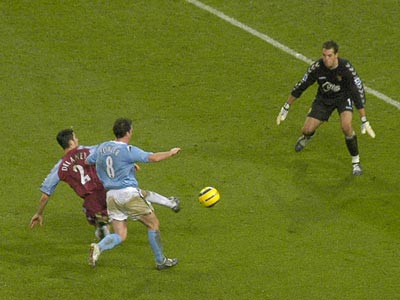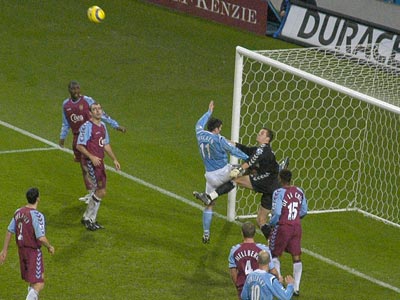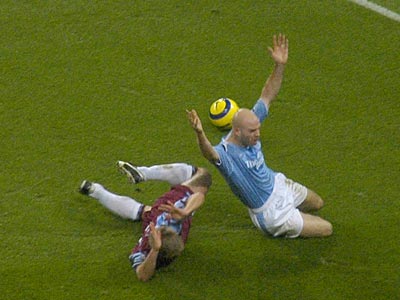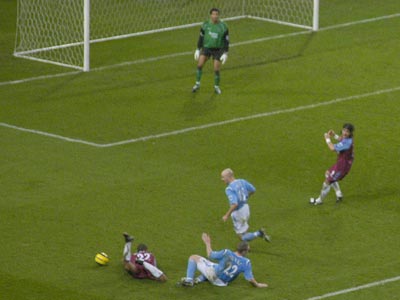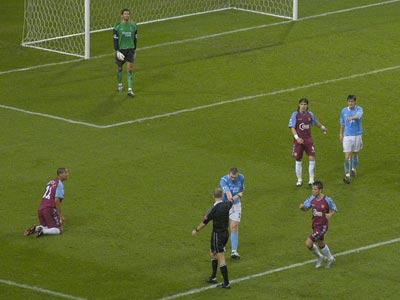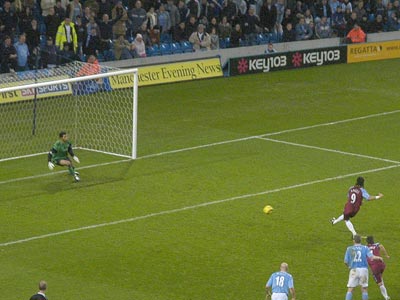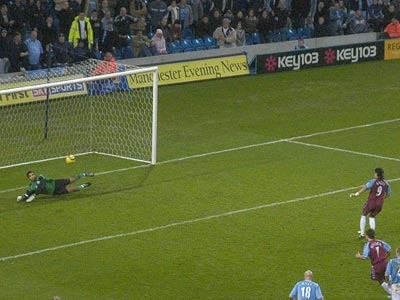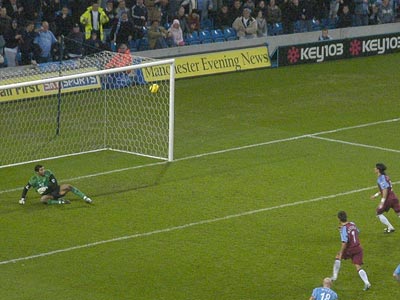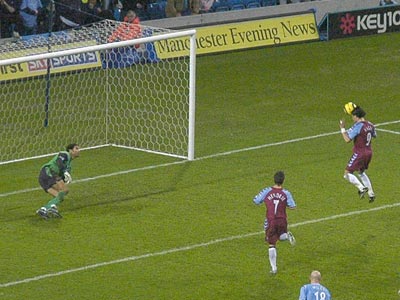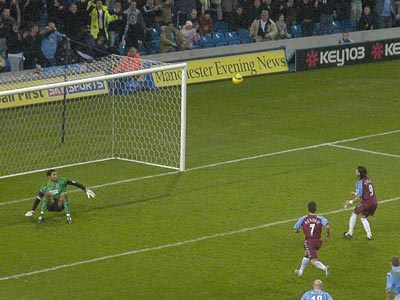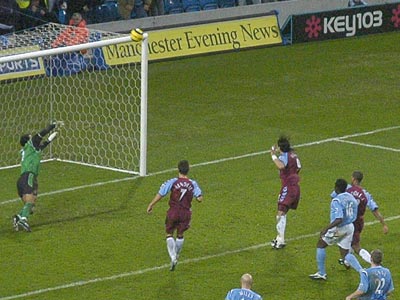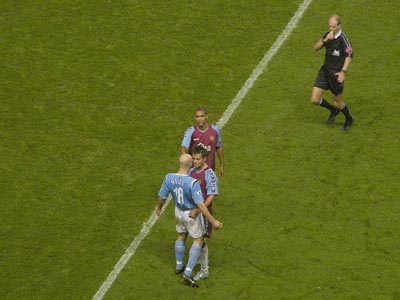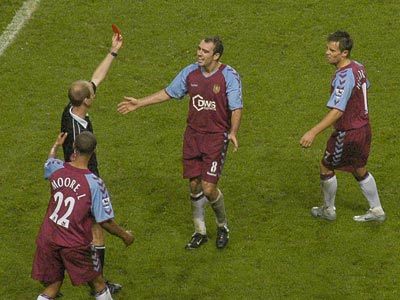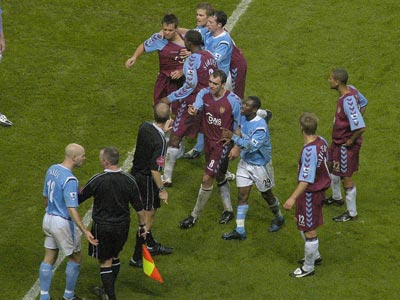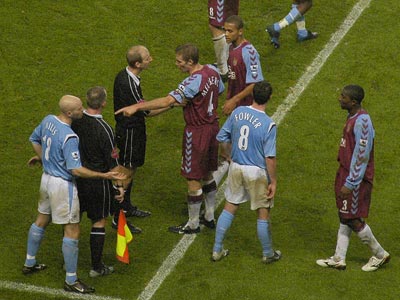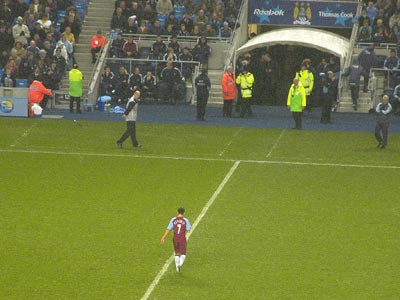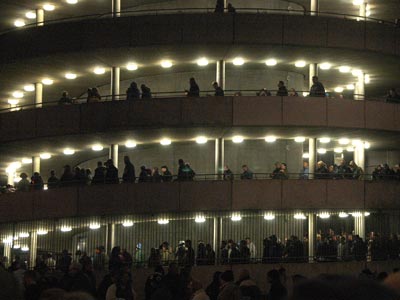 Well - one of the Villa defence has surrendered.
Apart from the odd save James had precious little to do
.
Delaney just manages to foil Robbie Fowler
Macken is panelized for a foul on the keeper
Mills and a Villa defender show the size of the fish they recently caught -well I think that's what they're doing!
With just three minutes to go and Distin off injured substitute Luke Moore broke down the left. Dunne mistimed his tackle and fouled him right on the edge of the area .The impetus of the players took them into the area and the referee gave a penalty. Surprise surprise
Juan Angel took the kick but the diving David James managed to block the shot
It rebounded into the air and Angel dashed in to finish it off
As David James struggled to get to his feet Angel headed towards an open goal but he ball sailed over the bar and justice was done.
In the final seconds Hendrie fouled Mills and the two went head to head. Mills asked him if he was going to the Disco later - Hendrie nodded and got sent off for head butting! Mind you neither player has a reputation for ballroom dancing
Emotions started to rise and I wondered whether Ricky Hatton was going to be called for to sort them all out. It looks as though Mellberg -at fault for both the goals- is blaming the referees assistant poor soul.
At the end of the round Hendrie made his lonely journey back to the dressing room, sent off once again.
At the final whistle the happy City supporters made their way into the damp Manchester weather celebrating after a good performance by the blues
This was a solid team performance. SWP worked his socks off and scored a great goal -perhaps goal-of -the- month. He must have been really tired at the end of the game. From James - who made one good save apart from the penalty save - to Macken who also scored, the players worked well for each other and the passing was much crisper and accurate than in previous home games. Anelka was not missed today but dare KK let him go in the January sales. I doubt it. The return of Barton has lifted the midfield and taken some of the defensive load off Bosvelt. Dunne and Distin rarely let the Villa attackers settle so all in all it was a job well done. The continuing progress of City's youngsters is now bearing fruit. We eagerly wait for them to ripen. As I drove home down the M6 I passed all the Villa supporter's coaches and I'm sure the road was just that extra wet from the tears pouring from the vehicles!
Team:
James 7: Mills 6, Dunne 7, Distin 7 (Onuoha 6), Jordan 6: Wright-Phillips 8+, Barton 7, Bosvelt 7, Sibierski 7: Fowler 6, Macken 6