City 0 United 0
November 10th 2010 47,210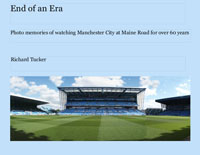 My book 'End of an Era' containing photo memories of days at Maine Road is now available from Blurb.com.
There are over 300 images on 200 pages.
Click on the image for details

This was a dreadful game to watch. After all the pre-match hype I did expect both teams to go for a win but it was not to be and this must have been one of the worst goalless derby games I have ever witnessed. There was little attacking play that forced the keepers into action . Hart did not have a difficult save to make and Van der Sar's most anxious moment was when he had to deal with a Tevez free kick. Neither side wanted to risk losing three points. As City build their side the managers objective will be to keep 4th place and make entry into the Champions League certain next season. However his defensive mentality is difficult for City supporters to enjoy. As long as he keeps Barry and De Jong as defensive midfielders in front of the back four and limits the attacking options of the wing backs then the front three are going to have their work cut out to make solid chances in the opposing penalty area. Ya Ya Toure did not have the best of games considering he is so well paid.He did make the odd run and the odd good pass but they were mere drops of water in a desert of poor work rate. Kompany and Kolo Toure did well to keep Berbatov and company at bay and Zabaleta once again put in a good shift. Tevez though far from 100% did his best while Silva and Milner had their moments but overall the will to win was just not there. This must have been one of the easiest derby games referee Foy has ever had to officiate at. The big crowd too were generally quiet.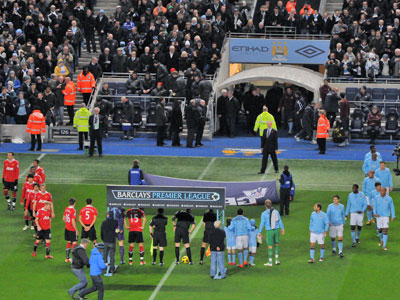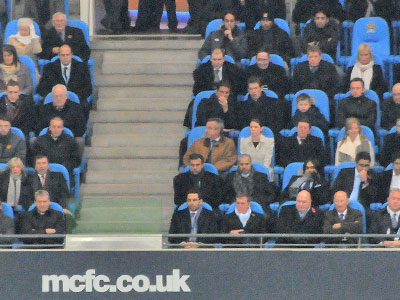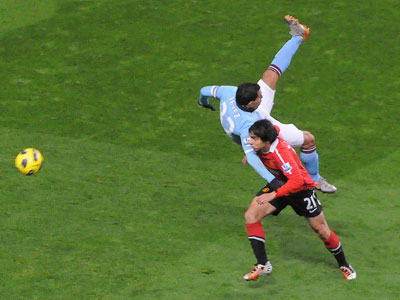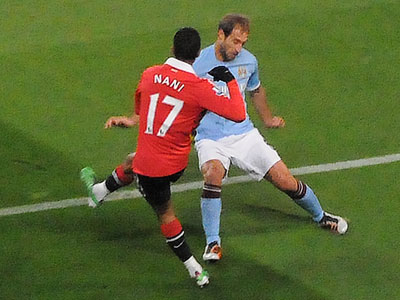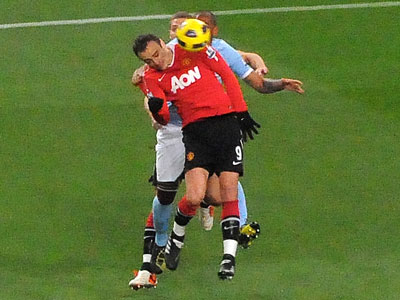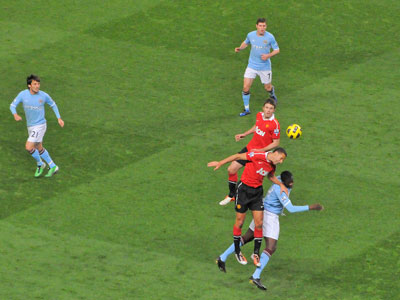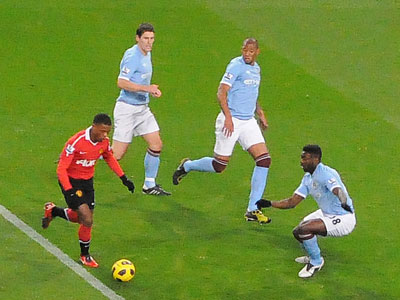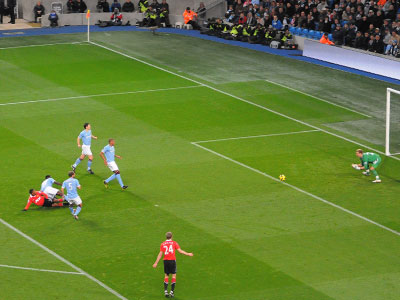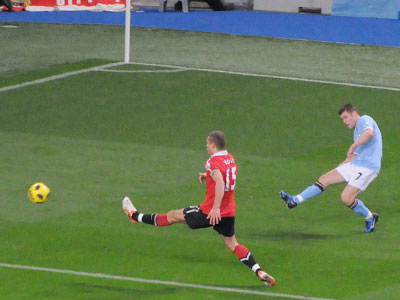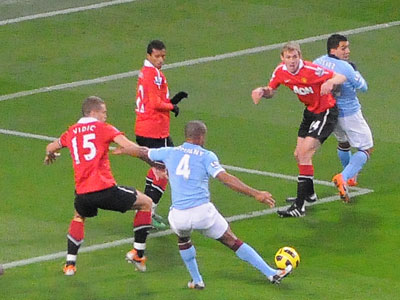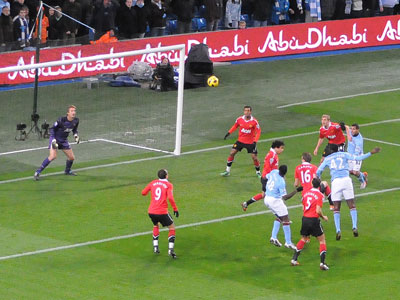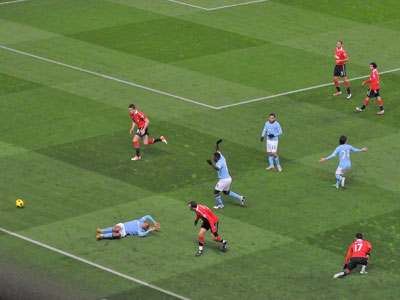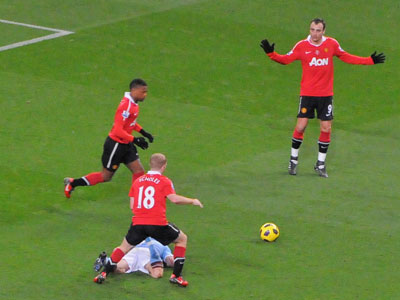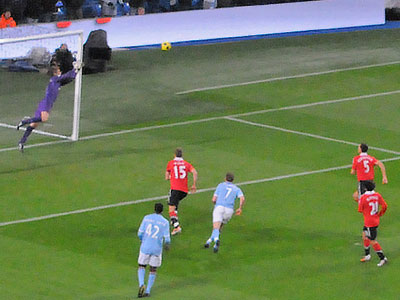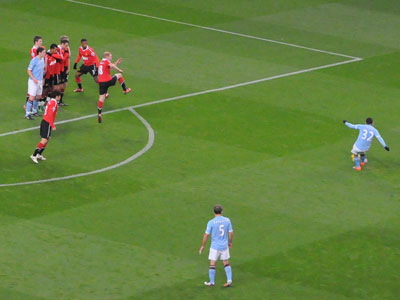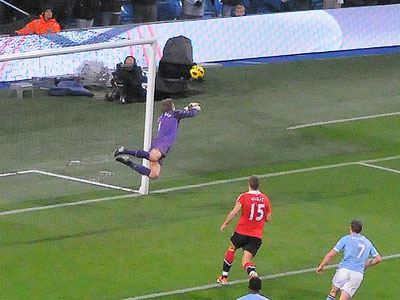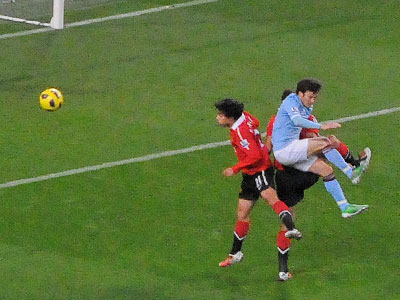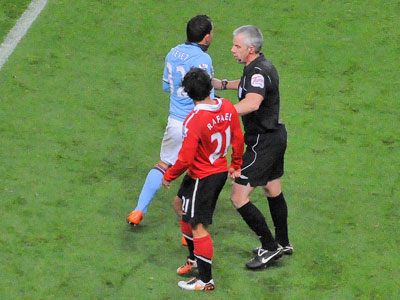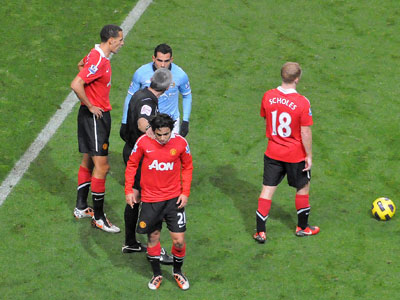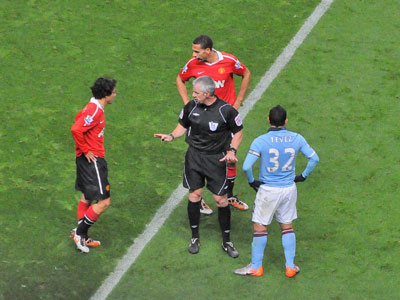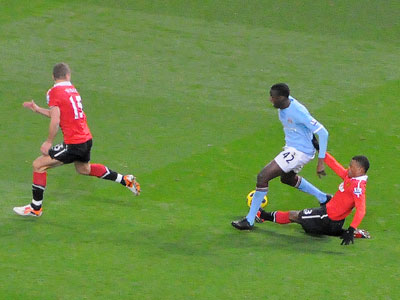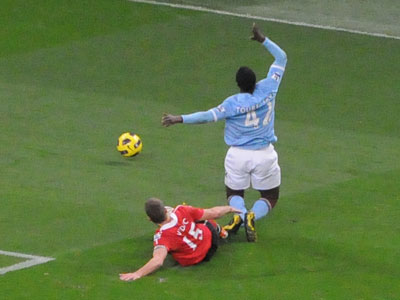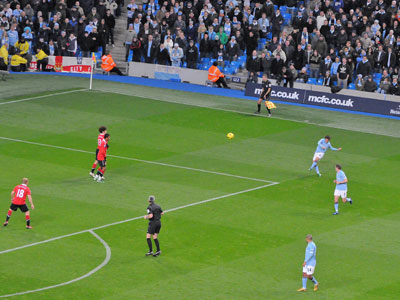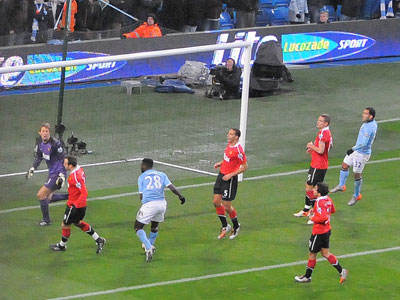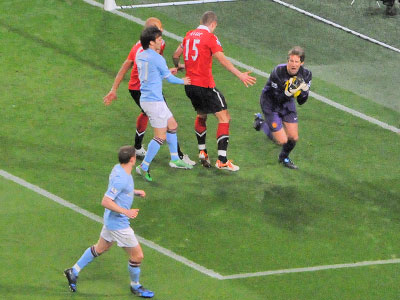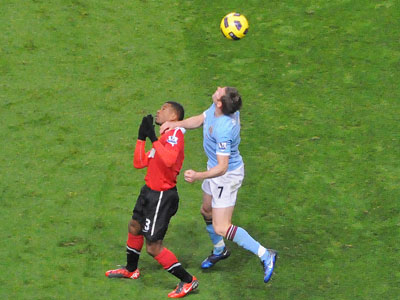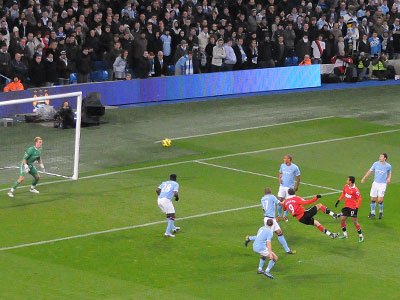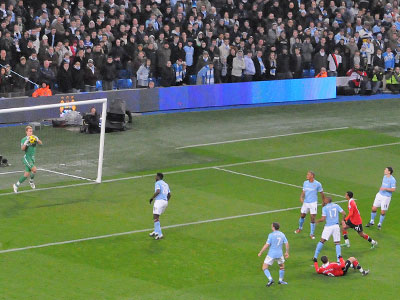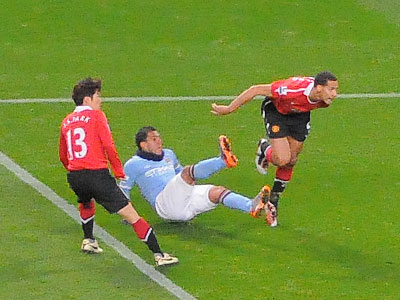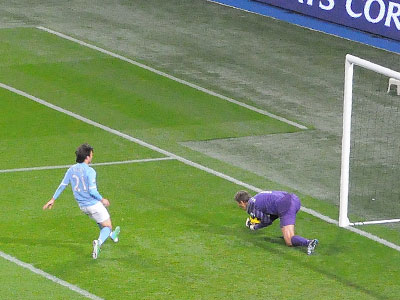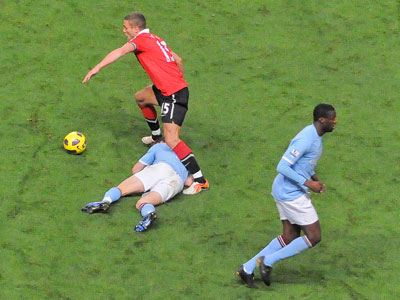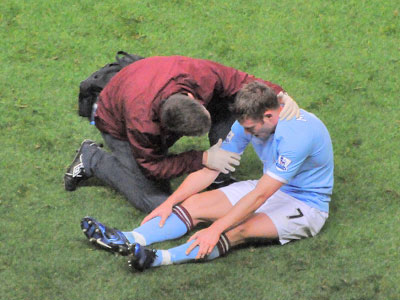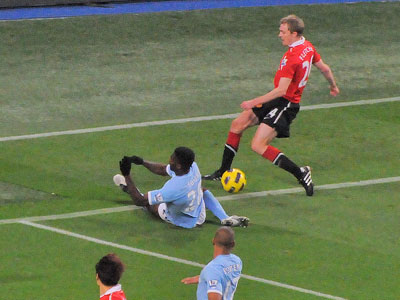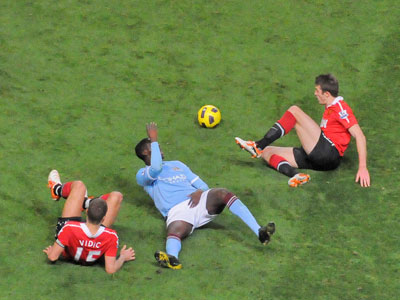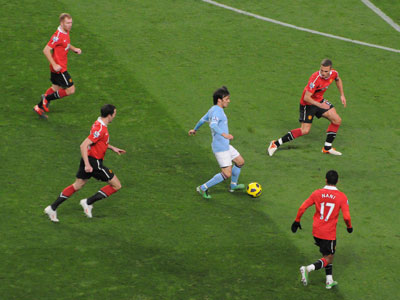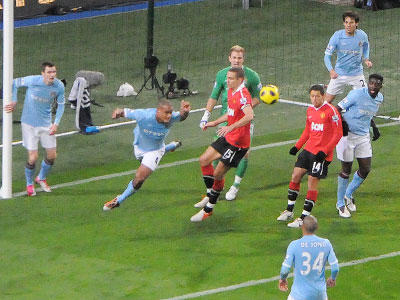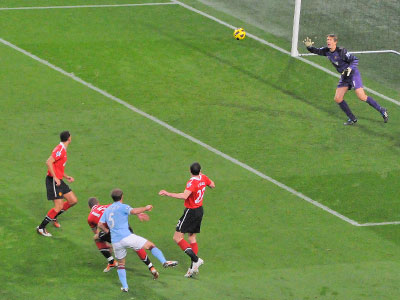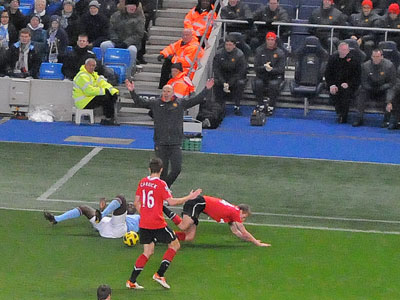 City made just one change Milner coming in for the suspended Balotelli
In addition to our chairman, Fabio Capello now relegated to the 4th row had golfer Lee Westwood to chat to
Tevez collides with Rafael
Ferdinand heads clear from Yaya Toure
Evra manages to get in a shot but it lacks power and is easily saved by Joe Hart
A Milner cross fails to get any reward
Kompany tries to get in a shot at a City corner
A header by Yaya Toure fails to cause Van Der Sar any problems
Milner is brought down by Scholes
Tevez takes the free kick ......
...... but the shot aimed for the top corner is well saved by Van Der Sar
A Silva header goes well wide
Rafael took a dislike to a Tevez challenge ......
....and the referee had to admonish both players no doubt threatening to send them to Waterloo Road school!
a rare Yaya Toure attack ended with him being fouled by Vidic
Just before half time the free kick taken by Silva goes just wide of the United goal.
So the great event ended 0-0 at the interval
Van Der Sar saves a cross from De Jong
Evra says a quick prayer as Milner puts his hand on his shoulder
A shot from Berbatov goes straight at Joe Hart who saves easily
A Tevez shot is easily saved by Van Der sar
Milner goes down hurt after a tackle by Vidic
Kolo Toure tackles Fletcher
Yaya Toure in the wars again
When ever Silver got the ball he was quickly surrounded by defenders
A typical Kompany clarence
A shot by Zabaleta goes just wide
After four minutes of extra time the great event ended as a non event -hugely disappointing
Hart 7: Boateng 6.5, Kompany 8, Kolo Toure 7, Zabaleta 7 (Kolarov) : Milner 7 (Johnson 6.5) Barry 7,
De Jong 7.5, Silva 7, Yaya Toure 6.5, Tevez 7.5 ( Adebayor)