Manchester City 3 Burnley 3 November 7th 2009
Barclays Premier League att 47,205

A full house and plenty of thrills and spills in yet another draw for City - their fifth premiership draw in a row. I think many home supporters went away very disappointed with yet more defensive errors. At least City came back after being two goals down but to fail to close the game down after going into the lead was criminal. The left of defence appears to be the problem. Lescott, Barry and Bridge didn't have good games - Barry probably his worst for City. Bridge goes charging up the field without any thoughts about positional sense should the ball be lost. Adebayor only had one moment of genius and was caught offside too many times. He hardly ever looks along the line to see where the defenders are. He makes his runs too soon and was out of the game too much. Both Bellamy and SWP did well, Shaun in particular having one of his better games. Tevez works hard but his shooting needs improving. I felt that in the first half City took a win for granted and suffered accordingly. The next few games are not going to be easy with both Liverpool and Chelsea on the horizon but knowing City we shall probably win both easily!!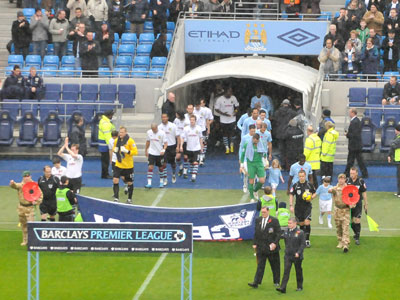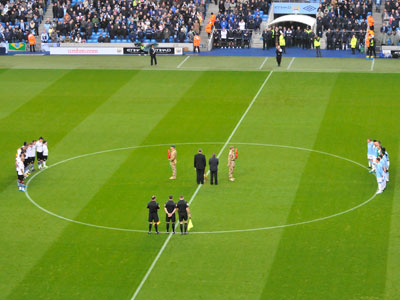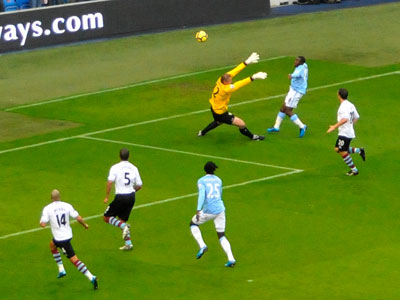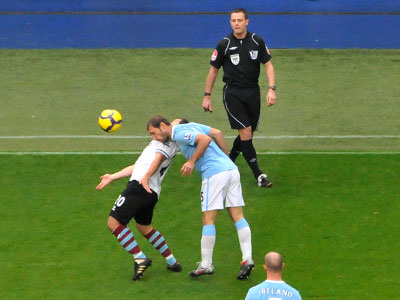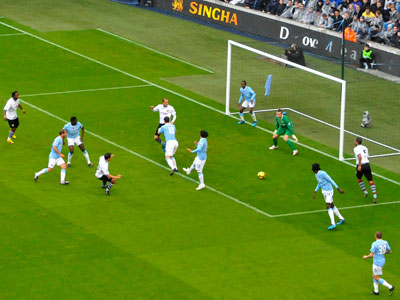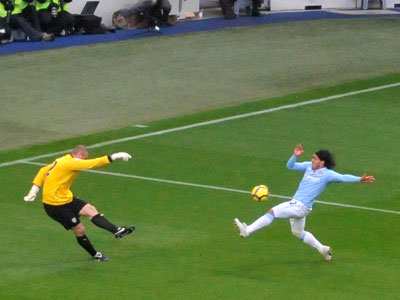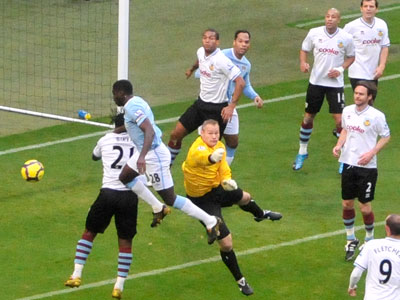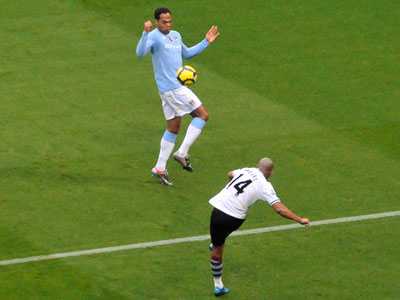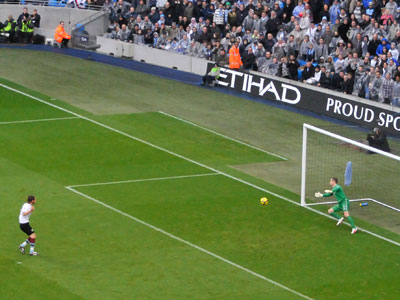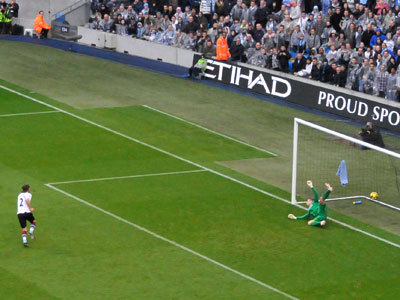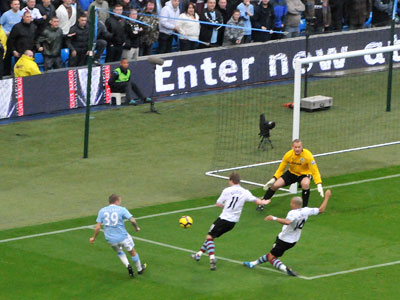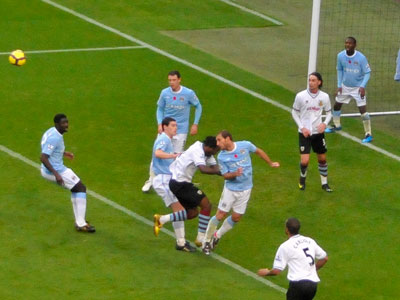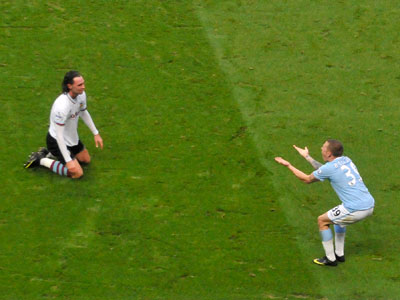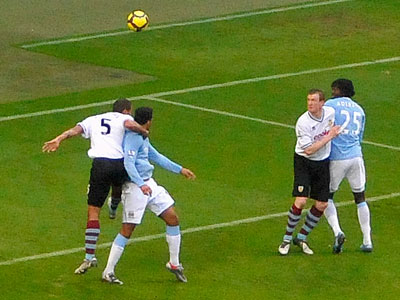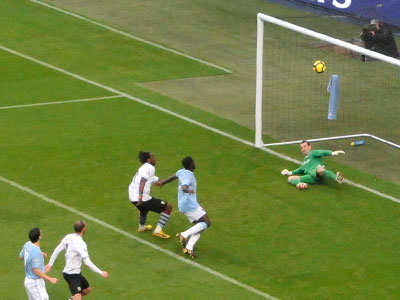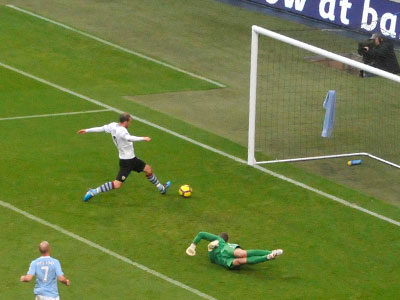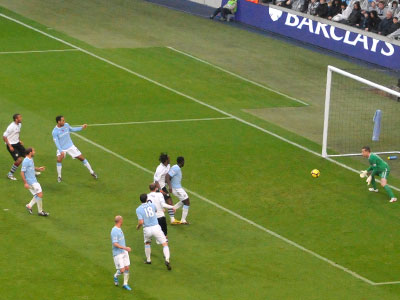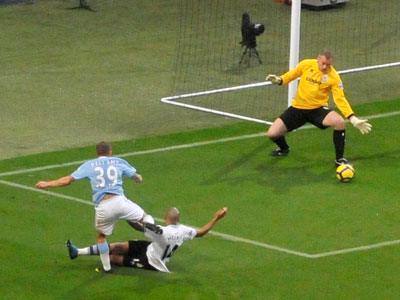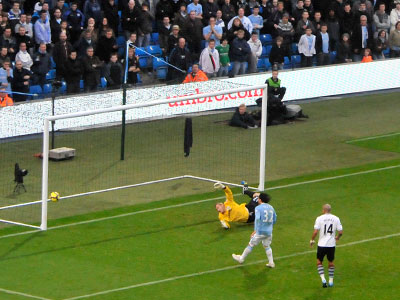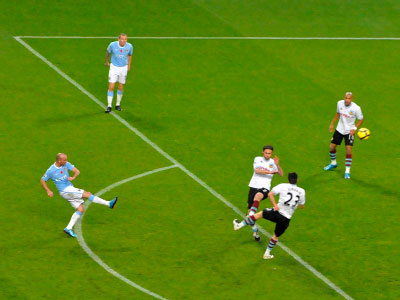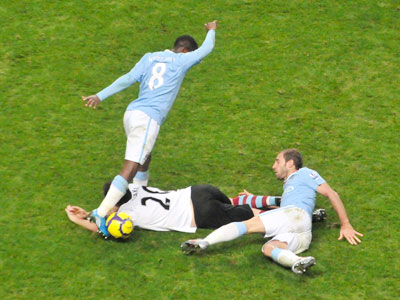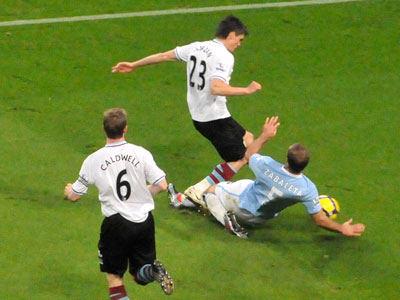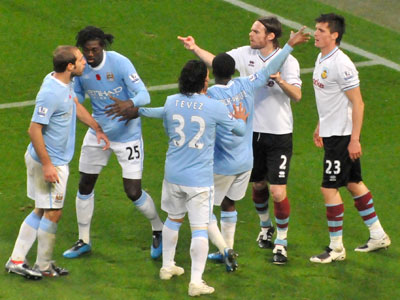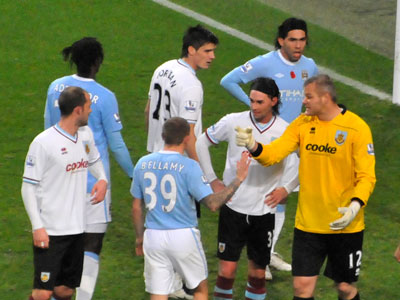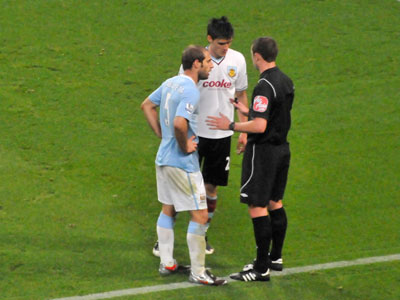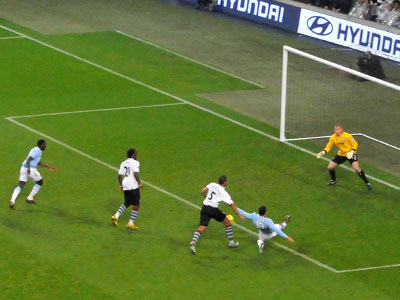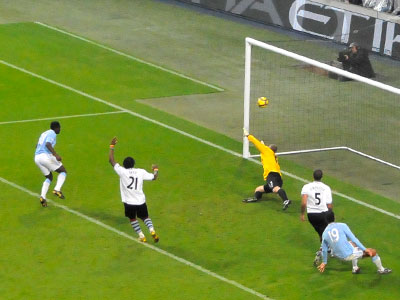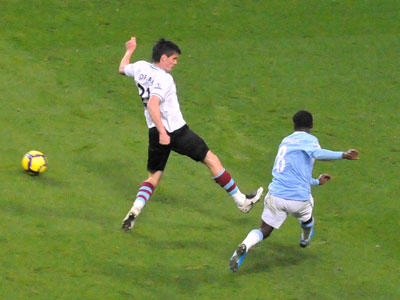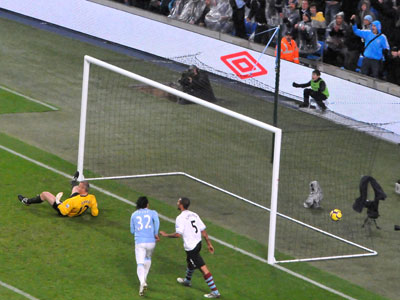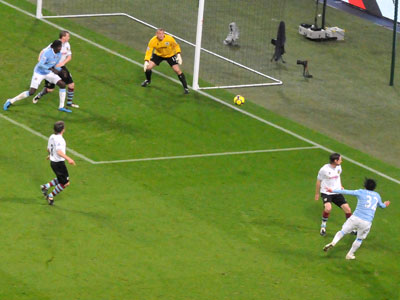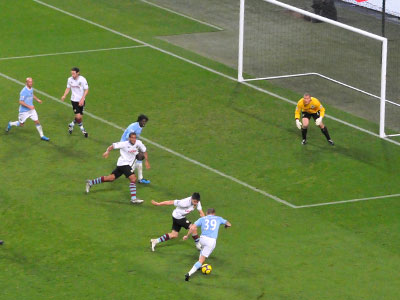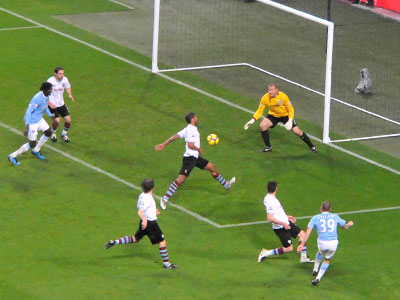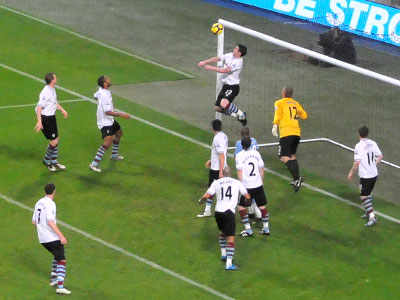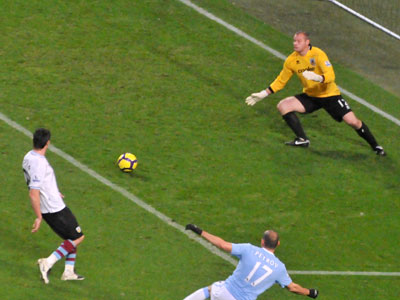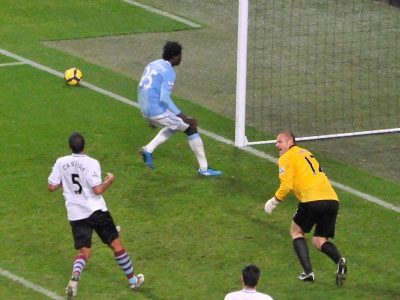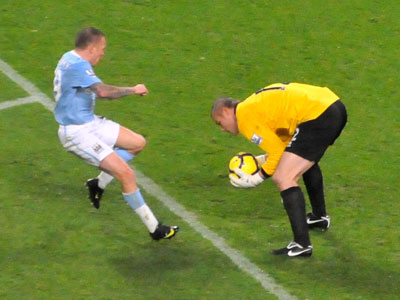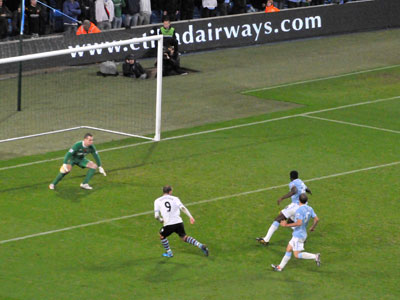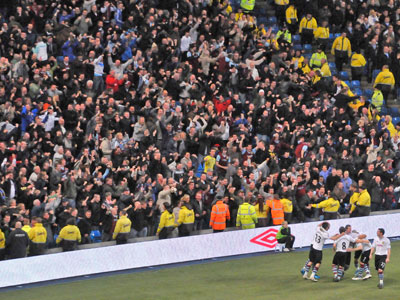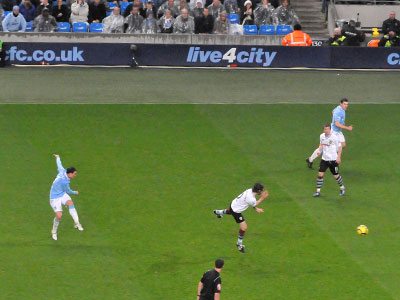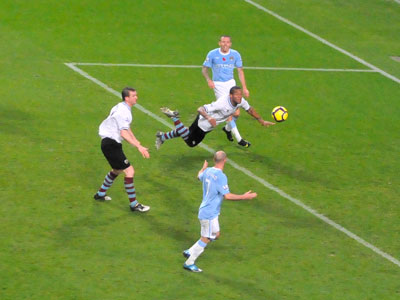 City had Adebayor and Toure back from injury and Ireland started in an attacking line-up
The remembrance day silence was perfectly respected by the big crowd
City were first to attack and a shot by SWP went just over the bar in the first minute
Youngest referee in the league Attwell keeps an eye on a clash between Zabaleta and Blake
Following a free kick an unmarked Blake shoots just past the post. An early warning for City!
Tevez keeps keeper Jensen on his toes
Jensen in action again - trying to clear a corner
In the 18th minute ex City player Tyrone Mears had his cross blocked by Lescott with his hand! Penalty!
Although Given dived the right way the power of the shot from Alexander was too great for the City keeper and Burnley were one up - This was not following the script!
Bellamy breaks down the left and forces a corner which is cleared by Carlisle
- surely he hasn't got his arm round Lescott's neck!
Zabaleta clears a Burnley corner
Bellamy goes into pleading mode but fails to stop a yellow card for a foul on Eagles.
From the free kick Given has to save from Bikey from close range and although the ball was cleared poor control by Barry gave the ball away .........
....... and it was quickly returned to Eagles who passed to Fletcher who had lost his marker Toure and he scored easily to put Burnley two up. Definitely not part of the plot!
SWP did put the ball in the net but the whistle had already gone for offside!
Just before half time Bellamy had a good effort saved by Jensen
City reduced the arrears after 43 minutes after a Wright-Phillips shot beat Jensen and half time came with the visitors leading 2-1. It had been a very poor first half display by City
Ireland shoots over the bar after 49 minutes
Zabaleta brings down Blake
On 52 minutes we had a 'handbags at dawn' confrontation between Zabaleta and ex City player Jordan
Even Bellamy had his say - now that's a surprise! In the end the referee had a very long conversation with two players concerned
Minutes later City were level . A free kick taken by Barry reached Lescott who crossed for Toure to tap it home from close range.
A minute or so later and City went ahead. Ireland fed SWP on the right and his cross found Bellamy who crashed it past Jensen to make it 3-2 .
City were now playing much better and with Burnley on the back foot City tried hard to make it 4-2 efforts by tevez and Bellamy just failing
A Bellamy cross is chested out for a corner . The corner taken by Barry is headed by Carlisle towards his own top corner of the goal by Nugent jumps high and clears off the line -a narrow escape for Burnley
Then it was Petrov's ( on for Tevez) turn to give Burnley a fright as his cross is just fast for Adebayor to reach.
A through ball was chased by Bellamy who just failed to beat Jensen to the ball
With just 4 minutes to go Burnley leveled the score. A long kick up field by Jensen found Nugent who fed Fletcher who headed it back to Me Donald who had the easiest of chances to score. The City defence were completely missing. Dreadful defending!
Bridge tried to make up for his defensive lapses by this shot but it failed to test the keeper.
As you would expect the Burnley supporters were quite pleased! It was their first away point!
City tried for a late late winner but failed to conjure up a goal in the extra time. Not the script we had in mind when we arrived for the game. Yet another more points dropped against a lower side. Not the form to keep us in the top 4.
team
Given 6.5: Zabaleta 7, Toure 7, Lescott 5, Bridge 5: Wright Phillips 8, Ireland 7, Barry 5, Bellamy 7:Tevez 6.5 (Petrov 6) Adebayor 6,