Manchester City 3 Aston Villa 1 May 1st 2010
Barclays Premier League att 47,102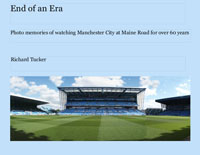 My book 'End of an Era' containing photo memories of days at Maine Road is now available from Blurb.com.
There are over 300 images on 200 pages.
Click on the image for details


Click on the image to get to gigapan.org and zoom in to see yourself!
A less than comfortable win over Villa carries City's hopes of a 4th place a bit nearer. It was not easy and although City played well Villa spurned a couple of chances before half time. There were many worried faces when Villa took the lead but thanks to Adam Johnson City went into the break with a 2-1 lead. He first won a penalty scored by Tevez and moments after Villa had hit the bar he took a pass from a rejuvenated Viera and gave Adebayor a pass and an easy opportunity to score. Patrick Viera rolled back the years and easily had his best game for City linking up defence and attack Borrowed keeper Fulop had a nervous start and maybe Given would have saved the Villa goal but he improved as the game progressed. Zabaleta had another fine game while Bridge did better on attack than in defence. Toure and Kompany had their hands full in the centre of defence and were less than perfect. Tevez as usual worked his socks off playing much deeper than usual
So the scene is set for the finale on Wednesday against Spurs - surely the decider for 4th place and probably the most important game in City's history for years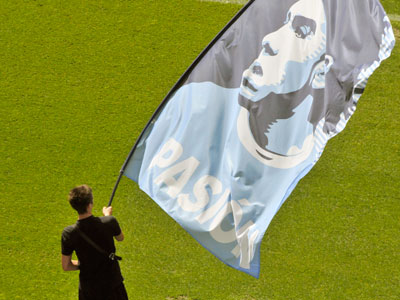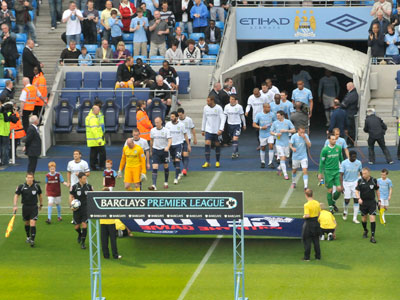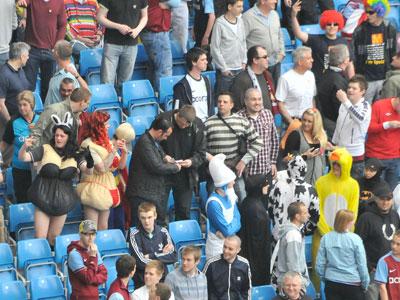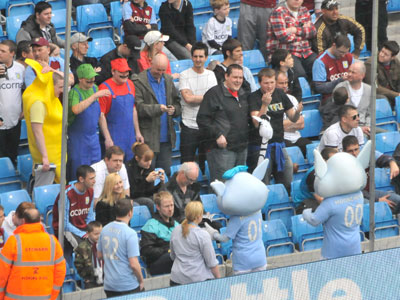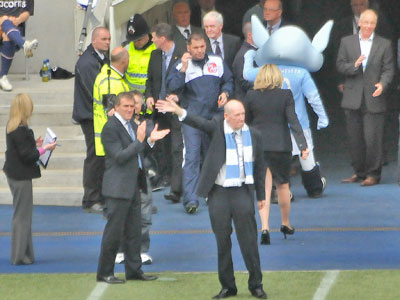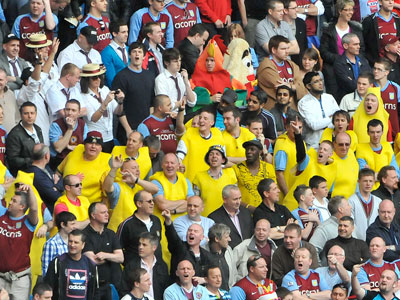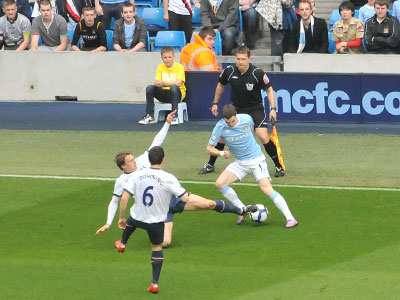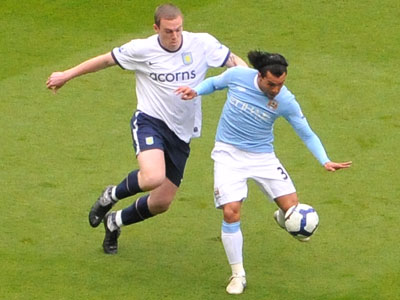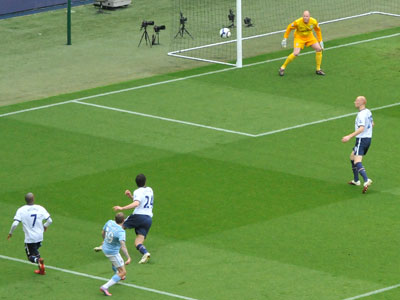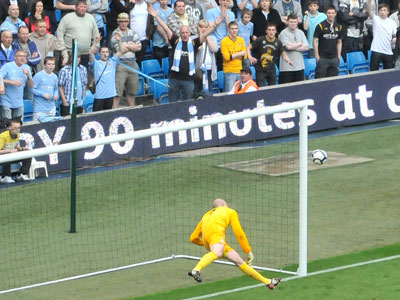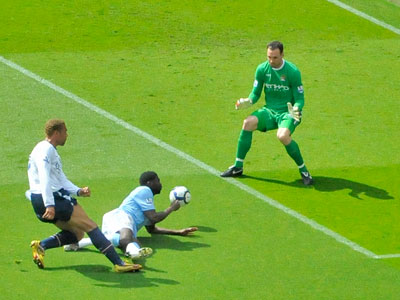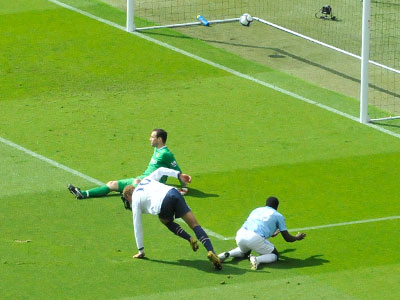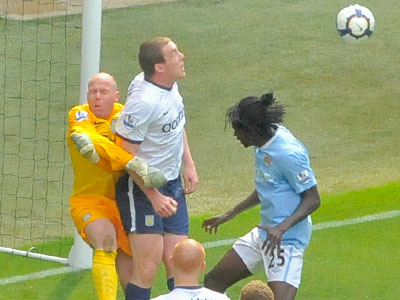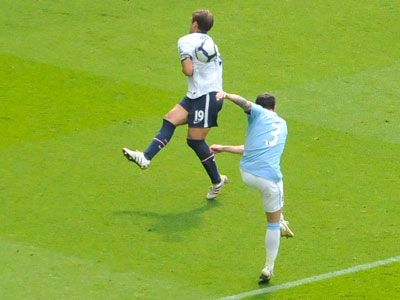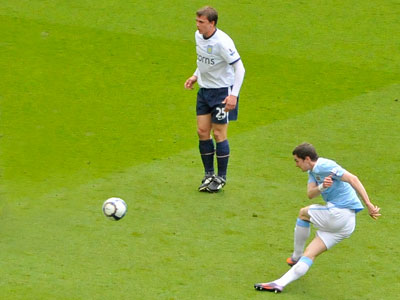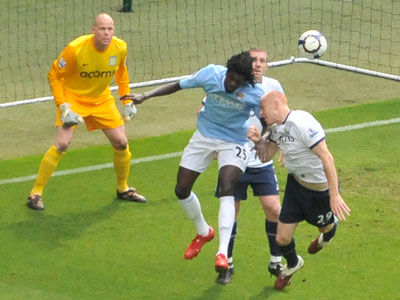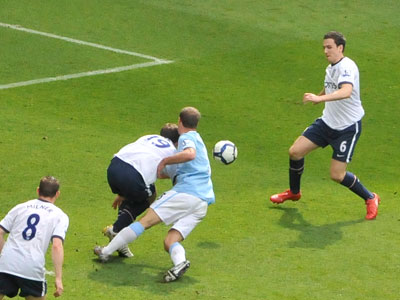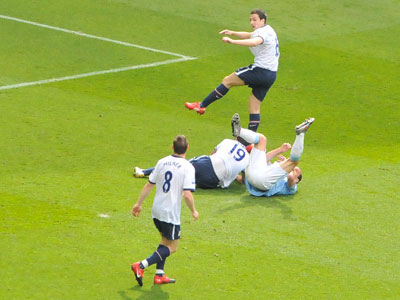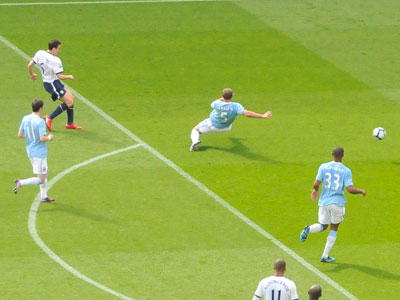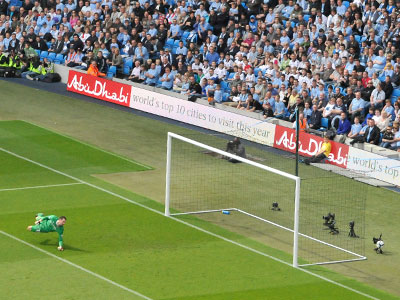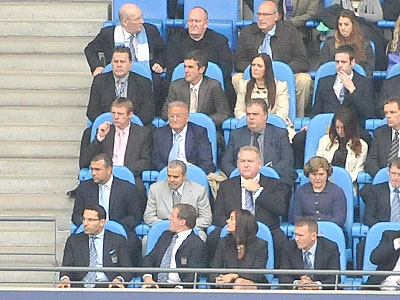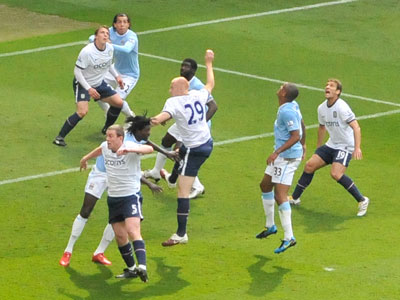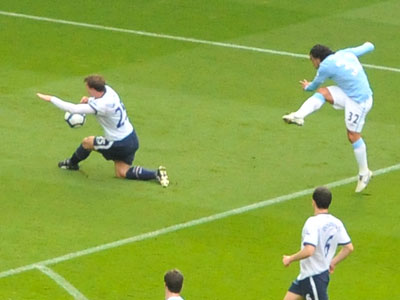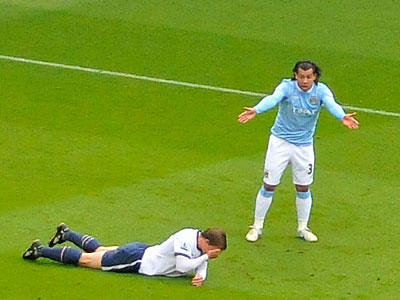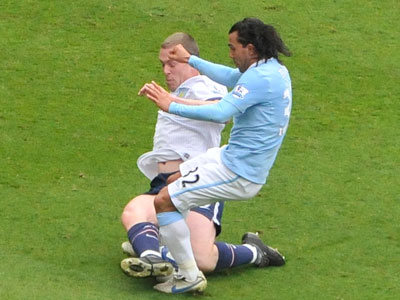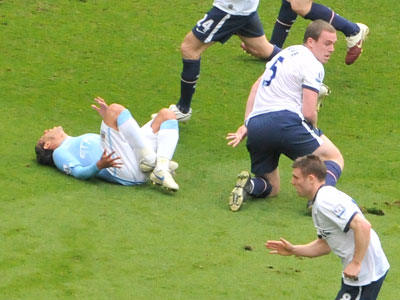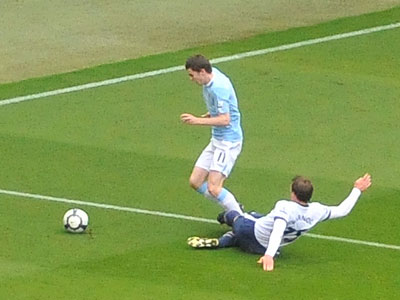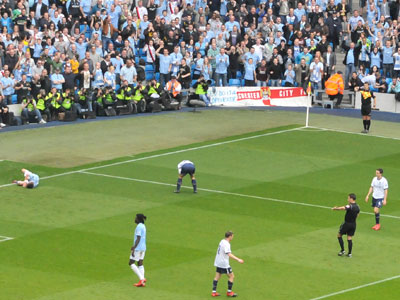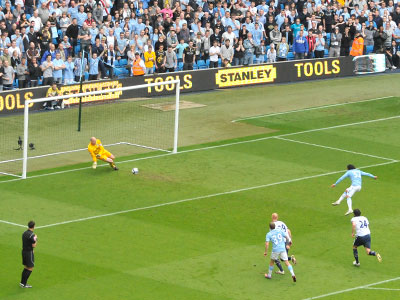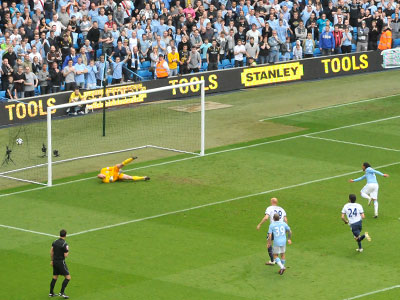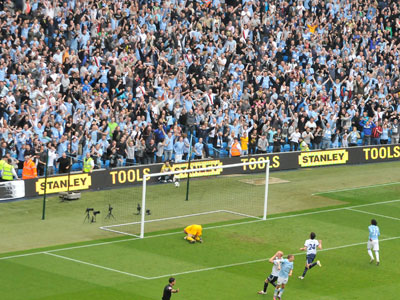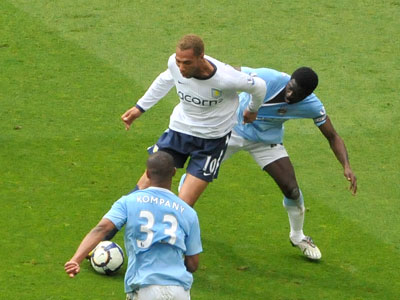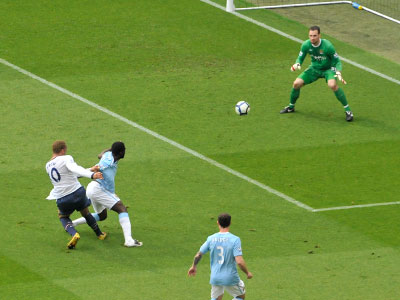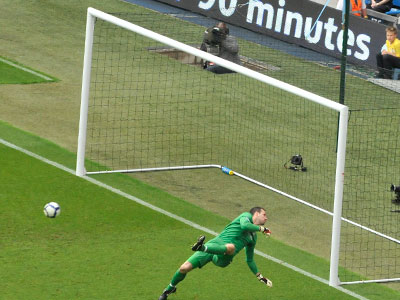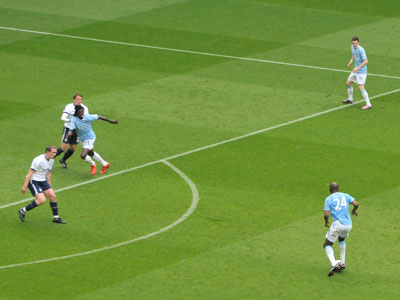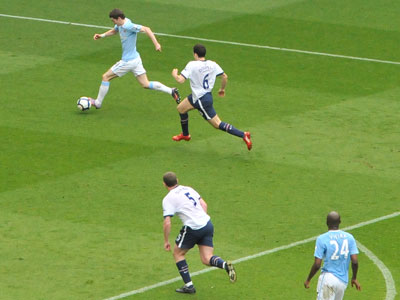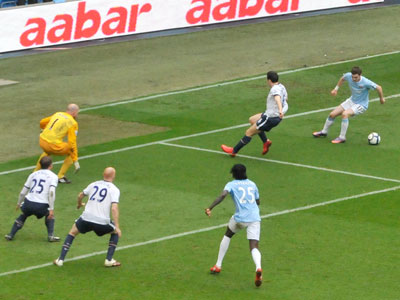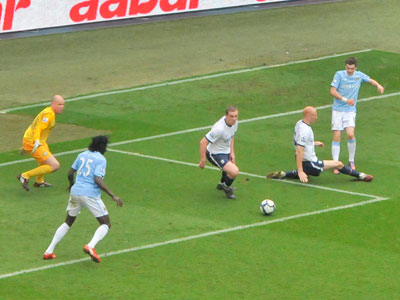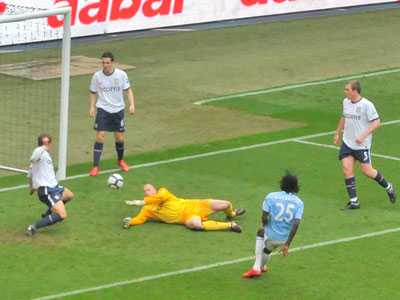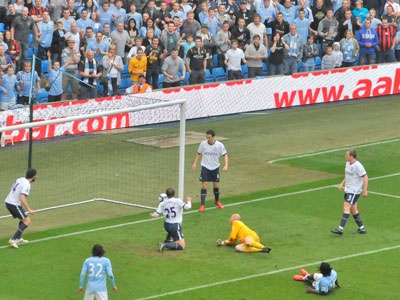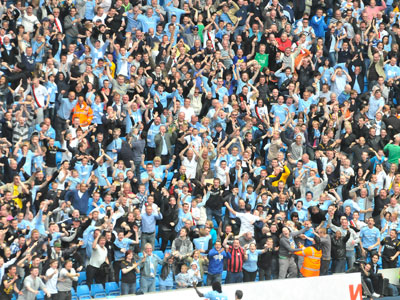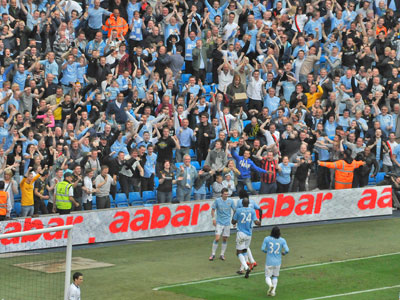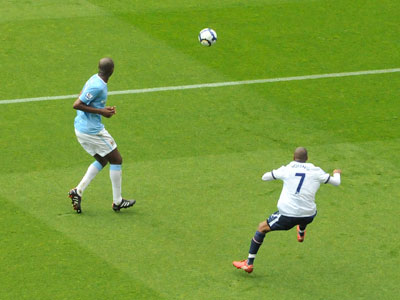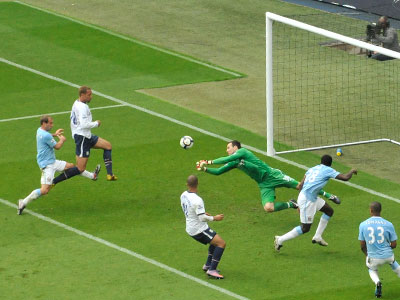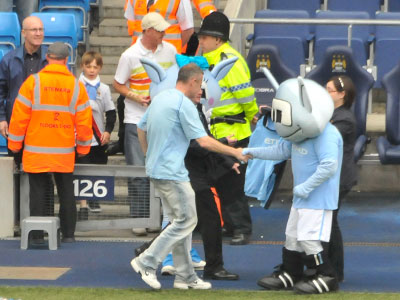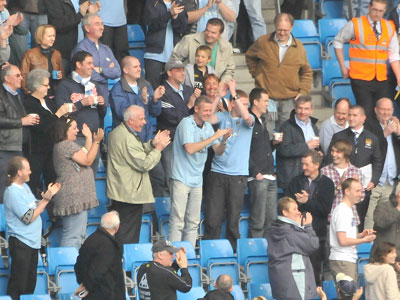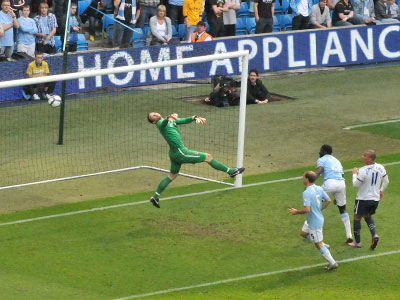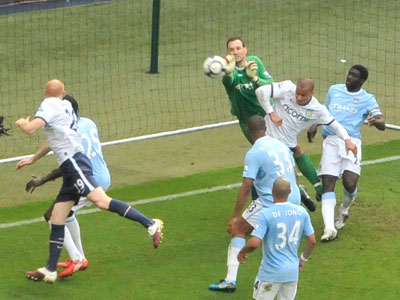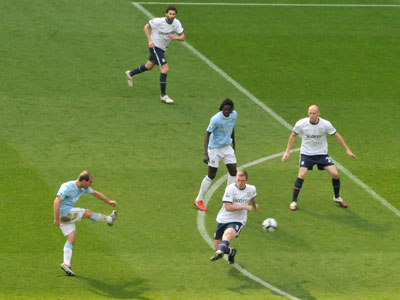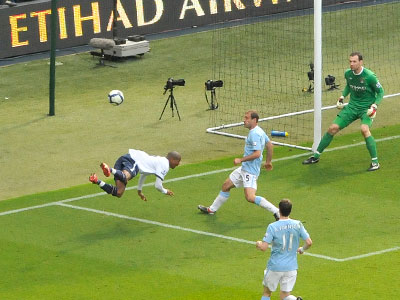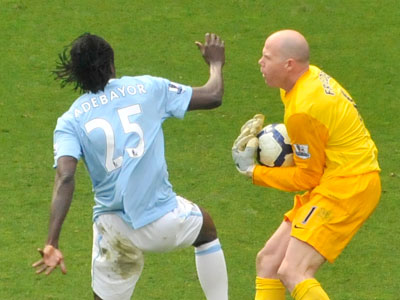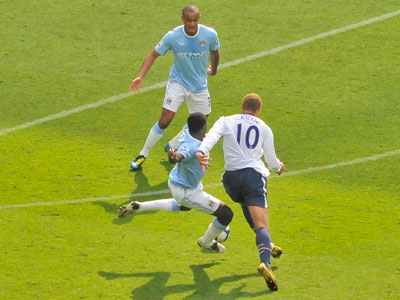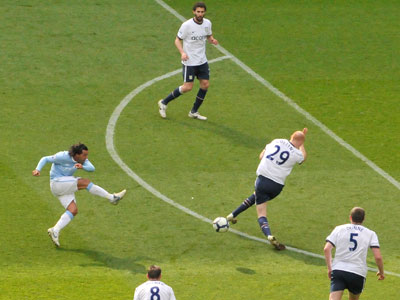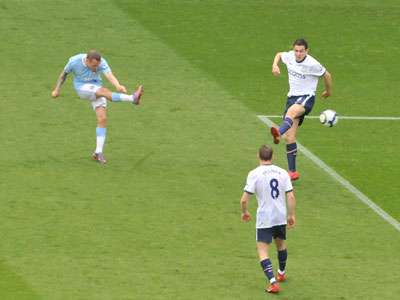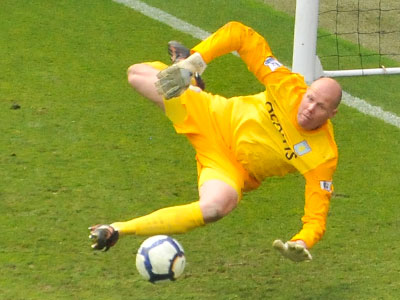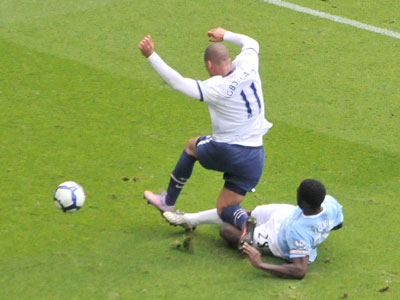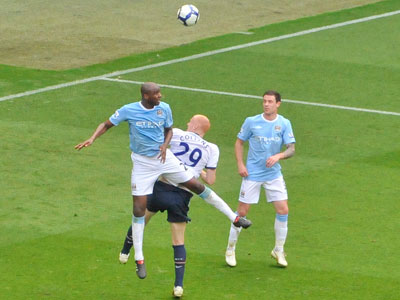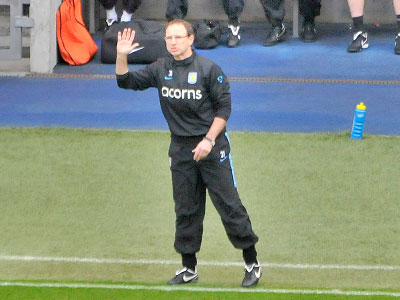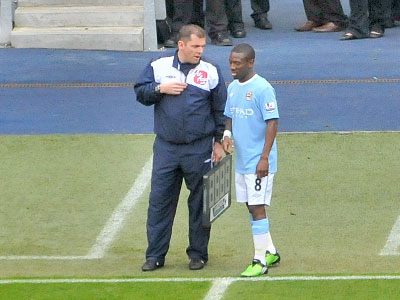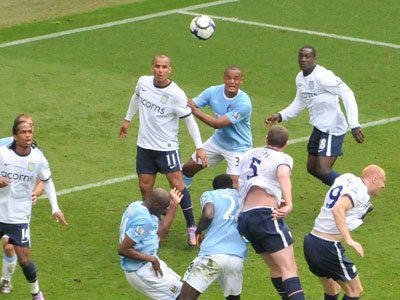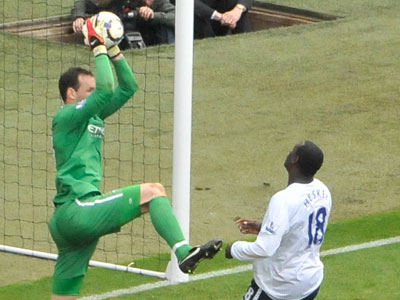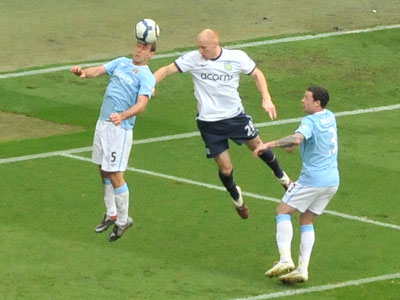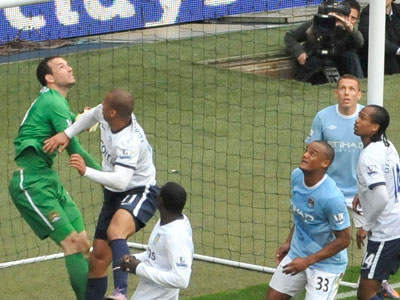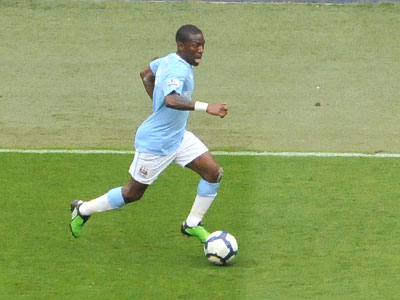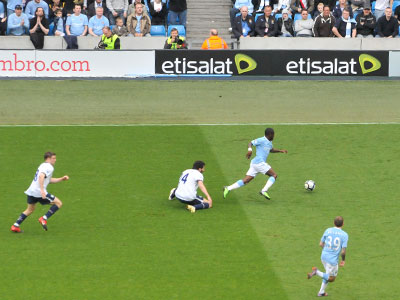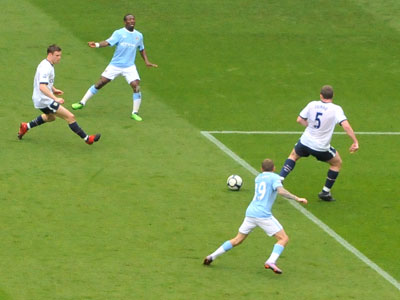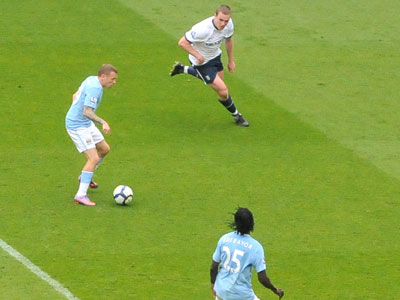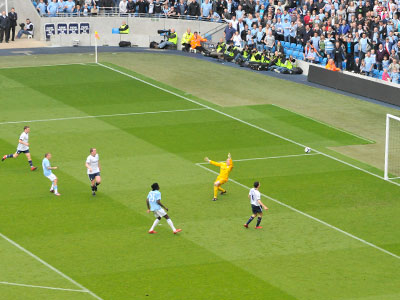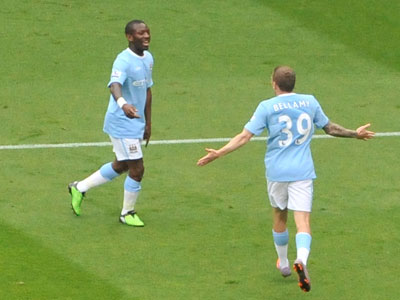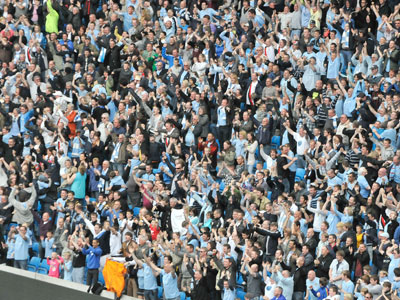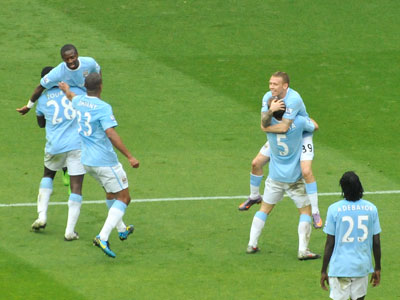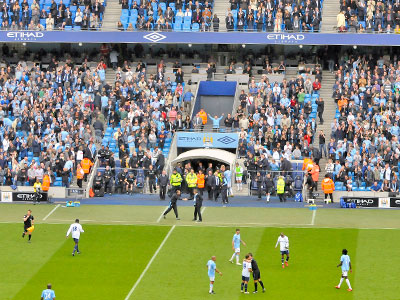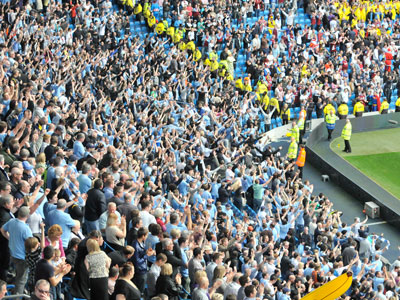 Many Villa supporters donned fancy dress for the occasion and no doubt Moonbeam and Moonchester made their thoughts known
The teams were welcomed by the Tevez Pacion flag and it was a debut for Hungarian keeper Marton Fulop on loan from Sunderland for the injured Given. Barry was out injured so Adebayor started as did Viera.
Long serving secretary Bernard Halford who has just left the post to become only the second Life President for City waves to the crowd
A group of Villa supporters turned up as bananas no doubt hoping City would slip up!
Richard Dunne once a favorite at City was making his first return to Eastlands and he got a good reception from the home fans. He was going to be busy today dealing with Tevez (above) and Adebayor
Adam Johnson who needed to raise his game today to boost his chances of a trip to South Africa with England was soon in action
City were first to test the keeper when a shot cum centre from Craig Bellamy nearly caught Freidel napping
After just 16 minutes Villa took the lead. A good pass by Downing caught Toure out of position and danger man Carew shot between the legs of Fulop to dampen the hopes of City supporters.
Dunne and Friedel keep their eyes closed at this City corner
In the directors box was Stuart Pearce no doubt watching the potential England players on view
Shots by Bridge and Johnson failed to trouble the Villa keeper
On 25 minutes City had a shout for a penalty when Zabaleta was charged off the ball by Petrov but the ref said no
City continued to put pressure on the Villa goal getting several corners but we not really creating chances
A minute or so later Stuart Downing shot just wide from the edge of the area
On the half hour we had another shout for a penalty when a shot by Tevez was stopped with his arm by Warnock who goes down holding his face! The referee still said no!
After 38 minutes Tevez was bundled off the ball by Dunne and yes the referee said no penalty - yet again!
Five minutes before the break and it was 4th time lucky! Adam Johnson broke down the right wing and was brought down by Warnock for a certain penalty.Even referee Clattenburg could not say no this time!
Carlos Tevez took the kick and was a little lucky as his shot went under the body of Freidel. It was not one of his better ones but they all count and it was 1-1
There was a great sense of relief and it was game on
Straight away Villa went on the attack and Carew......
.....beat Toure and shot...... and hit the bar!
Moments later the ball was cleared and Viera found Johnson on the right wing
Johnson dashed to the line cut back leaving Downing for dead .. and calmly placed the ball back for Adebayor who had come away from defenders...
Adebayor had the easy job of placing past the Villa defenders to put City 2-1 up
The City supporters went mad as City had turned a one nil deficit into a one goal lead in a matter of minutes.
Once again Villa came back quickly and a centre by Young caused problems for the City defence just before the break
During the interval one lucky City supporter in the South Stand had the honor of meeting Moon Chester and Moonbeam and ...or yes winning a trip to the Middle East with Etihad
Villa were first to the attack in the second half but Fulop was getting more confident now and dealt with the efforts
On 52 minutes Zabaleta shoots well over the top of the goal
Acrobatics by a Villa player failed to reach the ball
Freidel just beats Adebayor to the ball
Carew was proving a difficult opponent for Toure and Kompany
60 minutes gone and a Tevez shot goes wide
Five minutes later Bellamy has a shot......
......but Freidel saved well to frustrate City
Agbonlahor is tackled by Toure
Patrick Viera coming into form at the right time clears
Villa Manager Martin O'Neill wants his players to score five !!
The City area under pressure
Fulop makes a comfortable catch
4th Official Phil Dowd gives a few tips about the offside law!
Zabaleta who turns up everywhere heads clear
Fulop punches clear a Villa corner
As full time approaches SWP on for Johnson gets the ball near the line and starts on a run....
... down the wing SWP swept beating two defenders before finding Craig Bellamy.....
...... who had time to pick his spot and crack the ball past the Villa keeper to make the game safe at 3-1
That was so easy said Bellamy as he thanks SWP and the crowd celebrate
The two managers shake hands as the game ends
The City players celebrate their step towards the Champions League
The adoring City supporters show their :thanks to the City team and now we await the big game on Wednesday which if we win will mean just a point needed at West Ham to clinch 4th place and the Champions league next season. Should that happen then I am pretty certain more signings in the summer and an even stronger team in the future.
Team
Fulop 6: Zabaleta 7.5, Toure 6.5, Kompany 6.5, Bridge 6.5: Viera 8, de Jong 7:Johnstone 8 (Wright-Phillips 7.5), Tevez 8 (Richards), Bellamy 7.5: Adebayor 7.5