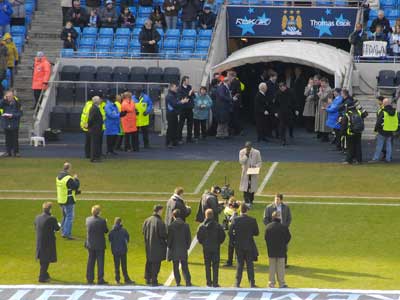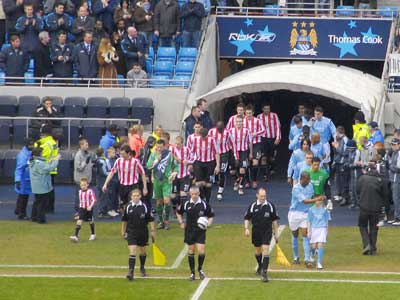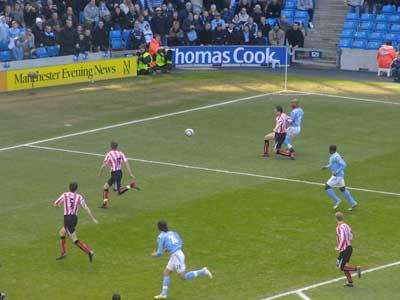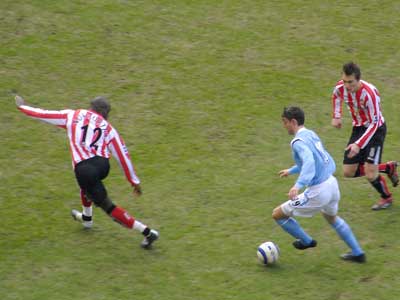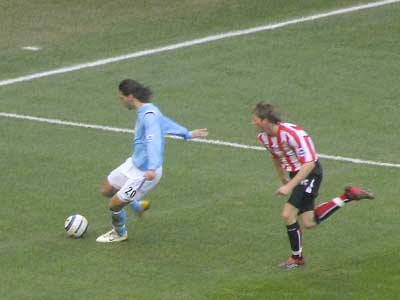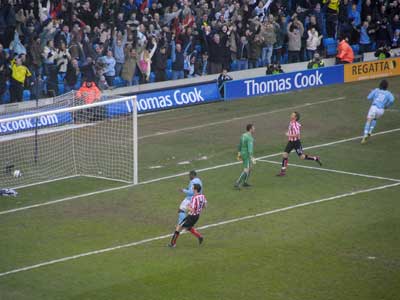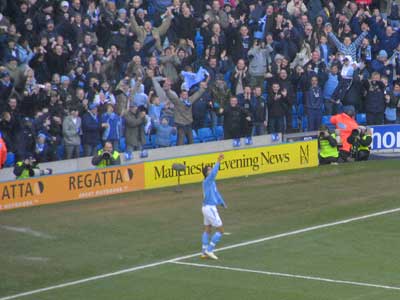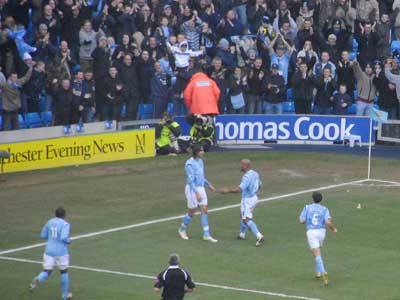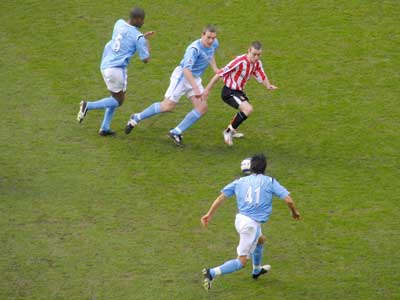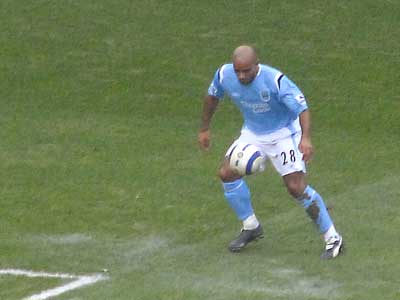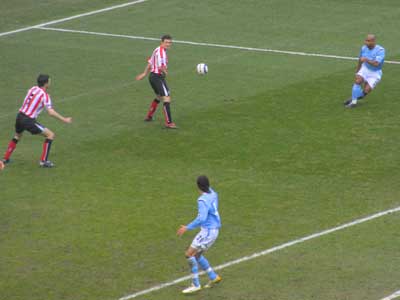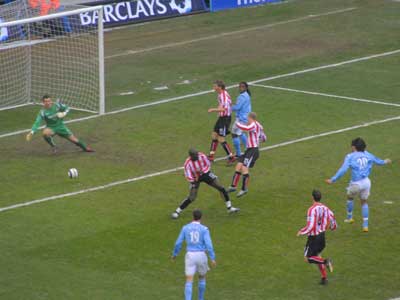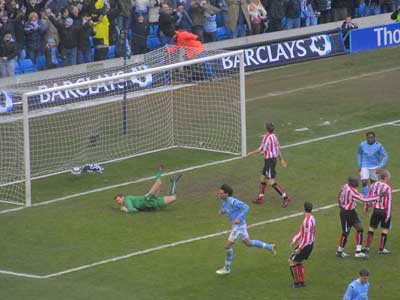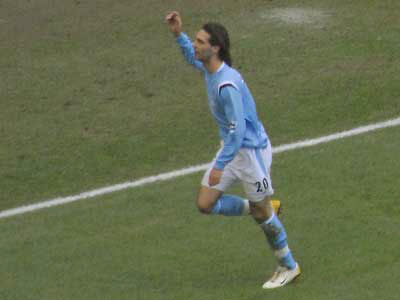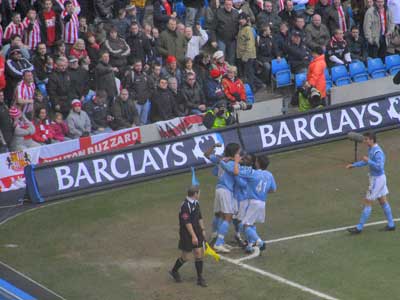 City 2 Sunderland 1
March 5th 2006 att 42,200
Another cold day at the City of Manchester Stadium for the visit of bottom of the table Sunderland and their manager, ex City player Mick McCarthy. After the poor City first half display against Liverpool in their last game it was hoped City would return to winning ways. However after the first quarter of an hour when City scored twice the game descended into a battle as the visitors fought for a point and City's passing and tempo went off the boil. It should have been an easy three points especially after the great start but it was all hard graft from then onwards and at least we move back into the top half of the table. On this form a European place is but a dream.
Reyna made a welcome return after injury for the suspended Barton. Vassell came in for Sibierski and young Richards was at right back for Mills
A team of 'old' City players was introduced to the crowd before the game. This is Dave Bennett coming out. You can see some pics of them playing at Maine Road at
CITYPAST
City started at a high temp with attacks down both flanks with Sinclair and Riera making inroads into the Sunderland defence
City took just 9 minutes to open the scoring. It was a terrible error by Danny Collins who lingered on the ball to be dispossessed by Samaras who then ran on to crash the ball past Davis at the near post from a narrow angle with his right foot . He had got the option to pass to unmarked Vassell but chose to finish it off himself.
The young Greek player celebrated and looks to become a City favorite. His recent two goals for the Greek national side has lifted his confidence.
Sunderland briefly went on attack but the combined efforts of Dunne and Jordan held out
A minute later City went two up. A long ball from Reyna was well controlled by Sinclair..
....
..
.... he centered the ball to the waiting Samaras who smashed the ball home with his left foot!
Samaras had begun the movement in midfield and then finished it off. Two goals in ten minutes and I was calculating what the final score would be when I was brought down to earth by remembering I was watching City!
While the City players celebrated the Sunderland supporters were silenced . Relegation now looks pretty certain for the visitors.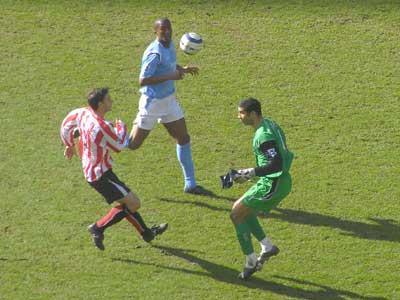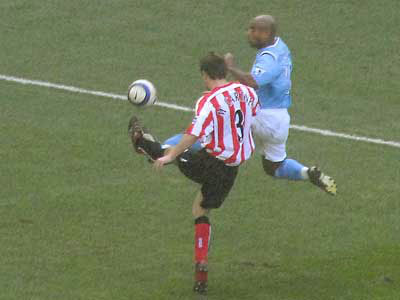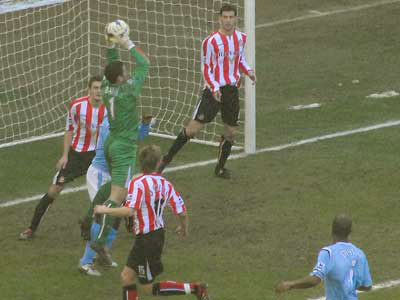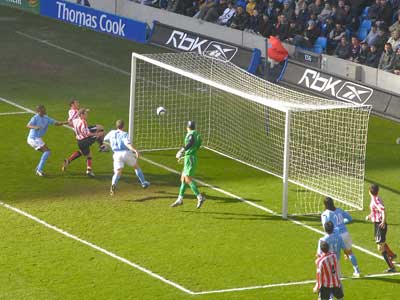 David James has to rush out of his goal and head clear in an isolated Sunderland attack
Sinclair now without his protective mask caused problems for the visitors down the right wing
Davis catches a City corner and from his clearance Richards gives away a dubious free kick. The ball is lofted in and Breen outjumped Samaras at the edge of the 6 yard box . Kyle bundled the ball in to give Sunderland a fighting chance.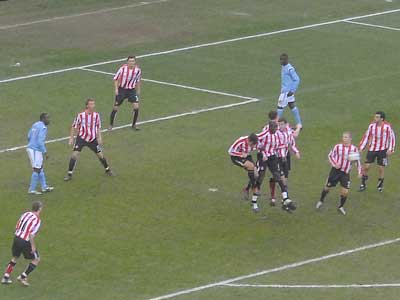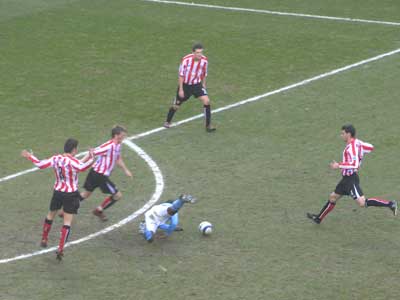 After 40 minutes Vassell is fouled by Whithead but Musampa's free kick is blocked by the wall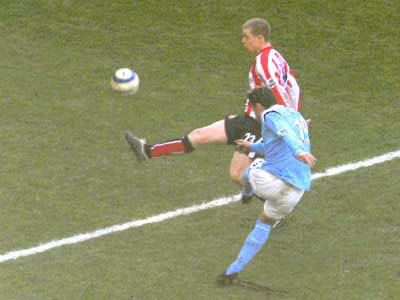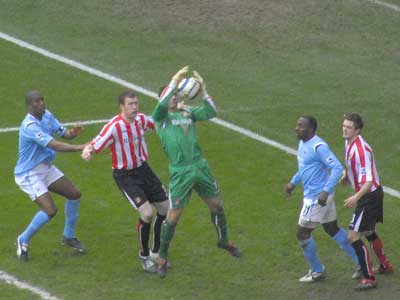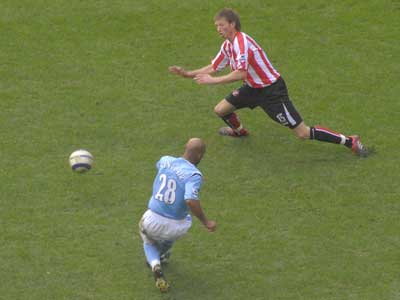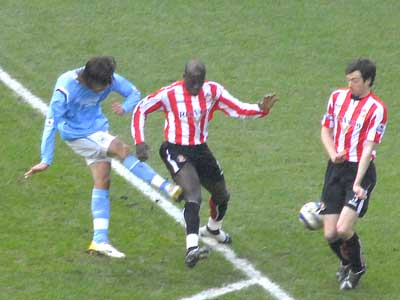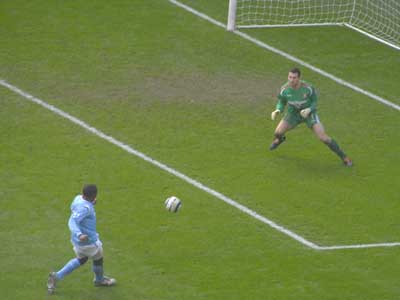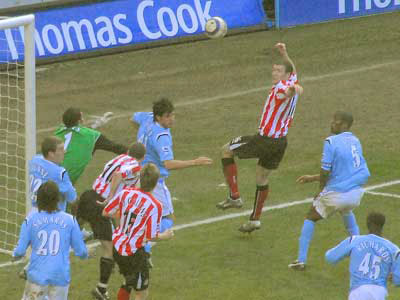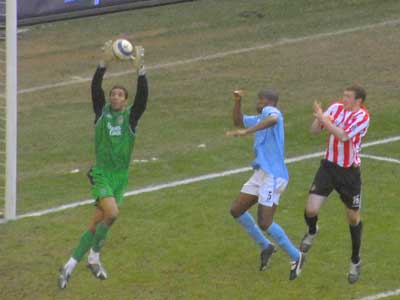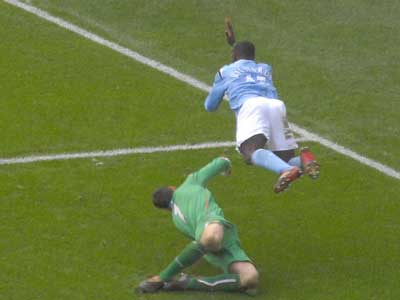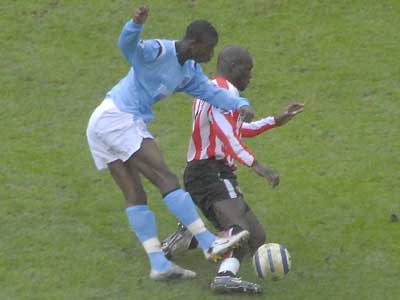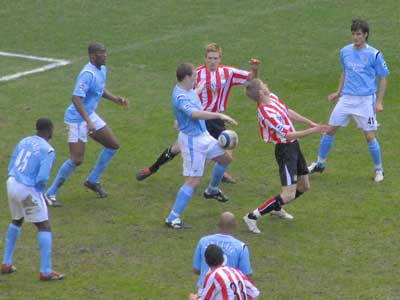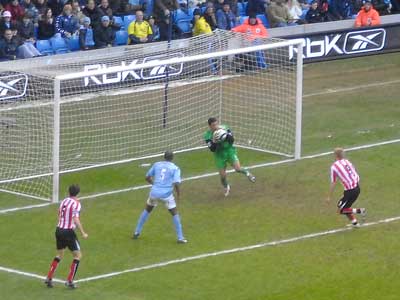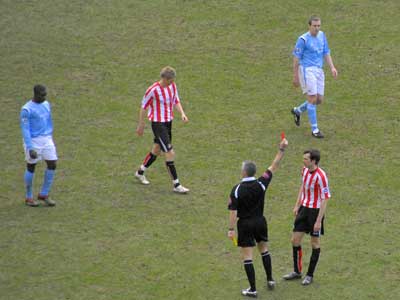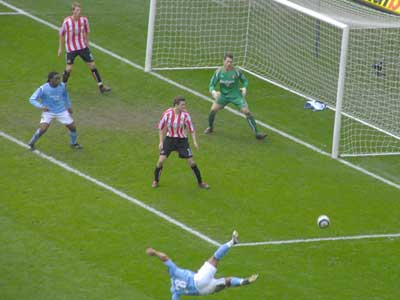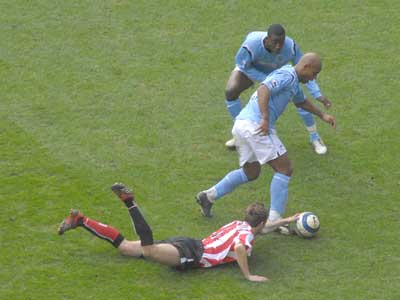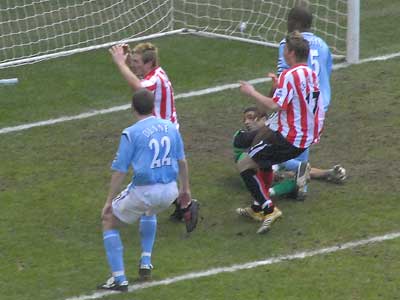 City continued to press winning corners and Riera had an effort just before the half time whistle but his left foot shot went just over the bar. So it was 2-1 to City at half time.
Davis catching a City corner
Sinclair centers despite the efforts of Danny Collins
Samaras has a shot blocked by Gary Breen
Vassell shoots at the keeper who saves when he should have done better
Sunderland were having more of the play and James had to be on the ball to keep City in the lead
Richards flying through the air after a one to one clash with Davis. Some refs would have given a penalty
Bradley Wright Phillips who replaced Vassell after 60 minutes in a clash with Nosworthy
Dunne clears Sunderland attack
Sunderland player McCartney is obviously thinking of changes sports and going in for Rugby
The City goal has yet another narrow squeak as the final whistle approaches.
Trevor Sinclair is caught off balance and another chance is lost
.....Leaving the ref no option but to send him off as he had been booked in the first half.
James catches the ball from a Whitehead shot following a free kick and as he throws the ball out Breen stupidly handles it...
After the first ten minutes or so this game went downhill and Sunderland will be a little disappointed they didn't get a point off this game. City's high tempo start fizzled out and in the end it was a hard won three points. Good pointers from the game included the improving skills of Samaras , the continuing form of Richards who does not look out of place in the Premiership. Musampa has been given a new lease of life in midfield though he must keep up his form for 90 minutes. Riera seems to be a 45 minute player. He must raise his game in the second half.
Team
James 6.5: Richards 7, Dunne 7, Distin 7, Jordan 7: Sinclair 7, Reyna 6.5 (Ireland 6) Musampa 7.5, Riera 6.5 (Sun 6) Samaras 8, Vassell 7 ( Bradley Wright-Phillips 6)