Manchester City 2 Manchester United 1 January 19th 2010
Carling Cup Semi-Final 1st Leg att 46,067

A tough game against a strong United side in a great atmosphere saw two goals by Carlos Tevez give City a slender lead in the battle to reach Wembley for the Carling Cup Final. This was Mancini's first derby game and his team selection with young Boyata in central defence and Zabaleta on the left gave us some food for thought. The first 20 minutes or so saw United in control and City rarely managed an attack Tevez and Bellamy being lone rangers with little support from central midfield. The tactics were changed and City began to get into the game. The fortunate penalty ( we gave a similar one away against Everton) changed the match and there were periods when City were well on top. Tevez scoring against his old club was bound to happen and he was outstanding with his terrific work rate throughout the game. Shame he missed the header in the first half. De Jong and Kompany were excellent in defence while Given showed why he is world class. A tremendous result for Roberto and his team.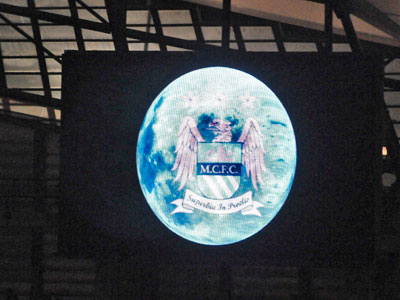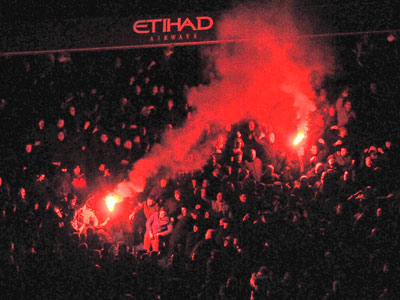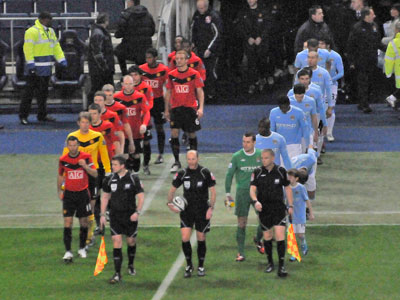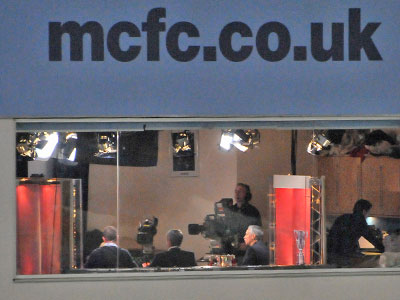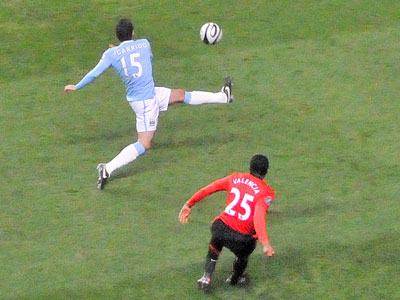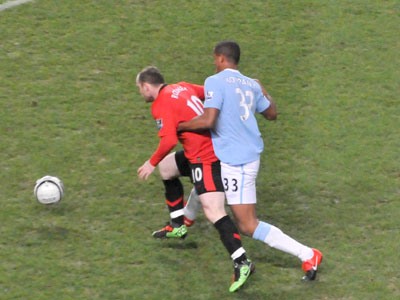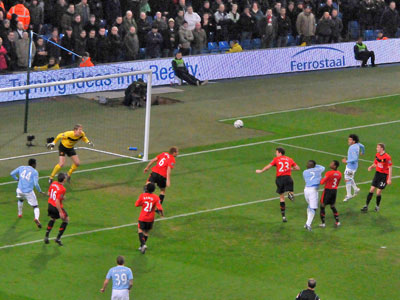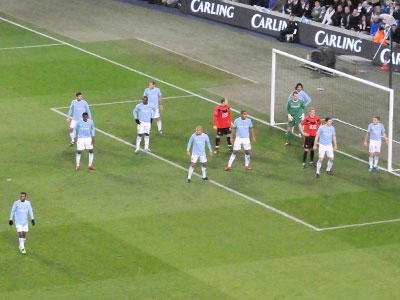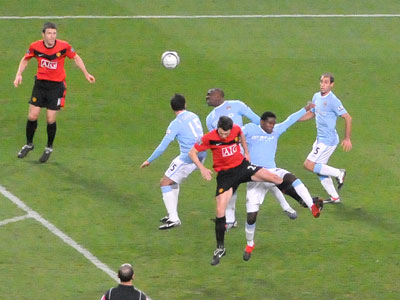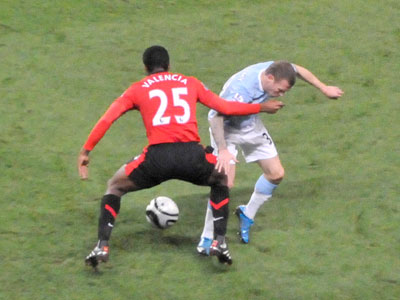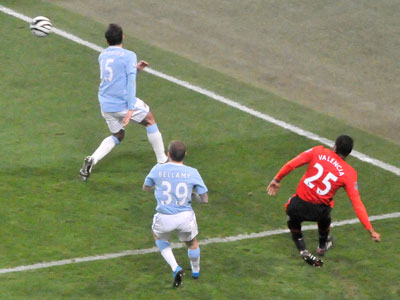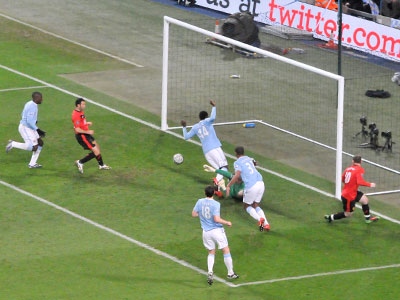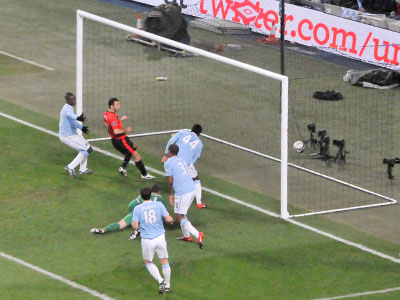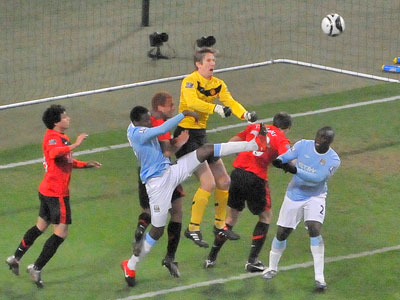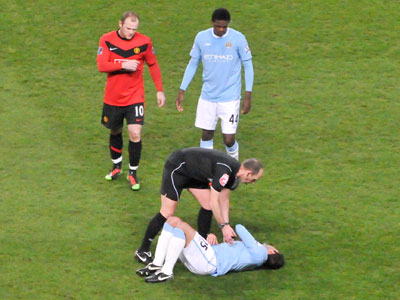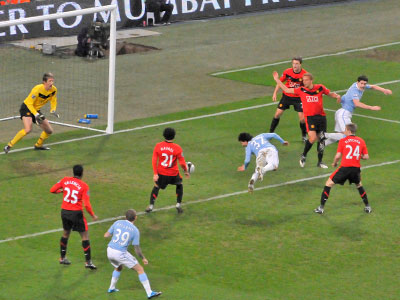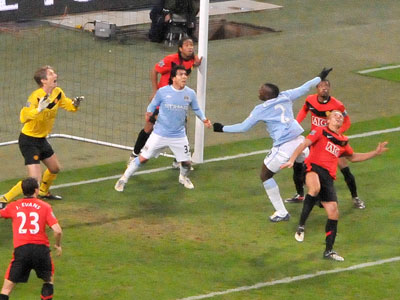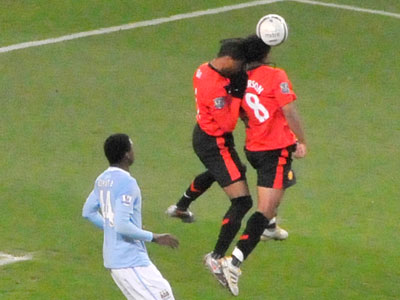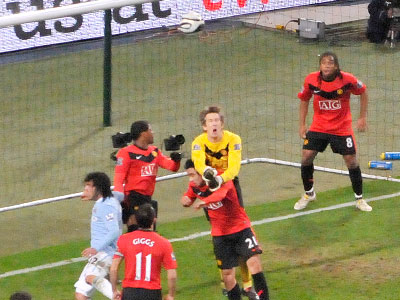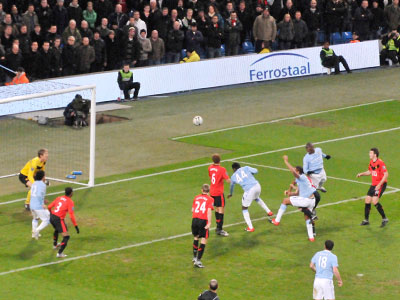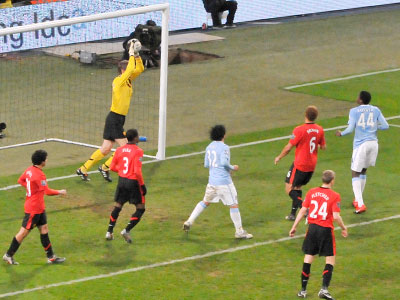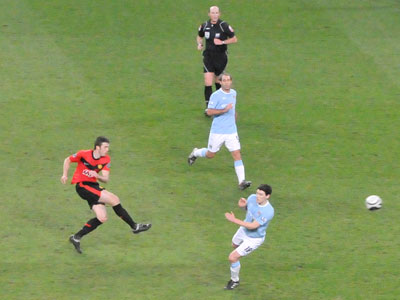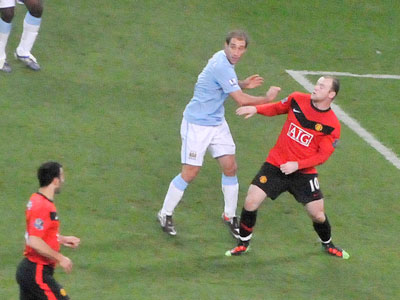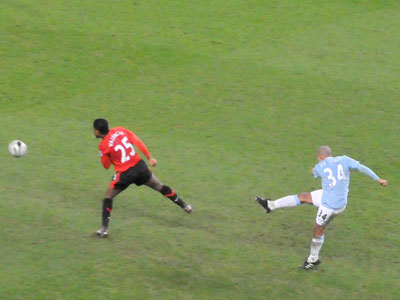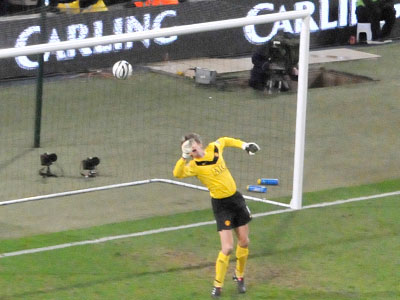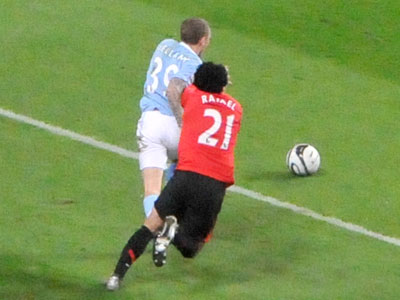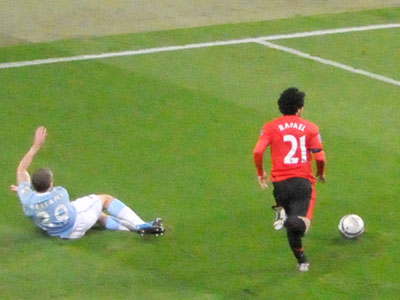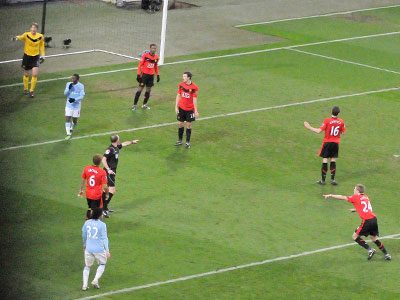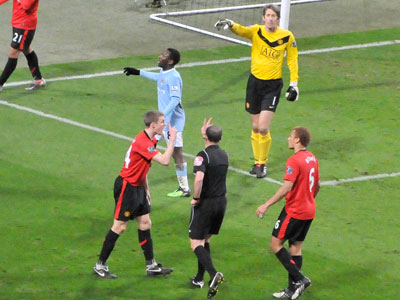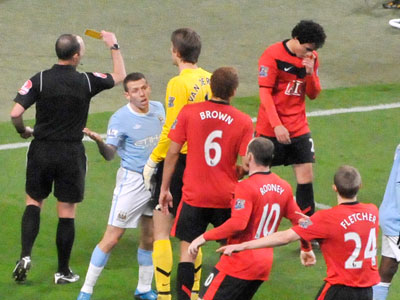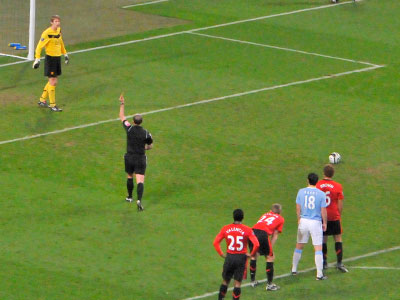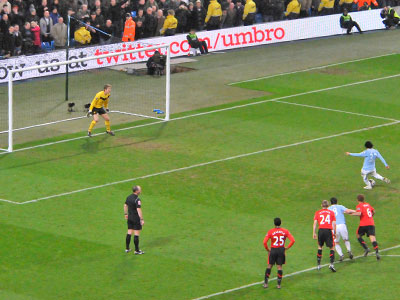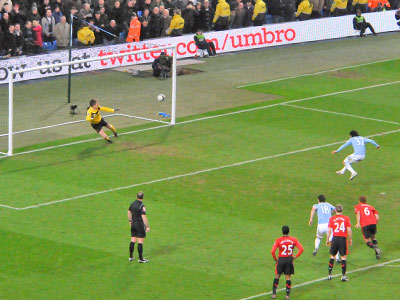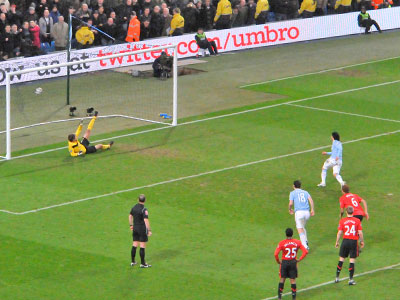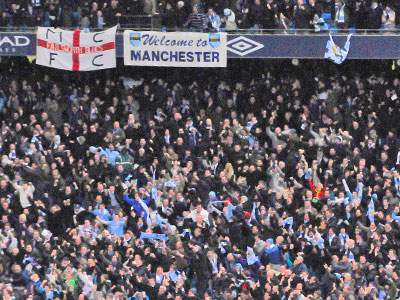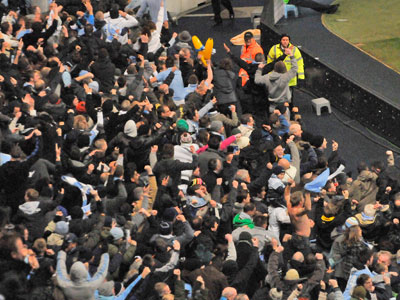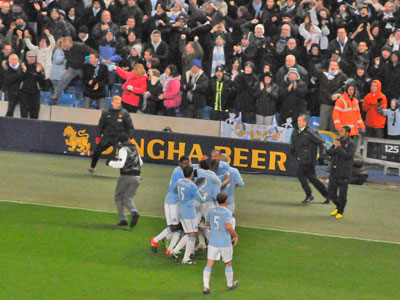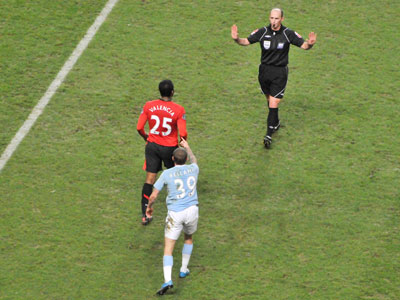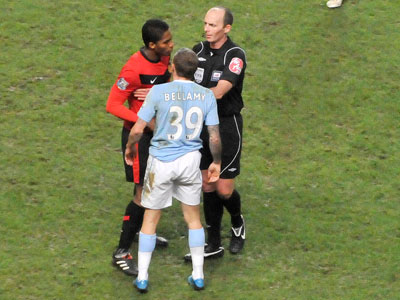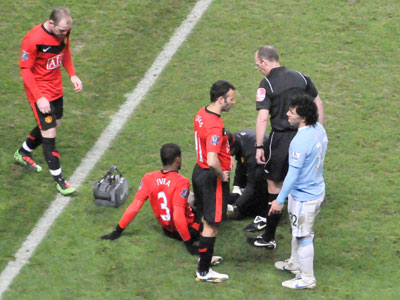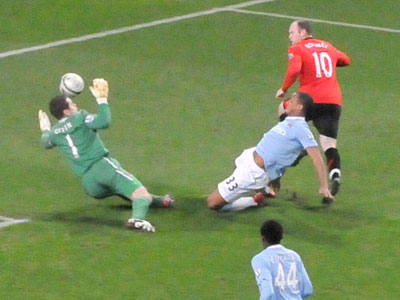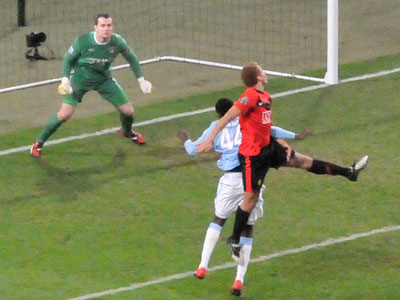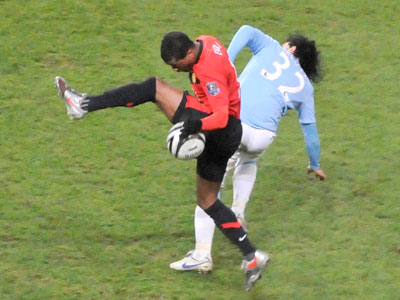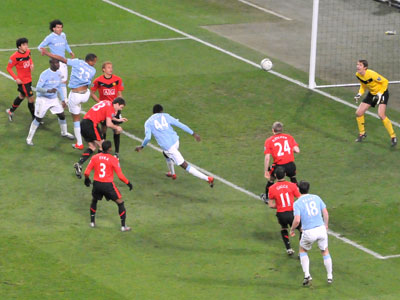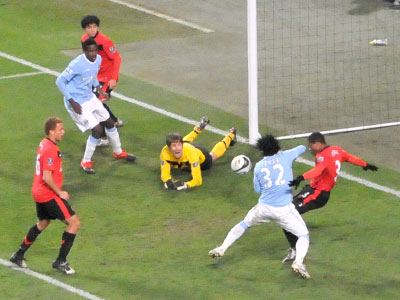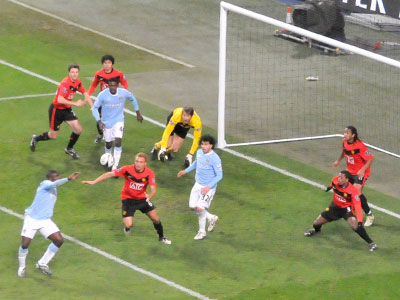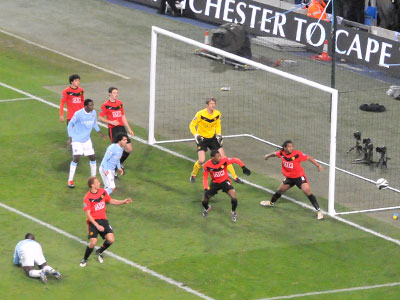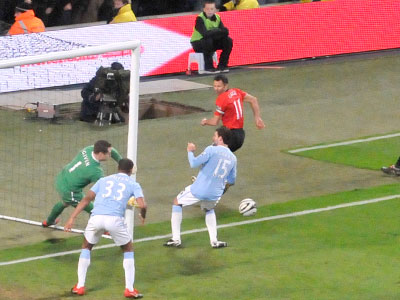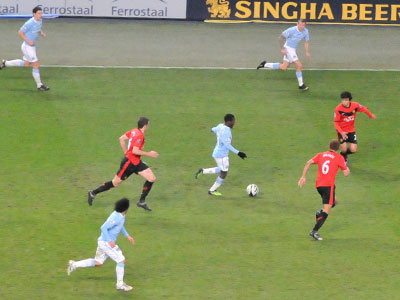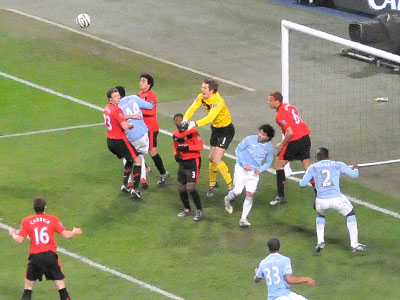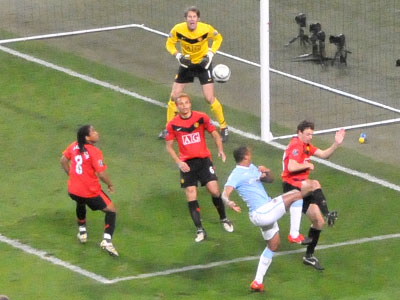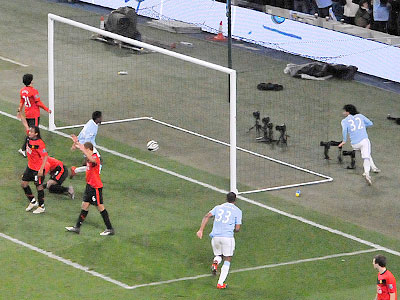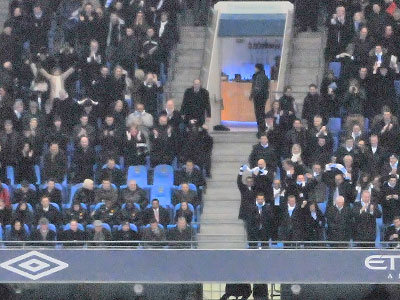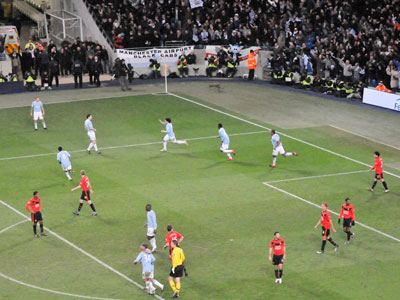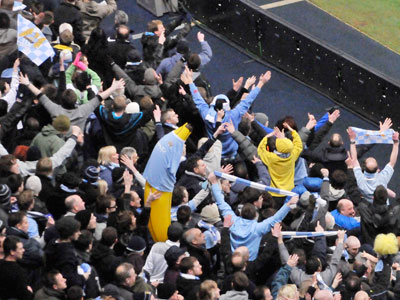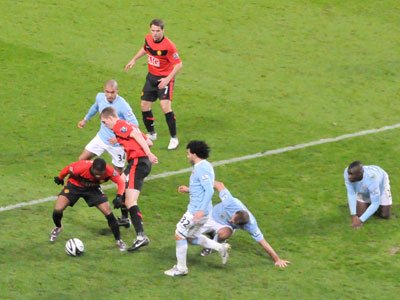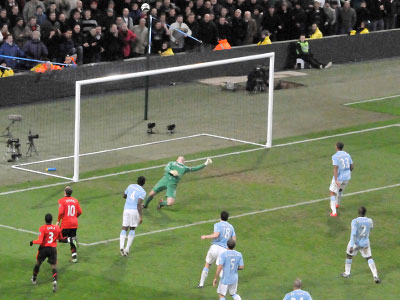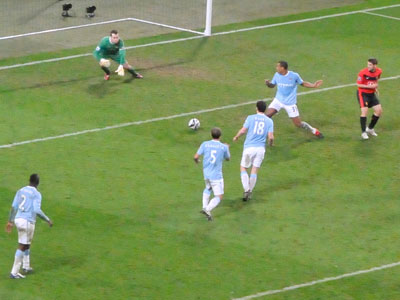 Before the game the heroes of City's win against United in the 1969 league Cup were introduced to the crowd
The City 'Blue Moon' was somewhat distracted by the sight of some flares in the United supporters section.
United had a strong side out while City were still missing several players. Boyata had his second first team start rather surprising considering his lack of experience.
Garry Linacre had his team to watch over the Carling Cup in the ''Match of the Day ' box
Garrido soon had to deal with Valencia who tested him in the early stages
Richards beats Giggs to the ball
Rooney as a lone striker for United and Kompany battle for the ball and United win a free kick in midfield
Brown heads clear a free kick by Barry for a foul on Richards
City defending a corner have all eleven players back to defend A change from the Hughes regime
City clear a United corner
In the 16th minute a cross field pass found Valencia unmarked and wide on the right. he was fortunate to beat Bellamy and to get his cross in.......
...... Rooney was first to the ball and Given saved his shot from close range but the ball ran free to Giggs who had the easy task to tap the ball in to give United the lead. Oh dear! It had been no surprise as United had been running the game
Van de Sar punches away a free kick taken by Barry
Referee Dean checks to see if Garrido is still alive!
Tevez misses a good chance heading down and wide after a great cross from SWP
Brown manages to clear another corner won by Bellamy
2 United players go for the same ball!
Van der Sar punches away yet another Bellamy corner
Another corner for Bellamy but Richard's header is easily caught by the keeper
Carrick lets fly from well out but the ball goes high and wide and not very handsome
Zabaleta working hard to keep an eye on the ever dangerous Rooney
A good shot from De Jong following a Barry free-kick is well saved by Van der Sar
After almost 40 minutes Bellamy raided down the right wing and appeared to be pulled back by Rafael......
Referee Dean points to the spot and is immediately besieged by United players protesting that the offence was outside the box but the referee is showing two fingers indicating that he gave the second pull which brought Bellamy down
A distraught Rafael is given a yellow card as is Van der Sar for delaying the penalty kick
Carlos Tevez takes the kick and the ball thunders into the back of the net
City are level and the blue side of Manchester let their emotions run riot
The supporters let Fergie know about letting Tevez go!
A City supporter joins the player celebrations -shame - he is likely to miss quite a few games now
Just before the break Bellamy and Valencia have a slight disagreement which Mr Dean has to sort out
While Evra gets some treatment Giggs and Tevez discuss the lack of Global warming while Rooney eyes the trainers handbag - perhaps he needs a new one!
Given made good save from Rooney when Kompany was caught napping early in the second half
Brown and Boyata jump at a United corner
That looks like hand ball by Evra in a tussle with Tevez
A header from Kompany goes wide
A dangerous corner by Bellamy is pushed aside by the keeper....
.... and the ball runs to Richards who shoots but the ball is deflected by Evra for another corner
Given saves from Giggs to keep the scores level
After 63 minutes SWP went on a run and won a corner
Another good corner from Bellamy is pushed clear by Van der Sar and the ball is returned to Kompany who lifts it back into the danger area.....
....where Carlos tevez -who else- is there to head home the winner! Glory be!
While the City half of the board ( complete with scarves) stand and clap the United half remain glued to their seats
The City supporters are overjoyed with the goal and so they should be!
After 80 minutes Given made a good save from Rooney
It was backs to the all stuff now by City who made several changes -Onuoha coming on for Boyata
In the latter stages of the game the City goal was besieged and Given made some excellent saves. Tevez was subbed after 80 minutes by Benjani and Sylvinho came on for SWP. I thought Ireland would have been a better choice. Anyway we managed to hold out - so now we wait for the second leg.
Team
Given 8: Richards 7, Boyata 6.5 ( Onuoha 7), Kompany 8, Garrido 7:Wright-Phillips 7.5
( Sylvinho), de Jong 8, Barry 7.5, Zabaleta 7.5 , Bellamy 7.5, Tevez 9 ( Benjani 6.5)