Manchester City 4 Blackburn 1 January 11th 2009
Barclays Premier League att 40,292
Carlos Tevez gave Blackburn Rovers a warm welcome to Manchester with a great hat trick in this terrific 4-1 win. It took City to 4th in the Premiership and gave manager Roberto Mancini the best start ever for a City manager with four successive league wins and five if you include the cup game. The only blot on the landscape ( good series) was the late xmas gift of a goal given to the visitors and the first goal to be conceded by the new City defence as organized by our new manager. With many games postponed over the weekend due to the bad weather it was ideal for City to catch up with their rivals in the battle for that 4th spot.
A good crowd braved a cold evening with the game on TV though there was a poor turnout by Blackburn fans. Apart from the error by Kompany that Blackburn took advantage of - the City defence was capable of giving Given good cover and up front we saw some excellent City passing and movement. City supporters must be impressed with the organizing ability of Mancini and his team and considering the loss of Adebayor and Toure to Africa and injuries to Lescott and Bridge the team are doing really well.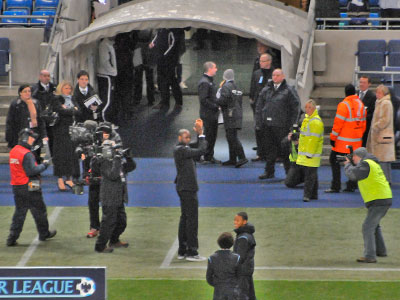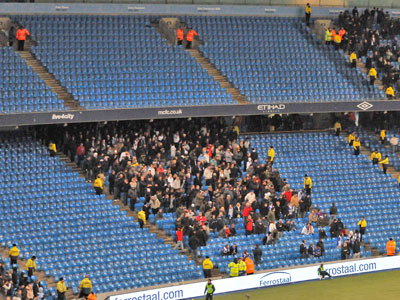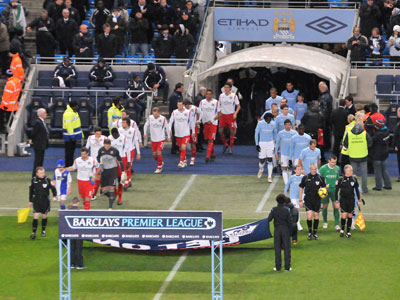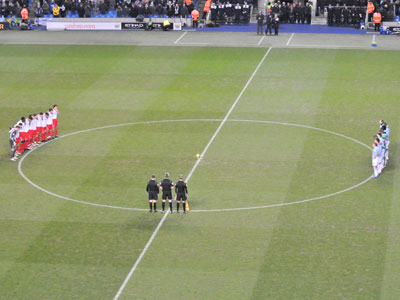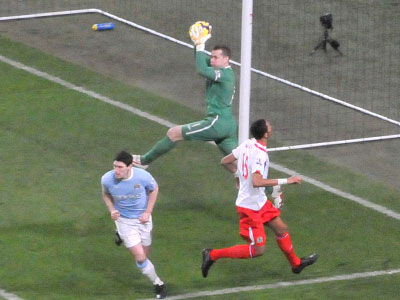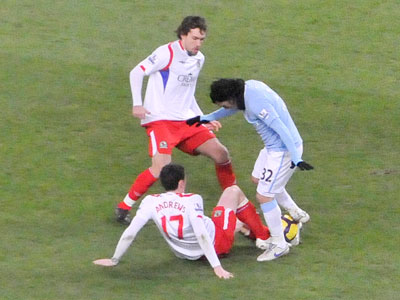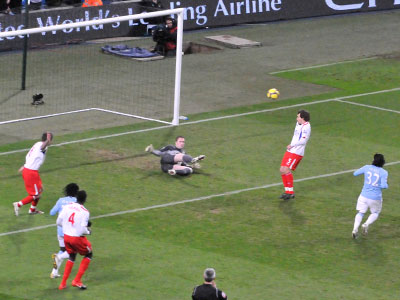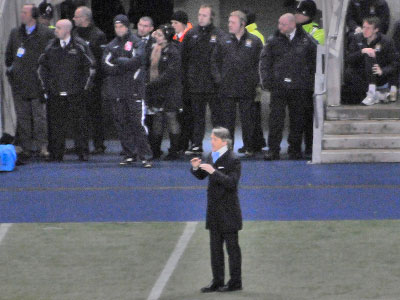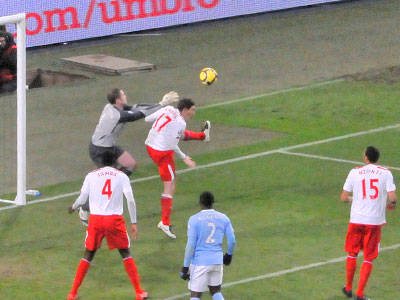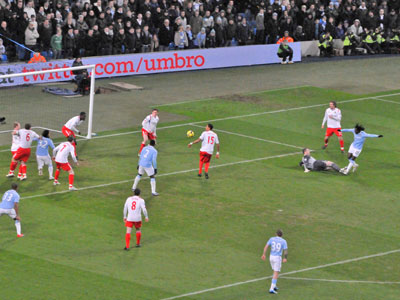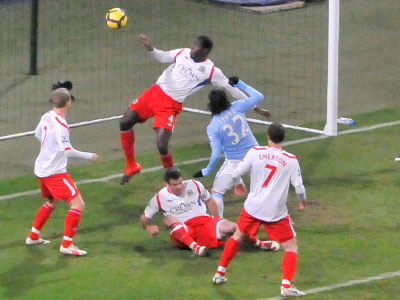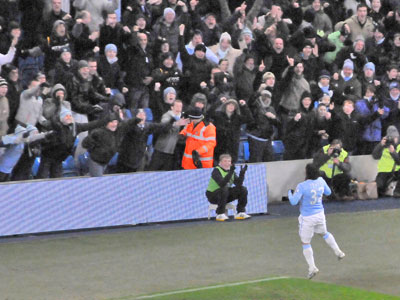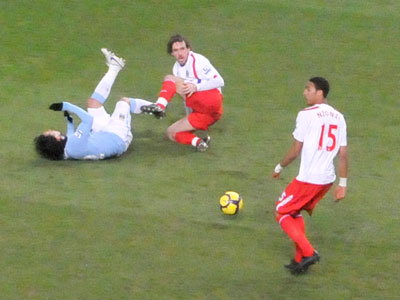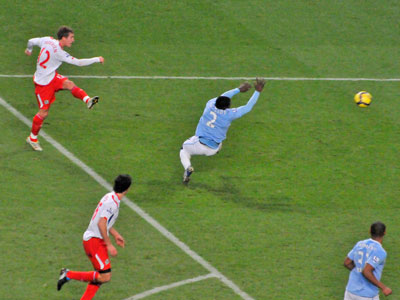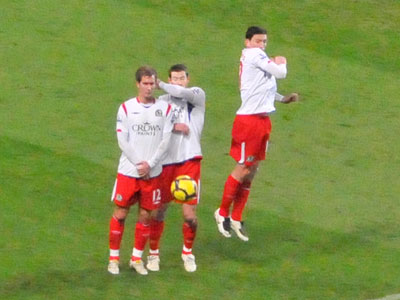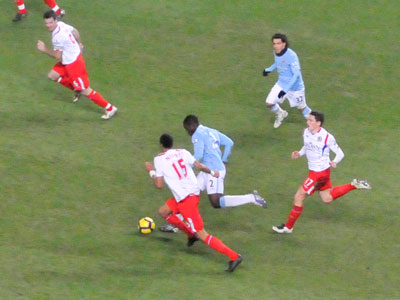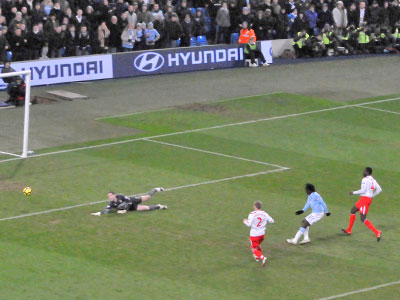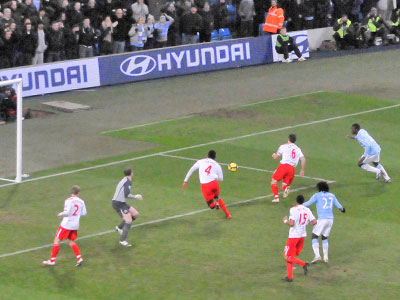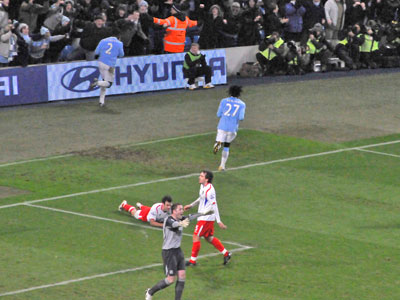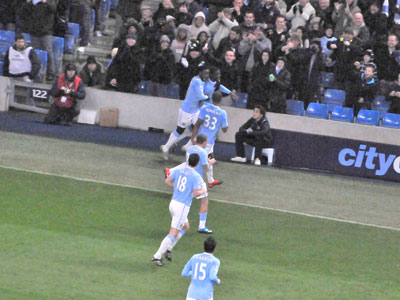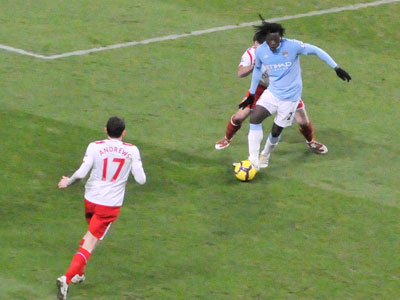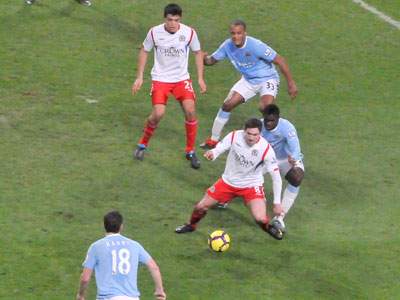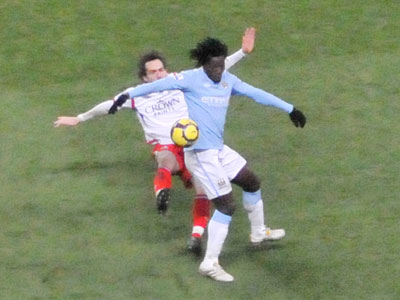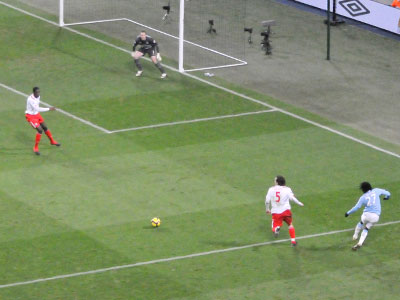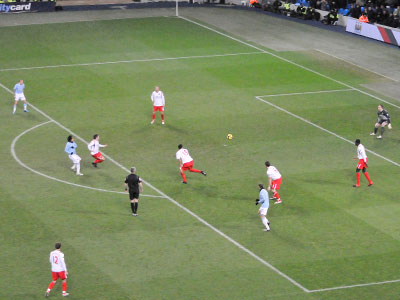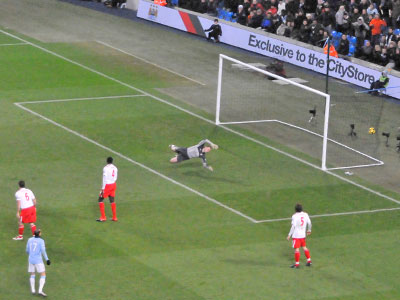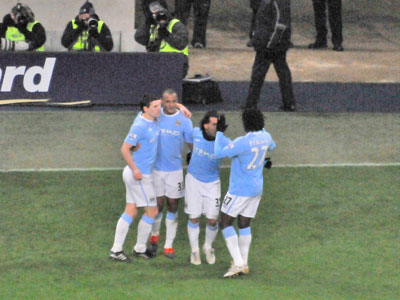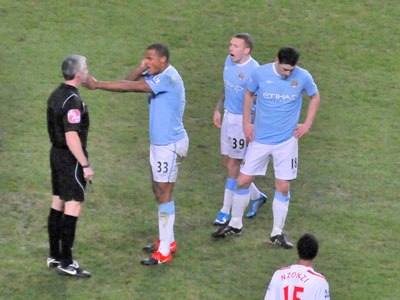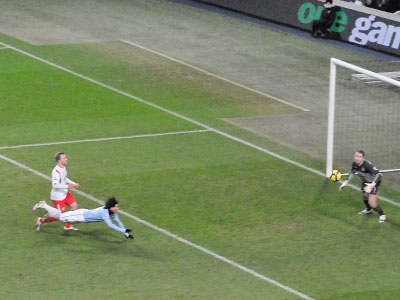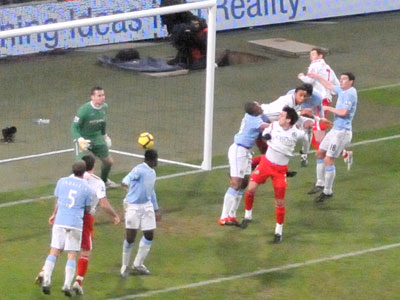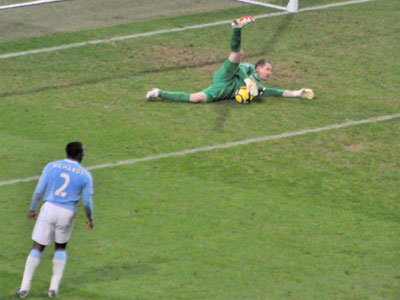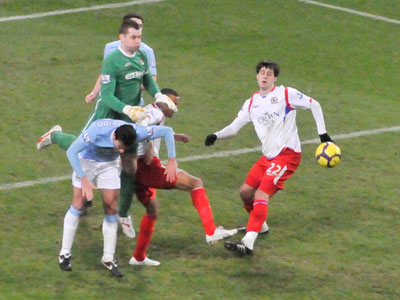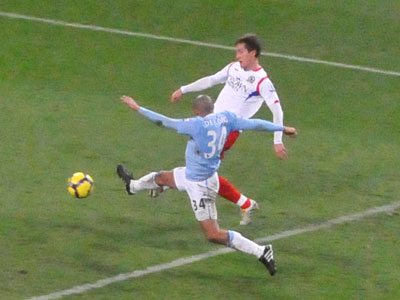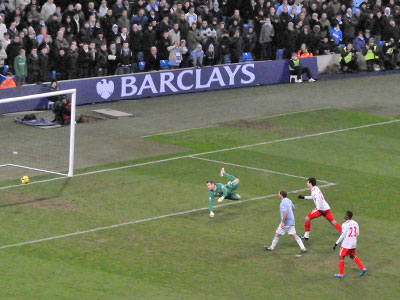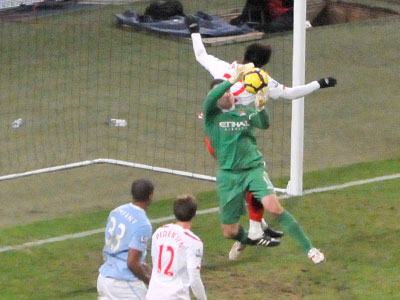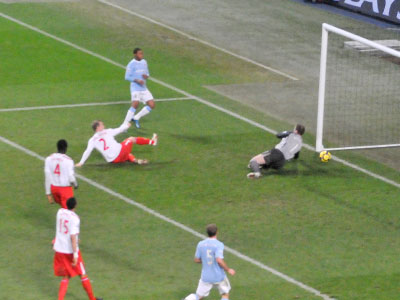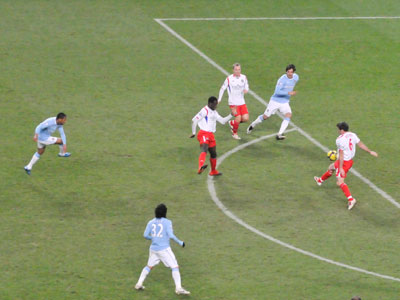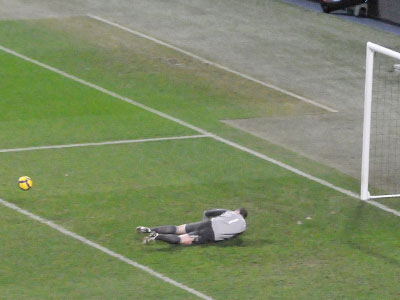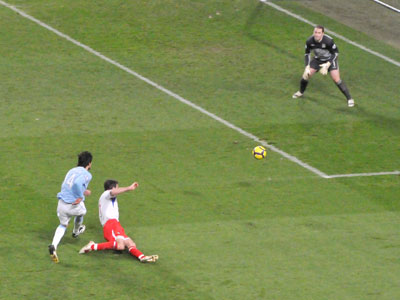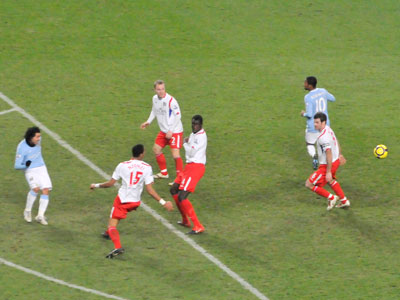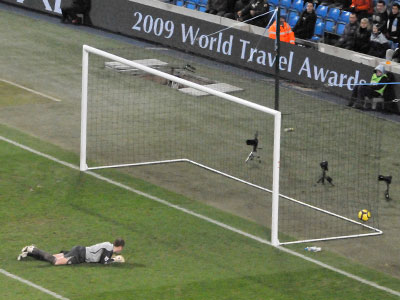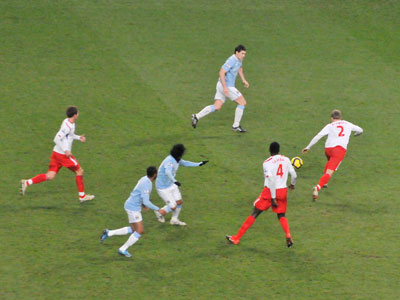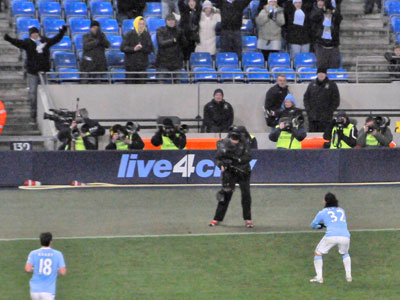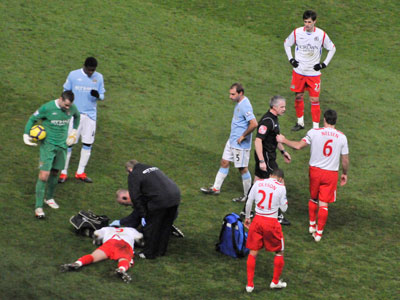 New signing Patrick Viera got a warm welcome by the crowd.
Only a few hundred Blackburn supporters turned up
With SWP, Santa Cruz and Robinho on the bench City kept Benjani up front and Petrov and Bellamy on the wings. Richards and Kompany were in central defence.
There was a minutes silence for the those who were killed in the terrorist attack on the Togo national side in Angola
Given had an early touch following a Blackburn free kick
Tevez soon made his presence felt but he was a bit upset after a free kick was given against him in this clash
Robinson was early in action
Manager Mancini urged City on and after Blackburn gifted us a corner.....
...... which Robinson tried to clear but was impeded by Andrews. The ball to Benjani who shot at goal.......
.... and the ball was poked home by Carlos Tevez from close range to give City an early lead after just 6 minutes
The three player wall take evasive action at a Petrov free kick
After 38 minutes Richards collected the ball in the City half and ran and ran........
...... and ran and ran leaving several Blackburn players in his wake. He finally passed to Benjani at the edge of the Blackburn penalty area. Benjani's shot beat Robinson.....
....... hit the inside of the post and came out but Richards following up managed to get the ball in the net from a narrow angle. Two nil for City!
It was a magnificent goal and surely must have a good chance of winning the any goal of the month competition. Mancini is certainly getting the best out of Richards!
Benjani who some supporters thought would have left the club has found new life under Mancini held the ball up well and was instrumental in both the opening goals
Richards and Kompany - the stand- in central defenders - were continuing to keep Blackburn at bay and half time came with City 2-0 and comfortable
Early in the second half Benjani fed by Tevez - who else- dashed down the wing and swung over a pass....
City players congratulate Tevez on an great strike
.... to Tevez who cracked the ball past Robinson to make it 3-0 and game over - we hoped!
Kompany measurers the distance from his eye to the chin of the referee!
Tevez missed a good chance when he headed a cross from Zabaleta just wide
Shay Given has time to do some leg exercises as he saves from Emerson
Given in action again with a double save
A poor clearance by Given was mis-controlled by Kompany and Pedersen latched onto the loose ball and hit it past Given to Blackburn a gift goal
City score again but Robinho (on for Bellamy) is offside!
After 82 minutes Robinho has a good shot well saved by Robinson
Santa Cruz ( on for Benjani ) fires one just wide
With time running out a great City move....
....with a great shot from Tevez from the edge of the area that beats Robinson to complete his hat trick
Tevez gives the camera man and photographers a replay of his celebration. City 4-1
Just as the referee was going to blow his whistle at the end of extra time two Blackburn players collided
.. and it was several minutes before play could be resumed and the final whistle blown. A terrific win for City. Could have been 6-0
Team
Given 6: Zabaleta 7, Richards 8, Kompany 7.5, Garrido 7: Petrov 6.5 ( Boyata) Barry 8, De Jong 7.5 Bellamy 6.5 ( Robinho 7) : Tevez 9, Benjani 7 ( Santa Cruz 7)