Manchester City 2 Bolton 0 February 9th 2010
Barclays Premier League att 42,016

City moved nearer to that precious 4th spot by beating Bolton in an unattractive uninspiring game. The only thing to remember about this encounter was the sparkling home debut of 22 year old Adam Johnson who recently arrived from Middlesbrough. The other home debutante was Patrick Viera who has joined other ex Arsenal players - Toure, Adebayor, Taylor, Sylvinho - in the City side. If you add Wilshere and Muamba in the Bolton side there were 7 ex Arsenal players on view! However City did not play much attractive football. With three defensive mid fielders boosting the back 4 it was rare for the 3 forwards to get much support. Viera now lacks the pace he once had and he was caught in possession a few times. It was interesting to see Johnson on the right wing when he is a left footed player but it does give him the opportunity to cut in and shoot - like Petrov who must wonder when his next game is after this display by Johnson. Barry had an improved game and it was good to see Bridge back after all his private problems which have been well documented elsewhere. Back too was Lescott after injury. He did not let the side down when he came on for the injured Toure.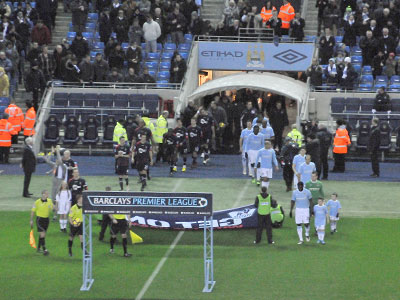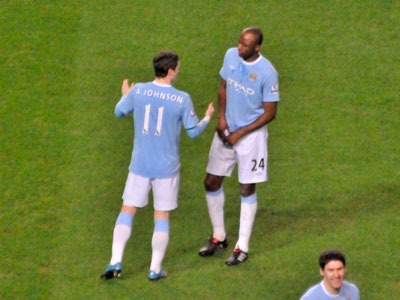 City made a few changes - both Viera and Johnson making their home debuts. Kompany returned from injury and Wayne Bridge had his first home game since early December
Patrick Viera passes on a few tips to Adam Johnson before the game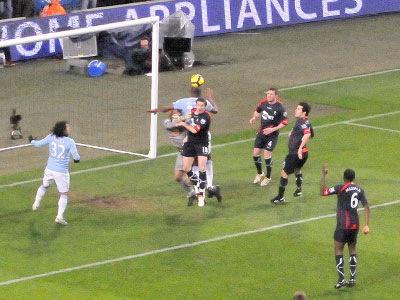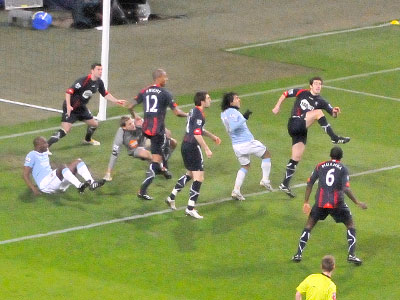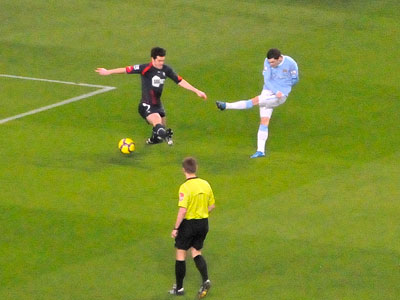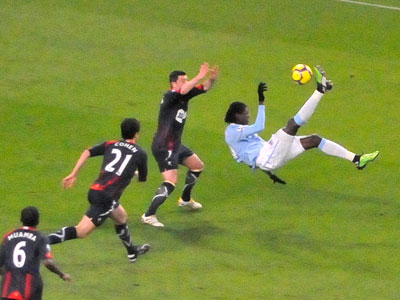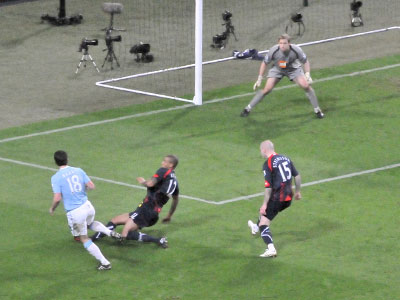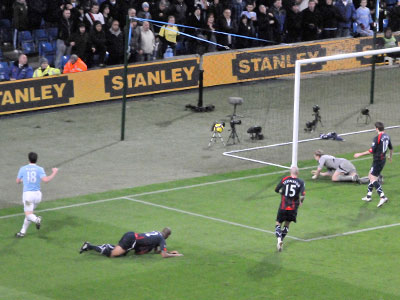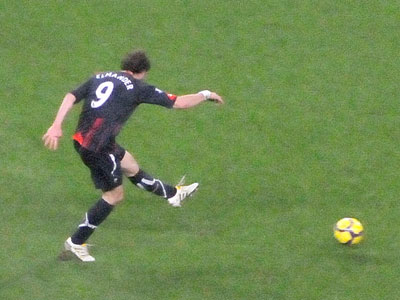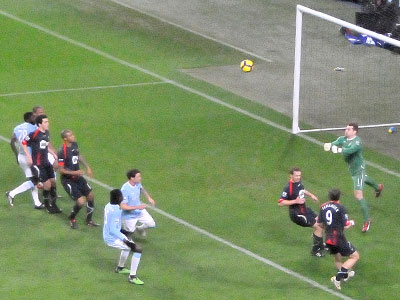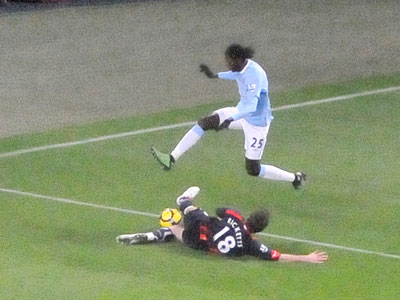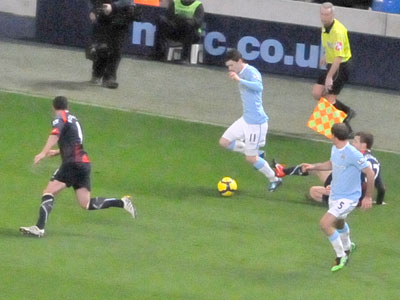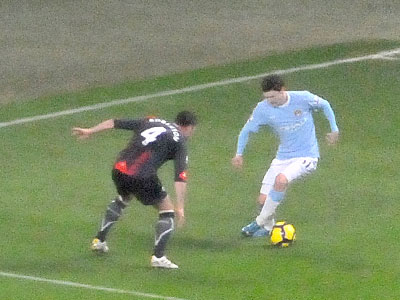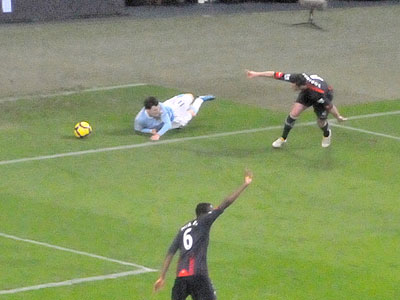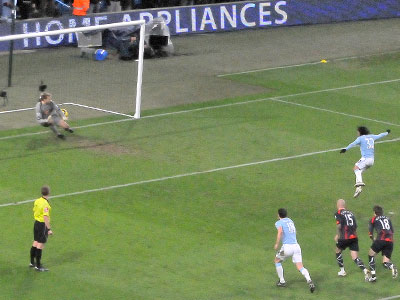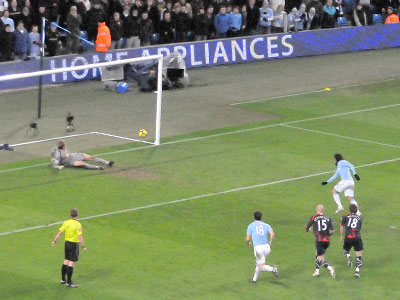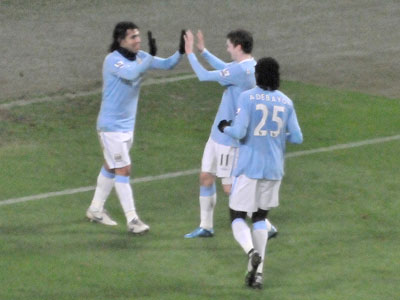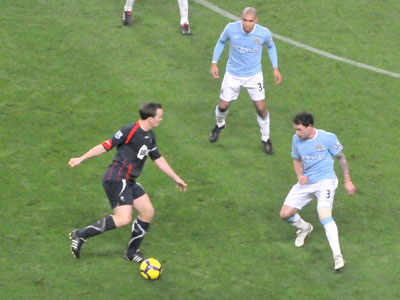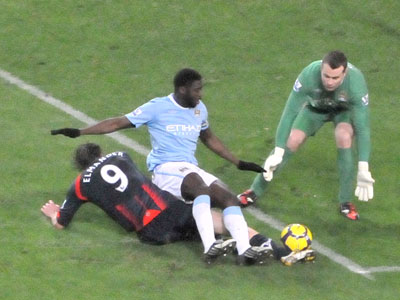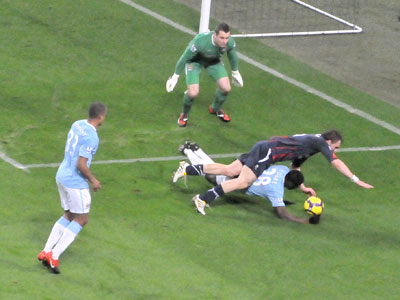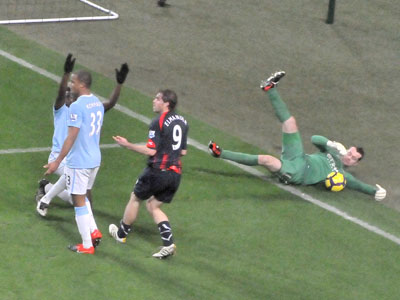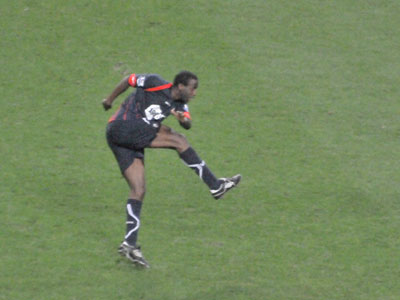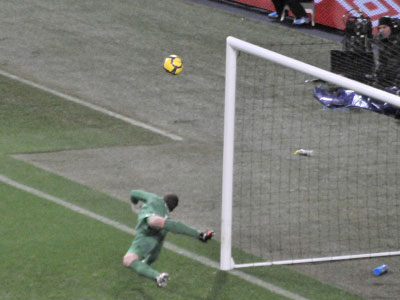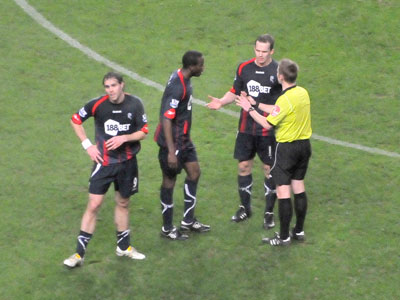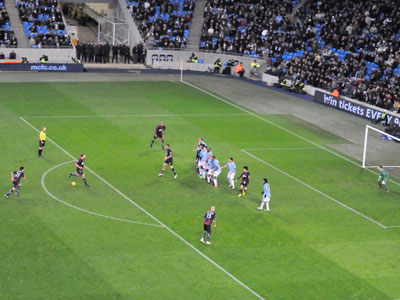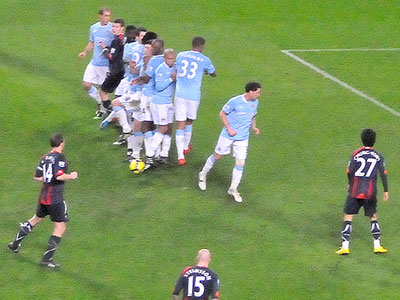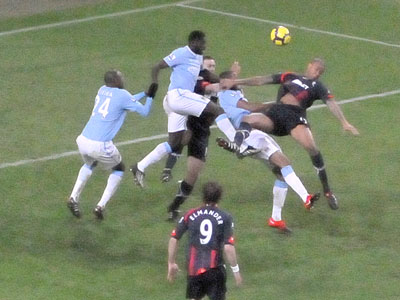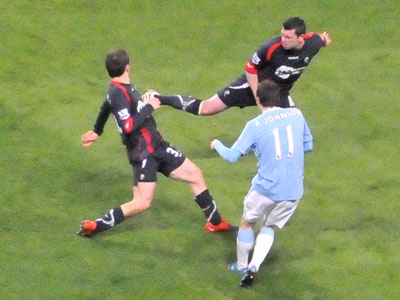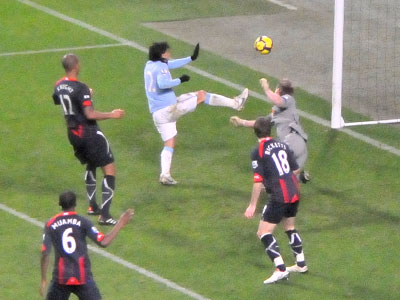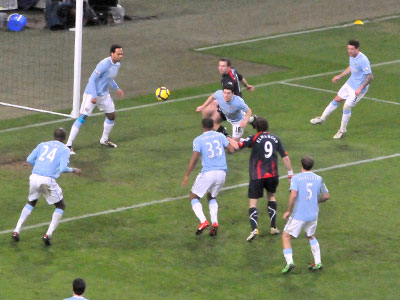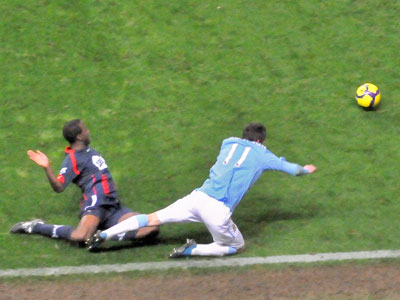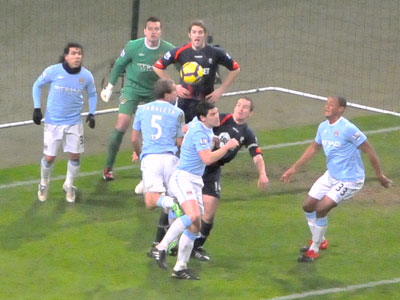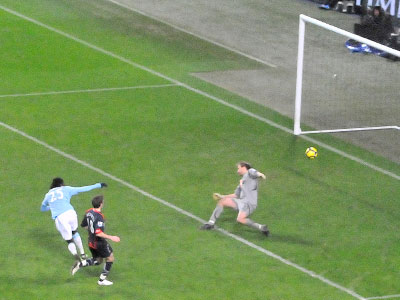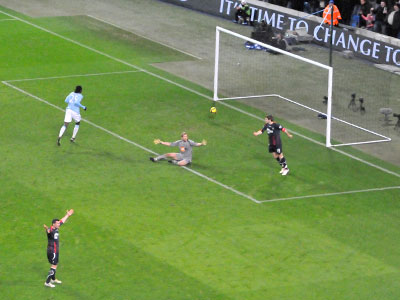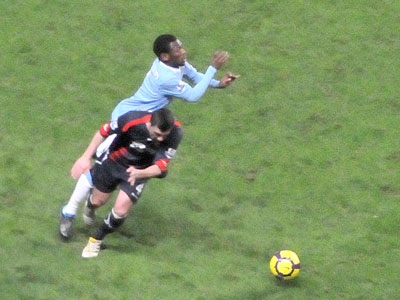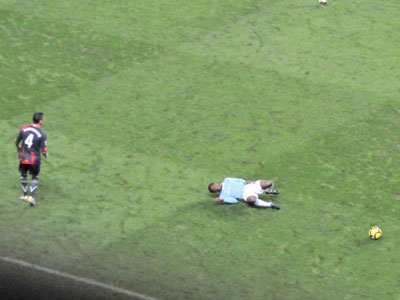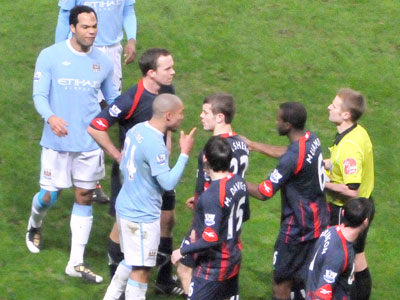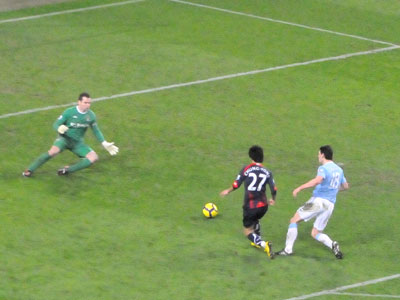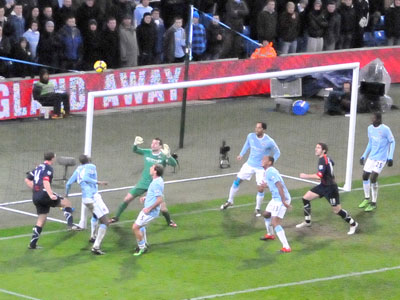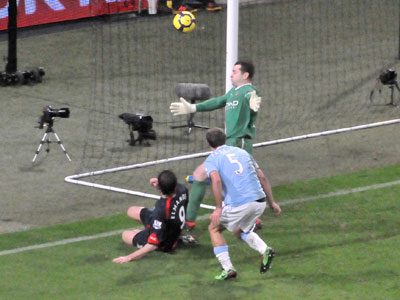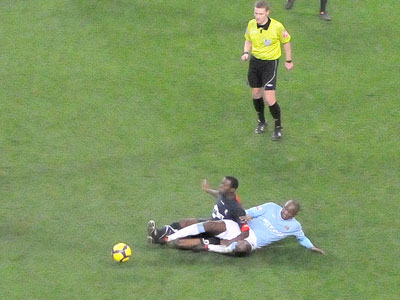 Team
Given 6.5: Zabaleta 7, Toure 6 ( Lescott 6.5) , Kompany 7, Bridge 7 ( Wright-Phillips 6.5): De Jong 6.5, Viera 6.5, Barry 7, Johnson 8 ( Sylvinho) Tevez 7, Adebayor 7
City had an early attack and Bolton managed to clear a corner
Adam Johnson made his presence felt early on when his shot was blocked by Tamir Cohen
Adebayor tries an overhead shot but it goes wide
A good move ended with Barry almost scoring but the ball went for a corner
Johan Elmander shoots wide from some distance
Given punches clear a free kick
Adebayor leaps over Ricketts but is given offside
Adam Johnson starts a run down the right wing....
....and gets to the line but after beating Robinson he is brought down just inside the area and the referee gives a penalty
Tevez takes the penalty and the ball hits Jaaskelainen's thigh and rebounds into the net. Good job it was a powerful shot.
Tevez and Johnson enjoy a high fives in celebration!
Kevin Davies always a danger is watched here by Barry and De Jong
Bolton had a penalty appeal turned down when Toure clashed with Elmander
The referee gave a free kick to City
Muamba takes a shot......
..... but Given manages to claw the ball away for a corner
The referee lays down the law to Bolton players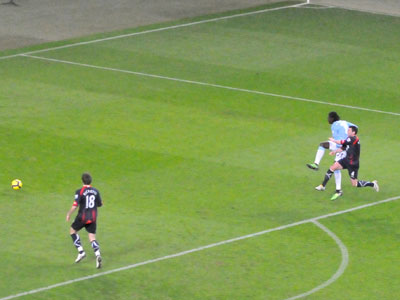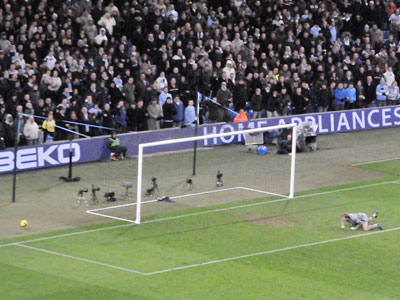 After 37 minutes Adebayor had a great chance but his shot went well wide
Just before half time Bolton got a free kick just outside the penalty area but fortunately the ball hit the wall
Early in the second half Toure heads clear a free kick but is injured and is replaced by Lescott ( his first game since the middle of December)
Adam Johnson almost scored his first goal for City......
... when his shot was saved for a corner
Barry heads clear a Bolton corner
Johnson is brought down by Muamba who gets a yellow card
City manage to clear a Bolton corner with difficulty
After 73 minutes a long ball from Viera finds Adebayor who controls the ball brilliantly and crashes the ball past the keeper to give City some breathing space.
A few minutes later Shaun Wright-Phillips who had come on for Bridge was hacked down by Robinson
Robinson was fortunate to get only a yellow card
Nigel de Jong has a few words with young Wilshere
On 80 minutes Chung- Yong had a great chance but Given saved
Bolton had a last minutes attack on the City goal but the City defence held firm and once again Given kept a clean sheet