City 3 Red Bull Salzburg 0
Europa League
December 1st 2010 37,552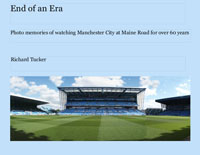 My book 'End of an Era' containing photo memories of days at Maine Road is now available from Blurb.com.
There are over 300 images on 200 pages.
Click on the image for details

If this had been a boxing match the referee would have stopped the contest early as City completely outclassed the Austrian side. It could and should have been five or six nil and now City top the Group as Poznan only drew with Juventus. Though City had six regulars missing from the side they dominated proceedings and Shay Given only had one save to make all match. The freezing conditions and occasional bouts of snow did not help but it was a pretty open game and enjoyable to watch despite the bitter cold. The formation was much more attacking with Jo and Balotelli leading the attack. Many more chances than usual were created and after Mario Balotelli had scored twice Johnson netted an excellent lone effort worthy of a goal-of-the-month winner. However some of Johnson's crosses were a bit wayward and he still has a lot to learn. The defence had a relatively easy evening keeping the poor shooting by the visitors to a safe distance. Might not have it so easy this coming Saturday against Bolton!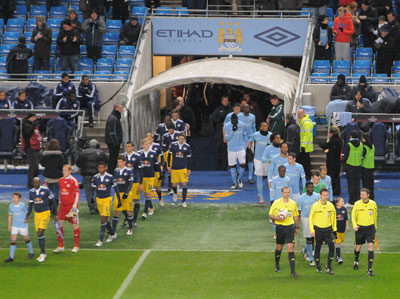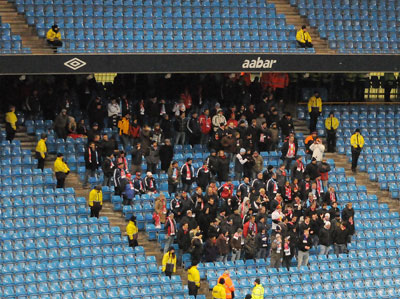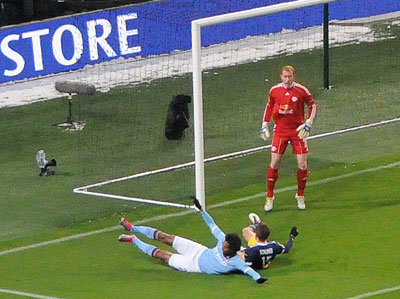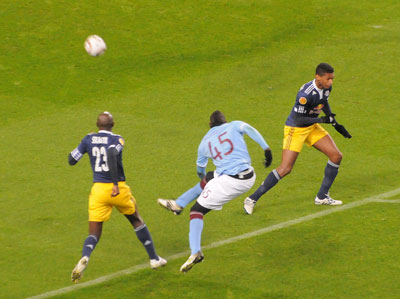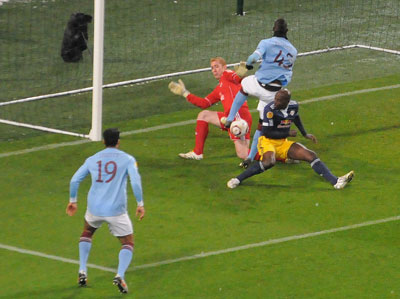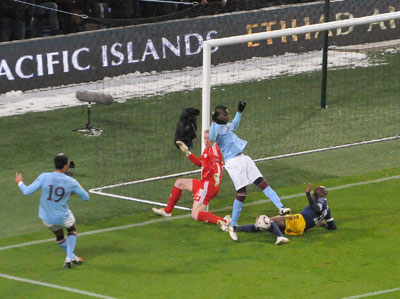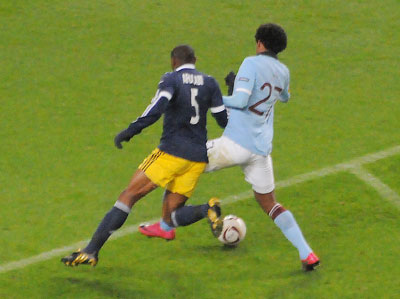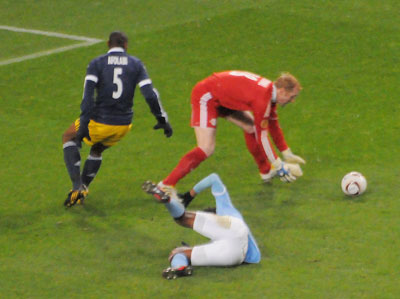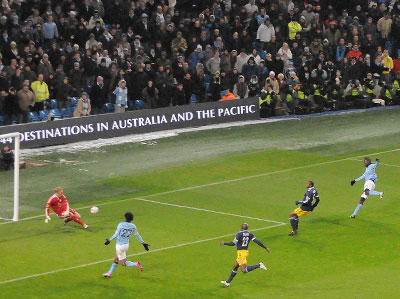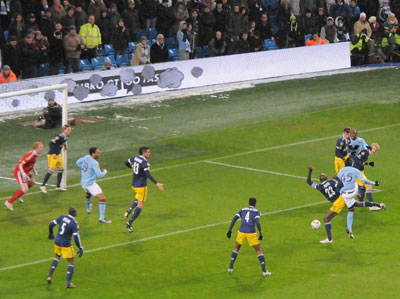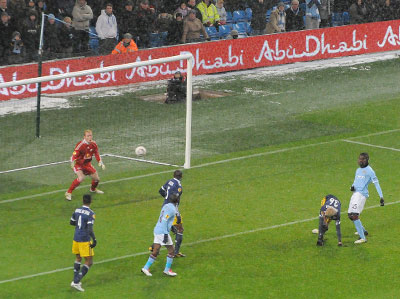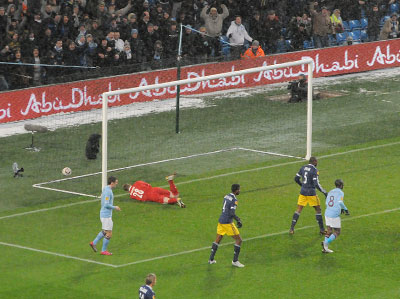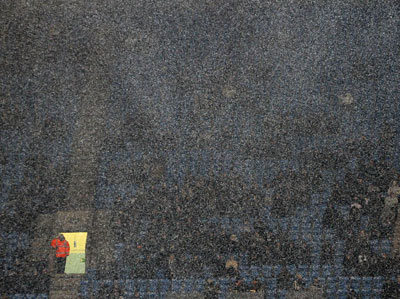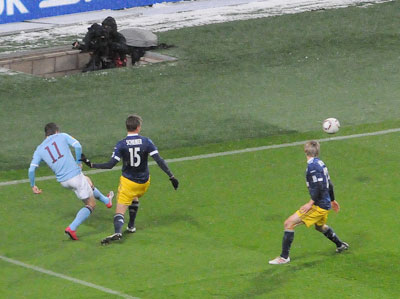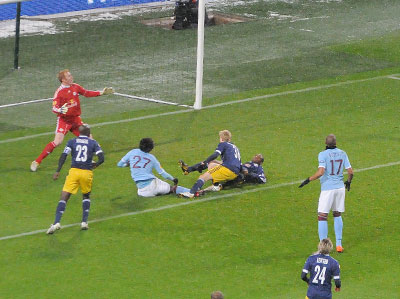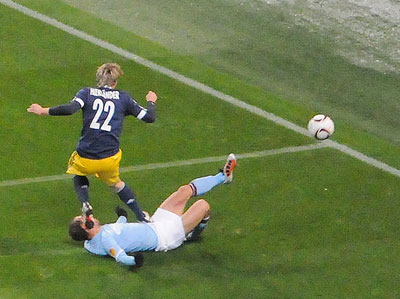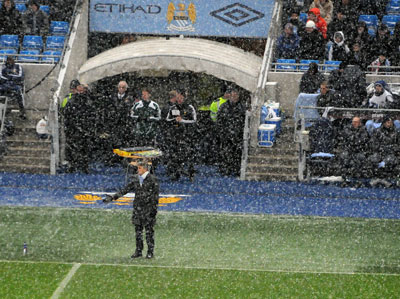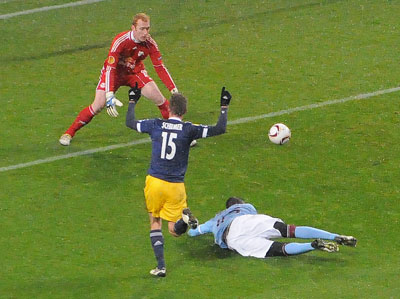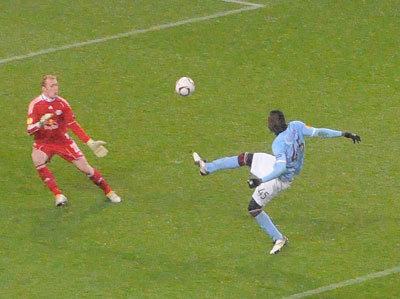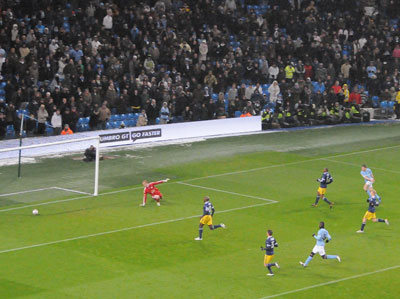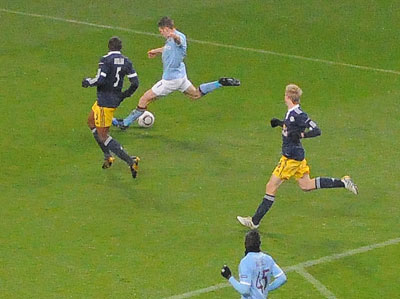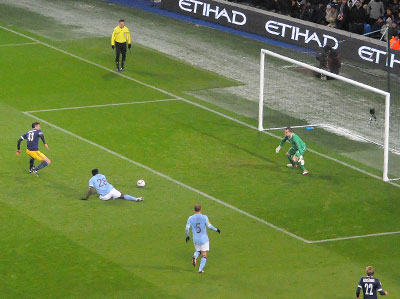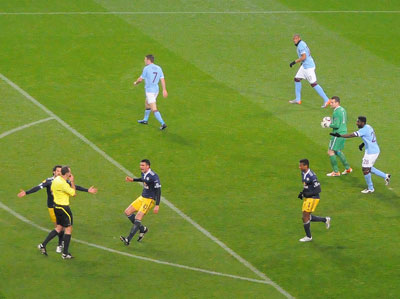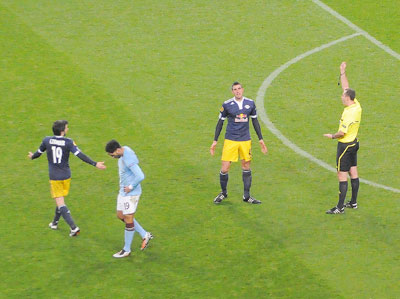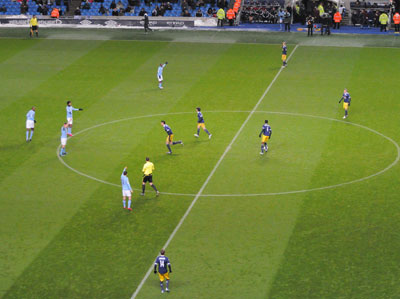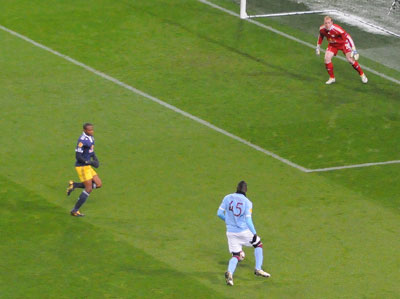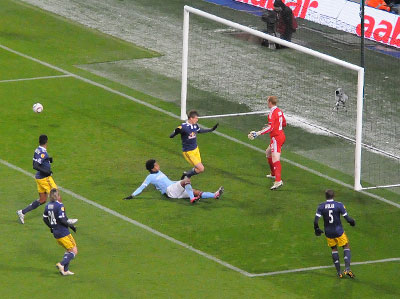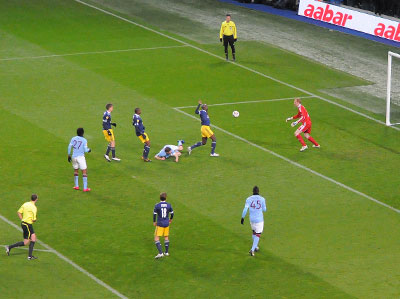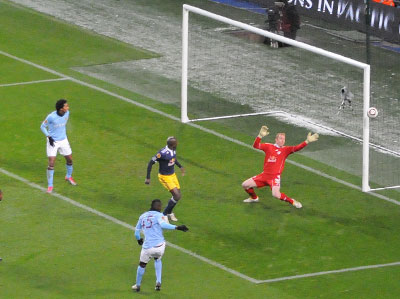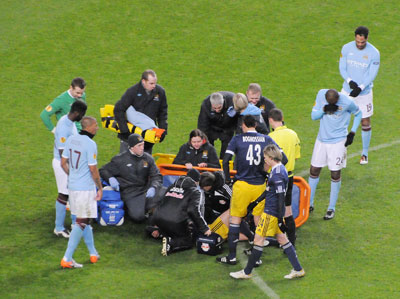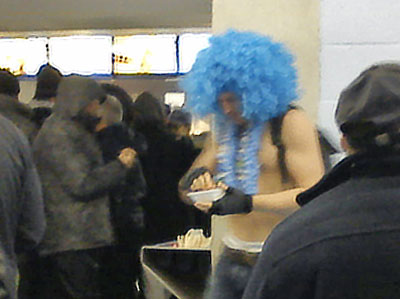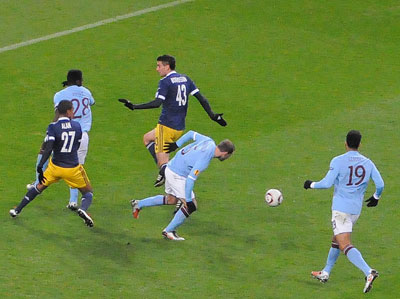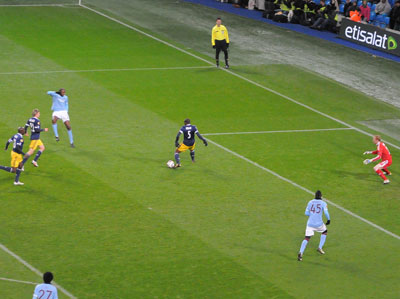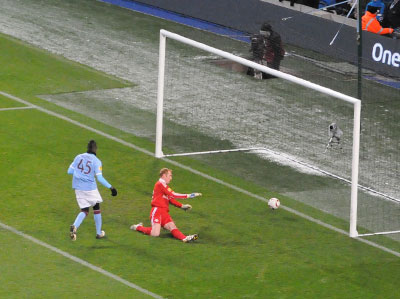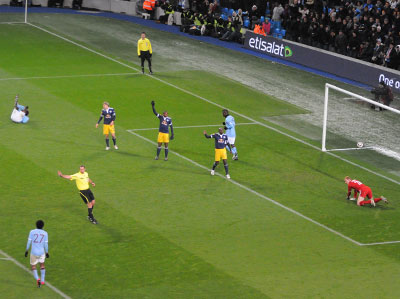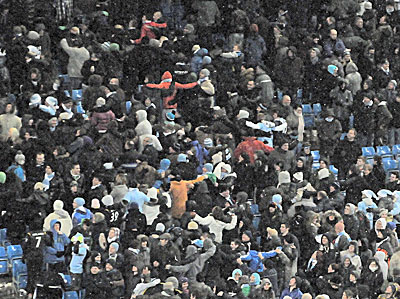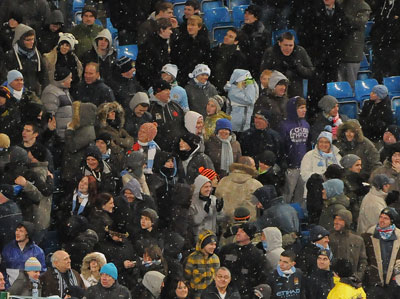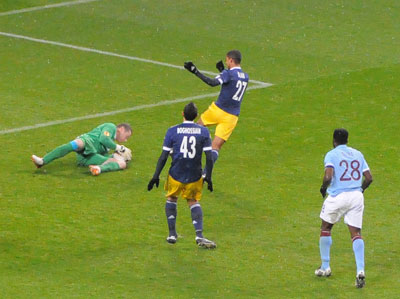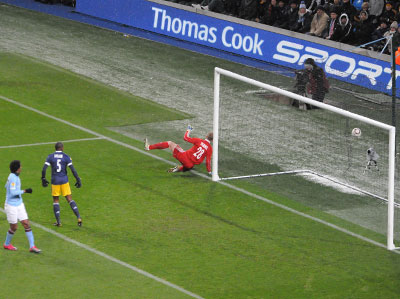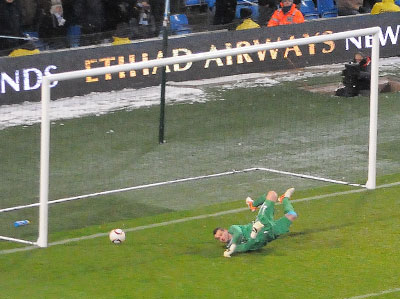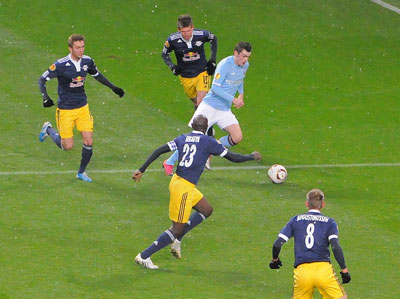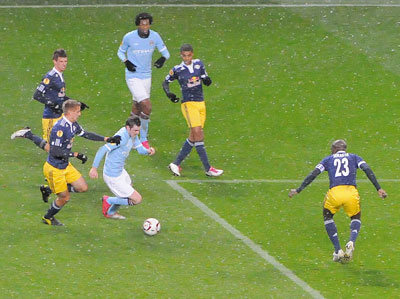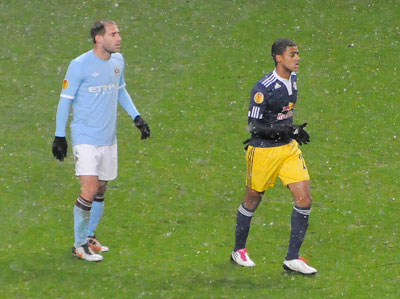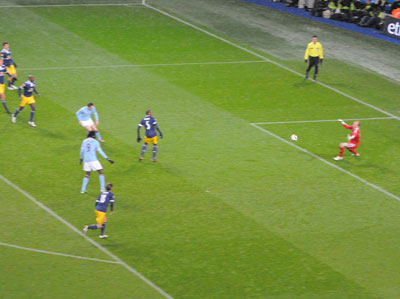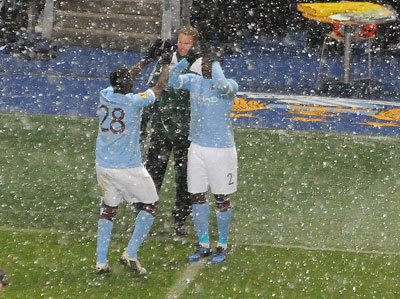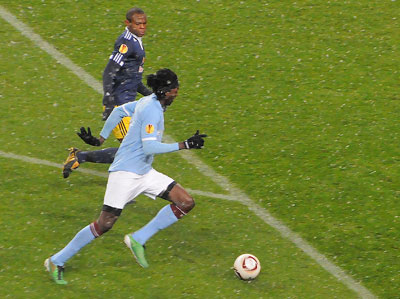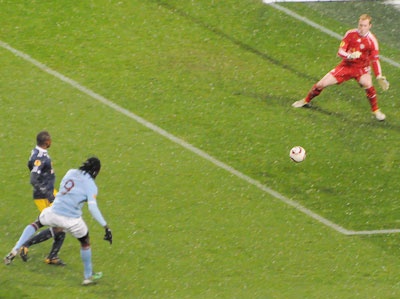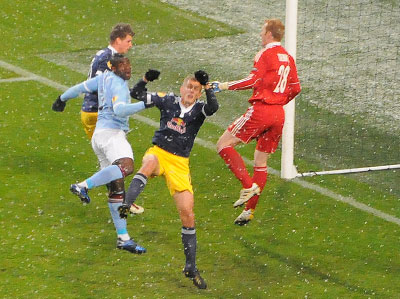 A much changed City side were missing six regulars. It looked to be 4-2-4 with goals in mind
The small contingent of Salzburg supporters had brought some Austrian winter weather with them
An early attack by City nearly ended in a goal
A shot by Balotelli goes well over the bar after 5 minutes
A corner 2 minutes later ends with a desperate clarence by Sekagya
Jo had half a chance after 12 minutes but he failed to control the ball well
On 14 minutes Balotelli had a shot saved by the keeper. It might have been better to have passed to Jo
Salzburg managed to clear the resultant corner
Three minutes later and City went ahead when Balotelli scored with an excellent volley from a cross by Zabaleta
It was a well deserved lead given by the good technique of Mario
Snow now came down in celebration too!
A dangerous cross by Johnson is cleared by the Salzburg defence as City continued their pressure
a great late tackle by Zabaleta
Mancini passes on instructions despite the snow
Another missed chance by Balotelli
Balotelli goes down but no action taken
on 44 minutes Milner has a good run and his finish just goes wide of the post
Just before half time a cross from the right is deflected back to Given by Lolo Toure and Given picks up the ball......
....... the Salzburg players think it is a pass back and complain to the referee who hands out a caution to Boghossian
This hardy soul warms up with a pie at half time
City start the second half with only ten men as one of them is waiting to come on!
8 minutes into the second half and another effort by Balotelli fails to result in a goal
Another half chance goes a begging!
An injury to Cziommer caused some concern
AA cross by Boateng causes problems for Salzburg
On 56 minutes we had a major lift to the game when sub Alan (27) came on and the City supporters made his day!
After 64 minutes City went two up. A good passing move ended with a Viera shot being deflected into the path of Balotelli who had the easy task to pass the ball into the net
City deserved their two goal lead and the City supporters showed they remembered some of the organized visual effects they saw hen Poznan came to COMS.
The City fans applauded and sang about Alan every time he touched the ball. 21 year old Alan is Brazilian and played for Fluminese scoring 10 in 48 games before moving to Salzburg. Poor lad must have wondered what was going on!
A Balotelli strike goes just wide
Given saves from Hierlander after 68 minutes
Adam Johnson keeps the visiting defence busy
Zabaleta keeps an close eye on City fans star Alan!
After 77 minutes City netted their third and made the game safe. It was a brilliant solo effort by Adam Johnson who evaded several defenders and shot past Tremmel
The snow became heavier and Richards was given a chance to experience it with ten minutes to go
Adebayor was on for Balotelli and had the odd run at goal
Adebayor shoots just wide
Just had to put this in -its the 66,666th shot with the camera!
Given 6.5: Boateng 7, Toure 7 (Richards) Lescott 6.5, Zabaleta 7.5: Viera 7, Milner 7.5, Wright-Phillips 7, Johnson 7.5, Jo 6.5, Balotelli 7.5 ( Adebayor 6.5)