City 2 FC Timisoara 0 ( 3-0 agg )
Europa League
August 26th 2010 24,542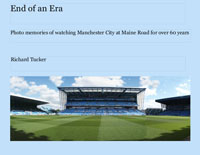 My book 'End of an Era' containing photo memories of days at Maine Road is now available from Blurb.com.
There are over 300 images on 200 pages.
Click on the image for details

This was a comfortable win for a much changed City side. The visitors from Rumania often had all eleven of their players behind the ball despite being a goal down from the first leg and on a good bonus should they get through the tie. So it was up to City to try and break down a packed defence. We certainly did not get the high level of intensity we got against Liverpool but then Tevez,Johnson, Milner etc were being rested. It was all very leisurely and Joe Hart had little to do - the odd catch but no difficult saves to make. Nigel de Jong showed his class throughout and young Boyata crowned an excellent display with a goal - his first for the club. As the visitors tired in the second half City might have added to the score but there was never a moment when the tie was in doubt. Pity there was such a poor crowd. Only a small group had made the long journey from Rumania.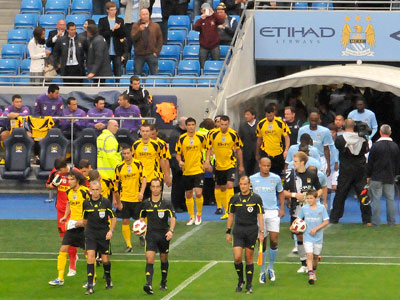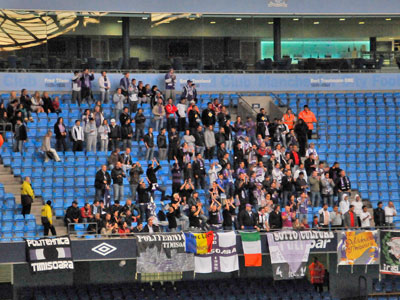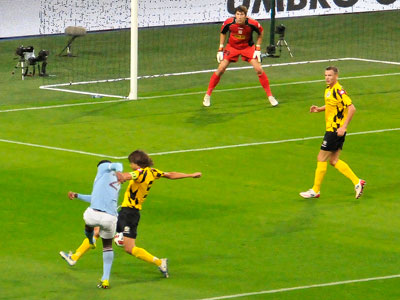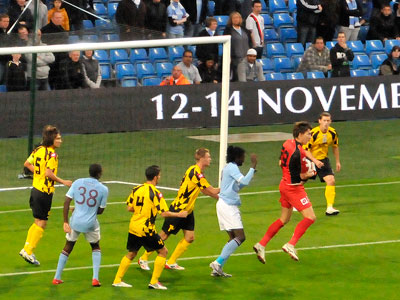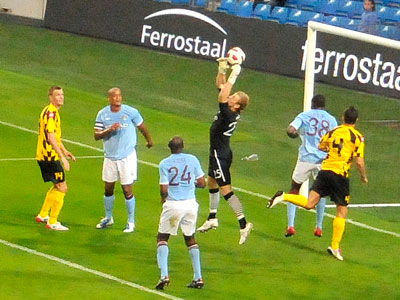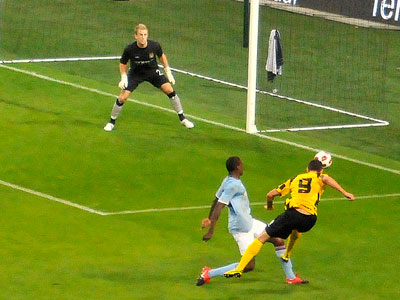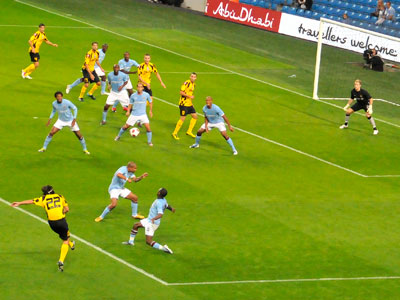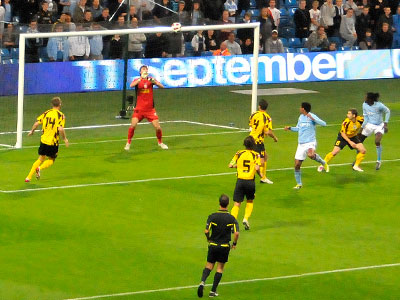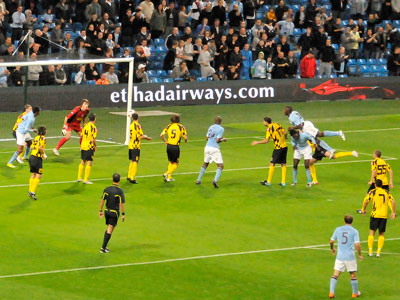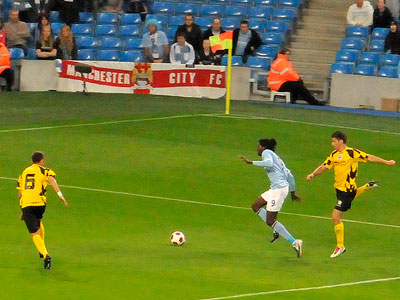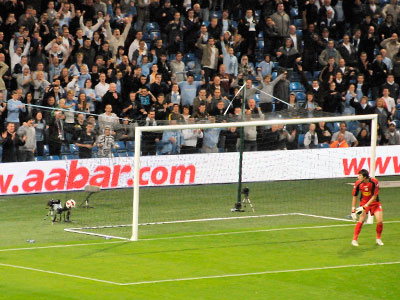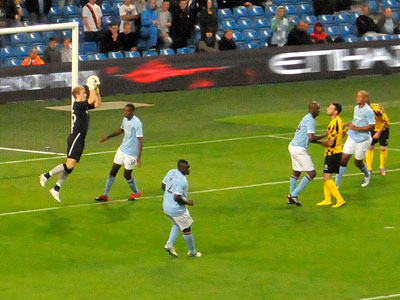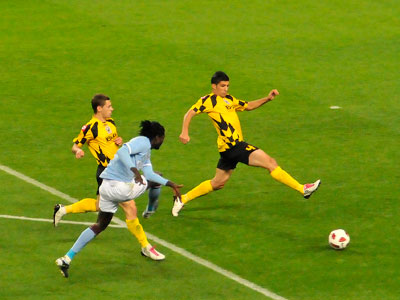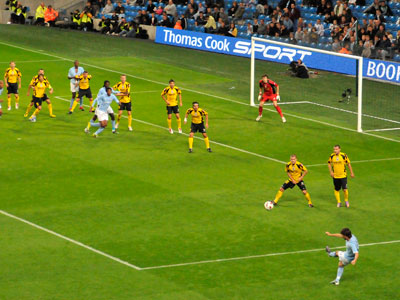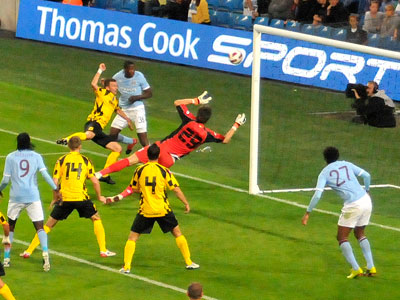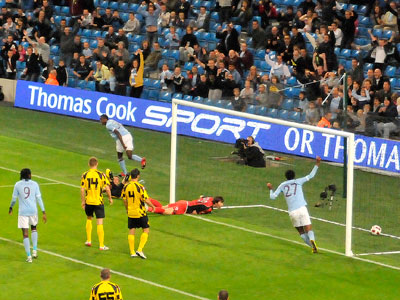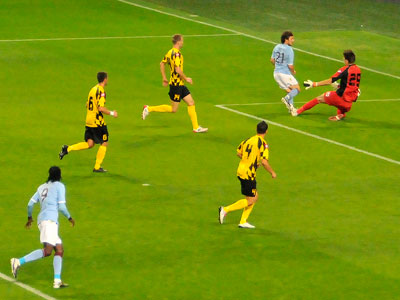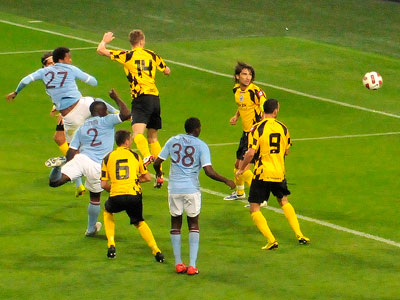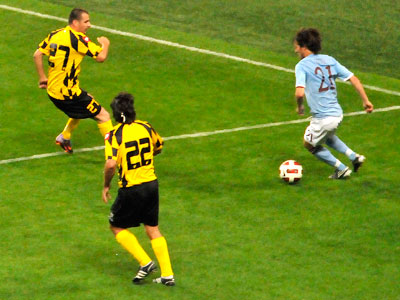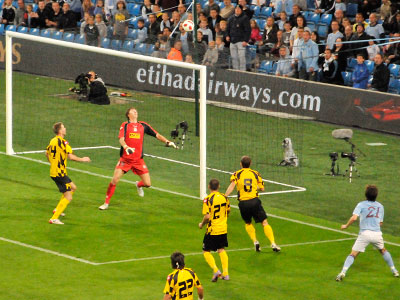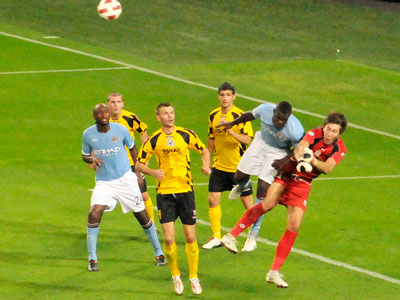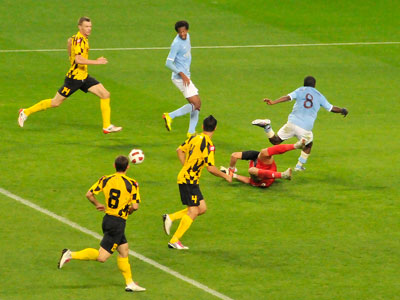 City made 7 changes from the Liverpool game, only Hart, Richards, Kompany and de Jong remaining
You could almost count the visiting supporters but they made a lot of noise - for a while!
A corner by Silva is caught by Costel
An easy catch for Joe Hart
A good block by Boyata on Axente
A shot from Contra goes well over the bar
The keeper saves a header from Jo
From the corner a header from Richards is blocked on the line
Adebayor shoots just wide of the post
After 42 minutes City went ahead when a good pass from Viera found SWP who shot past the keeper.
Hart makes an easy catch from a rare Timisoara effort
Adebayor has a shot saved by the keeper
On 58 minutes City added to their score. A free kick for a foul on SWP was taken by David Silva and Boyata headed in from close range at the far post
This put the tie pretty safe and the goal was fine reward by a good display by the Belgian youngster
Silva has an effort saved
From the corner Jo heads just wide
Silva was now playing much better and a run down the right wing.......
...... ended with him trying to beat the keeper at the near post
The keeper saves under pressure from Richards
The visiting keeper was kept busy until the final whistle but it was an easy win for City
Team
Hart 6: Richards 7, Kompany 6, Boyata 8, Zabaleta 7: Wright-Phillips 7, Viera 7, de Jong 8 (Cunningham 6), Silva 7, Adebayor 6, Jo 7