City 3 Liverpool 0
August 23rd 2010 47,087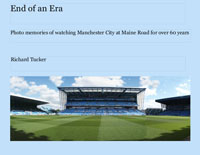 My book 'End of an Era' containing photo memories of days at Maine Road is now available from Blurb.com.
There are over 300 images on 200 pages.
Click on the image for details

This was quite a brilliant team display by City to give them their best victory over Liverpool since 1937. It was also the first visit by their owner Sheikh Mansour so he must have been very pleased with the club. To bully Liverpool off the park is some achievement and City did this with panache. The midfield trio of Yaya Toure, de Jong and Barry dominated proceedings with Gareth Barry the man of the match - easily his best display for City since his arrival from Villa and he started the scoring with a good goal made by City's latest signing James Milner who looked like he had been in the side for ages - so much for the time needed to gel!
Joe Hart played his part with a brilliant double save in the second half but really there was not a weakness in this superb team display. Two goals by skipper Carlos Tevez who worked tirelessly up front finished the visitors off and the almost capacity crowd saw some excellent passing and fearsome defending against a Liverpool team that lacked passion and belief.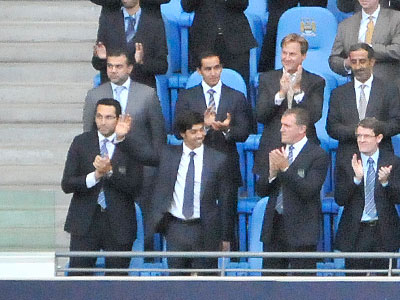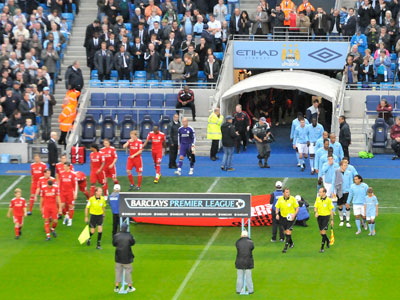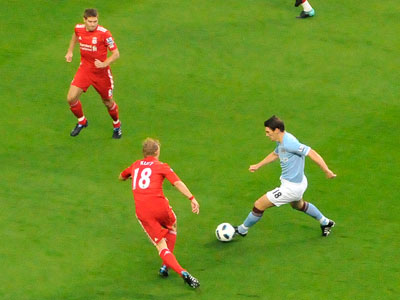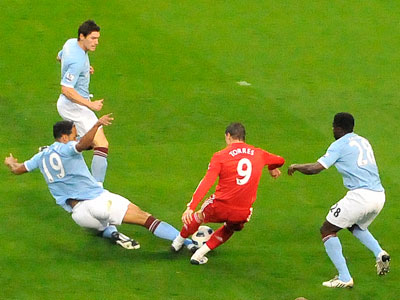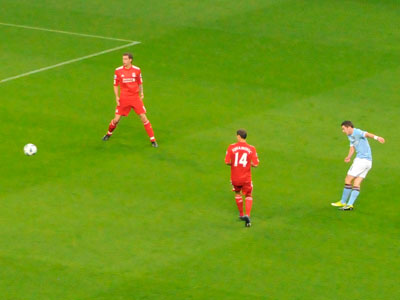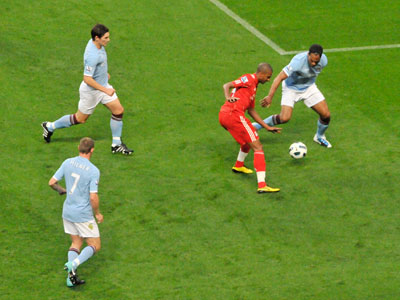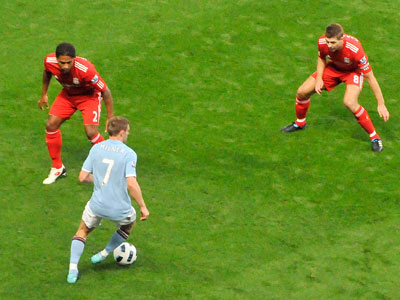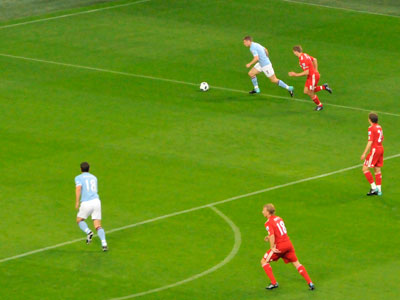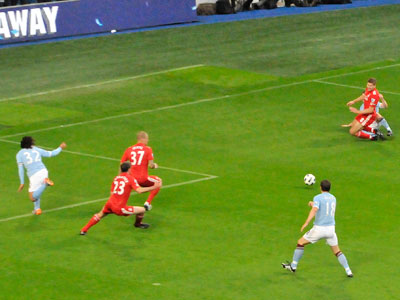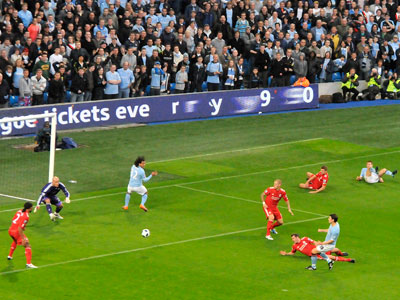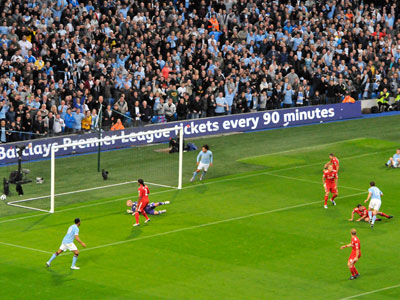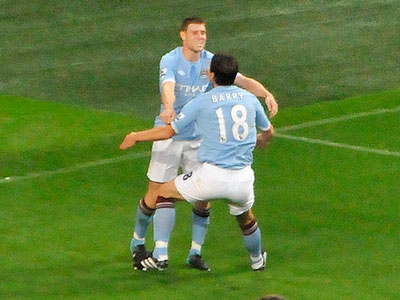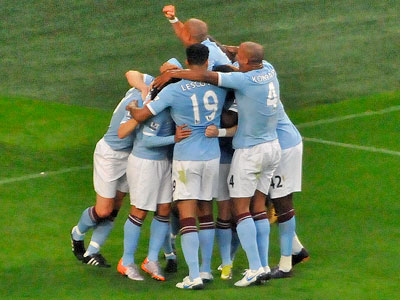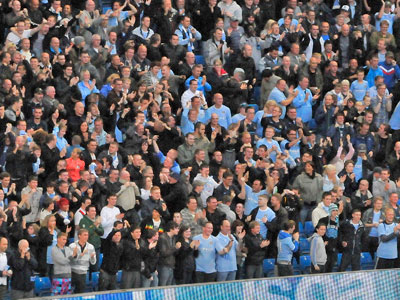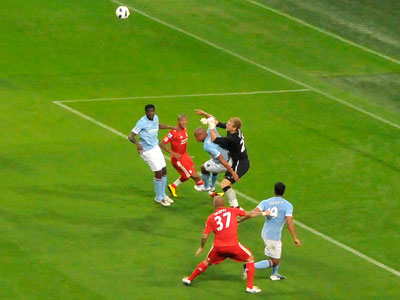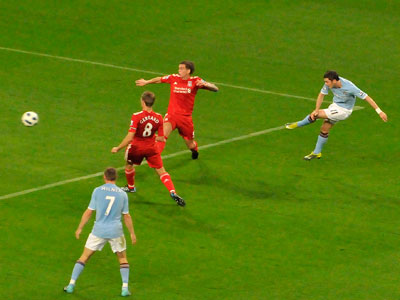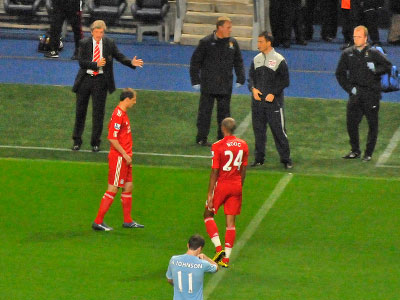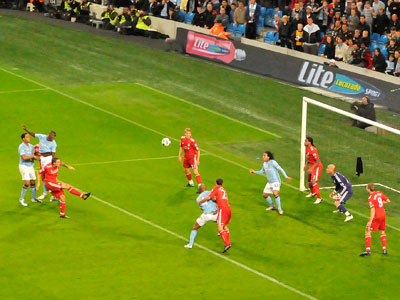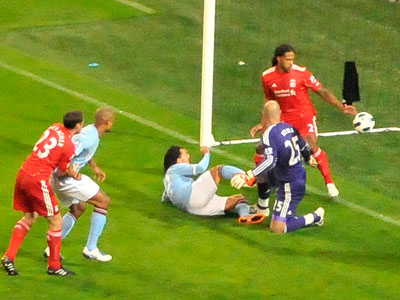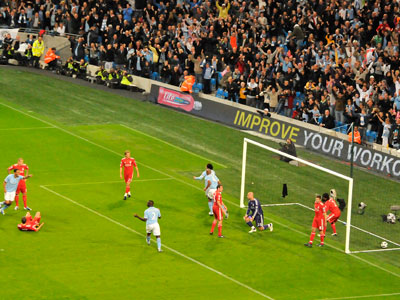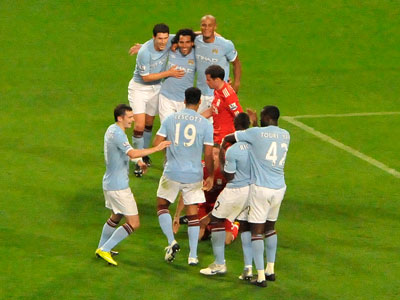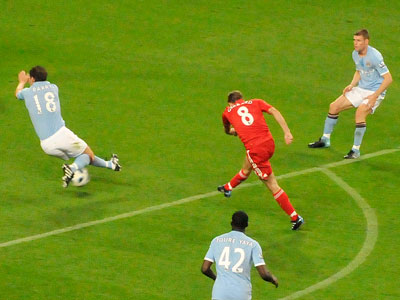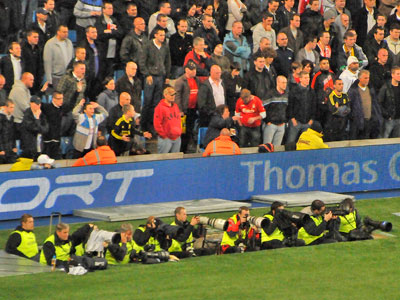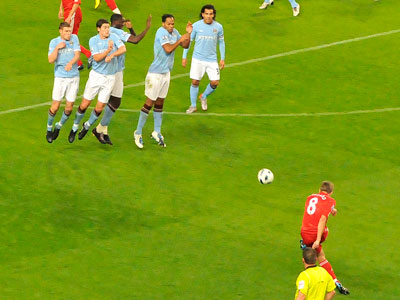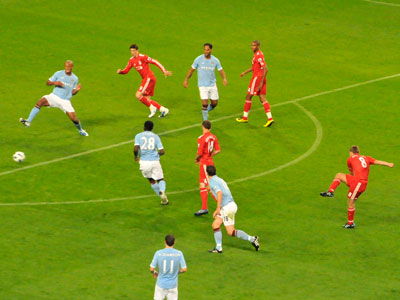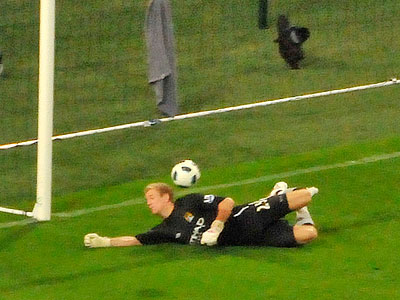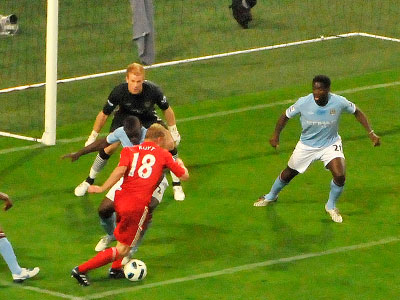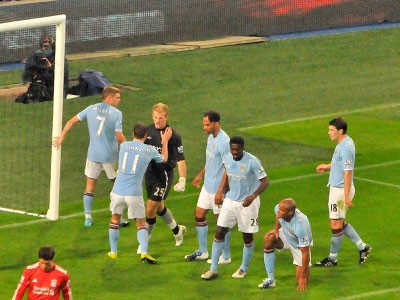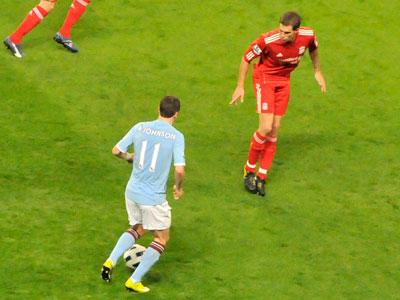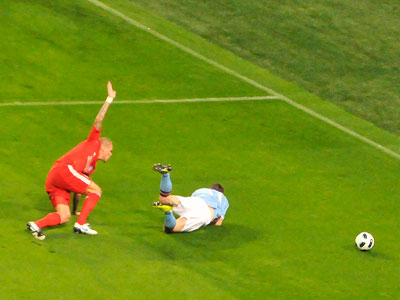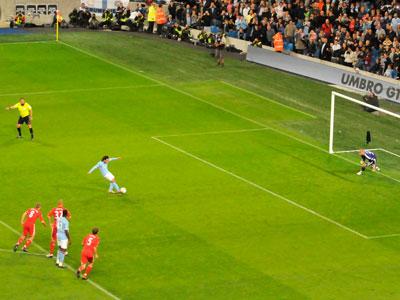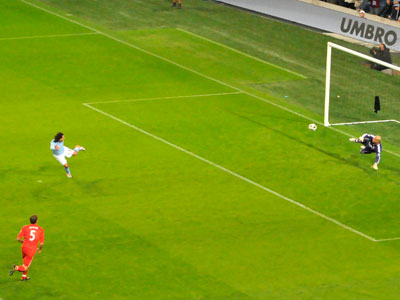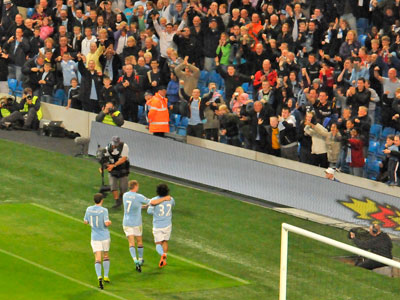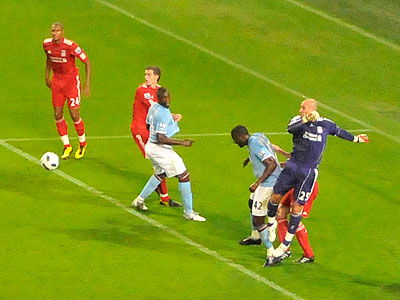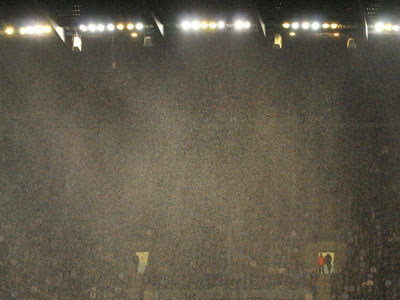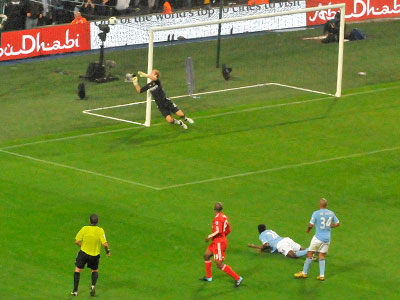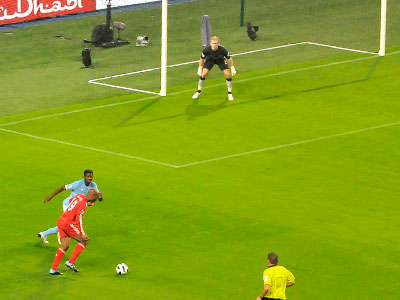 Sheikh Mansour waves to the crowd in response to their cheers
City played with Tevez as the lone striker and had Milner and Johnson on the wings.
James Milner got a good reception from the crowd and responding with an excellent display
Gareth Barry watched by Gerrard and Kuyt was soon in action
Lescott tackles a pretty quiet Torres
Martin Skrtel got a yellow card for this foul on Adam Johnson who was a menace all evening
On 9 minutes Adam Johnson shoots just wide from long range
Ngog is about to be tackled by Lescott
One minute Milner is on the left flank - a minutes later he is on the right wing takes a pass from Yaya Toure
...... takes the ball towards the line and passes back to Gareth Barry who slots the ball past Reina on just 12 minutes
A perfectly executed opening goal for City
So its celebration time for both the team and the City portion of the South Stand
Joe Hart was rarely disturbed by Liverpool at this stage
The City bench looks quite strong!
Viera, SWP, Given, Adebayor, Silva, Zabaleta and Jo

Adam Johnson shot just wide again on 38 minutes
We did not see much of the new Liverpool manager Roy Hodgson and at half time City had the one goal lead
The lead was extended 5 minutes into the second half. A corner taken by Milner was headed towards goal by Richards and somehow Tevez managed to touch it past Reina
Perfect timing for the second goal -just after half time and before Liverpool could raise their game.
Barry blocks a Gerrard effort
The photographers join the TV cameraman in the trench!
The City wall blocks a Gerrard free kick
Another Gerrard effort......
.....is saved by Joe Hart
Liverpool started to show some fight ......
.......and Joe Hart had to make a brilliant double save to keep a clean sheet
He was congratulated by his colleagues
A few minutes later and Adam Johnson was attacking down the right wing again....
..... and he was brought down by Skrtel who was already on a yellow card
Carlos stepped up to take the kick
.....and sent the keeper the wrong way to make it three nil. Brilliant!
Reina clears a City attack
...and the rain came but fortunately stopped by the end of the game - more magic by the Sheikh!
Babel on for Torres forced Hart to save for a corner after 78 minutes but that was their last major effort and City ended with a comfortable 3-0 victory and up to 4th in the Premiership
Team
Hart 8: Richards 7.5, K.Toure 7.5, Kompany 8, Lescott 7, Johnson 8, de Jong 8, Y. Toure 8, Barry 9, Milner 8, Tevez 8
subs Zabaleta ( for Y Toure) and Jo (for Tevez) not on long enough to mark