City 2 Valencia 1
August 8th 2010 27,088 friendly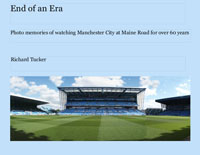 My book 'End of an Era' containing photo memories of days at Maine Road is now available from Blurb.com.
There are over 300 images on 200 pages.
Click on the image for details

City ended their pre season games with a comfortable win against Spanish League side Valencia. The Spanish side had played Villa the previous day but they had turned out a different side to the eleven that played against City so they must have a big squad too! All eyes were on the new City players and we were not disappointed. David Silva showed a few nice touches in the 36 minutes he was on the pitch. Boateng played both at right back and central defender for 45 minutes and it was his cross that made the first goal for City. Kolarov played for 75 minutes and showed why he had been signed. Yaya Toure had a 60 minute stint and again looked dominant in midfield. Adam Johnson showed a few of his tricks under the watchful eye of England manager Capello in the stand. Neither City keeper - Hart and Given had much to do and main talking point was the possible starting eleven against Spurs next week. With the unwanted internationals in midweek and possible arrivals of Milner and Balotelli by Thursday it will depend on match fitness on the day! There was a fair crowd and thank goodness no Vuvuzela's - at least I didn't hear any.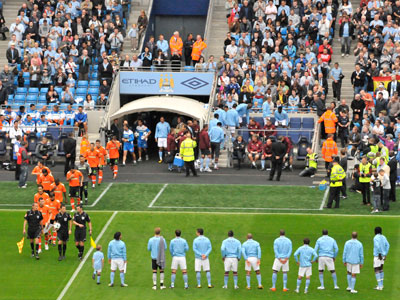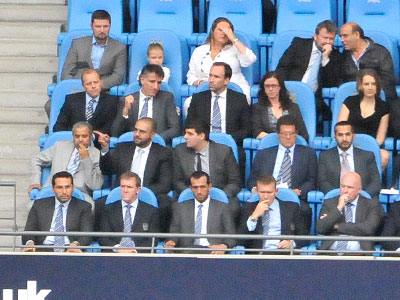 The City players were introduced to the crowd one by one so the Valencia team came out with the City subs!
Our Chairman Khaldoon Al Mubarak was over for the game and in the second row was Fabio Capello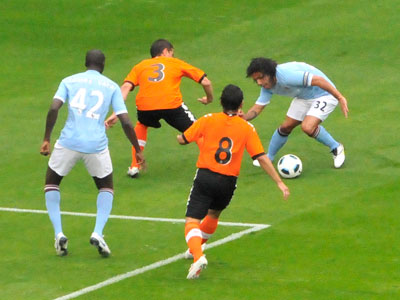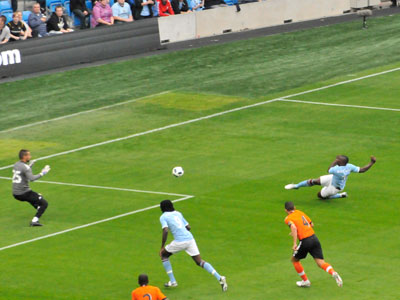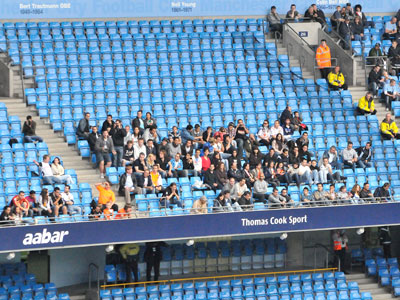 Tevez had a short time on the pitch dashing about as usual and making his presence felt b the opposition
The keeper Moya made a good save from Richards fed by Tevez after 7 minutes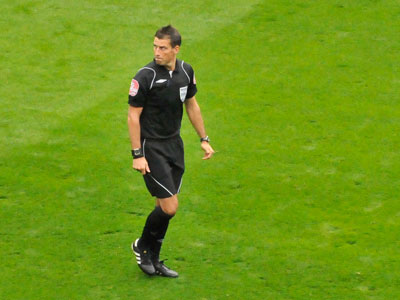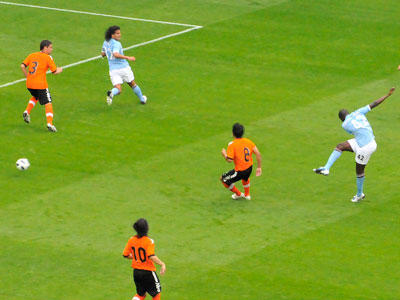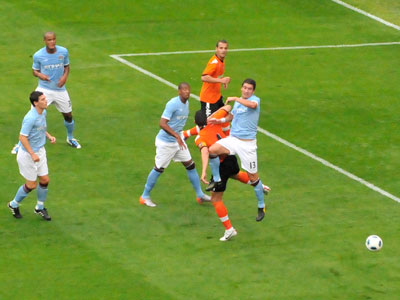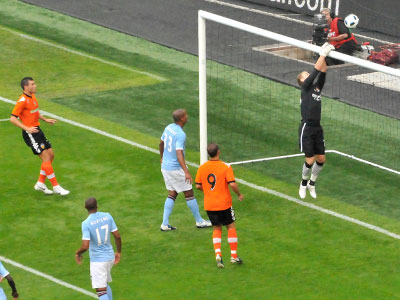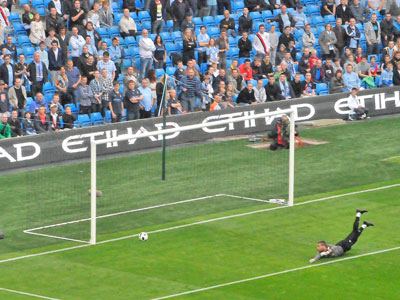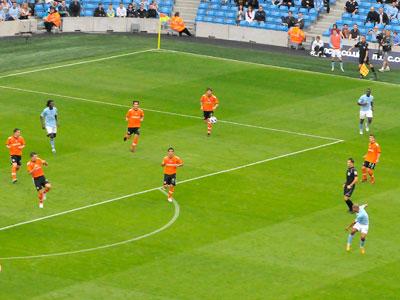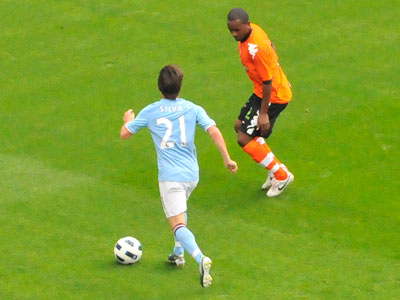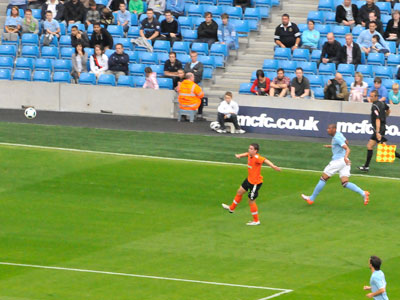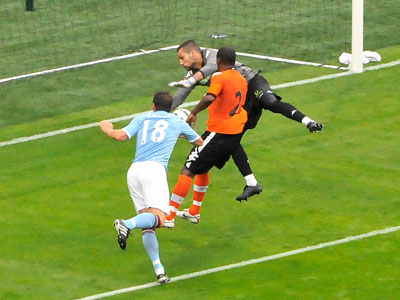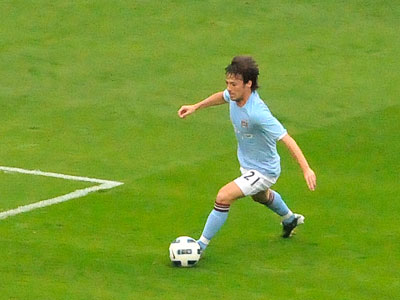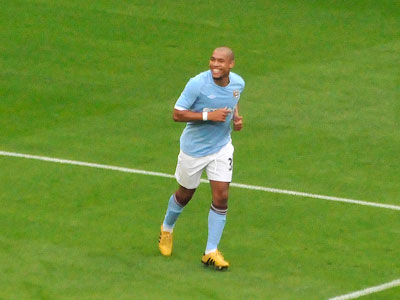 Though the program informed us the referee was Mike Dean in actual fact it was Clattenburg in charge
Valencia had a small group of loyal supporters at the game
On 12 minutes Yaya Toure had a good effort well saved by the keeper
The City defence were rarely troubled by Valencia - here Kolarov heading clear and Joe Hart pushing the ball over the bar
Nigel De Jong puts the second tier in danger with this effort
David Silva popped up in different areas of the pitch to test his old side
City took the lead after 28 minutes. A great cross from Boateng was headed in by Barry
Adebayor did not look 100% match fit and will have to up his game if Mario arrives
Whether Silva will make the first game will depend on match fitness and I understand he will be playing for Spain in Mexico midweek - not he best preparation!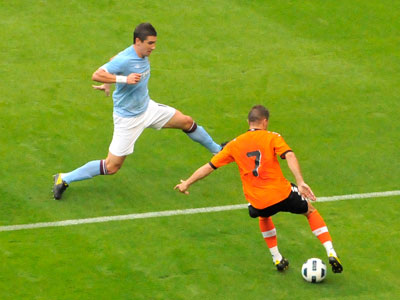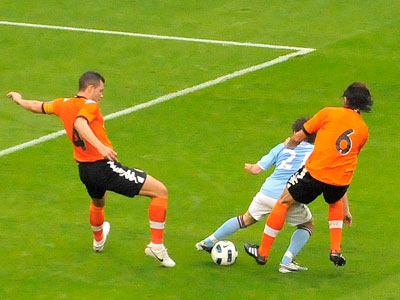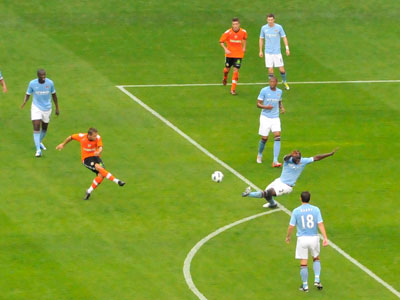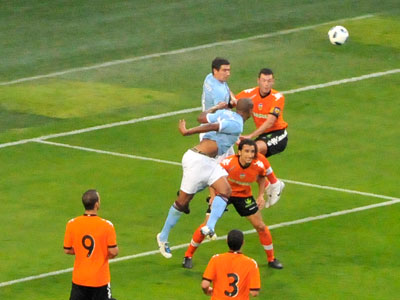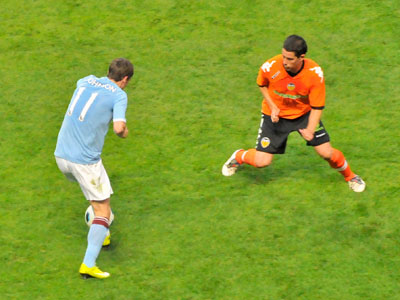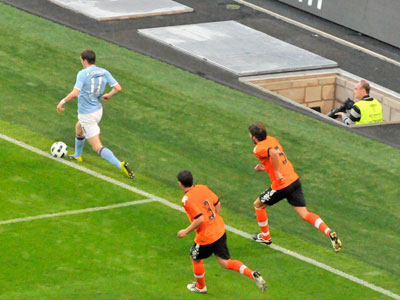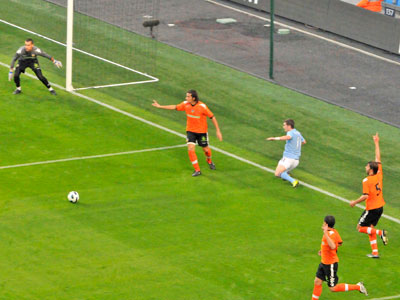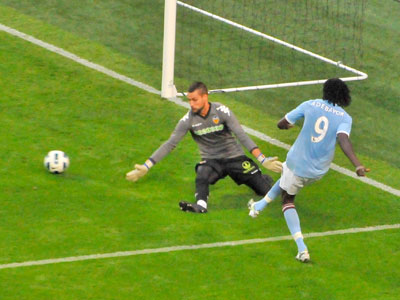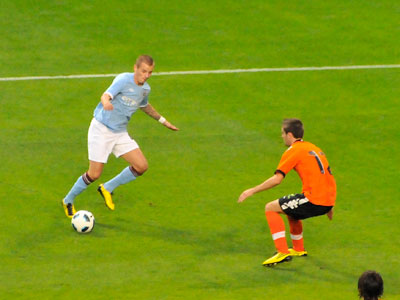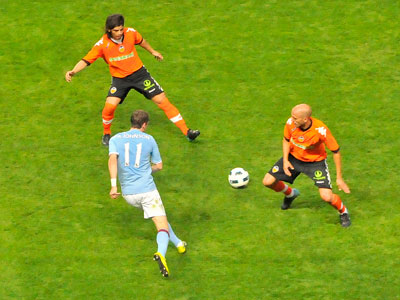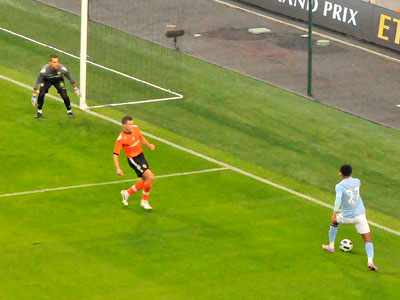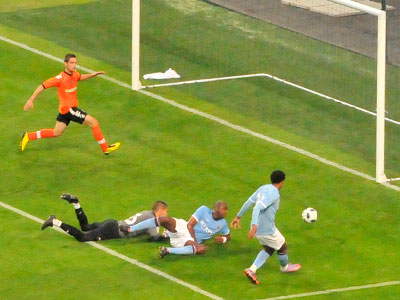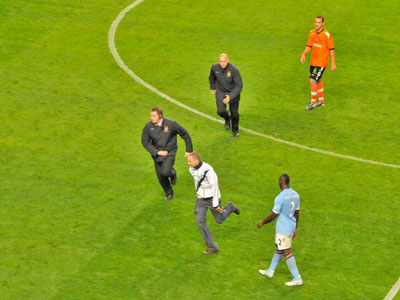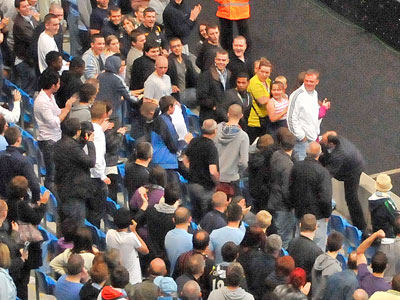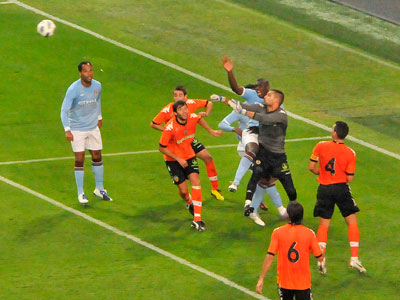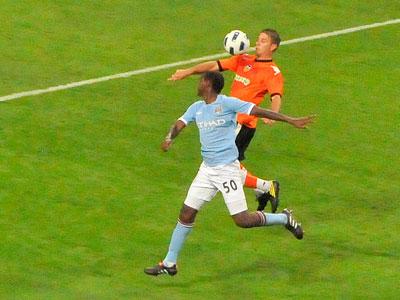 Another De Jong effort sails well over the bar and he laughs about his shot - when will he score a goal for City?
Tevez and Silva only lasted 36 minutes before being subbed by SWP and Johnson
Kolarov looked good during his 75 minutes on the pitch. He was taking most of our free kicks
David Silva giving his ex colleagues plenty to think about
A rare shot on goal -went wide - by Valencia
Kompany heads clear - looks like he will be in central defence this season
Adam Johnson was full of tricks
and in the second half ......
He evaded several tackles taking the ball along the goal line but when he crossed he was disappointed to see the linesman flag for a goal kick
City had another good chance when Adebayor broke through but his centre went astray
Vladdy Weiss came on with 20 minutes to go and tried to show the manager he wanted to get into the final squad
This Valencia shot went straight to Given
After 85 minute inter passing between Viera and Johnson.....
...... left Jo with the simple task of tapping the ball home from close range
Then an act of stupidity by a City supporter who came on the pitch to celebrate. That will be his last game of the season!
The remaining time was played out without any major efforts by either side and it was good to have a game when the trainers never had to come on the field. The game however was played at half pace for most of the time with very few bad tackles. A good run out for City but we will expect a lot more next Saturday!
Team:
Hart ( Given 45mins): Richards, Kompany ( Ibrahim 78mins), Boateng ( K.Toure 45mins), Kolarov ( Cunningham 74mins): De Jong (Viera 45mins) Y Toure ( Lescott 64mins) Barry ( Weiss 69mins) : Tevez ( SWP 36 mins) , Adebayor ( Jo 74 mins) Silva ( Johnson 36 mins)
I normally give marks out of ten for each player but with so many players taking part it just would not mean anything.