Man City 1 Man United 0 Premiership August 19th 2007 att. 45,000

Three games - Three wins- Nine points - Top of the League - No goals conceded - and best of all a win over United - surely a Sunday to remember. Yes, we were outplayed for a great deal of the game with United having a 60-40 possession advantage but it's goals that count and with the defence playing well together it was a well deserved victory over the old foe. Normally City don't play well against teams in the lower half of the league (LOL) but now we have players that can make the all important strike and a defence that gets better by the hour. Micah Richards was terrific , a giant rock alongside Richard Dunne. But don't forget the efforts of Kasper S and the 2 fullbacks and Didi Hamann who continued his good form.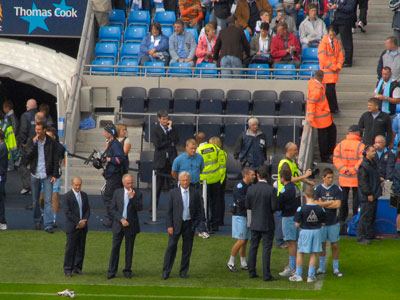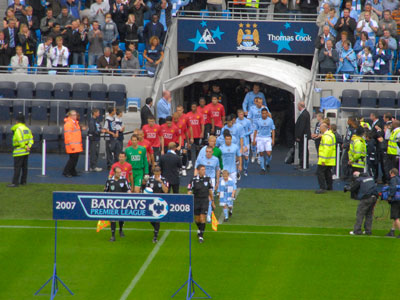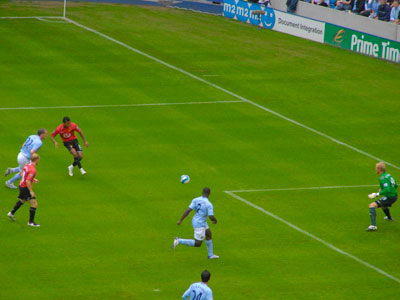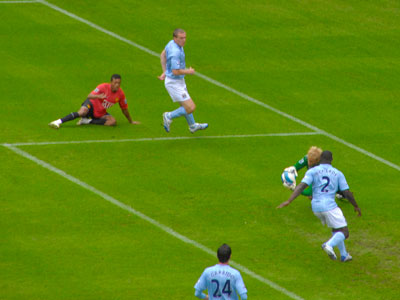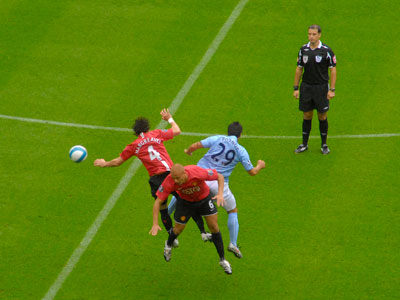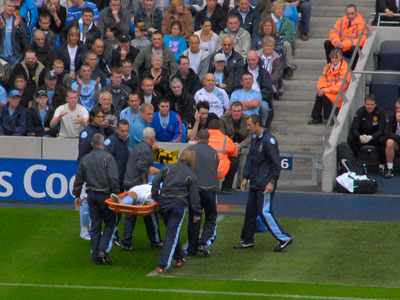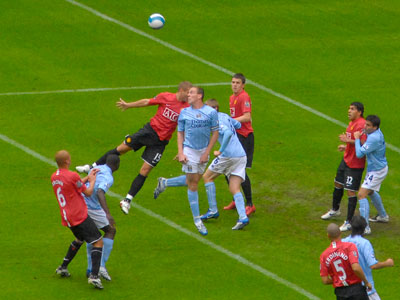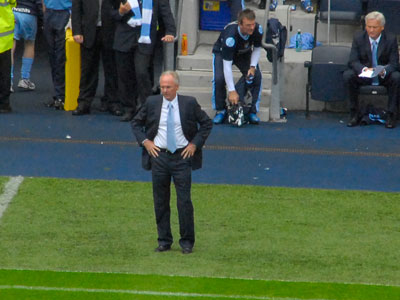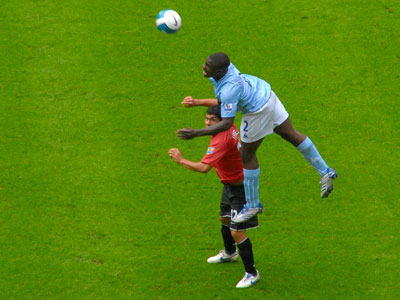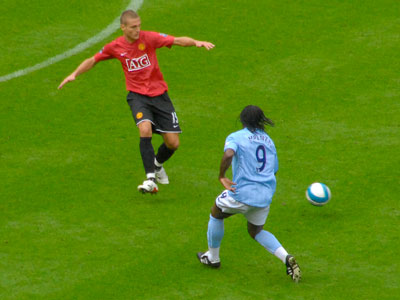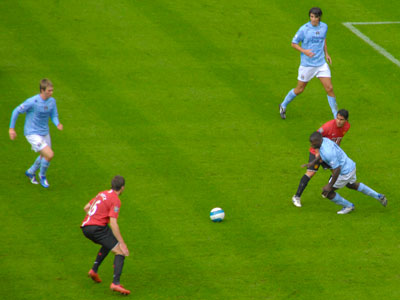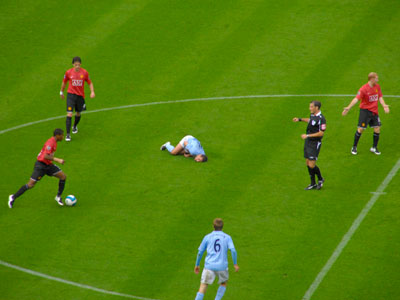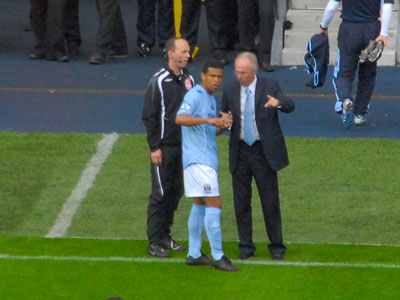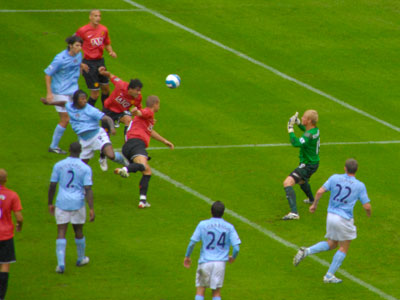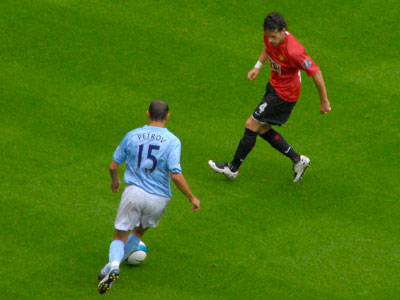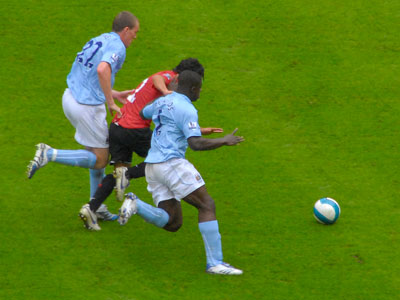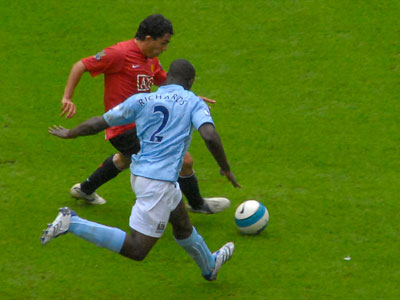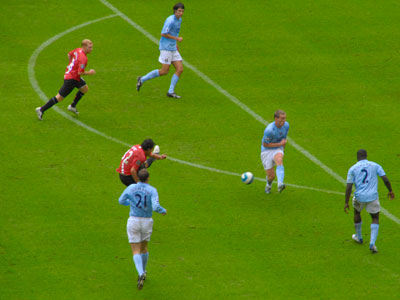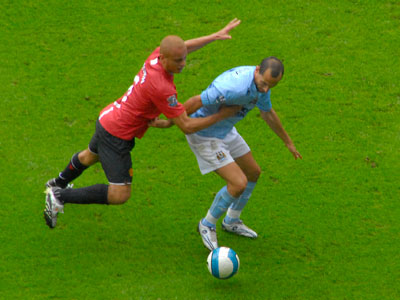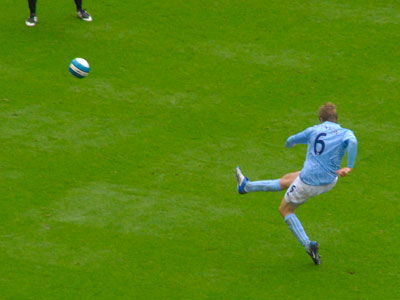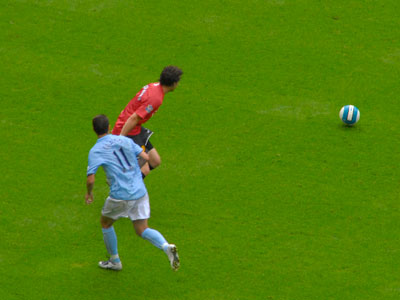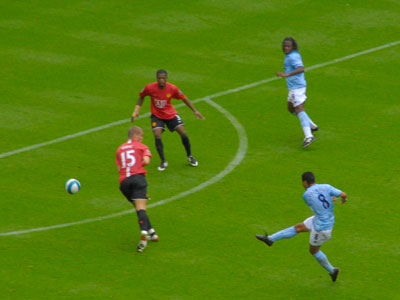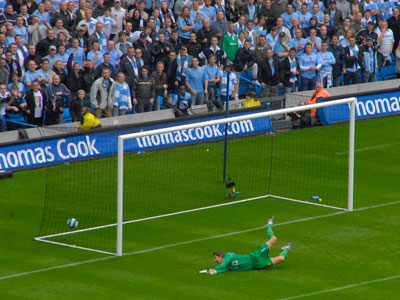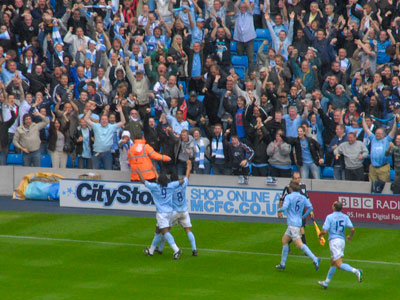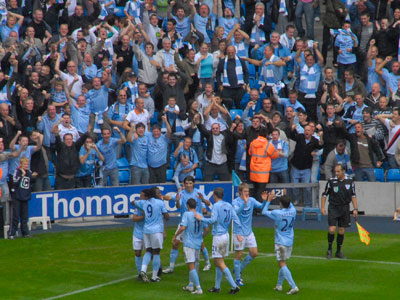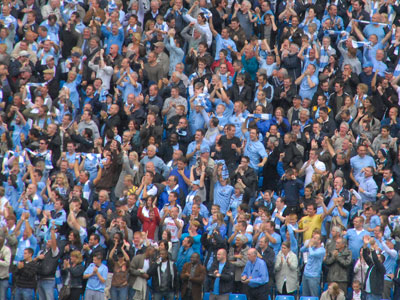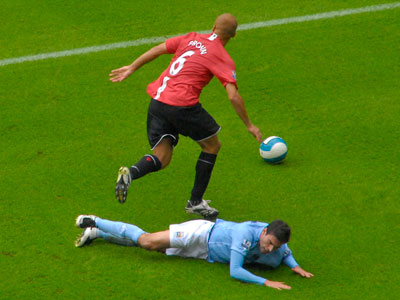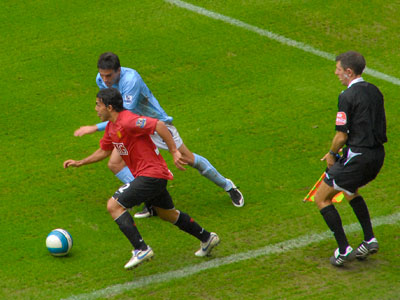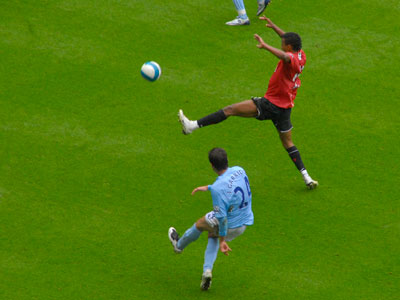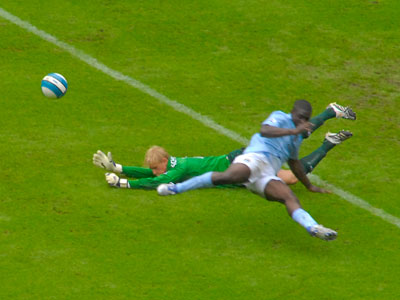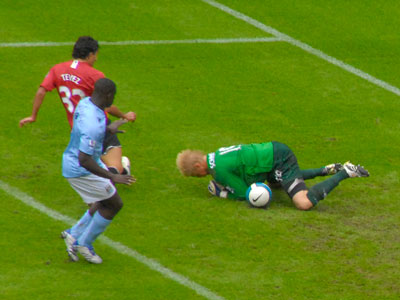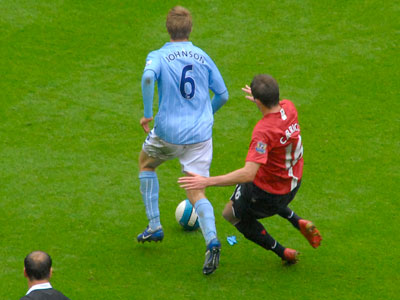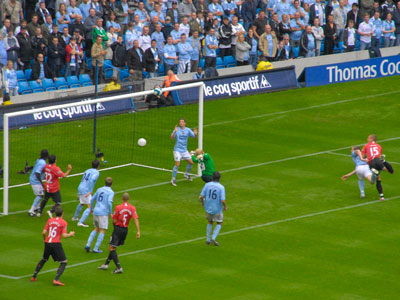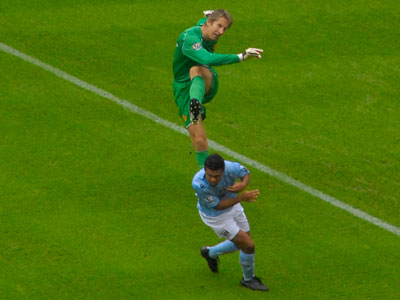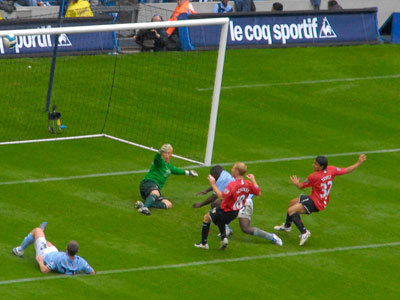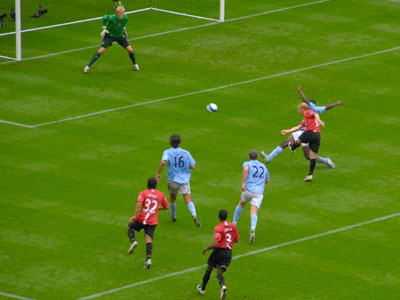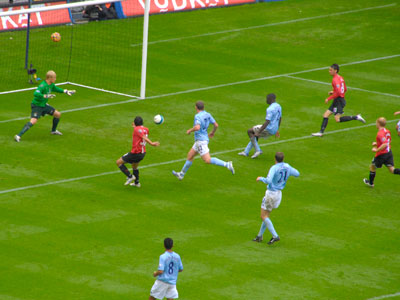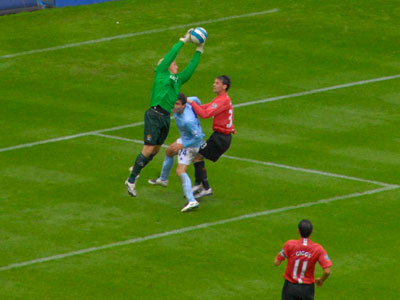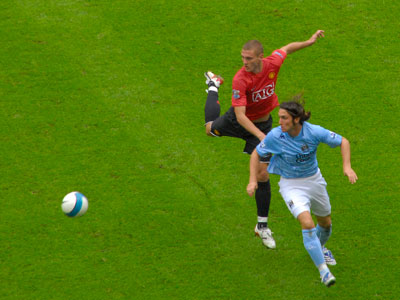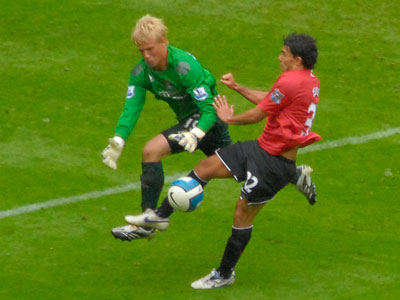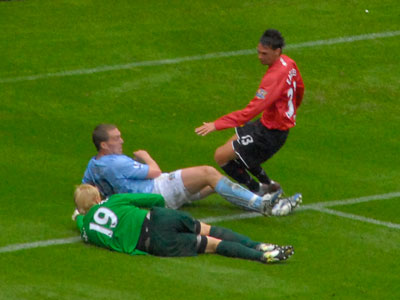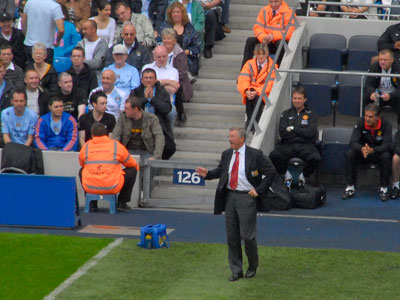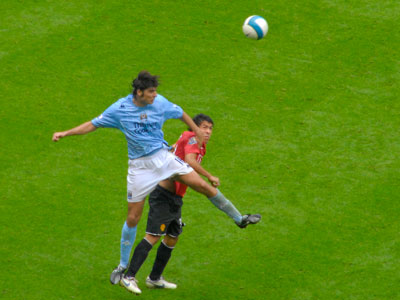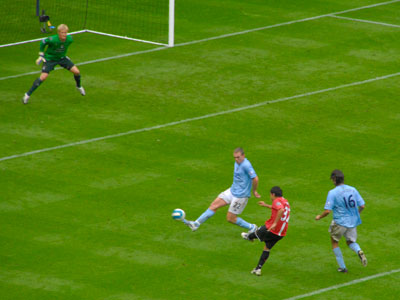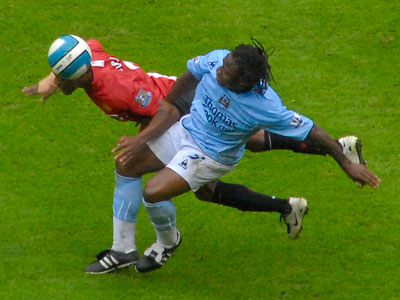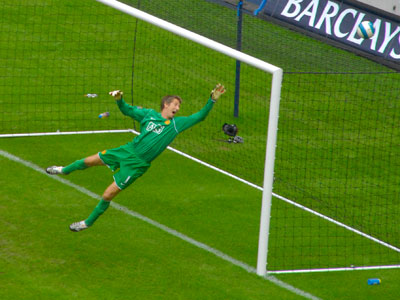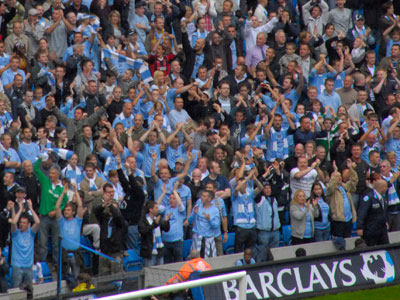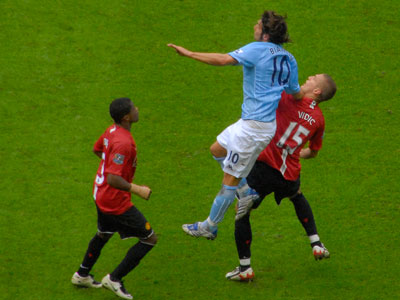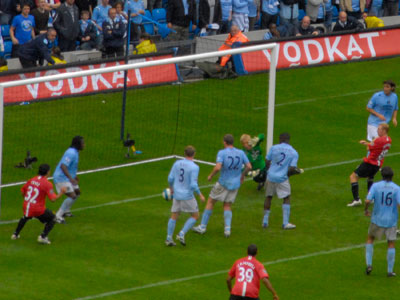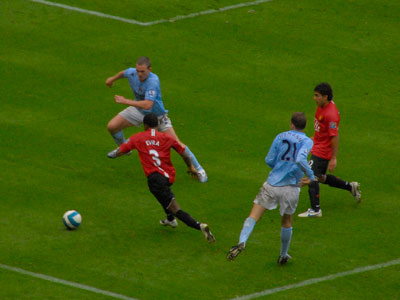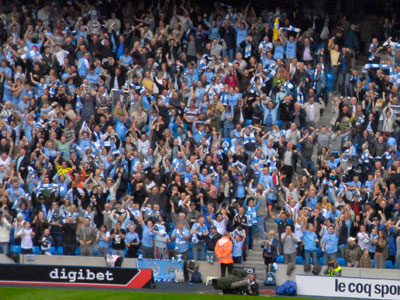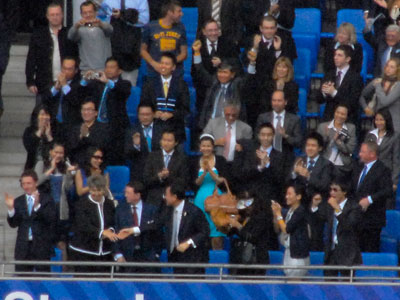 It was unusual to see Sven out before the players
City made a few changes. Geovanni replaced Ireland ( sick) and Bojinov was preferred to Bianchi . With no keeper signed Kasper Schmeichel remained in goal
United made an early attack down the left and Nani had his efforts doubly saved by Kasper S
Shortly afterwards Bojinov who had hardly touched the ball seemed to fall awkwardly and ended up being stretchered off. He was replaced by MPenza rather than Bianchi - surprising!
It was good to see the City manager appear in the technical area occasionally
The battle between Micah Richards and United new signing Tevez was soon to start
Richards is quick off the mark again to foil Tevez
Elano goes down but the referee allows play to continue
Geovanni gets instructions from Sven while 4th official Mr Dean hopes to get some tips!
City have to defend a corner
Martin Petrov tries his luck against Owen Hargreaves making his full debut for the visitors
Richards and Dunne combine to sort out Tevez.
A last second tackle by Richards saves the day
Richards about to make another great tackle on Tevez
Petrov, who had a relatively quiet game and Brown clash
Johnson has a go from 30 odd yards but his effort goes over the bar
After half an hour with United mainly on top Elano slipped the ball inside to Geovanni who let fly from about 25 yards.........
...... The ball flew past a helpless diving Van der Sar to give City the lead and the Stadium (except for a small section) went wild. It was a brilliant strike by the Brazilian and worthy of the occasion. Geovanni once scored for Benfica against United, his goal eliminating them from the Champions League. Has this effort eliminated them from this seasons Premiership title ?
Though scoring against the run of play City grew in confidence after the goal and in one magic minute passed the ball about 30 plus times to retain possession and frustrate the Reds.
Brown brought down Elano and got booked for his third foul
Following a corner Vidic hits the post and City have a lucky escape early in the second half.
Michael Johnson about to be tackled by Carrick
Geovanni takes evasive action as Van der Sar clears a loose ball
Richards was proving formidable in defence helping Kasper to keep a clean sheet
Kasper fumbles a shot from Giggs but Richards was at hand to prevent a lurking Tevez from following up.
Richards once more brilliantly clears a dangerous cross from Giggs.
United continued to dominate but their efforts in the final third were either frustrated by the wonderful City defence with Dunne and Richards starring or poor finishing.
Dunne heads clear at a corner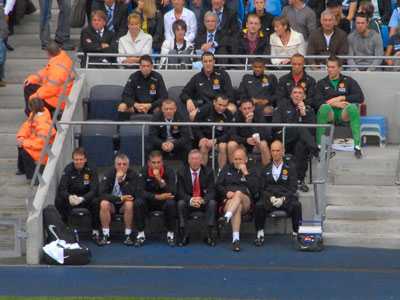 How long would it be before Sir Alex be up on the touchline as United failed to finish
Kasper S makes a perfect catch from a long cross
Bianchi came on for Elano after 63 minutes
Kasper Schmeichel and Tevez clash
Dunne and Kasper S combine to thwart Chris Eagles - Who?
He's out and roaring at his forwards!
The promising Vedran Corluka heads clear
Evra heads clear from Mpenza who had a quiet game
Van der Sar dives as a long range shot from Corluka just goes over the bar
The atmosphere in COMS was very good with City supporters giving plenty of support as full time approached.
Vidic gives Bianchi a lift up
United's final 11th corner with a minute or so to go gave Tevez a chance to equalize but as the ball evaded everybody Tevez headed wide at the far post
Four minutes extra time had to be endued by the home supporters.......
.....but at the final whistle there was a mass of blue and white frenzy and Sven had won his 5th derby in a row ( the previous 4 with sky blue Lazio) .There was polite applause in the directors box though Dr Thaksin 's son showed some passion with clenched fist! Yes it's dreamland for City supporters as they celebrate their best start for 16 years in the major division.
Team
Kasper Schmeichel 7: Corluka 7, Dunne 8, Richards 10, Garrido 6.5: Hamann 7.5: Elano 7 (Bianchi 6.5), Geovanni 7 (Ball 6) , Johnson 7, Petrov 6 : Bojinov (Mpenza 5.5)
This was a determined team effort and there was a buzz in the crowd as they left the stadium - one I have not heard for many a year. As the new players get fitter and get to know their colleagues things will get even better. There were times when one needed the Bulgarian for 'Man On!' as Petrov lingered on the ball with an opponent rushing up behind! The injury to Bojinov looked serious and he could be out for many weeks so in addition to a new keeper ( sorry Kasper) and another midfielder- a new striker must be on the shopping list before the end of the month.