August 2007-2008
City 0 Valencia 1
August 4th 2007 Thomas Cook Trophy att. 25,000 ?
For many this would have been the first chance to see some of City's new signings so it was disappointing to see so many empty seats. The game itself was not outstanding. We gave away the goal and hit the post twice and perhaps had more chances than our visitors. Valencia played nice football but rarely troubled young Kasper iin goal Whether Kasper Schmeichel is upto the Premiership is another matter as his distribution could have been much better. The news that Isaksson is out for a month with injury is not good so buying a new keeper is now a priority. Apparently Hart has a minor problem too so maybe Sun Jihai will have a go in goal !!! It is going to take time to get the new players to gel into a team and I think Bianchi needs someone upfront to help him. I hope Valeri Bojinov will fill the bill. Vedran Corluka should also be available for the West Ham game. I doubt whether both Ireland and Johnson will both start . Richards and Dunne were excellant as usual and Onuoha may lose his place. Elano showed some nice touches but appeared to lack full fitness. Petrov and Geovanni have started well and Garrido did not look out of place. Good signs but we have to be patient!!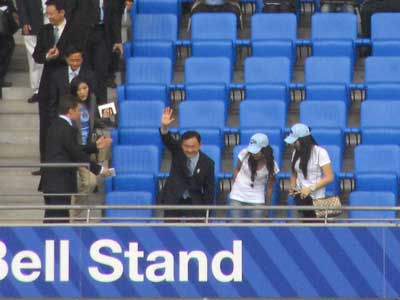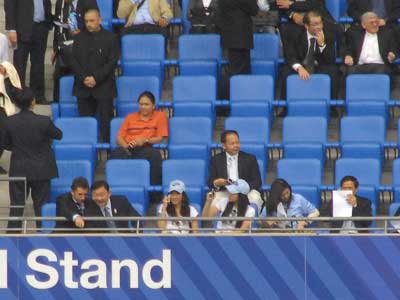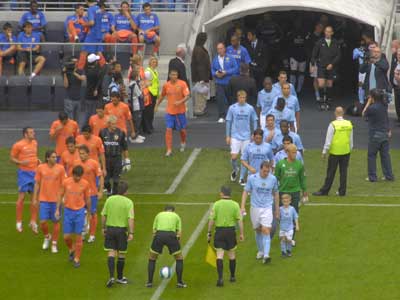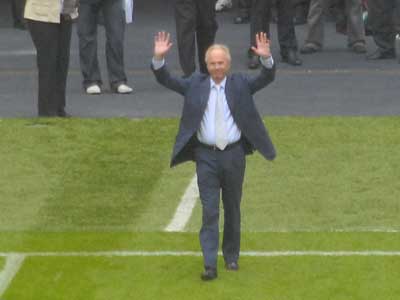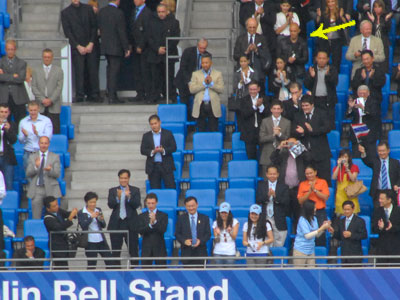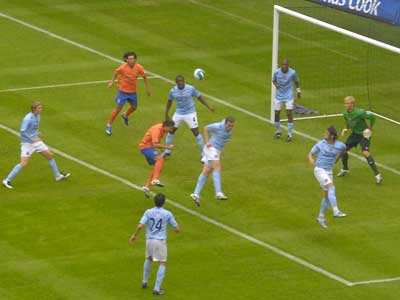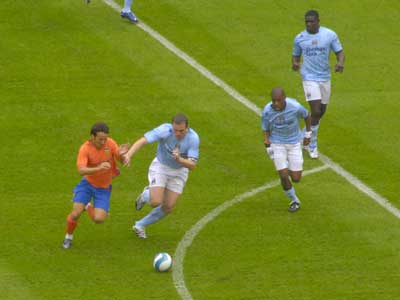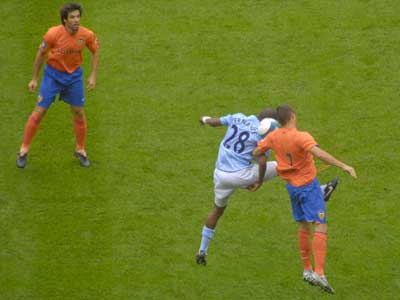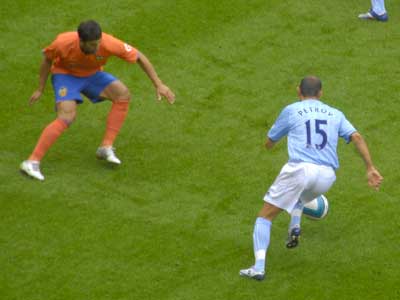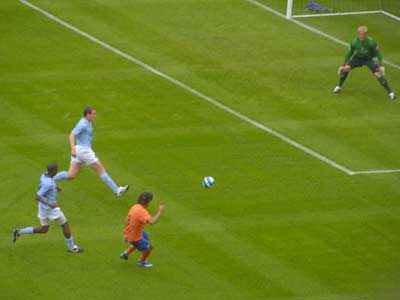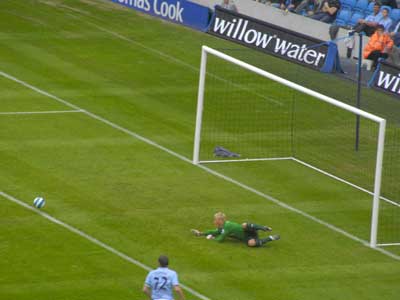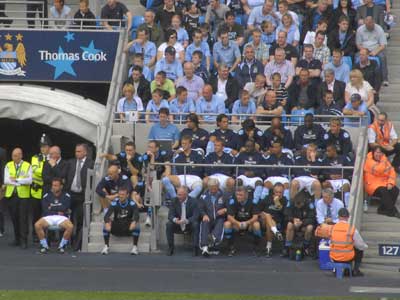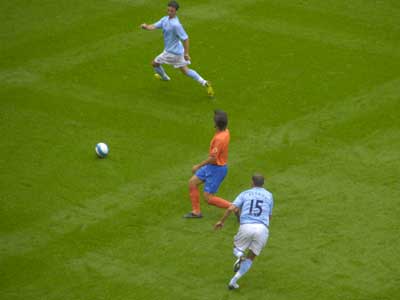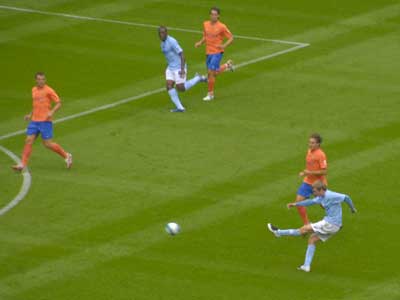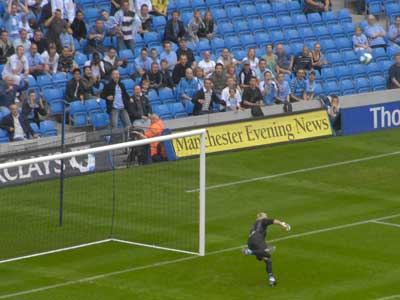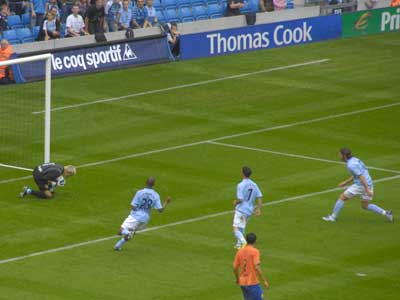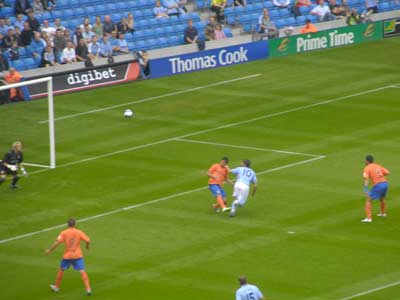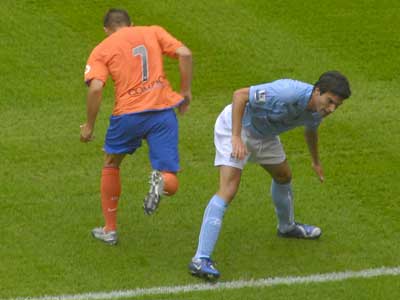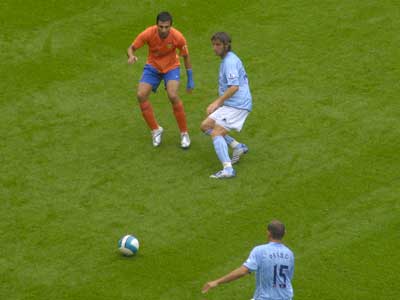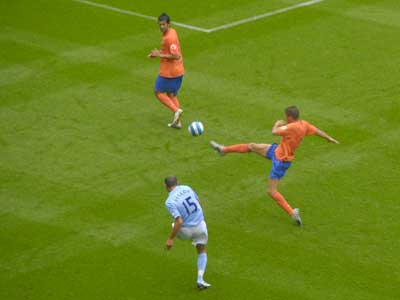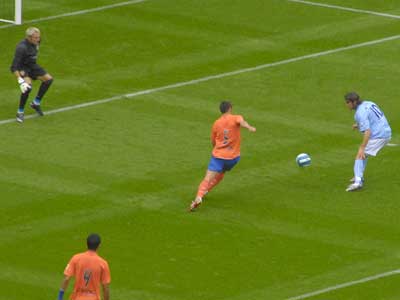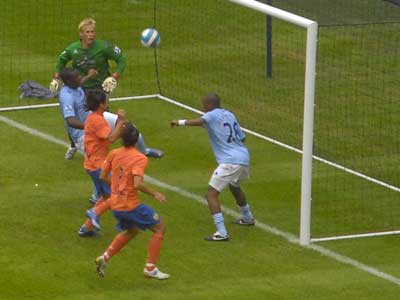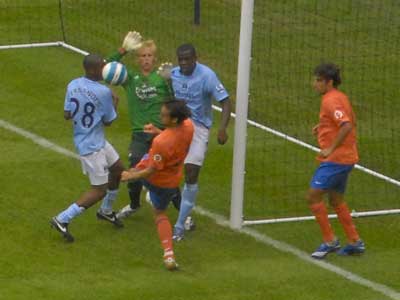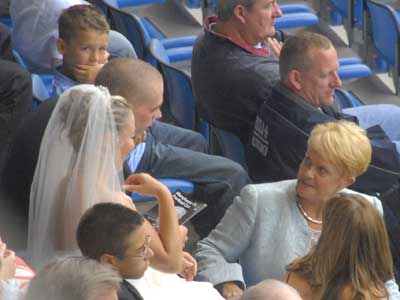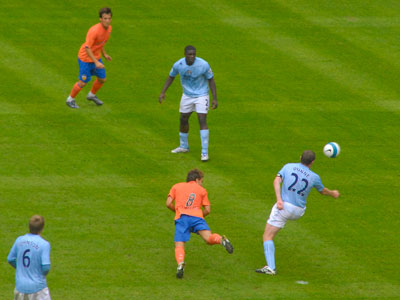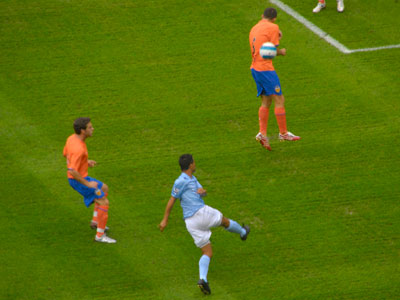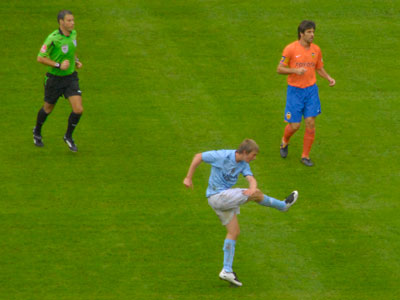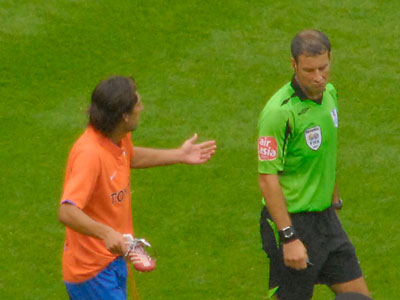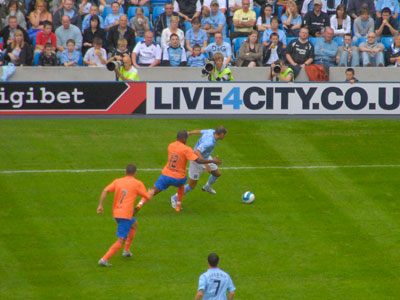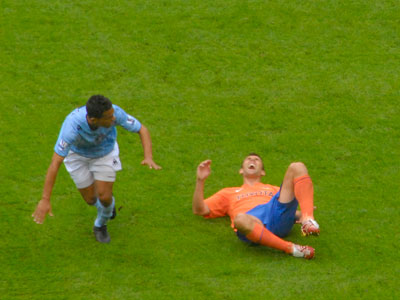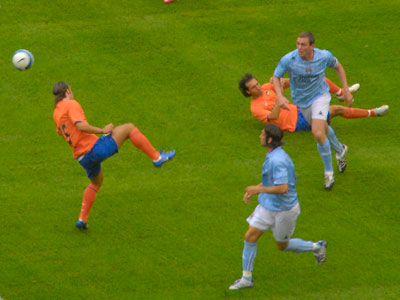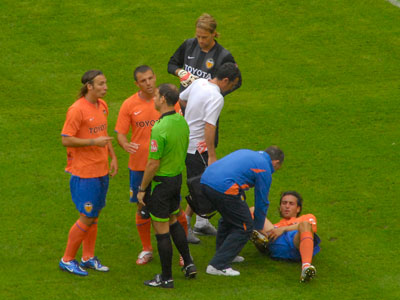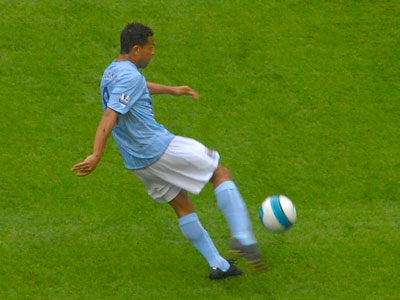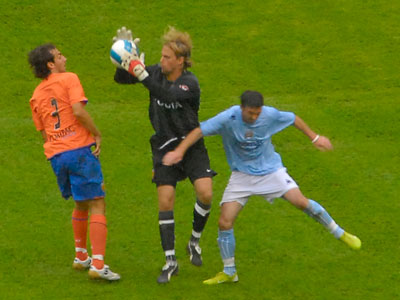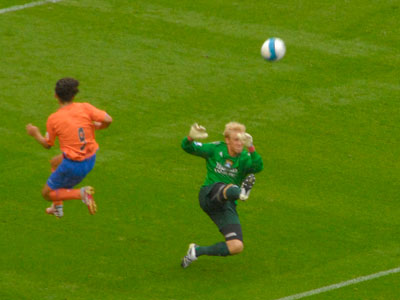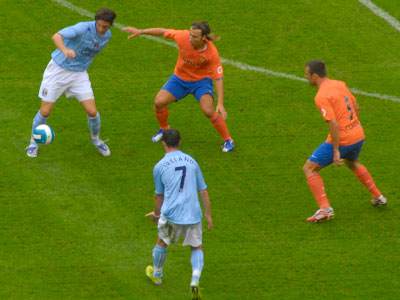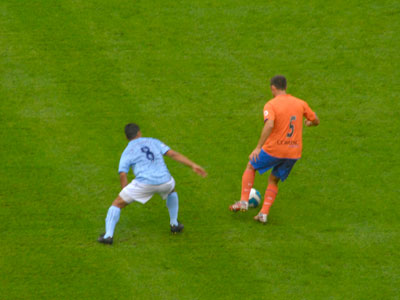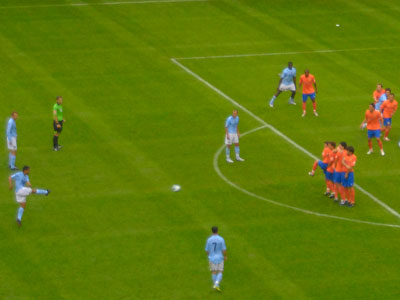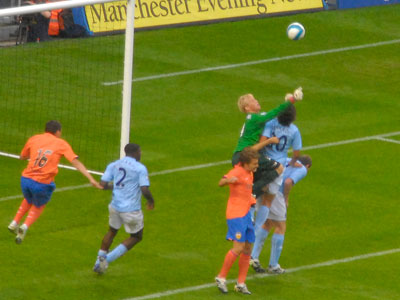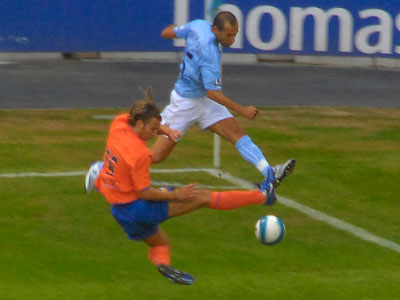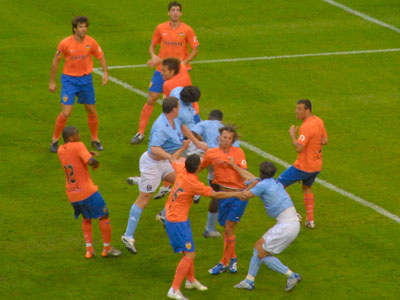 There was a warm welcome for the new owner and Chairman Dr Thaksin Shinawatra when he took his seat in the Colin Bell Stand and soon CEO Alistair Mackintosh was pointing out things of interest.
There were many new faces in the City team
Our new manager Sven-Goran Eriksson got his own special welcome
As the new manager was welcomed by the main stand I thought I noticed Mark Bresciano (arrowed). To sign on Monday I wonder? Didn't spot Franco Di Santo though!
The City defence were soon in action clearing an early corner
Dunne tackles a Valencia forward backed up by Fernandes and Richards
Our new midfielder Gelson Fernandes clashes with Joaquin
Petrov about to start a typical dart. We shall see a lot of these.
After 10 minutes an error by Fernandes who mispassed the ball giving it away to Silva...
... who gave the ball to Joaquin. He shot at goal and Kasper Schmeichel was only able to push the ball out . Silva following up was able to score easily. One nil to the visitors.
The squad is so big Paul Dickov picked the short straw and had to sit on a separate chair!
It was strange to see Ireland playing so far forward.
Fed by Elano on the right Michael Johnston managed to curl one past veteran keeper Canizares only to see the ball rebound off the cross bar. Unlucky !
City did put in some attacks and after 20 minutes first Canizares saved from Elano and then a minute later Bianchi hit the bar with a header from a cross by Elano
Joachin and City's new Spanish left back Garrido appear to have lost something!
Martin Petrov was always prepared to have a go at goal
City had a great chance to equalize after 35 minutes . A Petrov effort was charged down but the ball spinning viciously ( a la Muralitheran ) ran clear to Bianchi who was unable to control it and the chance went abegging .
A corner caused some problems for the City defence before it was cleared
A header from Gavilan just goes wide of the City goal.
Wedding bliss in Tier 2 at half time with the visitors ahead 1-0
Ouch ! On at half time for Elano is Geovanni who immediately made his presence felt.
Michael Johnson has another go at goal.
El intendo robar mi cargator .... Arbitro!
( He tried to nick my boot ref!)
A sight the fans at that side of the ground will get used to - Martin Petrov going down the wing - again!
Richard Dunne causes havoc in the visitors defence following a free-kick taken by Petrov.
Brazilian Geovanni in action
Substitute keeper Hildebrand catches under pressure from Ireland
Kasper S had to dash out to clear this dangerous through ball
Bianchi and Ireland try to link up to make a scoring opportunity
Geovanni tackles Marchena and Geovanni is no gentle Brazilian . He gets stuck in so I think there will be some cards coming his way in the Premiere League
' Oh mi - enviar para mi madre!'
( oh my - send for my mother!)
Geovanni hits a free-kick into the wall
Kasper Schmeichel punches clear under pressure
City tried hard to force an equalizer and we saw some late substitutions - Corradi on for Johnson - Hamann on for Fernandes and Sun for Onuoha
Bianchi and Petrov linking up
City 1 Derby County 0
August 15th Premiership att. 43,620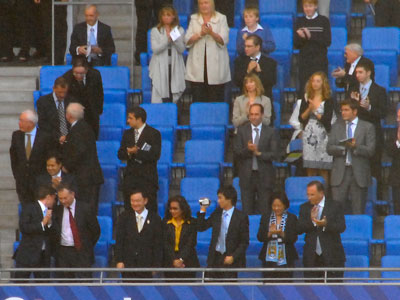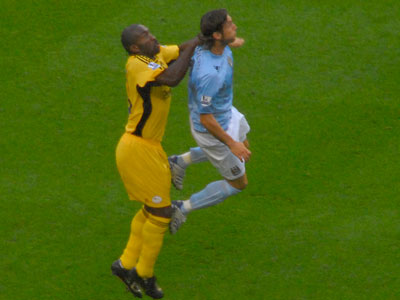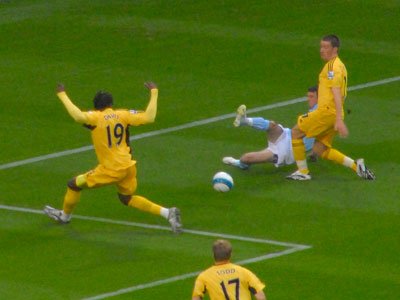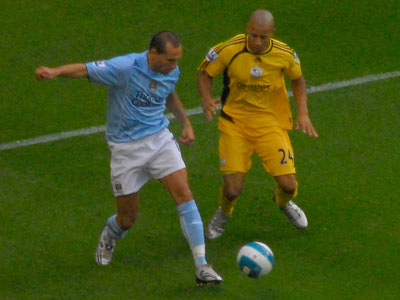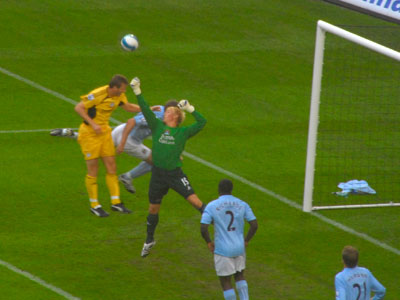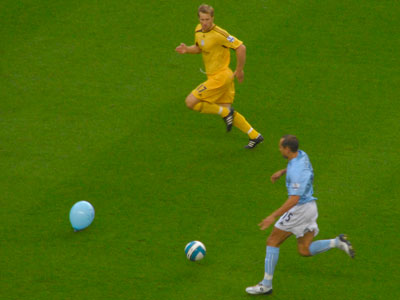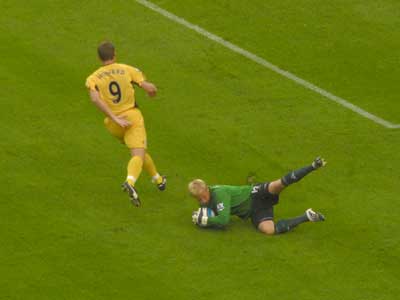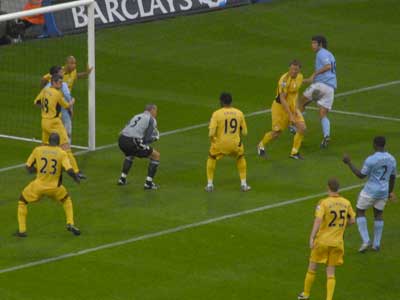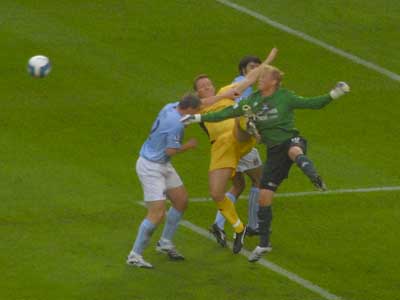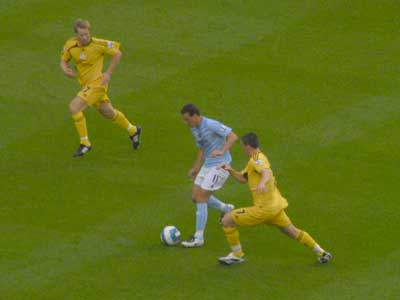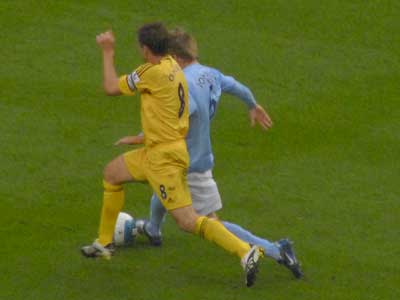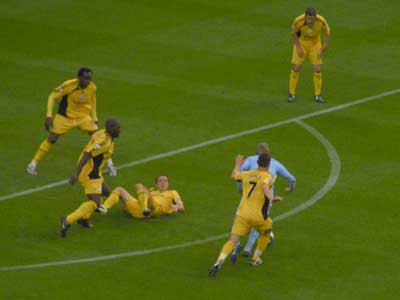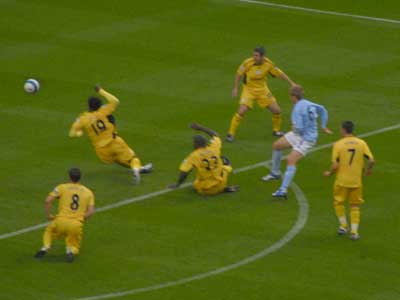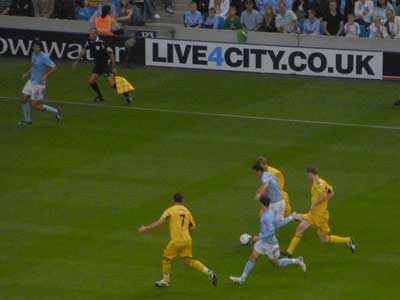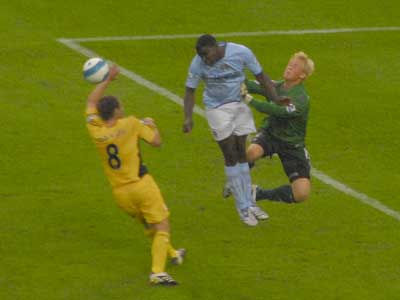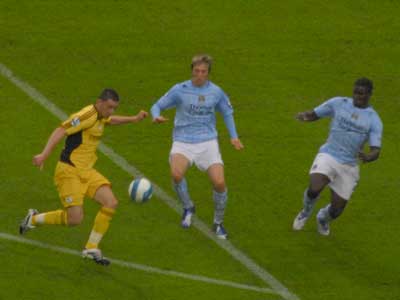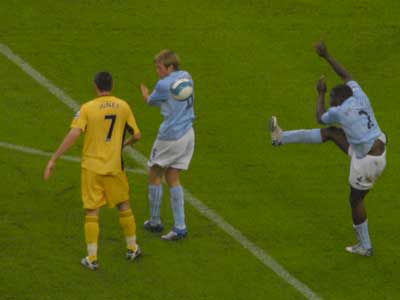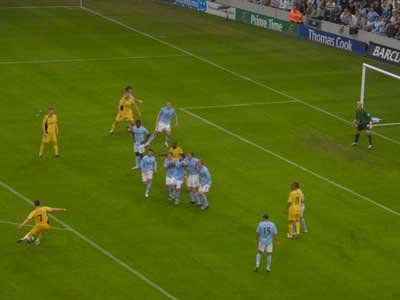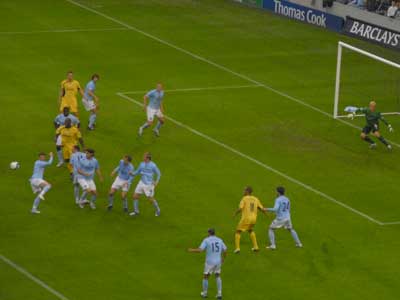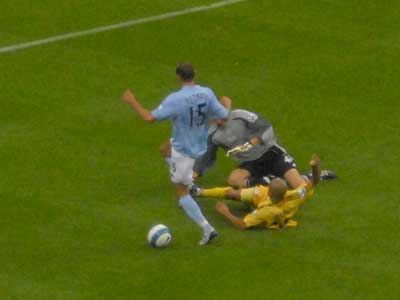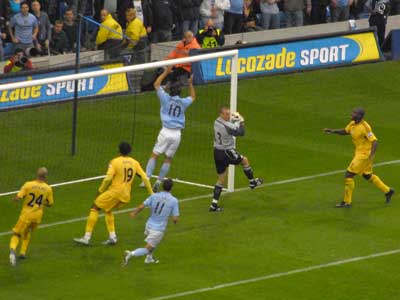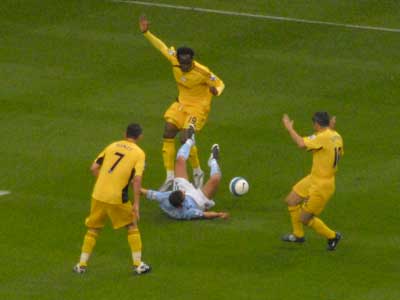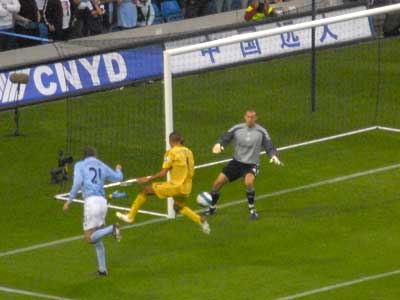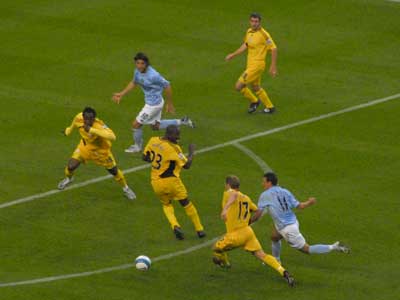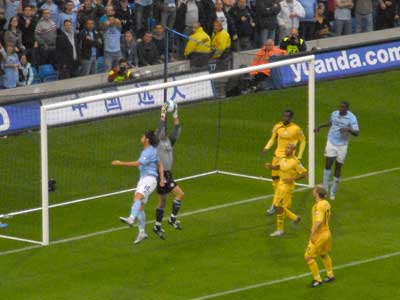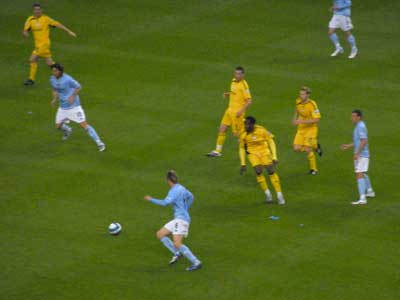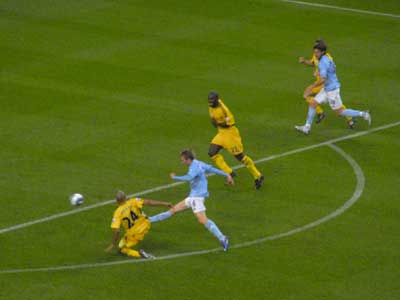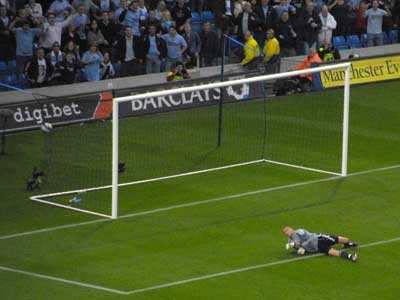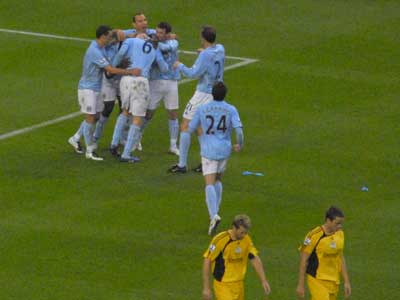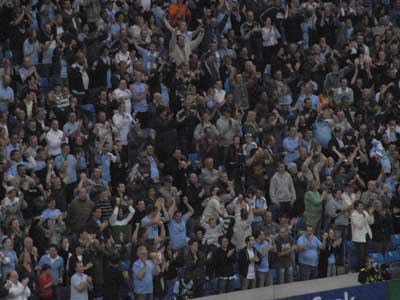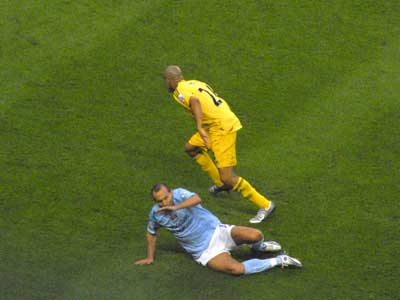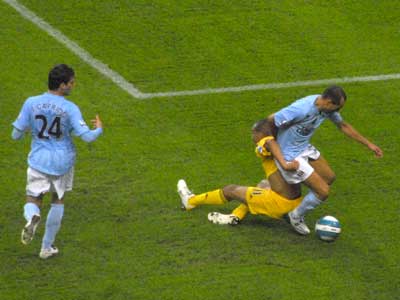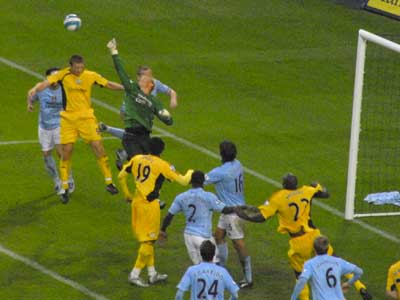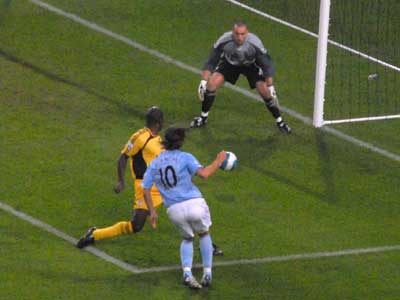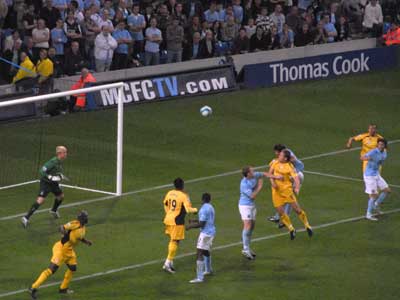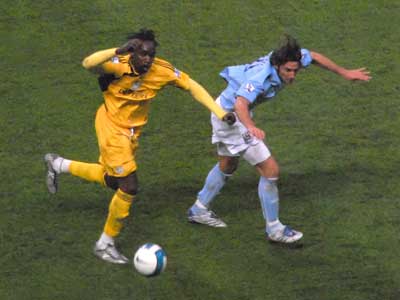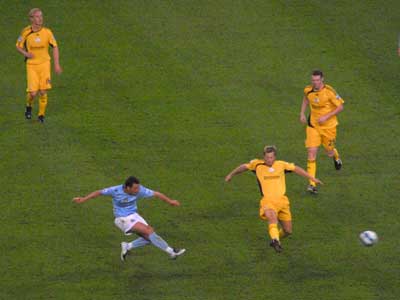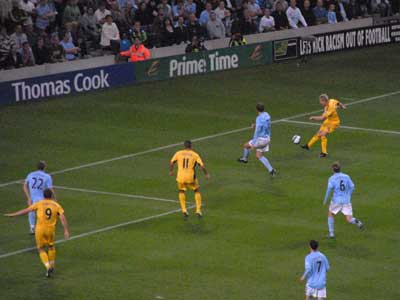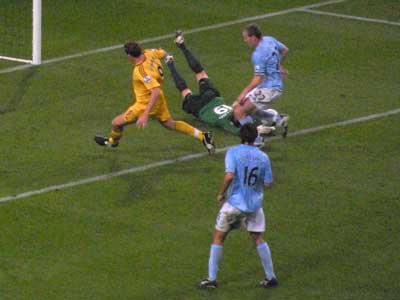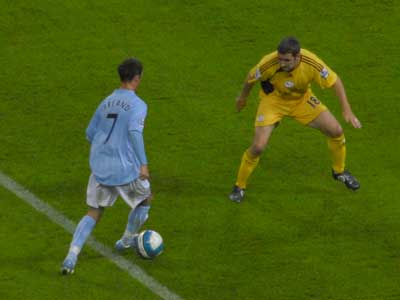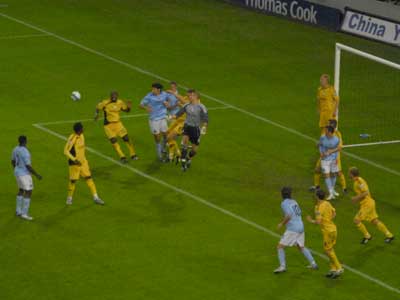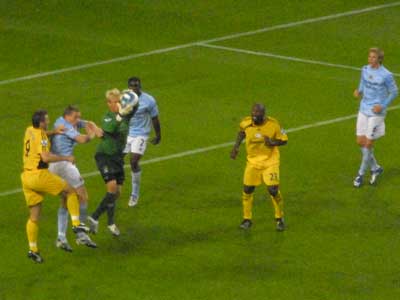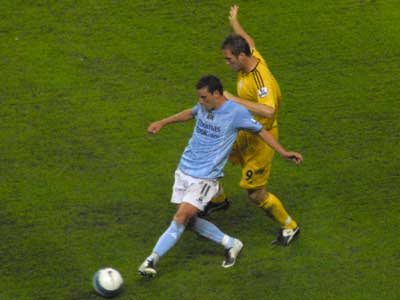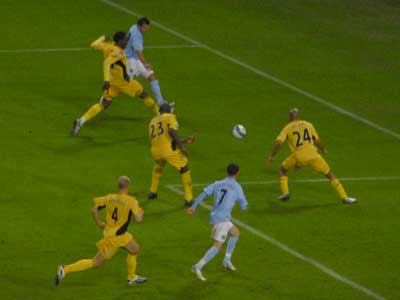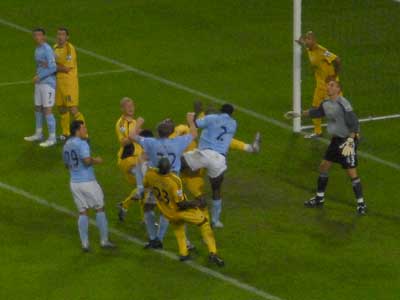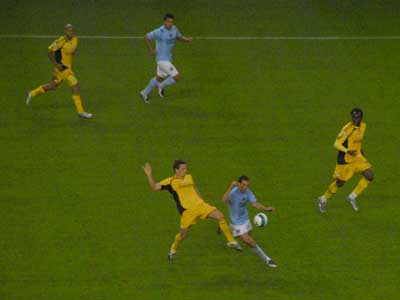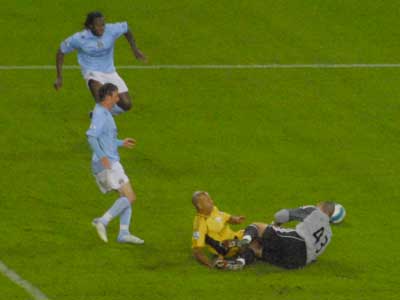 You had to pinch yourself just to check that what was happening at COMS was not all a dream. A new Chairman , new players, a new manager , two wins to start the season including the first home goal in the league since Jan 1st and we were actually playing good football . This can'tbe right! Its City we're talking about. Yes it's true but we must not be carried away by this. The 'derby' against United is coming up this weekend and I am so so sorry Ronaldo and Rooney will be missing. LOL. We will be able to gauge te progress of the team after 5 or 6 games. At the moment they are playing attractive football but I am sure things will speed up a bit when all the new players reach full fitness. However the way the team are using the ball.looking for the ball and running off the ball augers well for the future. To create better chances the tempo must go up and this will come. Well done to young Kasper for keeping a clean sheet so far. He has much to learn and I would be happier with a more experienced keeper. However it is now likely that Marco Amelia from Livorno will be in goal on Sunday
That looks remarkably like Premiership CEO Richard Scudamore getting some inside info from City CEO Alistair Macintosh
City were unchanged from the team that won at West Ham and played just one up front- Bianchi
Bianchi in a duel with Darren Moore
Derby manage to clear an Elano break down the right flank
Martin Petrov tries to get the better of Tyrone Mears who once came on for City as a sub against Forest in a 3-0 win in March 2002
Kasper Schmeichel punches clear at a corner
Petrov has two balls to contend with in this City attack
Kasper in action again foiling Steve Howard
Derby keeper Bywater has an easy catch to make
Kasper again clearing under pressure
Man to admire and watch Elano on the move again
Michael Johnson breaks through the middle of the park.......
........... and though surrounded by five Derby defenders manages to thunder in a shot .....
Alas over the bar
Elano watched by three Derby defenders and admired by the front row of the stand
Micah Richards clears from Oakley with Kasper hoping for the best
Richards clears from David Jones and the ball hits Johnstones back and referee Mason new to the Premiership gives a free kick!
Fortunately for City the free kick taken by Jones is blocked by the wall
Stephen Bywater, the Derby keeper first thwarts Petrov and then catches a corner
Elano comes a cropper at the hands of Claude Davis
The rejuvenated Hamann has a good chance following the free kick
Bywater catches under pressure from Bianchi
Elano was constantly putting pressure on the Derby defenders
Martin Petrov and Mears clash once more
Just before half time Johnson exchanged passes with Elano........
...... Bianchi brilliantly took his defender away to the right leaving the centre clear for Johnson to burst through and with the outside of his foot the young City player cracked the ball past the Derby keeper to give City a well deserved lead A cracking goal One worthy of Colin Bell at his best.
Michael Johnson was engulfed by his team mates and the stadium rose to applaud their home grown hero.
There was just time for Petrov to get booked for a stupid foul and for Kasper Schmeichel to clear a last attack before half time.
A good run down the right by Corluka lead to Bianchi having an weak effort saved by Bywater.
Dunne and company face another Derby attack
A dangerous attack by Derby County down the right lead to a good save by Kasper Schmeichel
Ireland is closely watched by Andy Griffin
Derby manage to clear a City corner
Kasper makes a good catch
Substitute Valeri Bojinov on after 77 minutes makes a dash down the left and forces a corner which is cleared
Generally City had control of the game passing the ball about to keep possession. Geovanni came on for Petrov and Mpenza ,back from injury had a few minutes at the end replacing a tired Elano. Bojinov gave some nice touches in his 13 minutes subs spell. All in all a comfortable win against a well organized hard working Derby County side who are not going to be a push-over. So the goal drought is over thanks to a wonderful strike by the ever maturing teenager Michael Johnson who was man of the match.
Team
K.Schmeichel 7: Corluka 6.5, Dunne 7, Richards 7, Garrido 6.5: Hamann 7: Johnson 8, Ireland 6.5, Petrov 6 : Elano 7.5: Bianchi 7