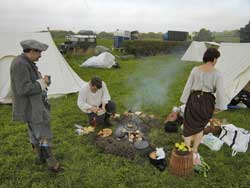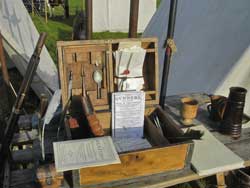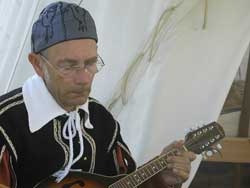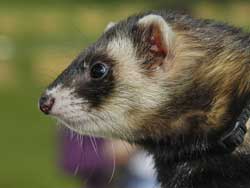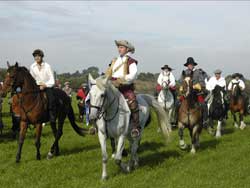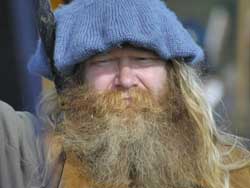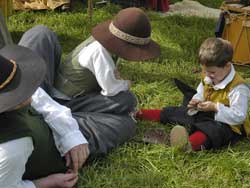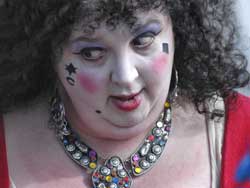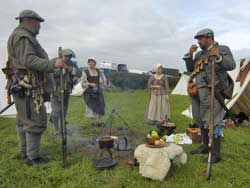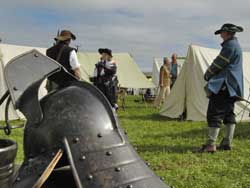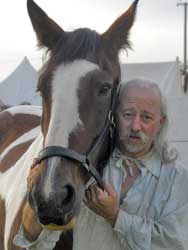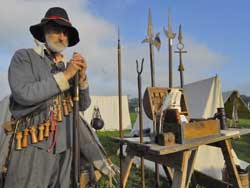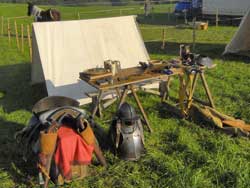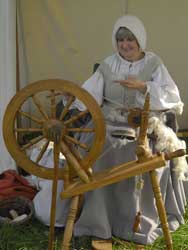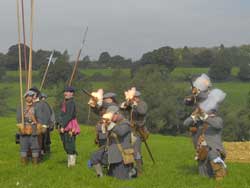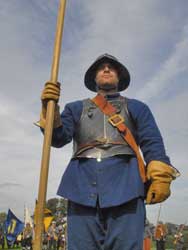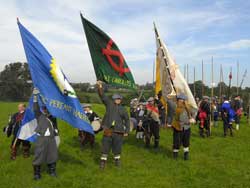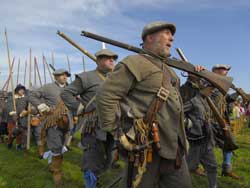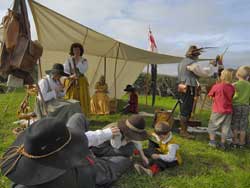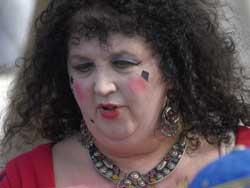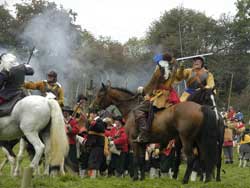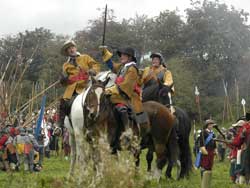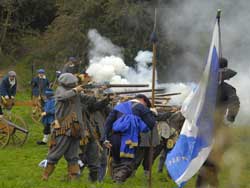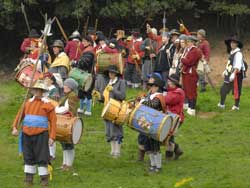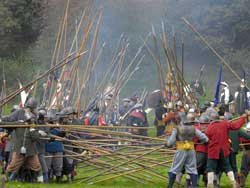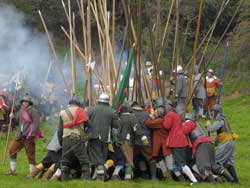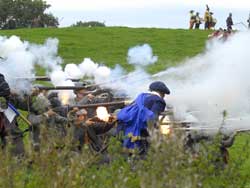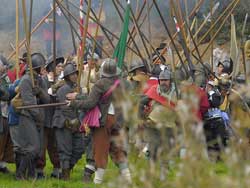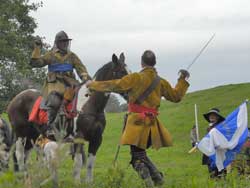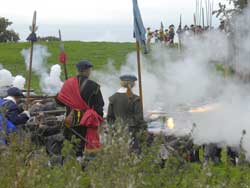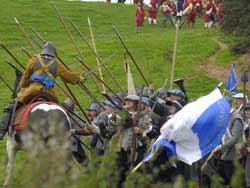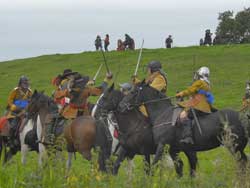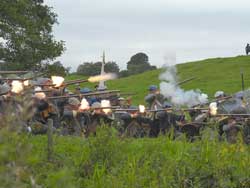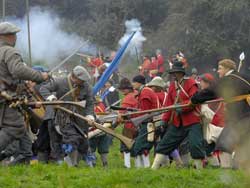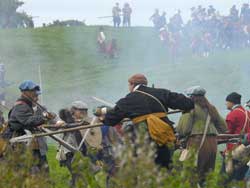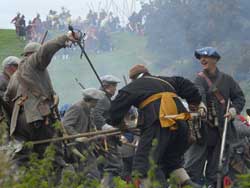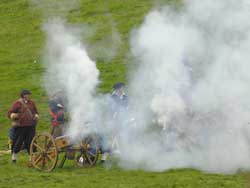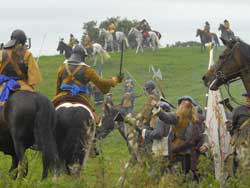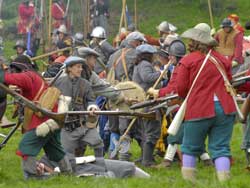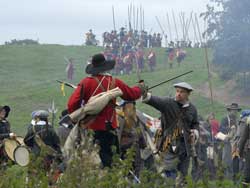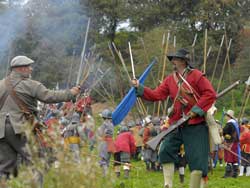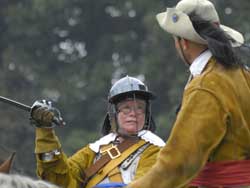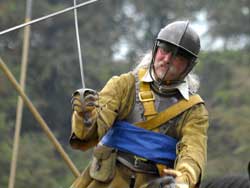 This was the second year the famous Sealed Knot had visited Sandbach to enact a skirmish that originally took place in September 1651. Royalist and Scots having being pursued after losing the Battle of Worcester were heading North and had stopped at Sandbach Service Station for a break .....oooops sorry .. stopped in Sandbach Town but were caught by the advance guard of the Parliamentarian army.
After the Sealed Knot arrived on the
Saturday -Day one
the main battle took place on the Sunday Day 2 . Before the actual battle re-enactment there was plenty for spectators to view. It was possible to see how people lived at that time and there were lots of souvenirs from the time.
Images on day 2 were taken on a Nikon D200 and a Nikon D70. Click on an image for a larger version
Nikon D70 Sigma12-24mm 14mm(21mm equiv.) 1/320 f9 500 iso
Nikon D70 Sigma18-200mm 18mm(27mm equiv.) 1/500 f11 500 iso
Nikon D70 Sigma18-200mm 55mm(82mm equiv.) 1/320 f9 500 iso
Nikon D70 Sigma18-200mm 200mm(300mm equiv.) 1/1250 f9
500 iso
Nikon D70 Sigma18-200mm 46mm(69mm equiv.) 1/500 f11
500 iso
Nikon D70 Sigma70-300mm 300mm(450mm equiv.) 1/2000 f5.6 500 iso
Nikon D70 Sigma70-300mm 195mm(290mm equvi.) 1/1600 f10
500 iso
Nikon D70 Sigma70-300mm 300mm(450mm equiv.) 1/1250 f5.6 500 iso
Nikon D70 Sigma70-300mm 70mm(105mm equiv.) 1/400 f10
500 iso
Nikon D70 Sigma70-300mm 70mm(105mm equiv.) 1/400 f10
500 iso
Nikon D200 Sigma 12-24mm 13mm (20mm equiv.)1/500 f11 500 iso
Nikon D70 Sigma12-24mm 16mm(24mm equiv.) 1/500 f11
500 iso
Nikon D200 Sigma 18-200mm 65mm (97mm equiv.)1/250 f8 500 iso
Nikon D200 Sigma 12-24mm 12mm (18mm equiv.)1/500 f11 500 iso
Nikon D200 Sigma 12-24mm 24mm (36mm equiv.)1/350 f11 500 iso
Nikon D70 Sigma70-300mm 240mm(360mm equvi.) 1/1600 f5.3
500 iso
Nikon D200 Sigma 12-24mm 13mm (20mm equiv.)1/640 f11 500 iso
Nikon D200 Sigma 70-300mm 220mm (330mm equiv.)1/500 f11 500 iso
Nikon D200 Sigma 18-200mm 18mm (27mm equiv.)1/750 f16 500 iso
Nikon D70 Sigma12-24mm 24mm(36mm equiv.) 1/640 f13 500 iso
Nikon D200 Sigma 12-24mm 16mm (24mm equiv.)1/500 f11 500 iso
Nikon D200 Sigma 12-24mm 13mm (20mm equiv.)1/640 f11 500 iso
Nikon D200 Sigma 12-24mm 20mm (30mm equiv.)1/640 f11 500 iso
Nikon D200 Sigma 18-200mm 34mm (46mm equiv.)1/500 f11 500 iso
Nikon D70 Sigma 18-200mm 78mm(117mm equiv.) 1/640 f10
640 iso
Nikon D70 Sigma 18-200mm 65mm(97mm equiv.) 1/640 f5.3
640 iso
Nikon D70 Sigma 18-200mm 65mm(97mm equiv.) 1/640 f5.3
640 iso
Nikon D200 Sigma 70-300mm 110mm (165mm equiv.)1/500 f8 640 iso
Nikon D200 Sigma 70-300mm 135mm (192mm equiv.)1/500 f8 640 iso
Nikon D200 Sigma 70-300mm 95mm (142mm equiv.)1/500 f8 640 iso
Nikon D200 Sigma 70-300mm 120mm (180mm equiv.)1/500 f8 640 iso
Nikon D200 Sigma 70-300mm 100mm (150mm equiv.)1/500 f8 640 iso
Nikon D200 Sigma 70-300mm 70mm (105mm equiv.)1/500 f8 640 iso
Nikon D200 Sigma 70-300mm 82mm (123mm equiv.)1/500 f11 640 iso
Nikon D200 Sigma 70-300mm 86mm (129mm equiv.)1/500 f8 640 iso
Nikon D200 Sigma 70-300mm 135mm (197mm equiv.)1/500 f8 640 iso
Nikon D200 Sigma 70-300mm 78mm (117mm equiv.)1/500 f11 640 iso
Nikon D200 Sigma 70-300mm 86mm (129mm equiv.)1/500 f11 640 iso
Nikon D200 Sigma 70-300mm 110mm (165mm equiv.)1/500 f8 640 iso
Nikon D200 Sigma 70-300mm 120mm (180mm equiv.)1/500 f8 640 iso
Nikon D200 Sigma 70-300mm 120mm (180mm equiv.)1/500 f8 640 iso
Nikon D200 Sigma 70-300mm 170mm (255mm equiv.)1/500 f8 640 iso
Nikon D200 Sigma 70-300mm 95mm (142mm equiv.)1/500 f8 640 iso
Nikon D200 Sigma 70-300mm 170mm (255mm equiv.)1/500 f8 640 iso
Nikon D200 Sigma 70-300mm 95mm (142mm equiv.)1/500 f11 640 iso
Nikon D200 Sigma 70-300mm 86mm (129mm equiv.)1/500 f5.6 640 iso
Nikon D200 Sigma 70-300mm 195mm (292mm equiv.)1/500 f5.6 640 iso
Nikon D200 Sigma 70-300mm 195mm (292mm equiv.)1/500 f5.6 640 iso