August 2008
Manchester City 1 AC Milan 0 August 9th 2008
Thomas Cook trophy att.22,000
The start of the season looms nearer as City picked up their first ( and not only I hope) trophy of the season by beating AC Milan by a single goal. A really poor crowd - it was live on C5 - turned up to see an interesting game with several plus points for City. The debut of Ben Haim looked very promising and the welcome return of Bojinov from injury and his obvious delight at scoring the only goal were clear positives for the home supporters who must be worried by events in Bangkok and the imminent possible transfer of Corluka to Spurs.The shortage of available cash to make a positive bid for a certain striker from Blackburn will be the reason for the move as Corluka is a talented defender with lots of skill and international experience. Maybe manager Hughes believes he is not so quick in recovery as Richards would be at right back and with new signing Ben Haim to partner Richard Dunne in the centre of defence we still have Onuoha as a back-up defender. As Dunne is suspended for couple of games at the start of the season we are likely to see a back four of Onuoha, Ben Haim, Richards and Ball . A midfield of Elano, Johnson, Fernandes and Petrov with Bojinov and Vassell as strikers until Jo returns to the UK.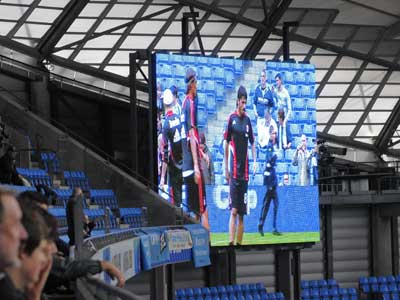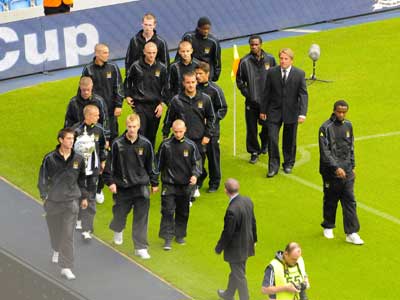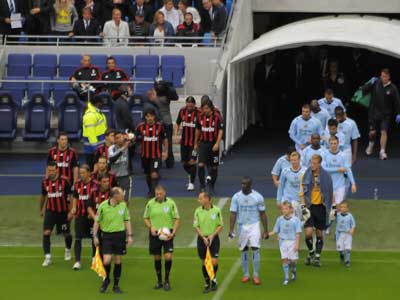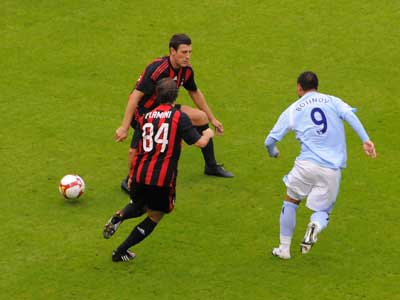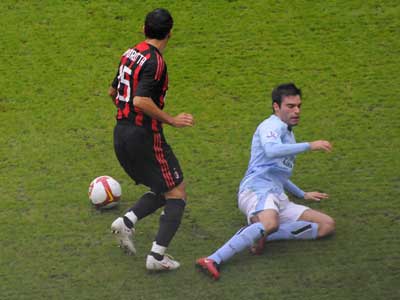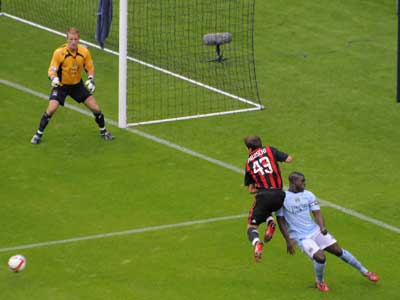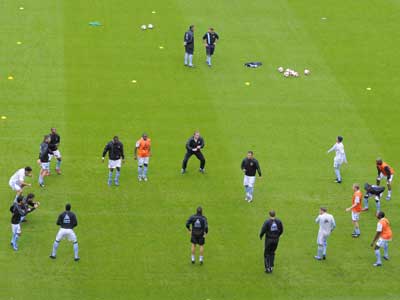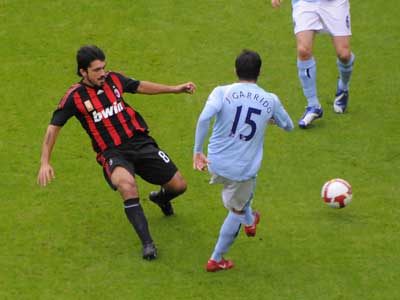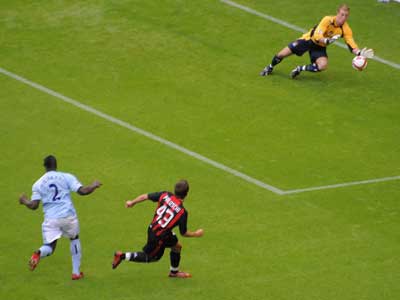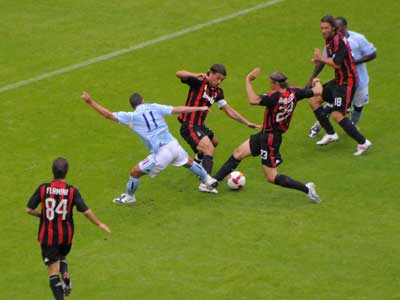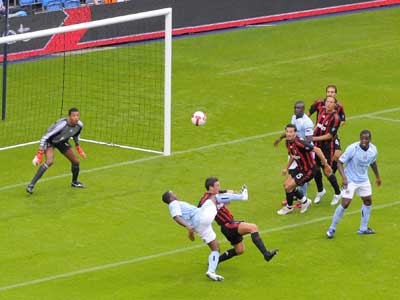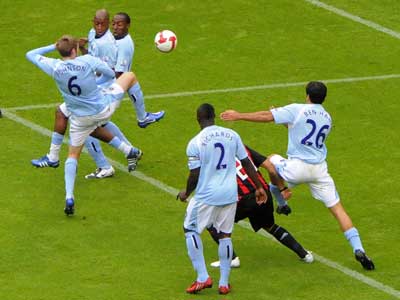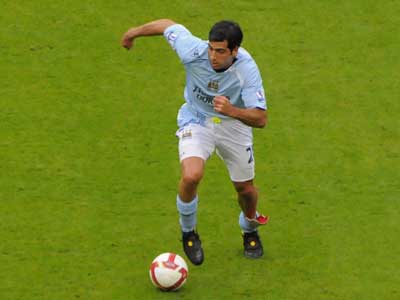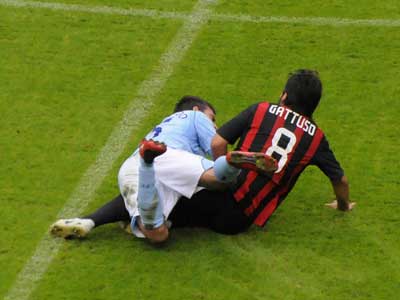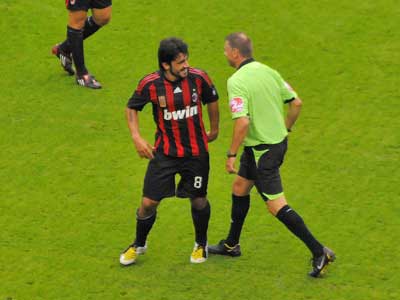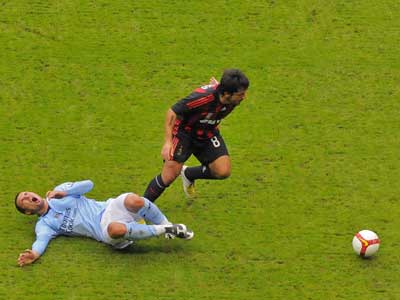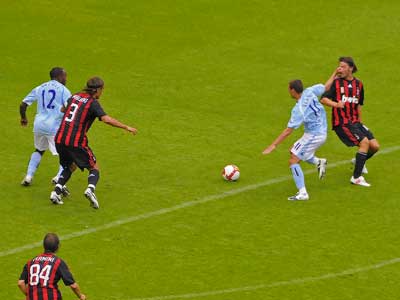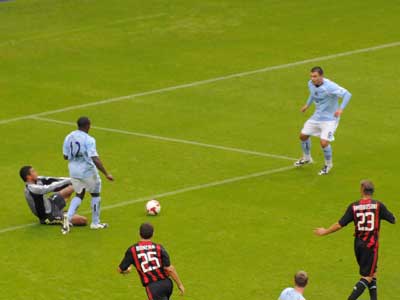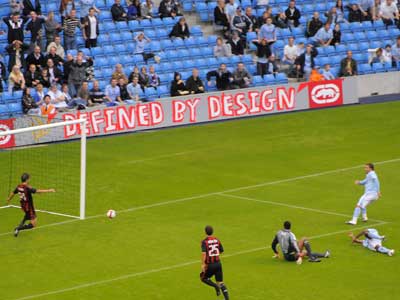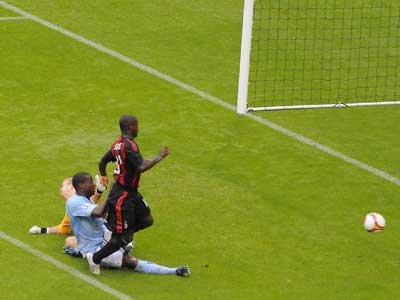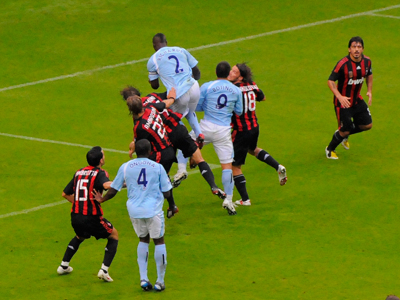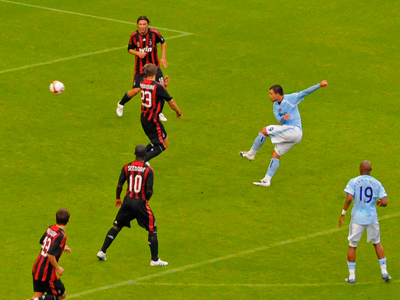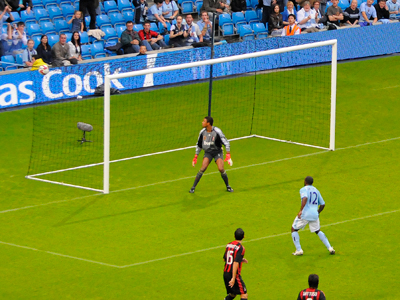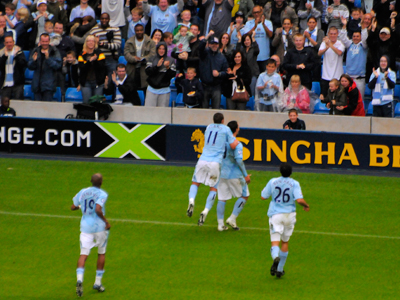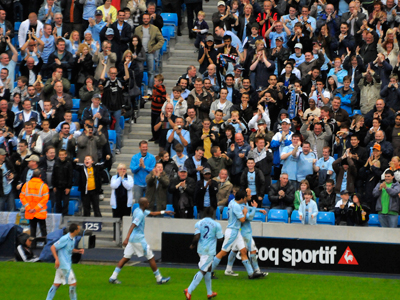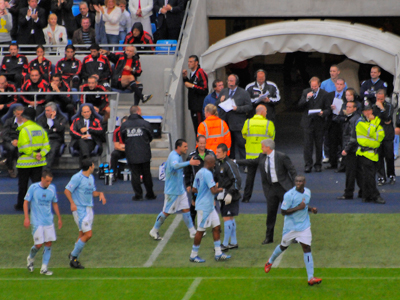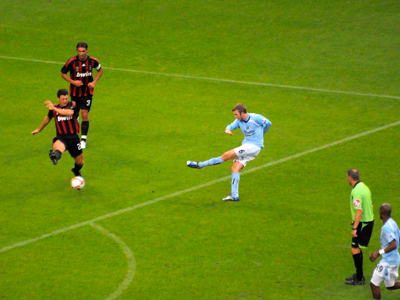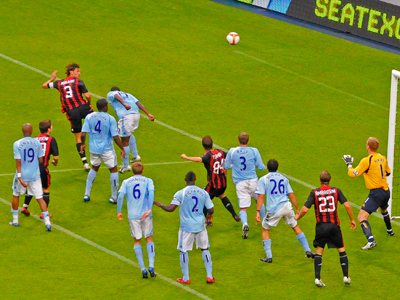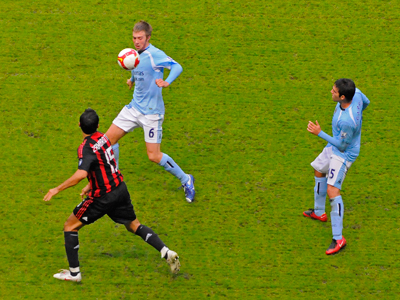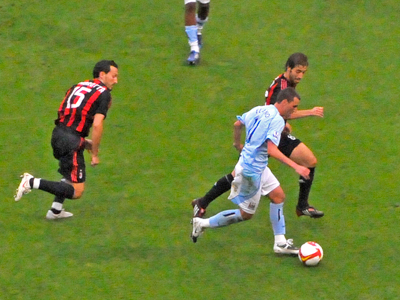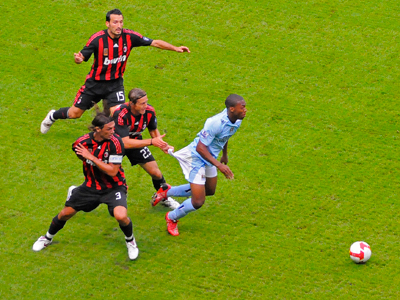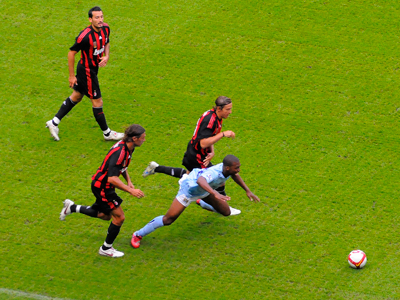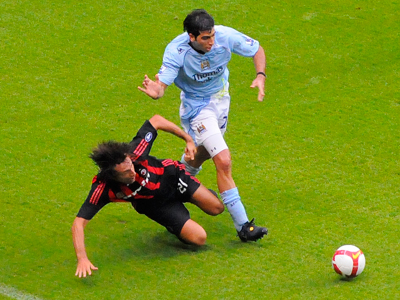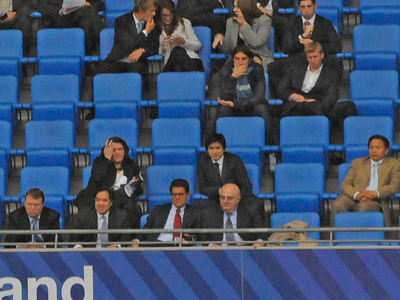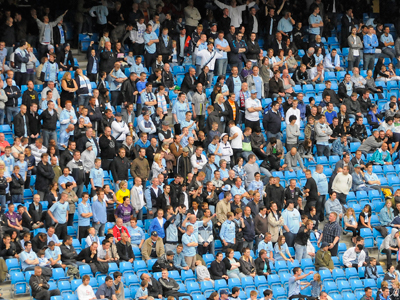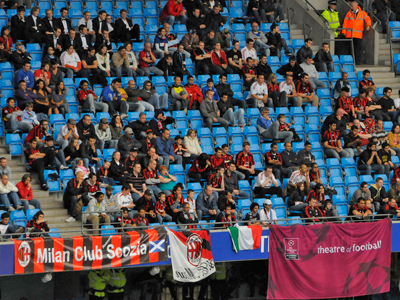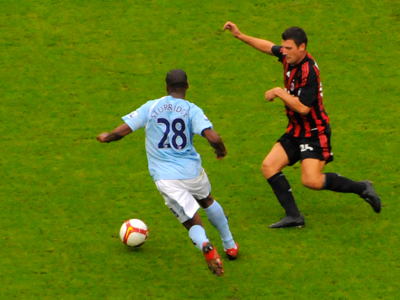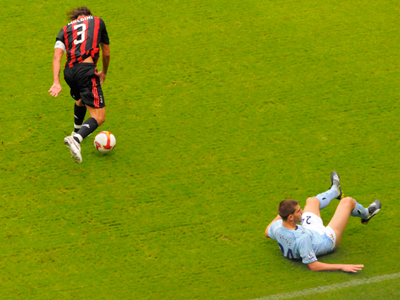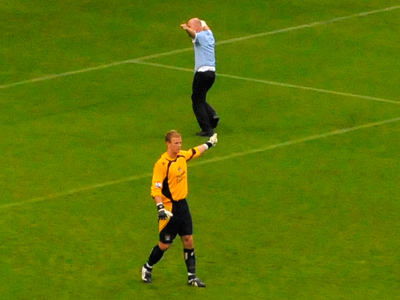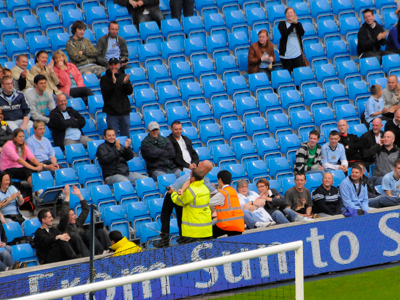 We had a first look at our new video screens and apart from initial flickering and a total blackout while they fixed the problem they looked OK. I thought the replays could have done with a brightness lift however.
The absence of Corluka from the warm up was sure sign that something is going to happen regarding the defender.
The reserve side showed off the Pontins Cup they won by beating Notts Forest 4-2 a week or so ago
Notable absentees from the City side were Corluka and Petrov ( no doubt rested ) Vassell was partnered by Bojinov up front
Bojinov was soon in action showing plenty of speed and enthusiasm
Ben Haim too gave us glimpses of his abilities in defence
famous Italian defender Gattuso clashes with Garrido
Hart makes a good save from Alberto Paloschi
Richards managed to block the intended cross by the Italian after Harts save
Elano fails to break through the Milan defence
An Elano corner is cleared by a defender
Johnson clears a Milan corner
Milan coach Ancelotti watches as Bojinov is avoiding Flamini
A poor pass from Bojinov gave the ball away in midfield and it lead to a powerful shot by Paloschi which was well saved by Joe Hart
From the resultant corner good punch out by Hart clears the danger
New signing Ben Haim showed plenty of class in defence
Gattuso -the snarler - tackles Garrido and gets a friendly ticking off by referee Halsey
Elano tries the pinch nose tactic! -but his final shot goes wide.
A good move by City should have ended with a goal but Flamini saved on the line from Bojinov when all looked lost for Milan
At the other end Joe Hart got injured while trying to save from Seedorf. He recovered after treatment.
An Elano corner is cleared by the Milan defence
After a long throw on the left by Ball Valeri Bojinov hit a splendid first time half volley ......
.....right into the top corner with keeper Dida helpless. the time -37 minutes!
He celebrated a very welcome goal with first the crowd
... and finally his manager
Johnson shoots wide when fed by Bojinov
The ageless Maldini ( now 40 ) heads at a corner
Johnson on the ball looks to have booked a midfield place in the coming season
Elano looks as though he has recovered some of his form he lost at the end of last season
Ambrosini pulls Danny Sturridge back by his shorts
Sturridge had come on for Bojinov at half time
Ban Haim clears his lines
No doubt watching Hart and Johnson with interest was the England manager
The South stand were their usual noisy self while in the small Milan contingent were several spectators at the back wearing dinner jackets!
In the final minutes both Sturridge and Evans tried to catch the eye of their manager. Hart had little to do in the second half as both side made substitutions. City just about deserved their one nil win and showed progress as the season and the next round of the UEFA Cup nears.
Team
Hart 7: Onuoha 6.5 Richards 7(Hamann 6) , Ben Haim 7, Ball 6.5 (Dunne 6.5): Garrido 6.5 (Etuhu 6) Fernandes 7, Johnson 7, Elano 7 (Ireland 6) , Bojinov 7.5 ( Sturridge 6.5), Vassell 7 (Evans 6)
Joe Hart didn't have much to do in the second half - save point out to the referee that there was an uninvited guest on the pitch in the closing minutes. The visitor soon got his marching orders .
In the end it was a fairly easy win for City who passed the ball well and with luck might have scored a couple more.