August 2006-2007
City 0 F.C.Porto 1 - Thomas Cook Trophy
Aug 12th 2006 att. 20,000
This was a pretty poor game as friendlies go with a poor crowd- little atmosphere - and little sparkle from City. I suppose from City's point of view it is a useful exercise to check all the facilities and safety precautions before the season starts and it gave some of the players more match fitness but there were some worrying aspects that will be needed to be sorted before the season starts in earnest.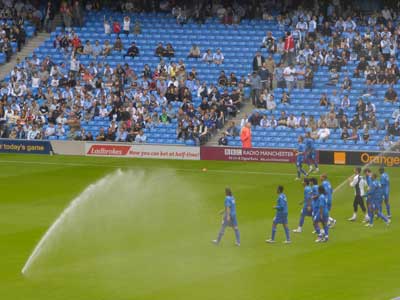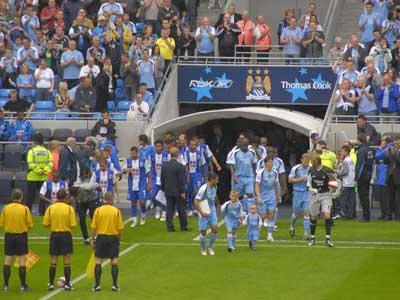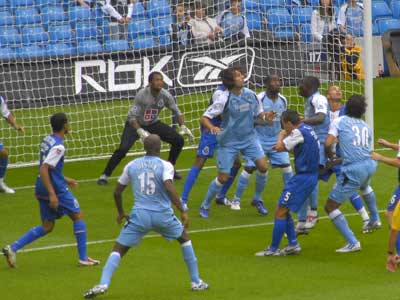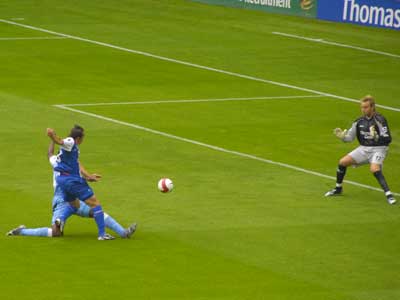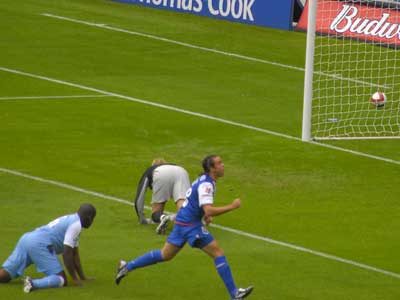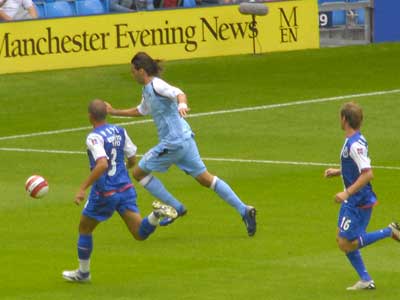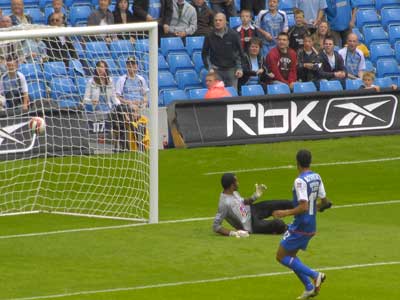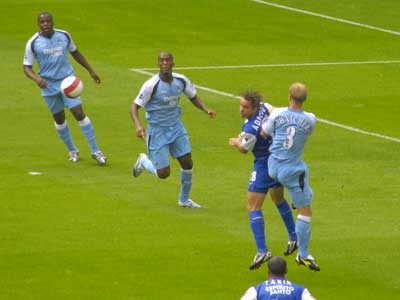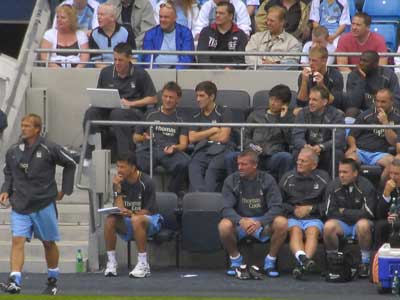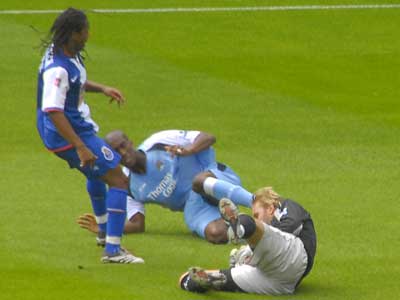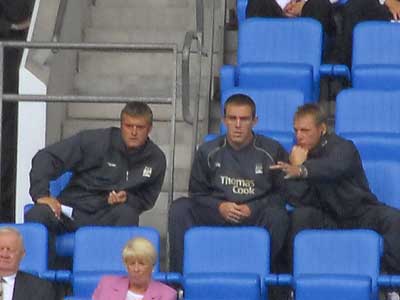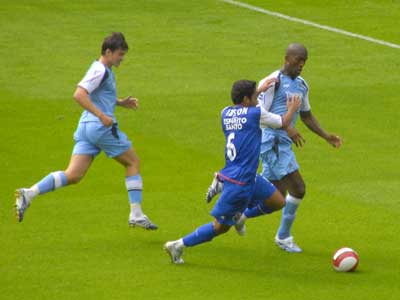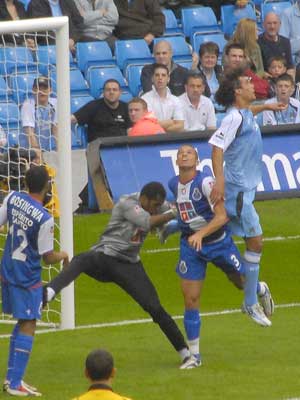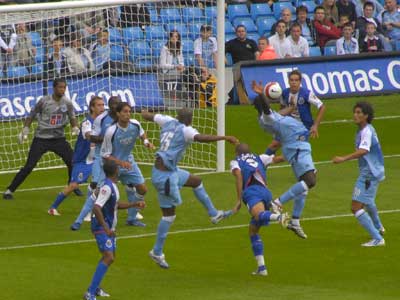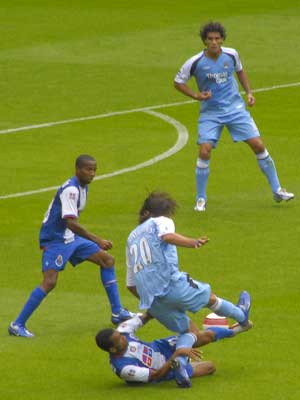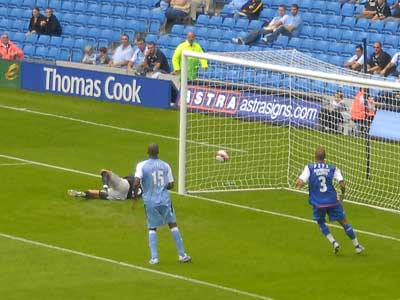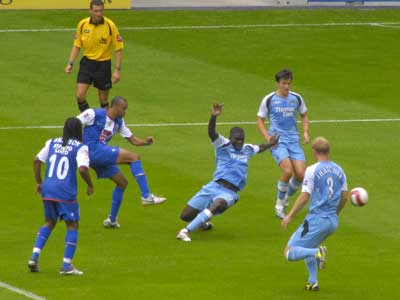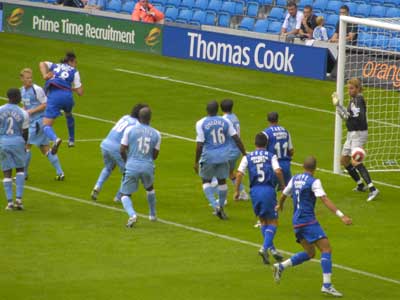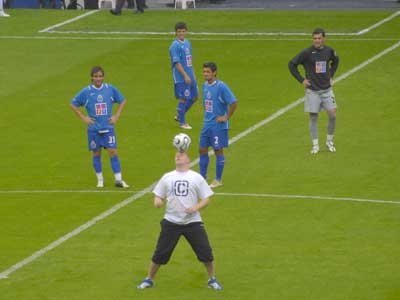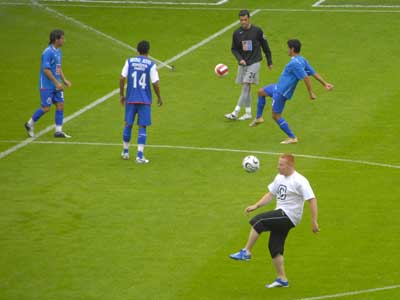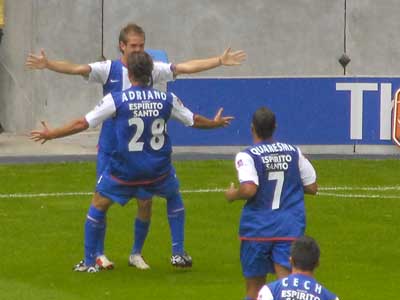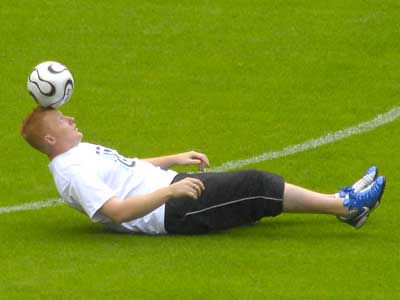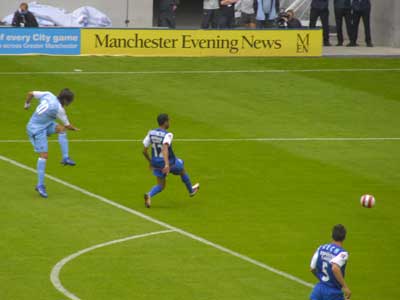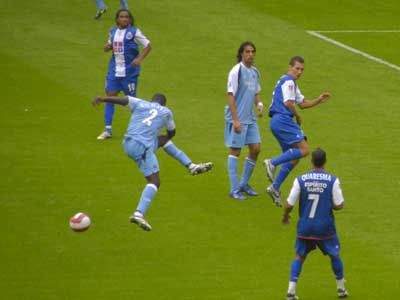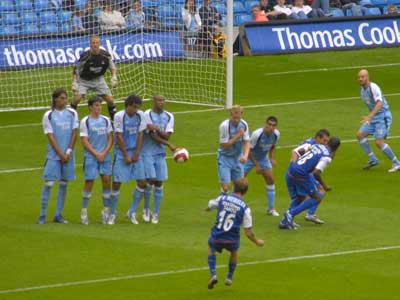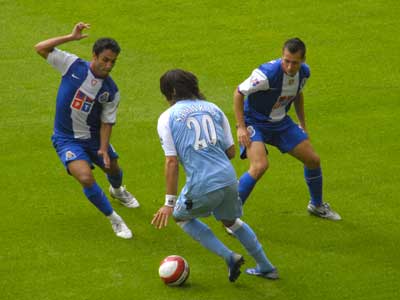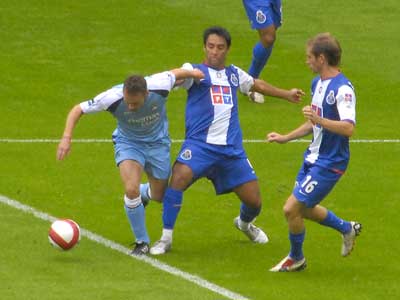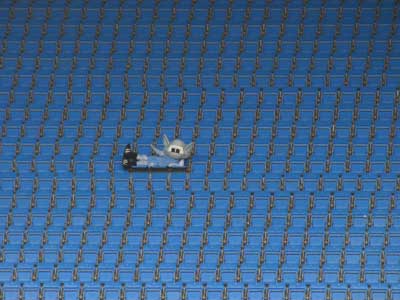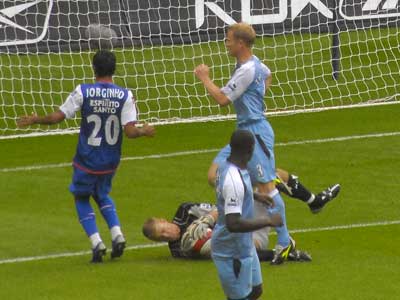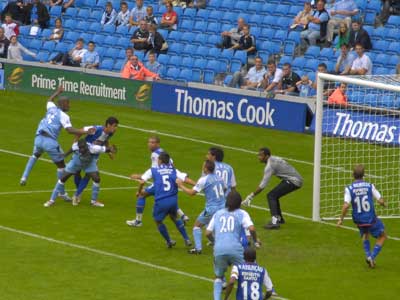 The sudden start of the sprinklers gave the visitors an early shower as they were warming up.
City had Reyna as captain and there were home debuts for Dabo and Corradi. Weaver was in goal with Onuoha making a return after his injury.
City playing in a 4-3-3 formation with Vassell Corradi and Samaras upfront got a few corners early on but failed to hit the target.
Porto had the best of the early chances when Adriano put the ball wide when he should have scored.
Soon after City had a chance when Samaras broke down the right after a defensive error but his final shot hit the side netting
Although City had a fair amount of the play the Portuguese side with a good sprinkling of Brazilian players were passing the ball better and often looked dangerous. Distin and Onuoha were kept busy - the latter looking as though he has 'thickened out' since his last appearance.
It was unusual to see Steve Wrigley and not Stuart Pearce directing operations on the touchline but there he is up in the stand pointing something out to injured skipper Richard Dunne. He was back on the touchline after half time.
Ibsen tries to get past Distin
Another City corner fails to achieve a chance
Corradi attempts to head at a corner
Samaras is tackled with Corradi looking on
Weaver saves at the foot of the post from a free kick
Another Porto shot - fortunately it goes wide
Just before half time Porto scored. . A good corner was headed in by Adriano who did not appear to be marked!
A lesson here I think.
One of the few good things to watch in this game was the half time display of ball skills by this chap who was watched and applauded by the Porto subs. I would like to say who it was but the P.A. system was indistinct and there was nothing in the programme.
An embarrassing moment for Richards when he completely missed his kick.
A Samaras shot hit the post after beating the keeper
A Porto free kick is blocked by the wall. Hart replaced Weaver in goal after 60 minutes.
Samaras takes on a couple of defenders.
Paul Dickov enlivened the forward line when he came on for Reyna after 70 minutes.
Sole spectator in the third tier was Moonbeam .
Hart had to make a couple of saves at the feet of opposing forwards
City did have some chances at the end of the game but a save by their keeper thwarted Dickov.
I am not too sure whether a 4-3-3 formation will suit our team and there is a big question mark about the left midfield position. Miller came on for a short period but I am not convinced he is ready yet and though Samaras played on both flanks I think he is better upfront with Corradi. Vassell appears to have lost something since he arrived and there were time when we badly needed someone going down the right wing. Perhaps new signing Hatem Trabelsi will fill the bill as an attacking right back. There will be more competition in midfield where nobody is certain of his place. I hope Distin stays as the combination of Dunne and Distin generally works quite well and I was not convinced of Onuoha's fitness. I feel the team and formation will be selected on a match by match basis depending on the opposition and whether it is home or away.
Team
Weaver 6 (Hart 6): Richards 6 - Onuoha 5 ( Mills 6) - Distin 7 - Thatcher 6: Reyna 6 ( Dickov 6) - Barton 7 - Vassell 5 (Miller 5) Corradi 6 - Samaras 6

City 0 Portsmouth 0
Aug 23rd 2006 att. 37,214
City's first game of the season will be remembered by many for the wrong reasons. The only major incident was the horrendous tackle ( and I use the term tackle advisedly) by Thatcher on Mendes. All the spectators round me thought it should have been an instant red card and were astonished to see Mr Gallacher only dish out a yellow. I can only think he gave it for dangerous play as he was some distance away and could not have seen the deliberate elbowing by Thatcher who had ran at the Portsmouth player at speed and from some distance. The replays later on TV confirmed my worst suspicions at the time. I don't want to see Thatcher play again in City's team. He has already blotted his copybook this season with giving away a needless free-kick to give Chelsea the lead last week and in China he was guilty of some bad tackles. I cannot understand what Pearce sees in this player, especially when he has got Jordan for that position. It was one of the worst tackles I have seen in many years of watching football and if it had taken place out in the street Thatcher would have been spending the night in a police cell.
The game itself was a non event. City rarely threatened the visitors goal with James on his return to City having little to do. The efforts in the final third by City were pathetic at times and the passing really poor. What is the point of hoofing the ball in the air with tiny Vassell and Dickov upfront. Why does Barton take all the corners and most free-kicks. Is there nobody else capable? It would not be too bad if they were any good. When did we last score from a dead ball situation? Portsmouth were not much good either and this should have been three points and the Chelsea game last week forgotten. I am afraid the end of last season continues.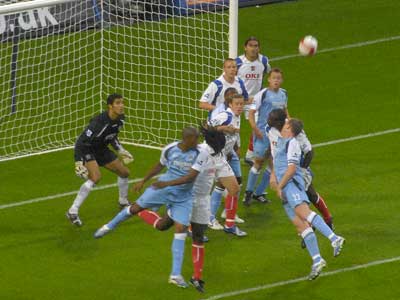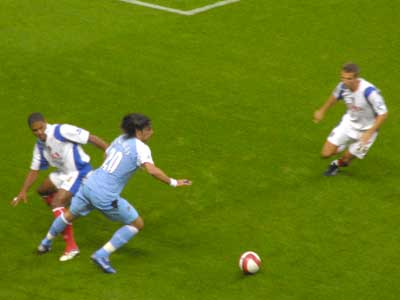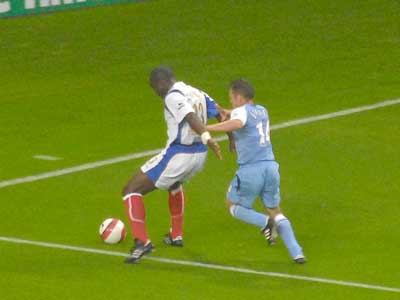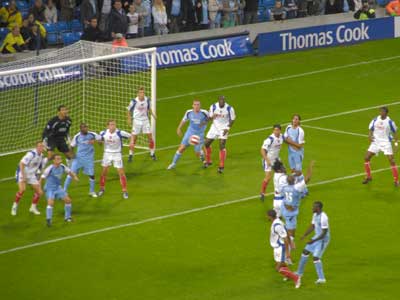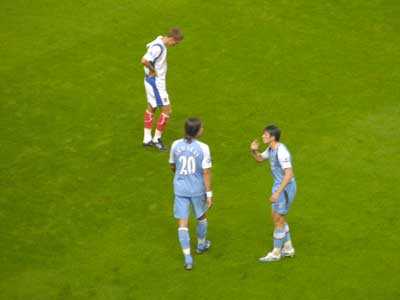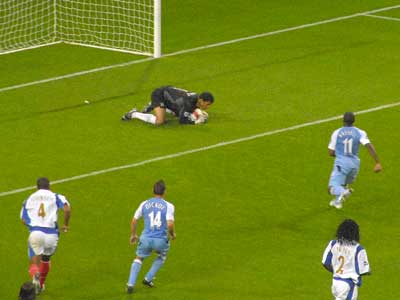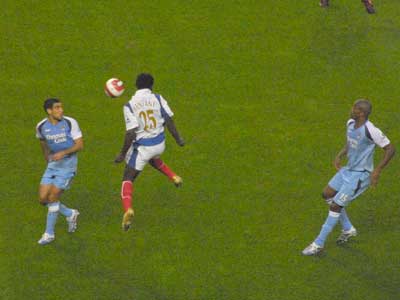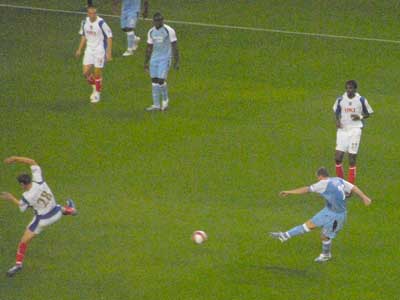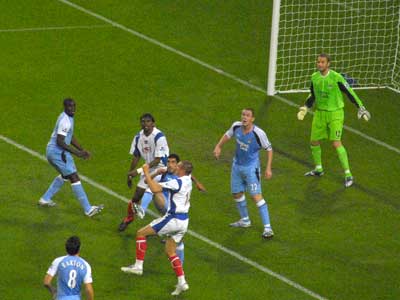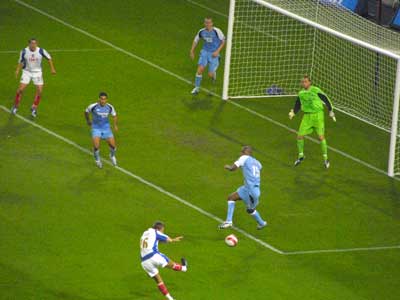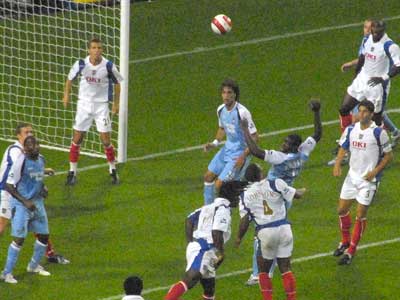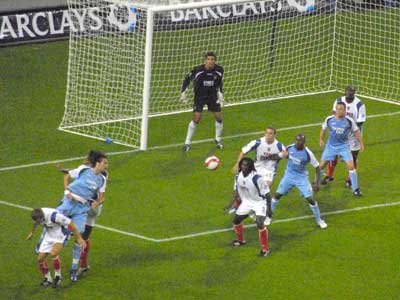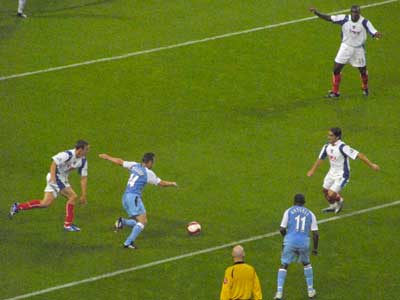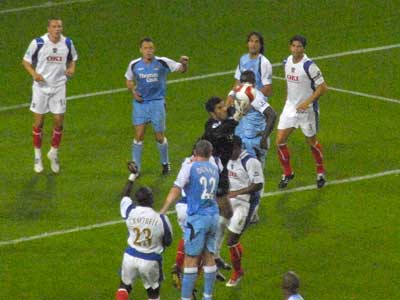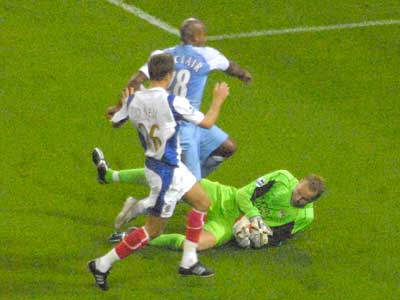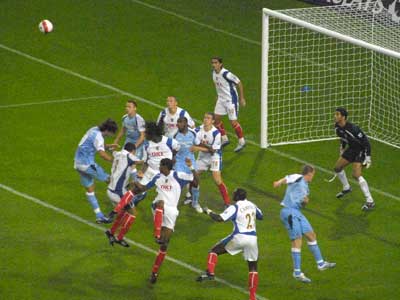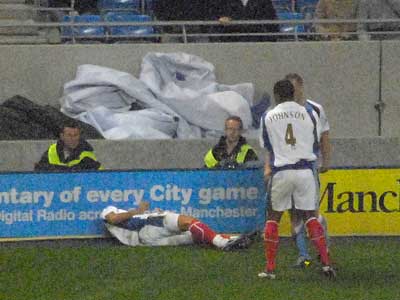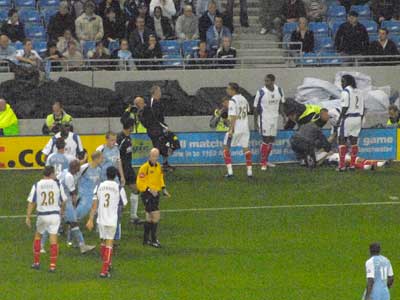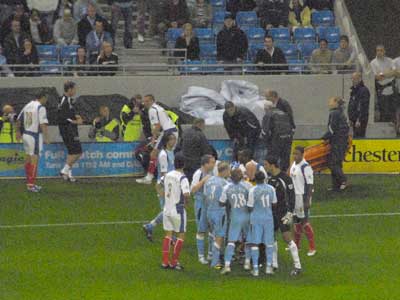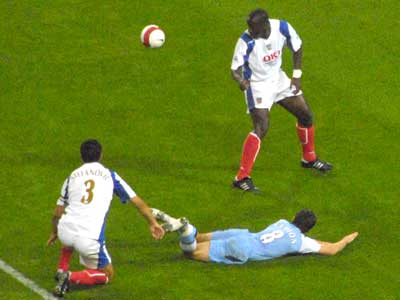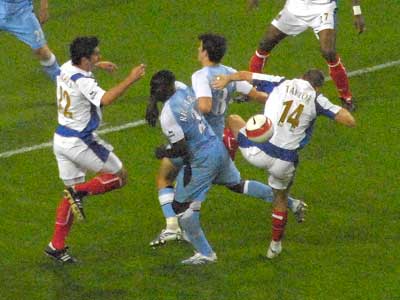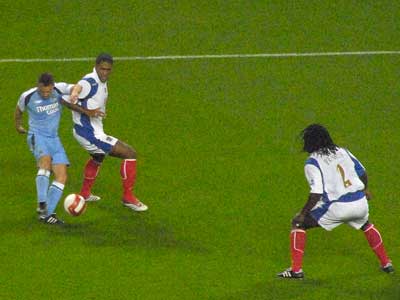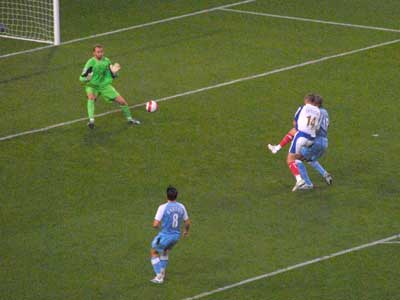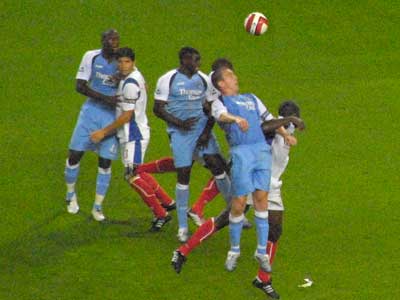 City put early pressure on the Pompey goal but it all came to naught and even at this early stage it was obvious that Samaras is out of position and we badly need a left sided midfielder with some creativity.
Paul Dickov was his usual self hounding the visitors defence and in this clash with Sol Campbell rescued the ball from the line and created a half chance from nothing
Yet another City corner is cleared.
Samaras gets some stick from Barton after kicking the ball out when one of the Pompey players was injured. Had the club not informed all the players of the change in the rules? Samaras probably thought it was all Greek to him!
James goes down to save from Barton but the shot was right at him.
Reyna and Distin track Benjani Mwaruwari
.
Sean Davis takes cover as Richard Dunne lets fly from long range but the shot goes wide.
City defend a free -kick. Good to see Nicky Weaver back in action after so long an absence.
A Samaras header from a Dunne pass goes harmlessly over the bar
Gary O'Neil missed a good chance for Portsmouth after 33 minutes when he mishit his shot from a good position
City managed to get plenty of corners but there as little variety in them and James was rarely troubled.
Although Dickov and Vassell worked hard upfront it was rare that chances were made and the lack of a creative player with the skills to beat a defender and open up more space was very evident. Often City players would be waiting for a pass instead of going to meet the ball. The lack of an increase in tempo in the opposing last third gave their defenders ample time to get organized.
Under pressure from Dunne James makes good catch at a corner
Weaver has to go down at the feet of O'Neil to save
Another blank result from City corner.
This is the result of the 'tackle' by Thatcher I mentioned earlier.
Pedro Mendes had to go to hospital after being knocked unconscious by a blow by Thatchers arm which appeared to be raised just before he clashed with the Portsmouth player.
Barton falls in the area but there was no foul
Paul Dickov did his best for 90 minutes and could not be faulted for effort.
Weaver saved the day after almost 70 minutes when he blocked a shot by Taylor who was well placed
Despite the referee adding four minutes of extra time neither City nor Portsmouth looked capable of scoring and this dire game came to an end.How Portsmouth beat Blackburn three nil last weekend is a mystery. City have yet to score this season and with Arsenal here on Saturday that may continue on this form. Europe seems million miles away and so does a full house with City's lowest attendance for a premier League game at Eastlands.
Team
Weaver 7: Richards 6. Dunne 7. Distin 6.5. Thatcher 4: Sinclair 6. Barton 6.5. Reyna 6 ( Ireland 6) Samaras 6 (Miller 6): Dickov 6.5. Vassell 6: