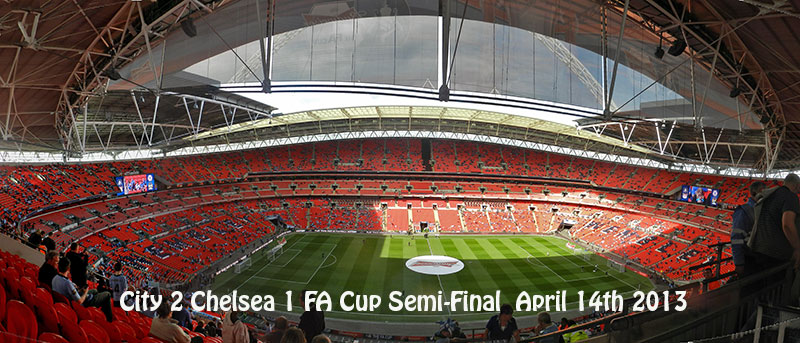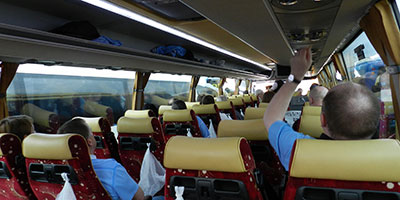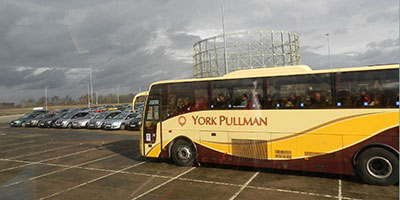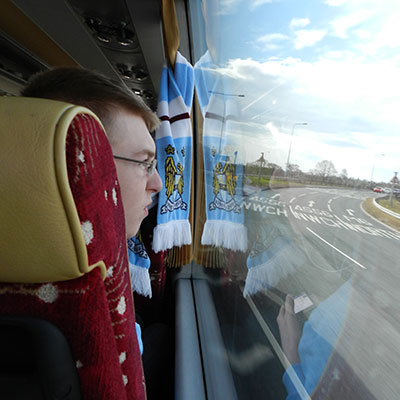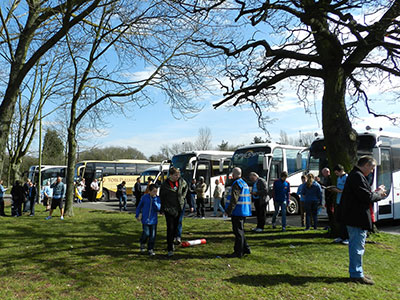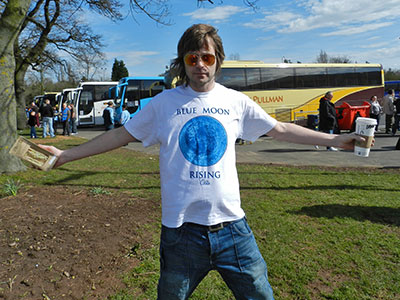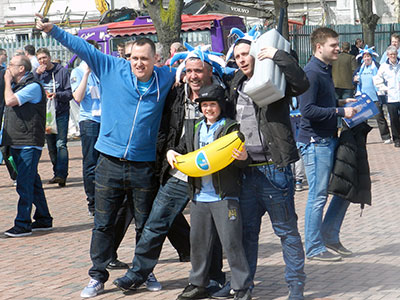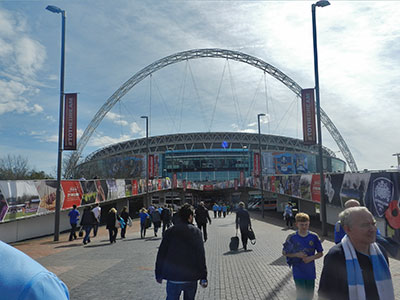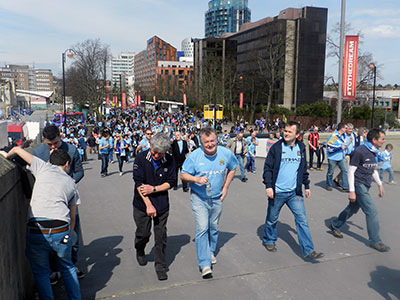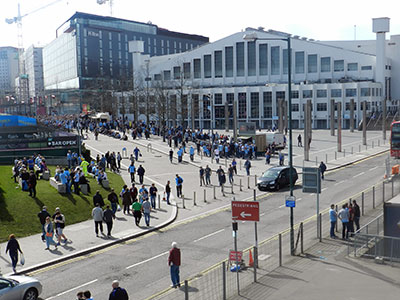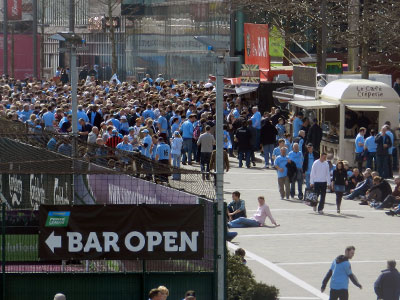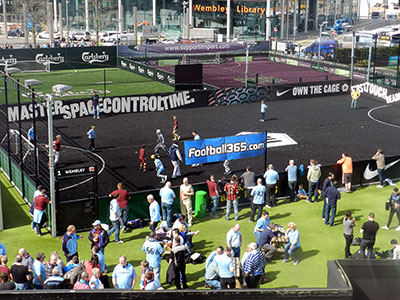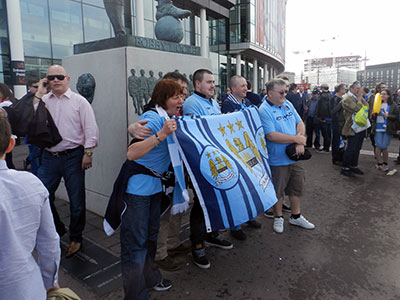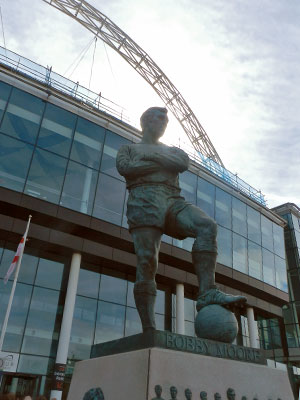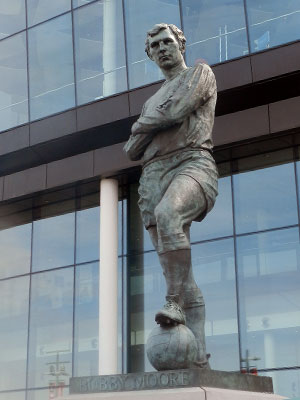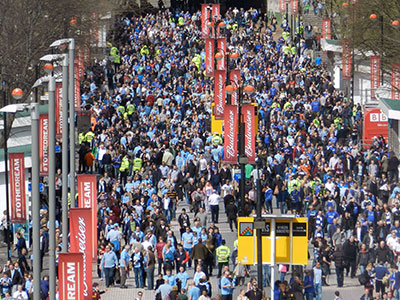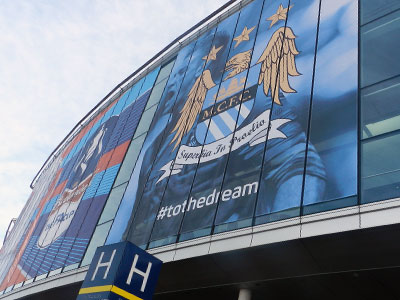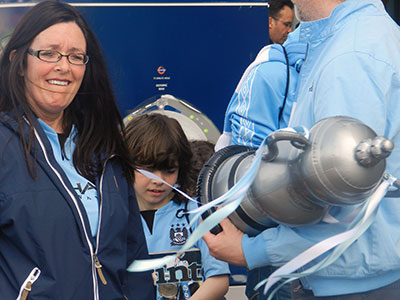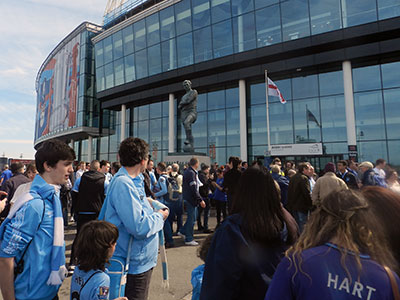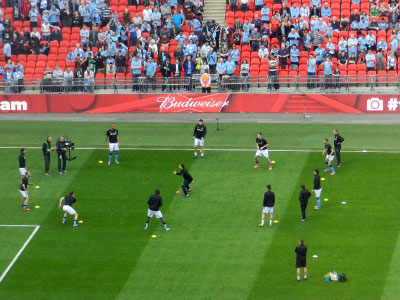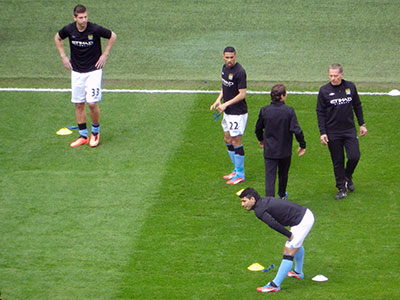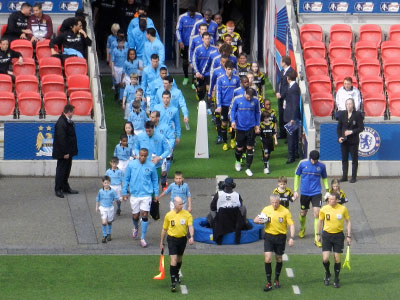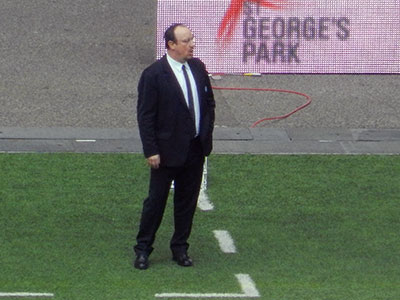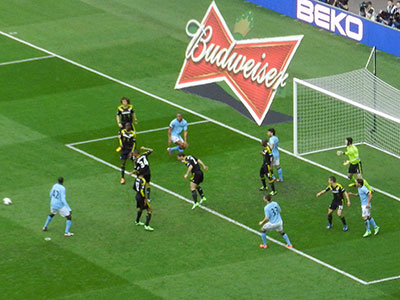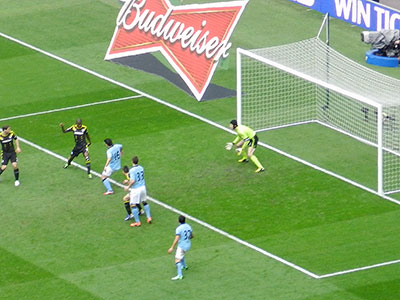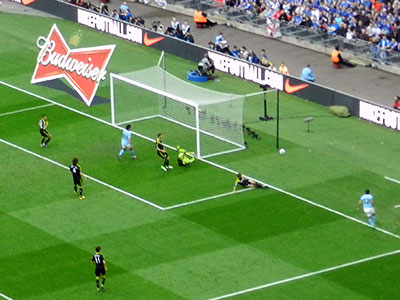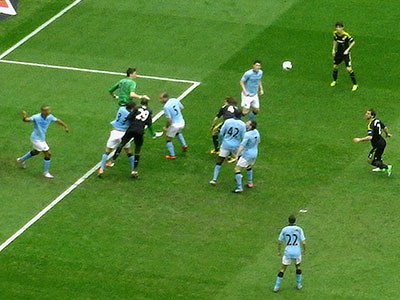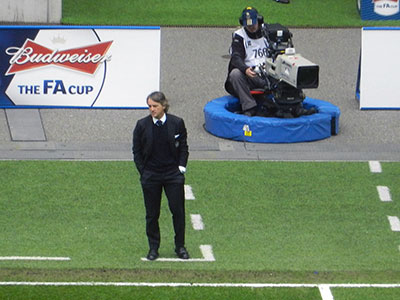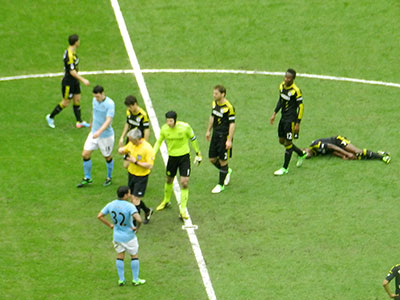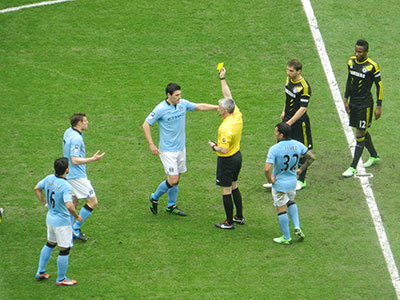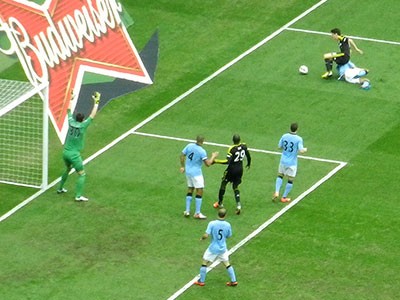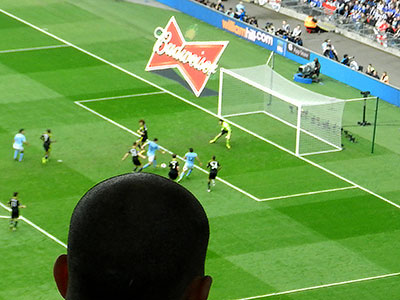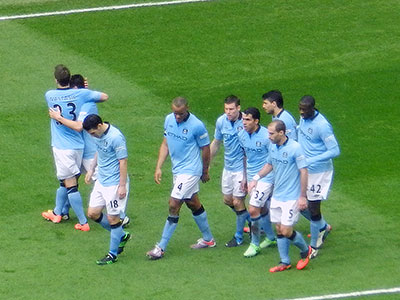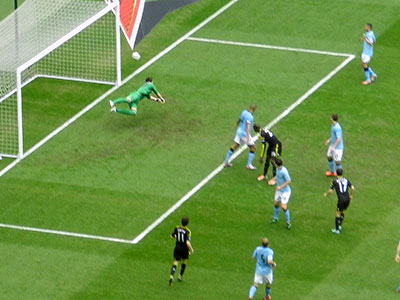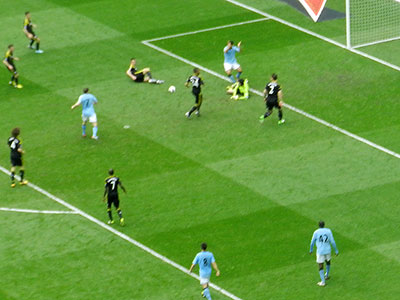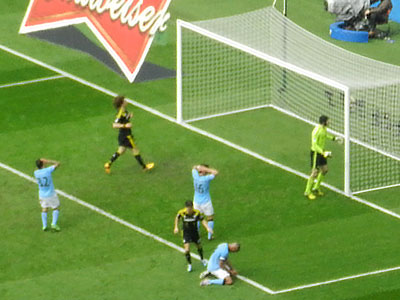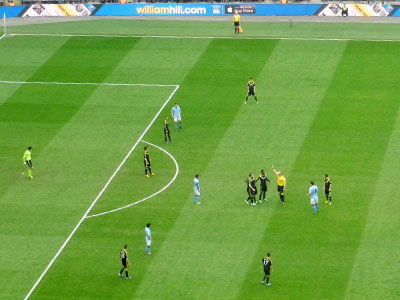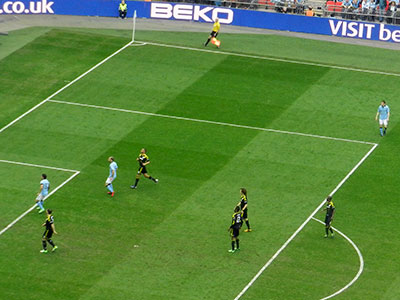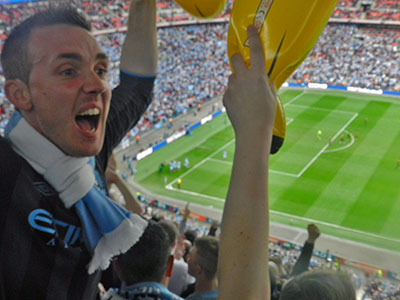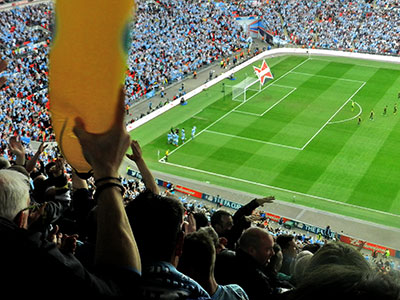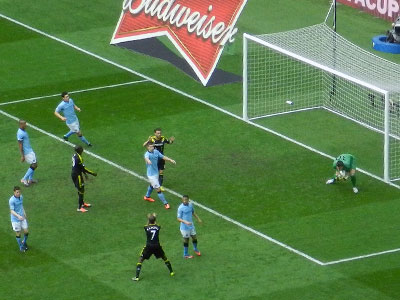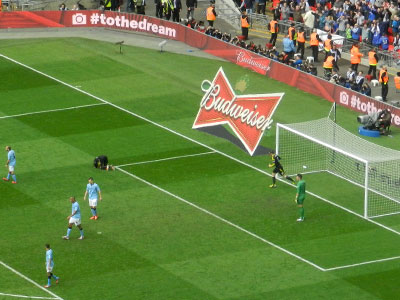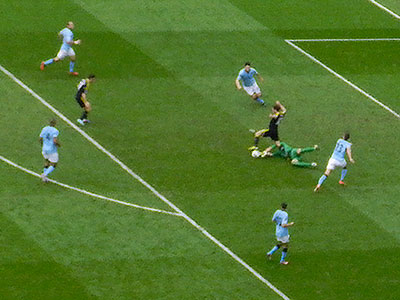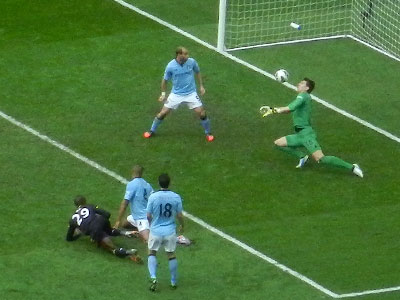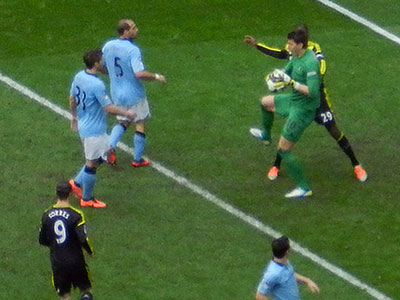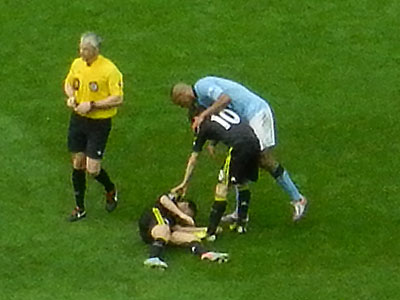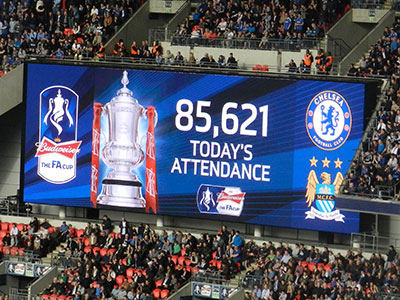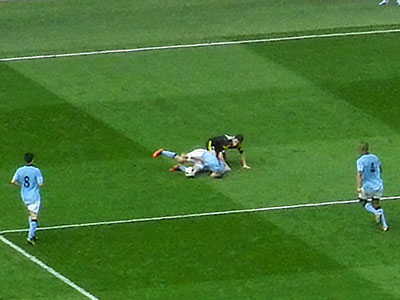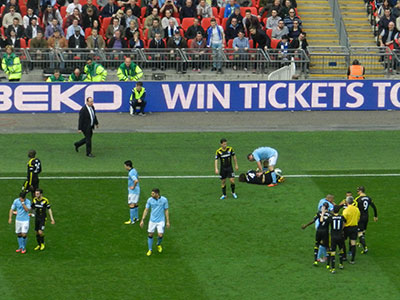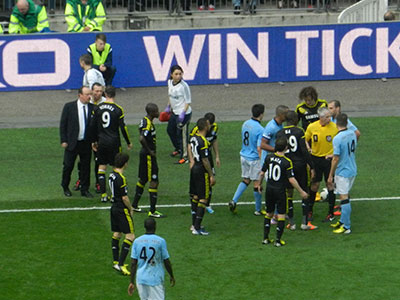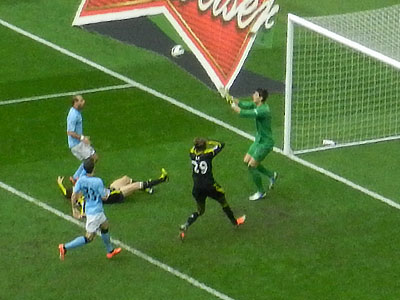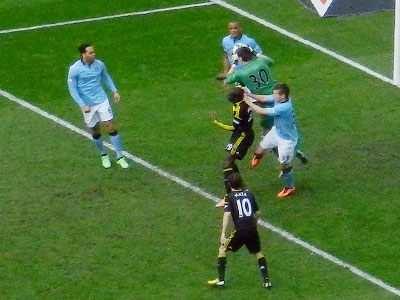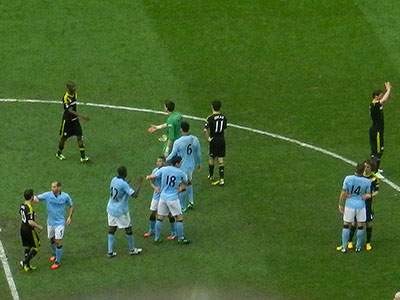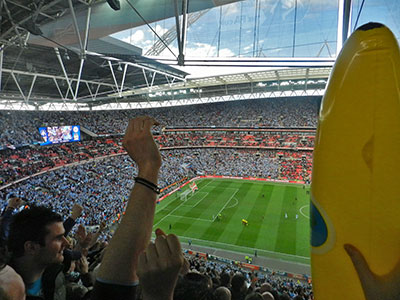 a tough rearguard performance and some great saves from reserve keeper Pantilimon won City the right to play Wigan in the Cup Final in May. The last twenty minutes or so would have been worrying for the City supporters as Chelsea suddenly came to life and after being outplayed for the first half and going two goals down they strived to get the equalizer.
Nasri put City ahead just before half time and a header from Aguero just after the interval gave City a two goal cushion so it looked cut and dried but a goal from the ever dangerous Demba Ba changed the match and City were lucky to hold on. Pantilimon easily had his best game for City and I hope he is selected for the Final - he deserves it. Yaya Toure was immense in midfield and despite the absence of the injured Silva, City ware able to play some excellent football. The defence were under a lot of pressure in the final minutes but did well.
The coaches left the Etihad Stadium right on time at 9 in the morning and so we headed down towards Wembley
At Corley Service Station I bumped into Danny Cawley who wanted to let everyone know about his newly designed Tshirt - Blue Moon Rising.
details here
We were early arrivals at Wembley and plenty of time to see the mass of sky blue including someone having the largest mobile phone!!!!
The weather was pretty good with not a bit of snow in sight!!
A popular meeting place is the Bobby Moore statue
Everyone was enjoying themselves and there was no sign of agro thank goodness
Wembley way was now teeming with supporters the light blue ones hoping for another visit in a month
Goodness me someone has managed to get hold of the Cup - surely not!
The lads are out and warming up before the game and good to see Aguero starting. No Silva though.
As the City Chairman and Manager ( extreme left) count the City supporters out come the Subs to join the City mascots
Only two changes for City. Regular Cup keeper Pantilimon comes in for Joe Hart and with David Silva injured City play Aguero and Tevez up front.
Chelsea Manager Benitez has a lot on his mind
City were soon on the attack - Luiz clearing a corner after 6 minutes
Czech is called into action saving from Aguero and then Tevez
a rare Chelsea attack in the first half is cleared
City Manager Mancini awaits the first City goal
Barry brings down Ramires and gets a yellow card
Following a Chelsea free kick at one end Yaya Toure made a great run and the ball eventually fell to Nasri who scored from close range. One nil on 34 minutes
It was just the start City deserved after their good play
A Mata shot drifts away from the far post
In added time at the end of the first half Kompany should have added to the score but shot wide when well placed
Right at the start of the second half Ramires is booked for a foul on Milner and shortly after a cross by Barry is headed by Aguero and the ball loops over a stranded Cech to give City a two goal lead
We now had a two goal cushion - surely we were through!
Suddenly Chelsea started to play and after one Pantilimon save Demba Ba scored on 65 minutes to reduce the arrears
Pantilimon saves from Mata and an outstanding save from Ba at close range - brilliant save
The City keeper in action again
good support by both sides
there appears to be some controversy and play is stopped for a minute or so
City are under intense pressure in the final moments but the defence holds out
The final whistle goes and City will play Wigan on May 11th
Team
Pantilimon 8.5: Zabaleta 7.5, Kompany 7.5, Nastasic 7, Clichy 7: Yaya Toure 8.5, Barry 7, Nasri 7 (Lescott), Milner 7, Tevez 7 (Garcia) Aguero 7.5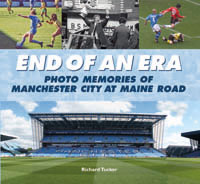 Now available from Amazon ( click on image for link)WH Smith and the City shop