Germany 1 Argentina 0 after extra time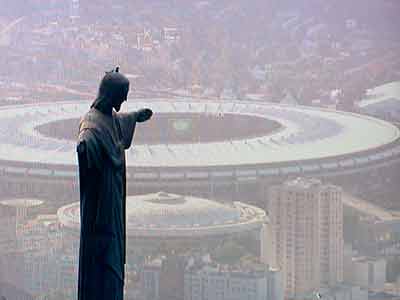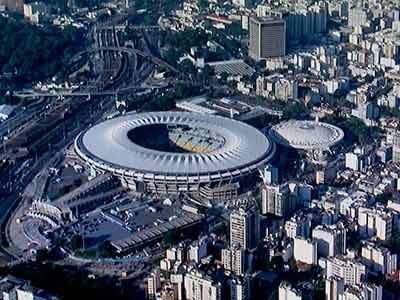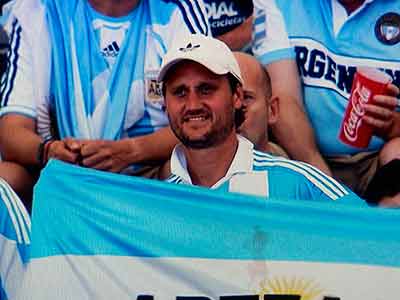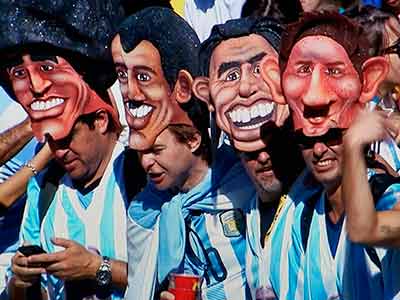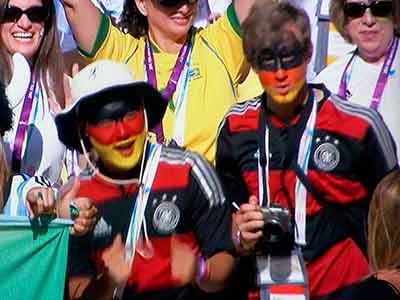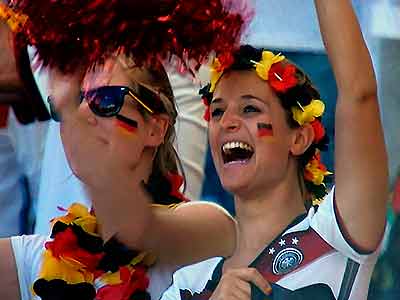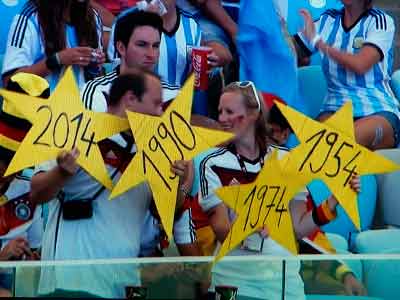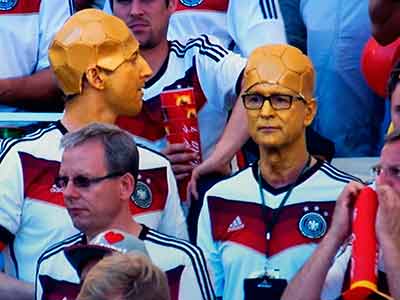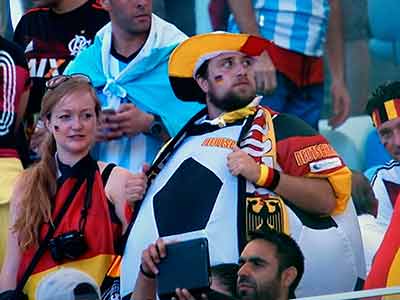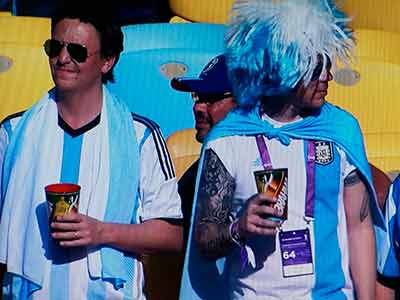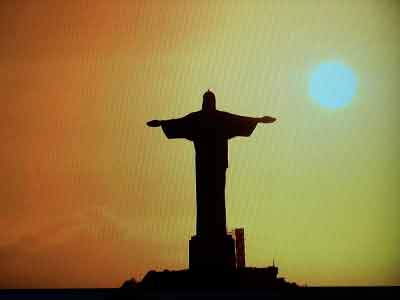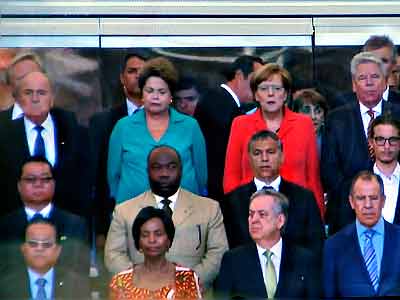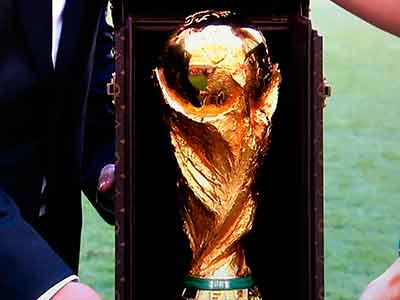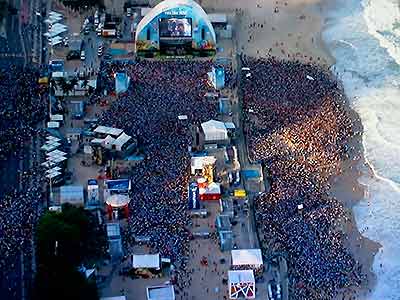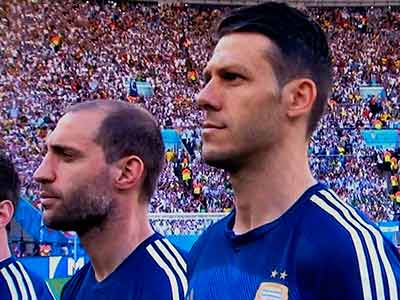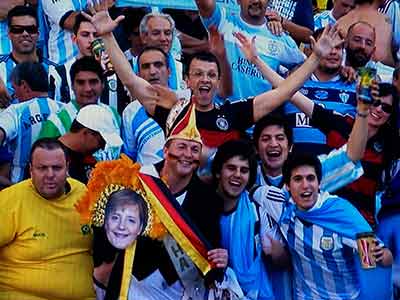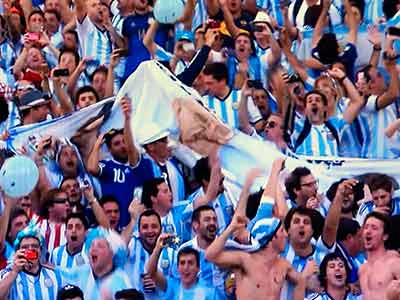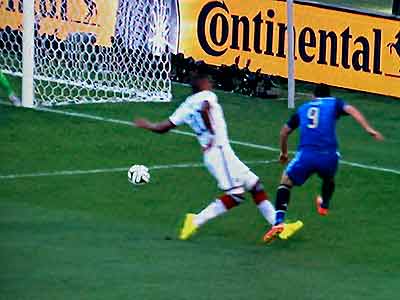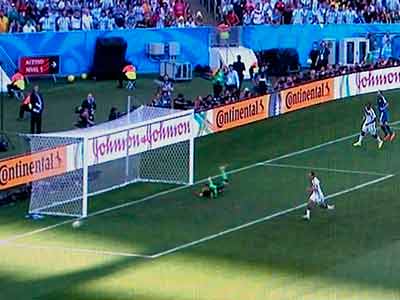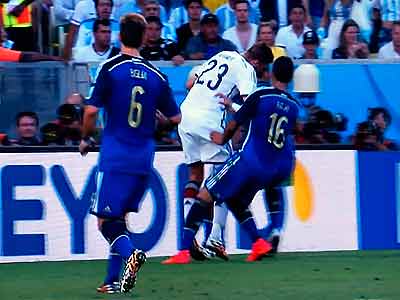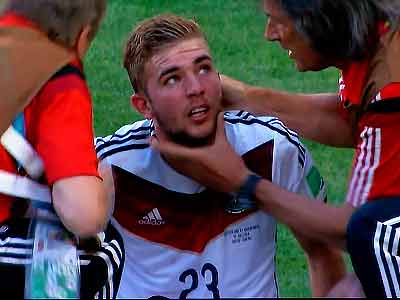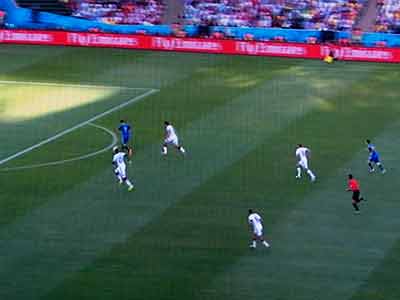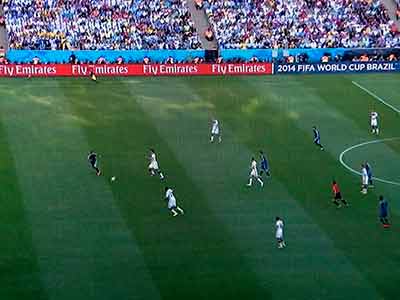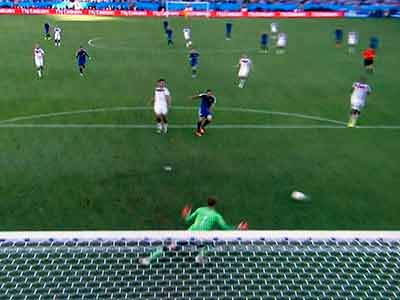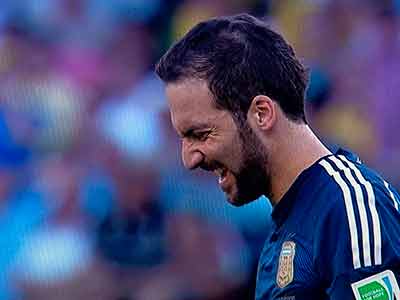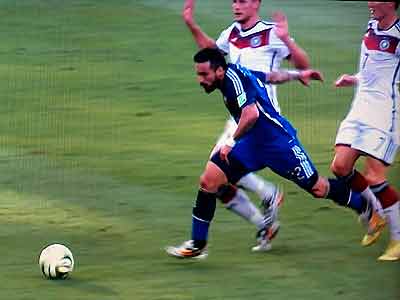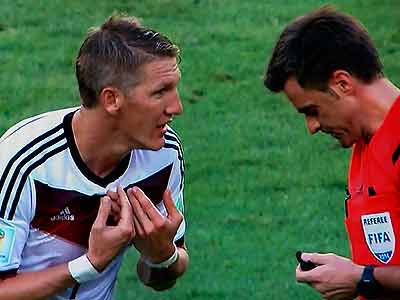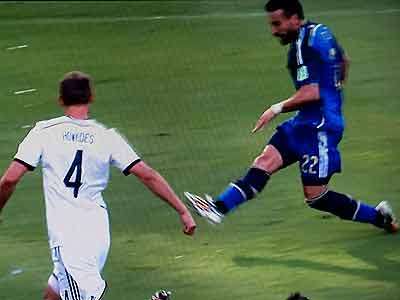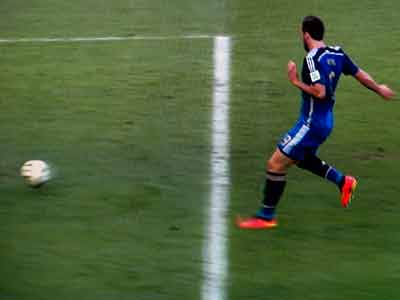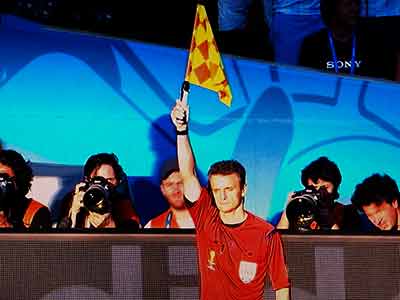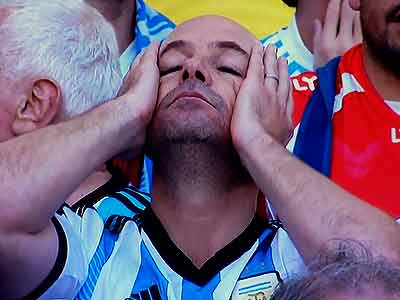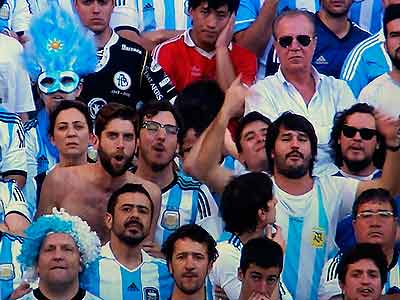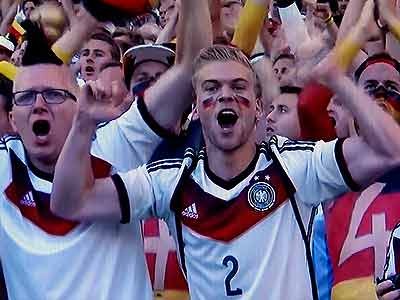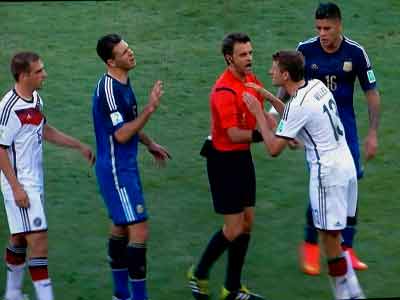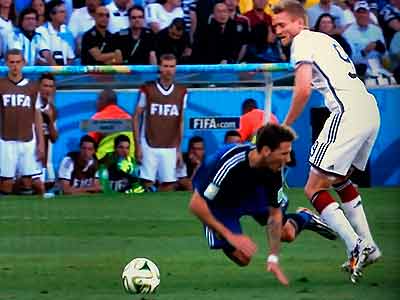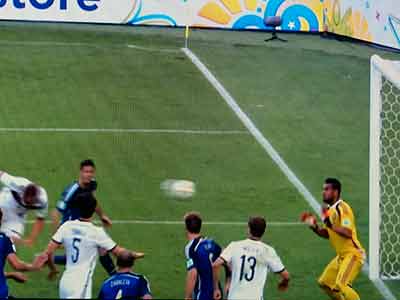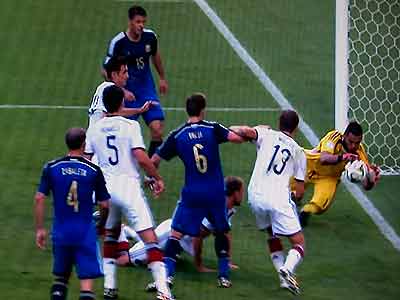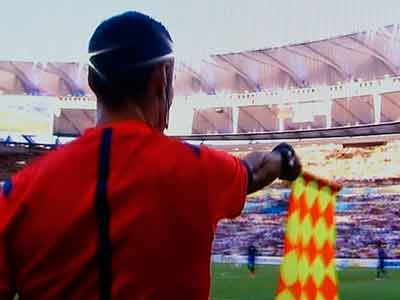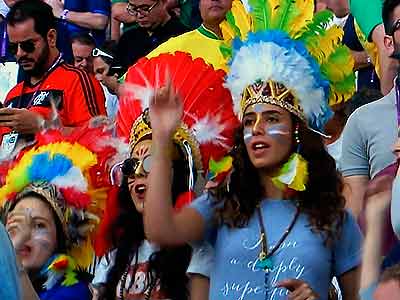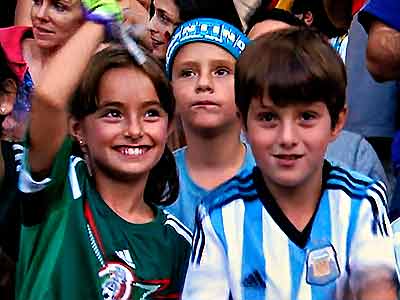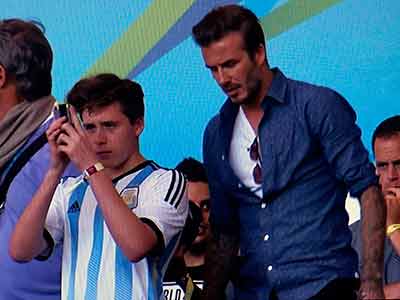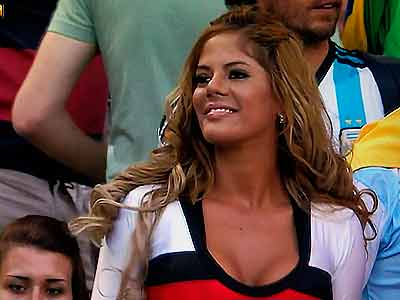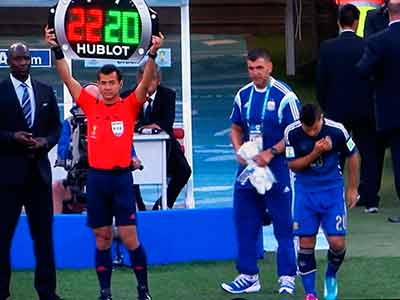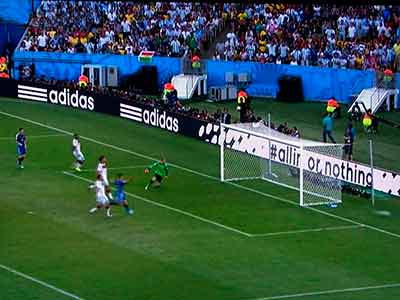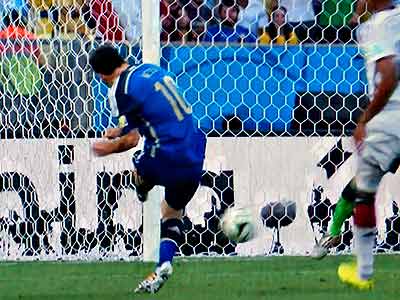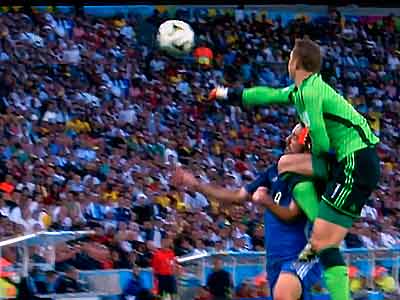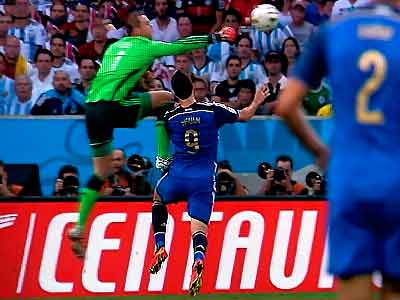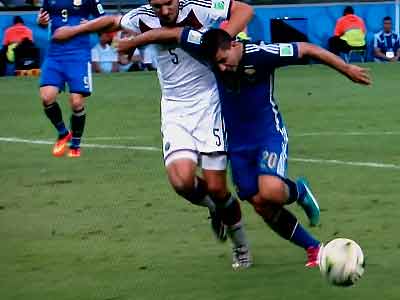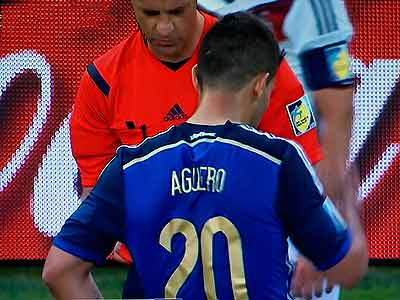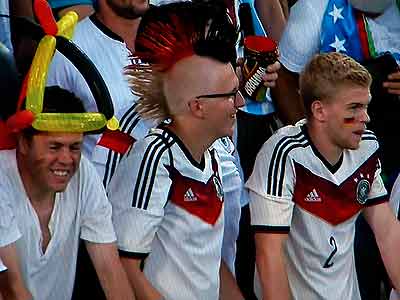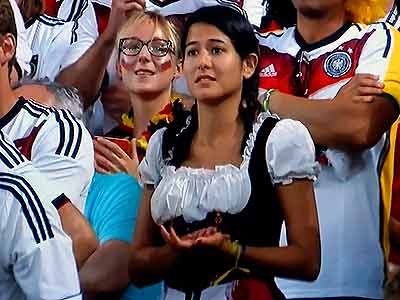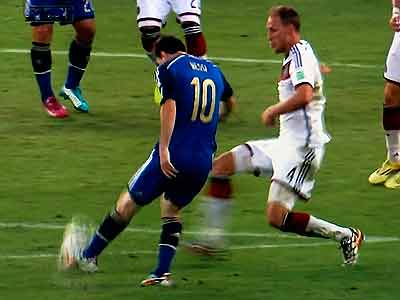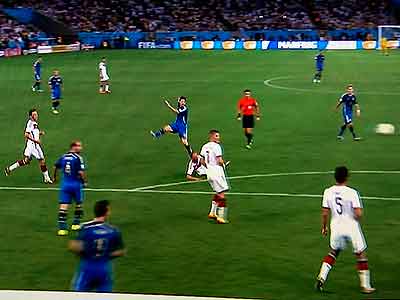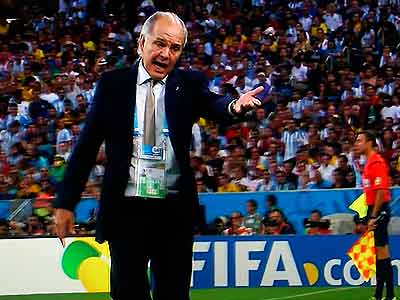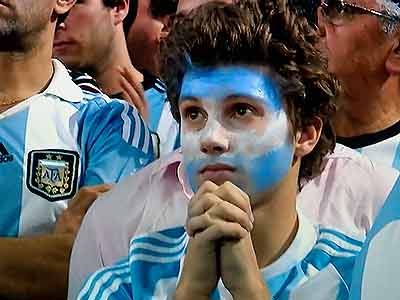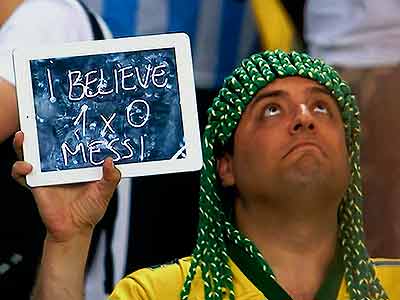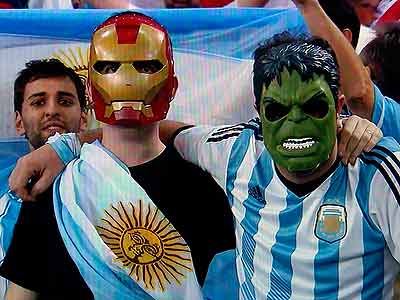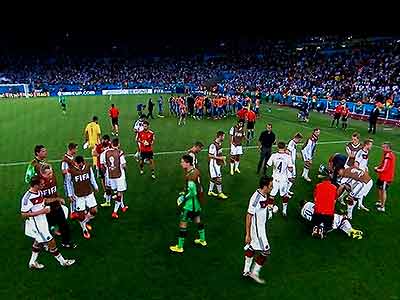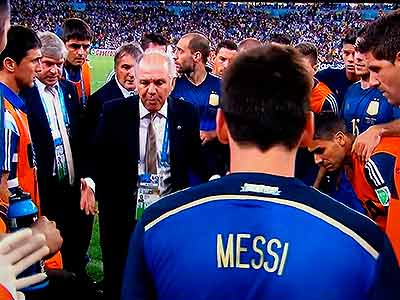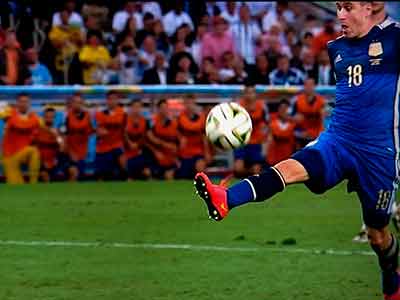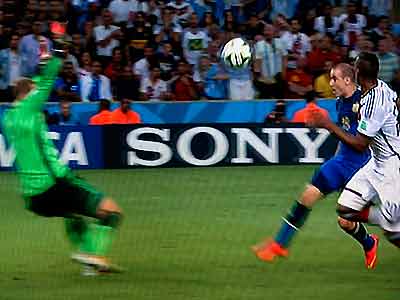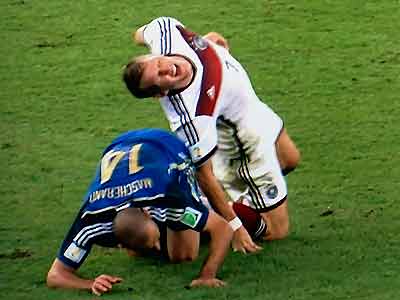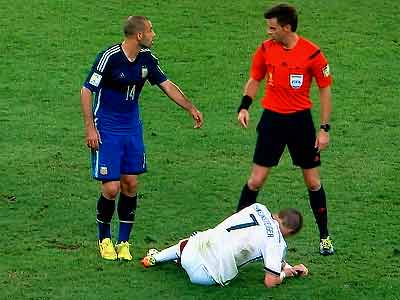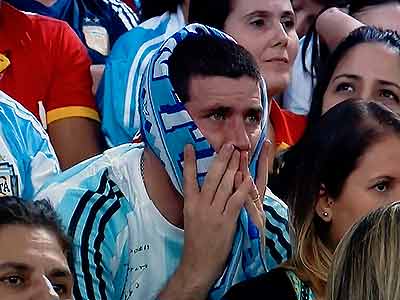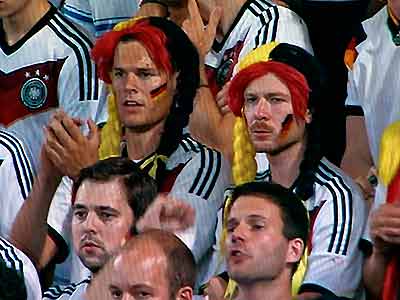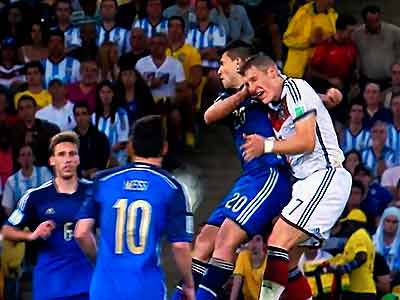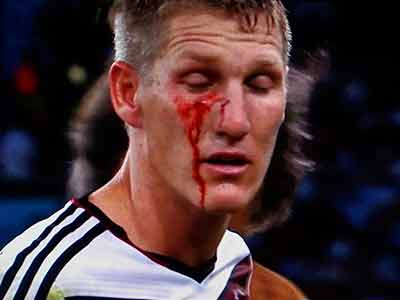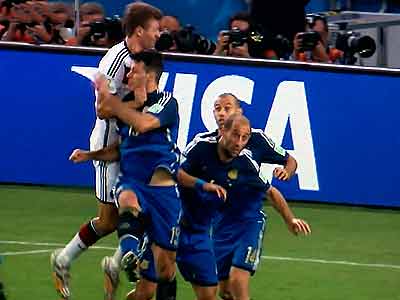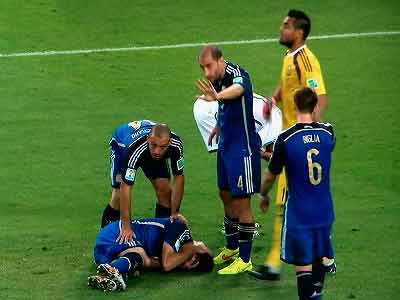 After 112 minutes came one of the goals of the tournament. A cross from Schurrle was brilliantly controlled by Gotze and in one movement cracked the ball past Romero to give Germany the lead and Cup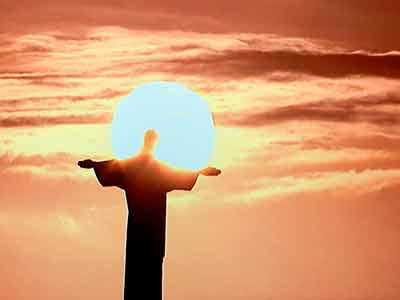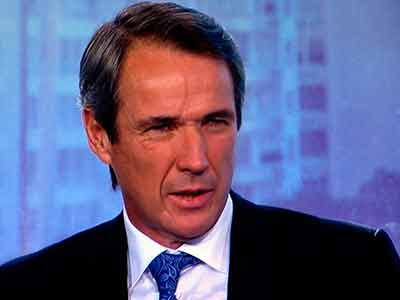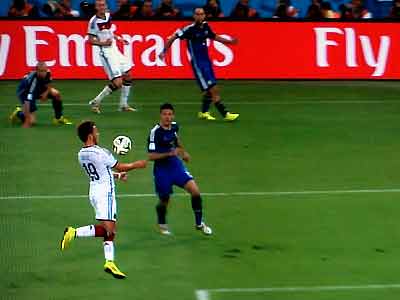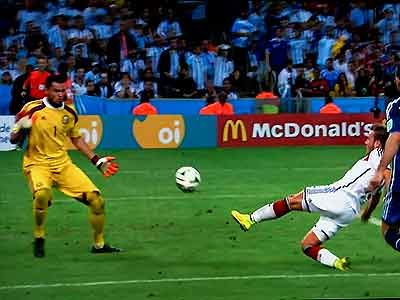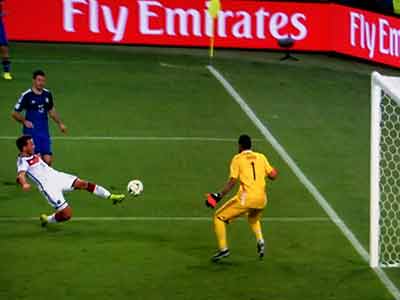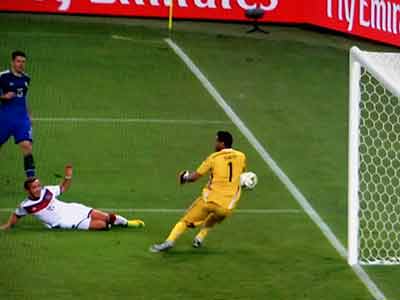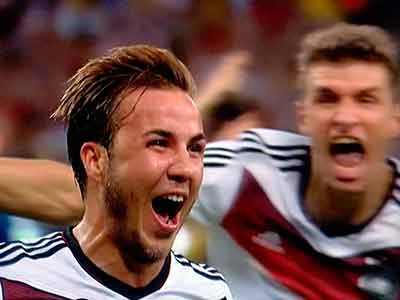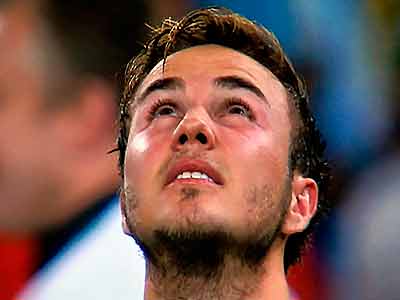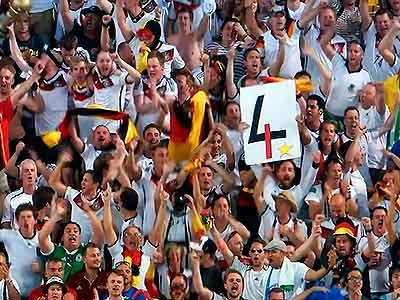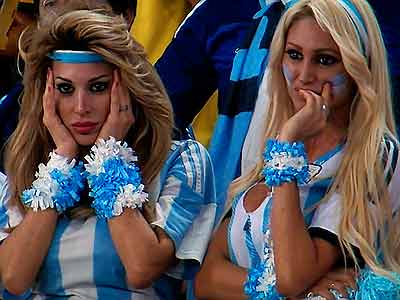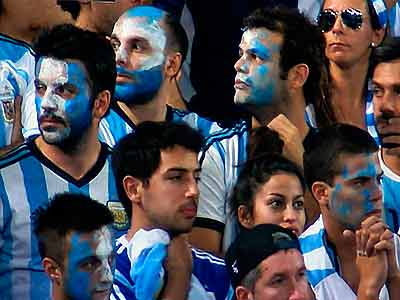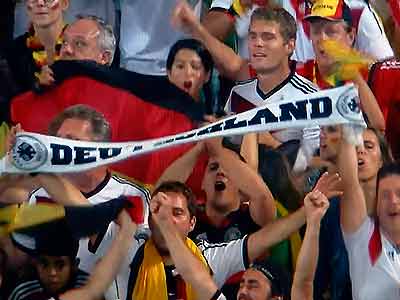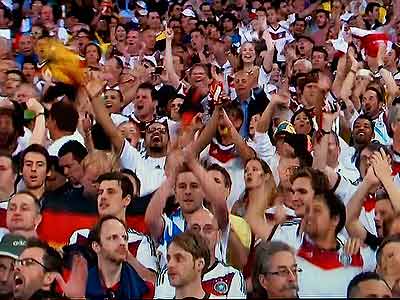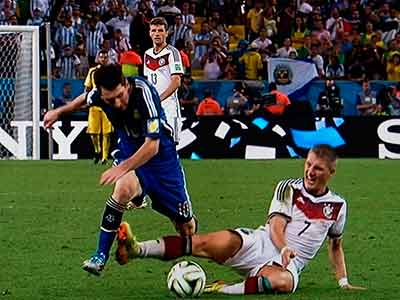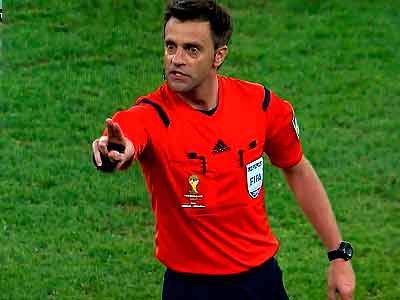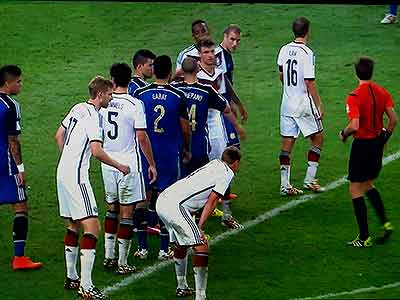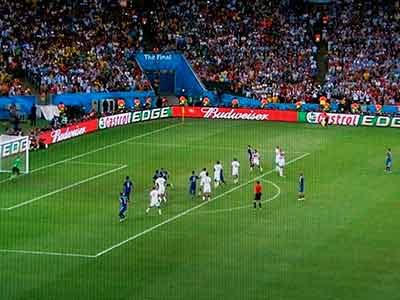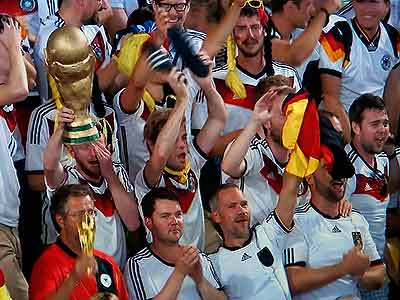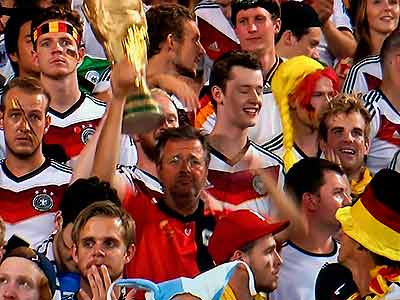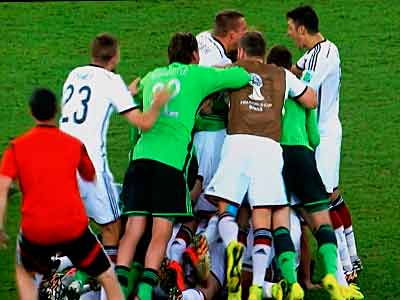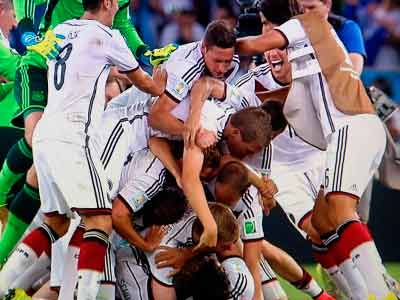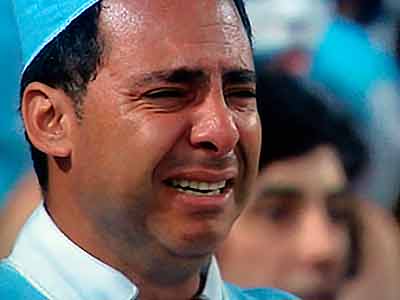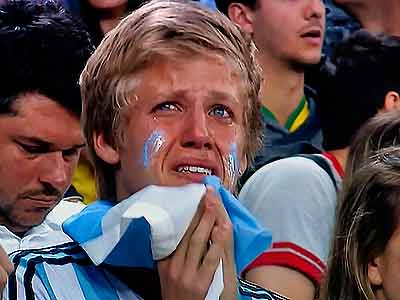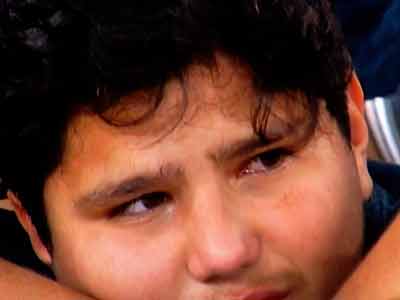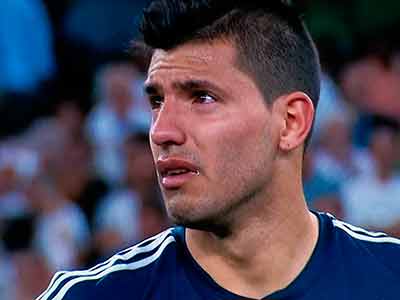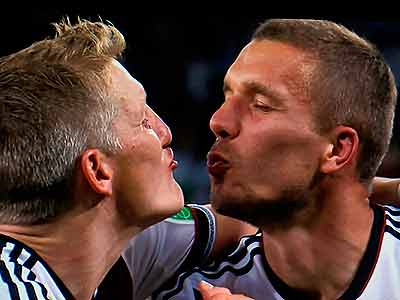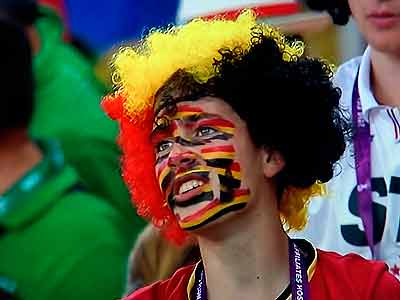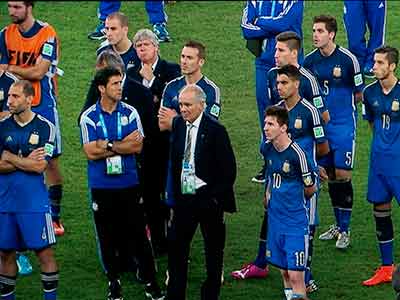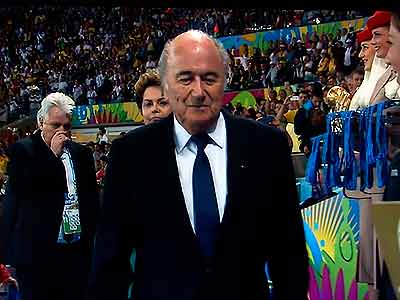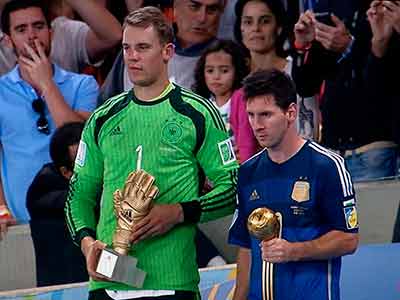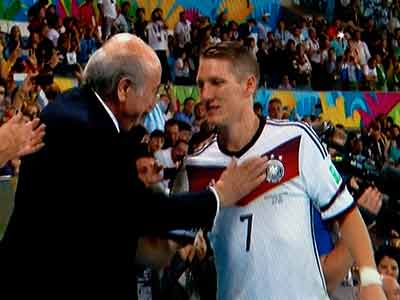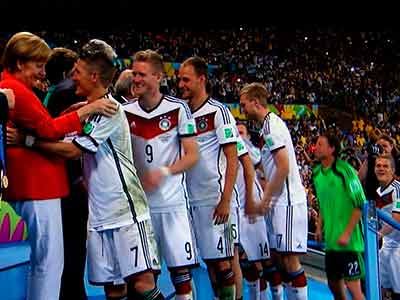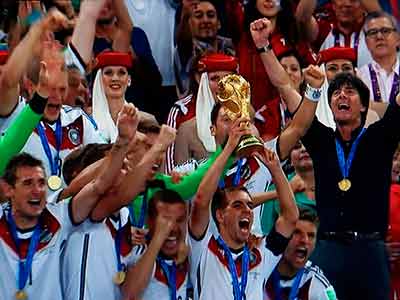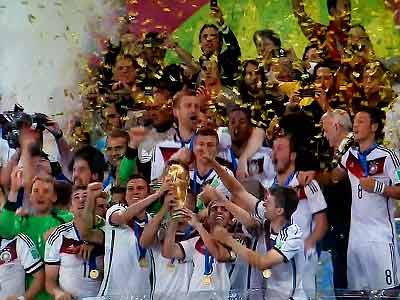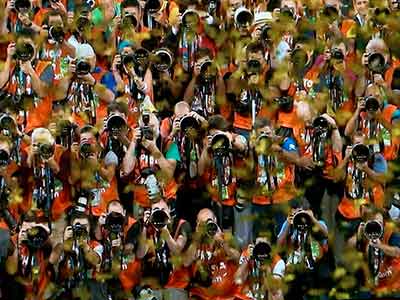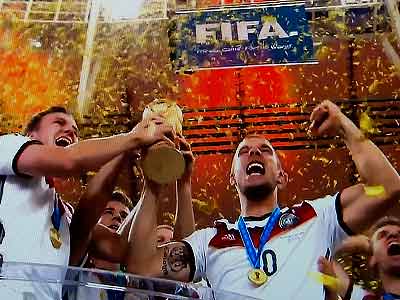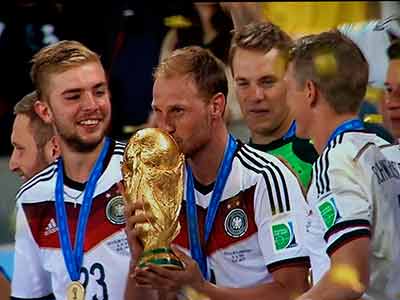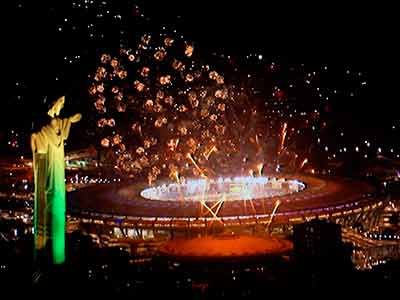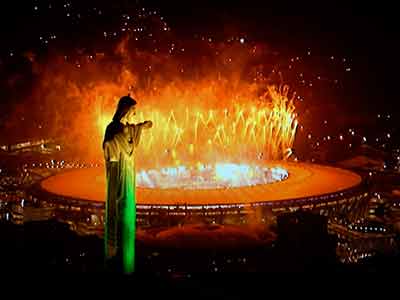 The finale of probably the best World Cup ever was at the Maracana Stadium in Rio De Janeiro
It was full of passionate fans of both teams all eager to cheer their side to victory
As the sun set behind the famous statue one wondered whether Messi would at last find his best form
Chancellor Angela Merkel sat next to the Brazilian President and guess who!
Fans filled the viewing area near the beach as City players Zabaleta and Demichelis sang the anthem of Argentina
Many more Argentina supporters were at the game or watching nearby
Argentina were first to attack and Higuain went close from a narrow angle after just three minutes
Kramer was injured on 17 minutes and came back on but he was subbed on the half hour by Schurrle
On 20 minutes came the miss of the century! Kroos headed the ball backwards not realizing Higuain was there.
Higuain had a great chance but shot wide - doubt whether Aguero would have missed!
Schweinsteiger goes into the referees book for a foul on Lavezzi
a minute later and Lavezzi crosses to Higuain who puts the ball into the net but.........
...he fails to notice the flag raised by the linesman !
There maybe no goals but there's plenty going on
Just before half time a foul by Schurrle starts a discussion involving Muller
In added time Argentina have a bit of luck when header hits the post and in the following play Romero saves
However the flag had gone up - probably for offside
look who's up there in the stand - its David Beckham and family and he's supporting Argentina!
Well at last - Aguero comes on after half time
Just after the interval Messi had a great chance but shot just wide
Neuer punches clear but injures Higuain in the process
After 64 minutes Aguero gets a yellow card for a foul - it did not look that bad!
German fans must have been a bit worried as Argentina were still dangerous
On 74 minutes Messi showed a touch of magic as he glided across the grass but his final shot went wide
Oh dear! Manager and fans realized this was an important chance missed
Full time and now we have thirty more minutes
Well the sun is going down in Rio and it also Alan Hanson's last broadcast with the BBC
eight minutes into extra time and Palacio had a difficult chance but the ball went wide
a few minutes later Mascherano and Schweinsteiger clash - yet again
Will it go to penalties they wonder!
Schweinsteiger goes up with Aguero and comes off worst!
Its been a very tough game with neither side giving way
The young 22 year old Mario had come on for Klose just before extra time and this was a goal he will always remember. It was just stunning and a fitting end to the tournament
It was ectasy and agony time again for fans
Argentina supporters were stunned -there was so little time left
German fans were in heaven - it was almost time
Just on added time Messi was fouled so could he score to take it to penalties
It was a bit far out even for Messi and the ball went wide so it was game over
It was big celebration time for the Germans
Somewhere underneath that pile is the man who scored!
There were a lot of tears to be had too
Never mind Aguero we'll win the league again next season!
Don't worry there's nobody watching!
The Argentinian players had wait a while before the final ceremony could take place
Neuer got 'best keeper' award and Messi 'best player'
Blatter asks Schweinsteiger to vote for him!
A pretty good tournament with the best team winning and plenty of goals and talking points