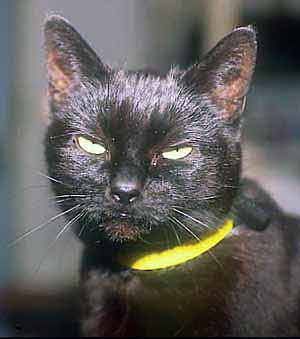 Hello, my name is Blackie and as my master hogs the computer most of the time I thought I should have a part of his web site. Any way I am in charge of all domestic matters in the house and feel I should tell all you cybercats about all the goings on in the area. I`ve been in charge here for about ten years. I was living in the squat he calls the side passage while he was away and when life appeared back in the house I walked in the back door to my present masters surprise and took over.
This is me. I let the master take my picture occasionally when I'm in a good mood. The back garden - and I use the term garden very loosely - has plenty of places to hide but I'm not allowed out in the front because of the traffic. However I can watch what's happening in the front from the bay window but I do get a bit bored so I often have a little nap in the morning sunshine
I did have a friend next door - Charlie - who visited most mornings and afternoons for my leftovers. My master gave him the odd titbit that I invariably left out of the goodness of my heart. Charlie sometimes got into fights but I steer clear of trouble with the odd hiss and stare.
Charlie unfortunately died quite recently and is now in pussy heaven. I do miss Charlie and have to give my master extra cuddles. You can see Charlie below.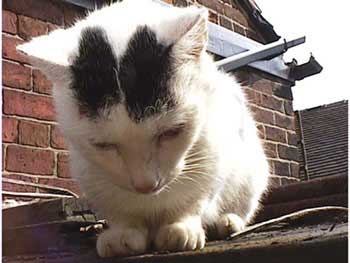 Charlie spent such a lot of time on our kitchen window ledge hoping for an extra titbit. He never found a way in through the cat flap - thank goodness. We did have a chat a while ago and I agreed I`d ask the master to put a pond in the garden so we could go wind surfing am afraid our other suggestion about putting fish in the pond fell on stony ground. My master who is in the springtime of his senility felt Charlie and I would try and catch the fish - perish the thought !
I`d like to have a go on the computers myself but even if I put my paw anywhere near the table where the keyboards are I detect a raising of tone of voice coming on, so being the well behaved moggy I am I wouldn`t dare without permission. If I want to give him a little fright I walk on the answer machine and press the button that starts a computer voice . Occasionally he takes me for a trip in the car- however I never look forward to these trips as its either to the vets to get a jab or to the cattery for a little holiday as he calls it - Holiday ! I have to spend many days sat in a small room with no TV or radio , with only a few strange fellow prisoners sounding off about the price of Whiskas and Felix.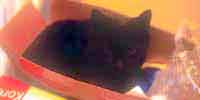 The master gets a tiny bit grumpy when I decide to get up early in the morning to do some exercises. I like to try to climb the aluminum ladders and abseil down. As he doesn`t leave the ladders at a nice climbable angle I often make a bit of a noise while climbing but I expect five in the morning is a little early. He moans about my snoring too. I often get messages from well wishers and they ask about my age , but a lady never discloses her age -right.
Rebecca next door (there she is on the left ) doesn`t say very much but I did get a manual on how to translate rabbit thumping so hopefully one day I shall be able to tell him how much I enjoy rabbit flavour Whiskas !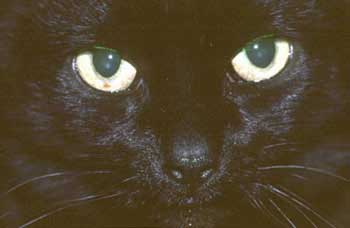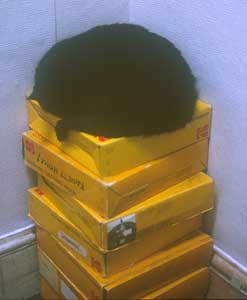 Well I`d better stop this chat and go and check the footy results. If City have lost again he`ll be in a foul mood when he gets back from Maine Road and I`ll have to keep a low profile for a while. He doesn`t know I`ve been doing this so you won`t tell will you. Cheers
PS As City have actually been winning games recently I'll be getting extra Whiskas !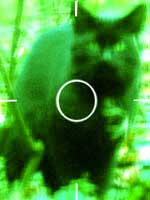 This is the very naughty mystery cat caught on the masters secret night surveillance camera a week or so ago. You can tell from his expression that he`s up to no good. We are hoping the picture will be on BBC Crimewatch prog soon.
We have not seen anything of this villain for a while now but as the master has built me a high watching viewpoint on top of an old tree I shall keep a watchful eye open.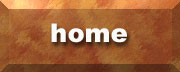 No humans suffered during the production of this web page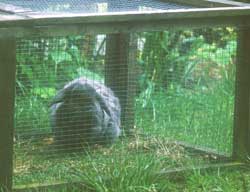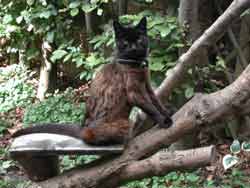 Back again at last . I thought he'd never let me update this page. Let me first thank all you pussies out there that have sent e-mails to me. Some even from across the water ! When he went across the water to take some photos I was sent on holiday to Auntie Betty's - actually its a cattery but he always refers to it as Auntie Betty's to prevent me from being upset. As if I ever would ! Huh ! At least when I am there I can have a chat to the other inmates. We have had some excitement during the past few months. During the summer a bird managed to get down the chimney and caused havoc in the dining room. I was sent outside and Charlie and I watched with great amusement as he tried to entice the bird back out through one of the windows. It seemed to take for ever and I am sure I would have made a better job of it. Mind you I might not have let the bird fly away afterwards. Recently we have had the house invaded by a strange large black cat who has been leaving wee wee messages around much to the consternation of the master who thought it was ME at first. How he could EVER think such a thing is beyond comprehension. Anyway my master and I were returning to the kitchen one evening when we saw a large black thing flying through the cat flap at high speed. So he laid a trap by setting the cat flap so that anything could come in but not out again and lo and behold next morning we discovered the culprit skulking in the corner. The master opened the back door but this stupid cat ( must have had a terribly low pussy IQ )kept on trying to get out via the cat flap in the window. The master gave him several cold showers to remind him not to return before he eventually discovered the back door and shot off. We had never seen this unwanted visitor before and he has not returned to my territory. However a few days later he invaded next door and attacked Charlie inflicting several nasty bites. Charlie never really recovered . Everyone is suffering from NBCIS - naughty black cat invasion syndrome and plans are afoot to set up a cat watch.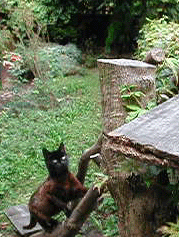 My master has got himself one of these new fangled digital cameras so he tries it out on me- of course and the spiders in the garden (I use the term loosely.
The spiders here are hopping mad. He refuses to pay modelling fees and because of all the painting going on indoors the spiders union have called a meeting. Some chickens have arrived next door and you can see the interest of my friends next door in the picture on the left. The master and I are already 'hatching' an escape for them !! I keep egging him on!
The spider on the right is the one that lives next to my 'top flat'.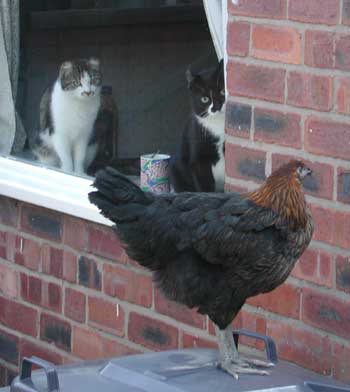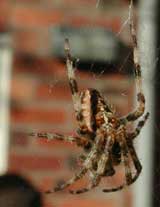 I am sorry to have to tell you that Blackie passed away at 8-30 pm on Sunday April 1st 2001 after a short illness. I will retain this page for a short time in memory of her wonderful friendship.
She will be greatly missed. May she rest in peace.