Lancashire Lightning v Glamorgan Dragons
Totesport League Div 1
April 17th 2005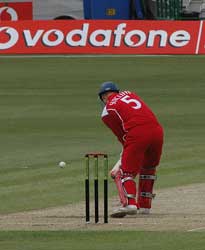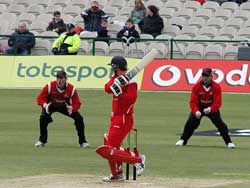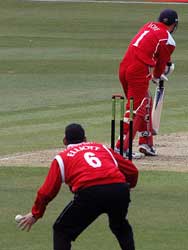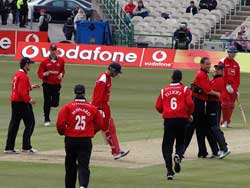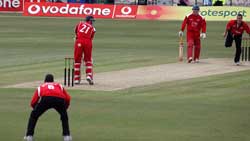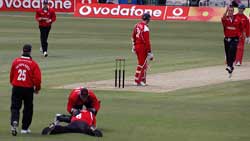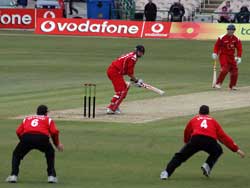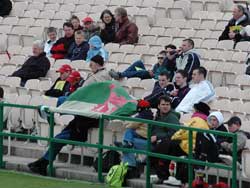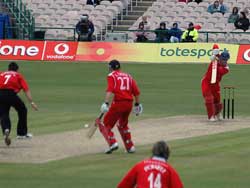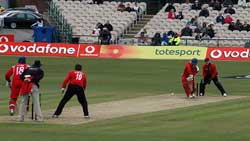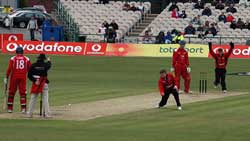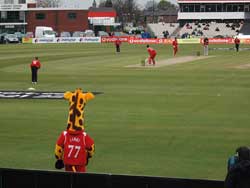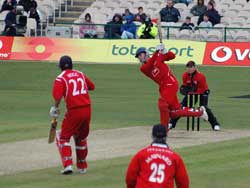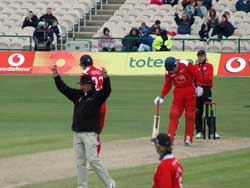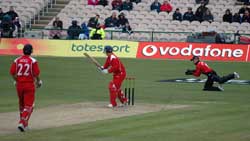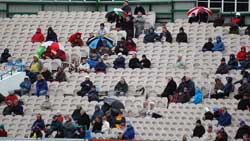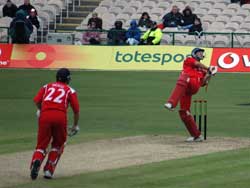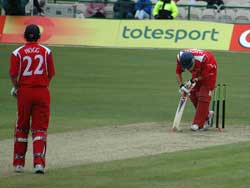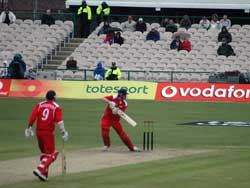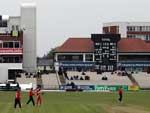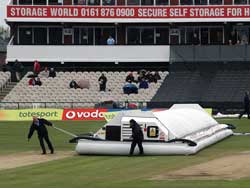 With a poor weather forecast there was only a small crowd at Old Trafford to see the one day battle between last seasons top teams in the Totesport competition. No Flintoff for Lancashire but Muralitharan was due to play, so it was a bit disappointing to see Lancashire put in to bat as the Internet hour by hour weather forecast gave rain to fall at 4-0pm so there was little chance of seeing Muralitharan bowl. With Simon Jones getting plenty of lift runs were difficult to get and Lancashire found it tricky going in the cloudy conditions.
Lancashire Lightning mascot
Most images taken with Nikon 300mm f5.6 and Sigma 70-300 zoom . Click on image for large size and image info
Chilton out for 8 caught at slip by Elliott. ....3 for 38
Glamorgan celebrate the dismissal of Mal Loye
Mal Loye out for 3 bowled by Simon Jones .....2 for 21
Glamorgan supporters show the flag
Andrew Crook about to be run out at the bowlers end
Sutcliffe lbw Croft for 36 .... 5 for 65
The Lancashire mascot chats to spectators
Dominic Cork cracks a six.
Warren Hegg caught behind for 25
.... 7 for 129
Mahmood bowled by Wharf for 9
Lancs 147 for 8
The new hover cover in action
It covers a large area of the square
Hogg ended 41 not out as Lancashire ended on 160 for 8 after 41 overs