Manchester City 6 Portsmouth 0 September 21st 2008
Premier League att.40,238
A scintillating brilliant performance by City. Can it get any better than this! Skipper Dunne scores on his birthday! The takeover of City is completed ! City have their best win in the Premier league ! City score more goals in one match than United have in the whole season so far! When did City last have six individual goal scorers in one game - Garry James get out your stats!
Portsmouth were really poor. Especially their defence which was pretty abysmal. However City really dictated the game with excellent passing and finishing. Our running off the ball was terrific and everybody played their part in this excellent team performance. Man of the match was probably Stephen Ireland who had his best game for us and though he did not score he had a hand in several of the goals. SWP was great down the right and the three Brazilians linked so well together that it is going to be difficult for Petrov and Johnson to get back in the side!! Zabaleta improved greatly on his Chelsea performance and even Garrido played his part. Oh yes there was some bloke called Robinho playing. He was awesome at times. His passing and ability to beat opponents and reading of the game is first rate. He's worth every penny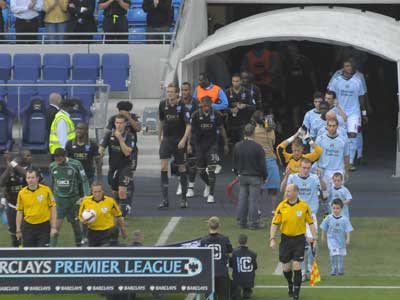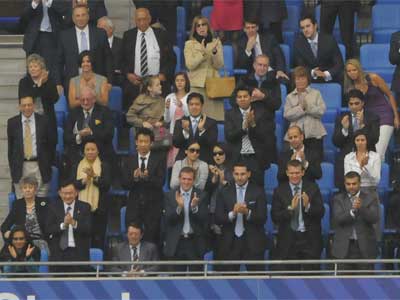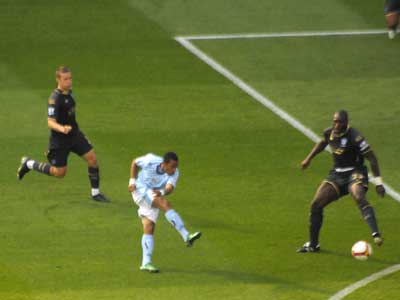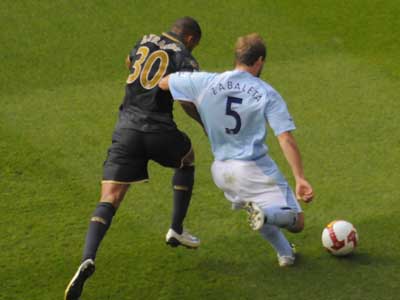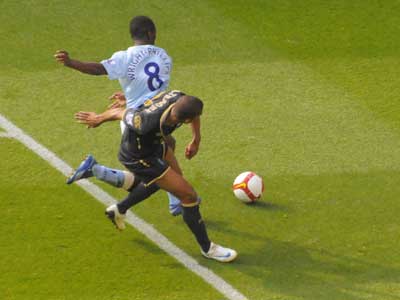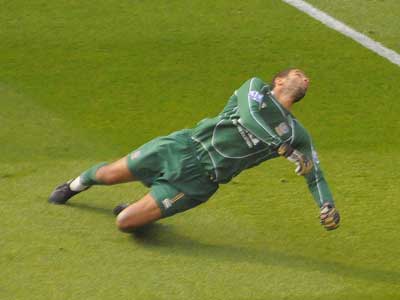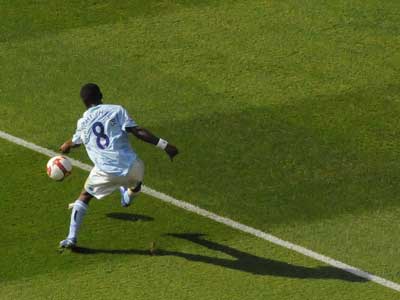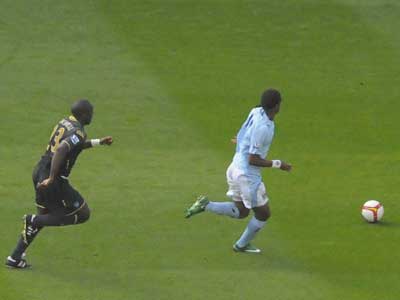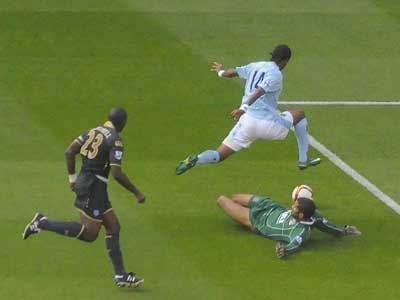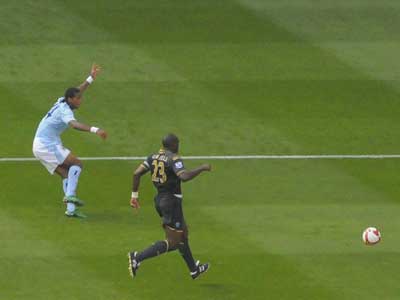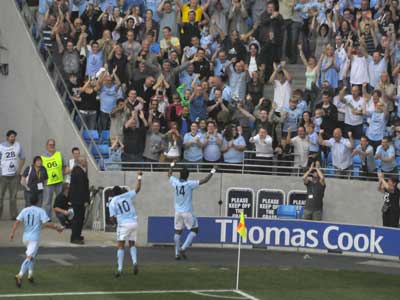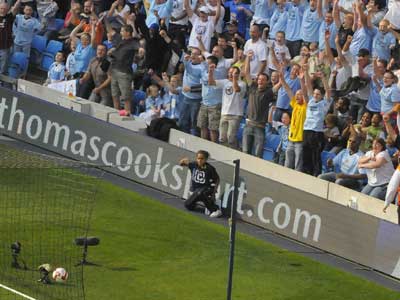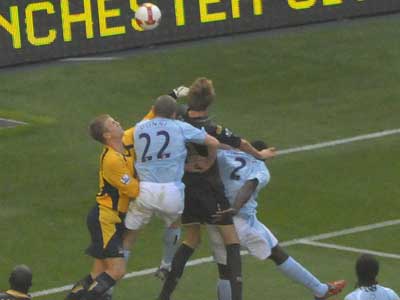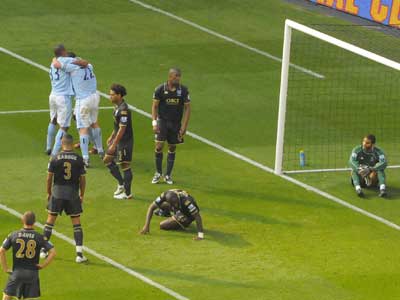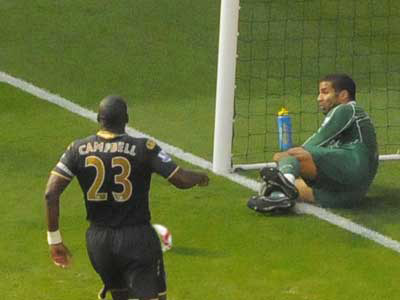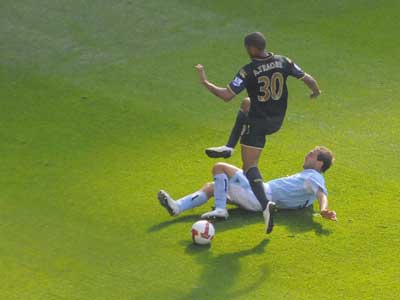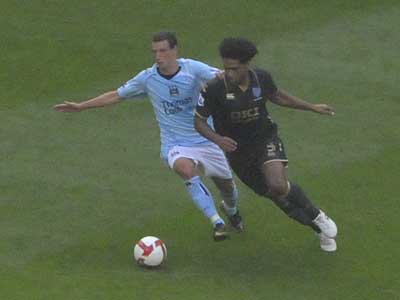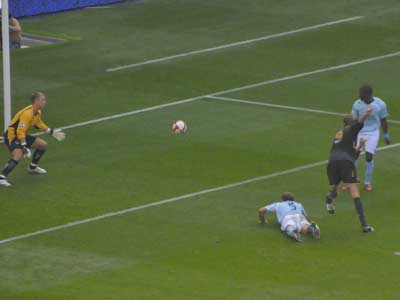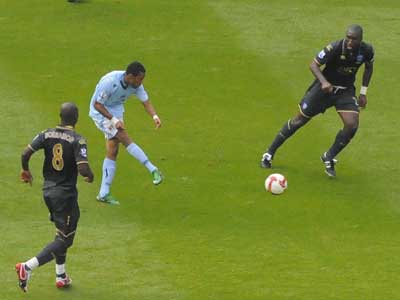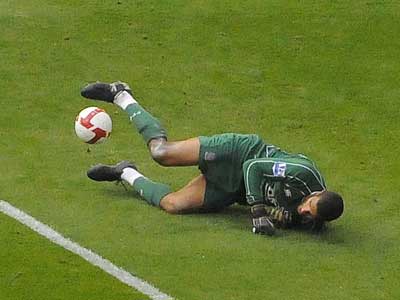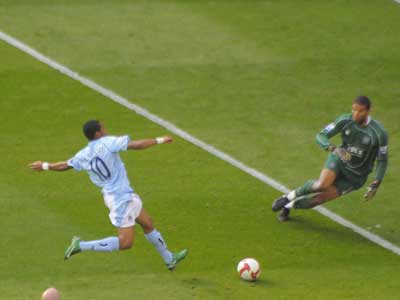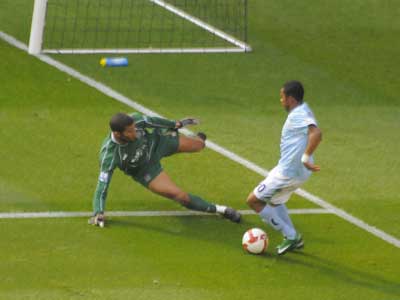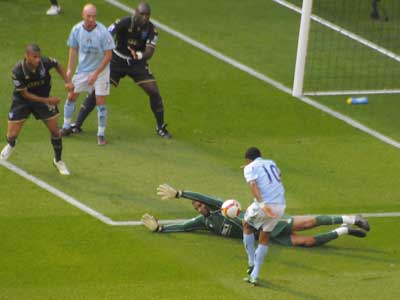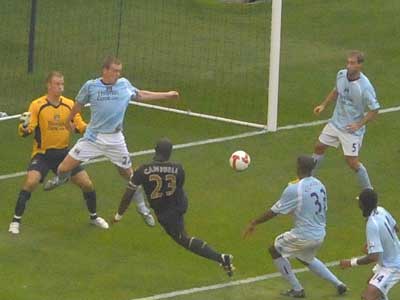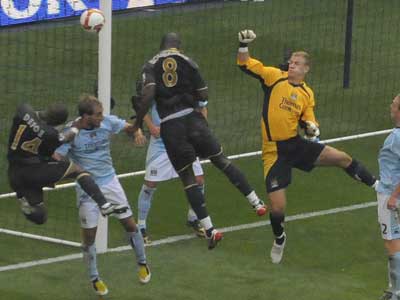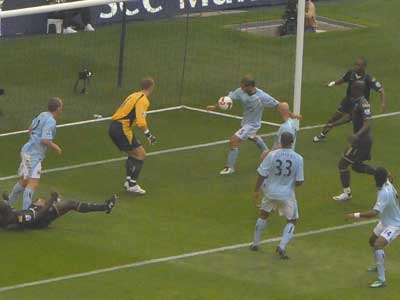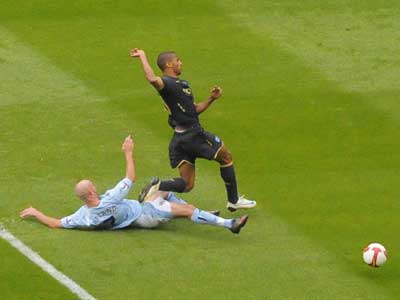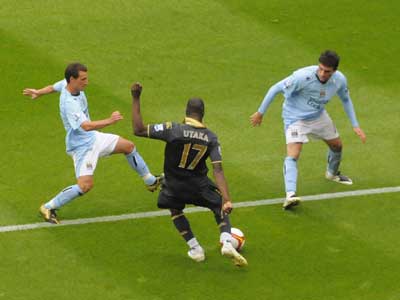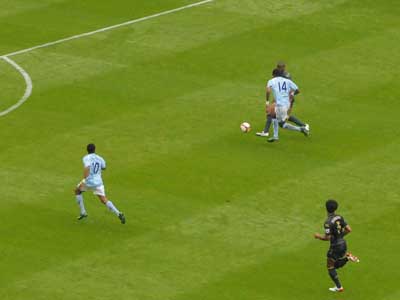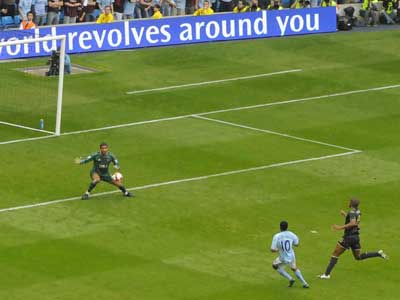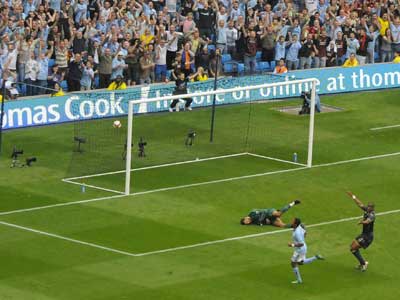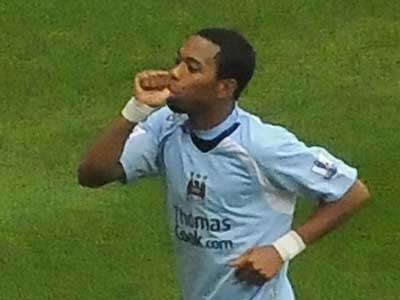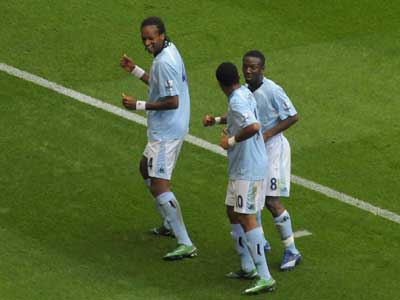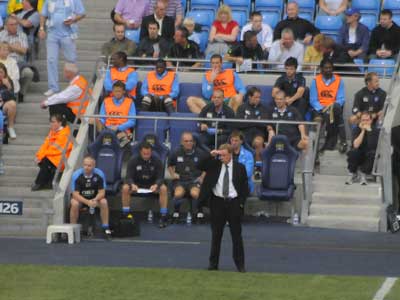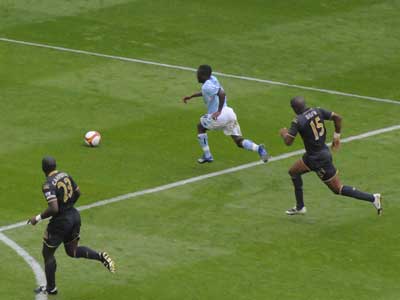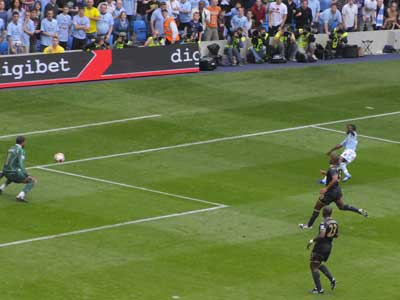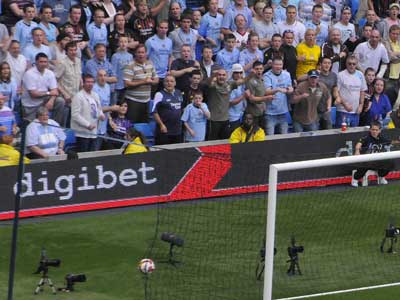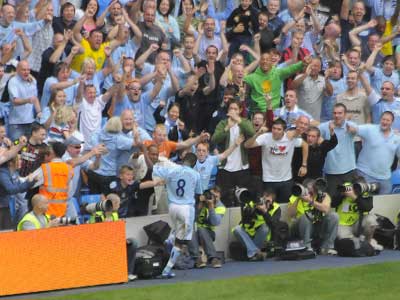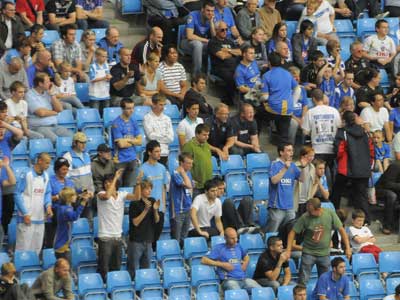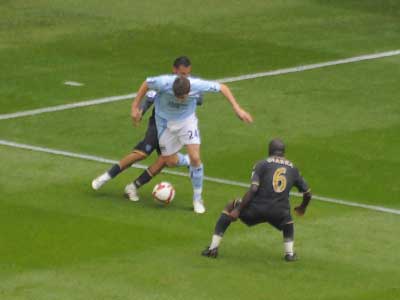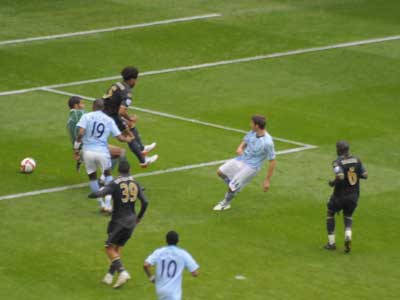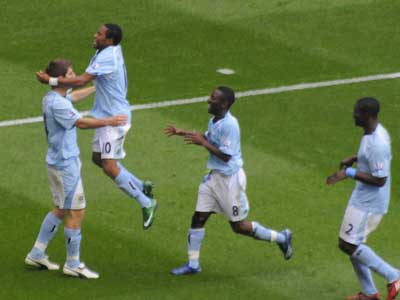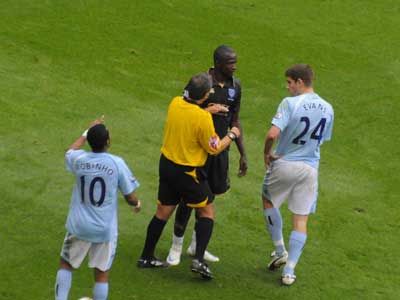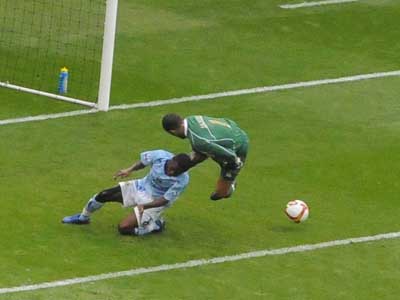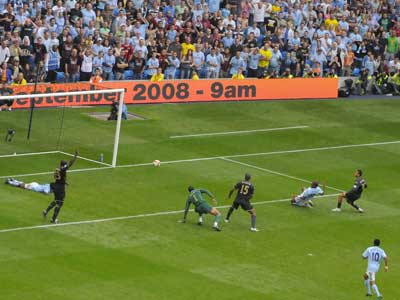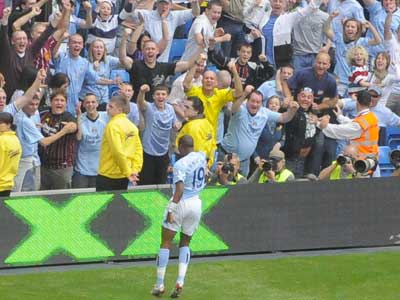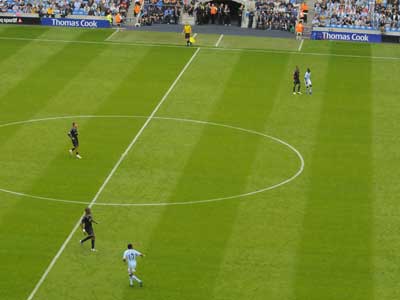 City were unchanged from the team that won in Cyprus
City's new Chairman Khaldoon Al Mubarak ( third from the right front row) was there to greet the players and supporters
An early City passing movement gave Robinho a chance early on but James managed to save.
Pablo Zabaleta was soon in action too and we were to see more skills from this talented Argentine defender
After 11 minutes SWP fed by Robinho broke through and though under pressure from Traore got in shot which James saved
It was good to see Shaun Wright-Phillips back to his best form down the right wing
In the 13th minute Elano passed to Robinho who put Jo (above) in the clear.........
...... James came dashing out but Jo sidestepped him beautifully and was able to pass into the empty goal to give City the lead
The North Stand celebrated as the three Brazilians responsible for making the goal took the plaudits from the home supporters.
Hart and company keeping Crouch under control
City scored a second goal after 20 minutes when an Elano corner hit the post surprising the Pompey defence......
Richard Dunne was quickest to the rebound scrambling the goal over the line.......
While the skipper celebrated his 29th birthday the Pompey defence showed their dismay at conceding such a soft goal
The visitors best chance came just under the half hour. A run by Johnson gave Crouch a chance from the cross but his shot went wide
After nearly 40 minutes Robinho tested James from long range but the England and ex City keeper managed to hold on to the ball at a second attempt
Three minutes before half time we had a bit of Robinho magic. Put through by Ireland and SWP the Brazilian bamboozled James..........
.......a few times before seeing his final flick deflected for a corner
Just before half time a free kick to Portsmouth gave them a good chance. Crouch headed back into the danger area and Campbell headed for goal...
...
.....but Zabaleta cleared off the line and City withstood the late Pompey pressure to go into the dressing room 2 nil up at half time
Ireland showed his defensive abilities with a terrific late tackle on Traore
Elano steps in to block a pass from Utaka -on for Kaboul
It was Ireland again who set up City's third goal. His exquisite pass to Jo opened up the Pompey defence. Jo drew his man and passed to the unmarked Robinho who shot past James.......
..... into the net and send the home crowd alight. Robinho celebrated with thumb in mouth.........
.... and a samba with Jo and SWP while the visiting manager mops his brow with frustration at his defence or lack of it!
By now Portsmouth excursions into the City area were rare but here Hart catches a corner under pressure
It was Ireland once more who put Shaun Wright-Phillips through after 57 minutes.....
The City winger crashed the ball past James at his near post to almost break the net
He took his bow in front of the adoring South Stand supporters while the visiting supporters ( why only 600 of them?) were pretty devastated.
Evans ( on for Jo after 72 mins) should have won a penalty in the 76th minute.
but he got his revenge moments later when a SWP back heel gave him the opportunity to score easily .
City celebrated goal number 5. This was just magic.
Evans was unhappy with an Utaki challenge and the referee who had little to do had a quiet word with both players.
With 7 minutes to go we had the icing on the cake. A run and great cross by Garrido left a brave SWP clashing with James and the ball ran to Fernandes who gleefully shot into the empty net to make it SIX
Fernandes ( on for Ireland) celebrated his first goal of the season in front of the delirious City faithful.
Finally on a tactical note - I was pleased to see that we employed two players wide near the half way line when defending corners. It is such a positive statement of intent to counter attack
A cracking win by the Sky Blues and what a way to mark the start of the new regime. This will I am afraid be hard to follow but I have no doubt we have the right manager to make it happen.
team
Hart 7: Zabaleta 7.5, Richards 7, Dunne 7, Garrido 7: Kompany 7: SWP 8.5, Elano 7.5, Ireland 9 (Fernandes 7), Robinho 8.5 (Sturridge) , Jo 8.5 ( Evans 7.5)