Manchester City 1 Chelsea 3 September 13th 2008
Premier League att.47,331

Well now all City supporters know how high the mountain is we have to climb to reach the top four of the Premier League. I suppose most of us secretly hoped that now the magic carpet had arrived from Abu Dhabi there would be no problem in disposing of Chelski before marching on to the top of the league. I am afraid it did not work out quite like that. At least we did score against them! The moment UK record signing Robinho scored with a terrific free kick early on City hearts were lifted but the feeling did not too last long as Carvalho, who had conceded the foul that lead to the City goal, blasted the ball home after the City defence had failed to clear a corner. In the second half Chelsea dominated for the most part playing some excellent football - what a difference Scolari has made ! The sending off of Terry late on gave us some hope but to beat Cech the finishing has to be clinical and though there was the odd half chance Chelsea finished easy 3-1 winners. I think our weakness was at full back where Ball and new boy Zabaleta struggled . There were some signs of good link up play up front but often key passes just went astray . On another day they might have worked. SWP on his home return tried really hard but just failed to make the impact we would have liked. Robinho showed glimpses of his skill and he will be a lot better once he settles in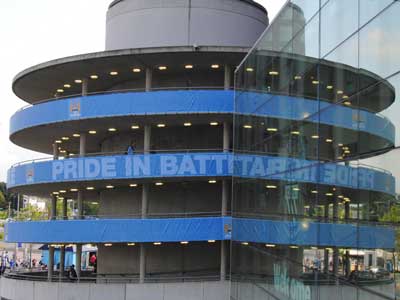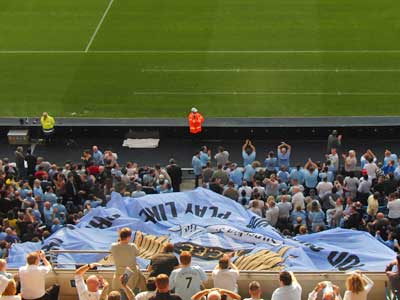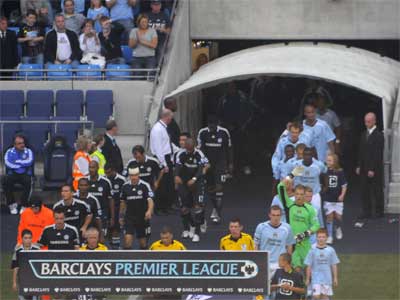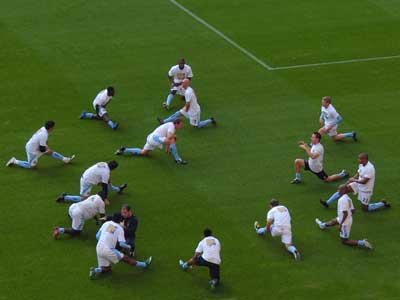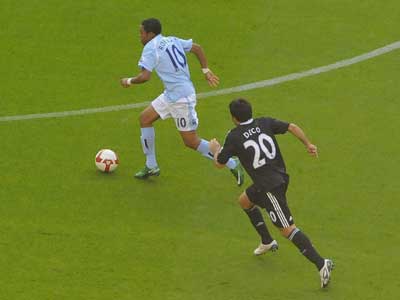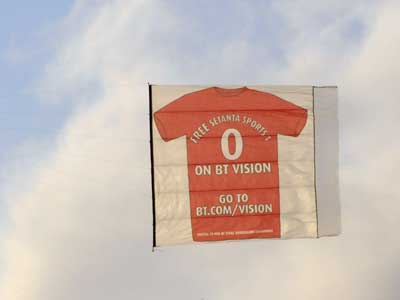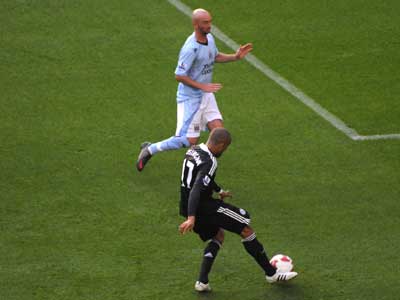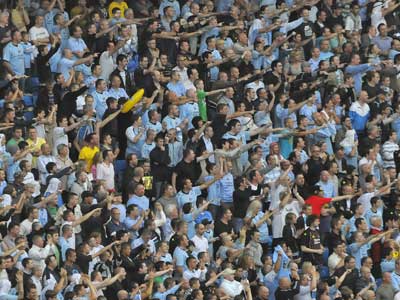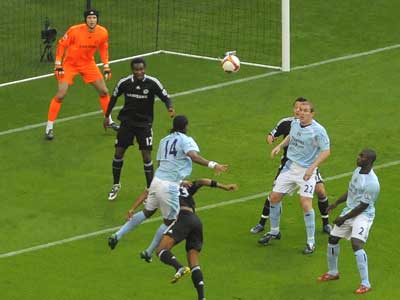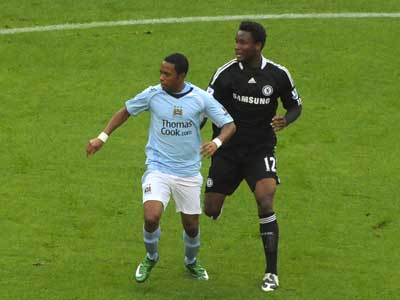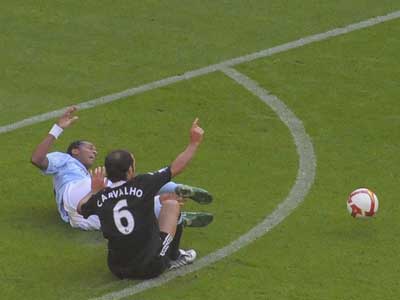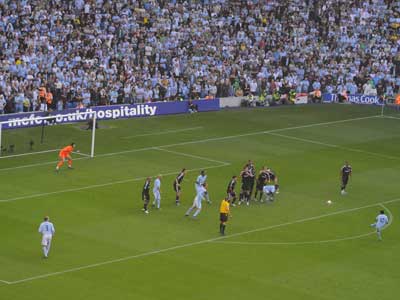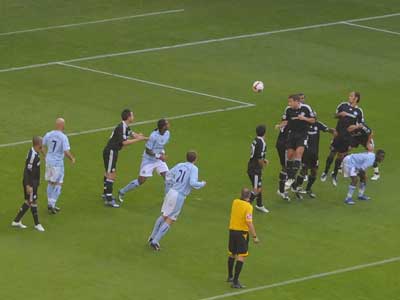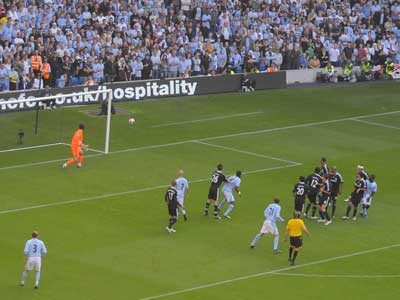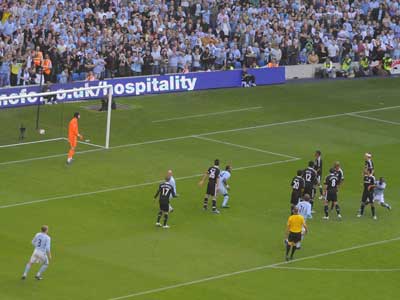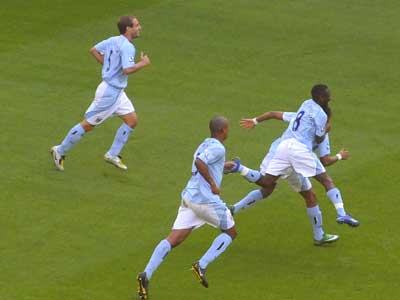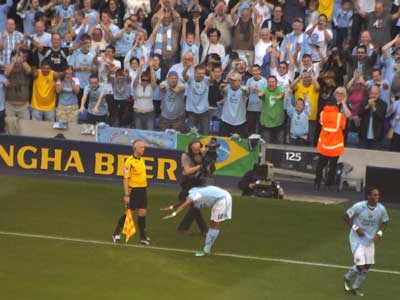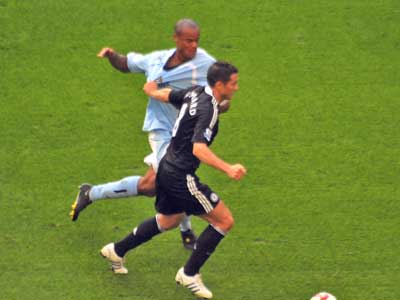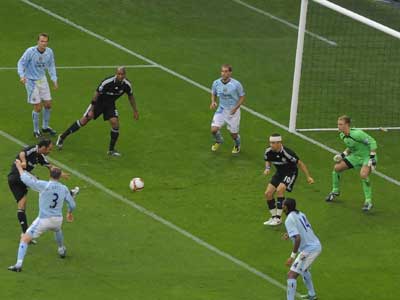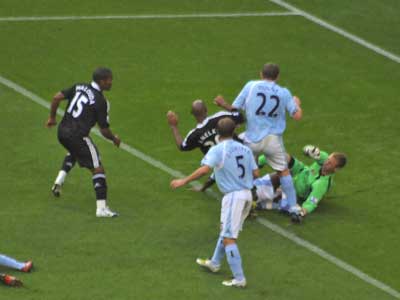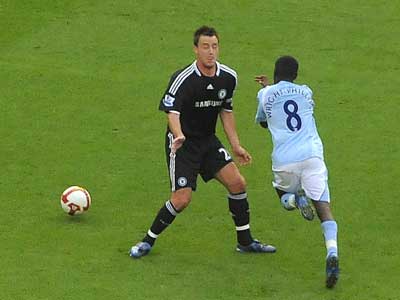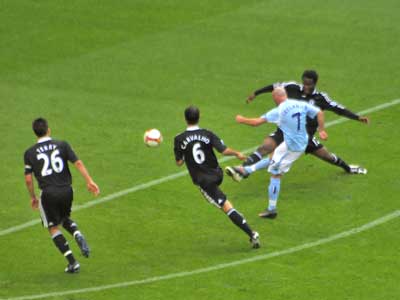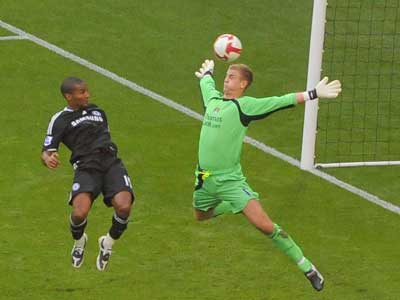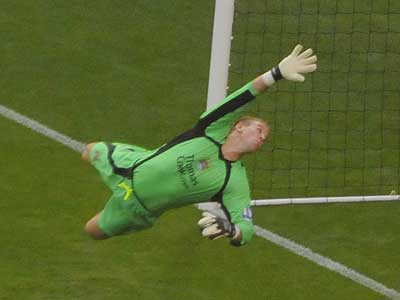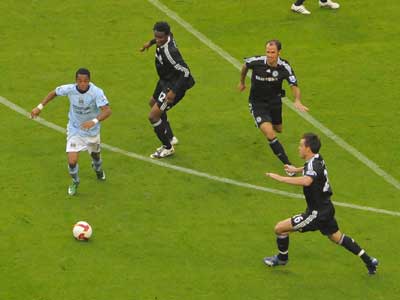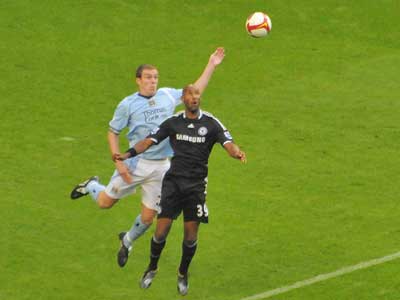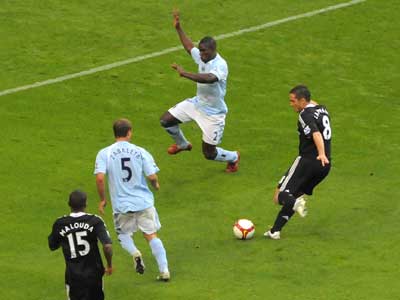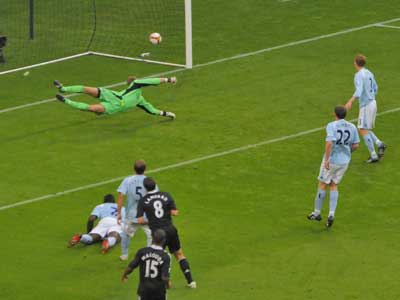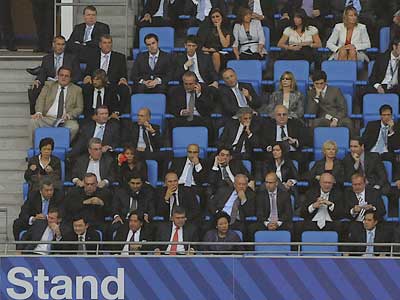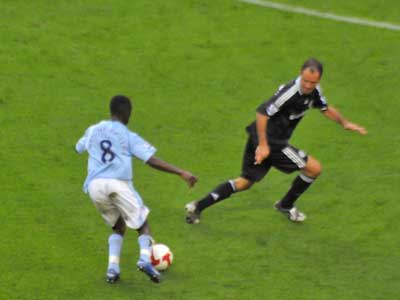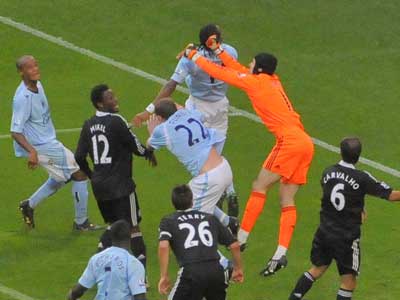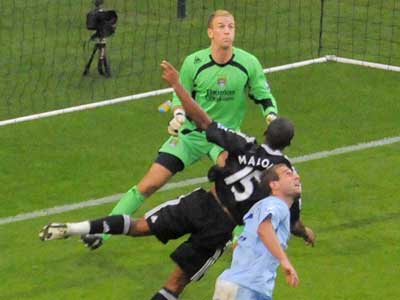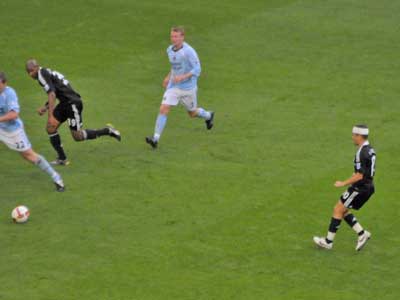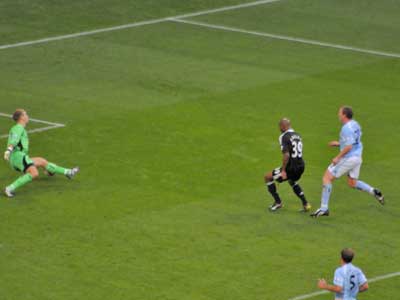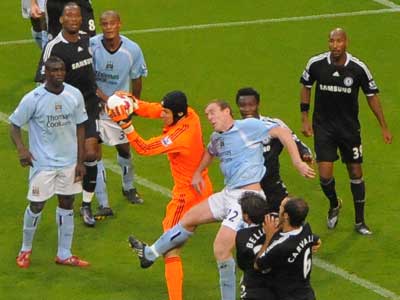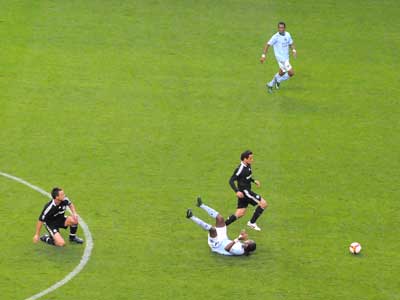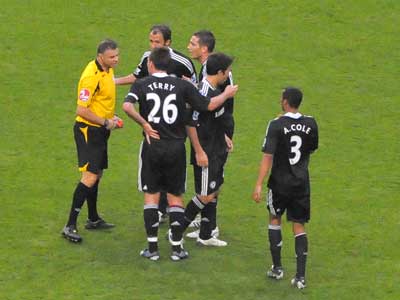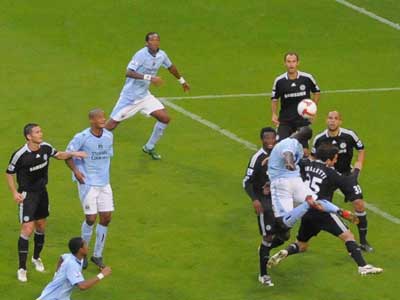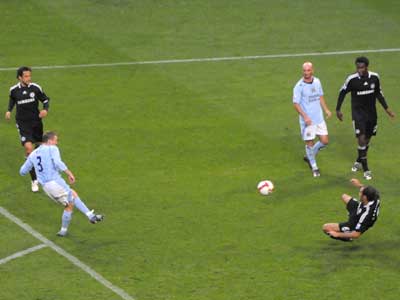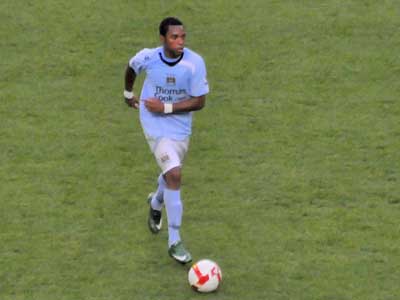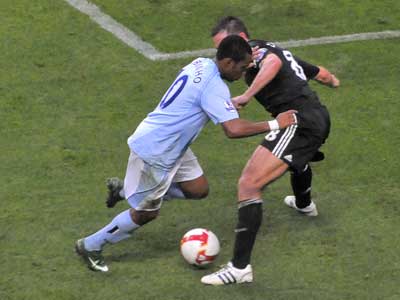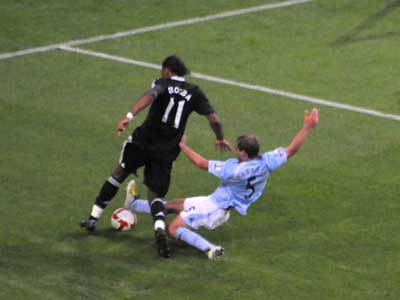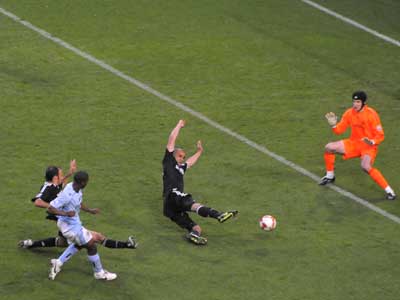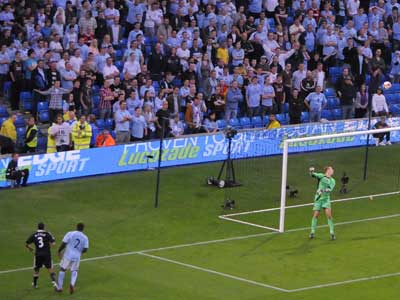 The names of season card holders were to be seen in the sky blue banners attached to the spirals outside the ground. About time too. The ground has been too anonymous for a while!
Nice to see the big flag going round the ground again. It gave a lift to the atmosphere.
There was some interesting headgear in the crowd for the occasion
There was special interest in the warm -up with the new players taking part
City gave debuts to Robinho and Zabaleta and SWP got a huge cheer when his name was read out - the commentator should have left more of a gap before announcing Robinho's name!
All eyes were on record signing Robinho who cost City 32..5 million pounds.
I can remember Steve Daley's then record transfer from Wolves to City - for £1.4 million in September 1979.
He failed miserably. I don't think that can happen a second time!
When an aircraft circled the ground carrying a red banner we all thought it was a message from that other Manchester team - it was only BT Vision.
Why didn't they use a blue shirt!!
With Chelsea putting emphasis on attacking down the right flank Ireland has to defend against a marauding Bosingwa
Jo tries his luck with a header at this early City corner
The City supporters in the South stand make their feeling clear - but who is that in the red shirt!!
Robinho closely watched by Mikel Obi
In the 10th minutes Carvalho brings down Jo and a free kick is given just outside the penalty area.
Robinho takes the kick which is slightly deflected by the wall.....................
........... and the ball flies into the back of the net without Petr Cech moving a muscle ! One nil to City and Robinho has struck!
Robinho hardly has time to put his thumb in his mouth before he is leapt upon by his delighted team mates and the crowd go wild as he makes his bow to the adulation that followed.
Lampard has to resort to shirt pulling to hold off the attentions of the ever improving Kompany
A few minutes later and City gave away a corner as Chelsea put pressure on the City goal......
From the corner the ball ran loose and a lucky rebound off Cole put Carvalho in a great position to crash the ball past Hart who had no chance and Chelsea were level. The City ecstasy has lasted just three minutes!
After a good City move Ireland taking a good pass from Jo shot just over the bar . This was after 23 minutes.
This body check by Terry on SWP brought no reward to City
Four minutes later and City had an escape. A cross from Joe Cole reached an unmarked and just onside Malouda whose header hit the bar and bounced to a relieved Hart
Just before the interval an Ashley Cole effort just went over the bar as Joe Hart dived to cover it. So 1-1 at half time
Every time Robinho got the ball he had several Chelsea defenders watching him
While at the other end ex-City player Anelka continued his duel with Richard Dunne
8 minutes into the second half a quick break by the visitors saw Lampard score after a quick flurry of passes and City were one down.
Interesting to see ex Chelsea manager Avram Grant sitting behind Dr Thaksin and it looks like Francis Lee on the far right of the second row. We miss you Franny Lee - best penalty winner !
Shaun Wright-Phillips worked very hard on his return to the City side and he set up Ireland whose shot was blocked by Carvalho who was having a very good game.
Cech clears a City corner in his rather loud orange outfit. I understand it could be seen on Google Earth!
Malouda puts pressure on the City goal
Chelsea tied up the game with just twenty minutes to go when Joe Cole put through a pass that left Anelka the easy task of placing past Hart to score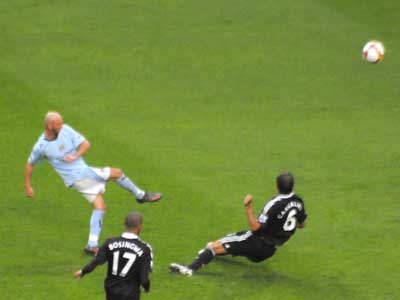 Jo and Robinho linked up down the left flank but were unable to penetrate the Chelsea defence
Cech collects under pressure at a City corner
After 75 minutes Jo burst through and was brought down by John Terry. With a defender closing in it looked like a yellow card.........but........
...
... referee Halsey produced a red card and despite Chelsea protests (what happened to that respect) he had to go. Chelsea down to ten men.
Another City corner comes to naught.
On 83 minutes City had a fine chance to reduce the arrears but Ball shot right at the keeper - good position! wrong man!
Robinho had not done a great deal in the second half but at least he now has a game under his belt and will be tons better next game.
Robinho duels with Frank Lampard
Pablo Zabaleta pulls off a great late tackle to stop Drogba from breaking through- must be nice to have Drogba on the bench!
Sturridge - on for Ball after 80 minutes - has a shot blocked
The game ended as an Ashley Cole effort flew over the bar and City now have to regroup and learn the lessons from the loss quickly
Team
Hart 6: Zabaleta 5: Richards 6, Dunne 6, Ball 6 ( Sturridge 6): Hamann 6.5 ( Fernandes 6.5) Kompany 7: SWP 7: Ireland 7.5, Robinho 7, Jo 7: